Tweets Analysis - Keyword: @zacksteffen_
Total number of tweets analysed
71
Earliest tweet was on
2023-03-21
Latest tweet was on
2023-03-29
Average age of authors' accounts
7 years
---
Summarization
Twitter users are praising Zack Steffen, a goalkeeper for Middlesbrough and the US Men's National Team, for his composure on the ball, making vital impacts on the team's performance, and his recent call-up for international play. Some fans hope he will sign a permanent deal with Middlesbrough, while others wish him good luck wherever he goes. There is excitement for his upcoming games with the US team and confidence in his abilities to perform well.
Topic Modeling
Zack Steffen's importance to the team's gameplay
Praise for Zack Steffen's impact and performance
Hope for Zack Steffen to secure a permanent deal with the team
Support and good luck wishes for Zack Steffen's involvement with the USMNT
Disappointments and criticisms over previous decisions involving Zack Steffen
Emotional Analysis
The tweets express admiration and support towards Zack Steffen, a goalkeeper for the Middlesbrough Football Club and the United States Men's National Team. Many fans appreciate his skills and contribution to their team's success. Some express excitement for his call up to the USMNT, while others express frustration over his exclusion from the World Cup. There is an overall positive and encouraging tone in the tweets.
Trend Analysis
Positive comments about Zack Steffen's performance as a vital player for Middlesbrough
Support for Zack Steffen's success with the US Men's National Team
Desire for Zack Steffen to sign a permanent deal with Middlesbrough
Discussion of other players and teams related to Zack Steffen (e.g. Eloy Room, Columbus Crew, Man City)
Well wishes for Zack Steffen's future success
---
Types of Tweets
Number of Retweets
8
Percentage of total tweets
11%
Number of Original tweets
3
Percentage of total tweets
4%
Number of tweets that contain Mentions
71
Percentage of total tweets
100%
Number of tweets that were Replies
59
Percentage of total tweets
83%
Number of tweets that were Quotes
4
Percentage of total tweets
5%
Number of tweets that contain Hashtags
7
Percentage of total tweets
9%
---
Top 5 devices used to tweet
| Source | Count |
| --- | --- |
| Twitter for iPhone | 43 |
| Twitter for Android | 18 |
| Twitter Web App | 5 |
| Twitter for iPad | 3 |
| TweetDeck | 1 |
What devices were used to tweet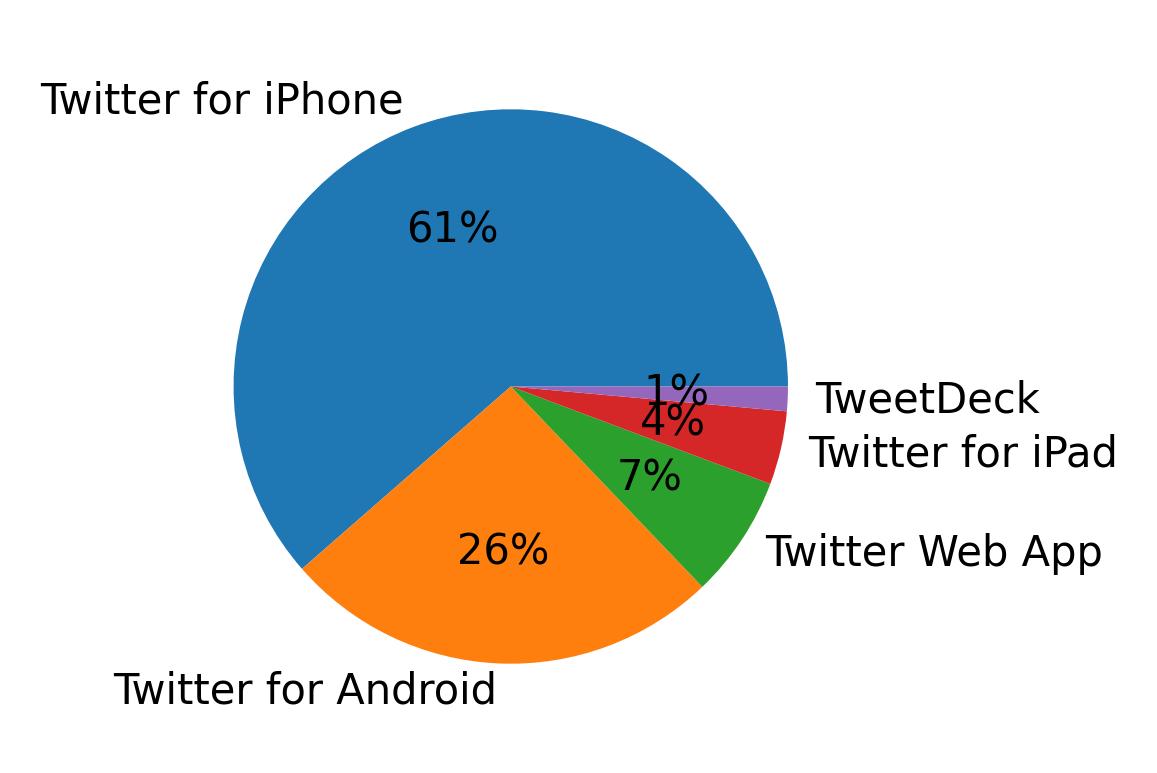 ---
Top 10 accounts with highest followers count
| Username | Name | Bio | Followers count |
| --- | --- | --- | --- |
| Boro_Breakdown | The Boro Breakdown Podcast | All your Boro matchday chatter, in a pod! Proudly supporting @mndassoc 🤝 | 10,804 |
| sluggahjells | Andrew Jerell Jones, Luke 1:37 (IG:twdbk3) | Now part of @Bleavnetwork with OVERALL & ESPN @andscape. @betway @foxbet @RawStory @Guardian on-🎥 @theyoungturks, Music artist 📩 thewholedelivery@gmail.com | 8,041 |
| TayTreyCarter10 | M Y G H T I Q U A N🔟 | 🌍🤞 Rich Homie Quan, long life to our real Legends. | 4,747 |
| alexcrognale | Alex Crognale | 🇺🇸🇮🇹⚽️ Athlete | Investor | #Bitcoin @bitwage @coinbitsapp | 4,549 |
| lafcedge | LAFC Edge | 🏆 2022 MLS Cup Champions 🛡️ 2019 & 2022 Supporters Shield Winners 📰 Discussion on team news, tactics, rumors, players, and transfers | 4,416 |
| JadeyCuthbertXo | Jade 💙 | 22//Man City ST holder💙 / Instagram - jade.Mcmurtry. Tiktok - jademcmurtry_ / | 3,177 |
| acasportsgroup | ACA Scholarships | Securing sports scholarships to America for elite student athletes worldwide! 🌎✈️🎓🇺🇸 Players & coaches APPLY/ENQUIRE via our website 👇 | 2,964 |
| v_sospiffy | vince | in a lab. @scuffedpod | 2,928 |
| RealUSMNT | USMNT | - | 2,923 |
| Smithy_MFC84 | Ian Smith | Proud family man & big @Boro fan! Work for @DBH_NHSFT & blog about all things Boro. Write for @fmttmboro, @boro_mag and have my own blog, 'Smithy The Boro Fan'. | 1,787 |
Top 10 accounts with highest friends count
| Username | Name | Bio | Followers count |
| --- | --- | --- | --- |
| TayTreyCarter10 | M Y G H T I Q U A N🔟 | 🌍🤞 Rich Homie Quan, long life to our real Legends. | 5,370 |
| acasportsgroup | ACA Scholarships | Securing sports scholarships to America for elite student athletes worldwide! 🌎✈️🎓🇺🇸 Players & coaches APPLY/ENQUIRE via our website 👇 | 4,810 |
| Ottothapilot | Dhoniem | - | 3,021 |
| DannKharsa | Dann Kharsa | 🥄Professional Spoon Player, 🐶Pug & Frenchie Owner 🇬🇧🏴󠁧󠁢󠁥󠁮󠁧󠁿🇸🇾Middlesbrough FC fan🔴⚪️ | 2,175 |
| leefellows252 | Lee Fellows | Quite simply a BORO fan and fitness enthusiast😁 | 2,133 |
| BoroSniper77 | BoroSniper77🇬🇧 | Middlesbrough FC fan. UP THE BORO! Crypto / NFT space. | 1,922 |
| AlfonsoBonzo | Alex | Bog ender. Friendship, peace and democracy. | 1,890 |
| MMAtlanta | MM ❤️🇺🇸 | BosWashian transplant living in Atlanta on the Chattahoochee. Fmr civil servant. Of Independent mind and vote. Hypocrisy is not accepted. Here Right Matters. | 1,800 |
| A_xvega | Anthony V | #USMNT #RBNY #Chelsea Tech Enthusiast. Smile everyday. 🐂🔴🇺🇸 | 1,610 |
| TheIndieHandbk | The Indie Handbook | A music blogger who learned there's no money in writing about music. So now I sell it, too. #Crew96 #TCMParty #Fifdom (Name=Eric) | 1,609 |
Most active users
| Username | Bio | Number of tweets |
| --- | --- | --- |
| JadeyCuthbertXo | 22//Man City ST holder💙 / Instagram - jade.Mcmurtry. Tiktok - jademcmurtry_ / | 3 |
| User66524165 | Hello | 2 |
| brianlezama_ | I don't drink too much I know the bud wiser | 2 |
| Barra76Miami | US soccer supporters in South Florida // Hinchada de US soccer en el sur de la Florida. 🇺🇸 @b76usa | 2 |
| usmntcoldtakes | -Not affiliated with the USMNT- | 2 |
| Boro_Breakdown | All your Boro matchday chatter, in a pod! Proudly supporting @mndassoc 🤝 | 2 |
| CarryOnCarolyn | Life didn't happen as planned, and that's okay. Where there is love, there is hope. | 2 |
| hrindat | Hi, I'm here! | 1 |
| dellzincht | Tweeting about Beer mainly. Untappd check-ins posted automatically. Not here for followers but if you want to that's fine. Slightly in love with Chuba Akpom | 1 |
| chigozie_odua | Welcome To Our Trading Platform📊 Get Rich With Binary IQ Option Trading 24/7 Customers Service Accurate 100% Signals📈 | 1 |
---
Tweets per day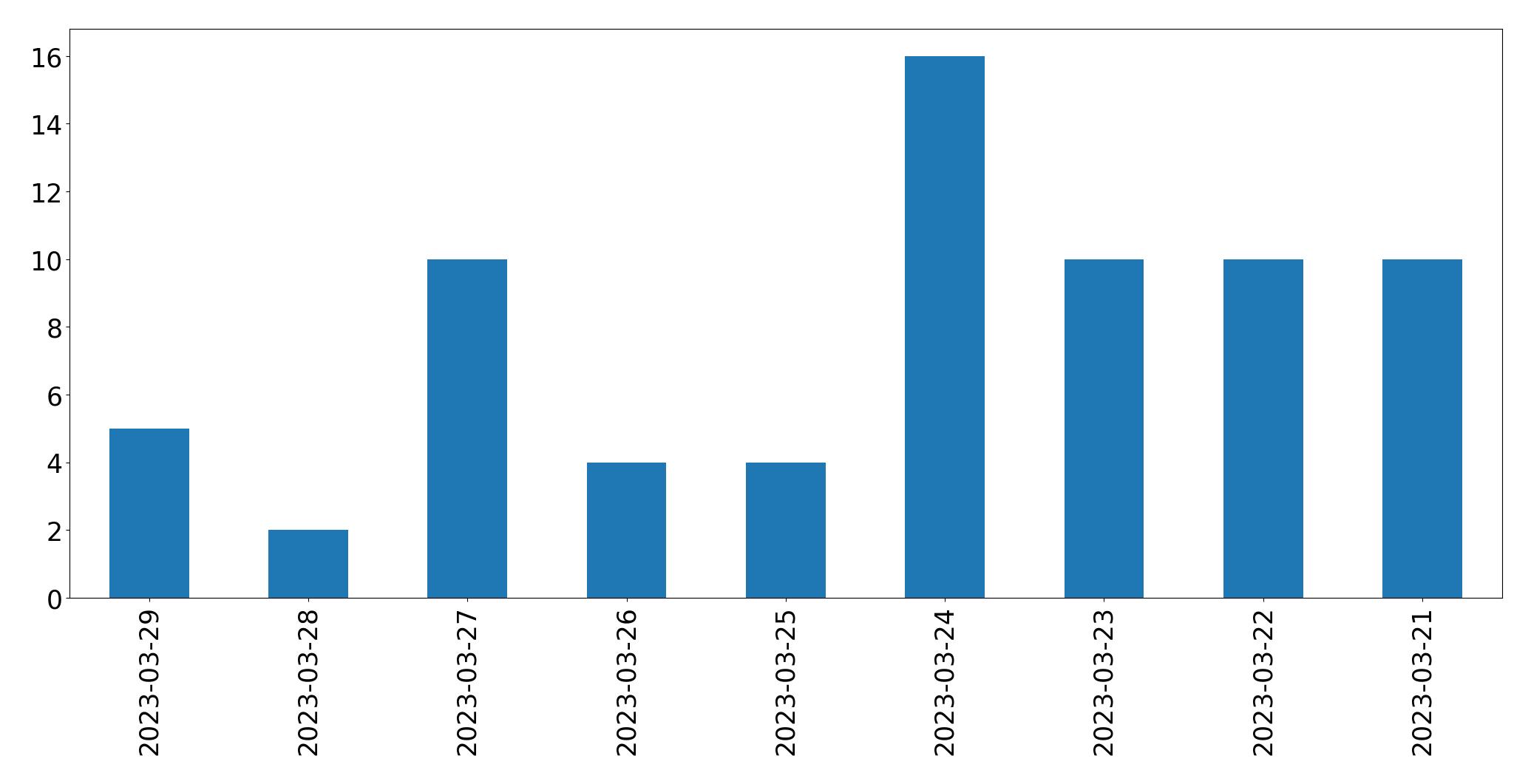 ---
Top 10 tweets with highest Retweet count
| ID | Text | Retweet count |
| --- | --- | --- |
| 1639178208472977414 | Bit late to this one, but thoroughly enjoyed it as always. Great to hear @zacksteffen_ being placed in the 'Praising Place' too, he's definitely making an impact now. #Boro #UTB https://t.co/eoQt5vGTCZ | 1 |
| 1638066781796421634 | @JayAH985 @USMNT @DarylDike @zacksteffen_ @delatorreluca Needs to be built like a wide receiver. I'm more interested in his ball mastery. | 1 |
| 1638659987021996032 | @zacksteffen_ @USMNT Good luck Zack UTB!🔴⚪️ | 0 |
| 1639028171462049792 | @jfg96_ Worst game I've ever been to, thanks for nothing @zacksteffen_ | 0 |
| 1638990952558743557 | @City_Xtra @ManCity @thegoalkeeper We weren't waiting, mate @zacksteffen_ | 0 |
| 1638981583771258880 | @zacksteffen_ @USMNT Welcome back 🇺🇸 | 0 |
| 1638954566476505101 | Disappointed that @zacksteffen_ has decided to leave City but fully understand and support his decision, he definitely deserves to play regularly, thank you and good luck Zack | 0 |
| 1638909230353711106 | @tombogert @thegoalkeeper As a Crew fan and a Man City fan, Zack Steffen is one of my favorite players and I'll always be rooting for him. Good luck wherever you end up @zacksteffen_ | 0 |
| 1638906553280647171 | @zacksteffen_ @USMNT Go Zack Go!!!! USA! USA! | 0 |
| 1638876080634318848 | @zacksteffen_ @USMNT Yay Zack! Good luck! | 0 |
Top 10 tweets with highest Like count
| ID | Text | Like count |
| --- | --- | --- |
| 1638138176706314243 | @Boro For all those so called fans who constantly whine about @zacksteffen_ , it's his composure on the ball and drawing the attacker in that leaves the space for us to start this attack. He is so vital to how we play. | 8 |
| 1639178208472977414 | Bit late to this one, but thoroughly enjoyed it as always. Great to hear @zacksteffen_ being placed in the 'Praising Place' too, he's definitely making an impact now. #Boro #UTB https://t.co/eoQt5vGTCZ | 6 |
| 1638675463630385152 | @zacksteffen_ @USMNT Gwan Zack lad - you made our first goal Saturday for sure. Get us to the Prem and then get a permanent deal signed. Top class keeper #UTB | 5 |
| 1640171408801124352 | @zacksteffen_ @USMNT I'm in USA now good luck i was born in Middlesbrough get back to team safe and well right we need you after playing for your country we have a job to finish right 👏👏👍👍❤️😂 | 5 |
| 1640920391462928386 | @LukeShigeo @ColumbusCrew @ESPNFC All I'm saying is, when the USMNT played Curaçao in the Gold Cup, @zacksteffen_ exchanged jerseys with @EloyRoom and a few weeks later, Eloy was playing for #crew96. | 3 |
| 1638909230353711106 | @tombogert @thegoalkeeper As a Crew fan and a Man City fan, Zack Steffen is one of my favorite players and I'll always be rooting for him. Good luck wherever you end up @zacksteffen_ | 3 |
| 1640213779358052352 | @zacksteffen_ @USMNT You deserve it♥️ | 3 |
| 1638650491910356993 | @zacksteffen_ @USMNT Big steff! 🤙🏽 UTB | 2 |
| 1638657691123081218 | @zacksteffen_ @USMNT Good luck pal. UTB. UTUSMNT. | 2 |
| 1639265538076491777 | @zacksteffen_ @USMNT LETS GOOO ZACK!! | 1 |
Top 3 Languages Used In Tweets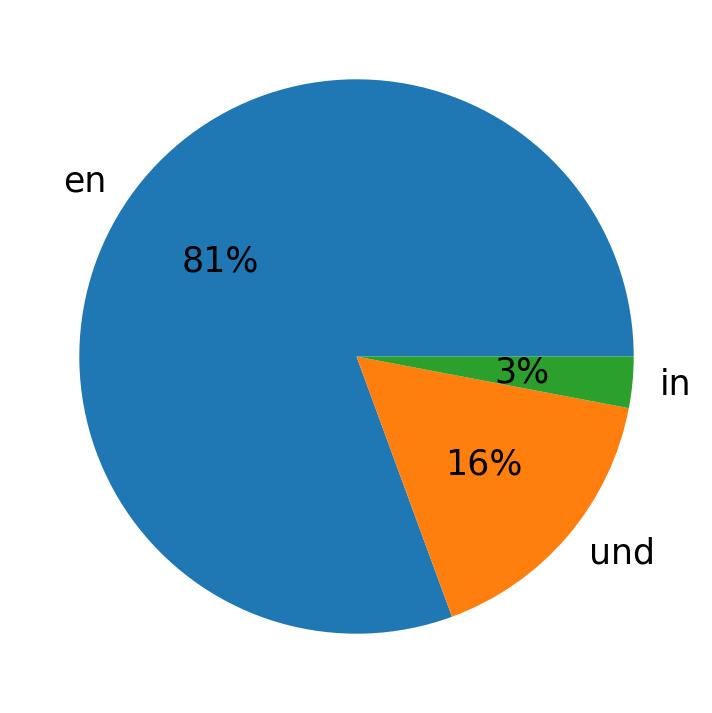 ---
Top 10 Hashtags used
| Hashtag | Count |
| --- | --- |
| #utb | 5 |
| #boro | 2 |
| #crew96 | 1 |
| #usmnt | 1 |
Top 10 Hashtags Used In Tweets
Top 10 mentions
| Mention | Count |
| --- | --- |
| @zacksteffen_ | 73 |
| @usmnt | 50 |
| @daryldike | 10 |
| @delatorreluca | 10 |
| @thegoalkeeper | 3 |
| @jayah985 | 3 |
| @boro | 2 |
| @smithy_mfc84 | 2 |
| @tombogert | 2 |
| @lukeshigeo | 1 |
Top 10 mentions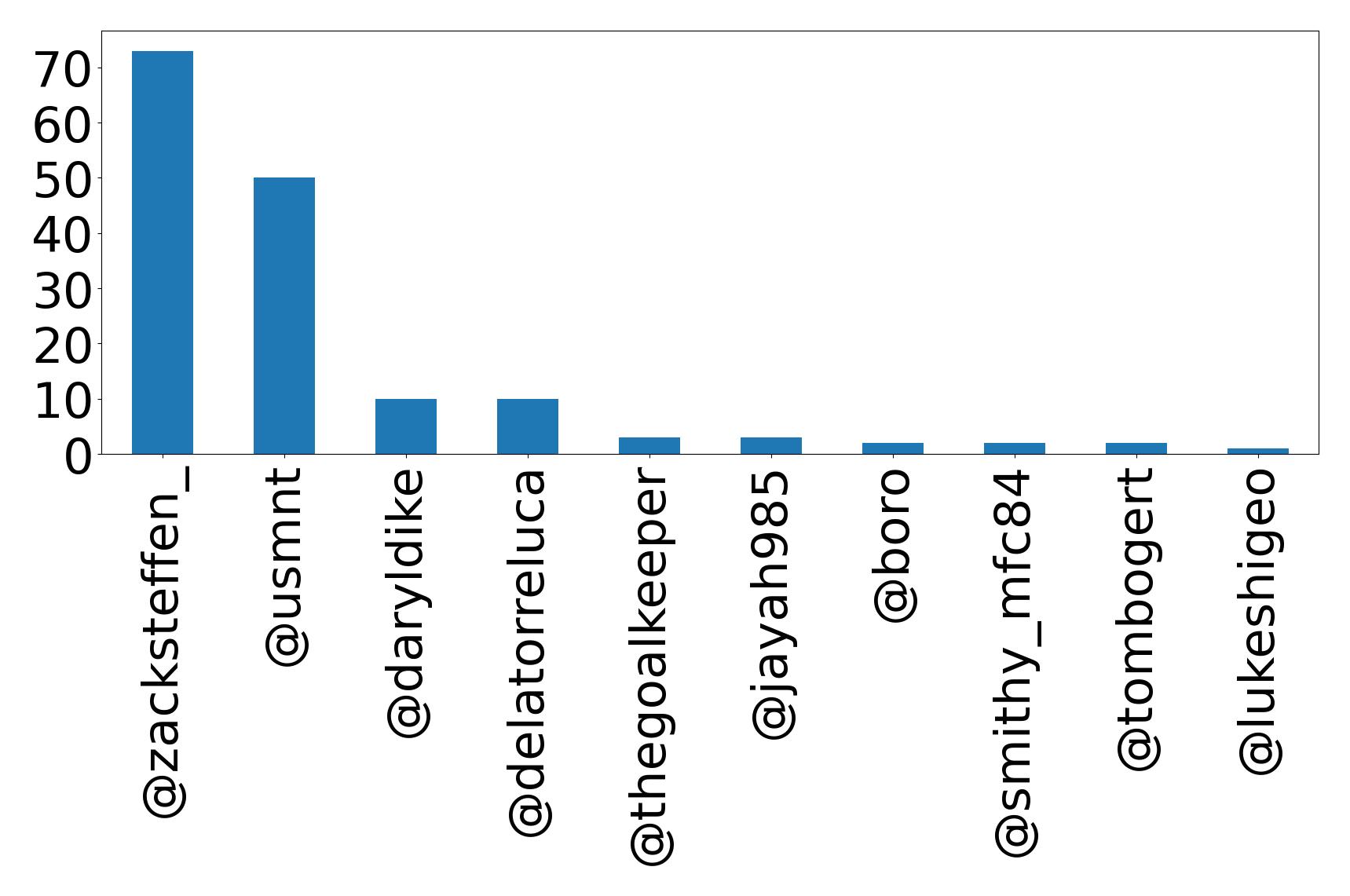 Wordcloud of Tweets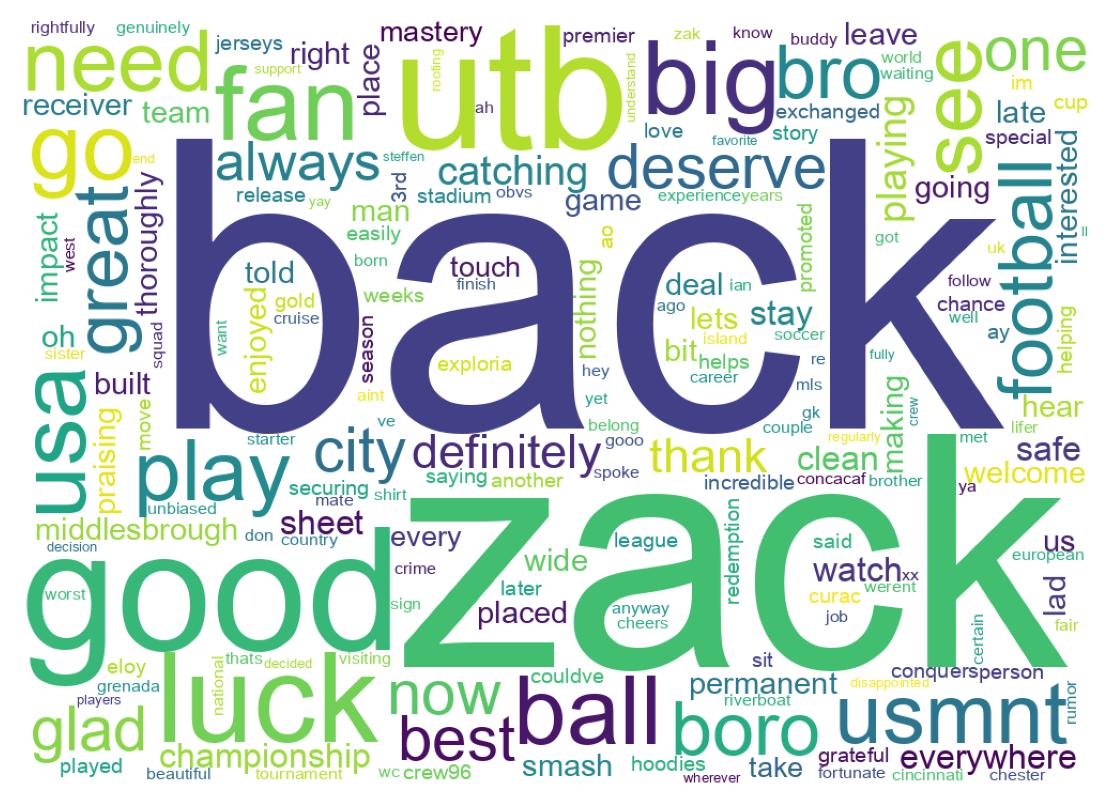 ---
Emojis
Average number of emojis used per tweet
73
Emojis used in tweets
| Emoji | Count | Emoji Text |
| --- | --- | --- |
| 🇺🇸 | 9 | United_States |
| ❤️ | 5 | red_heart |
| 👍 | 4 | thumbs_up |
| 👏🏻 | 3 | clapping_hands_light_skin_tone |
| ♥️ | 3 | heart_suit |
| 👏 | 3 | clapping_hands |
| 😂 | 3 | face_with_tears_of_joy |
| 🟠 | 2 | orange_circle |
| 📍 | 2 | round_pushpin |
| 🔴 | 2 | red_circle |
Emojis groups
| Emoji Group | Count |
| --- | --- |
| People & Body | 19 |
| Smileys & Emotion | 10 |
| Flags | 9 |
| Symbols | 6 |
| Activities | 4 |
| Animals & Nature | 2 |
| Objects | 2 |