Tweets Analysis - Keyword: @Wizard101
Total number of tweets analysed
832
Earliest tweet was on
2023-03-17
Latest tweet was on
2023-03-27
Average age of authors' accounts
5 years
---
Summarization
Twitter users discuss various aspects of the online game Wizard101, including upcoming events and giveaways, game expansion concepts, character design and creation, music, and pop culture references. They also express their enthusiasm for the game and its vibrant community. Additionally, there are mentions of a Twitch channel co-hosting, and a composer responsible for creating unique themes for the Night Mire Swamp Gauntlet. One user also offers to create plush collectibles for video games.
Topic Modeling
Co-hosting a Voice Acting Roundtable for Wizard101 and Pirate101
Community events and excitement for Wizard101
Giveaways and player engagement with Wizard101
Concept art and game design for Novus worlds in Wizard101
Music and pop culture references in Wizard101
Emotional Analysis
The tweets express excitement, enthusiasm, nostalgia, and appreciation for the game Wizard101. The users are thrilled about upcoming events, giveaways, and meeting fellow players. They also share their love for the game's music, design, and community. Some users express a desire to see new features or additions in the game. Overall, the tweets demonstrate a strong emotional attachment to Wizard101 and a sense of belonging to its community.
Trend Analysis
Announcement of Voice Acting Roundtable with a focus on Wizard101 and Pirate101
Wish for a Wizcon in Texas to meet the Wizard101 community and share the experience
March 2023 Weekend Giveaway for a Blacksmith's Fjord Bundle in Wizard101, with fans submitting ideas for game improvements to enter
Sharing of concept art and creature design from Novus world in Wizard101, as well as encounters with game merchandise at PAXEast
Engagement with Wizard101 giveaways and pop culture articles, including exclusive confirmation of composer for Night Mire Swamp Gauntlet
---
Types of Tweets
Number of Retweets
92
Percentage of total tweets
11%
Number of Original tweets
85
Percentage of total tweets
10%
Number of tweets that contain Mentions
832
Percentage of total tweets
100%
Number of tweets that were Replies
650
Percentage of total tweets
78%
Number of tweets that were Quotes
11
Percentage of total tweets
1%
Number of tweets that contain Hashtags
106
Percentage of total tweets
12%
---
Top 5 devices used to tweet
| Source | Count |
| --- | --- |
| Twitter for iPhone | 334 |
| Twitter Web App | 251 |
| Twitter for Android | 231 |
| Twitter for iPad | 9 |
| TweetDeck | 6 |
What devices were used to tweet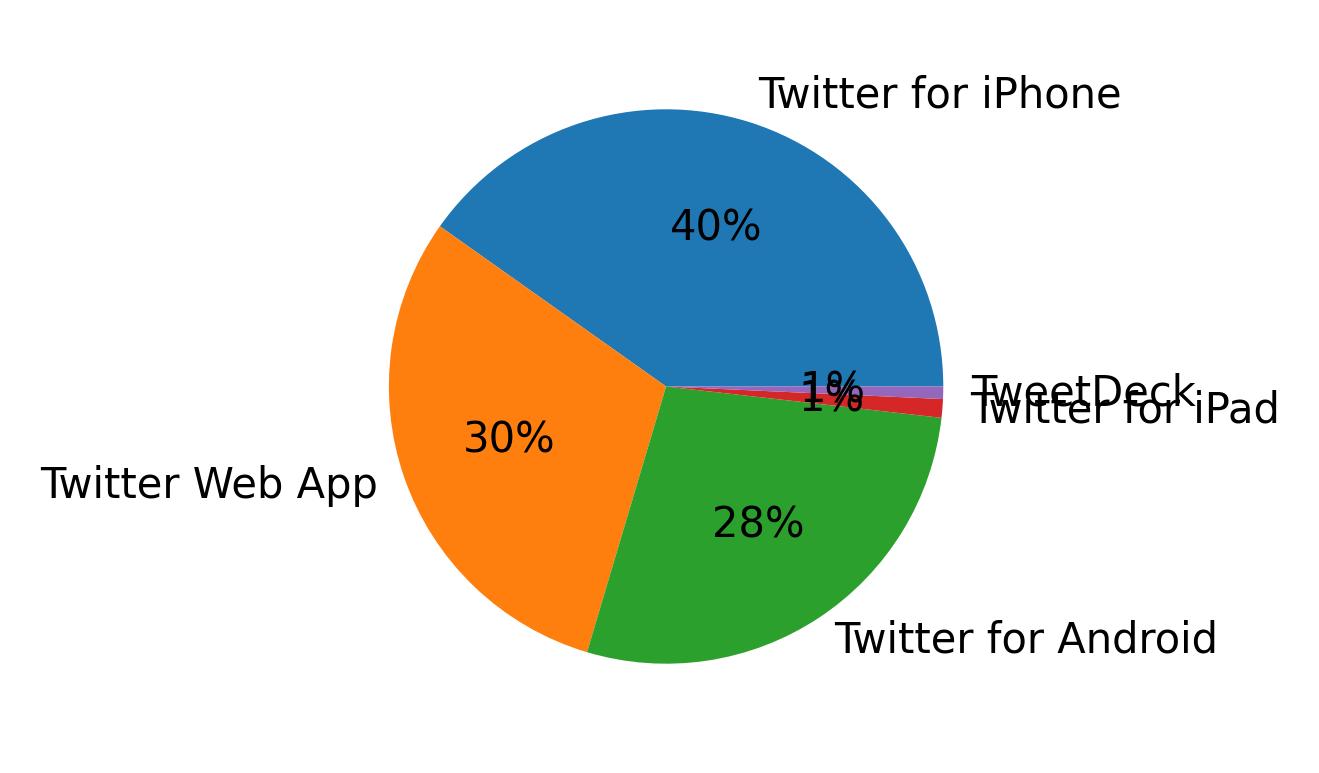 ---
Top 10 accounts with highest followers count
| Username | Name | Bio | Followers count |
| --- | --- | --- | --- |
| Makeship | Makeship | Designed by Creators. Fueled by Fans. Fund limited edition campaigns ⚡️ | 171,050 |
| Chromatic_Games | Chromatic Games → PAX East | Indie game studio for: 🔪Dungeon Defenders Going Rogue ⚔️Dungeon Defenders: Awakened 🏹Dungeon Defenders II 🧙Dungeon Defenders I 📧Business@chromatic.games | 93,720 |
| AlexA_Lionheart | Alex Lionheart | May your heart be your guiding key | Technician | Toontown & Wizard101 Player + Content Creator | Editor @officialsots | | 8,539 |
| itschalkk | chalk / calx ꩜💉 WITH FINNS?1!? | 22 • dottore artist • plotting and scheming on an ever-grander scale, no doubt • pfp by yablokonyam, header by TyrantRhys | 8,228 |
| PearlWoomy | Agent Pearlie ⚢ (Marie's Wife) | (She/They) Silly li'l autistic lesbian, Splatoon (and occasionally other things) artist, world's most dedicated Marie enjoyer, #1 supporter of Marie x Pearlie | 7,816 |
| Finalbastion | Final Bastion | Official #Wizard101 & #Pirate101 Fansite: https://t.co/D5yQb4hWO9 || Twitch: https://t.co/zlmHRf2Z69 || Discord: https://t.co/q0p6P0o42z #FinalB | 6,929 |
| _Smirky | Smirky | 23 | Twitch Partner | Toontown Extraordinaire | @JackboxGames Ambassador | Powered by @AdvancedGG | Prev. Intern @Elgato | Business Email: smirkon16@gmail.com | 6,614 |
| jtoddcoleman | J Todd Coleman | Game designer, entrepreneur and creative director (Crowfall, Shadowbane, Wizard101, Pirate101) | 5,288 |
| softndeadly | Shila Vikström ❤️‍🔥 Make Games With Humanity | 🌈 Exec Producer @OutsidersGames @MetalHellsinger @Funcom. Tank. Will laugh very loud. Love to be wrong, need to be right. Games made with humanity. She/Her | 4,460 |
| AroundTheSpiral | AroundTheSpiral | 12-Year Old Wizard101 and Pirate101 Website. Follow us for in-game events, contests, videos, and so much more! Follow Us On Twitch: https://t.co/vcyZDJmKfJ | 3,995 |
Top 10 accounts with highest friends count
| Username | Name | Bio | Followers count |
| --- | --- | --- | --- |
| Im_Your_Al_Pal | Al | They/Them or non-nounself neopronouns. Genderqueer Ace Lesbian. #ActuallyAutistic and ADHD, living with disability. White Australian. I use the block button. | 4,904 |
| BriannaKitty1 | 🔮Briannya Kleckner🔮 Lathna Family Lover | Brianna/Harli 🔮24🔮 She/They 🔮 Digital Artist/Animator 🔮 A generally nice cat who loves games, drawing & friends. 💕@cee5556 💕 @harlikitty1 @BriannakittyART | 4,674 |
| icypiscesrising | ILLYGIRL | - | 3,331 |
| MathewAnderson | Mathew Anderson 🥳 2️⃣ 0️⃣ 2️⃣ 3️⃣ | Lead Community Manager @KingsIsle ✧ PR Advisor ✧ Industry Event Guru "Community managers, the bridge between worlds." - @KyleIceW | 2,904 |
| Roseclaws94 | Abigail | New York Rangers and Mets fan. Love the MCU and anything Tolkien. #BLM #TPWK she/her | 2,245 |
| GhostWeaver | Croven | Best spooky time of the year | 2,193 |
| Alyx_Jones | Alyx Jones | Post-Production Lead @LiquidVioletUK | Composer | Founder @SilverScriptUK | Writer @SoundDesignUK | MCV 30under30 | BAFTA Breakthrough | 2,159 |
| MarcosPiece | MarcosMC | Video games Walking Dead Stranger Things Game of Thrones Nintendo NBA Wizard101 fan Marvel , Star Wars NFL Hip Hop fan a trash YouTube Channel AnimeManga | 2,141 |
| chaoticgoodpal1 | ChaoticGoodPaladin | I emigrated from Gamesylvania with a Magnavox Odyssey and a hope for a better life. I may also get Baby Shark stuck in my head at random times for no reason | 2,048 |
| MusicMysteryZ | MusicMysteryZ🇺🇦 | I am a finicky,qwerty,and flighty conniseur! and i like 2 create videos and websites! BTW MY FAVORITE GROUP IS AND ALWAYS WILL BE IMAGINE DRAGONS! | 1,993 |
Most active users
| Username | Bio | Number of tweets |
| --- | --- | --- |
| spiral_101 | ✨ Spiral Universe 101 ✨ Centralized platform 101 gaming @Pirate101 @Wizard101 🧙🙉 • Sponsored via @theatmoplex || @GMO_Central 🤩 | 25 |
| _Reniquint | - | 21 |
| MoongardenWiz | Mama Gamer, Home Haunter, Twitch / YT, G1 MLP Collector.! https://t.co/hFKnE4F24p | 17 |
| AntonConstanti | - | 16 |
| Area51Alien_scn | Husband, Father, Grandfather, Christian, Graphic Designer, Young Wizard, That guy who obsesses over Wizard101 Pop Culture references. Autoduelist. | 12 |
| proudpyromancer | A long time Wizard in the spiral commonly found in discords or on twitch! Hit me with that follow! | 9 |
| EvansValid | a nobody, that's what makes me special | 9 |
| BlazeStormCloud | PFP by @EmmaSpiritcall | Wiz Player since '13 | 160's all schools | Pirate Player since '21 | 70 Musk & Privy | Professional Dual Schooler (Lorm🍃🌩️) | | 9 |
| BellflowerpCP | | @TheAetherLight ⚙️ | @Pirate101 🏴‍☠️ | @CPRewritten 🐧 | Grammar Geek 📝 | Steampunk Enthusiast 🎩 | PFP by @TanthalasCP 🎨 | Banner by @Bellway2755 ⛩ | | 9 |
| RTBRay | casual gamer. all photos require permission for use. | 8 |
---
Tweets per day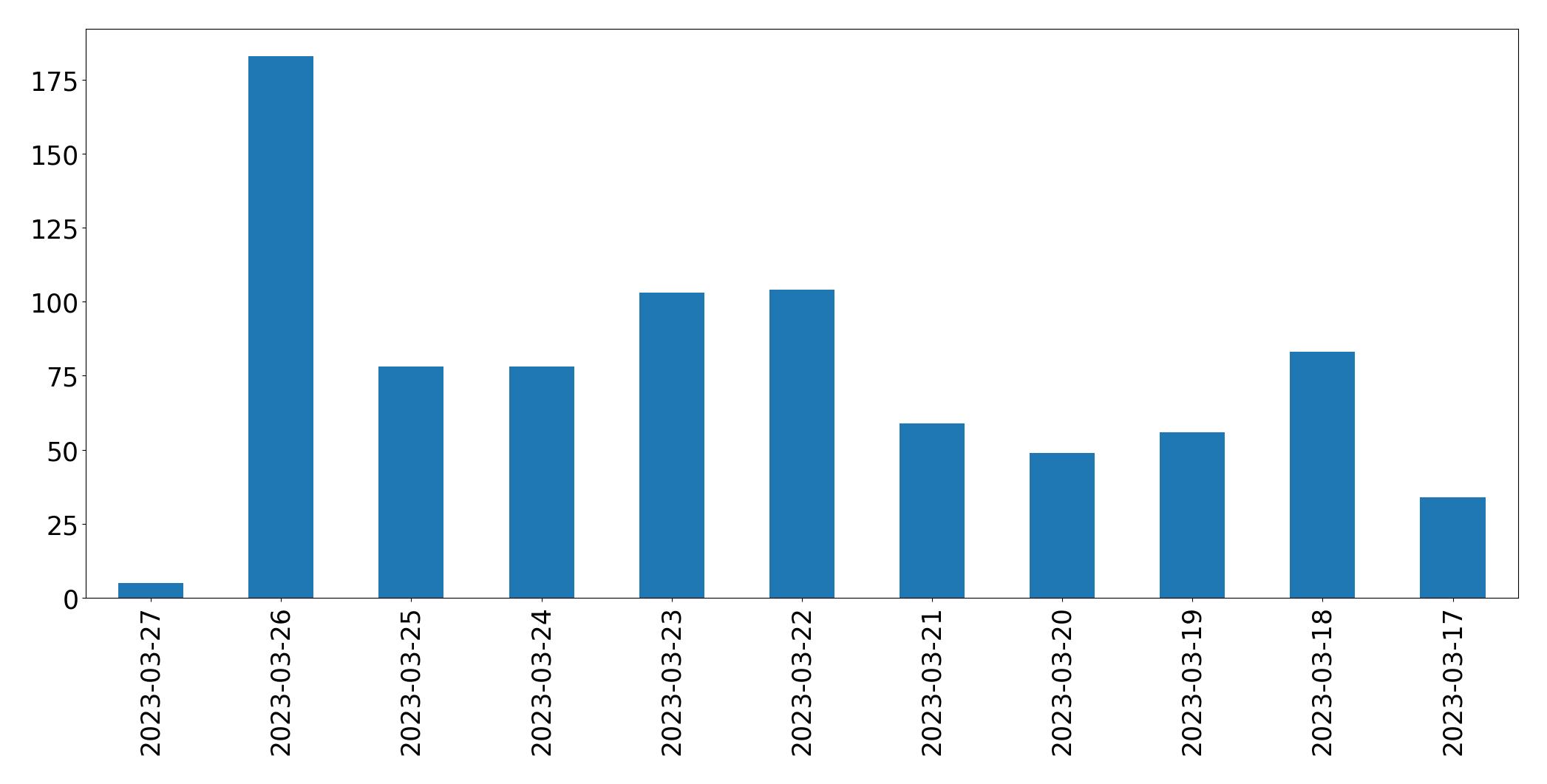 ---
Top 10 tweets with highest Retweet count
| ID | Text | Retweet count |
| --- | --- | --- |
| 1637929387206012929 | Excited to announce that I will be co-hosting a Voice Acting Roundtable with @MrDemonAxe live on his Twitch channel next Tuesday, March 28th at 3pm CST! We will have Sam Johnson, Mike Sears, Kayly Ginsberg, and Hawkules on board to talk all things @Wizard101 and @Pirate101 VO! https://t.co/w2usadozwJ | 30 |
| 1638326882654380032 | Hello, everyone! Giveaway time!! What made you enthusiastic or drawn-in to playing Wizard101? One player will be given 10,000 Crowns and the Rainbow Teleport effect! Winner will be chosen by staff. Ends 03/26. #Wizard101 @Wizard101 | 16 |
| 1639743468384710659 | March 2023 Weekend Giveaway #4 For our 4th and final March 2023 Weekend Giveaway, we are giving away a Blacksmith's Fjord Bundle for @Wizard101! Reply here with something you want to see added to Wizard101 for a chance to win! Ends: Thursday, March 30, 2023 https://t.co/gRPOlizuIY | 14 |
| 1638256685335605250 | Here are the four camps of the various Novus worlds, which are seen in Conatus. They're pretty much a small sample of what each world will be like. @Wizard101 #wizard101 #videogames #conceptart https://t.co/jtUFNAy3xW | 13 |
| 1638979014445465601 | Here's the Puzzle Piece Monster from Novus. Creating a repeating pattern creature composed of details from Puerto Nuovo was really challenging. @Wizard101 #wizard101 #creaturedesign #videogames #conceptart https://t.co/Jr7oTlKOew | 10 |
| 1637334061113913344 | i sweaaaaar if @Wizard101 held a wizcon in texas i'd fly there so fast. this game has been part of my life so long & i just wanna meet the community & share the greatness of it all in person!!! 🧙‍♂️🔮✨ | 8 |
| 1638641228425330688 | saw @kopuccino 's wizards ID so i had to try and make one myself! here's the results! - @Wizard101 #Wizard101 https://t.co/MPtLPDplWb | 7 |
| 1637076610393296897 | Trying not to let any bias of Novus being the newest one factor into your decision - which of the Arc 4 worlds would you say is your favorite so far? #Wizard101 @Wizard101 | 7 |
| 1638198176896233472 | Looking at Taurus the Clever from the Tower of the Helephant and his inspiration from Astronomy and Astrology in today's #Wizard101 pop culture article @Wizard101 @KyleIceW https://t.co/jV33BcjLv0 | 5 |
| 1639336617864200208 | Did you notice? Just inside the first door outside of Café Melee in La Ville Rose (part of the @Wizard101 Novus expansion) you can see the hats of Boochbeard and Mr. Gandry from @Pirate101. This continues a longtime tradition of incorporating the iconic duo into each new world. https://t.co/VBO92M1Fmn | 4 |
Top 10 tweets with highest Like count
| ID | Text | Like count |
| --- | --- | --- |
| 1637929387206012929 | Excited to announce that I will be co-hosting a Voice Acting Roundtable with @MrDemonAxe live on his Twitch channel next Tuesday, March 28th at 3pm CST! We will have Sam Johnson, Mike Sears, Kayly Ginsberg, and Hawkules on board to talk all things @Wizard101 and @Pirate101 VO! https://t.co/w2usadozwJ | 127 |
| 1637334061113913344 | i sweaaaaar if @Wizard101 held a wizcon in texas i'd fly there so fast. this game has been part of my life so long & i just wanna meet the community & share the greatness of it all in person!!! 🧙‍♂️🔮✨ | 111 |
| 1639743468384710659 | March 2023 Weekend Giveaway #4 For our 4th and final March 2023 Weekend Giveaway, we are giving away a Blacksmith's Fjord Bundle for @Wizard101! Reply here with something you want to see added to Wizard101 for a chance to win! Ends: Thursday, March 30, 2023 https://t.co/gRPOlizuIY | 110 |
| 1638256685335605250 | Here are the four camps of the various Novus worlds, which are seen in Conatus. They're pretty much a small sample of what each world will be like. @Wizard101 #wizard101 #videogames #conceptart https://t.co/jtUFNAy3xW | 82 |
| 1639802093375463425 | Who would have guessed I'd run into @Wizard101 at #PAXEast! 🤩 Thanks so much to @_Mythdust & @KingsIsle for the 10th anniversary shirt and for both of the super cute plushies! 🧙‍♂️ https://t.co/473rIqu421 | 79 |
| 1638979014445465601 | Here's the Puzzle Piece Monster from Novus. Creating a repeating pattern creature composed of details from Puerto Nuovo was really challenging. @Wizard101 #wizard101 #creaturedesign #videogames #conceptart https://t.co/Jr7oTlKOew | 75 |
| 1638641228425330688 | saw @kopuccino 's wizards ID so i had to try and make one myself! here's the results! - @Wizard101 #Wizard101 https://t.co/MPtLPDplWb | 63 |
| 1638326882654380032 | Hello, everyone! Giveaway time!! What made you enthusiastic or drawn-in to playing Wizard101? One player will be given 10,000 Crowns and the Rainbow Teleport effect! Winner will be chosen by staff. Ends 03/26. #Wizard101 @Wizard101 | 60 |
| 1636828647775453206 | EXCLUSIVE: It has been confirmed to us that longtime @Wizard101 composer Nelson Everhart (@nelsoneverhart) was responsible for the two themes heard in the upcoming Night Mire Swamp Gauntlet! This would be the first time he has composed unique themes for a new gauntlet. https://t.co/HC7IYYQUTY | 38 |
| 1639992461324959746 | i've missed playing this game 🫠 #Wizard101 @Wizard101 https://t.co/FG2gBAGgeg | 37 |
Top 3 Languages Used In Tweets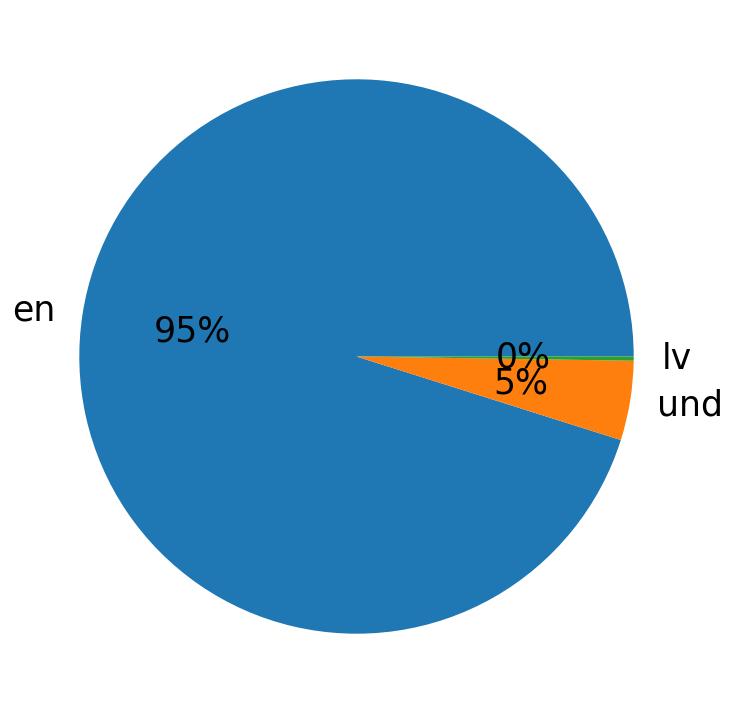 ---
Top 10 Hashtags used
| Hashtag | Count |
| --- | --- |
| #wizard101 | 83 |
| #videogames | 9 |
| #conceptart | 8 |
| #testrealm | 6 |
| #paxeast | 5 |
| #twitch | 4 |
| #live | 3 |
| #4 | 3 |
| #askki | 3 |
| #creaturedesign | 2 |
Top 10 Hashtags Used In Tweets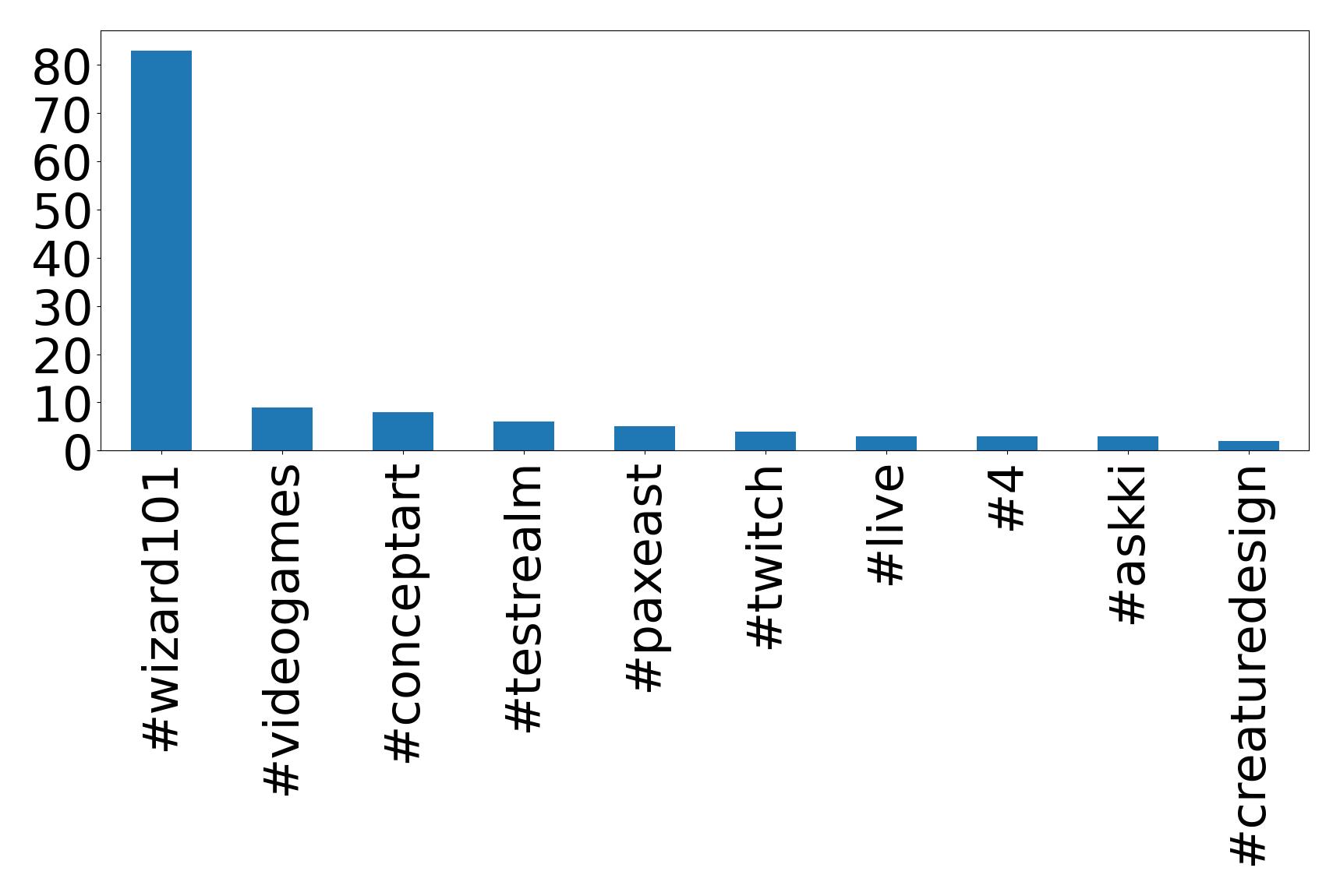 Top 10 mentions
| Mention | Count |
| --- | --- |
| @wizard101 | 837 |
| @arcanumarchives | 149 |
| @crystalspiral_ | 143 |
| @kingsisle | 61 |
| @wizard101devs | 47 |
| @pirate101 | 38 |
| @_mythdust | 37 |
| @spiralvoices | 35 |
| @chrisdeathrider | 27 |
| @mrdemonaxe | 26 |
Top 10 mentions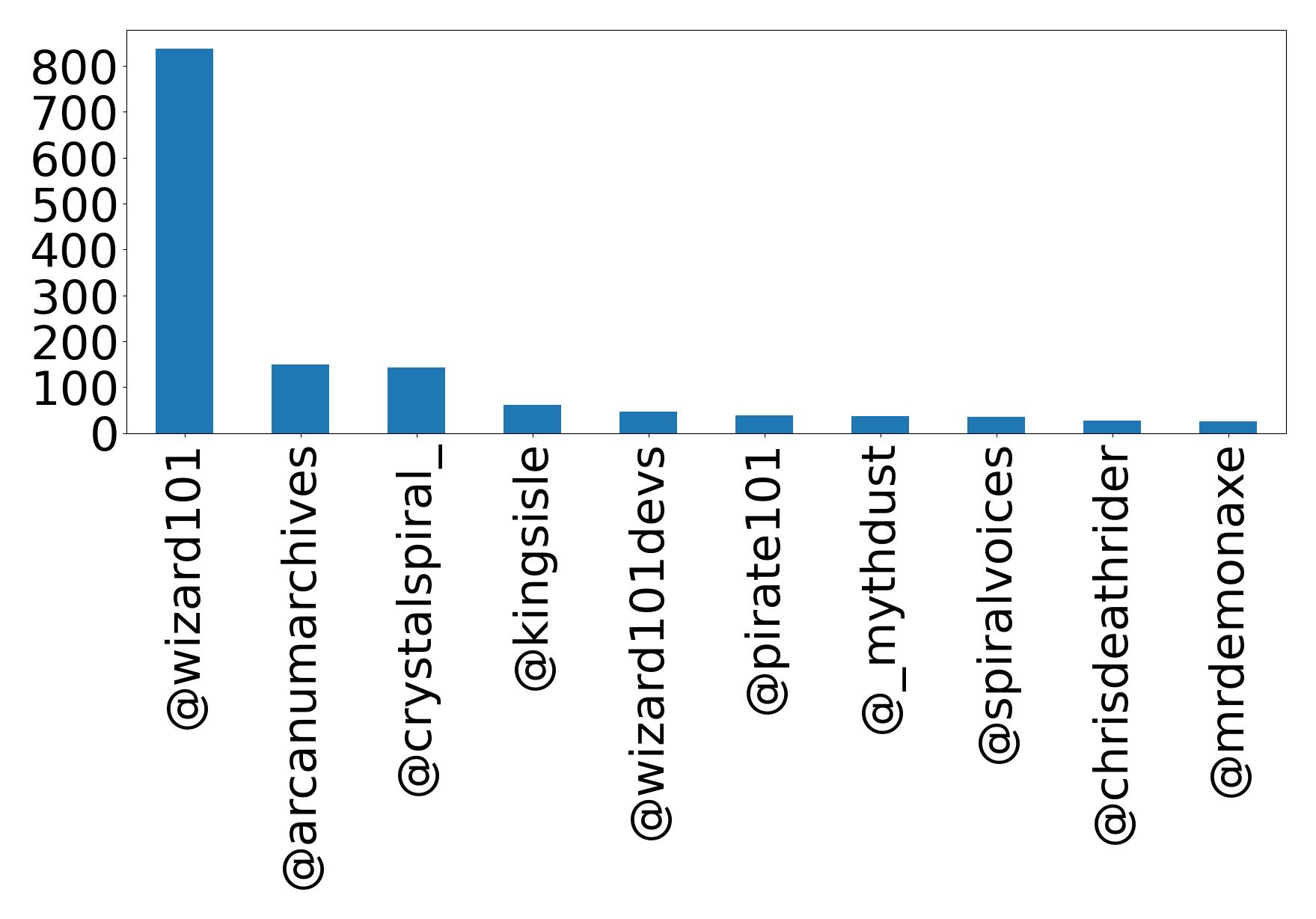 Wordcloud of Tweets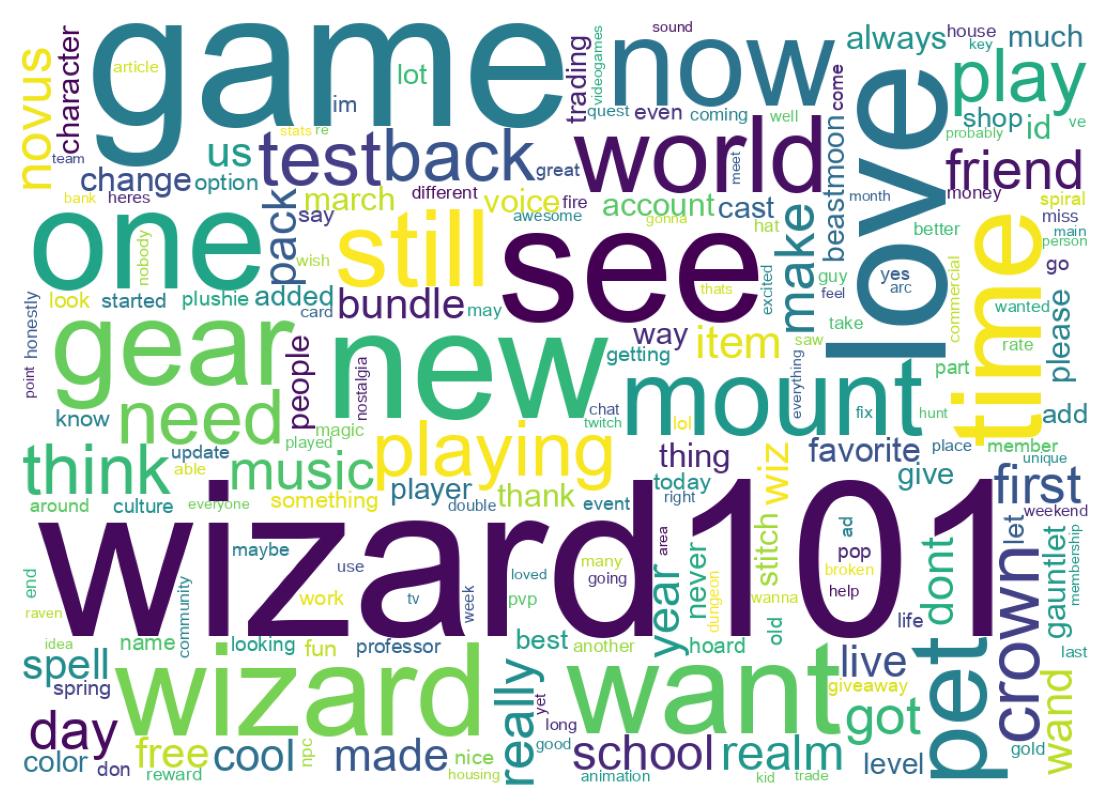 ---
Emojis
Average number of emojis used per tweet
29
Emojis used in tweets
| Emoji | Count | Emoji Text |
| --- | --- | --- |
| 😭 | 26 | loudly_crying_face |
| 👀 | 11 | eyes |
| 😂 | 8 | face_with_tears_of_joy |
| ✨ | 8 | sparkles |
| 💖 | 7 | sparkling_heart |
| 🔥 | 6 | fire |
| 😅 | 5 | grinning_face_with_sweat |
| 💀 | 5 | skull |
| 📰 | 5 | newspaper |
| 🤩 | 4 | star-struck |
Emojis groups
| Emoji Group | Count |
| --- | --- |
| Smileys & Emotion | 114 |
| People & Body | 33 |
| Animals & Nature | 28 |
| Travel & Places | 22 |
| Activities | 21 |
| Objects | 20 |
| Symbols | 5 |
| Food & Drink | 2 |