Tweets Analysis - Keyword: @USATH
Total number of tweets analysed
5
Earliest tweet was on
2023-03-24
Latest tweet was on
2023-03-30
Average age of authors' accounts
10 years
---
Summarization
The tweets mention Neil Johnson, J_Kracken_D, official_tahc, USATH, and OSUteamhandball. No further information or context is provided.
Topic Modeling
Sports - specifically the sport of handball
Teams and organizations - mention of specific teams and organizations like USATH, OSUteamhandball, and official_tahc
Individuals - reference to Neil Johnson and J_Kracken_D
Community - participation in a conversation or discussion about a shared interest
Social media - use of Twitter to engage in the conversation
Emotional Analysis
There is insufficient information to provide an emotional analysis summary for this specific tweet as it does not contain any emotional language. It just contains Twitter handles of different individuals or organizations.
Trend Analysis
Neil Johnson
J Kracken D
Official tahc
USA team handball
OSU team handball
---
Types of Tweets
Number of Retweets
4
Percentage of total tweets
80%
Number of Original tweets
0
Percentage of total tweets
0%
Number of tweets that contain Mentions
5
Percentage of total tweets
100%
Number of tweets that were Replies
1
Percentage of total tweets
20%
Number of tweets that were Quotes
0
Percentage of total tweets
0%
Number of tweets that contain Hashtags
0
Percentage of total tweets
0%
---
Top 5 devices used to tweet
| Source | Count |
| --- | --- |
| Twitter for Android | 2 |
| Twitter for iPhone | 2 |
| Twitter Web App | 1 |
What devices were used to tweet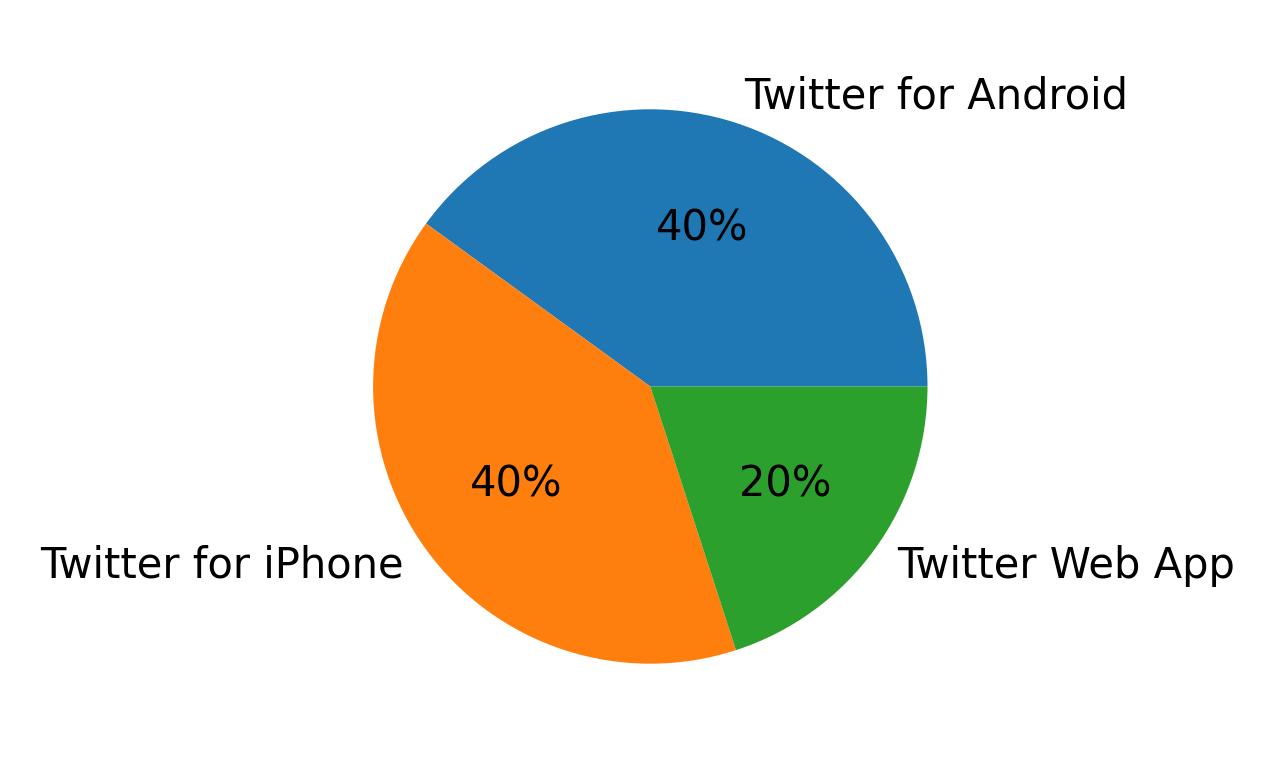 ---
Top 10 accounts with highest followers count
| Username | Name | Bio | Followers count |
| --- | --- | --- | --- |
| ihf_info | International Handball Federation | Official account of the global governing body for handball. | 62,412 |
| Kathy_Darling | Helga's Stockings 🧦 | Developer of WooCommerce things, author of Name Your Price, USA handball athlete, guacamole aficionado, hopeless wanderer, & general renaissance woman. she/her. | 1,866 |
| J_Kracken_D | JD The conductORR | Founder & Coach of @Osuteamhandball 🤾‍♂️ Starting Goalkeeper & Co-Owner of @ColumbusArmada 🤾 | 1,015 |
| iamreallykurt | k. | I am not the villain of this story // uvijek sanjari | 526 |
| kimberlymo57281 | kimberly monk | - | 4 |
Top 10 accounts with highest friends count
| Username | Name | Bio | Followers count |
| --- | --- | --- | --- |
| J_Kracken_D | JD The conductORR | Founder & Coach of @Osuteamhandball 🤾‍♂️ Starting Goalkeeper & Co-Owner of @ColumbusArmada 🤾 | 1,922 |
| Kathy_Darling | Helga's Stockings 🧦 | Developer of WooCommerce things, author of Name Your Price, USA handball athlete, guacamole aficionado, hopeless wanderer, & general renaissance woman. she/her. | 1,263 |
| ihf_info | International Handball Federation | Official account of the global governing body for handball. | 782 |
| iamreallykurt | k. | I am not the villain of this story // uvijek sanjari | 419 |
| kimberlymo57281 | kimberly monk | - | 11 |
Most active users
| Username | Bio | Number of tweets |
| --- | --- | --- |
| J_Kracken_D | Founder & Coach of @Osuteamhandball 🤾‍♂️ Starting Goalkeeper & Co-Owner of @ColumbusArmada 🤾 | 1 |
| Kathy_Darling | Developer of WooCommerce things, author of Name Your Price, USA handball athlete, guacamole aficionado, hopeless wanderer, & general renaissance woman. she/her. | 1 |
| iamreallykurt | I am not the villain of this story // uvijek sanjari | 1 |
| ihf_info | Official account of the global governing body for handball. | 1 |
| kimberlymo57281 | - | 1 |
---
Tweets per day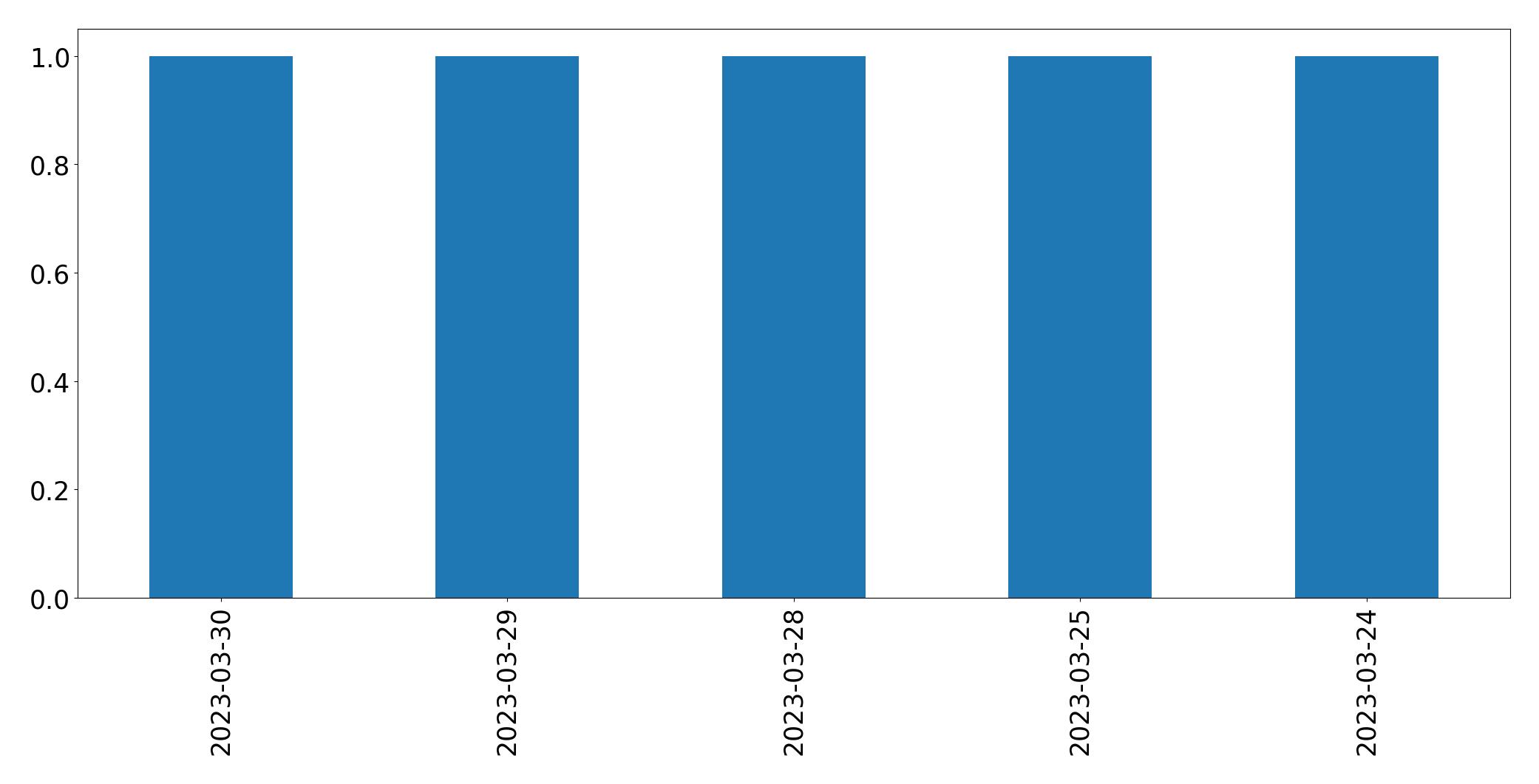 ---
Top 10 tweets with highest Retweet count
| ID | Text | Retweet count |
| --- | --- | --- |
| 1639457216636809217 | @neilmjohnson @J_Kracken_D @official_tahc @USATH @OSUteamhandball | 0 |
Top 10 tweets with highest Like count
| ID | Text | Like count |
| --- | --- | --- |
| 1639457216636809217 | @neilmjohnson @J_Kracken_D @official_tahc @USATH @OSUteamhandball | 2 |
Top 3 Languages Used In Tweets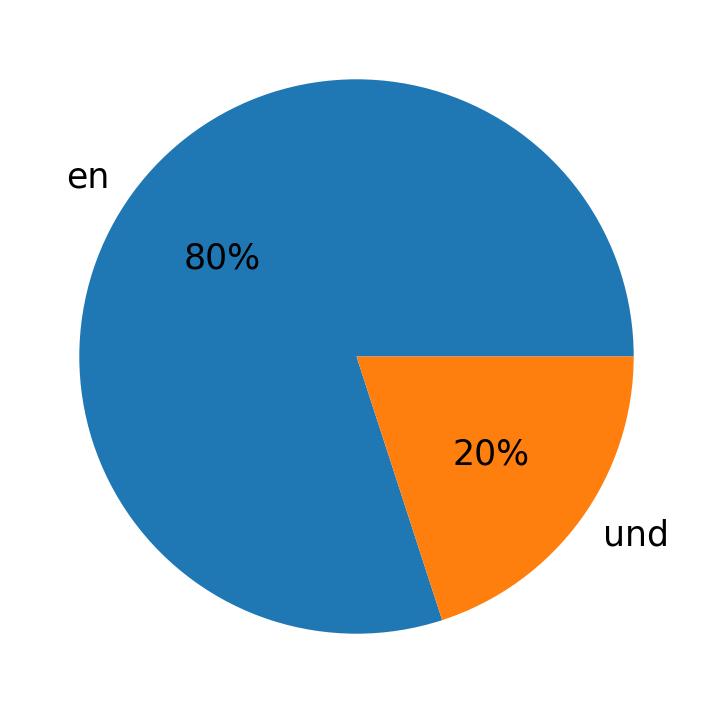 ---
Top 10 mentions
| Mention | Count |
| --- | --- |
| @usath | 5 |
| @kathy_darling | 1 |
| @woocommerce | 1 |
| @neilmjohnson | 1 |
| @j_kracken_d | 1 |
| @official_tahc | 1 |
| @osuteamhandball | 1 |
Top 10 mentions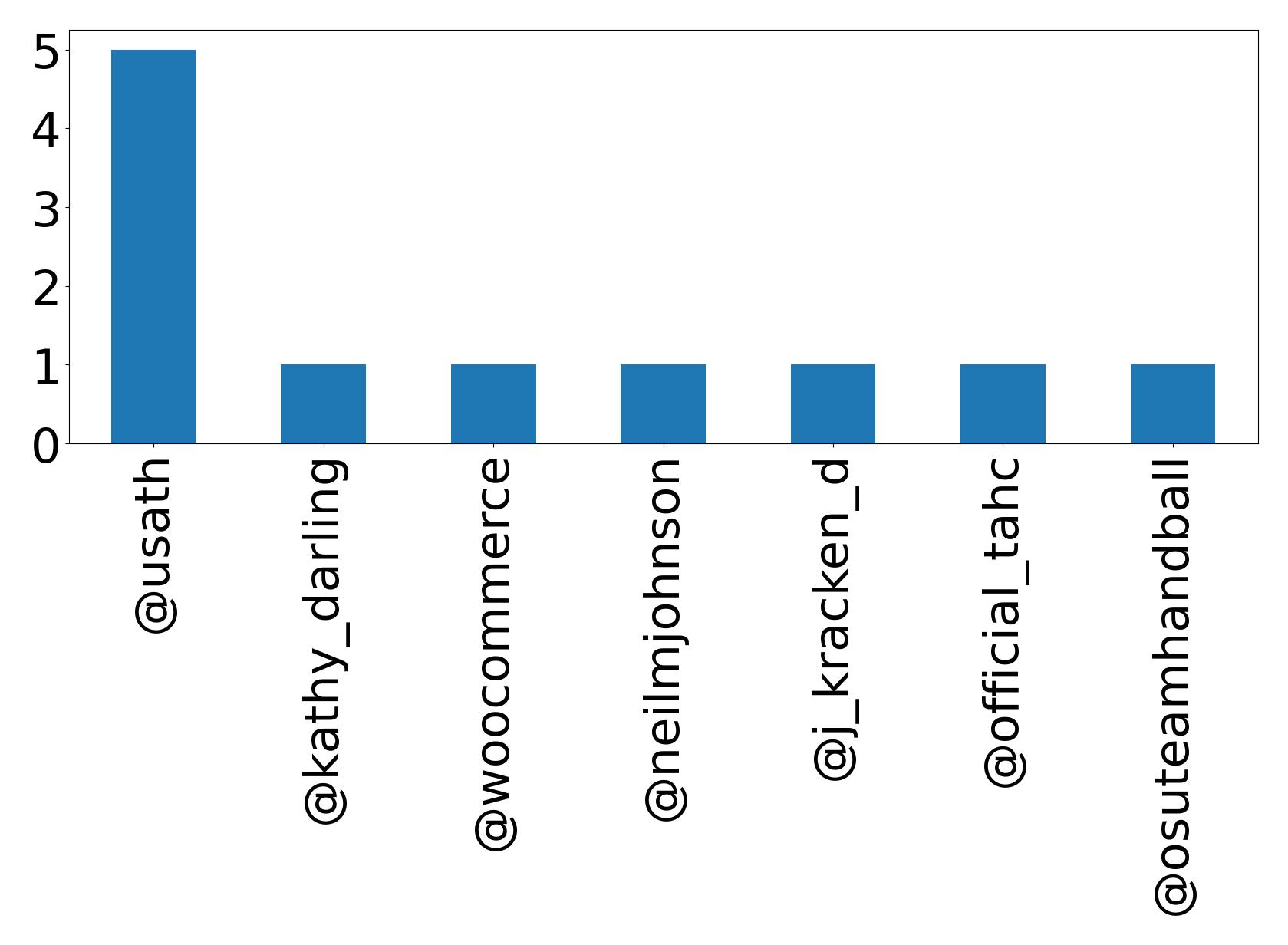 Wordcloud of Tweets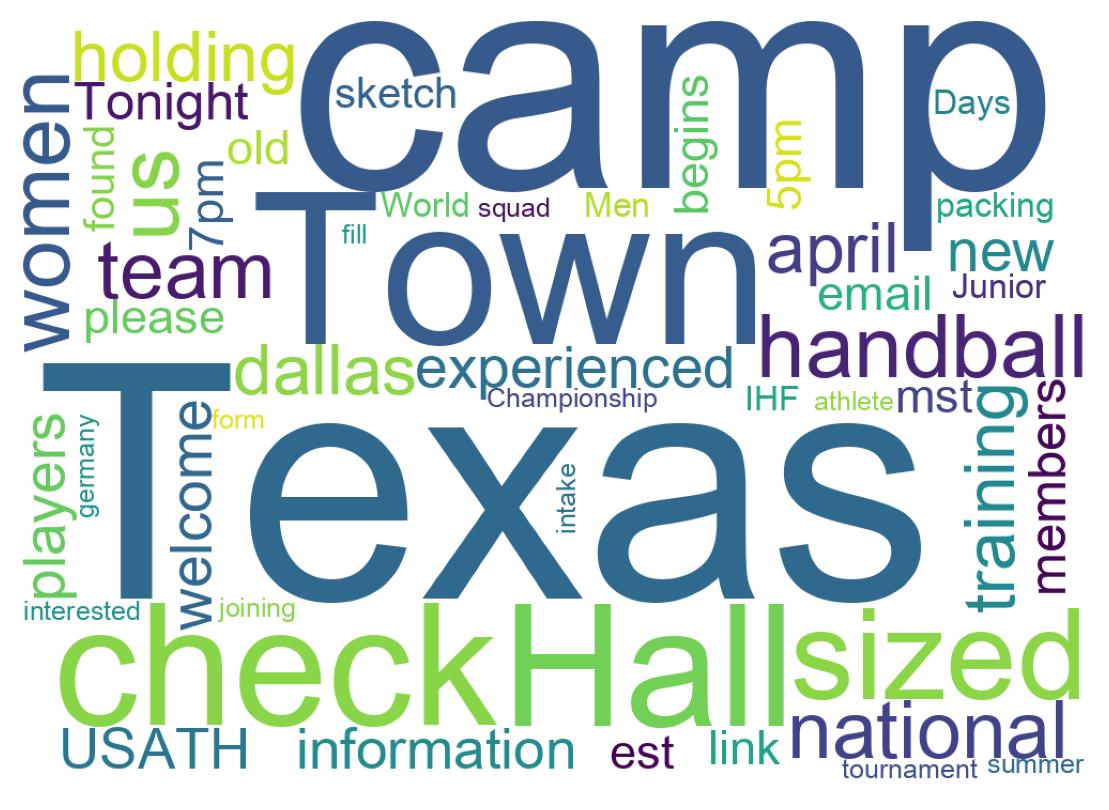 ---
Emojis
Average number of emojis used per tweet
120
Emojis used in tweets
| Emoji | Count | Emoji Text |
| --- | --- | --- |
| ⬇️ | 3 | down_arrow |
| 🤾‍♀️ | 1 | woman_playing_handball |
| ➡️ | 1 | right_arrow |
| 🇺🇸 | 1 | United_States |
Emojis groups
| Emoji Group | Count |
| --- | --- |
| Symbols | 4 |
| People & Body | 1 |
| Flags | 1 |