Tweets Analysis - Keyword: @UNICEFNorge
Total number of tweets analysed
15
Earliest tweet was on
2023-03-21
Latest tweet was on
2023-03-29
Average age of authors' accounts
9 years
---
Summarization
UNICEF Kenya has announced a partnership for disability inclusion. UNICEF Norway researchers recommend offering reusable alternatives to reduce waste on Norwegian beaches. UNICEF Norway has collaborated on a tool for teachers to support mental health awareness in the classroom. Twitter users have raised concerns about civil rights and reimbursement for travel disruptions, tagging UNICEF Norway in their complaints. UNICEF Kenya and other organizations have been urged to utilize alt-text to make their Twitter images accessible.
Topic Modeling
Partnership on disability inclusion with UNICEF Kenya
Environment: Reduce waste and provide reusable alternatives
Mental health in schools: UNICEF's tool for open and healthy discussion
Human Rights: Iran Revolution and activism
Travel: Flight cancelled and reimbursement issues with Fly Norwegian
Emotional Analysis
The emotions expressed in these tweets vary, ranging from excitement and gratitude for the partnership with UNICEF, to concern and frustration about environmental issues, mental health, and political decisions. Some tweets express support for causes such as human rights and disability inclusion, while others express anger towards airlines for canceled flights and a lack of reimbursement for expenses. Overall, the emotions expressed in these tweets reflect a range of personal experiences and perspectives on various social and global issues.
Trend Analysis
Partnership and collaboration between organizations, specifically involving UNICEF and its partners (@UNICEFKenya, @UNICEFNorge, @NIVAforskning, @Amnesty_Norge, @NRC_Norway, @Sida, @SwedeninKE, @LabourSPKE, @DCS_Kenya, @noradno)
Environmental awareness and sustainability, specifically the need for reusable alternatives and reducing waste (@NIVAforskning, @VildeKloster, @DiyaChakravorty, #JannikeFalkAndersson, @FurstKathinka)
Mental health education and resources, specifically for young people (@UNICEFNorge)
Political decisions regarding education and technology use, specifically regarding mobile phone use in schools (@FUGforForeldre, @FUBforForeldre, @ReddBarna, @Barneombudet, @UNICEF)
Complaints and issues with airline services, specifically with Fly_Norwegian and the need for reimbursement for expenses incurred due to cancelled flights (@Fly_Norwegian, @UNICEF, @UNICEFNorge, @UNICEFSupply)
---
Types of Tweets
Number of Retweets
4
Percentage of total tweets
26%
Number of Original tweets
5
Percentage of total tweets
33%
Number of tweets that contain Mentions
15
Percentage of total tweets
100%
Number of tweets that were Replies
5
Percentage of total tweets
33%
Number of tweets that were Quotes
1
Percentage of total tweets
6%
Number of tweets that contain Hashtags
3
Percentage of total tweets
20%
---
Top 5 devices used to tweet
| Source | Count |
| --- | --- |
| Twitter Web App | 8 |
| Twitter for iPhone | 4 |
| Twitter for Android | 2 |
| TweetDeck | 1 |
What devices were used to tweet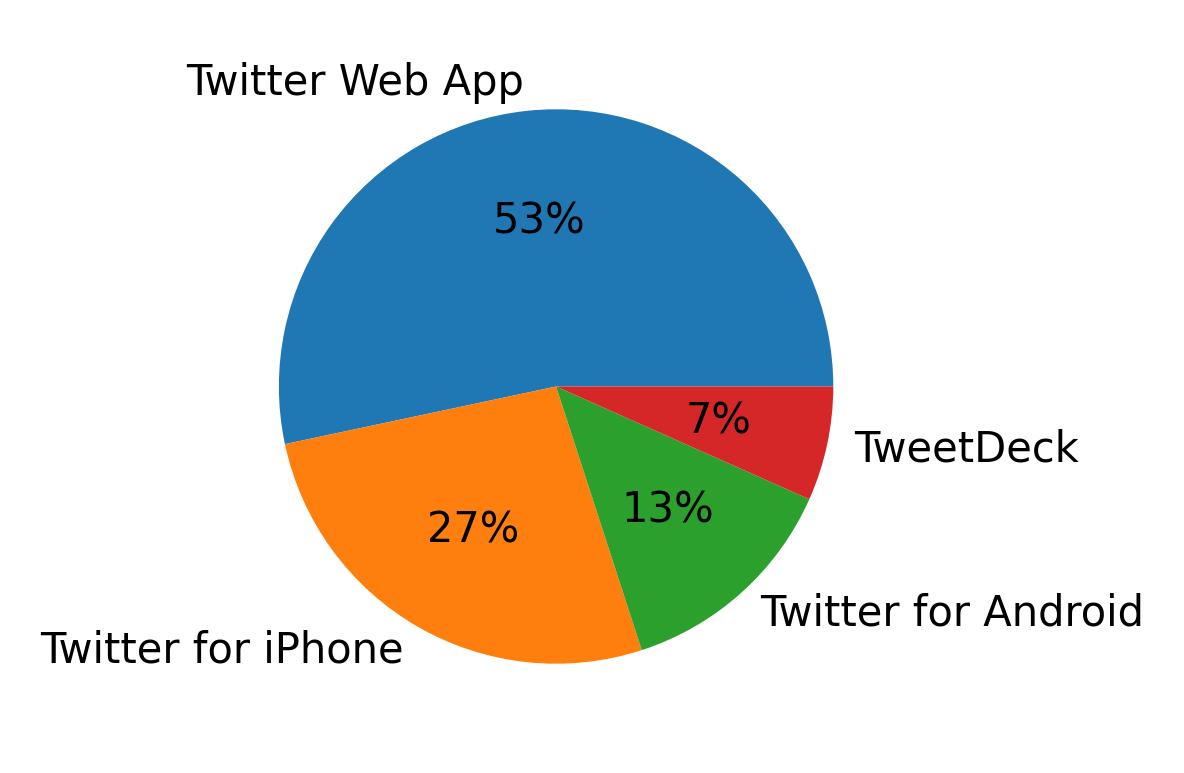 ---
Top 10 accounts with highest followers count
| Username | Name | Bio | Followers count |
| --- | --- | --- | --- |
| SVparti | SV | Partiet for miljø og rettferdighet. For de mange — ikke for de få | 51,308 |
| bar_zie | Barbara Anna Zielonka (she/her/hers) | learner/global educator/TOP 10 GTP/traveller/author/ESL/ techie/pacifist/PD/BYOD/ #GlobalGoals /edtech/#SDGs / HundrED & Varkey Ambassador/(she/her) | 15,814 |
| Larerbloggen | Martin Johannessen | Pedagog og skolefaglig rådgiver #ChatGPT Rekk opp hånda! https://t.co/KroGHWhIdQ… Rekk opp hånda-blogg https://t.co/DvBoElq3pS | 4,778 |
| chellevang | Christian Hellevang | Christian Hellevang er en norsk organisasjonsmann, som blant annet har vært nestleder i NSU, leder av DKSF og generalsekretær i Høyres Studenterforbund. | 2,429 |
| desibility | Peter Torres Fremlin | I write @DisDebrief to keep up with disability in a changing world. I love languages, questions and places I've lived 🇬🇧🇧🇷🇧🇩🇪🇬 | 2,137 |
| NorwayAmbKenya | Gunnar Andreas Holm 🇳🇴 | Norwegian Ambassador to 70 million people in Kenya, Somalia and the Seychelles. Permanent Rep. to @UNEP & @UNHABITAT | 2,022 |
| SindreLangaas | Sindre Langaas NIVA | Research Manager Water & Society, @NIVAforskning. Ex @LRFSverige Ex @LansstyrelseSTH Ex @KTHUniversity Ex @GRIDArendal | 1,532 |
| YouthPresidentA | Youth President001 | A Selfless Youth Leader Determined to Ensure Youth Interests are Considered at the Fore... #VijanaPiaTunaweza... #UongoziNaMaendeleoBora... #AmaniKwanza... | 747 |
| AnneDNilsen | Anne D Nilsen | Kommunikasjonsrådgiver i UNICEF Norge, ex-journalist, utflyttet Karmøybu. Nyhetsjunkie. Hjerte for familien, kultur, skole, verden & Vestland, vestland | 570 |
| samosawale | secular baba | - | 78 |
Top 10 accounts with highest friends count
| Username | Name | Bio | Followers count |
| --- | --- | --- | --- |
| bar_zie | Barbara Anna Zielonka (she/her/hers) | learner/global educator/TOP 10 GTP/traveller/author/ESL/ techie/pacifist/PD/BYOD/ #GlobalGoals /edtech/#SDGs / HundrED & Varkey Ambassador/(she/her) | 16,983 |
| SVparti | SV | Partiet for miljø og rettferdighet. For de mange — ikke for de få | 13,513 |
| YouthPresidentA | Youth President001 | A Selfless Youth Leader Determined to Ensure Youth Interests are Considered at the Fore... #VijanaPiaTunaweza... #UongoziNaMaendeleoBora... #AmaniKwanza... | 5,006 |
| chellevang | Christian Hellevang | Christian Hellevang er en norsk organisasjonsmann, som blant annet har vært nestleder i NSU, leder av DKSF og generalsekretær i Høyres Studenterforbund. | 4,708 |
| Larerbloggen | Martin Johannessen | Pedagog og skolefaglig rådgiver #ChatGPT Rekk opp hånda! https://t.co/KroGHWhIdQ… Rekk opp hånda-blogg https://t.co/DvBoElq3pS | 3,969 |
| desibility | Peter Torres Fremlin | I write @DisDebrief to keep up with disability in a changing world. I love languages, questions and places I've lived 🇬🇧🇧🇷🇧🇩🇪🇬 | 2,566 |
| AnneDNilsen | Anne D Nilsen | Kommunikasjonsrådgiver i UNICEF Norge, ex-journalist, utflyttet Karmøybu. Nyhetsjunkie. Hjerte for familien, kultur, skole, verden & Vestland, vestland | 1,148 |
| SindreLangaas | Sindre Langaas NIVA | Research Manager Water & Society, @NIVAforskning. Ex @LRFSverige Ex @LansstyrelseSTH Ex @KTHUniversity Ex @GRIDArendal | 920 |
| NorwayAmbKenya | Gunnar Andreas Holm 🇳🇴 | Norwegian Ambassador to 70 million people in Kenya, Somalia and the Seychelles. Permanent Rep. to @UNEP & @UNHABITAT | 447 |
| Soror_42 | Soror | - | 259 |
Most active users
| Username | Bio | Number of tweets |
| --- | --- | --- |
| HChicot | - | 2 |
| AnneDNilsen | Kommunikasjonsrådgiver i UNICEF Norge, ex-journalist, utflyttet Karmøybu. Nyhetsjunkie. Hjerte for familien, kultur, skole, verden & Vestland, vestland | 1 |
| Larerbloggen | Pedagog og skolefaglig rådgiver #ChatGPT Rekk opp hånda! https://t.co/KroGHWhIdQ… Rekk opp hånda-blogg https://t.co/DvBoElq3pS | 1 |
| NorwayAmbKenya | Norwegian Ambassador to 70 million people in Kenya, Somalia and the Seychelles. Permanent Rep. to @UNEP & @UNHABITAT | 1 |
| SVparti | Partiet for miljø og rettferdighet. For de mange — ikke for de få | 1 |
| SindreLangaas | Research Manager Water & Society, @NIVAforskning. Ex @LRFSverige Ex @LansstyrelseSTH Ex @KTHUniversity Ex @GRIDArendal | 1 |
| Soror_42 | - | 1 |
| TysonOdooJuma | Oscillating Nomad(ism) + Cycling Jock 🚴‍♀️™ | 1 |
| VildeKloster | Marine biology masters degree from @jcu and @aims_gov_au working on #microplastic & #fishbehaviour 🐟 | 1 |
| YouthPresidentA | A Selfless Youth Leader Determined to Ensure Youth Interests are Considered at the Fore... #VijanaPiaTunaweza... #UongoziNaMaendeleoBora... #AmaniKwanza... | 1 |
---
Tweets per day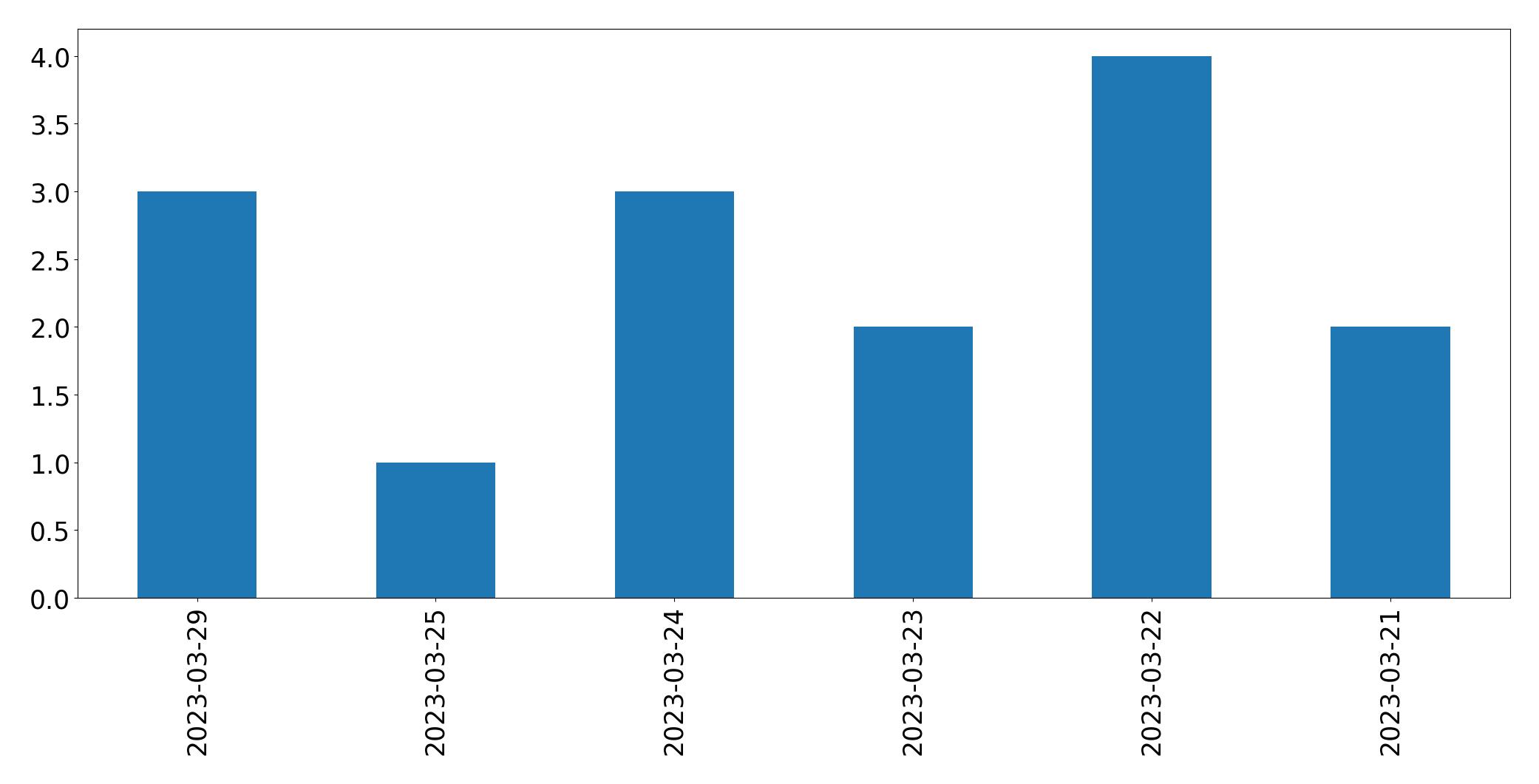 ---
Top 10 tweets with highest Retweet count
| ID | Text | Retweet count |
| --- | --- | --- |
| 1641065813615558657 | Bind &, tamponger utgjør 5% av søppel funnet langs 🇳🇴 strender i 2021. @NIVAforskning kollegaene @VildeKloster @DiyaChakravorty #JannikeFalkAndersson & @FurstKathinka ber at https://t.co/OCM5m9eVJ8 (@KIWISJEFEN @UNICEFNorge) tilbyr gjenbruksalternativer. https://t.co/jYJeBZ0eUF https://t.co/qngy7lamXo | 3 |
| 1638394626288517120 | And good morning Mombasa😎 Exciting program with @UNICEFKenya starting soon, partnership on disability inclusion. @UNICEFNorge https://t.co/a3BQVbj0Zl | 2 |
| 1638541771553611776 | Psykisk helse på ungdomstrinnet: @UNICEFNorge har vært med på å lage et gratis verktøy for lærere som kan brukes i klassen for å bidra til åpenhet og kunnskap om egen og andres psykiske helse. https://t.co/cHdXj5kbFm | 1 |
| 1641126550534864897 | @UNICEFKenya @LHarman_UK @SwedeninKE @NorwayInKenya @NorwayAmbKenya @WaziriBore @ShaheenSnilofer @UNICEFNorge @MohamedFall @UNICEFAfrica @SP_Kenya @EduMinKenya @LabourSPKE @A_S_Nassir Hi @LHarman_UK I did send you a DM. Please do have a look at it. Thank you. | 0 |
| 1639466337343791106 | @NRC_Norway @UNICEFNorge @Amnesty_Norge https://t.co/AKYkrnoXAO Is this true? The world thinks that Norway is a civilised nordic country @UNHumanRights | 0 |
| 1639287950016933891 | @Fly_Norwegian @UNICEFNorge Je suis restée bloquée 3 jours en Norvège avec ma famille à cause d'un vol annulé. Nous avons envoyé toutes les factures il y a plus d'un mois, nous avons du nous loger à 4, manger…et avons dépensé 1000€ de plus! Vous devez nous rembourser les frais engagés! @Fly_Norwegian | 0 |
| 1639287817380528128 | @Fly_Norwegian @UNICEF @UNICEFNorge @UNICEFSupply Je suis restée bloquée 3 jours en Norvège avec ma famille à cause d'un vol annulé. Nous avons envoyé toutes les factures il y a plus d'un mois, nous avons du nous loger à 4, manger…et avons dépensé 1000€ de plus! Vous devez nous rembourser les frais engagés! @Fly_Norwegian | 0 |
| 1639171889686872066 | @UNICEFKenya @NorwayAmbKenya @NorwayInKenya @UNICEFNorge @Sida @SwedeninKE @LabourSPKE @DCS_Kenya @jlokenga @noradno @ShaheenSnilofer when you tweet please use alt-text to make your images accessible | 0 |
| 1638802669421699073 | Undrer meg litt over nasjonale politikere som vil styre mobilbruken i skolen, dette er vel noe som kan bestemmes lokalt i samråd med rektor, lærere, elever og foreldre? @FUGforForeldre @FUBforForeldre @ReddBarna @Barneombudet @UNICEF @UNICEFNorge | 0 |
| 1638327153027686401 | IranRevolution 💚🩶❤ @Amnesty_Norge @vgnett @MasudGh @AlinejadMasih @bai_mina @SafaiDarya @iranhr @erna_solberg @UNICEFNorge #Mahsa_Amini #IRGCterrorists https://t.co/bLALiCp83w | 0 |
Top 10 tweets with highest Like count
| ID | Text | Like count |
| --- | --- | --- |
| 1638394626288517120 | And good morning Mombasa😎 Exciting program with @UNICEFKenya starting soon, partnership on disability inclusion. @UNICEFNorge https://t.co/a3BQVbj0Zl | 10 |
| 1641065813615558657 | Bind &, tamponger utgjør 5% av søppel funnet langs 🇳🇴 strender i 2021. @NIVAforskning kollegaene @VildeKloster @DiyaChakravorty #JannikeFalkAndersson & @FurstKathinka ber at https://t.co/OCM5m9eVJ8 (@KIWISJEFEN @UNICEFNorge) tilbyr gjenbruksalternativer. https://t.co/jYJeBZ0eUF https://t.co/qngy7lamXo | 4 |
| 1638541771553611776 | Psykisk helse på ungdomstrinnet: @UNICEFNorge har vært med på å lage et gratis verktøy for lærere som kan brukes i klassen for å bidra til åpenhet og kunnskap om egen og andres psykiske helse. https://t.co/cHdXj5kbFm | 4 |
| 1638327153027686401 | IranRevolution 💚🩶❤ @Amnesty_Norge @vgnett @MasudGh @AlinejadMasih @bai_mina @SafaiDarya @iranhr @erna_solberg @UNICEFNorge #Mahsa_Amini #IRGCterrorists https://t.co/bLALiCp83w | 2 |
| 1638802669421699073 | Undrer meg litt over nasjonale politikere som vil styre mobilbruken i skolen, dette er vel noe som kan bestemmes lokalt i samråd med rektor, lærere, elever og foreldre? @FUGforForeldre @FUBforForeldre @ReddBarna @Barneombudet @UNICEF @UNICEFNorge | 1 |
| 1638118423048646656 | @UNICEFNorge @Hawatako Tusen takk, vi også! <3 | 1 |
| 1641126550534864897 | @UNICEFKenya @LHarman_UK @SwedeninKE @NorwayInKenya @NorwayAmbKenya @WaziriBore @ShaheenSnilofer @UNICEFNorge @MohamedFall @UNICEFAfrica @SP_Kenya @EduMinKenya @LabourSPKE @A_S_Nassir Hi @LHarman_UK I did send you a DM. Please do have a look at it. Thank you. | 0 |
| 1639466337343791106 | @NRC_Norway @UNICEFNorge @Amnesty_Norge https://t.co/AKYkrnoXAO Is this true? The world thinks that Norway is a civilised nordic country @UNHumanRights | 0 |
| 1639287950016933891 | @Fly_Norwegian @UNICEFNorge Je suis restée bloquée 3 jours en Norvège avec ma famille à cause d'un vol annulé. Nous avons envoyé toutes les factures il y a plus d'un mois, nous avons du nous loger à 4, manger…et avons dépensé 1000€ de plus! Vous devez nous rembourser les frais engagés! @Fly_Norwegian | 0 |
| 1639287817380528128 | @Fly_Norwegian @UNICEF @UNICEFNorge @UNICEFSupply Je suis restée bloquée 3 jours en Norvège avec ma famille à cause d'un vol annulé. Nous avons envoyé toutes les factures il y a plus d'un mois, nous avons du nous loger à 4, manger…et avons dépensé 1000€ de plus! Vous devez nous rembourser les frais engagés! @Fly_Norwegian | 0 |
Top 3 Languages Used In Tweets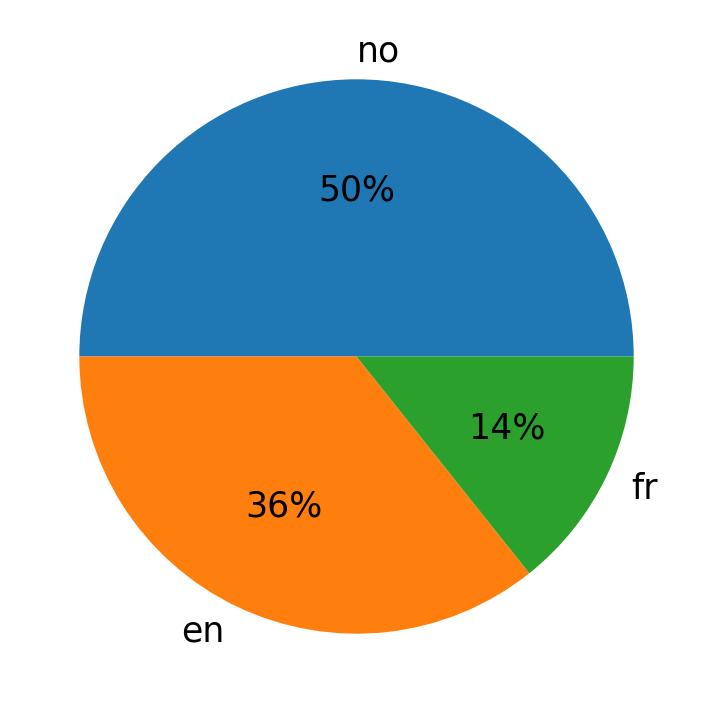 ---
Top 10 Hashtags used
| Hashtag | Count |
| --- | --- |
| #jannikefalkandersson | 2 |
| #mahsa_amini | 1 |
| #irgcterrorists | 1 |
Top 10 Hashtags Used In Tweets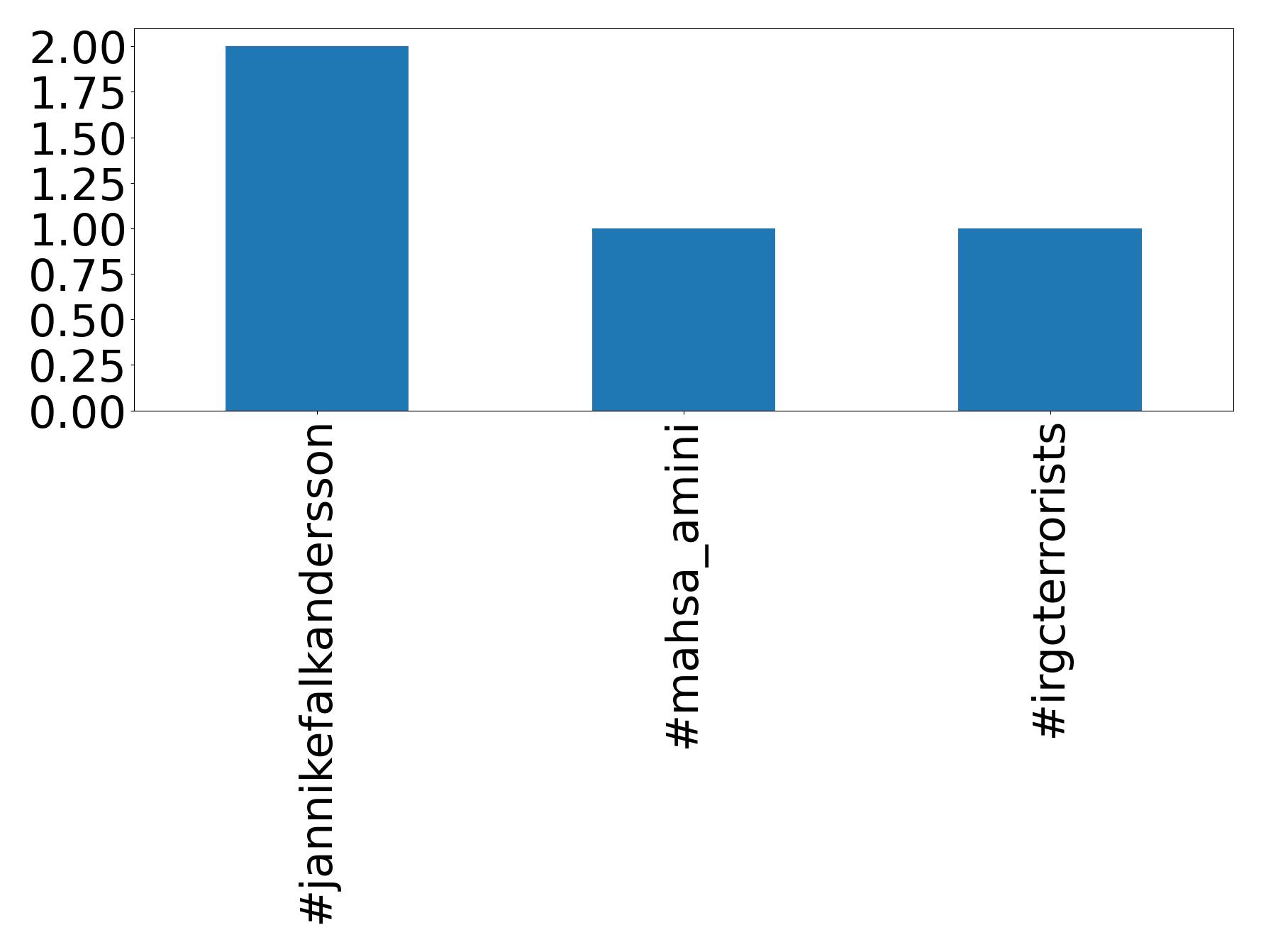 Top 10 mentions
| Mention | Count |
| --- | --- |
| @unicefnorge | 15 |
| @unicefkenya | 4 |
| @fly_norwegian | 4 |
| @norwayambkenya | 3 |
| @unicef | 3 |
| @lharman_uk | 2 |
| @swedeninke | 2 |
| @norwayinkenya | 2 |
| @shaheensnilofer | 2 |
| @labourspke | 2 |
Top 10 mentions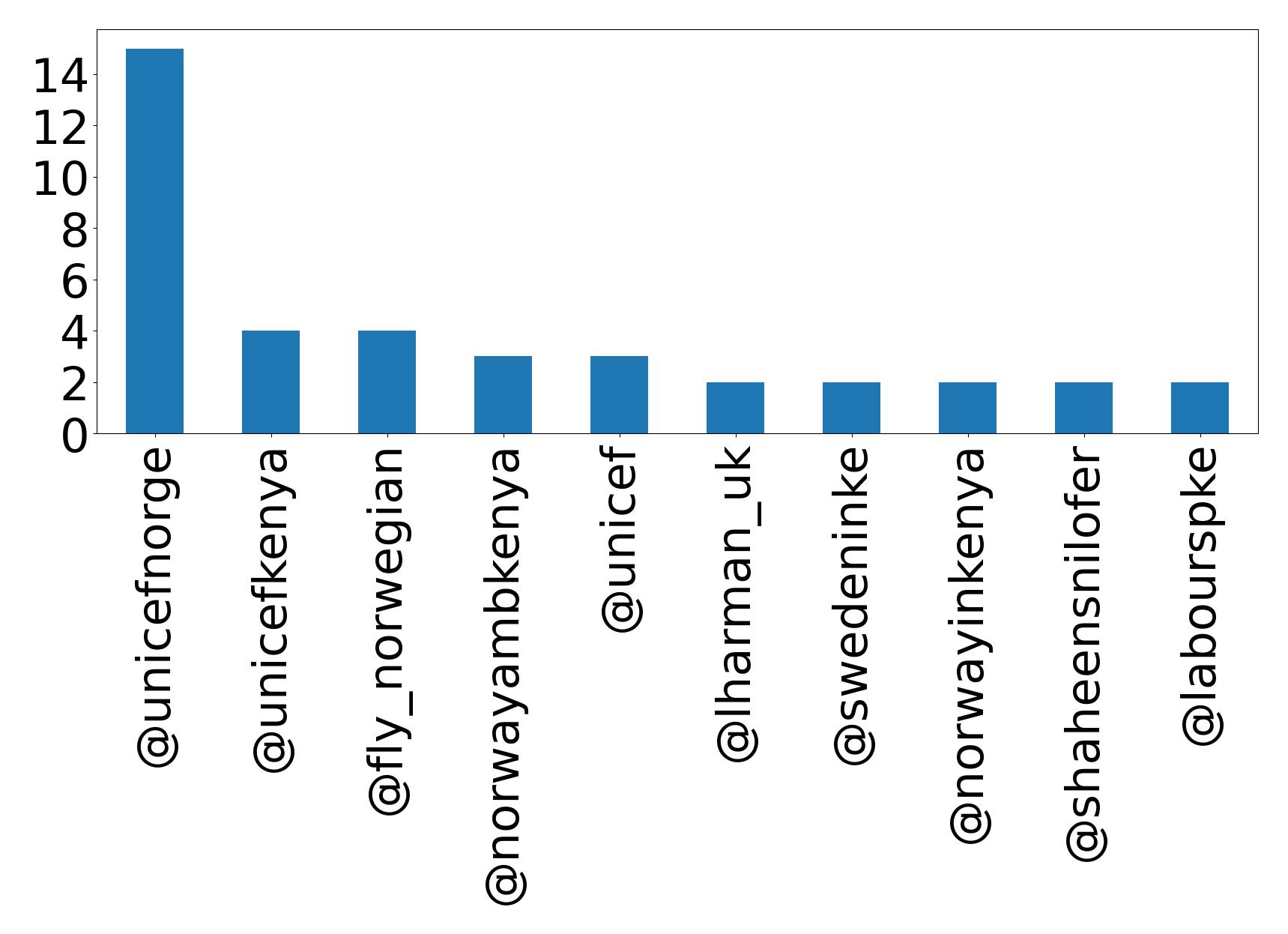 Wordcloud of Tweets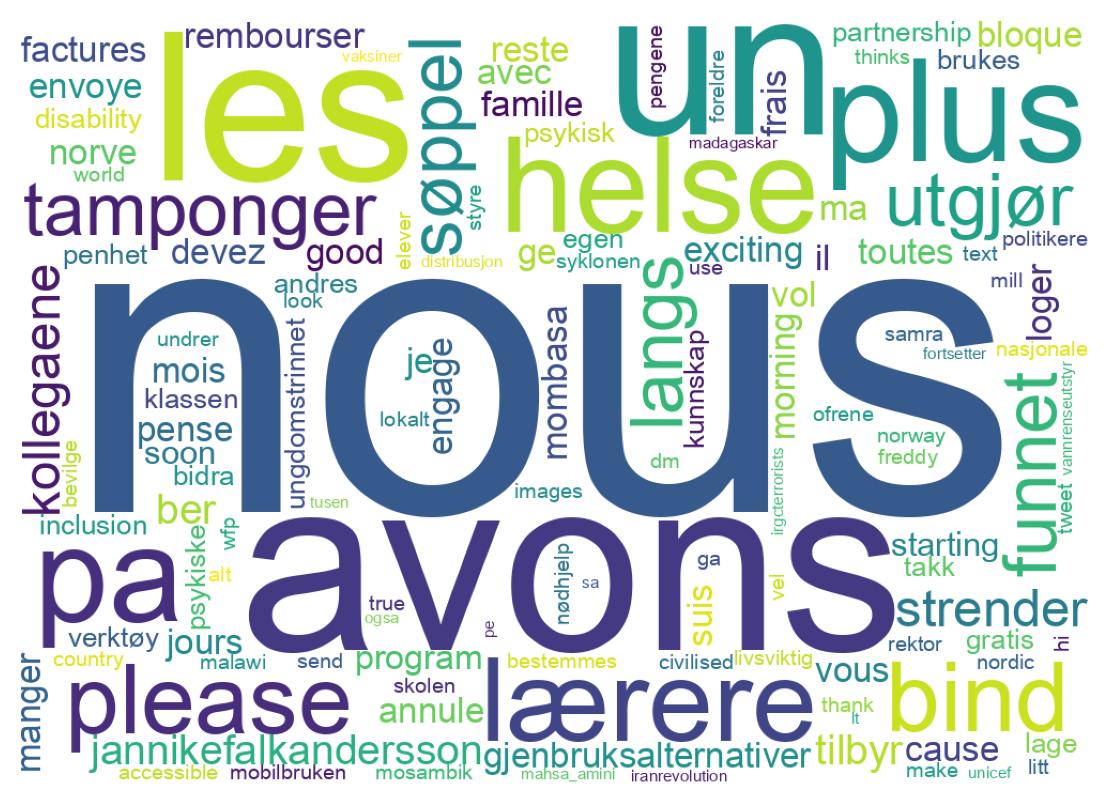 ---
Emojis
Average number of emojis used per tweet
40
Emojis used in tweets
| Emoji | Count | Emoji Text |
| --- | --- | --- |
| 🇳🇴 | 2 | Norway |
| 😎 | 2 | smiling_face_with_sunglasses |
| 💚 | 1 | green_heart |
| ❤ | 1 | red_heart |
Emojis groups
| Emoji Group | Count |
| --- | --- |
| Smileys & Emotion | 4 |
| Flags | 2 |