Tweets Analysis - Keyword: @UbisoftLatam
Total number of tweets analysed
352
Earliest tweet was on
2023-03-17
Latest tweet was on
2023-03-26
Average age of authors' accounts
5 years
---
Summarization
The tweets cover a range of topics related to UbisoftLatam, including announcements about a new JD cosplay, a new competition format for BLAST R6, praise for Immortals Fenyx Rising, and queries about Far Cry 5 and R6M Mobile. There are also some humorous tweets, as well as thanks and congratulations to the UbisoftLatam team.
Topic Modeling
#AssassinsCreedOdyssey and virtual photography
Cosplay and Just Dance
Ubisoft's video game bugs and glitches
eSports and competitions
Immortals Fenyx Rising and video game recommendations
Emotional Analysis
The tweets express a range of emotions, including excitement for new game content, appreciation for the quality of games and virtual photography, criticism of bugs and gameplay elements, and anticipation for upcoming competitions and events. There is also a sense of community among fans and support for the Ubisoft brand. Overall, the tweets showcase the strong emotional connection that fans have with Ubisoft games and the wider gaming culture.
Trend Analysis
Assassin's Creed Odyssey-related content
UbisoftLatam announcements
Cosplay and game character-related content
Gaming competitions and events
Favorable opinions and recommendations of Ubisoft games
---
Types of Tweets
Number of Retweets
42
Percentage of total tweets
11%
Number of Original tweets
38
Percentage of total tweets
10%
Number of tweets that contain Mentions
352
Percentage of total tweets
100%
Number of tweets that were Replies
271
Percentage of total tweets
76%
Number of tweets that were Quotes
1
Percentage of total tweets
0%
Number of tweets that contain Hashtags
32
Percentage of total tweets
9%
---
Top 5 devices used to tweet
| Source | Count |
| --- | --- |
| Twitter for Android | 188 |
| Twitter for iPhone | 85 |
| Twitter Web App | 78 |
| TweetDeck Web App | 1 |
What devices were used to tweet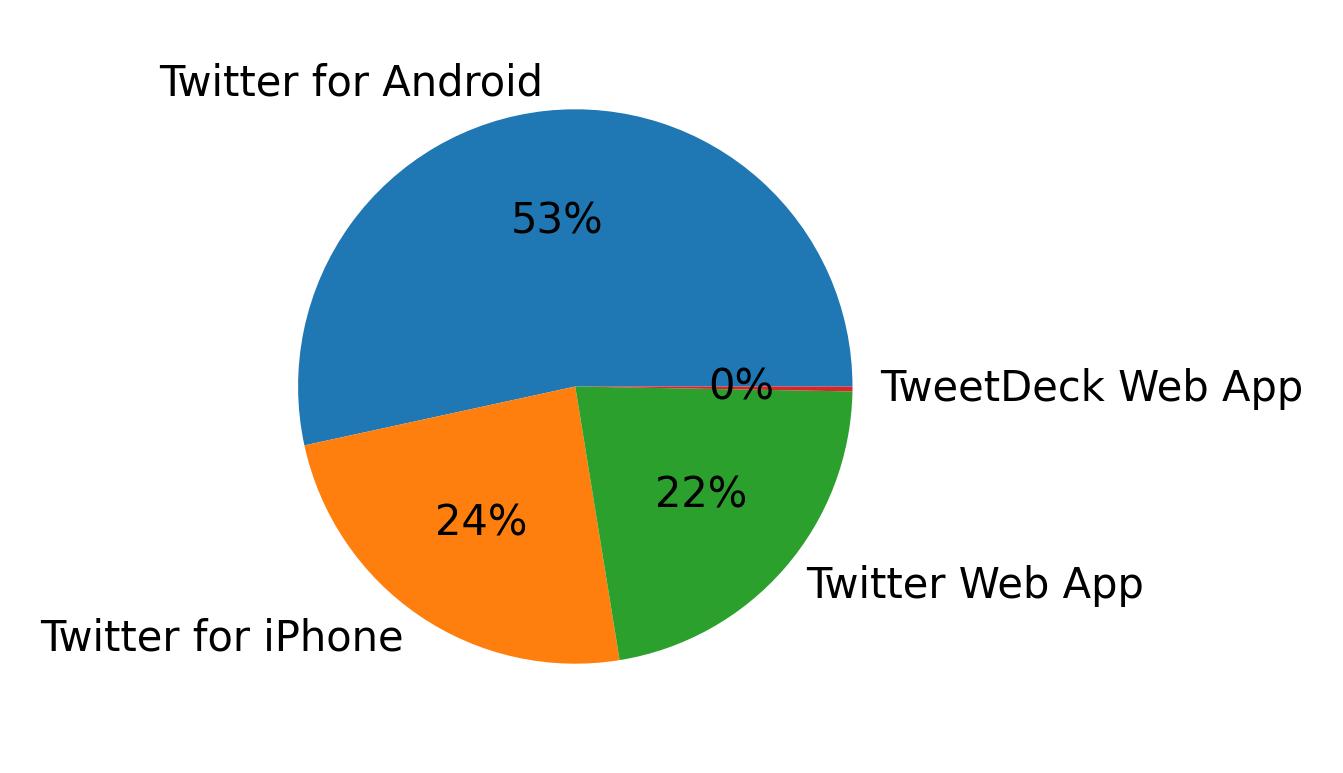 ---
Top 10 accounts with highest followers count
| Username | Name | Bio | Followers count |
| --- | --- | --- | --- |
| PlayStationES | PlayStation España | En #ConexiónPlaySHOW, el público es parte del espectáculo 🔥 ¿Quieres formar parte y vivir algo inolvidable? ¡Apúntate en el link del perfil! 🎮 | 1,006,453 |
| GamerStyleMX | Gamer Style | Fundado en 2008: Videojuegos, Música,Tecnología, Cultura Geek. Cine y TV | Publicidad: ventas@revistagamerstyle.com | Editorial: contacto@revistagamerstyle.com | 17,300 |
| frtecgaming | FR-TEC by Blade | Gaming accessories & peripherals for #RealGamers 🎮 | 9,323 |
| MrSanickES | Rαɱóɳ ΔBX​Y | Cuenta de información dedicada a los videojuegos. 🎮 / Escribo en @HelGamesES / Colaboro con @TesuraGames 💜 / Contacto: contactramongutierrez@gmail.com | 9,248 |
| GodOfCoffeeYT | Coffee ☕ - (Sojiro) | Youtuber, streamer, pelón, calvo, otako, el que hace los "asi es", y cuando te vea, te invito un café. | 7,210 |
| NeoAngel1984 | NeoAngel1984🔻 | Me llamo Javier ¡¡Y soy ateo, feminista, viciado de los videojuegos (pc), MUY republicano, MUY harto de la corrupción política y de las cloacas mediáticas!! | 5,507 |
| ArtistSociet | ArtistofSociety 📸 | We are here to assist with the promotion of your Virtual Photography | #MinimalFriday, #MacroWednesday, #LandscapeMonday every week! | 4,630 |
| kingforever008 | 📸⚡️Renan.VP🪓🏹 | 32 🇧🇷 Virtual Photographer | All photos taken by me, mostly on #PS5 ALT account @RenanVP_Alt | 4,440 |
| GGTECH_es | GGTech Entertainment | We create products & technological solutions for the gaming and esports environment. | 3,580 |
| kevinphotomode | Kevin 📷 | Virtual Photography ▪︎ PlayStation 5 🎮 ▪︎ Admin: @VPRetweet 🔄 | 3,246 |
Top 10 accounts with highest friends count
| Username | Name | Bio | Followers count |
| --- | --- | --- | --- |
| GamerStyleMX | Gamer Style | Fundado en 2008: Videojuegos, Música,Tecnología, Cultura Geek. Cine y TV | Publicidad: ventas@revistagamerstyle.com | Editorial: contacto@revistagamerstyle.com | 7,922 |
| PlayStationES | PlayStation España | En #ConexiónPlaySHOW, el público es parte del espectáculo 🔥 ¿Quieres formar parte y vivir algo inolvidable? ¡Apúntate en el link del perfil! 🎮 | 5,688 |
| NeoAngel1984 | NeoAngel1984🔻 | Me llamo Javier ¡¡Y soy ateo, feminista, viciado de los videojuegos (pc), MUY republicano, MUY harto de la corrupción política y de las cloacas mediáticas!! | 4,832 |
| javo__dark | JAVODARK 🖤🖤🖤🖤🖤🖤🖤 | - | 4,831 |
| SalasGZ_A91 | Colibri Zurdo | - | 3,255 |
| Ranihon2 | Ranihon 🤟🕹️🎮🕶️ | Muchas cosas que contar y poco espacio donde escribir. Umm me gusta los videojuegos, el anime, las pelis de ciencia ficción y hacer fotos de paisajes.... | 3,060 |
| MarceChav | Marcela Chavez 🌞 | @MSUDenverAlum - 🇨🇴 🇺🇸 Digital News Anchor, Twitch affiliate - Just Dance Streamer https://t.co/6CAnWOnNNl 💃🏻 | 2,748 |
| neoz256 | Ethereal 💬 | "Ama con el corazón, usa la cabeza para todo lo demás" -Captain Disillusion | 2,391 |
| ACOOLGAMR | Jamie 🌿 | | Huge TLOU 1 & 2 fan | Virtual Photographer | 2,260 |
| GamingPhotos15 | AndreaVP📸🏹 | •My name is Andrea,i'm a guy that loves doing #VirtualPhotography📸 •16 Years Old •PS5 And XboxSeriesX🎮 •⚽️#ACMilan Fan❤️🖤 •#AssassinsCreed Fan🦅• | 1,945 |
Most active users
| Username | Bio | Number of tweets |
| --- | --- | --- |
| EBC_98YT | Chica gamer a la que le encantan los videojuegos, tengo un canal de YouTube dedicado a ellos ☺ TikTok / YouTube: EBC_98YT | 34 |
| javo__dark | - | 6 |
| F0XH0UND6548 | Hi I like taking screen shots of games 📷🎮 check out my media section📸 | 6 |
| kevinphotomode | Virtual Photography ▪︎ PlayStation 5 🎮 ▪︎ Admin: @VPRetweet 🔄 | 5 |
| zoltrixio | Streamer afiliado en Twitch, estratega, rolero, fan de Dragon Ball, Seven Deadly Sins, Magic the Gathering, Minecraft y Pokémon. Contacto: afgesteban@gmail.com | 4 |
| TheFenix360x | VIVA CRISTO REY | 4 |
| PickRecruit | THE ONE | 4 |
| OdechiRay | Virtual photography 🐾 | 4 |
| AliWarArt | 👑PEACE👑ANIMALS❤ ANDROGYNOUS🧉🎮👑GAMER🎮❤🌹👑❤DANCER ❤👑🇲🇽🇺🇸🎵🌹👑🇺🇸DISNEY FAN❤DC-MARVEL❤BangBang🎮🌍🌏🌎. | 4 |
| mentos_th3 | 16 Años | Hetero | Español (Gallego) | He/Im | Rockstar Games Enjoyer | 4 |
---
Tweets per day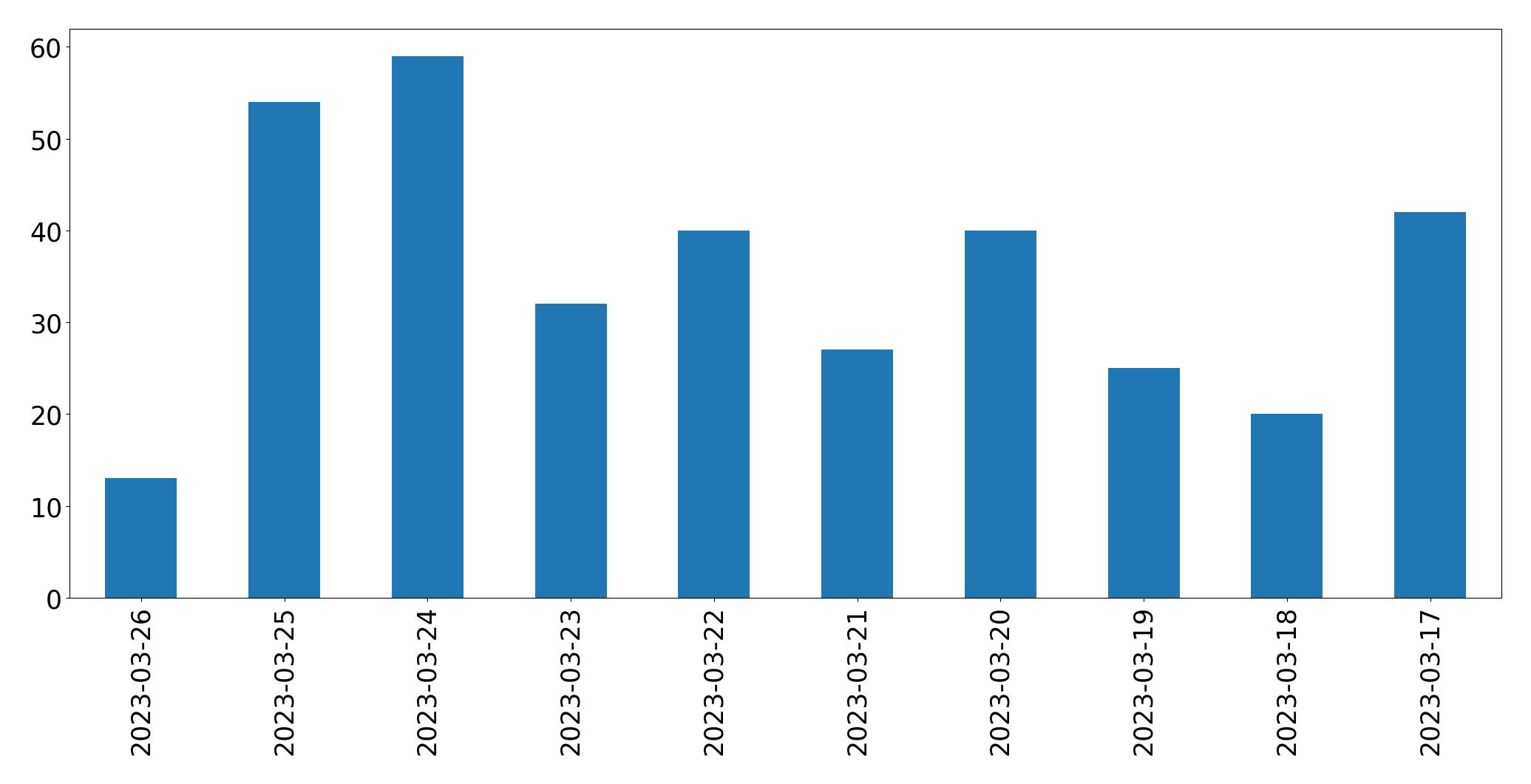 ---
Top 10 tweets with highest Retweet count
| ID | Text | Retweet count |
| --- | --- | --- |
| 1637999731275071489 | #MisthiosMonday #AssassinsCreedOdyssey #ACOdyssey #ACPhotomode #ACFinest #VirtualPhotography #VGPUnite #PS4share #ZarnGaming #LandOfVP #TheCapturedCollective #ArtisticofSociety #WorldofVP #GamerGram #VPRT #WIGVP @UbisoftLatam https://t.co/sLaf0cAode | 7 |
| 1639067112135163904 | #ACVPThursday #AssassinsCreedOdyssey #ACOdyssey #ACPhotomode #ACFinest #VirtualPhotography #VGPUnite #PS4share #ZarnGaming #LandOfVP #TheCapturedCollective #ArtisticofSociety #WorldofVP #GamerGram #VPRT #WIGVP @UbisoftLatam https://t.co/YZVNpCeEiO | 5 |
| 1638483479057801216 | ¡Nuevo estudio y nueva liga! @UbisoftLatam y @BLASTPremier anunciaron el nuevo formato de competencia #BLASTR6💥🎮 Aquí os mostramos el nuevo estudio ubicado dentro de las oficinas de @GGtechLatam, donde se llevarán a cabo las coberturas de la Europe League y #BR6LATAM. #esports https://t.co/Qyuo4AtCcw | 4 |
| 1636719781259759617 | @EBC_98YT @germainx_7 @ItsGumao @moyrodriguez85 @PSPlusES @PSTalents @Ubisoft_Spain @UbisoftLatam @Ubisoft @assassinsspain @assassinscreed Brutal 🔥 | 3 |
| 1636713609903448065 | THUND IS HEREE!! ⚡⚡ NEW JD COSPLAY BY ME 💥 I'm fall im love when i see this coach and finally i make the cosplay 💜 #cosplayer #JUSTDANCE #justdance2023 @UbisoftLatam @justdancegame @JustDanceFR @Ubisoft https://t.co/9k7pmv4plc | 2 |
| 1638172416764411904 | Cual de estos malotes te gustó más? #farcry @Ubisoft_Spain @UbisoftLatam https://t.co/iADQQqx9tO | 1 |
| 1637750094580596738 | @Podgaming_ @ivoox @Ubisoft_Spain @Ubisoft @UbisoftLatam Muchas ganas de escucharlo, y orgulloso de que @FrikiHuerfanos haya podido ayudar con este pedazo evento. Gracias al resto de compañeros por su trabajo. Seguir atentos a está semana. | 1 |
| 1637478607361654784 | ⛵Capítulo 1⛵ GAMEPLAY ESPAÑOL ANNO 1800 VANILLA 2023 SIN DLCs ¡Nueva serie! Nos tiramos al mar de los RTS, concrétamente los City Builder clásicos!!! ¡Echadle un vistazo! Video: https://t.co/0hALYtui2q @YouTube @Ubisoft_Spain @UbisoftLatam #anno #Anno1800 #vanilla #ubisoft | 1 |
| 1637780729374420994 | @frtecgaming @ivoox @Ubisoft_Spain @Ubisoft @UbisoftLatam Muchas gracias, compañeros. Durante toda la semana estaremos subiendo episodios, así os tendremos entretenidos pódcasts de la Iniciativa Podgaming 😊 | 1 |
| 1638045975645155330 | @UbisoftLatam URGEN RETAS CON EL TÍO UBI!! | 1 |
Top 10 tweets with highest Like count
| ID | Text | Like count |
| --- | --- | --- |
| 1637999731275071489 | #MisthiosMonday #AssassinsCreedOdyssey #ACOdyssey #ACPhotomode #ACFinest #VirtualPhotography #VGPUnite #PS4share #ZarnGaming #LandOfVP #TheCapturedCollective #ArtisticofSociety #WorldofVP #GamerGram #VPRT #WIGVP @UbisoftLatam https://t.co/sLaf0cAode | 52 |
| 1636713609903448065 | THUND IS HEREE!! ⚡⚡ NEW JD COSPLAY BY ME 💥 I'm fall im love when i see this coach and finally i make the cosplay 💜 #cosplayer #JUSTDANCE #justdance2023 @UbisoftLatam @justdancegame @JustDanceFR @Ubisoft https://t.co/9k7pmv4plc | 26 |
| 1639067112135163904 | #ACVPThursday #AssassinsCreedOdyssey #ACOdyssey #ACPhotomode #ACFinest #VirtualPhotography #VGPUnite #PS4share #ZarnGaming #LandOfVP #TheCapturedCollective #ArtisticofSociety #WorldofVP #GamerGram #VPRT #WIGVP @UbisoftLatam https://t.co/YZVNpCeEiO | 19 |
| 1639419739712651264 | @UbisoftLatam Morirá por eso, o por un salto de fe https://t.co/34CkQY7S6w | 16 |
| 1638483479057801216 | ¡Nuevo estudio y nueva liga! @UbisoftLatam y @BLASTPremier anunciaron el nuevo formato de competencia #BLASTR6💥🎮 Aquí os mostramos el nuevo estudio ubicado dentro de las oficinas de @GGtechLatam, donde se llevarán a cabo las coberturas de la Europe League y #BR6LATAM. #esports https://t.co/Qyuo4AtCcw | 14 |
| 1637905533570105347 | @UbisoftLatam Ubisoft con un bug en la mochila: https://t.co/KeOE62iIE2 | 12 |
| 1638408343365492736 | Oigan! Si no le han dado una oportunidad a #ImmortalsFenyxRising van! Es increible el mundo, la aventura tan épica, los puzzles. Al principio se siente como un clon de Zelda, pero al poco agarra su propia personalidad y es único! Comparto fotitos @UbisoftLatam @AleMorando https://t.co/vMc6SMLhvM | 9 |
| 1638778485073387520 | @UbisoftLatam Al enano ni lo deberían de tomar en cuenta | 7 |
| 1638172416764411904 | Cual de estos malotes te gustó más? #farcry @Ubisoft_Spain @UbisoftLatam https://t.co/iADQQqx9tO | 6 |
| 1636719781259759617 | @EBC_98YT @germainx_7 @ItsGumao @moyrodriguez85 @PSPlusES @PSTalents @Ubisoft_Spain @UbisoftLatam @Ubisoft @assassinsspain @assassinscreed Brutal 🔥 | 5 |
Top 3 Languages Used In Tweets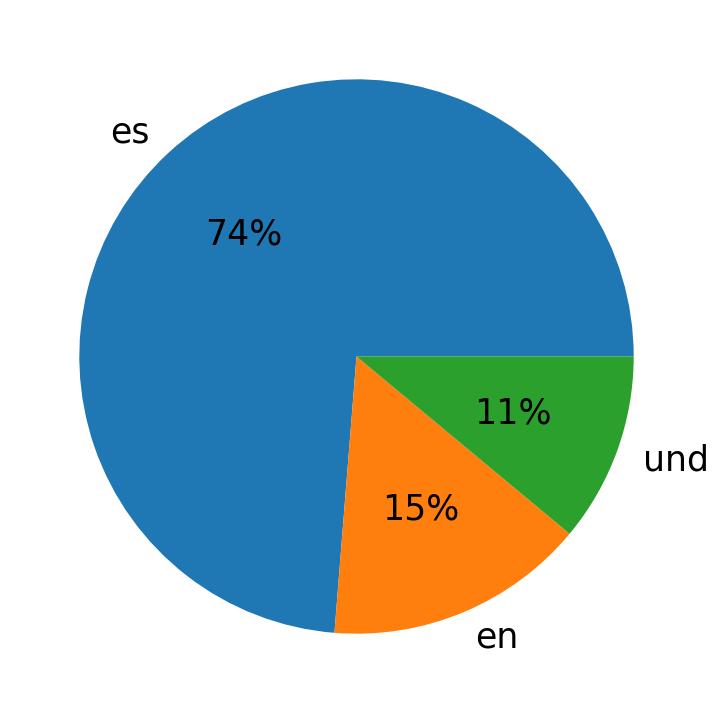 ---
Top 10 Hashtags used
| Hashtag | Count |
| --- | --- |
| #ubisoft | 6 |
| #anno | 5 |
| #anno1800 | 5 |
| #vanilla | 5 |
| #assassinscreedodyssey | 4 |
| #acodyssey | 4 |
| #acphotomode | 4 |
| #acfinest | 4 |
| #virtualphotography | 4 |
| #vgpunite | 4 |
Top 10 Hashtags Used In Tweets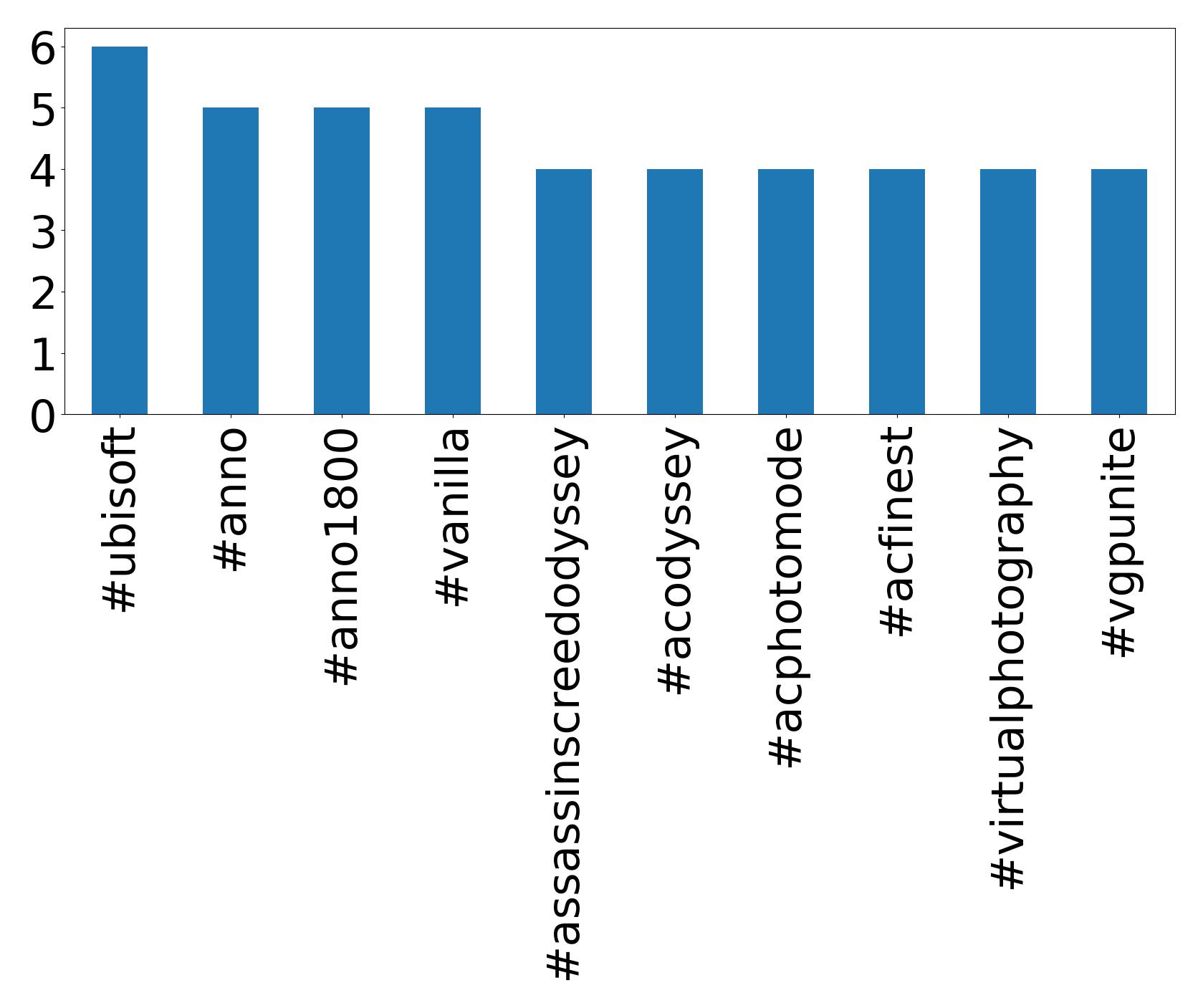 Top 10 mentions
| Mention | Count |
| --- | --- |
| @ubisoftlatam | 356 |
| @assassinscreed | 121 |
| @ubisoft | 102 |
| @ubisoft_spain | 94 |
| @playstationes | 68 |
| @pspluses | 68 |
| @pstalents | 68 |
| @assassinsspain | 68 |
| @ubisoftmtl | 54 |
| @landofvp | 53 |
Top 10 mentions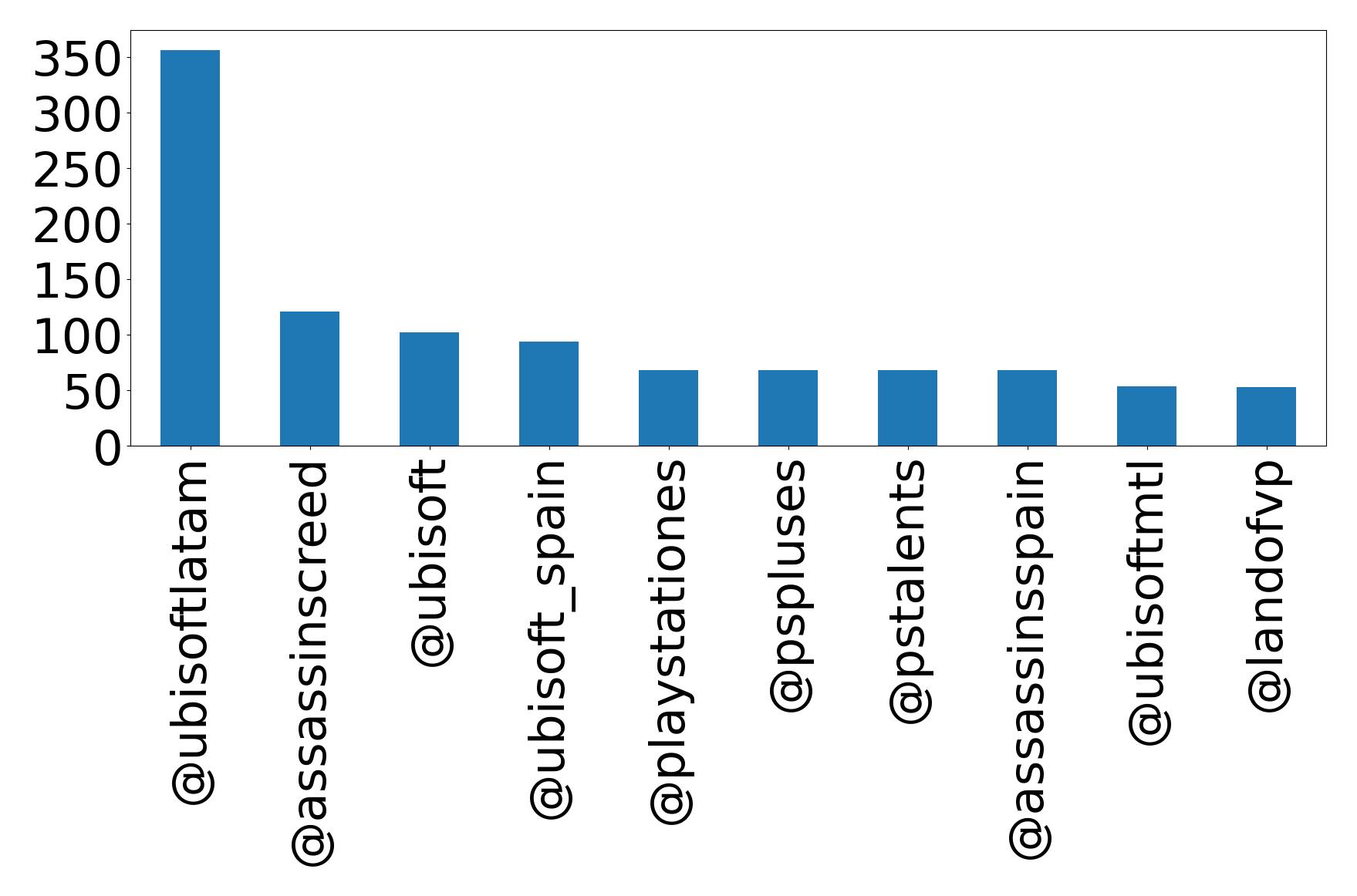 Wordcloud of Tweets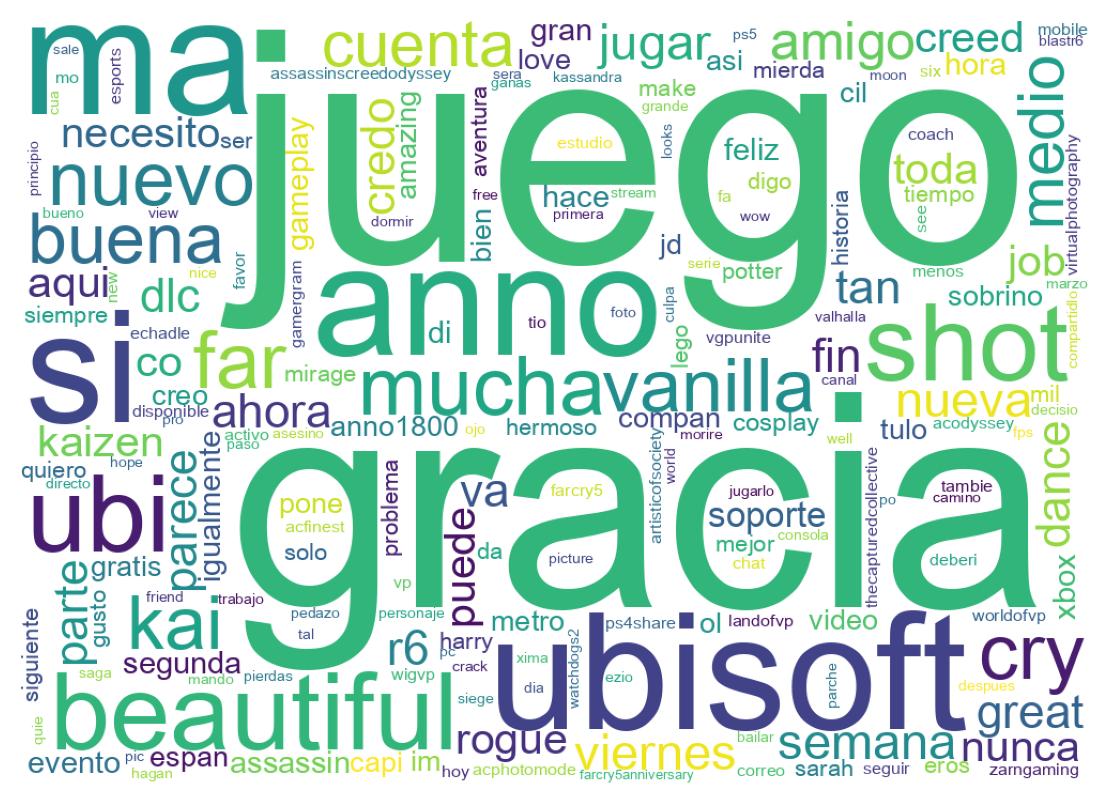 ---
Emojis
Average number of emojis used per tweet
81
Emojis used in tweets
| Emoji | Count | Emoji Text |
| --- | --- | --- |
| 😍 | 37 | smiling_face_with_heart-eyes |
| ❤️ | 20 | red_heart |
| 😊 | 18 | smiling_face_with_smiling_eyes |
| 😘 | 13 | face_blowing_a_kiss |
| 💙 | 10 | blue_heart |
| 👍 | 10 | thumbs_up |
| 😜 | 10 | winking_face_with_tongue |
| 😱 | 8 | face_screaming_in_fear |
| 🤩 | 6 | star-struck |
| ☺️ | 6 | smiling_face |
Emojis groups
| Emoji Group | Count |
| --- | --- |
| Smileys & Emotion | 207 |
| People & Body | 42 |
| Travel & Places | 22 |
| Activities | 8 |
| Animals & Nature | 3 |
| Flags | 2 |
| Objects | 1 |
| Symbols | 1 |