Tweets Analysis - Keyword: @TOTO_NL
Total number of tweets analysed
75
Earliest tweet was on
2023-03-15
Latest tweet was on
2023-03-24
Average age of authors' accounts
9 years
---
Summarization
The tweets cover a range of topics related to TOTO NL, including a winner of a Meetrain-actie, support for Feyenoord, discussion of winnings and bets, questions about payouts and legality, and advertising for a betting opportunity related to the Milan-San Remo race.
Topic Modeling
Partnership with @TOTO_NL and promotions
Feyenoord football games and related commentary
Gambling and betting with @TOTO_NL
Sports predictions and results
Criticism and complaints towards @TOTO_NL
Emotional Analysis
The emotions expressed in these tweets are varied, but include excitement, disappointment, frustration, happiness, and humor. Some tweeters express excitement and gratitude for winning prizes through TOTO_NL's promotions, while others express disappointment or frustration with the same company for various reasons, such as delays in receiving payouts or annoyance with advertisements. Some tweeters share their predictions and successes in betting on sports matches, expressing happiness and celebration. Others express humorous or sarcastic reactions to TOTO_NL's actions or promotions, often with a tone of mild frustration or annoyance.
Trend Analysis
Winners of TOTO-NL promotions and contests
Feyenoord football club and their partnership with TOTO-NL
Gambling and sports betting
Questions and complaints directed at TOTO-NL
Advertisement and promotion of TOTO-NL
---
Types of Tweets
Number of Retweets
5
Percentage of total tweets
6%
Number of Original tweets
22
Percentage of total tweets
29%
Number of tweets that contain Mentions
75
Percentage of total tweets
100%
Number of tweets that were Replies
48
Percentage of total tweets
64%
Number of tweets that were Quotes
0
Percentage of total tweets
0%
Number of tweets that contain Hashtags
6
Percentage of total tweets
8%
---
Top 5 devices used to tweet
| Source | Count |
| --- | --- |
| Twitter for Android | 32 |
| Twitter for iPhone | 23 |
| Twitter Web App | 13 |
| TweetDeck | 4 |
| Twitter for Advertisers | 2 |
What devices were used to tweet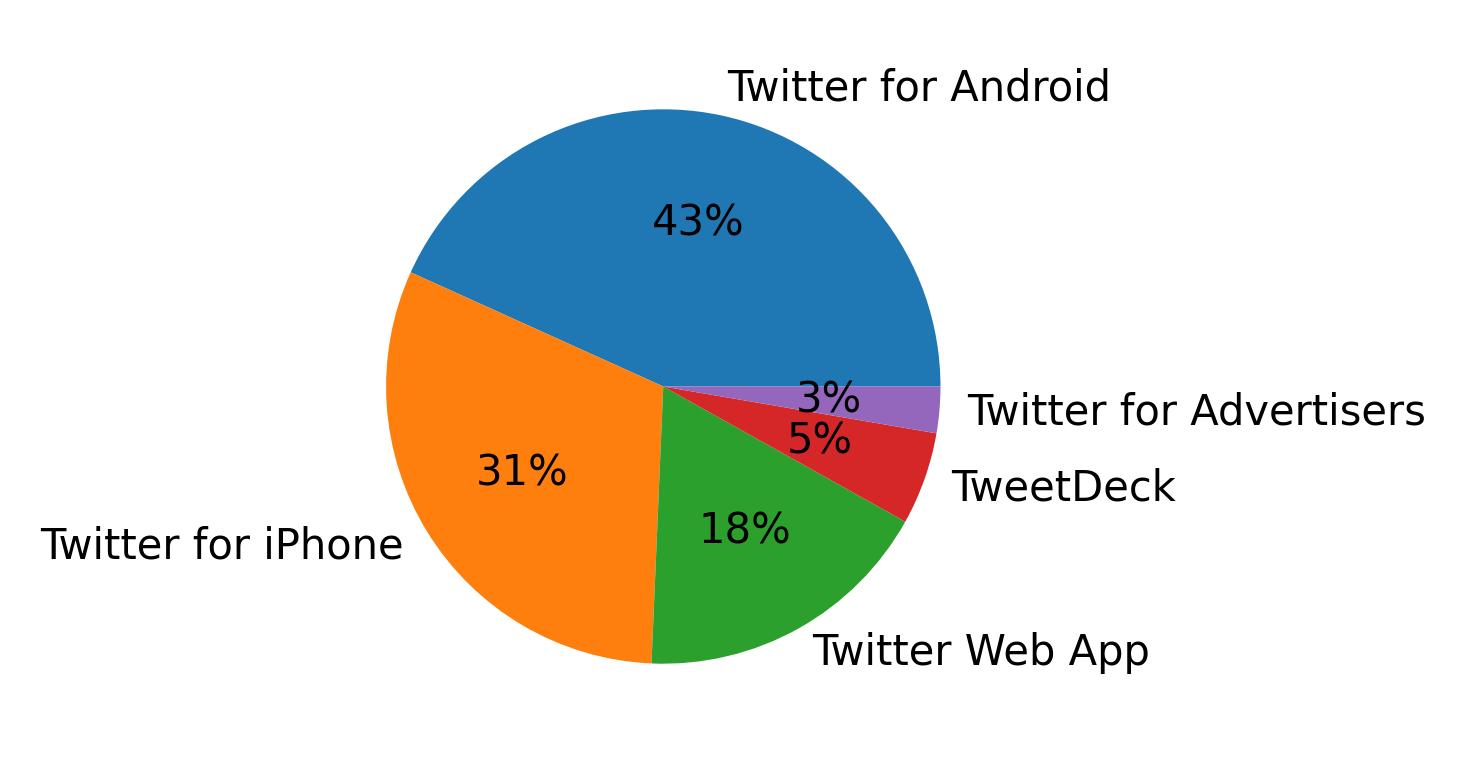 ---
Top 10 accounts with highest followers count
| Username | Name | Bio | Followers count |
| --- | --- | --- | --- |
| Feyenoord | Feyenoord Rotterdam | Officiële Twitter account van Feyenoord Rotterdam | https://t.co/DNIvtNHoZj | https://t.co/QPldfem6NE | 594,561 |
| WielerFlits | WielerFlits.nl | Twitteraccount van de best bezochte wielersite van Nederland • Volg ook @WielerFlitsBE 🇧🇪 • Volg ons ook op Facebook en Instagram | 32,769 |
| raykerckhoffs | Raymond Kerckhoffs | Communication + Media expert in Cycling Hoofdredactie RIDE Magazine Analist/reporter WielerFlits / CyclingOpinons Voorheen Telegraaf raymond@cyclingopinions.com | 16,943 |
| LangeToepie | LangeToepie | Een gezond mens wil 1000 dingen, een ziek mens maar 1, dus geniet van elke dag!!!!! #FCDH #ARSENAL #BVB #D10S | 6,992 |
| handharing | handharing | Feyenoord boven alles. Mr. Big mouth op zijn lacoste slippertjes. | 3,234 |
| BreatheLove75 | I-MAN BEING | #RETWEETS are not necessarily endorsements | 1,946 |
| vSchuylenburch | van Schuylenburch  | 🔥🏴‍☠️ 🍅 🍀 Α & Ω 🕊️🇺🇦🕊️ | 1,841 |
| LerraO1O | 🇳🇬 | Feyenoord Rotterdam • home and away | 1,650 |
| Din_Djarin078 | Din Djarin | Feyenoord 🔴⚪️⚫️ | 1,297 |
| deprotagonisten | De Protagonisten | 🎬 blog 🎞 film & series ▶️ documentaires 📽 bioscoop & filmhuis 🗺 filmfestivals (💓 IFFR) 👫 Bart & Marjan ⬇️ recensies | 987 |
Top 10 accounts with highest friends count
| Username | Name | Bio | Followers count |
| --- | --- | --- | --- |
| BreatheLove75 | I-MAN BEING | #RETWEETS are not necessarily endorsements | 5,000 |
| vSchuylenburch | van Schuylenburch  | 🔥🏴‍☠️ 🍅 🍀 Α & Ω 🕊️🇺🇦🕊️ | 4,679 |
| handharing | handharing | Feyenoord boven alles. Mr. Big mouth op zijn lacoste slippertjes. | 2,233 |
| WSL_GFX | WSL_GFX | Freelance Graphic Designer🎨 & Retouch designer|@Feyenoord @ManUtd🔴⚪|Dm or email for freelance work📥|📧:wslgfx01@gmail.com|📸:@wsl_gfx01 | 1,520 |
| Din_Djarin078 | Din Djarin | Feyenoord 🔴⚪️⚫️ | 1,485 |
| karinsaccountje | Karin 🙉🙈🙊 | Wandelt in verbazing door t leven en dat loopt niet altijd over rozen. Heeft een mening, voetbal-en-F1-fanaat. Twittert soms niet al te handig :-) #Feyenoord | 1,421 |
| FRBartV | FRbartV | -Feyenoord - Dubai - | 1,367 |
| deprotagonisten | De Protagonisten | 🎬 blog 🎞 film & series ▶️ documentaires 📽 bioscoop & filmhuis 🗺 filmfestivals (💓 IFFR) 👫 Bart & Marjan ⬇️ recensies | 1,073 |
| raykerckhoffs | Raymond Kerckhoffs | Communication + Media expert in Cycling Hoofdredactie RIDE Magazine Analist/reporter WielerFlits / CyclingOpinons Voorheen Telegraaf raymond@cyclingopinions.com | 1,028 |
| WielerFlits | WielerFlits.nl | Twitteraccount van de best bezochte wielersite van Nederland • Volg ook @WielerFlitsBE 🇧🇪 • Volg ons ook op Facebook en Instagram | 1,008 |
Most active users
| Username | Bio | Number of tweets |
| --- | --- | --- |
| LangeToepie | Een gezond mens wil 1000 dingen, een ziek mens maar 1, dus geniet van elke dag!!!!! #FCDH #ARSENAL #BVB #D10S | 6 |
| StefanWizz | Operator .Vv Dwingeloo ⚽️⚽️⚽️ F C Emmen. F1 Max. Mallorca Zeeland en Kreta.Karmeliet🍺Afigem Kasteelbier. Top2000👍 | 4 |
| hiemstra2000 | - | 3 |
| dimos1976 | - | 3 |
| wubbowomb | Plantenman | 3 |
| robinnoort | - | 2 |
| BramGobbel | Arnhemmer maar voor vitesse zijn is een zware opgave. Ik bemoei me dus graag met andere clubs | 2 |
| FR12Vin | @Feyenoord Rotterdam, W. | 2 |
| fransrietbroek | zzp'er, Hagenees, ADO supporter, in elke tweet staat wel een tikvout | 2 |
| R_OZZIE_10 | @GalatasaraySK'lı Atatürk Sevdalısı. | 2 |
---
Tweets per day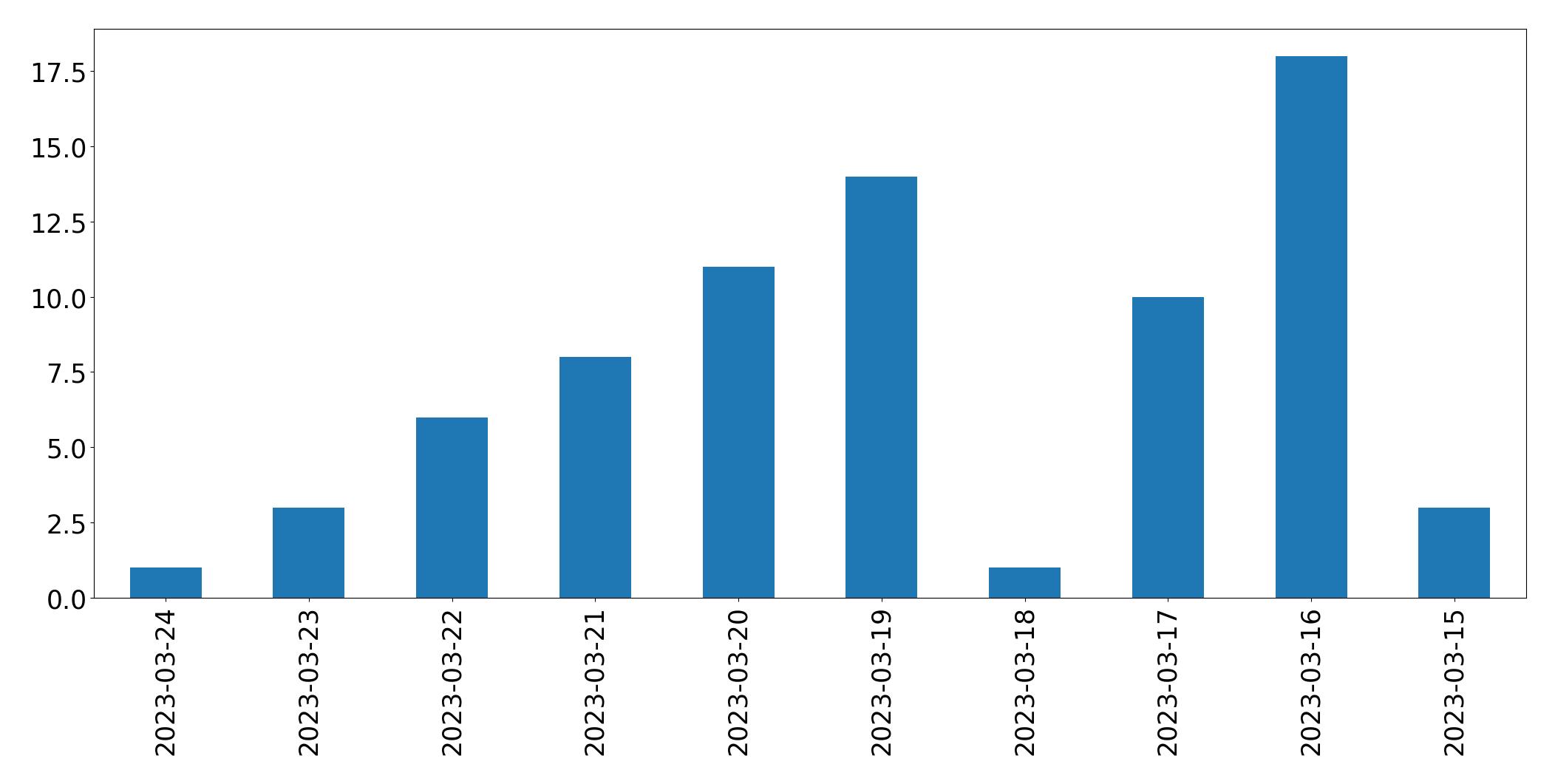 ---
Top 10 tweets with highest Retweet count
| ID | Text | Retweet count |
| --- | --- | --- |
| 1638162742405128193 | Een onvergetelijke dag voor de winnaar van de unieke Meetrain-actie, mede mogelijk gemaakt door @TOTO_NL! https://t.co/g6VgOb0b8L | 6 |
| 1636636958242795520 | AD| Denk jij te weten wie zaterdag Milaan-San Remo 🇮🇹 gaat winnen? Kijk dan wat een juiste voorspelling jou op kan leveren! 💰💰 Registreer je bij @TOTO_NL, zet in & krijg een 100% Gratis weddenschap tot € 50 👇 (Wat kost gokken jou? Stop op tijd. 18+) https://t.co/YBR2sCyCoq | 1 |
| 1636741642047684613 | About last night. 📸 @TOTO_NL • #VoorDeSupporters | 1 |
| 1639245338123927557 | @marcjacobs88 @TOTO_NL Hahaha zieligerd | 0 |
| 1636480300753494017 | @robinnoort @TOTO_NL Pfff | 0 |
| 1636480472384434182 | @fransrietbroek @TOTO_NL En dan snap je het ook niet. Want die 80 euro die ik had gewonnen, was nu allang weer ingezet | 0 |
| 1636482928501829633 | @TOTO_NL is het echt teveel moeite om te reageren eppo's? | 0 |
| 1636563054790864898 | @TOTO_NL Is deze actie wel rechtsgeldig? Geld geven om te wedden, Of nemen jullie een gokje... | 0 |
| 1636605050486128643 | @FR12Vin @TOTO_NL @BetStreetBoys King | 0 |
| 1636637508803985412 | @WielerFlits @TOTO_NL Wat schuift dit nu, deze reclame? | 0 |
Top 10 tweets with highest Like count
| ID | Text | Like count |
| --- | --- | --- |
| 1638162742405128193 | Een onvergetelijke dag voor de winnaar van de unieke Meetrain-actie, mede mogelijk gemaakt door @TOTO_NL! https://t.co/g6VgOb0b8L | 250 |
| 1636741642047684613 | About last night. 📸 @TOTO_NL • #VoorDeSupporters | 142 |
| 1638162911817351169 | @Feyenoord @TOTO_NL Daarom speelde Bjorkan zo slecht in Deventer. Bleek een amateur te zijn | 22 |
| 1636453441647132672 | Zeg het maar @TOTO_NL 👊🏼😍🏆. @BetStreetBoys #25k #feysha https://t.co/MMc4NtmRw0 | 14 |
| 1638167862383632385 | @Feyenoord @TOTO_NL Johnny van Beukering heeft hem ook een keer gewonnen | 10 |
| 1638165369834668032 | @Feyenoord @TOTO_NL Doe dit ieder jaar | 2 |
| 1637576558125752325 | De clássico in Spanje ging in blessuretijd net fout (ik had een gelijkspel verwacht maar Barcelona scoorde in de 91e minuut 2-1), maar de klassieker in Nederland had ik wel goed 🎉. Met de 2 combi's erbij heb ik weer een top zondag 🎊🎊🎊📈 #toto #koningtoto 🤴🏽 @TOTO_NL https://t.co/DBCBvte43e | 2 |
| 1636605050486128643 | @FR12Vin @TOTO_NL @BetStreetBoys King | 1 |
| 1636480472384434182 | @fransrietbroek @TOTO_NL En dan snap je het ook niet. Want die 80 euro die ik had gewonnen, was nu allang weer ingezet | 1 |
| 1636474599406747648 | @TOTO_NL hoe lang duurt het voordat jullie een doelpunten maker uitkeren? Na de wedstrijd pas of wat? Heb Xhaka als doelpunten maker maar zit te wachten al bijna een uur | 1 |
Top 3 Languages Used In Tweets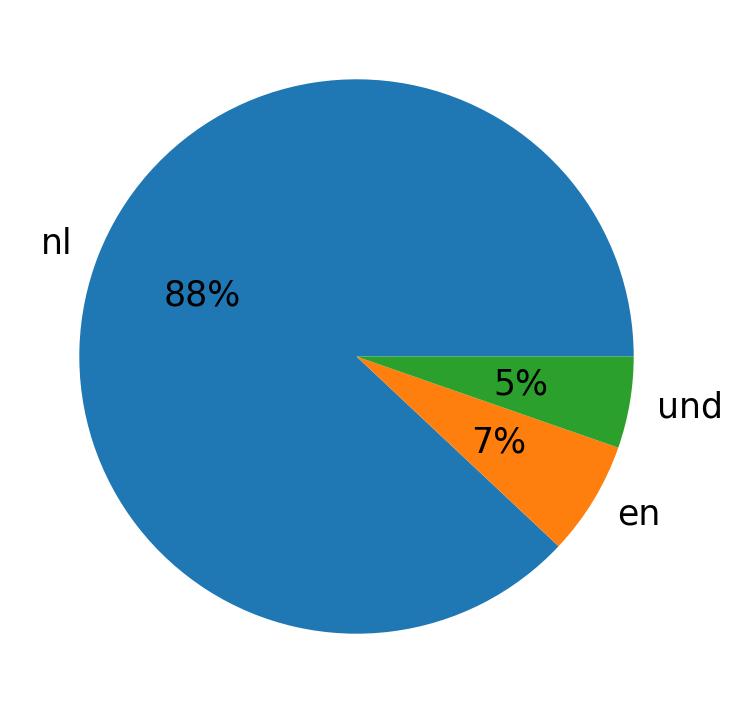 ---
Top 10 Hashtags used
| Hashtag | Count |
| --- | --- |
| #voordesupporters | 2 |
| #commercial | 1 |
| #voetbal | 1 |
| #gokken | 1 |
| #ing | 1 |
| #toto | 1 |
| #koningtoto | 1 |
| #25k | 1 |
| #feysha | 1 |
Top 10 Hashtags Used In Tweets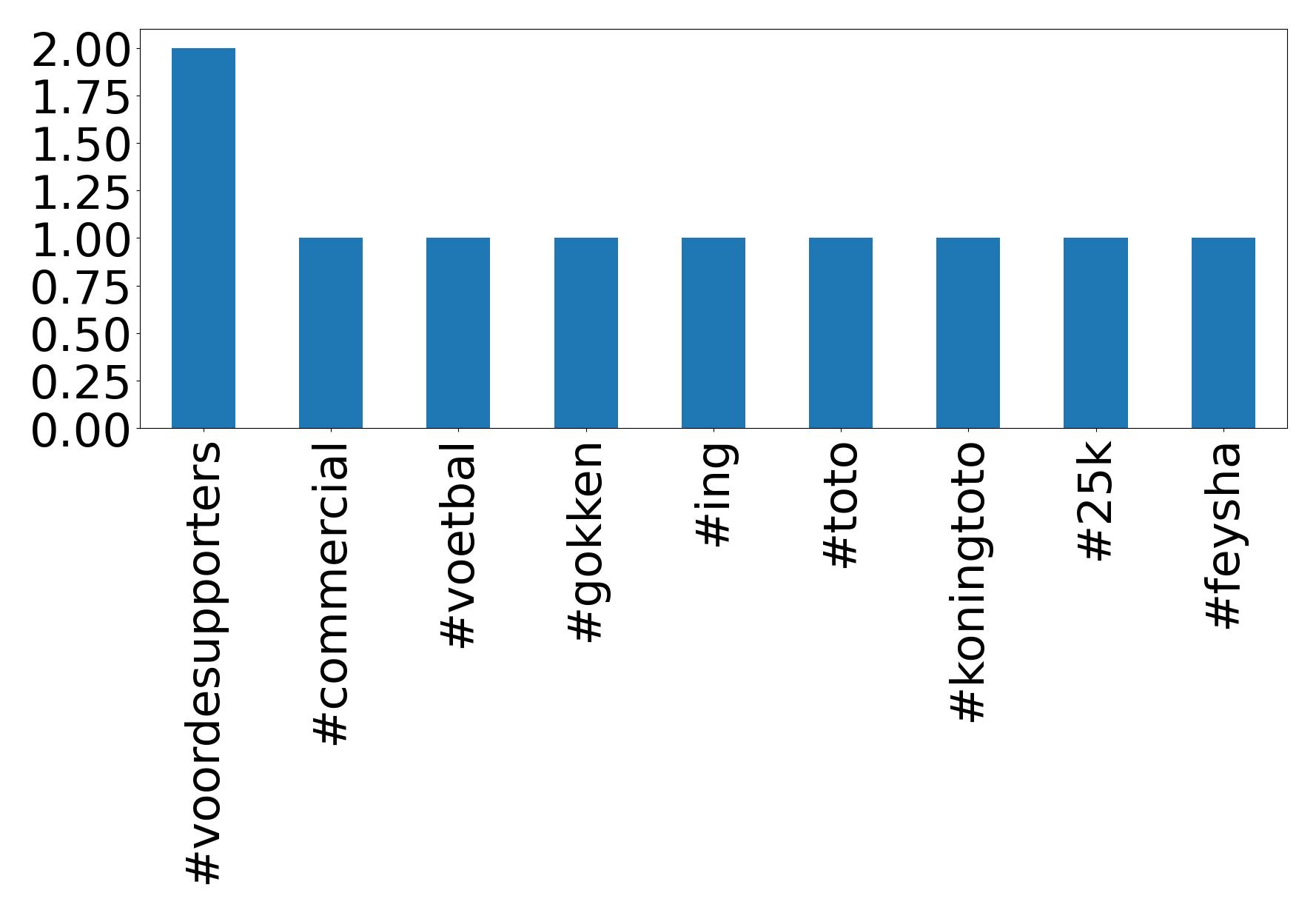 Top 10 mentions
| Mention | Count |
| --- | --- |
| @toto_nl | 75 |
| @feyenoord | 10 |
| @langetoepie | 5 |
| @betstreetboys | 4 |
| @jens_poel | 3 |
| @stefanwizz | 3 |
| @marcusrashford | 2 |
| @wielerflits | 2 |
| @fr12vin | 2 |
| @robinnoort | 2 |
Top 10 mentions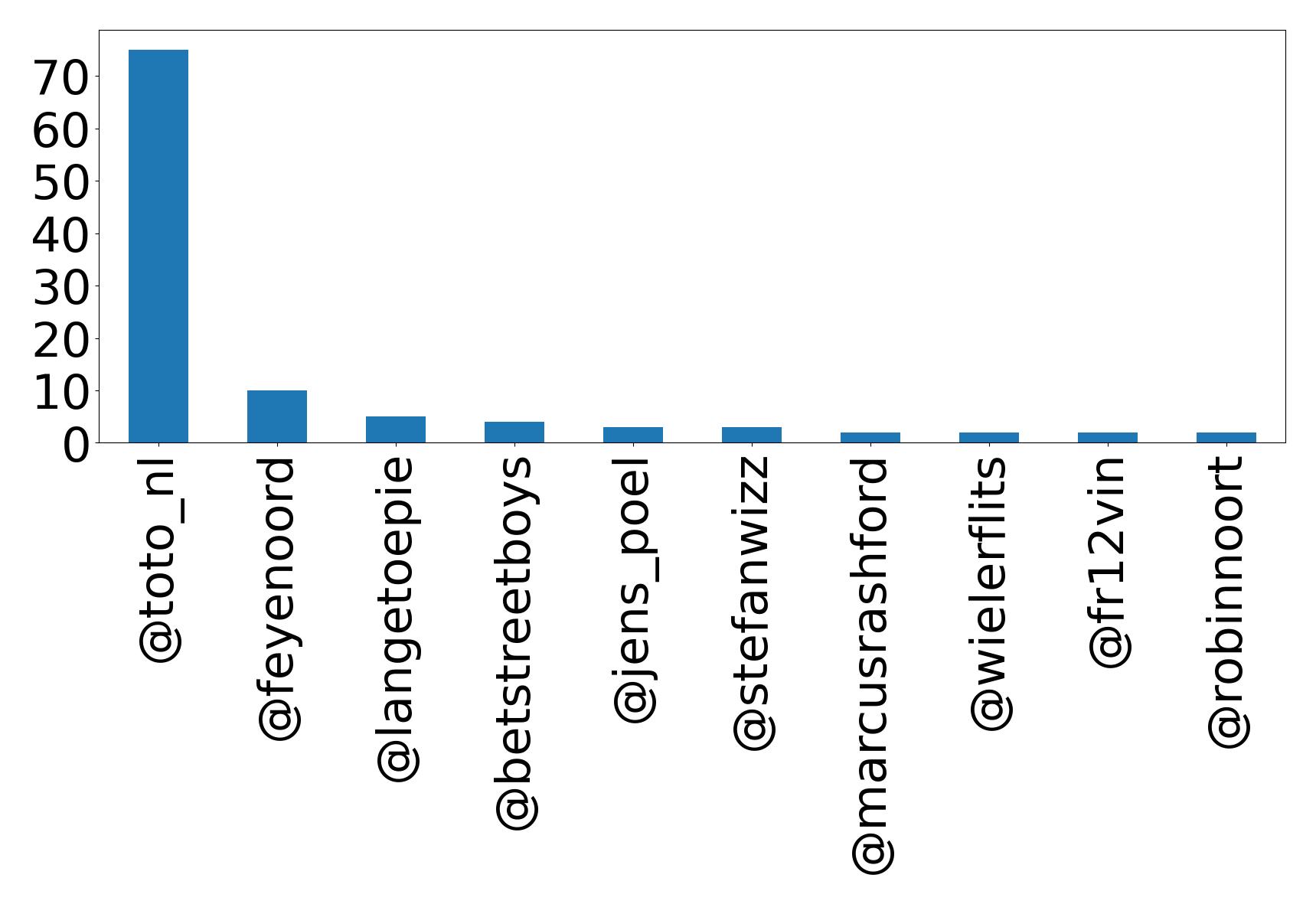 Wordcloud of Tweets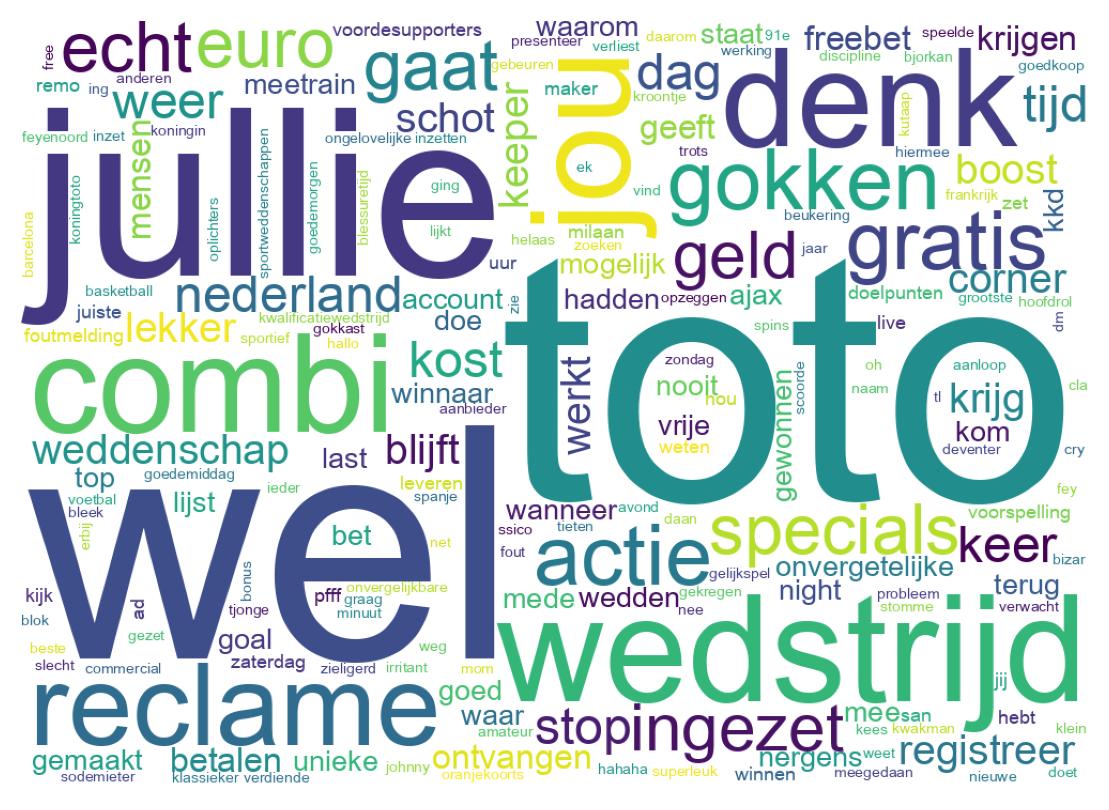 ---
Emojis
Average number of emojis used per tweet
37
Emojis used in tweets
| Emoji | Count | Emoji Text |
| --- | --- | --- |
| 💰 | 4 | money_bag |
| 🎊 | 3 | confetti_ball |
| 📸 | 2 | camera_with_flash |
| 🇮🇹 | 2 | Italy |
| 👇 | 2 | backhand_index_pointing_down |
| 🤩 | 1 | star-struck |
| 💚 | 1 | green_heart |
| 😎 | 1 | smiling_face_with_sunglasses |
| 🎉 | 1 | party_popper |
| 📈 | 1 | chart_increasing |
Emojis groups
| Emoji Group | Count |
| --- | --- |
| Smileys & Emotion | 9 |
| Objects | 7 |
| Activities | 5 |
| People & Body | 5 |
| Flags | 2 |