Tweets Analysis - Keyword: @TINBand
Total number of tweets analysed
43
Earliest tweet was on
2023-03-22
Latest tweet was on
2023-03-31
Average age of authors' accounts
9 years
---
Summarization
The tweets are mostly about people expressing their excitement for the upcoming concerts of TINBand, as well as discussing their love for sports teams like the Cubs and Bears. There are also mentions of upcoming shows in Hawaii, and a Q&A session with sports writers. Some tweets are also just general shout outs to friends and colleagues.
Topic Modeling
Celebrating Opening Day and Cubs fandom
Concert tour and ticket sales
Hawaii and upcoming Emo Social event
Acknowledgment of TINBand and interactions with fans
Personal anecdotes and shoutouts
Emotional Analysis
The tweets express excitement, enthusiasm and anticipation for various events related to music, sports and entertainment. There is a strong sense of community and connection with other fans and participants, and a shared love for the Chicago Cubs and other teams. Some tweets express regret for not being able to attend events, while others celebrate the success and growth of individuals and organizations. Overall, the tone is positive and upbeat, with a focus on enjoying life and having fun.
Trend Analysis
Celebrating opening day and supporting the Cubs
Promoting ticket sales for upcoming shows
Announcing upcoming tour dates and locations
Interacting with fans and reminiscing about past performances
Shoutouts and follow recommendations for various individuals and organizations
---
Types of Tweets
Number of Retweets
8
Percentage of total tweets
18%
Number of Original tweets
12
Percentage of total tweets
27%
Number of tweets that contain Mentions
43
Percentage of total tweets
100%
Number of tweets that were Replies
21
Percentage of total tweets
48%
Number of tweets that were Quotes
4
Percentage of total tweets
9%
Number of tweets that contain Hashtags
12
Percentage of total tweets
27%
---
Top 5 devices used to tweet
| Source | Count |
| --- | --- |
| Twitter for iPhone | 17 |
| Twitter for Android | 14 |
| Twitter Web App | 10 |
| Planable | 1 |
| TweetDeck | 1 |
What devices were used to tweet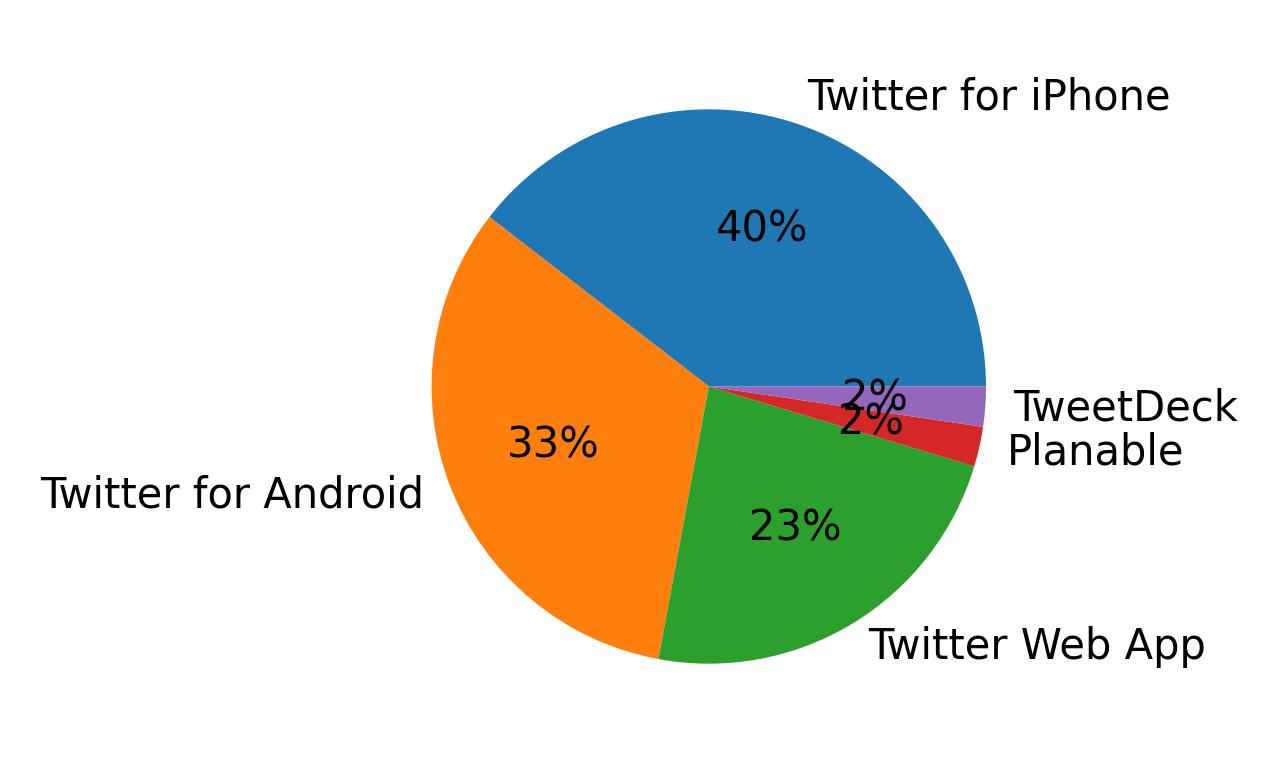 ---
Top 10 accounts with highest followers count
| Username | Name | Bio | Followers count |
| --- | --- | --- | --- |
| BleacherNation | Bleacher Nation | Chicago sports news, rumors, & obsession. #Cubs/#MLB here by @Brett_A_Taylor. | Bears: @BN_Bears | Bulls: @BN_Bulls | Blackhawks: @BN_Blackhawks | 147,902 |
| bfsrocks | Bowling For Soup | The Official Bowling For Soup Twitter Page! Follow the guys too! @jaret2113 @robpending @soupbowlerchris @gwise55 | 62,902 |
| BN_Bears | Bleacher Nation Bears | Obsessing over Ryan Poles and Matt Eberflus building a Bears Super Bowl winner around Justin Fields and friends! #BearDown #ChicagoBears | 45,766 |
| ckamrada | Chris Kamrada | touring/studio musician. drummer for @dashboardmusic & others. own & run @emosocialparty. | 18,101 |
| wxSpinner89 | Brandon Spinner WCPO | 4x Emmy Nominated, Award Winning Meteorologist in Cincinnati, OH #OHwx #KYwx @ValpoU Grad. Fan of Jeff Gordon #Team24, #Cubs, #Blackhawks, #Dolphins, & #Bears | 8,391 |
| igotpaidfriday | Alex Berisic | I live in Canada. I love #Croatia. #losangeles and #vegas are my favorite places to visit! Follow: https://t.co/sCGtoGWlx6 🇭🇷🇺🇸🇨🇦🇲🇰 💪😎👍 | 6,954 |
| MindyMaher | Mindy Maher ƸӜƷ•°*♥ | Post: https://t.co/W5vyN4E75W Mastodon: https://t.co/WK0K0ymM8d | 6,676 |
| tedgruber | Ted Gruber | Hawks. Cubs. Bears. Former Journalist | 3,392 |
| PatrickKFlowers | Patrick K. Flowers | 𝙻𝚎𝚊𝚍 𝙽𝙵𝙻 𝚆𝚛𝚒𝚝𝚎𝚛 ✍︎ @BleacherNation | 𝙸 𝚠𝚛𝚒𝚝𝚎 𝚊𝚋𝚘𝚞𝚝 𝚇𝚜 𝚊𝚗𝚍 𝙾𝚜. 𝙹𝚘𝚒𝚗 𝚖𝚎 𝚊𝚝 @BN_Touchdown. | 2,047 |
| facedownlondon | Face Down | The South UK's biggest Pop Punk, Metal and Emo night! First Friday of every month at @scalalondon, London and more All our ticket links and FAQ👇 | 1,871 |
Top 10 accounts with highest friends count
| Username | Name | Bio | Followers count |
| --- | --- | --- | --- |
| MindyMaher | Mindy Maher ƸӜƷ•°*♥ | Post: https://t.co/W5vyN4E75W Mastodon: https://t.co/WK0K0ymM8d | 4,575 |
| igotpaidfriday | Alex Berisic | I live in Canada. I love #Croatia. #losangeles and #vegas are my favorite places to visit! Follow: https://t.co/sCGtoGWlx6 🇭🇷🇺🇸🇨🇦🇲🇰 💪😎👍 | 4,125 |
| BN_Bears | Bleacher Nation Bears | Obsessing over Ryan Poles and Matt Eberflus building a Bears Super Bowl winner around Justin Fields and friends! #BearDown #ChicagoBears | 3,427 |
| Dunnam0127 | Joseph Dunnam | I am a Master Manifestor | 3,140 |
| tedgruber | Ted Gruber | Hawks. Cubs. Bears. Former Journalist | 2,358 |
| freyowl | Lisa Frey 🌻🇺🇦🌊🐻⚾💙 💛💙🏀 | Fulltime Music Lover, Hipster? Nerd, Lazy 🐦er, Cubs Cheerer, Comfort Food Cooker, Sometimes RN! | 1,916 |
| wxSpinner89 | Brandon Spinner WCPO | 4x Emmy Nominated, Award Winning Meteorologist in Cincinnati, OH #OHwx #KYwx @ValpoU Grad. Fan of Jeff Gordon #Team24, #Cubs, #Blackhawks, #Dolphins, & #Bears | 1,817 |
| Cubbi3Gyrl | Just Laura | Content = Cubs, Raiders, BHawks, UND Hockey and Letterkenny!. I'm a sunshine slut & a kink whisperer. I ❤️tacos, tequila, tushies & tits. Want in my circle? | 1,579 |
| LambertPreston3 | Preston Lambert | http://Ret..Gov. EVERYTHING'S POLITICAL, THE MERE FACT YOU'RE SPEAKING IS POLITICAL, AND THESE DAYS PERHAPS A CRIME. | 1,473 |
| katiebear81 | Katherine Hanner | Actress, Mom, Photographer, Massage therapist | 1,362 |
Most active users
| Username | Bio | Number of tweets |
| --- | --- | --- |
| wxSpinner89 | 4x Emmy Nominated, Award Winning Meteorologist in Cincinnati, OH #OHwx #KYwx @ValpoU Grad. Fan of Jeff Gordon #Team24, #Cubs, #Blackhawks, #Dolphins, & #Bears | 2 |
| DanaScullyMulde | I am Daughter of @MaggieScully Partner/Wife of @Fox_W_MulderFBI Younger sister to @PattonKieran. Older sister to @CharlieAScully.Mother to @WilliamMulder15. RP | 2 |
| BlueRoma17 | - | 2 |
| mary_antal | Wife to @JAntal | Mother to three beautiful kids | Jesus follower | Sports Lover | Doctorate Student at Liberty University | Pastor | HS ELA Teacher | 2 |
| igotpaidfriday | I live in Canada. I love #Croatia. #losangeles and #vegas are my favorite places to visit! Follow: https://t.co/sCGtoGWlx6 🇭🇷🇺🇸🇨🇦🇲🇰 💪😎👍 | 2 |
| Dunnam0127 | I am a Master Manifestor | 2 |
| Tarheelwilliams | Love my sports, born to be retired | 1 |
| TheGreenroomLA | We represent uniquely talented creators, performers, & free thinkers. Founded in 2014. | 1 |
| bfsrocks | The Official Bowling For Soup Twitter Page! Follow the guys too! @jaret2113 @robpending @soupbowlerchris @gwise55 | 1 |
| ckamrada | touring/studio musician. drummer for @dashboardmusic & others. own & run @emosocialparty. | 1 |
---
Tweets per day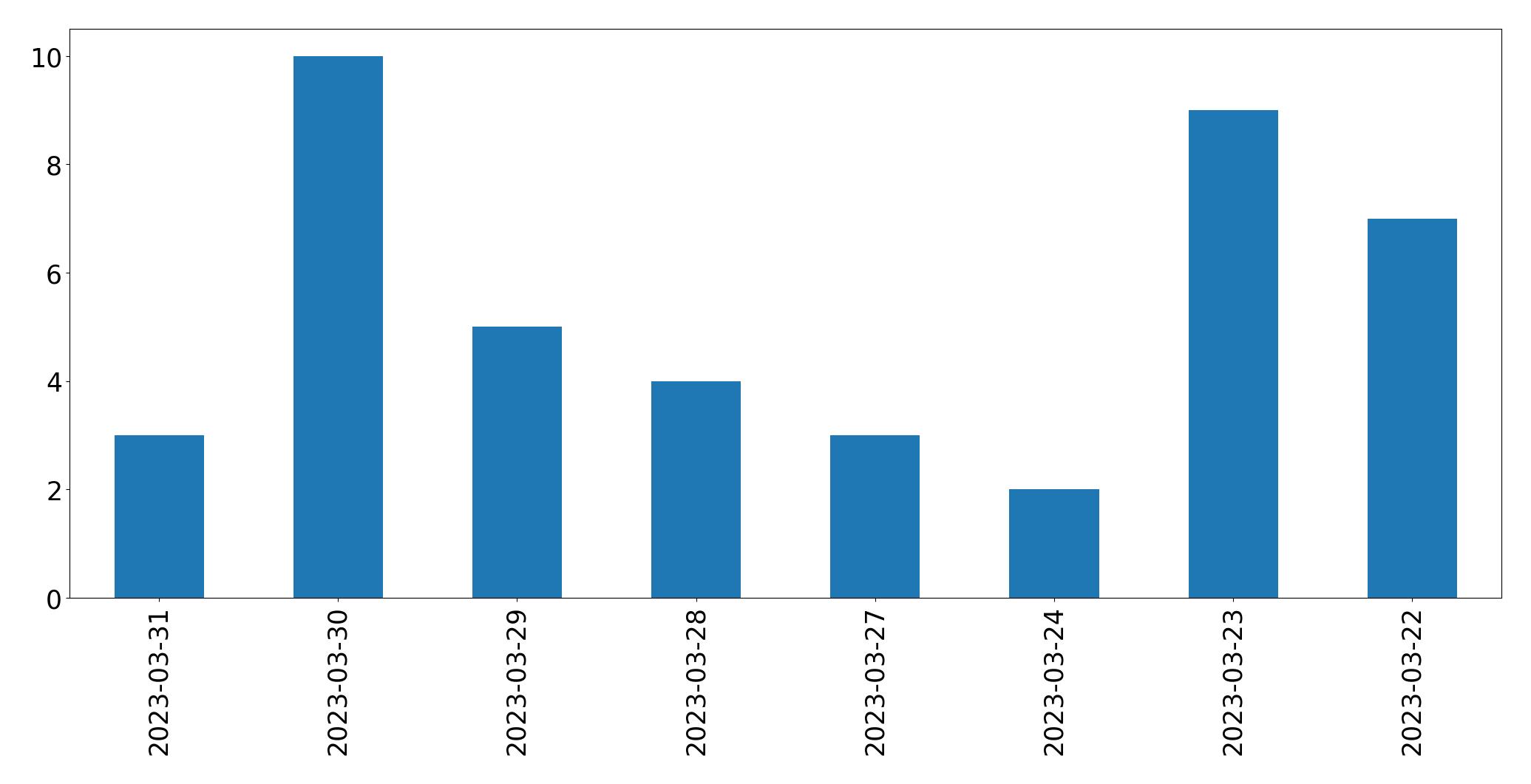 ---
Top 10 tweets with highest Retweet count
| ID | Text | Retweet count |
| --- | --- | --- |
| 1641445935489376256 | It's #OpeningDay and we are celebrating all day in my classroom. What better way to start than @TINBand and Rookie of the Year?!? Let's go @Cubs #NextStartsHere https://t.co/5kn16DchXb | 11 |
| 1638630680769822721 | Have you grabbed a ticket to the show yet? Cubs Q&A with @Brett_A_Taylor and @Michael_Cerami. Bears Q&A with @lcm1986 and myself. Food. Drinks. @TINBand @hvacpub! Tickets: https://t.co/OiY8WuZiVd https://t.co/joBsmPmFog | 3 |
| 1640856798067318786 | Hawaii 🏄🏻‍♂️☀️ Myself and @TINBand are bringing #EmoSocial back to Honolulu at the end of May. Tix available below! https://t.co/DjcHL3ETor | 3 |
| 1641153329664258049 | Let's convince @TINBand to come hang with us this May! Tickets are moving FAST so get yours today! See you on this #SpringIntoSummer Tour 🎟️ 👀 https://t.co/hPb9Vp6JUD https://t.co/5vEPERte7W | 3 |
| 1641757143396233216 | #FF @CaitlynTLove @cheftimlove @ronnihawk @jaredhawk12 @sammyyingram @_amyjojohnson @David_Yost @HunterDeno_ @Jscislowski @yvonne__chapman @ShannonNikkiD @ReppinPodcast @Coverfly @BrooksElms @TaraReid @TINBand @CelesteKellogg @AlexAngelo @WTOKTV @allcastingcom | 0 |
| 1639282307822415875 | #FF @CaitlynTLove @cheftimlove @ronnihawk @jaredhawk12 @sammyyingram @_amyjojohnson @David_Yost @Jscislowski @HunterDeno_ @yvonne__chapman @ShannonNikkiD @CelesteKellogg @AlexAngelo @TaraReid @TINBand @BrooksElms @Coverfly . Stay awesome. 😃 😊 | 0 |
| 1638994792355905536 | @Chicago_History Rookie of the Year with @TINBand https://t.co/X5GeY5JVDQ | 0 |
| 1638951099456430091 | @TINBand @BleacherNation @hvacpub @BACARDI https://t.co/V84G5iQwz6 | 0 |
| 1638922141436452864 | @TINBand @hvacpub @BleacherNation @BACARDI This is awesome I'll have to try and go. Not sure you remember but you played solo once in Chicago and I just can't remember if it was with Dan andriano or if that was with parts of Lucky Boys Confusion. You were great and it was either beat kitchen or double door I wanna say. | 0 |
| 1638895002112921600 | @FilmNewsNos @DMESandlot @AdamBaldwin @Lorraine_Bracco @elijahwood @MazzelloJoe @TINBand @tomhanks I have forgotten about the movie RADIO FLYER. I'll watch that today. I just learned from PAWN STARS, you directed the famous movie SANDLOT in 42 days. Greatness and perfection doesn't require CG and millions of dollars. Good directors and good actors. Frankly I'm tired of CG. | 0 |
Top 10 tweets with highest Like count
| ID | Text | Like count |
| --- | --- | --- |
| 1641445935489376256 | It's #OpeningDay and we are celebrating all day in my classroom. What better way to start than @TINBand and Rookie of the Year?!? Let's go @Cubs #NextStartsHere https://t.co/5kn16DchXb | 274 |
| 1641153329664258049 | Let's convince @TINBand to come hang with us this May! Tickets are moving FAST so get yours today! See you on this #SpringIntoSummer Tour 🎟️ 👀 https://t.co/hPb9Vp6JUD https://t.co/5vEPERte7W | 15 |
| 1640856798067318786 | Hawaii 🏄🏻‍♂️☀️ Myself and @TINBand are bringing #EmoSocial back to Honolulu at the end of May. Tix available below! https://t.co/DjcHL3ETor | 6 |
| 1638630293195087875 | @wxSpinner89 @TINBand @Brett_A_Taylor @hvacpub @BACARDI This is some dream fun stuff. | 3 |
| 1638630680769822721 | Have you grabbed a ticket to the show yet? Cubs Q&A with @Brett_A_Taylor and @Michael_Cerami. Bears Q&A with @lcm1986 and myself. Food. Drinks. @TINBand @hvacpub! Tickets: https://t.co/OiY8WuZiVd https://t.co/joBsmPmFog | 3 |
| 1638629267348271105 | @TINBand @Brett_A_Taylor @hvacpub @BleacherNation @BACARDI Well that's awesome! Heck yeah, Brett! Rosinbagger! | 2 |
| 1641467545986187264 | @mary_antal @TINBand @Cubs Hot dogs for lunch!! 🌭🐻⚾💙 | 2 |
| 1640307312123322368 | Bring Me The Pie-rizon @TINBand @olobersyko https://t.co/8JGoXSduq7 | 2 |
| 1638951099456430091 | @TINBand @BleacherNation @hvacpub @BACARDI https://t.co/V84G5iQwz6 | 2 |
| 1638922141436452864 | @TINBand @hvacpub @BleacherNation @BACARDI This is awesome I'll have to try and go. Not sure you remember but you played solo once in Chicago and I just can't remember if it was with Dan andriano or if that was with parts of Lucky Boys Confusion. You were great and it was either beat kitchen or double door I wanna say. | 1 |
Top 3 Languages Used In Tweets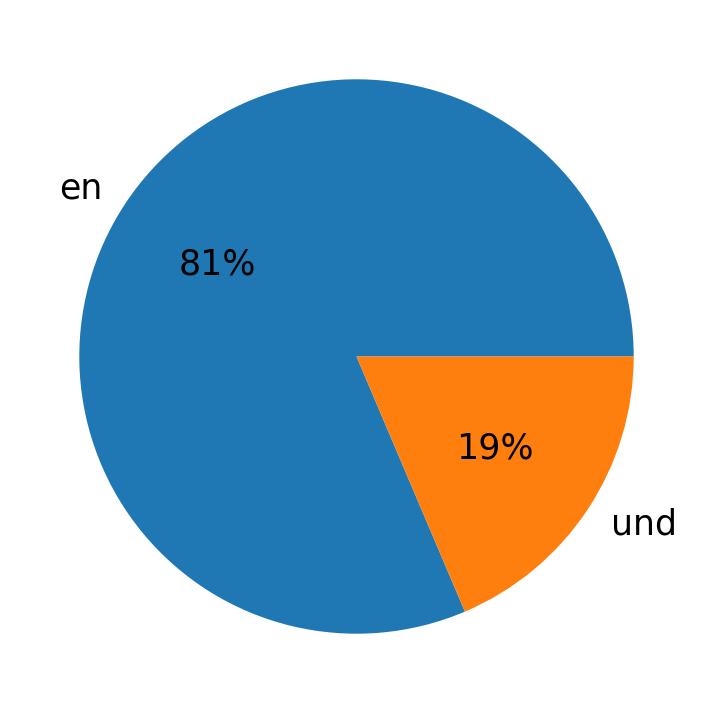 ---
Top 10 Hashtags used
| Hashtag | Count |
| --- | --- |
| #openingday | 3 |
| #ff | 2 |
| #nextstartshere | 2 |
| #springintosummer | 2 |
| #emosocial | 2 |
| #mlbopeningday | 1 |
| #happymonday | 1 |
| #happyfriday | 1 |
Top 10 Hashtags Used In Tweets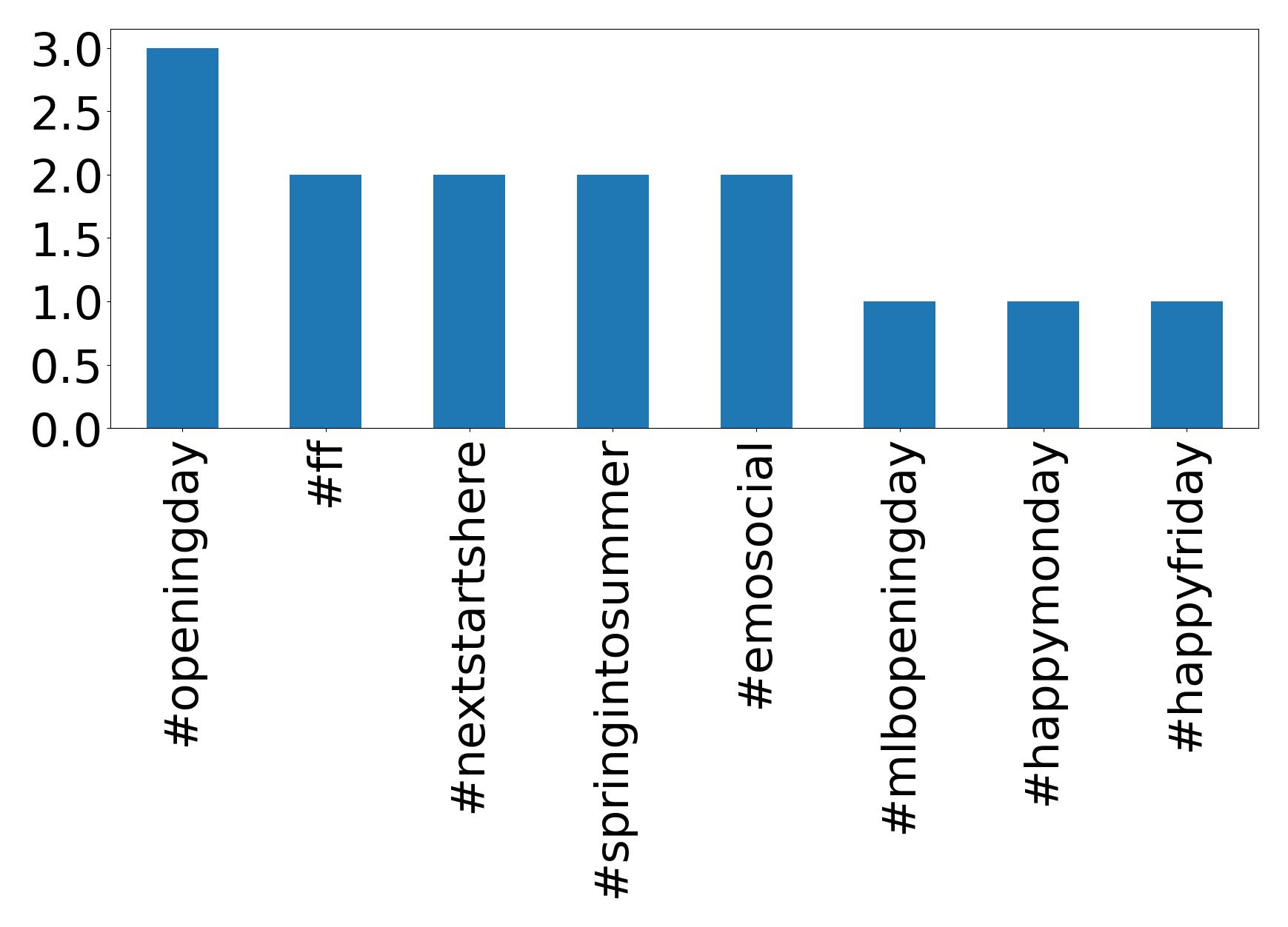 Top 10 mentions
| Mention | Count |
| --- | --- |
| @tinband | 44 |
| @cubs | 11 |
| @hvacpub | 11 |
| @bacardi | 10 |
| @bleachernation | 9 |
| @mary_antal | 7 |
| @brett_a_taylor | 5 |
| @caitlyntlove | 2 |
| @cheftimlove | 2 |
| @ronnihawk | 2 |
Top 10 mentions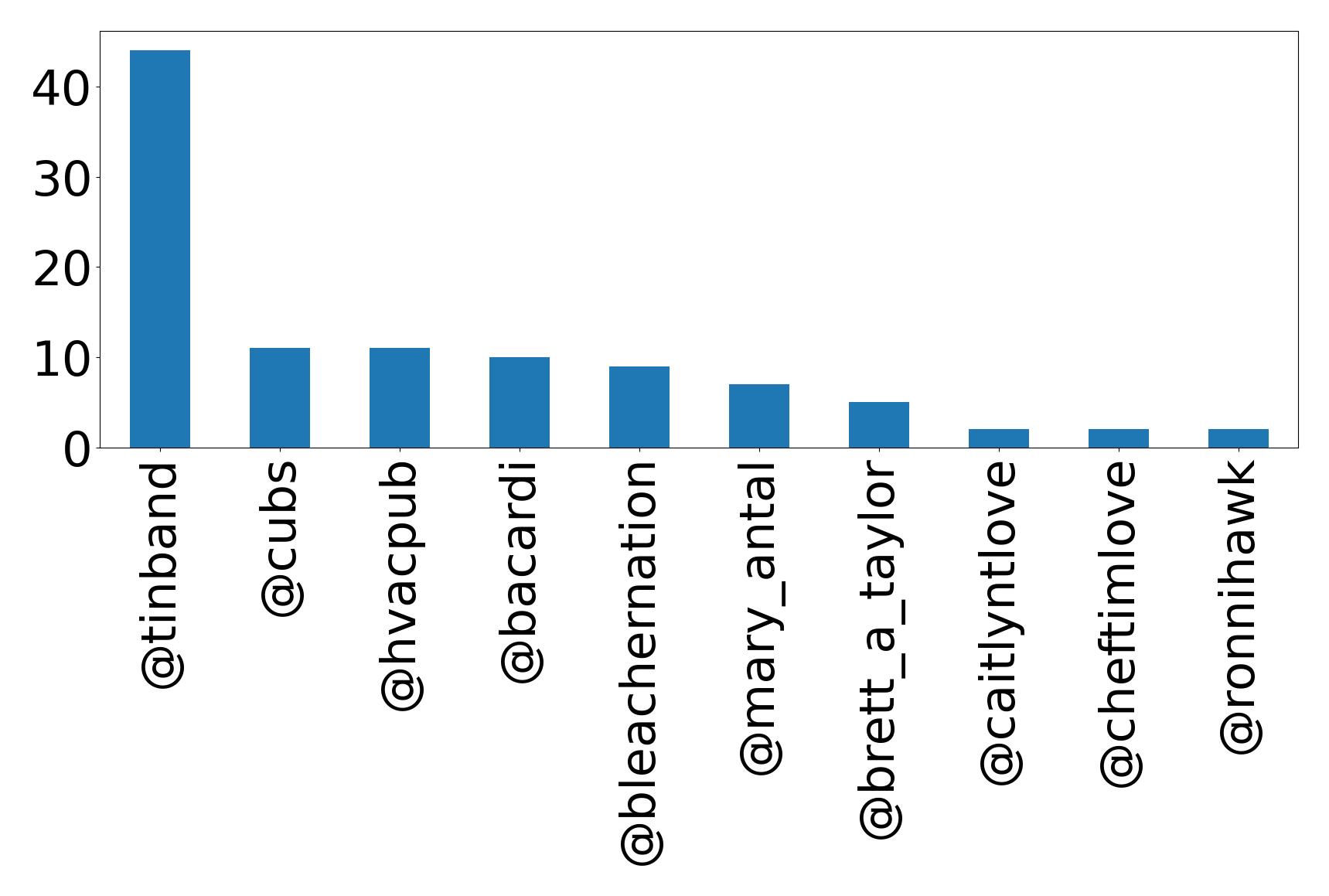 Wordcloud of Tweets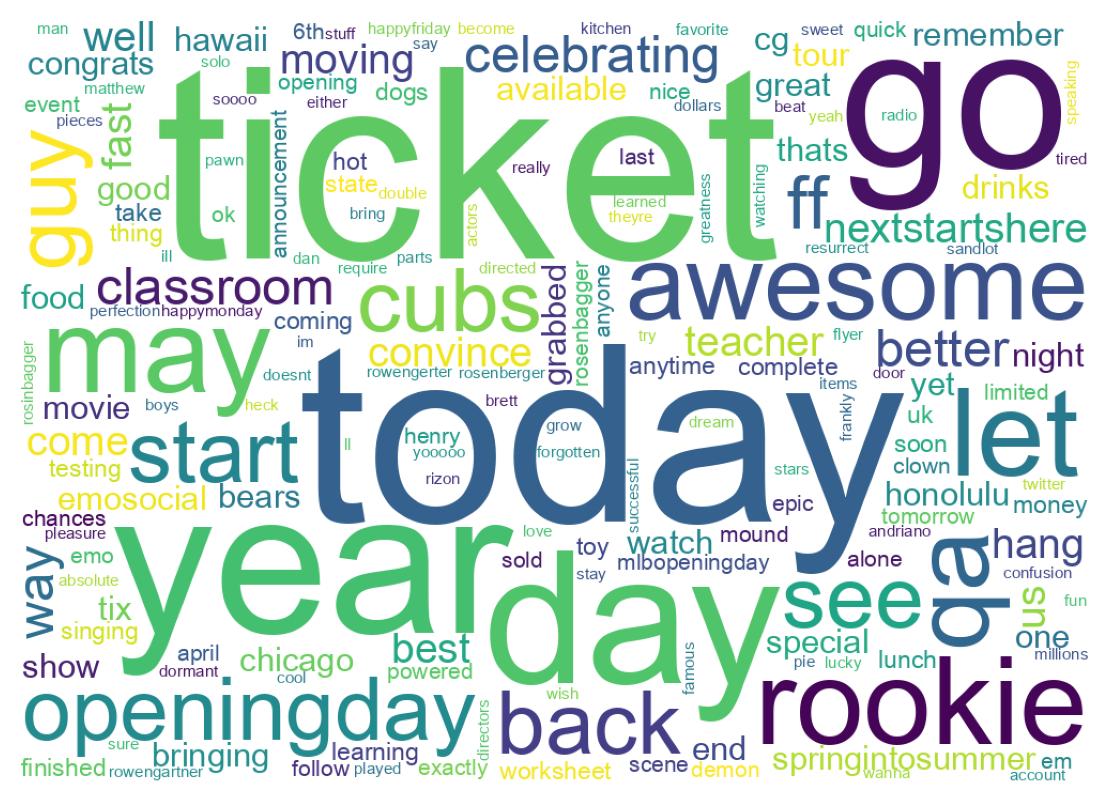 ---
Emojis
Average number of emojis used per tweet
41
Emojis used in tweets
| Emoji | Count | Emoji Text |
| --- | --- | --- |
| 🤣 | 3 | rolling_on_the_floor_laughing |
| 🎟️ | 2 | admission_tickets |
| 👀 | 2 | eyes |
| 🏄🏻‍♂️ | 2 | man_surfing_light_skin_tone |
| ☀️ | 2 | sun |
| 🌭 | 1 | hot_dog |
| 🐻 | 1 | bear |
| ⚾ | 1 | baseball |
| 💙 | 1 | blue_heart |
| 😃 | 1 | grinning_face_with_big_eyes |
Emojis groups
| Emoji Group | Count |
| --- | --- |
| Smileys & Emotion | 7 |
| People & Body | 4 |
| Activities | 3 |
| Travel & Places | 2 |
| Food & Drink | 1 |
| Animals & Nature | 1 |