Tweets Analysis - Keyword: @TheFatBoys
Total number of tweets analysed
14
Earliest tweet was on
2023-03-22
Latest tweet was on
2023-03-30
Average age of authors' accounts
10 years
---
Summarization
The tweets celebrate the 35th anniversary of The Fat Boys' album "Are You Ready for Freddy". They also mention specific songs by The Fat Boys, including "Louie, Louie" and "Powerlord". There is also discussion about other hip-hop artists and the impact of their music. Overall, the tweets express appreciation for The Fat Boys and their contributions to the genre.
Topic Modeling
Music by The Fat Boys
Hip-hop culture
Horror movies and community
Pandora music streaming
Geographical references to East New York
Emotional Analysis
The tweets express a wide range of emotions related to the music and legacy of The Fat Boys. Some express excitement and nostalgia for their music, while others express appreciation for their contributions to hip-hop culture and label them as legends. There is also some playful banter and debate about their discography and the culture surrounding hip-hop at the time. Overall, the tweets are positive and celebratory of The Fat Boys and their impact on music.
Trend Analysis
Anniversary of Are You Ready for Freddy by The Fat Boys
Now playing: Louie, Louie by The Fat Boys
Engagement and excitement for The Fat Boys music
Discussions and debates about other hip-hop groups and artists
Appreciation and recognition of The Fat Boys and their legendary status
---
Types of Tweets
Number of Retweets
1
Percentage of total tweets
7%
Number of Original tweets
3
Percentage of total tweets
21%
Number of tweets that contain Mentions
14
Percentage of total tweets
100%
Number of tweets that were Replies
10
Percentage of total tweets
71%
Number of tweets that were Quotes
0
Percentage of total tweets
0%
Number of tweets that contain Hashtags
4
Percentage of total tweets
28%
---
Top 5 devices used to tweet
| Source | Count |
| --- | --- |
| Twitter Web App | 5 |
| Twitter for iPhone | 4 |
| Twitter for Android | 4 |
| SAM Broadcaster Song Info | 1 |
What devices were used to tweet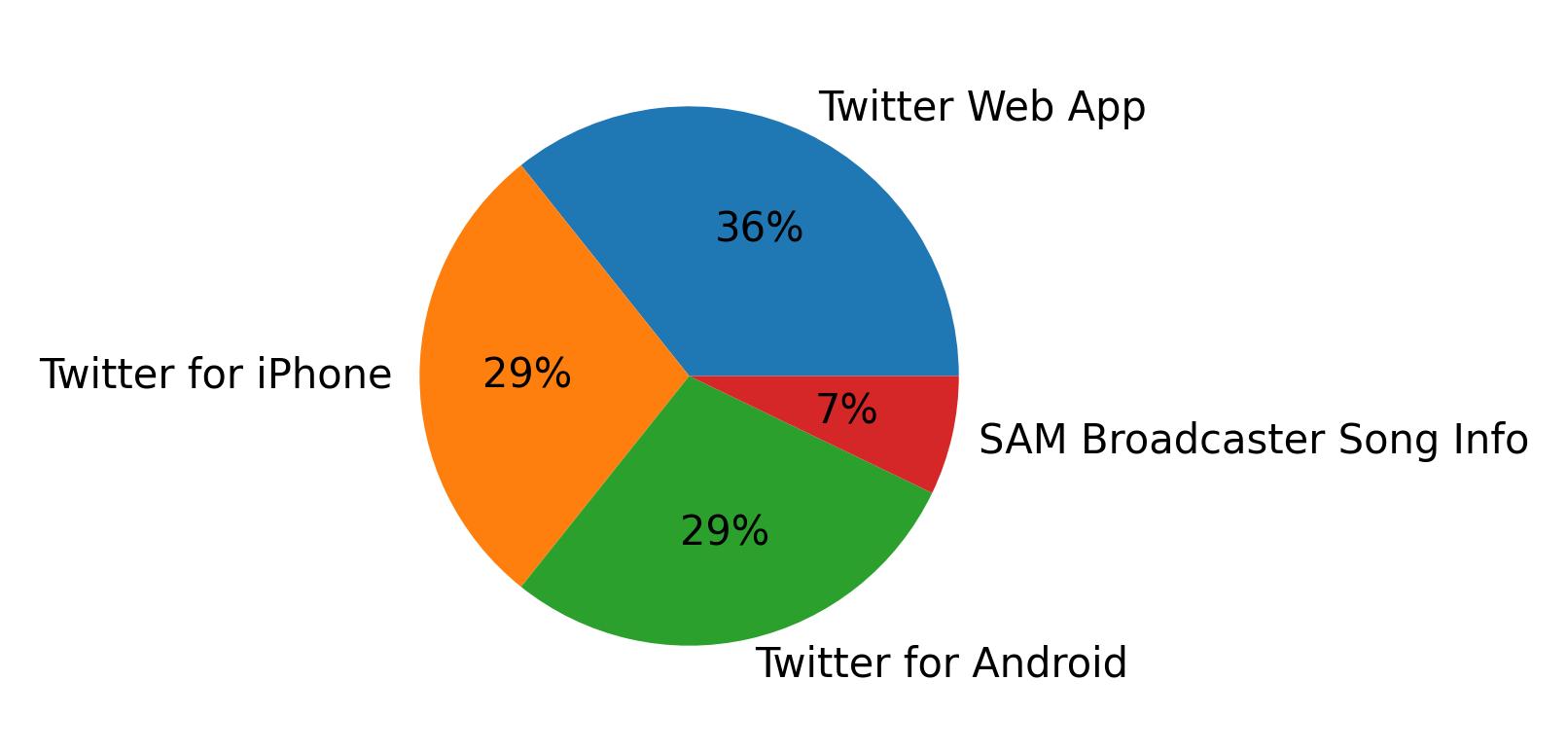 ---
Top 10 accounts with highest followers count
| Username | Name | Bio | Followers count |
| --- | --- | --- | --- |
| QueenHalloweenW | Holidaze Halloween 🎃 | Holidaze Halloween Radio on #Mixcloud #horror #Halloween #MutantFam #savethebats Me irl: @QueenHalloween1 50% darkness/50% sparkles | 14,629 |
| RadioWHATTwit | Radio WHAT | Tell your story on my #Podcast. #WhatMakesYouFamous call or text 501.470.6386 and leave a message @KeysDAN @MakesFamous https://t.co/RMzmcsXzwT | 10,418 |
| KevinCarter_93 | Kevin Carter | Dad.Gator.14 year NFL.All Pro.Super Bowl XXXIV Champion and passionate philanthropist. Pro/CFB Analyst @CBSSportsNet @CBSSports https://t.co/mSkYOCk9sq | 10,205 |
| jerry_parsons | Jerry Parsons21225 | From Dundee, Scotland. Ex-Soldier. Hip Hop Junkie. Baltimore is home. Lived in Europe for 18 years. The Middle East worked for 18 years. Ravens fan. Works Out. | 4,360 |
| QueenHalloween1 | Queen Halloween 👑🎃 | (Wendy Kelley) Queen Halloween @ Holidaze Halloween Radio. @QueenHalloweenW Love all things #horror and #Halloween 50% darkness/50% sparkles #Liberal #resist | 2,894 |
| TruArtHustler | Kartel Capo | Art, Art Direction, Film, Business & Music Taste Making At It's Finest @theartkartel | @badderisrael | Shop: @BadderInk | Instagram: @suave_artkartel | 792 |
| tsandg8r | Tom Sandberg | Nothin' Greater Than A Gator...'cept my wife, daughter & son...& maybe a cold beer. 🐊😎🌴 | 769 |
| nothingless86 | Le$$ | it's All & Nothing Le$$ | 277 |
| ThisIsTheBee | Bass Reeves | - | 251 |
| JakeVital | Vital24 | Eat fresh fish and live fat like a pelican! | 193 |
Top 10 accounts with highest friends count
| Username | Name | Bio | Followers count |
| --- | --- | --- | --- |
| RadioWHATTwit | Radio WHAT | Tell your story on my #Podcast. #WhatMakesYouFamous call or text 501.470.6386 and leave a message @KeysDAN @MakesFamous https://t.co/RMzmcsXzwT | 9,819 |
| QueenHalloweenW | Holidaze Halloween 🎃 | Holidaze Halloween Radio on #Mixcloud #horror #Halloween #MutantFam #savethebats Me irl: @QueenHalloween1 50% darkness/50% sparkles | 5,340 |
| TruArtHustler | Kartel Capo | Art, Art Direction, Film, Business & Music Taste Making At It's Finest @theartkartel | @badderisrael | Shop: @BadderInk | Instagram: @suave_artkartel | 4,024 |
| jerry_parsons | Jerry Parsons21225 | From Dundee, Scotland. Ex-Soldier. Hip Hop Junkie. Baltimore is home. Lived in Europe for 18 years. The Middle East worked for 18 years. Ravens fan. Works Out. | 3,836 |
| QueenHalloween1 | Queen Halloween 👑🎃 | (Wendy Kelley) Queen Halloween @ Holidaze Halloween Radio. @QueenHalloweenW Love all things #horror and #Halloween 50% darkness/50% sparkles #Liberal #resist | 2,751 |
| nothingless86 | Le$$ | it's All & Nothing Le$$ | 2,279 |
| KevinCarter_93 | Kevin Carter | Dad.Gator.14 year NFL.All Pro.Super Bowl XXXIV Champion and passionate philanthropist. Pro/CFB Analyst @CBSSportsNet @CBSSports https://t.co/mSkYOCk9sq | 1,646 |
| ThisIsTheBee | Bass Reeves | - | 1,573 |
| tsandg8r | Tom Sandberg | Nothin' Greater Than A Gator...'cept my wife, daughter & son...& maybe a cold beer. 🐊😎🌴 | 782 |
| notmyday03 | Chris | Heaven doesn't want me, and hell is afraid I'll take over | 767 |
Most active users
| Username | Bio | Number of tweets |
| --- | --- | --- |
| Context_19 | The coolest site for empowerment and expression on the internet! | 2 |
| JakeVital | Eat fresh fish and live fat like a pelican! | 1 |
| KevinCarter_93 | Dad.Gator.14 year NFL.All Pro.Super Bowl XXXIV Champion and passionate philanthropist. Pro/CFB Analyst @CBSSportsNet @CBSSports https://t.co/mSkYOCk9sq | 1 |
| LadyBNeal | - | 1 |
| QueenHalloween1 | (Wendy Kelley) Queen Halloween @ Holidaze Halloween Radio. @QueenHalloweenW Love all things #horror and #Halloween 50% darkness/50% sparkles #Liberal #resist | 1 |
| QueenHalloweenW | Holidaze Halloween Radio on #Mixcloud #horror #Halloween #MutantFam #savethebats Me irl: @QueenHalloween1 50% darkness/50% sparkles | 1 |
| RadioWHATTwit | Tell your story on my #Podcast. #WhatMakesYouFamous call or text 501.470.6386 and leave a message @KeysDAN @MakesFamous https://t.co/RMzmcsXzwT | 1 |
| ThisIsTheBee | - | 1 |
| TruArtHustler | Art, Art Direction, Film, Business & Music Taste Making At It's Finest @theartkartel | @badderisrael | Shop: @BadderInk | Instagram: @suave_artkartel | 1 |
| jerry_parsons | From Dundee, Scotland. Ex-Soldier. Hip Hop Junkie. Baltimore is home. Lived in Europe for 18 years. The Middle East worked for 18 years. Ravens fan. Works Out. | 1 |
---
Tweets per day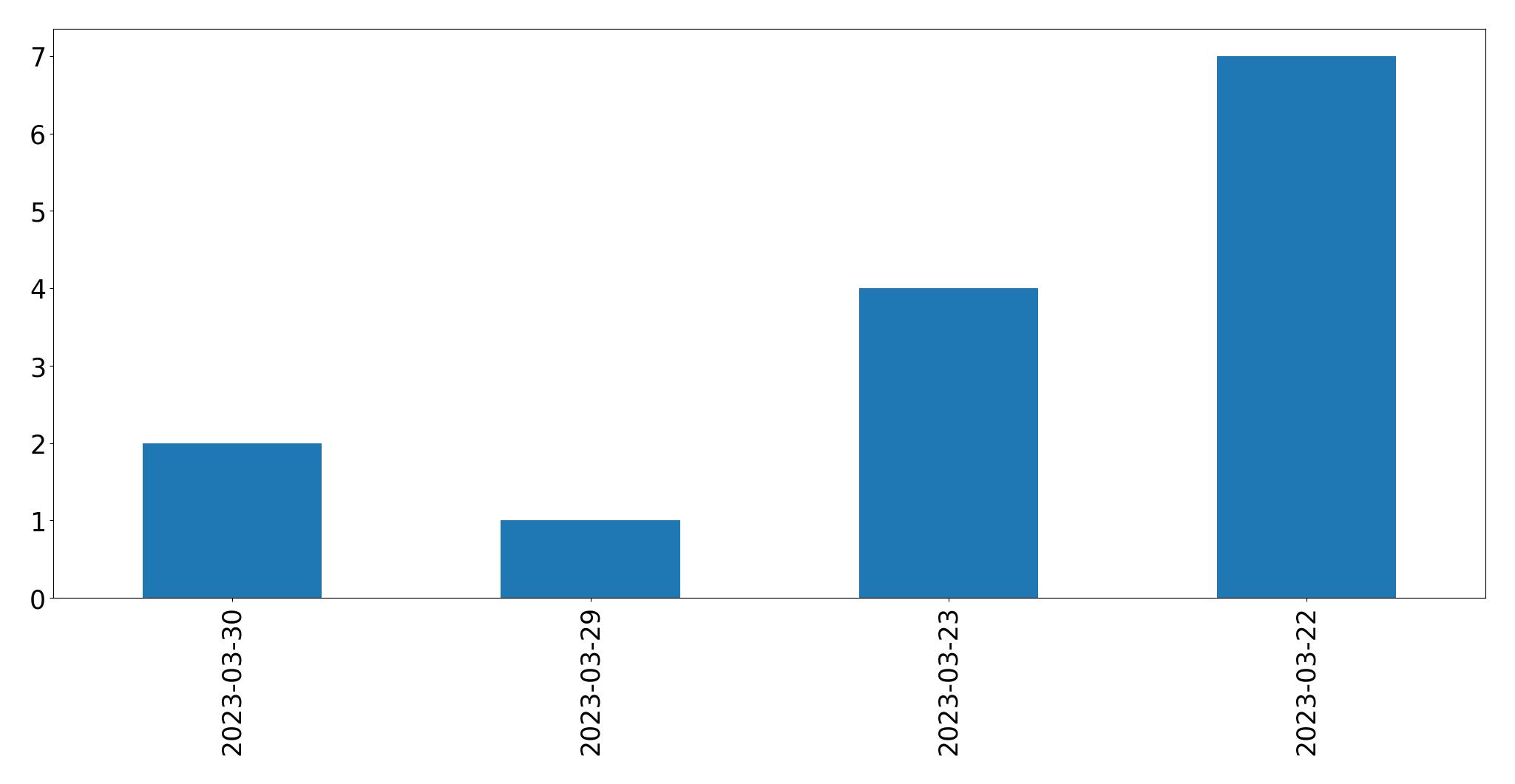 ---
Top 10 tweets with highest Retweet count
| ID | Text | Retweet count |
| --- | --- | --- |
| 1641165119244623874 | A little late posting this, but happy 35th anniversary to Are You Ready for Freddy by @TheFatBoys! Released on March 18, 1988. 🖤 #horror #HorrorCommunity https://t.co/O04ZHI4XaU | 1 |
| 1641274354682961920 | #NowPlaying Fat Boys @TheFatBoys - Louie, Louie https://t.co/oBBaLwbvsM #ListenLive | 0 |
| 1638882830351572992 | 🎧 Powerlord by @TheFatBoys on @PandoraMusic https://t.co/4nFiBiCgQQ | 0 |
| 1638790932744097792 | @jerry_parsons @RealDougEFresh @RAHZELTHELEGEND @TheFatBoys @Passionweiss LEGENDS | 0 |
| 1638757933587546114 | @ThisIsTheBee @jerry_parsons @RealDougEFresh @RAHZELTHELEGEND @TheFatBoys @Passionweiss True👍 | 0 |
| 1638753315717783557 | @Context_19 @jerry_parsons @RealDougEFresh @RAHZELTHELEGEND @TheFatBoys @Passionweiss East New York | 0 |
| 1638656462930038787 | @KevinCarter_93 @TheFatBoys @jb8sy Ooooooohhhhh https://t.co/ksFpjHXivc | 0 |
| 1638656348270342146 | @tsandg8r @TheFatBoys @jb8sy #canyoufeelit | 0 |
| 1638646283966590976 | @jerry_parsons @RealDougEFresh @RAHZELTHELEGEND @TheFatBoys @Passionweiss Shout out to that one kid in school back in the days, that loved our Hip-Hop Culture, had money for the studio, but not the talent https://t.co/JCm8TXsYAM | 0 |
| 1638616705395044352 | @jerry_parsons @RealDougEFresh @RAHZELTHELEGEND @TheFatBoys @Passionweiss YEAH But what about K-Love If you know hiphop you gotta know Inspector Gadget by the Badboys ( No not Diddy or Biggie or Craig-Mack) ..A group called Badboy The sistah is dope on the Beatbox .Come on son Give the black wombmen props 🤣🤣 https://t.co/H71eREpaBM | 0 |
Top 10 tweets with highest Like count
| ID | Text | Like count |
| --- | --- | --- |
| 1641165119244623874 | A little late posting this, but happy 35th anniversary to Are You Ready for Freddy by @TheFatBoys! Released on March 18, 1988. 🖤 #horror #HorrorCommunity https://t.co/O04ZHI4XaU | 3 |
| 1641274354682961920 | #NowPlaying Fat Boys @TheFatBoys - Louie, Louie https://t.co/oBBaLwbvsM #ListenLive | 1 |
| 1638656462930038787 | @KevinCarter_93 @TheFatBoys @jb8sy Ooooooohhhhh https://t.co/ksFpjHXivc | 1 |
| 1638656348270342146 | @tsandg8r @TheFatBoys @jb8sy #canyoufeelit | 1 |
| 1638646283966590976 | @jerry_parsons @RealDougEFresh @RAHZELTHELEGEND @TheFatBoys @Passionweiss Shout out to that one kid in school back in the days, that loved our Hip-Hop Culture, had money for the studio, but not the talent https://t.co/JCm8TXsYAM | 1 |
| 1638616705395044352 | @jerry_parsons @RealDougEFresh @RAHZELTHELEGEND @TheFatBoys @Passionweiss YEAH But what about K-Love If you know hiphop you gotta know Inspector Gadget by the Badboys ( No not Diddy or Biggie or Craig-Mack) ..A group called Badboy The sistah is dope on the Beatbox .Come on son Give the black wombmen props 🤣🤣 https://t.co/H71eREpaBM | 1 |
| 1638615258737647616 | @JakeVital @RealDougEFresh @RAHZELTHELEGEND @TheFatBoys @Passionweiss Ahhhhhhhh Oh yeah for sure Skinny And Proud :) | 1 |
| 1638606067750916096 | @jerry_parsons @RealDougEFresh @RAHZELTHELEGEND @TheFatBoys @Passionweiss https://t.co/zrKY2NDabQ | 1 |
| 1638882830351572992 | 🎧 Powerlord by @TheFatBoys on @PandoraMusic https://t.co/4nFiBiCgQQ | 0 |
| 1638790932744097792 | @jerry_parsons @RealDougEFresh @RAHZELTHELEGEND @TheFatBoys @Passionweiss LEGENDS | 0 |
Top 3 Languages Used In Tweets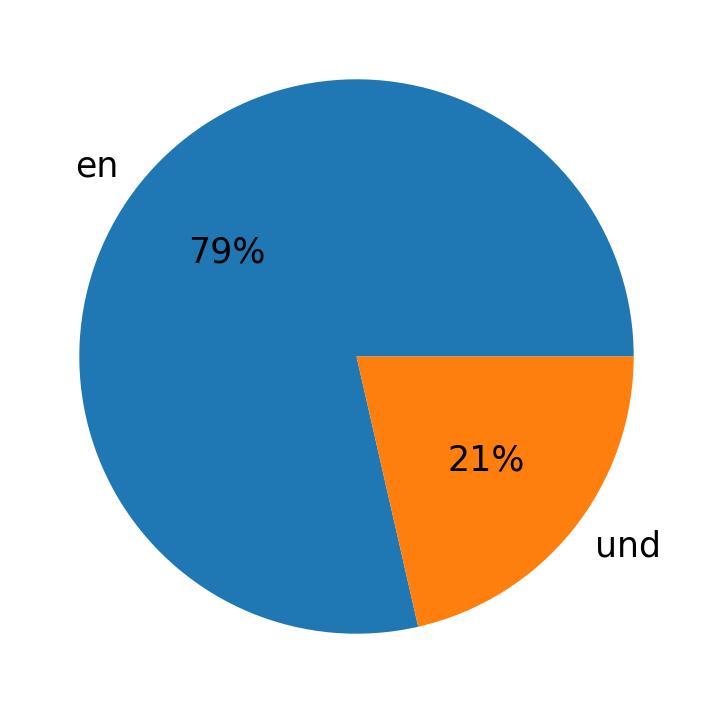 ---
Top 10 Hashtags used
| Hashtag | Count |
| --- | --- |
| #horror | 2 |
| #horrorcommunity | 2 |
| #nowplaying | 1 |
| #listenlive | 1 |
| #canyoufeelit | 1 |
Top 10 Hashtags Used In Tweets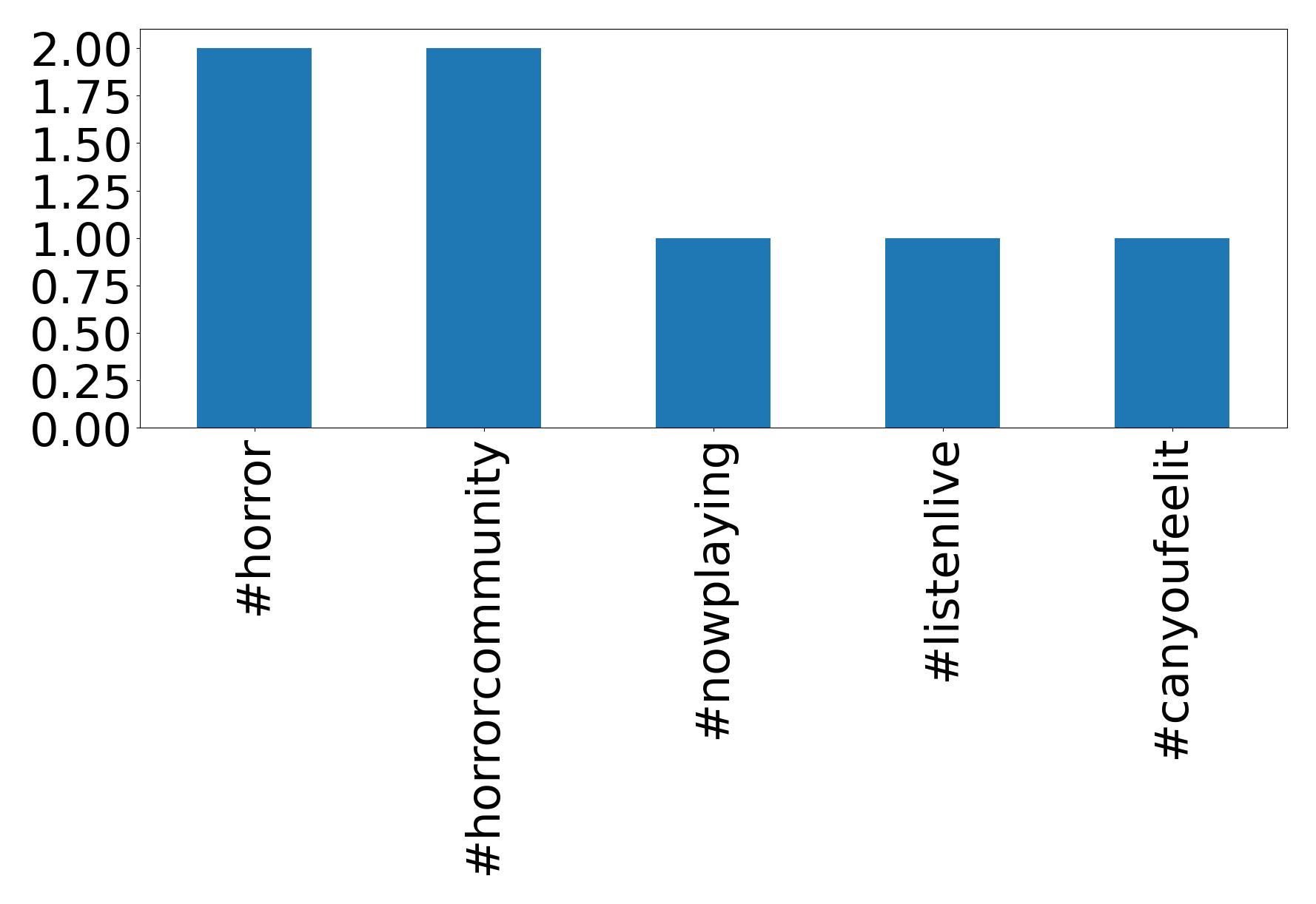 Top 10 mentions
| Mention | Count |
| --- | --- |
| @thefatboys | 14 |
| @realdougefresh | 8 |
| @rahzelthelegend | 8 |
| @passionweiss | 8 |
| @jerry_parsons | 7 |
| @jb8sy | 2 |
| @queenhalloweenw | 1 |
| @pandoramusic | 1 |
| @thisisthebee | 1 |
| @context_19 | 1 |
Top 10 mentions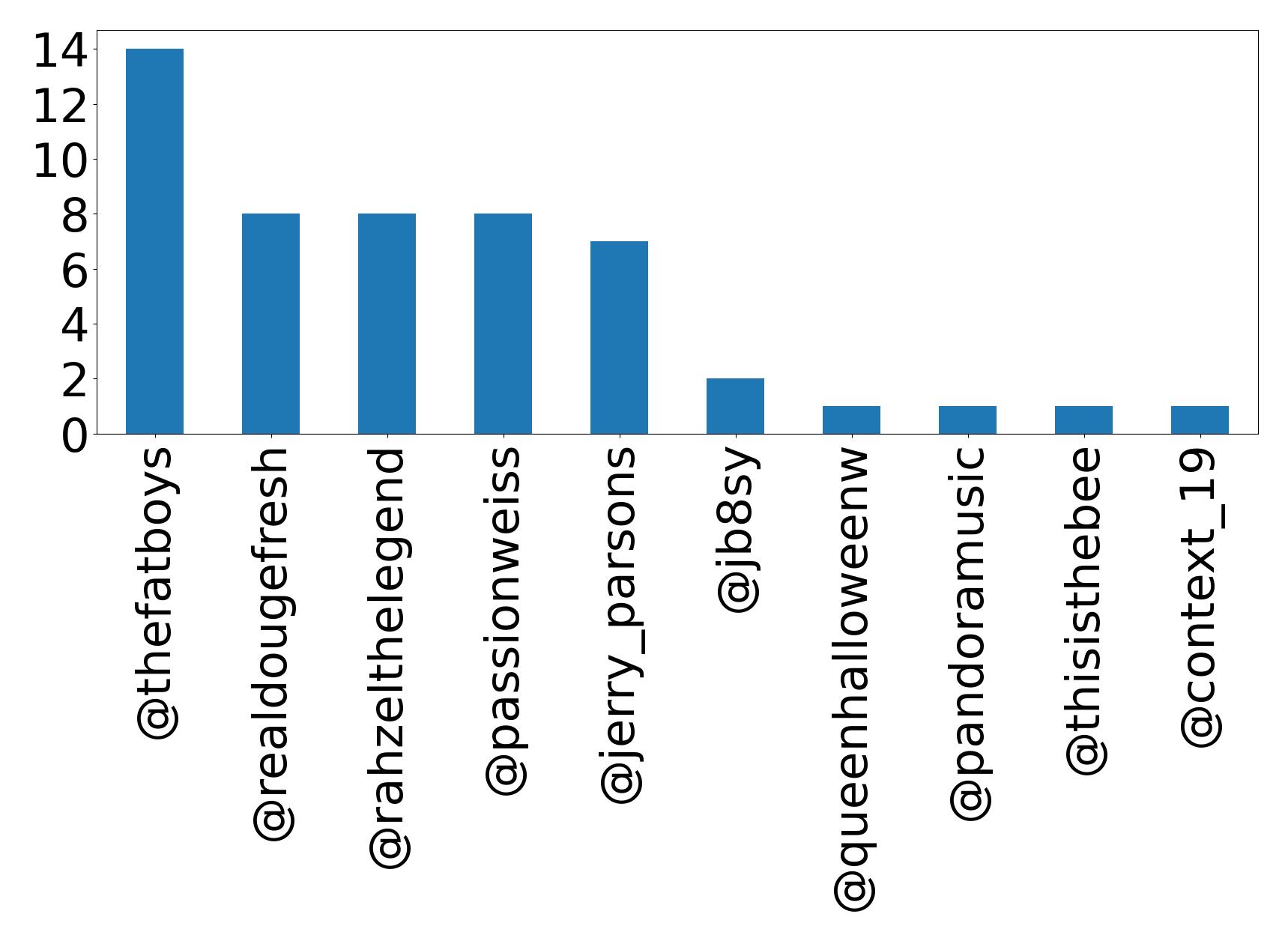 Wordcloud of Tweets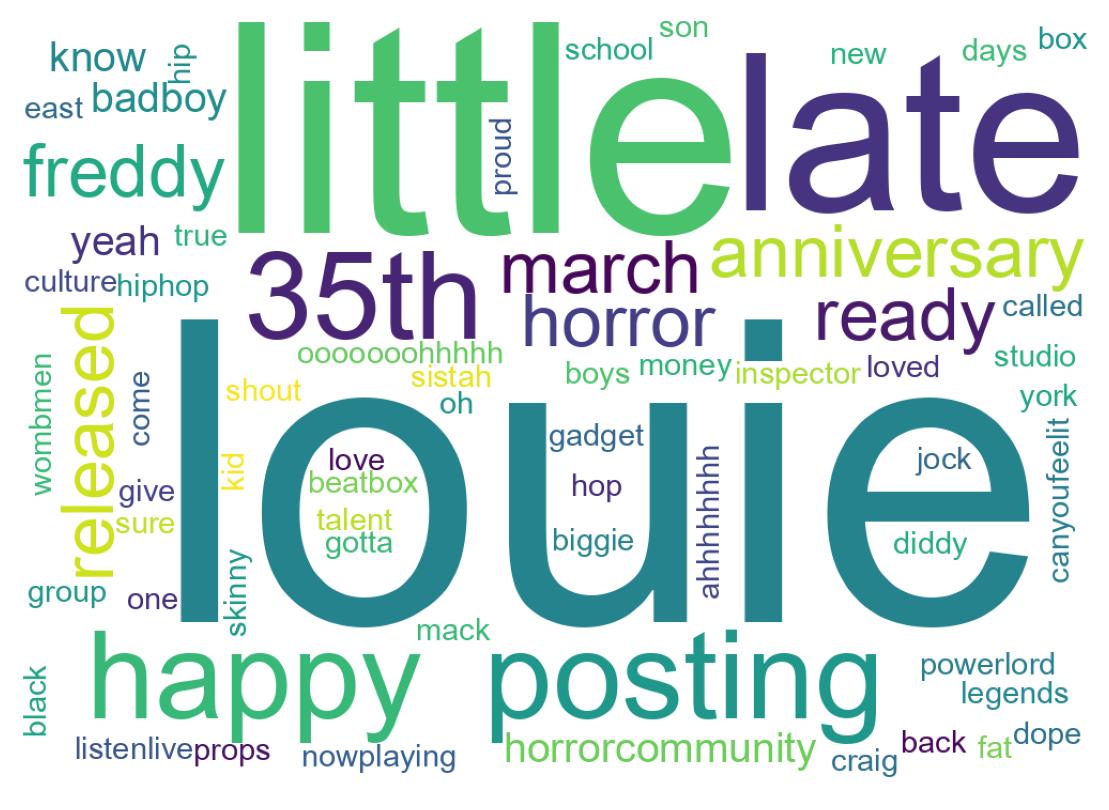 ---
Emojis
Average number of emojis used per tweet
42
Emojis used in tweets
| Emoji | Count | Emoji Text |
| --- | --- | --- |
| 🖤 | 2 | black_heart |
| 🤣 | 2 | rolling_on_the_floor_laughing |
| 🎧 | 1 | headphone |
| 👍 | 1 | thumbs_up |
Emojis groups
| Emoji Group | Count |
| --- | --- |
| Smileys & Emotion | 4 |
| Objects | 1 |
| People & Body | 1 |