Tweets Analysis - Keyword: @Sofia_Essaidi
Total number of tweets analysed
29
Earliest tweet was on
2023-03-22
Latest tweet was on
2023-03-31
Average age of authors' accounts
7 years
---
Summarization
The tweets include compliments towards Sofia Essaidi's career and personal growth, as well as news that the film "Antigang: La relève" will be available on DisneyPlus this summer with Essaidi as part of the cast. There are also mentions of Sofia Essaidi's admirable character, inspiring journey, and impressive vocal abilities. Additionally, there is a suggestion for Essaidi to be included in a TV show and a mention of her upcoming book adaptation on DisneyPlus.
Topic Modeling
Celebrity news and entertainment
Fan admiration and support
Film and television releases
Musical performances and events
Literary adaptations for screen
Emotional Analysis
The tweets express admiration and pride for Sofia Essaidi, a French actress and singer. Many tweets praise her as an inspiring and remarkable woman, with a successful career and a strong work ethic. There is also excitement for upcoming projects featuring Essaidi and disappointment when she is not included in certain events. Overall, the tweets express positive emotions such as admiration, pride, and excitement towards Sofia Essaidi.
Trend Analysis
DisneyPlus releasing Antigang: La reléve with Sofia Essaidi in the cast
Praising Sofia Essaidi's evolution and inspiration
Criticism of Elodie Fregé's performance compared to Sofia Essaidi's
Sofia Essaidi as a model and remarkable woman
Sofia Essaidi referenced in various TV shows and platforms
---
Types of Tweets
Number of Retweets
7
Percentage of total tweets
24%
Number of Original tweets
5
Percentage of total tweets
17%
Number of tweets that contain Mentions
29
Percentage of total tweets
100%
Number of tweets that were Replies
17
Percentage of total tweets
58%
Number of tweets that were Quotes
0
Percentage of total tweets
0%
Number of tweets that contain Hashtags
10
Percentage of total tweets
34%
---
Top 5 devices used to tweet
| Source | Count |
| --- | --- |
| Twitter for iPhone | 13 |
| Twitter for Android | 11 |
| Twitter Web App | 4 |
| Twitter for iPad | 1 |
What devices were used to tweet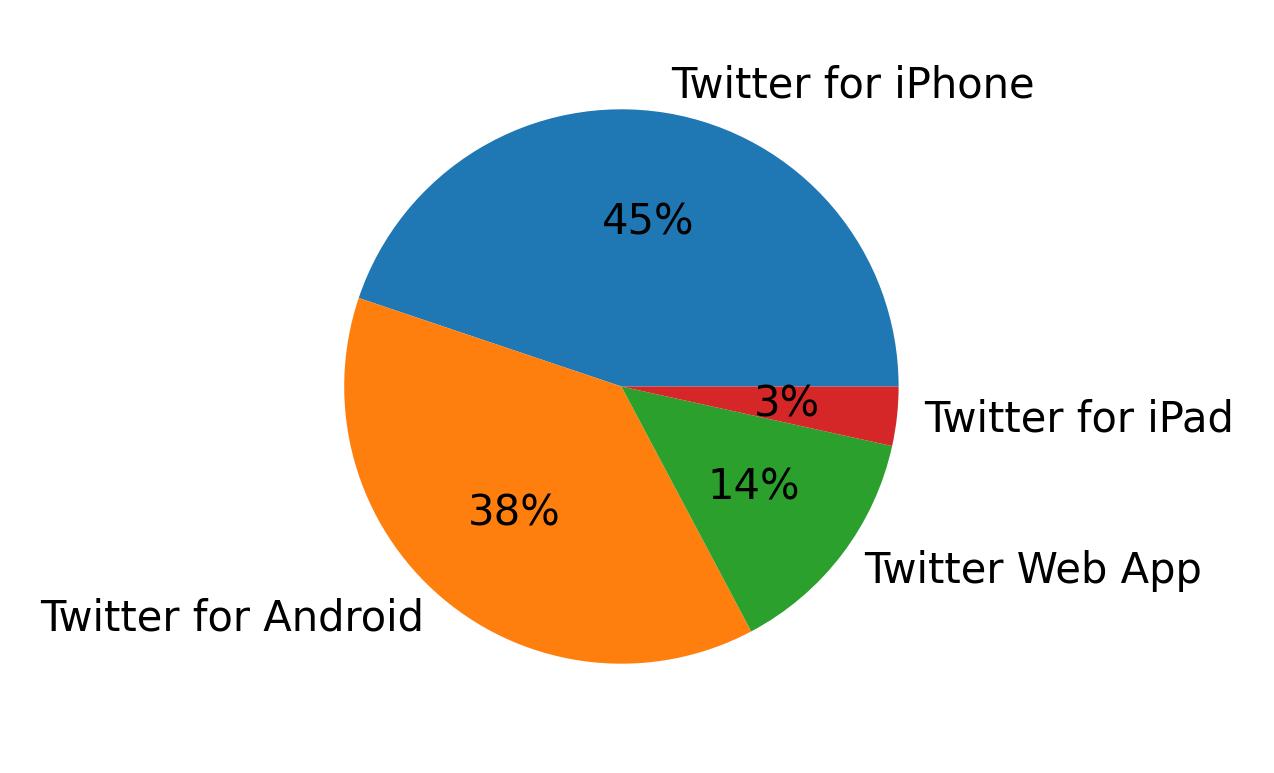 ---
Top 10 accounts with highest followers count
| Username | Name | Bio | Followers count |
| --- | --- | --- | --- |
| Mediasinfos | @Médiasinfos 📺📻📸📰🎬 | Télé, Radio, People, Presse… On vous dit tout. Retrouvez toute l'actu des médias sur notre site internet ici: https://t.co/1SVnIQmaMS | 20,415 |
| ChapelierAlice | Daphne 📚 🎸 | 📱 Journaliste /YouTube / Realisatrice @LeJeuneMusical - Scenariste📹 🎬Mon premier film "La Fuite Du Temps" dispo en bio. | 2,108 |
| _bemaestro | BeMaestro 🇺🇦 | Site consacré à l'émission @NOPLPoff : maestros, Masters, chansons, artistes... #NOPLP | 970 |
| sofiajess | Jessica Elard Rigois | Il faut toujours croire en ses rêves... @sofia_essaidi une artiste incroyable ... 15 ans de bonheur ,de rêves avec elle ❤️Merci | 430 |
| Nathxxxx | Nathxxxx | ❤️ Sofia Essaïdi ❤️ Sofiaddict & Essaidingue & ça fait 19ans que ça dure 🙏❤ Merci de m'apporter autant 🥰 | 404 |
| Imsevp | Ines | « Tous nos rêves se trouvent un jour sur le chemin qu'on a tracé » ✨ | 342 |
| SPascaleJ | Pascale | 📷 Instagram et page Facebook : PascaleS-Photographie @AudeHenneville 🎸 @Sofia_Essaidi @Sheilaofficiel @MyleneFarmer bénévole SPA 🐕🐈 - guitare 🎸 | 290 |
| SofiaEssaidi06 | SofiaWebFamily_fan | Un Compte de soutien dédié à Sofia Essaïdi Une Artiste Complète Nath & Jess | 228 |
| sofia30540 | Julie | Fan de sofia essaidi ~ Membre de la SWF | 220 |
| KDisneyano | KDisneyano | Il Disney+ Fan Boy. Tutte news e info qui. | 206 |
Top 10 accounts with highest friends count
| Username | Name | Bio | Followers count |
| --- | --- | --- | --- |
| ChapelierAlice | Daphne 📚 🎸 | 📱 Journaliste /YouTube / Realisatrice @LeJeuneMusical - Scenariste📹 🎬Mon premier film "La Fuite Du Temps" dispo en bio. | 3,754 |
| Mediasinfos | @Médiasinfos 📺📻📸📰🎬 | Télé, Radio, People, Presse… On vous dit tout. Retrouvez toute l'actu des médias sur notre site internet ici: https://t.co/1SVnIQmaMS | 1,245 |
| KDisneyano | KDisneyano | Il Disney+ Fan Boy. Tutte news e info qui. | 1,220 |
| sofiajess | Jessica Elard Rigois | Il faut toujours croire en ses rêves... @sofia_essaidi une artiste incroyable ... 15 ans de bonheur ,de rêves avec elle ❤️Merci | 544 |
| SPascaleJ | Pascale | 📷 Instagram et page Facebook : PascaleS-Photographie @AudeHenneville 🎸 @Sofia_Essaidi @Sheilaofficiel @MyleneFarmer bénévole SPA 🐕🐈 - guitare 🎸 | 536 |
| Imsevp | Ines | « Tous nos rêves se trouvent un jour sur le chemin qu'on a tracé » ✨ | 320 |
| Lucillee85 | Lucille | I'm Back !! | 302 |
| wadoud_ | W | - | 280 |
| Nathxxxx | Nathxxxx | ❤️ Sofia Essaïdi ❤️ Sofiaddict & Essaidingue & ça fait 19ans que ça dure 🙏❤ Merci de m'apporter autant 🥰 | 185 |
| BarthelemyVigna | vigna237 | 😊 | 168 |
Most active users
| Username | Bio | Number of tweets |
| --- | --- | --- |
| Nathxxxx | ❤️ Sofia Essaïdi ❤️ Sofiaddict & Essaidingue & ça fait 19ans que ça dure 🙏❤ Merci de m'apporter autant 🥰 | 4 |
| SofiaEssaidi06 | Un Compte de soutien dédié à Sofia Essaïdi Une Artiste Complète Nath & Jess | 3 |
| 93Gremo | - | 3 |
| SPascaleJ | 📷 Instagram et page Facebook : PascaleS-Photographie @AudeHenneville 🎸 @Sofia_Essaidi @Sheilaofficiel @MyleneFarmer bénévole SPA 🐕🐈 - guitare 🎸 | 2 |
| sofiajess | Il faut toujours croire en ses rêves... @sofia_essaidi une artiste incroyable ... 15 ans de bonheur ,de rêves avec elle ❤️Merci | 2 |
| FlorianDinel | - | 2 |
| Imsevp | « Tous nos rêves se trouvent un jour sur le chemin qu'on a tracé » ✨ | 2 |
| 85Madmaxgaming | - | 1 |
| sofia30540 | Fan de sofia essaidi ~ Membre de la SWF | 1 |
| sandtite | - | 1 |
---
Tweets per day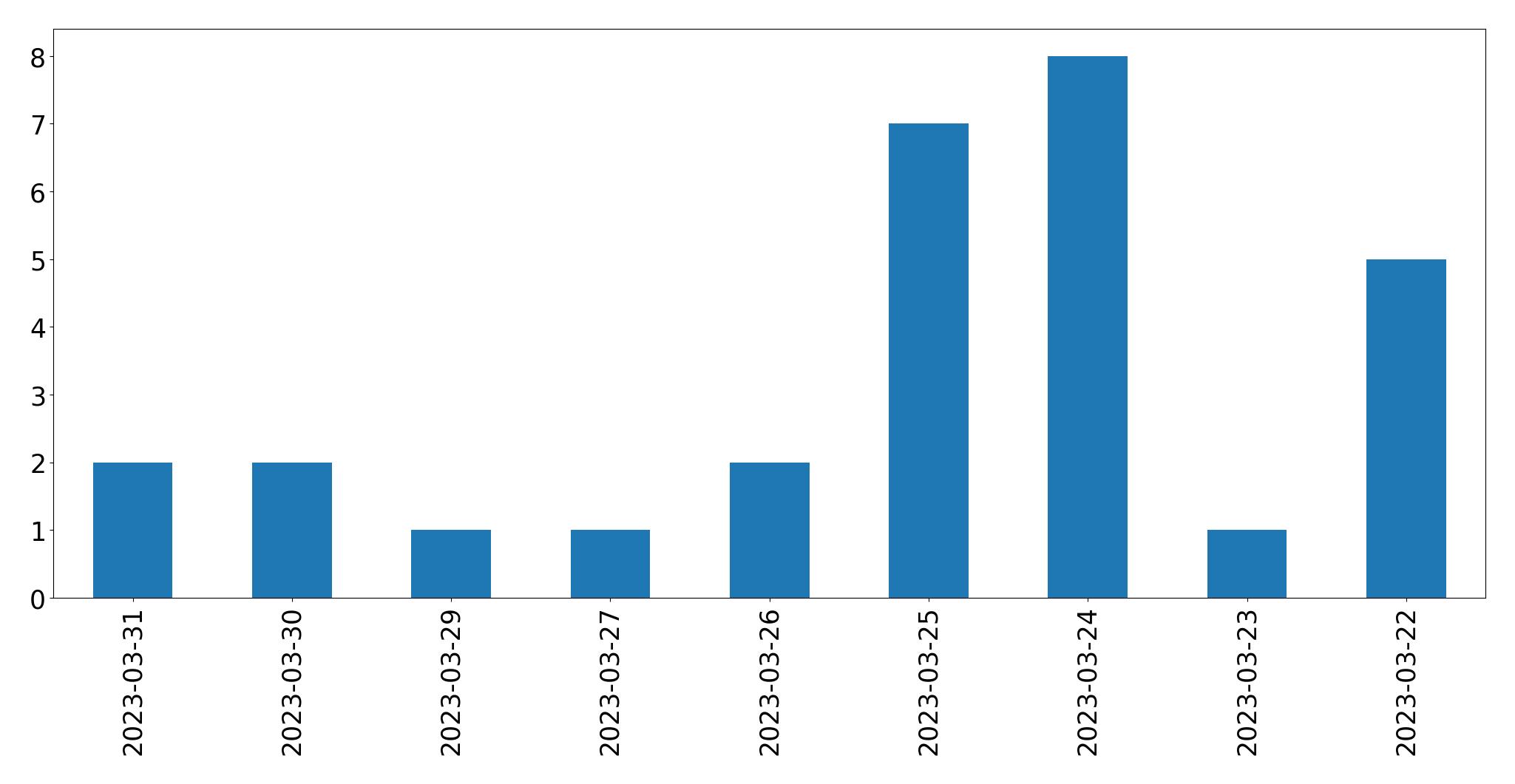 ---
Top 10 tweets with highest Retweet count
| ID | Text | Retweet count |
| --- | --- | --- |
| 1639299486907236354 | Un très joli article @Sofia_Essaidi 🤩🔥✨️ #Merci 🙏 #lagazettemagio 🥰 https://t.co/hHHBVY4zXS | 7 |
| 1639604158113169408 | C'est cet été que la plateforme #DisneyPlus mettra en ligne le film d'action "#Antigang: La reléve" avec au casting #AlbanLenoir #JeanReno #CassiopéeMayance et @Sofia_Essaidi au casting. Retrouvez notre article ici: https://t.co/QIFRx7jyFy https://t.co/do2yZ7bcVx | 3 |
| 1639319485134913542 | @SofiaEssaidi06 @Sofia_Essaidi Cette femme est tellement inspirante !! on n'a pu la voir évoluer et s'épanouir durant toutes ces années pour la voir devenir la femme qu'elle est aujourd'hui, une femme ….INCROYABLE !!! | 1 |
| 1641854614906519553 | @Nathxxxx @GroupeTF1 @4Iexandre @BIGBANDSTORY @TF1 @diarieslea @Sofia_Essaidi @FleurotOfficial @juliedebona @CamilleLou_Off Merci pour la pensée ah ah 😉😘 | 0 |
| 1641845334002237456 | @GroupeTF1 @4Iexandre @BIGBANDSTORY @TF1 Quand je vois ça je pense à @sandtite à @diarieslea ( ça a l'air Génial 🙏🤩🔥) je veux bien qu'ils pensent à @Sofia_Essaidi @FleurotOfficial @juliedebona et @CamilleLou_Off une idée comme ça 🙈😉✨️ Pourquoi changer si ça marche avec les Avengers de @TF1 🙏😁😅 | 0 |
| 1638648625055035392 | @DisneyPlusFR @Sofia_Essaidi Ohhhh trop bonne nouvelle 😻😻😻pressé de découvrir ça 🎊 | 0 |
| 1639320236615688193 | @SofiaEssaidi06 @Sofia_Essaidi Elle m'épatera toujours.. une femme admirable pour moi , quel parcours elle peux être fière par tout ce qu'elle a fait !! Une battante 😎 | 0 |
| 1639329004921470976 | @sofia30540 @Sofia_Essaidi Mais tellement je suis contente et fière de l'avoir vue s'épanouir dans son travail de voir son évolution, son parcours remarquable, sans faute !! 🙏❤️ Je suis heureuse de voir la femme MERVEILLEUSE et EXCEPTIONNELLE qu'elle est devenue 🤗✨️ Cette femme est un exemple !! ❤️ | 0 |
| 1639334443306369025 | @sofiajess @SofiaEssaidi06 @Sofia_Essaidi Effectivement elle peut être très fière d'elle 👏🤩👏🤩 Une femme remarquable ✨️❤️ | 0 |
| 1639336903852818440 | @sofia30540 @SofiaEssaidi06 @Sofia_Essaidi Totalement, une source d'inspiration et qu'elle parcours 🙏✨️❤️ Tellement fière et admirative de la femme Merveilleuse qu'elle est devenue 🙏🤩❤️ Un modèle !! 🥰 | 0 |
Top 10 tweets with highest Like count
| ID | Text | Like count |
| --- | --- | --- |
| 1639299486907236354 | Un très joli article @Sofia_Essaidi 🤩🔥✨️ #Merci 🙏 #lagazettemagio 🥰 https://t.co/hHHBVY4zXS | 21 |
| 1639604158113169408 | C'est cet été que la plateforme #DisneyPlus mettra en ligne le film d'action "#Antigang: La reléve" avec au casting #AlbanLenoir #JeanReno #CassiopéeMayance et @Sofia_Essaidi au casting. Retrouvez notre article ici: https://t.co/QIFRx7jyFy https://t.co/do2yZ7bcVx | 14 |
| 1639319485134913542 | @SofiaEssaidi06 @Sofia_Essaidi Cette femme est tellement inspirante !! on n'a pu la voir évoluer et s'épanouir durant toutes ces années pour la voir devenir la femme qu'elle est aujourd'hui, une femme ….INCROYABLE !!! | 7 |
| 1639329004921470976 | @sofia30540 @Sofia_Essaidi Mais tellement je suis contente et fière de l'avoir vue s'épanouir dans son travail de voir son évolution, son parcours remarquable, sans faute !! 🙏❤️ Je suis heureuse de voir la femme MERVEILLEUSE et EXCEPTIONNELLE qu'elle est devenue 🤗✨️ Cette femme est un exemple !! ❤️ | 5 |
| 1639748143624466432 | Elodie Fregé n'a vraiment pas de voix ! #les50ansduDisco ils auraient mieux fait d'inviter @Sofia_Essaidi | 5 |
| 1639320236615688193 | @SofiaEssaidi06 @Sofia_Essaidi Elle m'épatera toujours.. une femme admirable pour moi , quel parcours elle peux être fière par tout ce qu'elle a fait !! Une battante 😎 | 4 |
| 1639658850751070215 | @SofiaEssaidi06 @sofiajess @Sofia_Essaidi "Une grande artiste, à son aise sur toutes les scènes de sa vie." Comme c'est joli !! Un grand bravo Sofia 🙏🏻👏🏻👏🏻 | 3 |
| 1639336903852818440 | @sofia30540 @SofiaEssaidi06 @Sofia_Essaidi Totalement, une source d'inspiration et qu'elle parcours 🙏✨️❤️ Tellement fière et admirative de la femme Merveilleuse qu'elle est devenue 🙏🤩❤️ Un modèle !! 🥰 | 3 |
| 1641845334002237456 | @GroupeTF1 @4Iexandre @BIGBANDSTORY @TF1 Quand je vois ça je pense à @sandtite à @diarieslea ( ça a l'air Génial 🙏🤩🔥) je veux bien qu'ils pensent à @Sofia_Essaidi @FleurotOfficial @juliedebona et @CamilleLou_Off une idée comme ça 🙈😉✨️ Pourquoi changer si ça marche avec les Avengers de @TF1 🙏😁😅 | 2 |
| 1639922129922654208 | @RadioSCOOPOff @florentpagny @JeniferOfficiel @Sopranopsy4 @mikasounds @Sofia_Essaidi | 2 |
Top 3 Languages Used In Tweets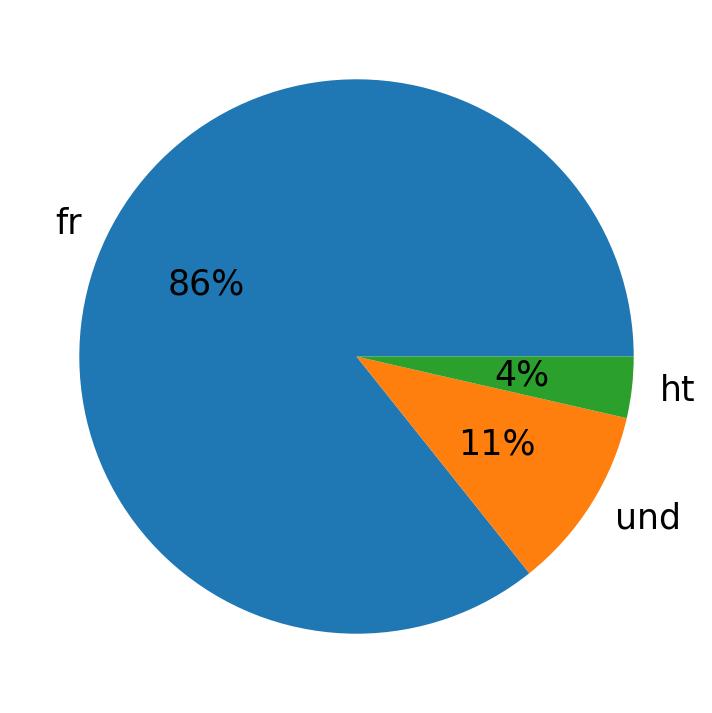 ---
Top 10 Hashtags used
| Hashtag | Count |
| --- | --- |
| #disneyplus | 3 |
| #antigang | 2 |
| #albanlenoir | 2 |
| #jeanreno | 2 |
| #cassiopéemayance | 2 |
| #merci | 2 |
| #lagazettemagio | 2 |
| #staracademy | 1 |
| #noplp | 1 |
| #les50ansdudisco | 1 |
Top 10 Hashtags Used In Tweets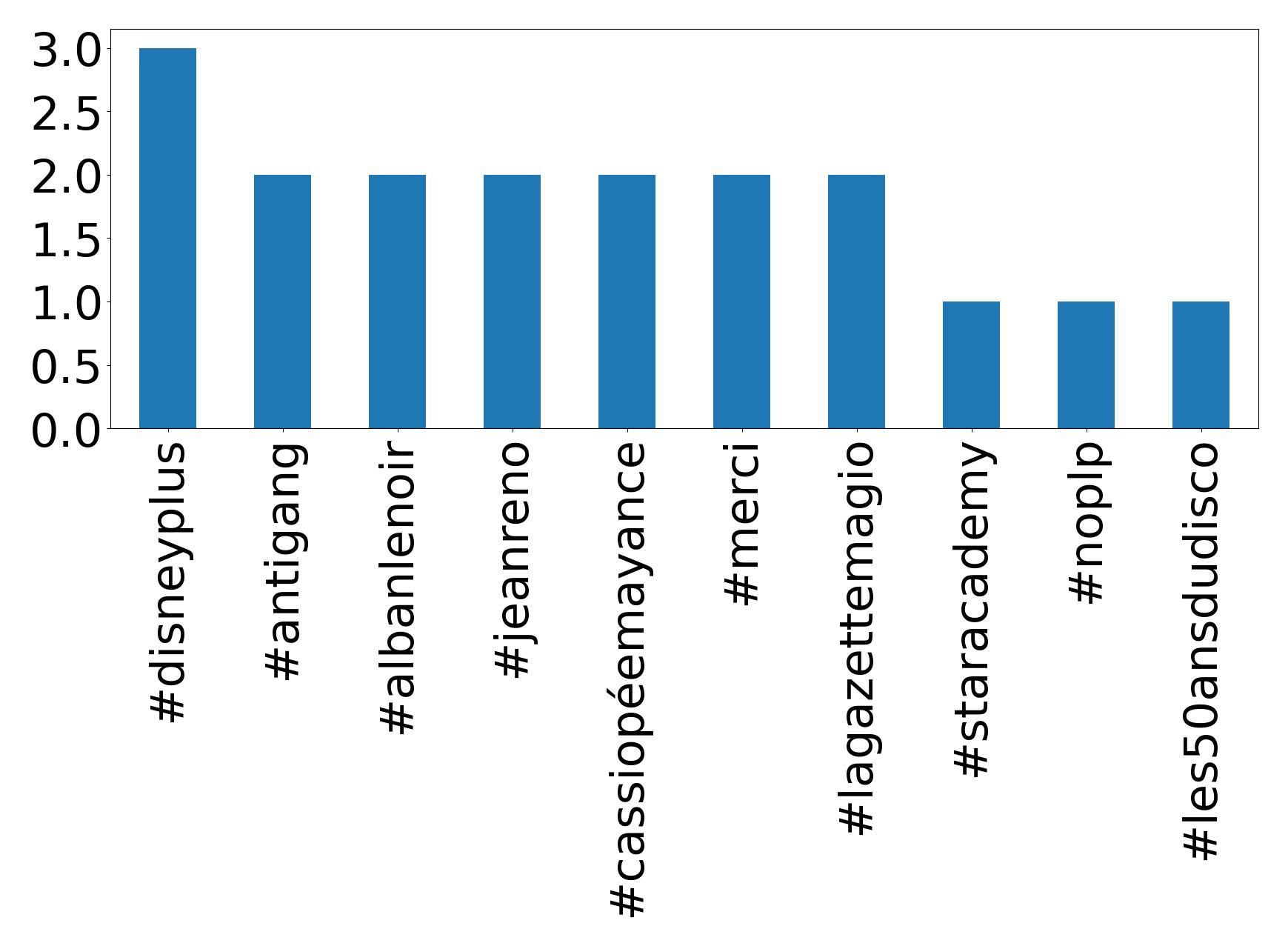 Top 10 mentions
| Mention | Count |
| --- | --- |
| @sofia_essaidi | 30 |
| @sofiaessaidi06 | 8 |
| @disneyplusfr | 5 |
| @tf1 | 3 |
| @sofiajess | 3 |
| @sofia30540 | 3 |
| @camelia_jordana | 3 |
| @groupetf1 | 2 |
| @4iexandre | 2 |
| @bigbandstory | 2 |
Top 10 mentions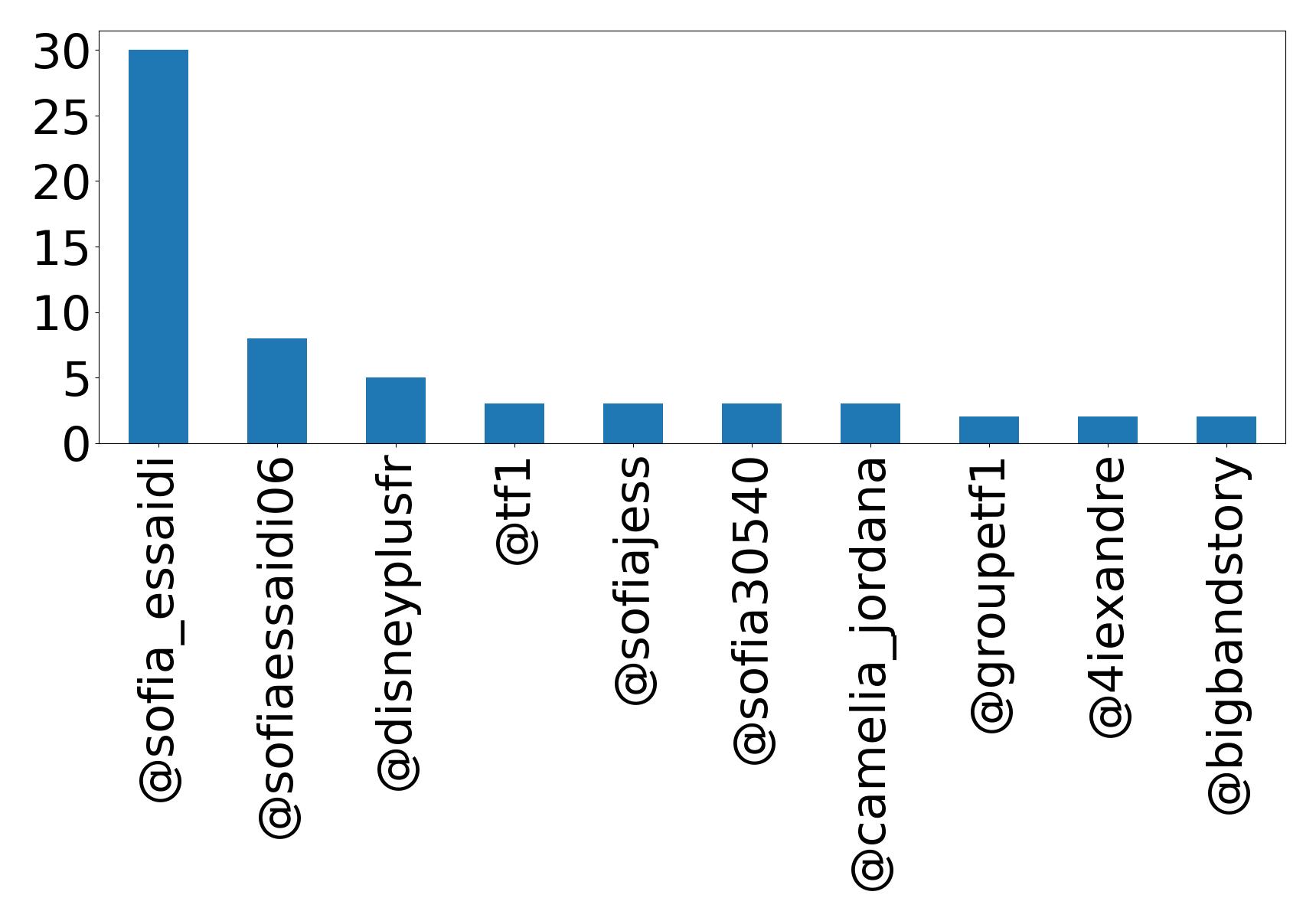 Wordcloud of Tweets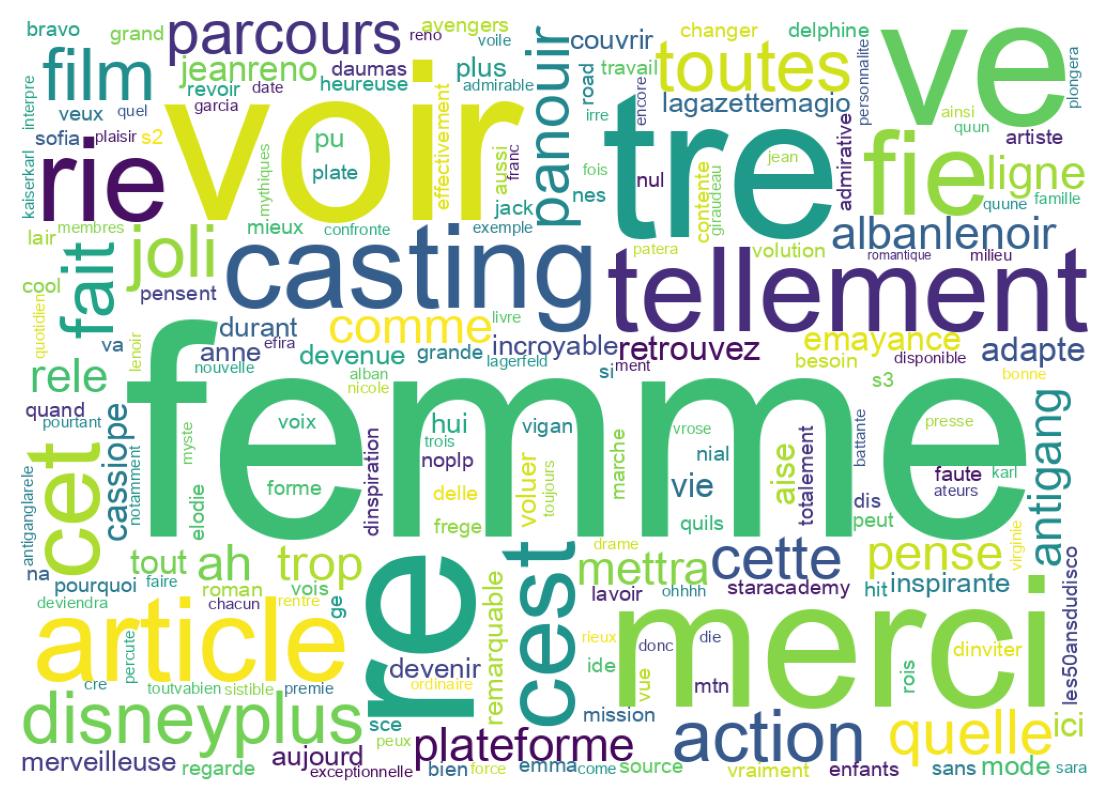 ---
Emojis
Average number of emojis used per tweet
206
Emojis used in tweets
| Emoji | Count | Emoji Text |
| --- | --- | --- |
| 🙏 | 8 | folded_hands |
| ✨ | 7 | sparkles |
| 🤩 | 6 | star-struck |
| ❤️ | 6 | red_heart |
| 🔥 | 3 | fire |
| 🥰 | 3 | smiling_face_with_hearts |
| 😻 | 3 | smiling_cat_with_heart-eyes |
| 😉 | 2 | winking_face |
| 😂 | 2 | face_with_tears_of_joy |
| 👏🏻 | 2 | clapping_hands_light_skin_tone |
Emojis groups
| Emoji Group | Count |
| --- | --- |
| Smileys & Emotion | 32 |
| People & Body | 15 |
| Activities | 8 |
| Travel & Places | 4 |
| Objects | 1 |