Tweets Analysis - Keyword: @RyanGosling
Total number of tweets analysed
370
Earliest tweet was on
2023-03-22
Latest tweet was on
2023-03-31
Average age of authors' accounts
7 years
---
Summarization
Fans express their love for Ryan Gosling and praise his performances in movies such as "La La Land," "The Nice Guys," and "The Place Beyond the Pines." Many fans hope for a sequel to "The Nice Guys" and appreciate the chemistry between Gosling and co-star Russell Crowe. Some fans discuss the underrated nature of certain films and express raves for acting performances. One fan discusses how the song "Nightcall" from "Drive" inspired them. Finally, fans express opinions on casting for established versus new characters.
Topic Modeling
Love and romance in movies
Films starring Russell Crowe and Ryan Gosling
Celebrity interactions with Ryan Gosling
Appreciation for specific movies starring Ryan Gosling
Opinions on specific aspects of movies, such as performances and dialogue
Emotional Analysis
The tweets express a range of emotions related to admiration and appreciation for Ryan Gosling's work as an actor, particularly in the films "The Nice Guys" and "La La Land". Many express a desire for sequels or further projects featuring his performances, with comments on his chemistry with other actors and the emotional range of his work. Other tweets express enjoyment of specific films, appreciation for individual performances, and even admiration for a specific song from one of his movies.
Trend Analysis
Movie and TV show references featuring Ryan Gosling
Critiques and praise for specific movies, such as Top 210 films of the 2010s, La La Land, The Nice Guys, and The Place Beyond the Pines
Discussion of potential sequels or continuation for certain movies, particularly The Nice Guys
Appreciation for Ryan Gosling's acting and chemistry with co-stars, particularly Russell Crowe
General commentary on the entertainment industry, such as the use of established characters and unique dialogue in films
---
Types of Tweets
Number of Retweets
34
Percentage of total tweets
9%
Number of Original tweets
72
Percentage of total tweets
19%
Number of tweets that contain Mentions
370
Percentage of total tweets
100%
Number of tweets that were Replies
256
Percentage of total tweets
69%
Number of tweets that were Quotes
13
Percentage of total tweets
3%
Number of tweets that contain Hashtags
52
Percentage of total tweets
14%
---
Top 5 devices used to tweet
| Source | Count |
| --- | --- |
| Twitter for Android | 133 |
| Twitter for iPhone | 115 |
| Twitter Web App | 113 |
| Twitter for iPad | 4 |
| AwesomeMovieBot | 2 |
What devices were used to tweet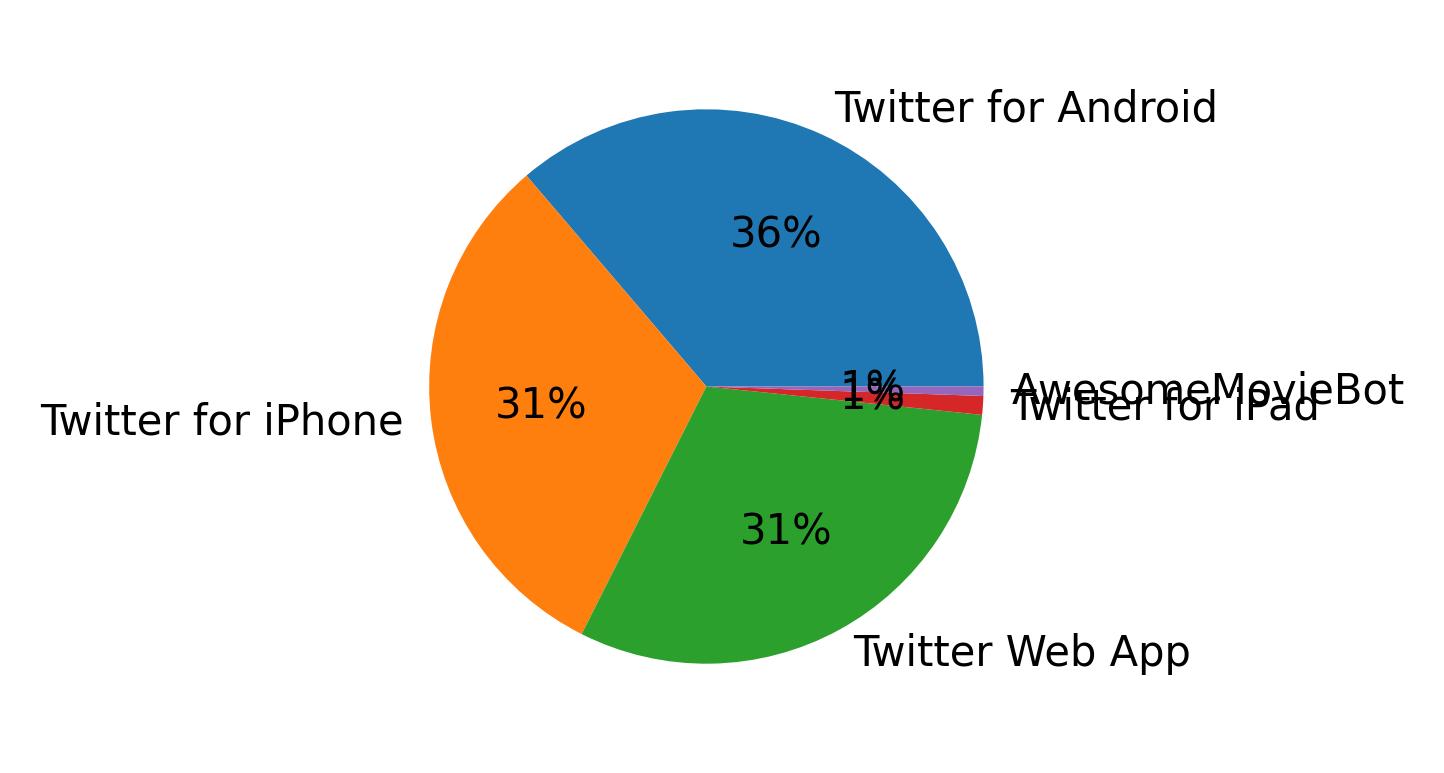 ---
Top 10 accounts with highest followers count
| Username | Name | Bio | Followers count |
| --- | --- | --- | --- |
| OnlyFilmMedia | Only Film Media | We post a variety of movie content, including rare trivia, top ten lists, set pics, behind-the-scenes videos, news, & much more. Follow us. You won't regret it! | 58,078 |
| KEVINTOMIRANDA | KEVIN MIRANDA | Mostly about movies and superheroes... DC | Marvel | Star Wars | MOTU | Tom Cruise | Henry Cavill | John Cena | Chris Evans | | 32,021 |
| itslynxie | mommy long legs | Full-Time Twitch Streamer & Content Creator | she/her | NSFW Creator @lynxielewds | Business inquiries: Lyiinxxfb@gmail.com | 21,272 |
| Mediasinfos | @Médiasinfos 📺📻📸📰🎬 | Télé, Radio, People, Presse… On vous dit tout. Retrouvez toute l'actu des médias sur notre site internet ici: https://t.co/1SVnIQmaMS | 20,415 |
| TataPlayBinge | Tata Play Binge | Take your OTT entertainment to a new! Start Binge-ing! | 18,317 |
| Amor_De_Cine | || AM❤R DE CINE || | ➡️ Tu Comunidad de #Cine en #Twitter 🎥 ➡️ AM❤R DE CINE obtiene ingresos como afiliado de #Amazon | 14,183 |
| georgeginis | george ginis 💙 | The Dimboola Kid *Ex Singer #KandinskyOpera, #FirstOffence #Divorcees, #3saCrowd *Actor #GroomlessBride, #FatTony, #SevenTypesOfAmbiguity,#MDA, #blueheelers etc | 10,242 |
| ThandoAfrika | my kheswa. | wine snob | views are obviously my own| I delete tweets | 8,991 |
| labikinaaa | 𝙲𝚛𝚒𝚜👽🫰🏻 | Harta de todo|| No me escribas no contesto 🤫|| Nada de aquí es cierto, no te lo tomes a pecho|| No vine a ser famosa. | 8,971 |
| hotfm_lagos | Hot 93.3 FM | Lagos is 🔥🔥🔥 because we play the best of Afrobeats, Afro House, House & EDM tunes ... Watch us LIVE, because we're "More Than Just Radio!" | 5,424 |
Top 10 accounts with highest friends count
| Username | Name | Bio | Followers count |
| --- | --- | --- | --- |
| OnlyFilmMedia | Only Film Media | We post a variety of movie content, including rare trivia, top ten lists, set pics, behind-the-scenes videos, news, & much more. Follow us. You won't regret it! | 53,935 |
| KEVINTOMIRANDA | KEVIN MIRANDA | Mostly about movies and superheroes... DC | Marvel | Star Wars | MOTU | Tom Cruise | Henry Cavill | John Cena | Chris Evans | | 30,144 |
| georgeginis | george ginis 💙 | The Dimboola Kid *Ex Singer #KandinskyOpera, #FirstOffence #Divorcees, #3saCrowd *Actor #GroomlessBride, #FatTony, #SevenTypesOfAmbiguity,#MDA, #blueheelers etc | 11,211 |
| Amor_De_Cine | || AM❤R DE CINE || | ➡️ Tu Comunidad de #Cine en #Twitter 🎥 ➡️ AM❤R DE CINE obtiene ingresos como afiliado de #Amazon | 5,879 |
| iheartbmovies | I 💓 B Movies | connoisseur of #movies and you can find our podcast on Google, Apple Play, Spotify and ⚓ https://t.co/0ywbeLW47L https://t.co/EE9xVjGsoN… | 4,997 |
| Movie_Moustache | The Movie Moustache | Movie/TV news and reviews. Writer/Founder - @Simon_Appleton. Member of The Large Association of Movie Blogs - @LambThe | 4,919 |
| virat_garg | Virat Garg | Creative Direction | Web Series | Documentaries | 4,600 |
| tsellman | Trevor Sellman | IT Guy with many interests - Space & Earth Sciences - Aviation - Movies/TV - NFL - F1 - Card Collector - Cacti Grower - Photog - Scale Modeller if I find time! | 4,051 |
| ashy_wilks | Film Guy | Ashley Wilkinson film fan mountain biker long walks with my Springer Milly tea drinker 😀 | 3,903 |
| spacexthato | Ba Kae!! 🎶🎵🎤🎧🇿🇦 | We Good. IG : @spacexthato | 3,667 |
Most active users
| Username | Bio | Number of tweets |
| --- | --- | --- |
| LordAlexGaming | Periodista | Streamer | Orgulloso Gryffindor | 26 |
| Carolin40480636 | - | 25 |
| casalasv | Abogado. Profe. Salesiano. Migrante. Me dicen terco y eso me divierte. Ally. Cuenta para #Steelers y #NotreDame ➡️ @AceroHilos | 7 |
| boomer17771 | Mis pronombres son, Te/Lo/Dije #AntiWoke siempre a favor de la lógica. | 6 |
| Saphnatpanea | Youth belong to mankind, kind-hearted with good people I'm an advocate of a great phenomenal change in #DRC right now You'll never walk alone @LFC supporter TX | 5 |
| patopedia | | PATato. PATahto. PAThato. | @_mostlypat | https://t.co/5Xw05YRnCy| | 4 |
| ngwanes0 | Love. Light. Lightness. | 4 |
| hostagetheo | fan account of ryan gosling | 4 |
| cate_fanny | Sono sempre ala servicio di Roma (Mr Russell Crowe) .... RC Villagers.... Tennis, animals, Italy, antica Roma, travels | 3 |
| DonnaGallipeau | Nobody special.Related to some noteable https://t.co/abKwtlVS8o Horror,handsome actors,art,kids.Hate Nazis and cruel people.Nurse. | 3 |
---
Tweets per day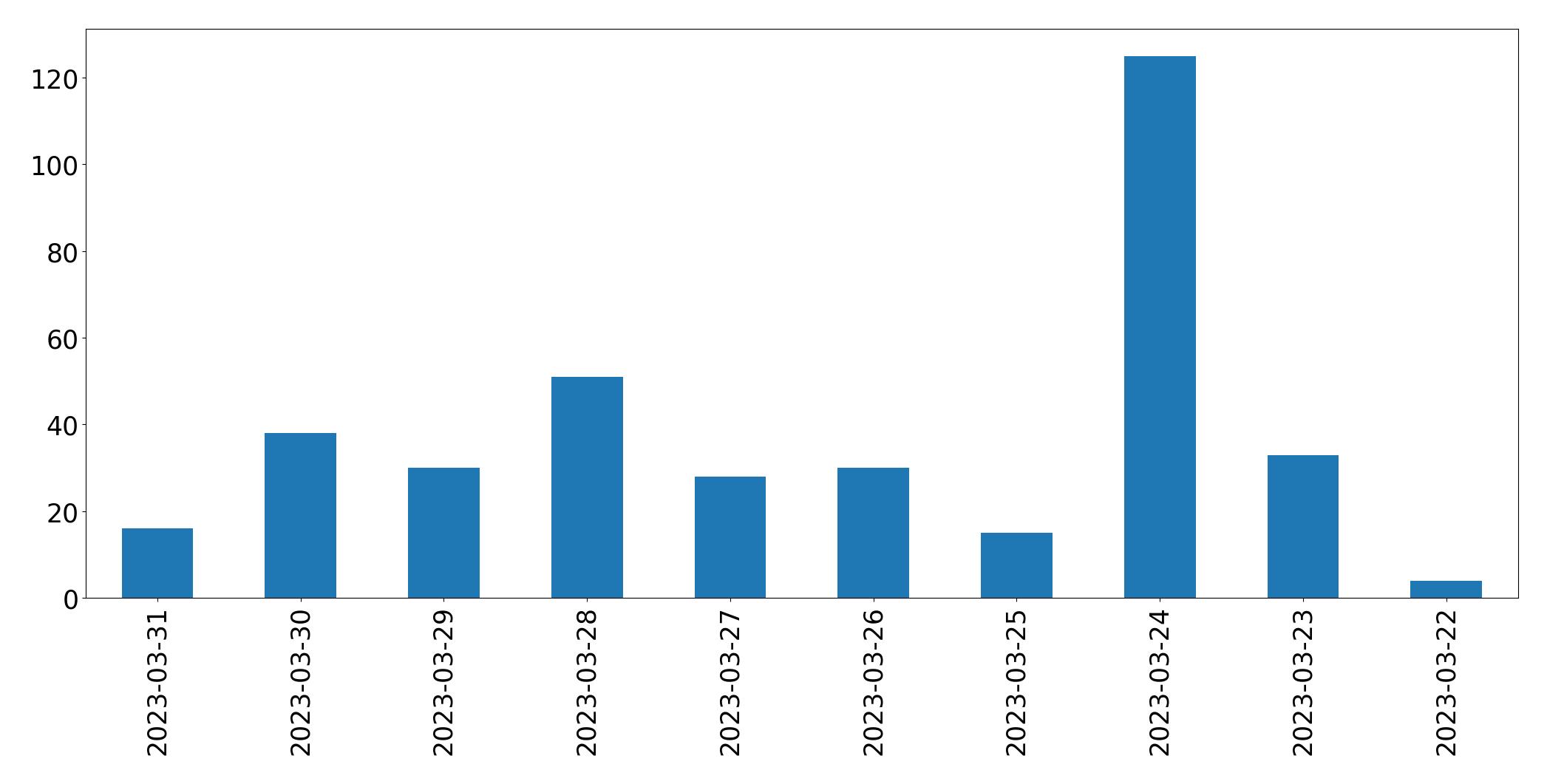 ---
Top 10 tweets with highest Retweet count
| ID | Text | Retweet count |
| --- | --- | --- |
| 1639892441531547651 | Love is magic in itself! 🥺​ @lionsgateplayIN @RyanGosling #LaLaLand #Love #CoupleGoals #EmmaStone https://t.co/S5I3VbpKAR | 78 |
| 1638843034761854978 | #OnlyFilmSpotlight: Top 210 films of the 2010s: #TheNiceGuys (2016). The film received positive reviews from critics for its humor, mystery, and the performances of @RussellCrowe and @RyanGosling. Have you seen it? If so, what are your thoughts? #FilmTwitter. https://t.co/hrsffc4PwO | 55 |
| 1641213394765385730 | #TodayInMovieHistory (March 29): #ThePlaceBeyondThePines (2013). 10th Anniversary! Have you seen this film? In upstate New York, two men and later, their sons must deal with the unforeseen consequences of their actions. @RyanGosling @EvaMendes @DaneDehaan. https://t.co/GbtPQ8kfu5 | 3 |
| 1639956890422476802 | Hey @RyanGosling. I'm on a Ferris wheel. Ke o emetse. https://t.co/wllhQbTzPH | 2 |
| 1641506969465806856 | Can we just take 5 minutes to appreciate such an incredible song, I'm sure it's inspired so many artists, I know personally it made me fall in love with the synthwave scene 👏👍 @kavinsky @RyanGosling #Drive #synthwave #nightcall https://t.co/L5AHPhoKrM | 2 |
| 1640783844851720210 | The Nice Guys alternative poster @RyanGosling @theniceguys #theniceguys #posterdesign https://t.co/b0GXP0Z8Vg | 2 |
| 1639035387929583618 | @CorneliaVo @OnlyFilmMedia @russellcrowe @RyanGosling I love this movie too! Russell Crowe knocks me out in anything he's in and Ryan is close behind. In this movie their chemistry is fantastic. I could definitely go for a sequel. I can't forget to mention Angourie Rice. She is a fantastic little actress too. https://t.co/Mn2sJLFR59 | 1 |
| 1641450731785031685 | For @Multiplat_Mike #FilmTwitter Day 30, #MarchMovieMadnessChallenge ... fave from Marisa Tomei... Crazy, Stupid, Love (2011) also starring @RyanGosling https://t.co/njR5GYCZgc | 1 |
| 1639639910855454721 | Se a trend do #LefebvreDay chegar no nosso menino @RyanGosling é um sinal que o Mel Gibson fará o filme mais esperado da década https://t.co/IlPOoHckl6 | 1 |
| 1641020139540717568 | Beauty and the Beast meets The General - @RyanGosling portrays a stubborn #love interest. A silent #film. #filmfestival #moviegoer #movieverse | 1 |
Top 10 tweets with highest Like count
| ID | Text | Like count |
| --- | --- | --- |
| 1639892441531547651 | Love is magic in itself! 🥺​ @lionsgateplayIN @RyanGosling #LaLaLand #Love #CoupleGoals #EmmaStone https://t.co/S5I3VbpKAR | 1322 |
| 1638843034761854978 | #OnlyFilmSpotlight: Top 210 films of the 2010s: #TheNiceGuys (2016). The film received positive reviews from critics for its humor, mystery, and the performances of @RussellCrowe and @RyanGosling. Have you seen it? If so, what are your thoughts? #FilmTwitter. https://t.co/hrsffc4PwO | 603 |
| 1639400149196722178 | .@RyanGosling hey :) | 21 |
| 1639956890422476802 | Hey @RyanGosling. I'm on a Ferris wheel. Ke o emetse. https://t.co/wllhQbTzPH | 20 |
| 1641213394765385730 | #TodayInMovieHistory (March 29): #ThePlaceBeyondThePines (2013). 10th Anniversary! Have you seen this film? In upstate New York, two men and later, their sons must deal with the unforeseen consequences of their actions. @RyanGosling @EvaMendes @DaneDehaan. https://t.co/GbtPQ8kfu5 | 17 |
| 1639032055215390720 | @OnlyFilmMedia @russellcrowe @RyanGosling I love this movie! Have I seen it? YES! Many, many times! It's by far the funniest movie of the last 20 years and I really hope they shoot a sequel. Russell Crowe and Ryan Gosling are a great team and really cracked my funny bone. https://t.co/GeOq5CQiBd | 16 |
| 1639210340209573888 | @OnlyFilmMedia @russellcrowe @RyanGosling I love this movie. A funny and sad, like our life. Many of the phrases are often quoted, and it's really good luck. A perfect funny couple. I'd have loved to see a continuation tbh Further adventures. Great chemistry. https://t.co/gvlnAOCkXj | 15 |
| 1639245829297917952 | I couldn't agree more..🤩👌🏻 Brilliant movies! More of that guys - please🙏🏻 @russellcrowe @RyanGosling Thank you😉👍🏻 https://t.co/q6XvmCOWlT | 14 |
| 1638844578542305280 | @OnlyFilmMedia @russellcrowe @RyanGosling Loved this movie. Russell and Ryan had terrific chemistry - they're both great comic performers! I'd love a sequel but I also think an episodic formula could be even better so a TV series would be a winner. | 14 |
| 1639035387929583618 | @CorneliaVo @OnlyFilmMedia @russellcrowe @RyanGosling I love this movie too! Russell Crowe knocks me out in anything he's in and Ryan is close behind. In this movie their chemistry is fantastic. I could definitely go for a sequel. I can't forget to mention Angourie Rice. She is a fantastic little actress too. https://t.co/Mn2sJLFR59 | 8 |
Top 3 Languages Used In Tweets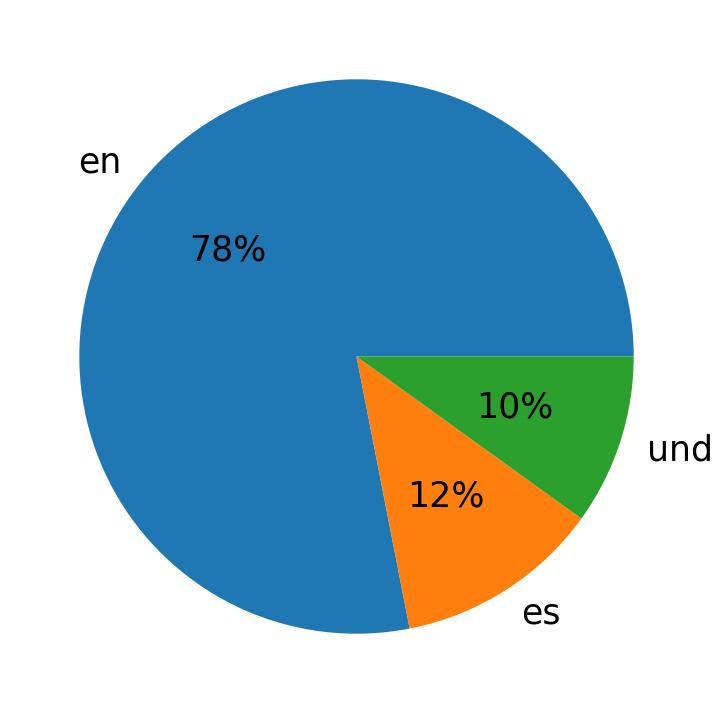 ---
Top 10 Hashtags used
| Hashtag | Count |
| --- | --- |
| #theniceguys | 8 |
| #lalaland | 7 |
| #filmtwitter | 6 |
| #love | 5 |
| #movie | 3 |
| #onlyfilmspotlight | 3 |
| #couplegoals | 3 |
| #emmastone | 3 |
| #congostories | 2 |
| #marchmoviemadnesschallenge | 2 |
Top 10 Hashtags Used In Tweets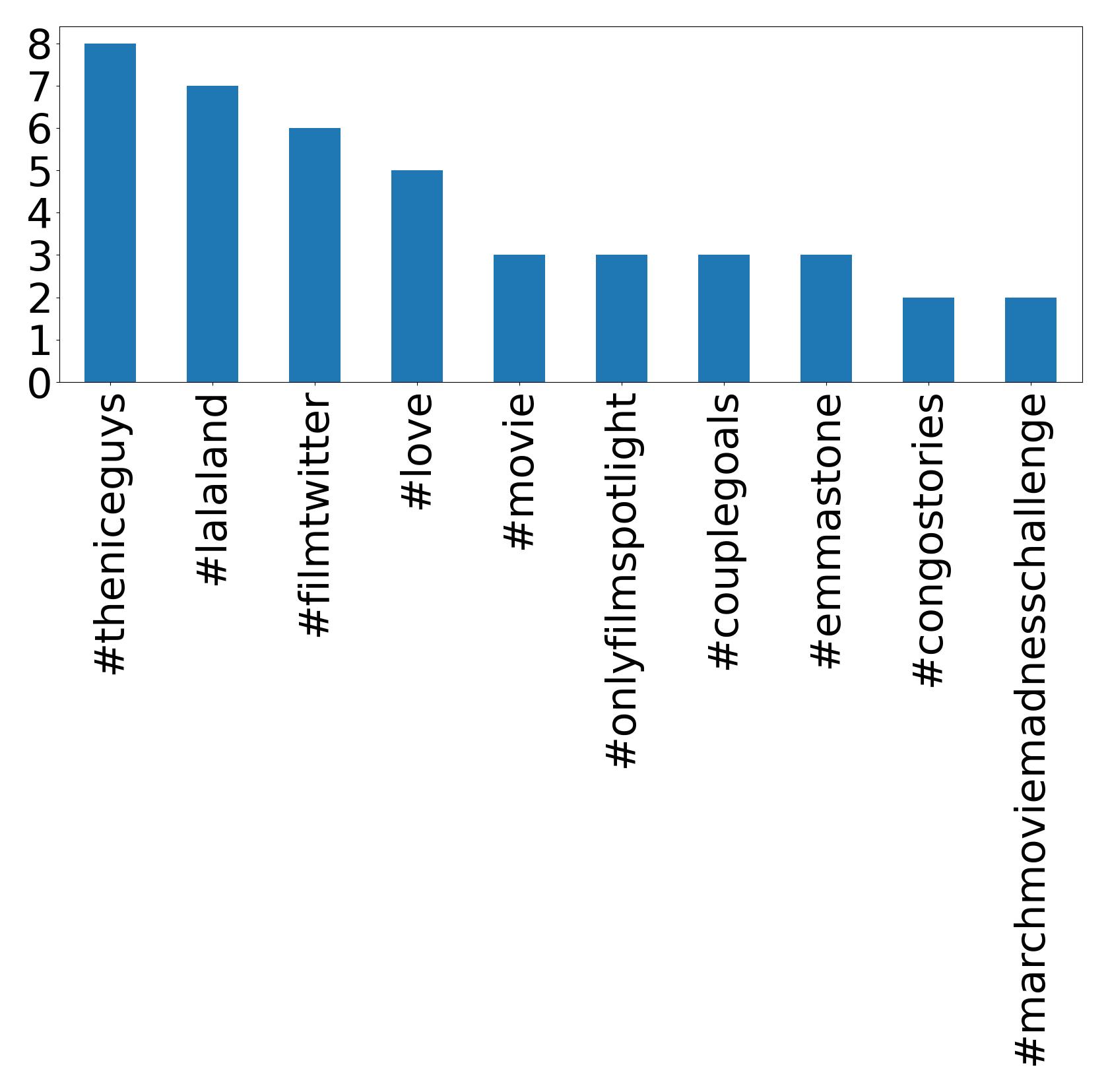 Top 10 mentions
| Mention | Count |
| --- | --- |
| @ryangosling | 376 |
| @russellcrowe | 141 |
| @onlyfilmmedia | 129 |
| @deadbydaylight | 26 |
| @jamieleecurtis | 26 |
| @tataplaybinge | 12 |
| @lionsgateplayin | 12 |
| @evamendes | 8 |
| @danedehaan | 8 |
| @ngwanes0 | 8 |
Top 10 mentions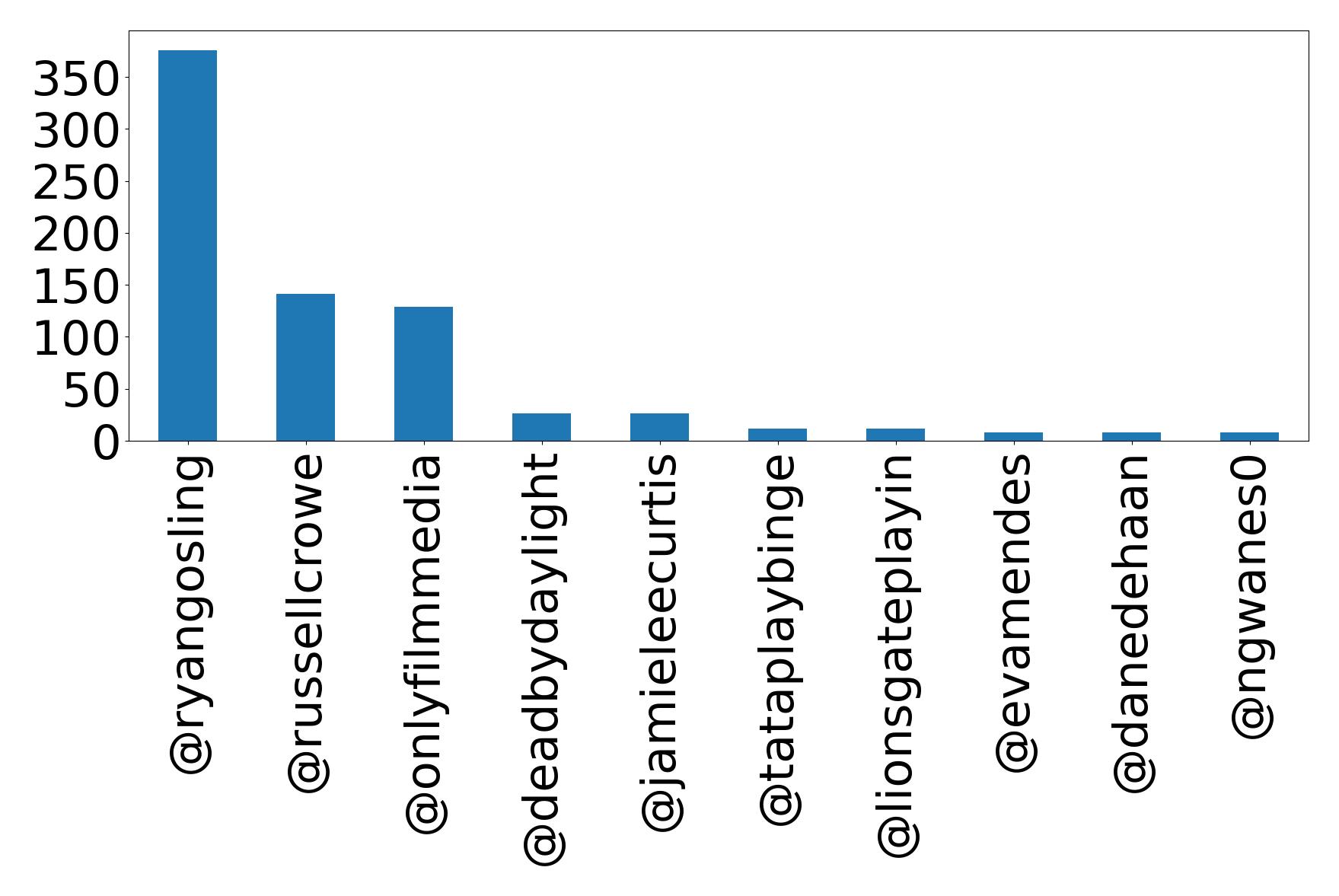 Wordcloud of Tweets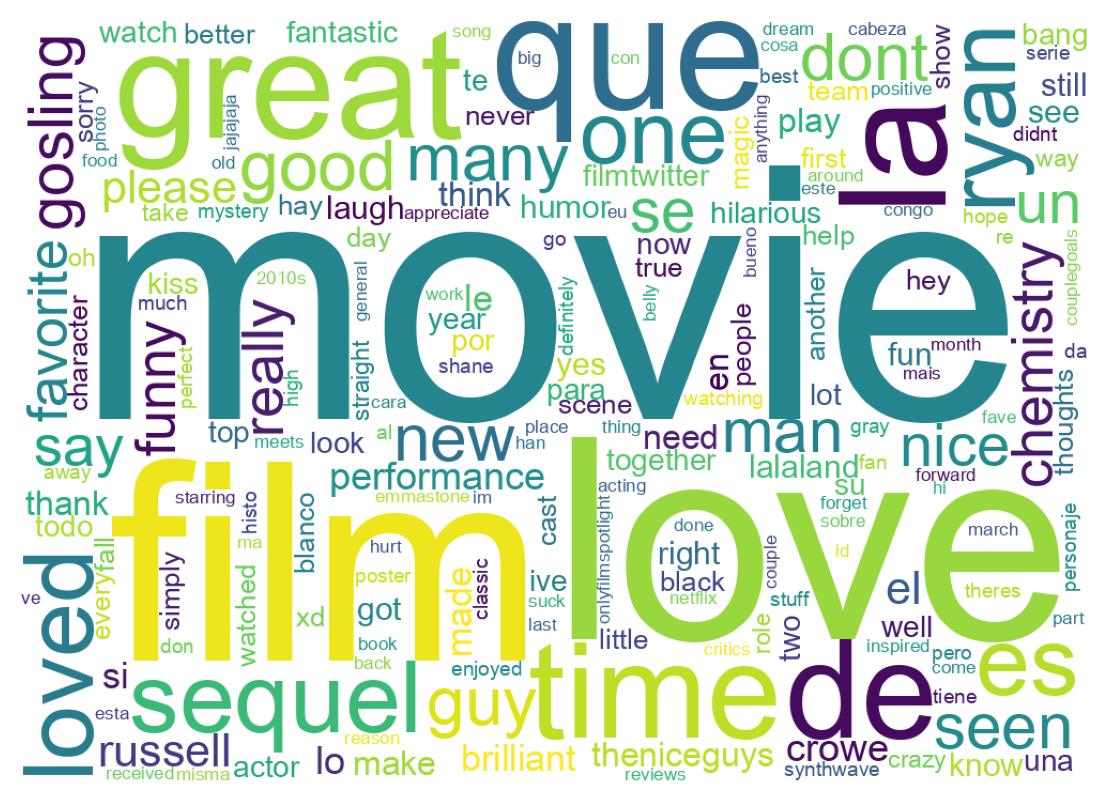 ---
Emojis
Average number of emojis used per tweet
46
Emojis used in tweets
| Emoji | Count | Emoji Text |
| --- | --- | --- |
| 😍 | 14 | smiling_face_with_heart-eyes |
| 😂 | 11 | face_with_tears_of_joy |
| 👍 | 10 | thumbs_up |
| ♥️ | 9 | heart_suit |
| 👏 | 8 | clapping_hands |
| 😉 | 5 | winking_face |
| 😅 | 5 | grinning_face_with_sweat |
| 🙏 | 5 | folded_hands |
| 🥰 | 5 | smiling_face_with_hearts |
| ⭐ | 5 | star |
Emojis groups
| Emoji Group | Count |
| --- | --- |
| Smileys & Emotion | 90 |
| People & Body | 44 |
| Travel & Places | 18 |
| Activities | 10 |
| Symbols | 5 |
| Food & Drink | 3 |
| Objects | 2 |
| Animals & Nature | 1 |