Tweets Analysis - Keyword: @RTE_Ents
Total number of tweets analysed
136
Earliest tweet was on
2023-03-21
Latest tweet was on
2023-03-29
Average age of authors' accounts
7 years
---
Summarization
Prince Harry, along with Elton John, Doreen Lawrence, Elizabeth Hurley, Sadie Frost, and David Furnish, are suing Associated Newspapers for unlawfully gathering information, including phone hacking. The case goes beyond privacy claims and involves invasion, infringement, fraud, and breach of trust. Prince Harry has been steadfast in his efforts and is applauded for exposing Camilla(Daily Mail) The Homewrecker. He is supported by many and regarded as a good king.
Topic Modeling
Criminal activity: Bugging phone lines, homes, and car, impersonation, access to bank data, and phone hacking
Privacy vs. reporting: Discussion on the importance of reporting correct facts and not using the term "privacy" when it is actually a criminal issue
Prince Harry: Support for Harry and his efforts to sue news publications for invasion of privacy
Media coverage: Criticisms of the British press and their toxic practices
Miscellaneous: TV show recommendation, humor regarding Harry's entrance, admiration for Harry's empathy
Emotional Analysis
Twitter users are expressing a mix of support and anger towards Prince Harry's legal battle against Associated Newspapers for alleged breaches of privacy. Some users commend Harry's efforts and steadfastness, while others criticize the media's actions as invasive and criminal. Some tweets focus on the details of the case, such as phone hacking, unlawful gathering of information, and impersonation, while others express admiration for Harry's character and empathy towards others. Overall, the emotions expressed in these tweets include support, anger, admiration, and empathy.
Trend Analysis
#PrinceHarry suing Associated Newspapers for unlawful gathering of information and phone hacking
Discussion on whether the issue is a privacy or crime issue
Support for Prince Harry's efforts and steadfastness
Mentions of specific individuals involved in the lawsuit
Humorous comments and reactions to the situation
---
Types of Tweets
Number of Retweets
136
Percentage of total tweets
100%
Number of Original tweets
0
Percentage of total tweets
0%
Number of tweets that contain Mentions
136
Percentage of total tweets
100%
Number of tweets that were Replies
81
Percentage of total tweets
59%
Number of tweets that were Quotes
6
Percentage of total tweets
4%
Number of tweets that contain Hashtags
26
Percentage of total tweets
19%
---
Top 5 devices used to tweet
| Source | Count |
| --- | --- |
| Twitter for Android | 57 |
| Twitter for iPhone | 39 |
| Twitter Web App | 25 |
| Hootsuite Inc. | 10 |
| Twitter for iPad | 4 |
What devices were used to tweet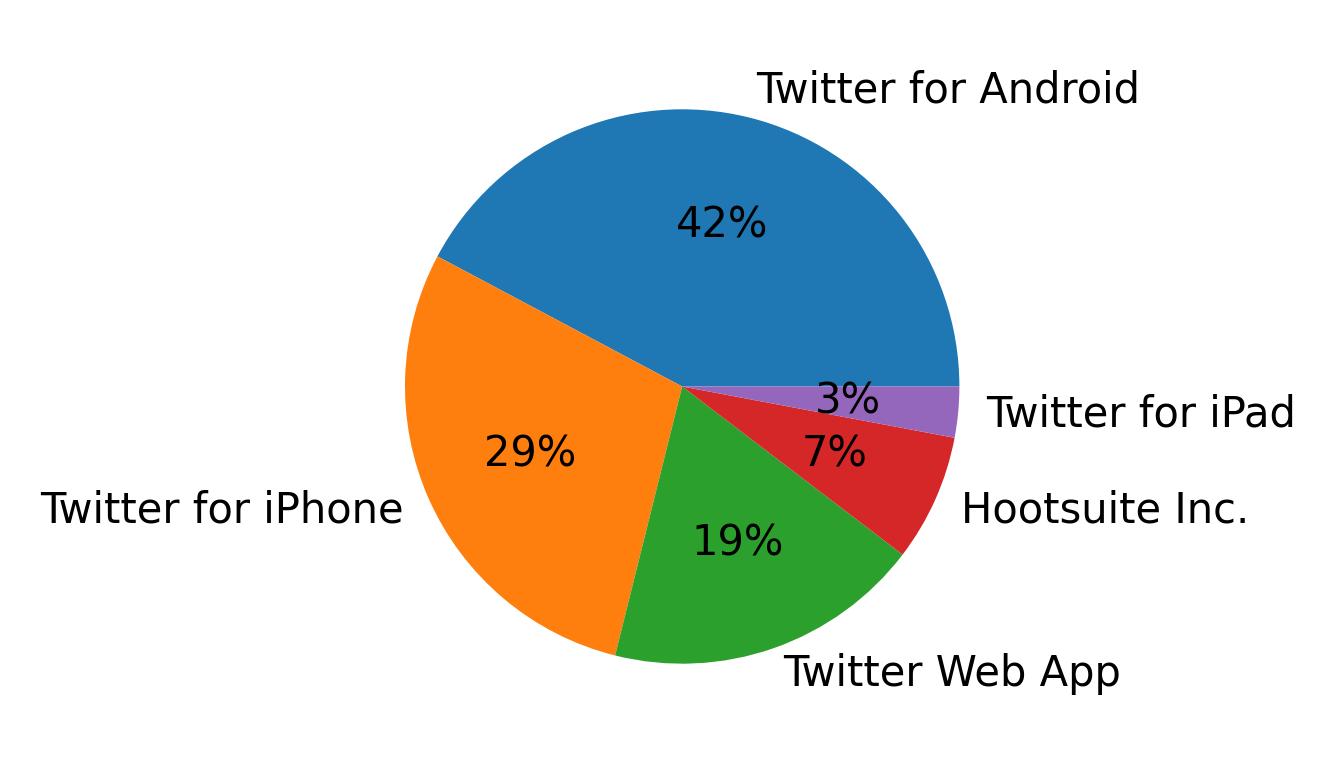 ---
Top 10 accounts with highest followers count
| Username | Name | Bio | Followers count |
| --- | --- | --- | --- |
| rte | RTÉ | Raidió Teilifís Éireann | Ireland's National Public Service Multi-Media Organisation | 699,629 |
| TG4TV | TG4TV🪬 | Gael📺 | Súil Eile 👁️ |🌈 An Cailín Ciúin 🎞️ Paul Mescal 💘 "…agus yeah" | 102,364 |
| Jen_OBrien1 | Jennifer O'Brien | Senior Communications @rte. Head of Media 🇮🇪 @Eurovision. Ex Ireland Arts Correspondent @TheTimes, Digital producer @itv, Showbiz Editor. Views mine. | 8,211 |
| SoDuTw | SoDuTw | IWC Community Leader. Business Strategist. This Twitter Account in line with Best Practice. Read about in blogs and Touted about in Touts. | 7,627 |
| ginou1010 | RhaeMarie 🇺🇲 * Spoutible.com/rheamarie 💫🌎🤗 | JMHO!💡💛👑👑✊#SussexSquad 🌸, https://t.co/XipxcMOP9J ! Lets make a diff🌎 #UniteTheBlue, #Resist 💡; showin❤4 fav scroll by! 1LOVE✌Pics/GIFs unkwn not mine twts | 7,475 |
| brenbrenchie | S.O.D Save Our Democracies | Government Books Family News Business Confused as to the role of the " Free Press". Supporter of the D&D of Sussex. #HarryandMeghanOnNetflix | 7,090 |
| MalieCoyne | Dr. Malie Coyne 🌎2️⃣ | 💙 Clinical Psychologist 🦈 Author #LoveInLoveOut 🐠 TV #DutyofCarePsychologist #DavysToughestTeam 🐚 @SilverCloudH 🦄 @UniofGalway 🦀 @lustforlife Schools 💛 | 4,794 |
| kevinpbreslin | Dr. Kevin Breslin.|Dr. Caoimhghín Ó Breasláin | Come to criticize my Politics. Stay for the Science stuff. Cancel Culture doesn't exist. No Validation, No Vindication, No Pasarán | 4,476 |
| GoodSeedPR | Good Seed PR | PR for Music | Culture | Events | Festivals | Label Management | Radio & Press Plugging | Social Media & Marketing 🤙 Check out our Sister company @whynothereu | 3,431 |
| PeteMurphyPR | Pete Murphy | Independent music publicist and consultant. | 3,374 |
Top 10 accounts with highest friends count
| Username | Name | Bio | Followers count |
| --- | --- | --- | --- |
| rte | RTÉ | Raidió Teilifís Éireann | Ireland's National Public Service Multi-Media Organisation | 23,407 |
| TG4TV | TG4TV🪬 | Gael📺 | Súil Eile 👁️ |🌈 An Cailín Ciúin 🎞️ Paul Mescal 💘 "…agus yeah" | 17,393 |
| ginou1010 | RhaeMarie 🇺🇲 * Spoutible.com/rheamarie 💫🌎🤗 | JMHO!💡💛👑👑✊#SussexSquad 🌸, https://t.co/XipxcMOP9J ! Lets make a diff🌎 #UniteTheBlue, #Resist 💡; showin❤4 fav scroll by! 1LOVE✌Pics/GIFs unkwn not mine twts | 8,116 |
| Ezpiazu | Eli or Bet Pellicer Azpiazu | I´m Eli Pellicer Azpiazu. I lived 5 years in Cork city from 2011 to 2015.Anyway, I felt in love with Cork Co. where you can do and live amazing vibes. Indeed. | 5,004 |
| kevinpbreslin | Dr. Kevin Breslin.|Dr. Caoimhghín Ó Breasláin | Come to criticize my Politics. Stay for the Science stuff. Cancel Culture doesn't exist. No Validation, No Vindication, No Pasarán | 5,002 |
| bwmpr_ie | Butter Wouldn't Melt | Butter Wouldn't Melt is a music publicity and artist management agency. Email: dwayne{at}butterwouldntmelt{dot}ie #BWMPR | 4,999 |
| GoodSeedPR | Good Seed PR | PR for Music | Culture | Events | Festivals | Label Management | Radio & Press Plugging | Social Media & Marketing 🤙 Check out our Sister company @whynothereu | 4,989 |
| SoccerNana | #GoodTrouble Nana | "We will stay and stand up for what belongs to us as American citizens, because they can't say we haven't had patience." ~ Fannie Lou Hamer #ArmyVeteran🇺🇸 | 4,886 |
| TXHeifer | Texas Heifer 🐮 @texasheifer on Spoutible 🐳 | #BLM•Stands w/Ukraine •V. gotdamn tired, y'all•She/Her•Antiracist• #TeamSussex •Trump is grosser than pineapple pizza w/mayo & creamed peas | 4,527 |
| MalieCoyne | Dr. Malie Coyne 🌎2️⃣ | 💙 Clinical Psychologist 🦈 Author #LoveInLoveOut 🐠 TV #DutyofCarePsychologist #DavysToughestTeam 🐚 @SilverCloudH 🦄 @UniofGalway 🦀 @lustforlife Schools 💛 | 3,394 |
Most active users
| Username | Bio | Number of tweets |
| --- | --- | --- |
| rte | Raidió Teilifís Éireann | Ireland's National Public Service Multi-Media Organisation | 11 |
| Hannah_786_sa | - | 7 |
| Kakoo2232 | I live to see the good in people, but I will call out crap, when crap needs to be called out. | 4 |
| Baje2deB | You probably can't guess it from my tweets but I'm only here for Harry, Meghan & their little family. Who knew that Guy was the real hostage? Bajan To De Bone. | 4 |
| DoyleDoyled603 | Sculptor ,Dublin based, with a slightly doodled noodle. | 2 |
| cthegoddess1x | Sending positive vibrations into the universe. May they rain down upon you. | 2 |
| Jen_OBrien1 | Senior Communications @rte. Head of Media 🇮🇪 @Eurovision. Ex Ireland Arts Correspondent @TheTimes, Digital producer @itv, Showbiz Editor. Views mine. | 2 |
| T85Camille | - | 2 |
| Ezpiazu | I´m Eli Pellicer Azpiazu. I lived 5 years in Cork city from 2011 to 2015.Anyway, I felt in love with Cork Co. where you can do and live amazing vibes. Indeed. | 2 |
| SooLee77344977 | Supporting:all the beauty&magic this world has to offer,Harry & Meghan,Democracy. Archewell ❤️ Brazen Hussy.💪🏾 Occasional Cussing 🤷🏾‍♀️ | 2 |
---
Tweets per day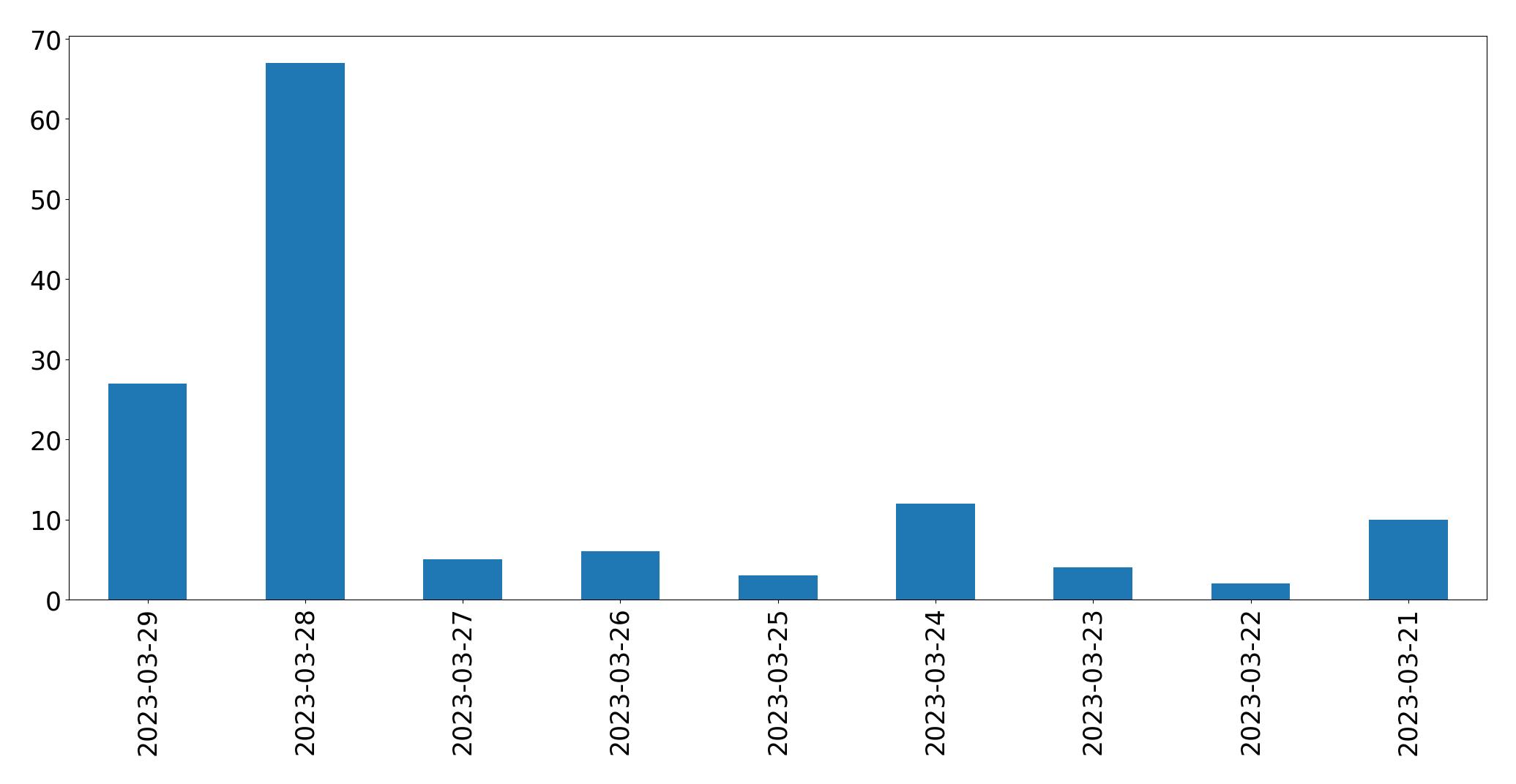 ---
Top 10 tweets with highest Retweet count
| ID | Text | Retweet count |
| --- | --- | --- |
| 1640676352662683648 | @RTE_Ents https://t.co/Uus25XrGx9 | 12 |
| 1640677195881275395 | @RTE_Ents Educate yourself before jumping on the clickbait bandwagon. It's called reporting the facts. This goes beyond " privacy" claims although I understand why you wanted to get that word in…. https://t.co/kjjfNPjSpa | 11 |
| 1640706689828814848 | @RTE_Ents It's not multiple privacy hearing. Bugging someone's phone line; homes; car. Not a privacy issue. It's a crime issue. It's invading & infringement. Impersonation of Individuals is not a privacy issue. ITS FRAUD & DECEIVING. Accessing bank data not privacy. Its Breach of trust. | 10 |
| 1640704575387697153 | @RTE_Ents WOW! Day 2…alrighty then… Harry means Business!! We, the people, salute Harry!!🙌🏾🤌🏾🤌🏾🥰 We applaud his steadfastness and efforts! #GoodKingHarry 👏🏾👏🏾 https://t.co/zwG9DQ9mrI | 8 |
| 1640676167165288448 | @RTE_Ents #PrinceHarry, Elton John, Doreen Lawrence, Elizabeth Hurley, SadieFrost , and David Furnish are collectively suing Associated Newspapers. #JonathanHarmsworth4thViscountRothermere https://t.co/cP1yAheSb2 | 8 |
| 1640722200499216386 | @RTE_Ents https://t.co/439eXSf1p8 | 7 |
| 1640736014728671236 | @RTE_Ents Harry exposing Camilla(Daily Mail) The Homewrecker! https://t.co/yWElYNADpR | 5 |
| 1641139454206148625 | 📺 Pick of the Day: Davy's Toughest Team | 9.35pm | @RTEOne and @RTEplayer 👉 GAA coach Davy Fitzgerald returns to train and mentor another group of people, this time for an ambitious Icelandic trek @RTE_Ents https://t.co/e2VnoX42S5 | 5 |
| 1640694393450446848 | @RTE_Ents https://t.co/6fPIw2OJqS | 4 |
| 1640873850513571840 | @RTE_Ents Holy Oil/Water cannot help the #ToxicBritishMedia & colluding RF/RP now https://t.co/b62w2ZPsAy | 2 |
Top 10 tweets with highest Like count
| ID | Text | Like count |
| --- | --- | --- |
| 1640706689828814848 | @RTE_Ents It's not multiple privacy hearing. Bugging someone's phone line; homes; car. Not a privacy issue. It's a crime issue. It's invading & infringement. Impersonation of Individuals is not a privacy issue. ITS FRAUD & DECEIVING. Accessing bank data not privacy. Its Breach of trust. | 75 |
| 1640677195881275395 | @RTE_Ents Educate yourself before jumping on the clickbait bandwagon. It's called reporting the facts. This goes beyond " privacy" claims although I understand why you wanted to get that word in…. https://t.co/kjjfNPjSpa | 70 |
| 1640704575387697153 | @RTE_Ents WOW! Day 2…alrighty then… Harry means Business!! We, the people, salute Harry!!🙌🏾🤌🏾🤌🏾🥰 We applaud his steadfastness and efforts! #GoodKingHarry 👏🏾👏🏾 https://t.co/zwG9DQ9mrI | 62 |
| 1640676167165288448 | @RTE_Ents #PrinceHarry, Elton John, Doreen Lawrence, Elizabeth Hurley, SadieFrost , and David Furnish are collectively suing Associated Newspapers. #JonathanHarmsworth4thViscountRothermere https://t.co/cP1yAheSb2 | 49 |
| 1640682200248078338 | @RTE_Ents *unlawful gathering of information which includes phone hacking | 47 |
| 1640736014728671236 | @RTE_Ents Harry exposing Camilla(Daily Mail) The Homewrecker! https://t.co/yWElYNADpR | 41 |
| 1640693609237303303 | @RTE_Ents Day 2! Go get them Harry 👏🏽💕👏🏽 | 38 |
| 1640676352662683648 | @RTE_Ents https://t.co/Uus25XrGx9 | 38 |
| 1640750884891115520 | @RTE_Ents @Alt52017689 The Lion in town ♥️🥂🏆 https://t.co/kHNz3trRCo | 33 |
| 1640694393450446848 | @RTE_Ents https://t.co/6fPIw2OJqS | 30 |
Top 3 Languages Used In Tweets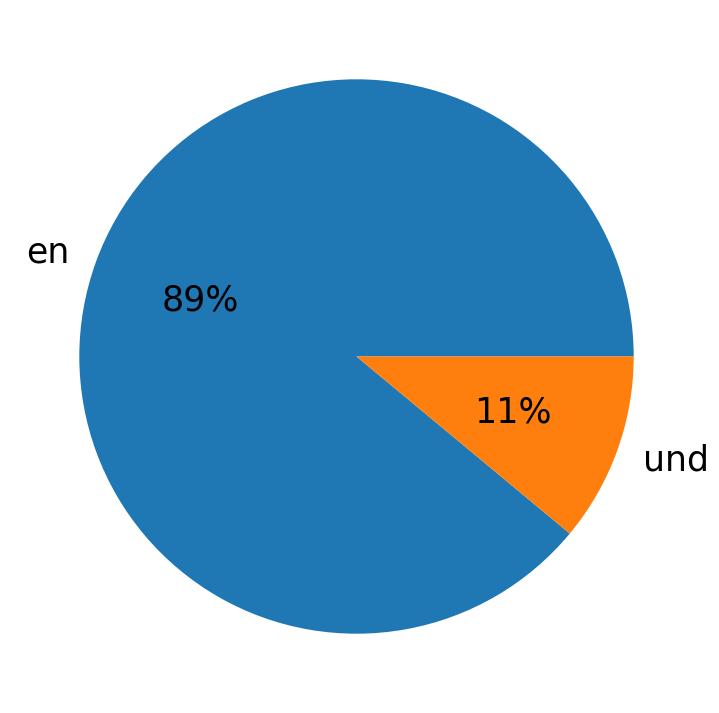 ---
Top 10 Hashtags used
| Hashtag | Count |
| --- | --- |
| #princeharry | 6 |
| #toxicbritishmedia | 3 |
| #goodkingharry | 3 |
| #toxicbritishpress | 3 |
| #phonehackingtrial | 3 |
| #behindthemusic | 3 |
| #rte | 3 |
| #tv | 2 |
| #jonathanharmsworth4thviscountrothermere | 2 |
| #latelate | 1 |
Top 10 Hashtags Used In Tweets
Top 10 mentions
| Mention | Count |
| --- | --- |
| @rte_ents | 137 |
| @rte | 19 |
| @smiythyaslin | 13 |
| @rteone | 9 |
| @rteplayer | 9 |
| @rtenews | 7 |
| @rte_culture | 6 |
| @rtelatelateshow | 5 |
| @corralan2 | 5 |
| @geoffboston | 4 |
Top 10 mentions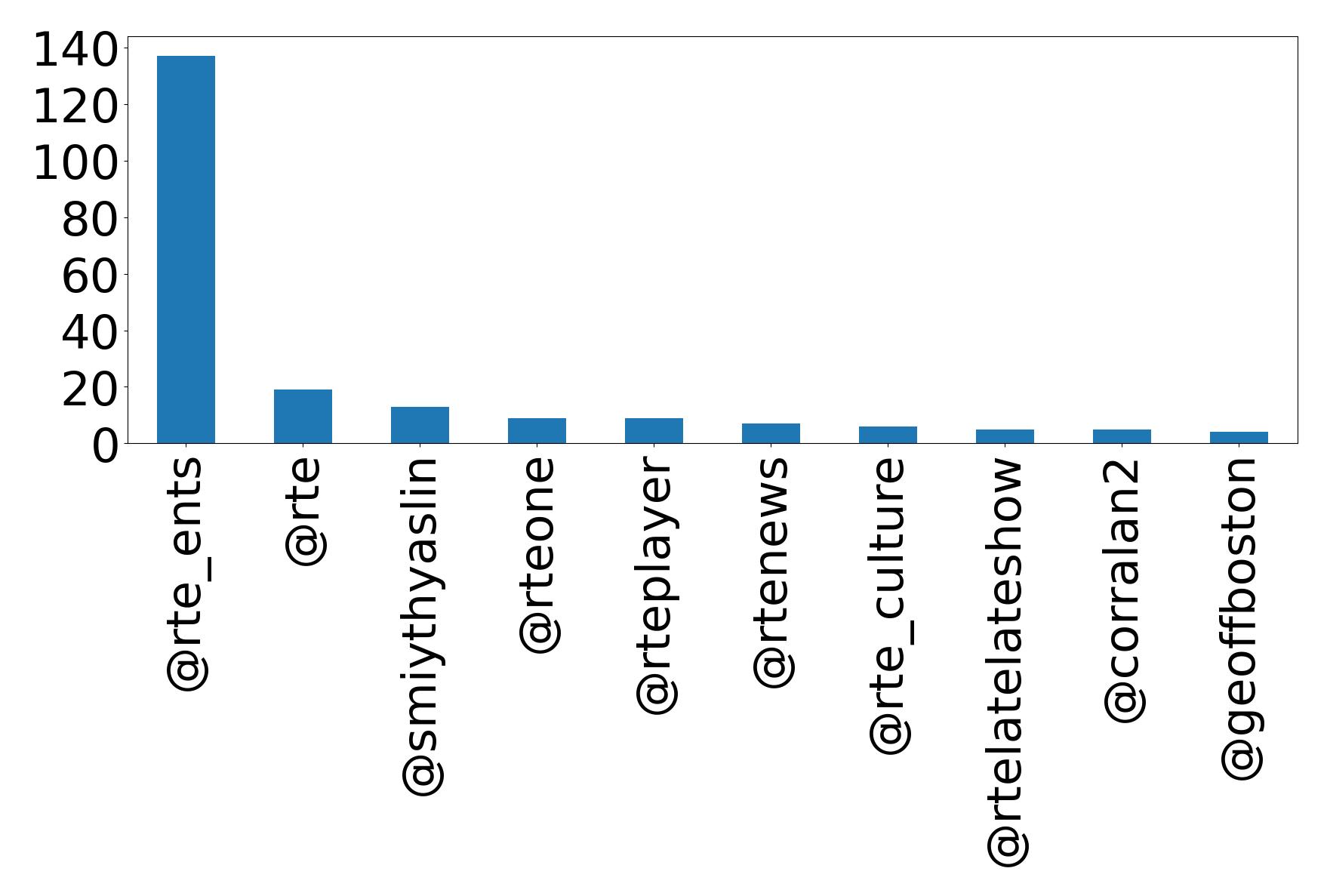 Wordcloud of Tweets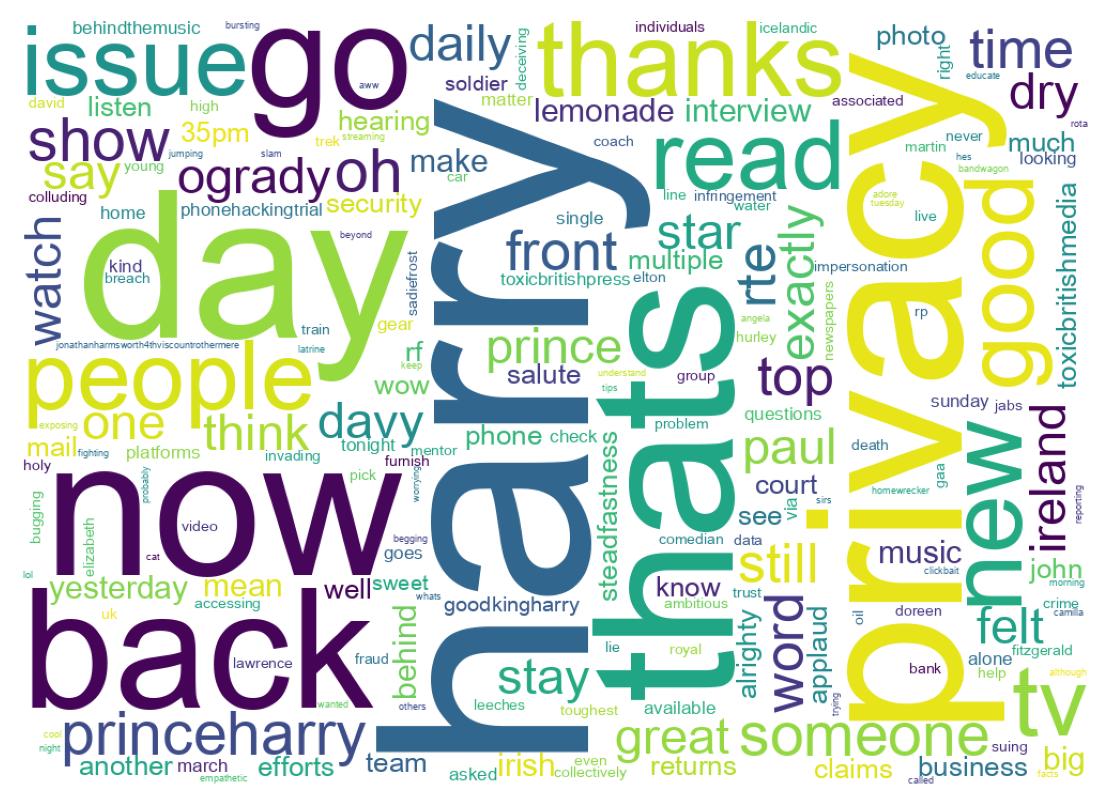 ---
Emojis
Average number of emojis used per tweet
83
Emojis used in tweets
| Emoji | Count | Emoji Text |
| --- | --- | --- |
| 🤣 | 9 | rolling_on_the_floor_laughing |
| 😂 | 8 | face_with_tears_of_joy |
| 👏🏾 | 8 | clapping_hands_medium-dark_skin_tone |
| 👏 | 6 | clapping_hands |
| 📺 | 6 | television |
| 🤌🏾 | 6 | pinched_fingers_medium-dark_skin_tone |
| 👉 | 5 | backhand_index_pointing_right |
| 🙌🏾 | 5 | raising_hands_medium-dark_skin_tone |
| 🥰 | 5 | smiling_face_with_hearts |
| 😊 | 4 | smiling_face_with_smiling_eyes |
Emojis groups
| Emoji Group | Count |
| --- | --- |
| People & Body | 45 |
| Smileys & Emotion | 42 |
| Food & Drink | 7 |
| Objects | 6 |
| Activities | 5 |
| Travel & Places | 4 |
| Symbols | 3 |
| Flags | 1 |