Tweets Analysis - Keyword: Rihanna
Total number of tweets analysed
26,538
Earliest tweet was on
2023-02-09
Latest tweet was on
2023-02-10
Average age of authors' accounts
7 years
---
Summarization
Rihanna is set to perform at the Super Bowl on Sunday and has been discussing her setlist and performance with other prominent artists such as Taylor Swift, Miley Cyrus, SZA, and Lizzo. Apple is sponsoring the Super Bowl halftime show, but Rihanna will not be getting paid for her performance. Ex-President Trump has tried to downplay her talents leading up to her performance. Fans are excited to see the show and also have an opportunity to watch online for free.
Topic Modeling
Rihanna concerts, performances and appearances
Rihanna's songs and albums
Donald Trump's comments about Rihanna
Female musicians and streaming
Super Bowl events and production
Emotional Analysis
The tweets in this collection express a wide range of emotions, from excitement and anticipation to envy and frustration. Fans are eagerly awaiting Rihanna's concert and Super Bowl performance, and are discussing potential collaborations and production costs. There is a strong sense of admiration and respect for Rihanna's work and accomplishments, as well as a feeling of solidarity among her fans. In addition, there is a feeling of indignation in response to Donald Trump's comments about Rihanna. Overall, the tweets reflect the excitement and anticipation of fans in the lead-up to Rihanna's upcoming performance.
Trend Analysis
Performance at the Super Bowl halftime show
Releasing of tickets for Rihanna and Miley Cyrus' concerts
Comparison of streaming numbers between female artists on Spotify
Presence of Donald Trump attacking Rihanna
Touring of singers like Beyoncé, Taylor Swift, Rihanna, SZA, Miley Cyrus and more in 2021
---
Types of Tweets
Number of Retweets
4,671
Percentage of total tweets
17%
Number of Original tweets
15,164
Percentage of total tweets
57%
Number of tweets that contain Mentions
11,713
Percentage of total tweets
44%
Number of tweets that were Replies
4,967
Percentage of total tweets
18%
Number of tweets that were Quotes
2,037
Percentage of total tweets
7%
Number of tweets that contain Hashtags
4,800
Percentage of total tweets
18%
---
Top 5 devices used to tweet
| Source | Count |
| --- | --- |
| Twitter for iPhone | 14395 |
| Twitter for Android | 5661 |
| Twitter Web App | 3264 |
| TweetDeck | 372 |
| dlvr.it | 332 |
What devices were used to tweet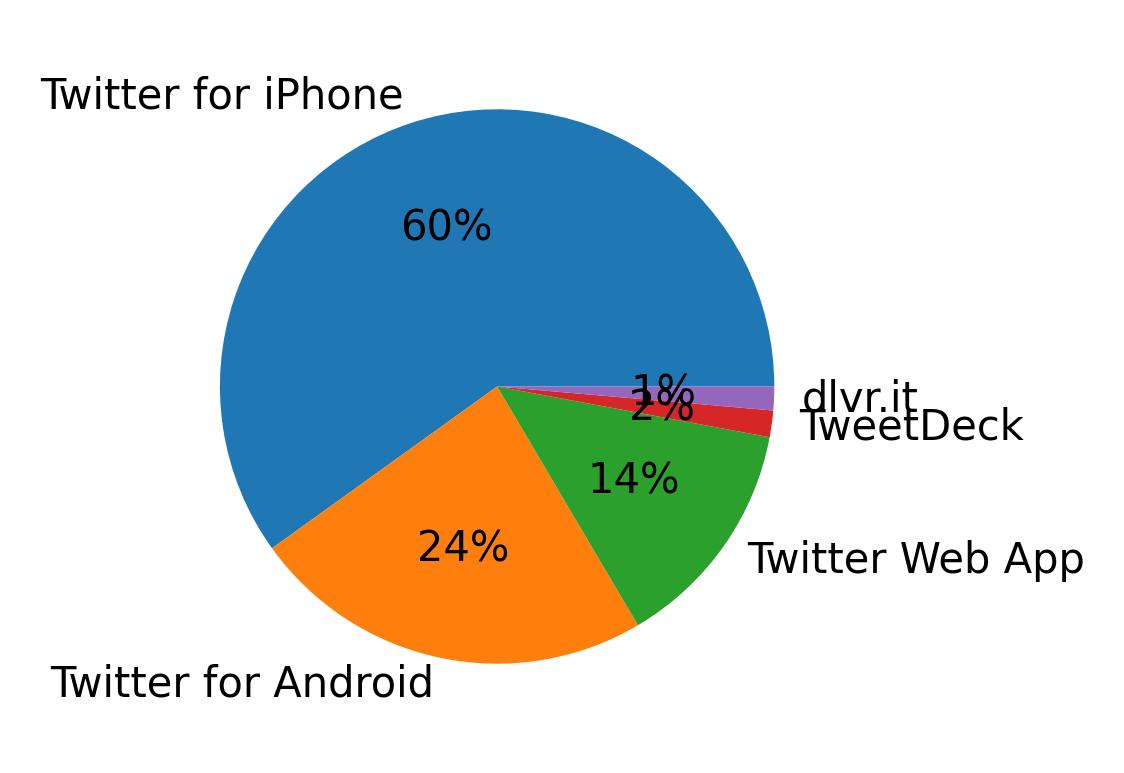 ---
Top 10 accounts with highest followers count
| Username | Name | Bio | Followers count |
| --- | --- | --- | --- |
| CNN | CNN | It's our job to #GoThere & tell the most difficult stories. For breaking news, follow @CNNBRK and download our app https://t.co/ceNBoNiGnE | 61,129,667 |
| nytimes | The New York Times | News tips? Share them here: https://t.co/ghL9OoYKMM | 54,934,527 |
| Reuters | Reuters | Top and breaking news, pictures and videos from Reuters. For more breaking business news, follow @ReutersBiz. | 25,741,679 |
| CNNEE | CNN en Español | CNN en Español es tu principal fuente de información y breaking news. Cubrimos las noticias de América Latina y el resto del mundo. Vive la noticia. | 22,406,407 |
| WSJ | The Wall Street Journal | Sign up for our newsletters and alerts: https://t.co/QevH0DLisA | Got a tip? https://t.co/iXIigdOLPr | For WSJ customer support: https://t.co/DZgH9n4vAI | 20,480,817 |
| TIME | TIME | News and current events from around the globe. Subscribe: https://t.co/yT0dueLEm0 | 19,457,286 |
| Forbes | Forbes | Official account of Forbes, the world's leading voice for entrepreneurial success and free enterprise, and home to breaking news, business, money and more. | 18,713,664 |
| MTV | MTV | Silly little posts about my silly little crushes TEXT ME📱 (917) 920-2070 Stream all your MTV faves on @ParamountPlus | 17,764,577 |
| cnni | CNN International | Breaking news from around the world, plus business, style, travel, sport and entertainment. We #gothere. | 14,426,954 |
| billboard | billboard | music • charts • news • more | @billboardcharts • @billboarddance • @billboardhiphop • @billboardlatin • @billboardpride • @billboardpro | 14,112,501 |
Top 10 accounts with highest friends count
| Username | Name | Bio | Followers count |
| --- | --- | --- | --- |
| Cooperativa | Cooperativa | También en @CooperativaPod, https://t.co/PmboXCxarJ e https://t.co/sjDzuB4CI9 | Tu nota de voz al WhatsApp +56978880770 | 648,918 |
| krassenstein | Brian Krassenstein | Fighting for the truth. - Follow My Brother: @EdKrassen. Web 3.0 Builder and Early adopter - Subscribe on YouTube: https://t.co/CzCqkPWfpw | 529,594 |
| JulianMarin | Julian Marin 🦔 | Solo espero que alguna de mis canciones te guste. Gracias por darle al play https://t.co/sXSJ6rVhKn | 371,454 |
| ElNacionalWeb | El Nacional | Te informamos sobre las noticias más recientes de Venezuela y el mundo. Evita la censura y descarga el VPN 📲https://t.co/l9iUmozIqw | 339,306 |
| etnow | Entertainment Tonight | Entertainment begins and ends with ET. | 290,792 |
| Variety | Variety | The business of entertainment. | 227,823 |
| latercera | La Tercera | Más que un diario 📲📰 | 216,594 |
| jramiroMX | CHILANGO | Que nadie manipule tu criterio, ¿como puedes evitarlo?, solo adquiriendo el buen hábito de estar bien informado, no existe otra forma | 208,396 |
| Naija_PR | Naija | Get to know the things happening in the world. for tips: info@naijapr.com || quick mail: realnaijapr@gmail.com WhatsApp +2348079499798 | 196,972 |
| gustavopierral | Gustavo Pierral | Locutor, Animador y Productor de TV y Radio. Ranking 100.7 FM (6AM-8AM) Lunes a Viernes y a NIVEL NACIONAL . | 183,655 |
Most active users
| Username | Bio | Number of tweets |
| --- | --- | --- |
| jazzyvrri | 😊 | 129 |
| C62102934Marlon | - | 92 |
| panachefm | Africa's No. 1 Lifestyle and Entertainment Radio. | 76 |
| Rihanna_20fenty | FAN ACCOUNT NAVY💙⚓ | 37 |
| mulato_newface | - | 36 |
| lovesmeallnight | wandering the sonoran desert to love art • triple leo 🐻‍❄️ | 31 |
| Di_mi_nombre_ | Not a bot. I don't do NFT's. Royal watcher. Daydreamer. Having a bad day? See my live tweeting tweets. Dreams: traveling the world& help people. | 29 |
| rihanna_impact | RIHANNA is THE NEW BLACK | 24 |
| MakeRIRILaugh | Rihanna is Queen of Music. ☈ not Rihanna | 24 |
| Je_Suis_Rhenna | The devil can cite Scripture for his purpose. An evil soul producing holy witness Is like a villain with a smiling cheek, A goodly apple rotten at the heart. | 24 |
---
Tweets per day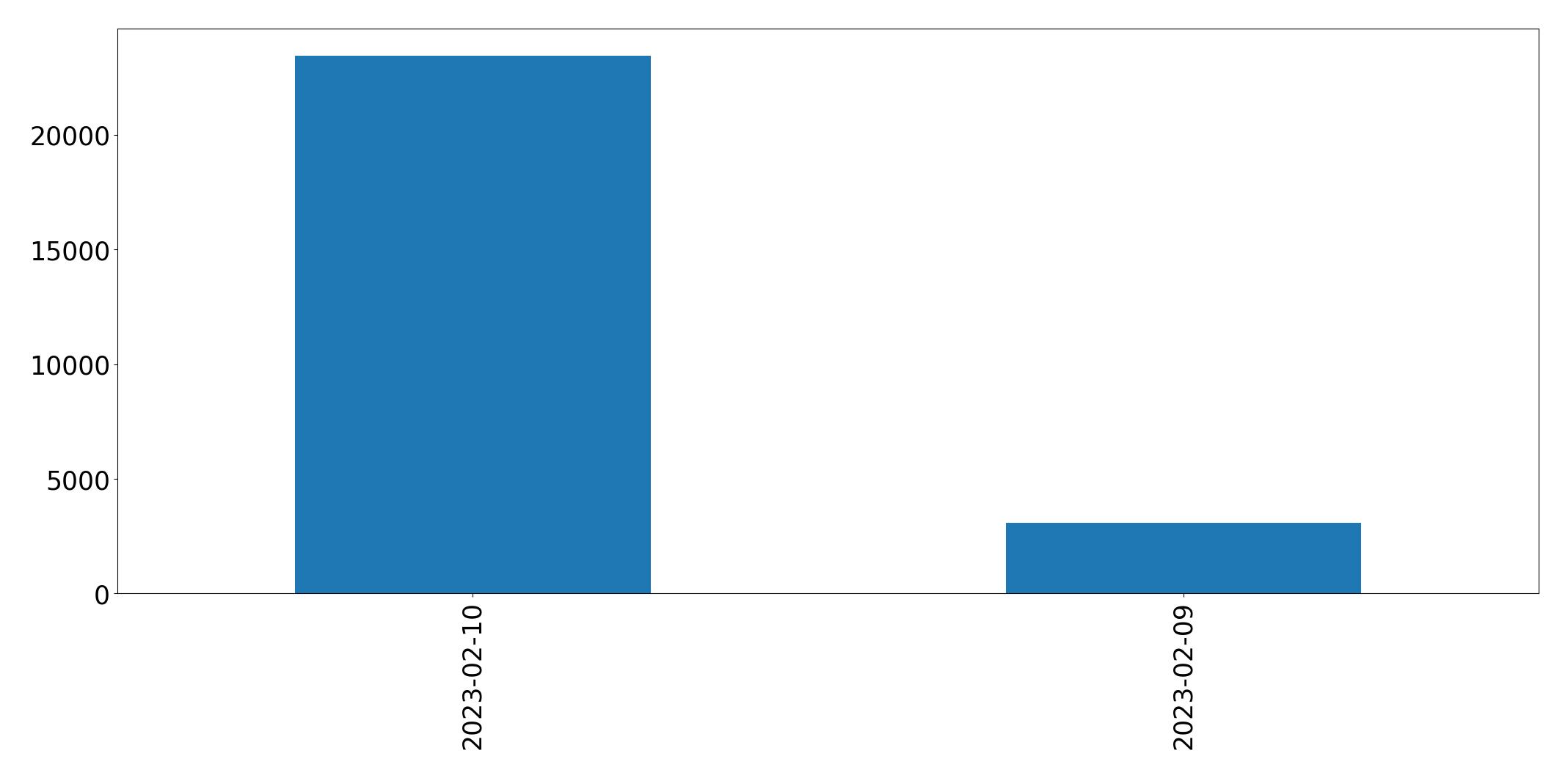 ---
Top 10 tweets with highest Retweet count
| ID | Text | Retweet count |
| --- | --- | --- |
| 1624077926550446082 | Can't wait for Rihanna's concert (interrupted by a football game) on sunday!!! | 2026 |
| 1623919027860176896 | โชว์ Super Bowl Halftime Show ของ Rihanna จะยาว 13 นาทีและเธอลำบากใจสุดๆกับการตัดและรวมเพลงทั้งหมดการเป็นศิลปินมา 17 ปีให้เหลือแค่ 13 นาที ตอนนี้เธออยู่ที่เซ็ตลิสต์เวอร์ชั่นที่ 39 แล้วเพราะเธอต้องคอยปรับรายละเอียดอยู่เสมอ https://t.co/FrblbE43FQ | 1091 |
| 1623834435127836674 | SAIU! Confira a entrevista coletiva de Rihanna para o #SuperBowl. A cantora falou sobre os desafios de montar a setlist do show, o perrengue nos ensaios, da exaustão, sobre conciliar a carreira com o filho respondeu perguntas de fãs. Assista legendado: https://t.co/Rvei1qmGV0 | 891 |
| 1623887936759689217 | if rihanna doesn't perform pon de replay at the super bowl that's when i'll know she's changed | 577 |
| 1624041543035133952 | Rihanna ได้ข้อเสนอสำหรับการแสดง Super Bowl Halftime Show หลังจากคลอดลูกชายได้ 3 เดือนและเธอตั้งคำถามกับตัวเองว่าตัดสินใจถูกมั้ย แต่เธอรู้สึกว่าพอได้เป็นแม่คน คุณจะรู้สึกเหมือนสามารถทำทุกอย่างบนโลกใบนี้ได้ เธอไม่ได้ขึ้นแสดงมา 7 ปีแล้วแต่อยากรับการท้าทายนี้เพื่อแสดงให้ลูกเห็น https://t.co/VGwZjan1xX | 469 |
| 1624011912554881029 | 🚨 PREPAREM OS BOLSOS! Rihanna e Miley Cyrus aparecem na aba de "alerta de ingressos" no site da Eventim. https://t.co/rjwC4CmEO2 | 455 |
| 1623852662788694017 | Se eu fosse a Rihanna, levaria o Tom Holland pra performar Umbrella junto com ela no SuperBowl | 429 |
| 1624072630117728256 | Not surprising, Trump is attacking Rihanna days before her Super Bowl performance. He posted: "Without her stylist she'd be NOTHING. Bad everything, and NO TALENT!" Trump has a thing about attacking powerful Black women. And Rihanna must really bug him, being richer than him. https://t.co/tVrS1neboG | 427 |
| 1624092459348242433 | Apple is paying the NFL $250 million over 5 years to sponsor the Super Bowl halftime show. But here's the craziest part: Rihanna won't be paid a dime for this year's show, and performers often spend millions of dollars of their own money on production costs. Here's why 👇 https://t.co/Hgmu3LuF3P | 382 |
| 1623825330061340673 | rihanna trying to fit all of her hits into a 13 minute half time show performance https://t.co/xViOImII2x | 282 |
Top 10 tweets with highest Like count
| ID | Text | Like count |
| --- | --- | --- |
| 1624077926550446082 | Can't wait for Rihanna's concert (interrupted by a football game) on sunday!!! | 20411 |
| 1624011912554881029 | 🚨 PREPAREM OS BOLSOS! Rihanna e Miley Cyrus aparecem na aba de "alerta de ingressos" no site da Eventim. https://t.co/rjwC4CmEO2 | 10900 |
| 1623887936759689217 | if rihanna doesn't perform pon de replay at the super bowl that's when i'll know she's changed | 10361 |
| 1623834435127836674 | SAIU! Confira a entrevista coletiva de Rihanna para o #SuperBowl. A cantora falou sobre os desafios de montar a setlist do show, o perrengue nos ensaios, da exaustão, sobre conciliar a carreira com o filho respondeu perguntas de fãs. Assista legendado: https://t.co/Rvei1qmGV0 | 3827 |
| 1623833201021005825 | Rihanna mistakenly said "Diamonds" instead of 'Unapologetic' when naming her favorite albums. https://t.co/oVMKsf7Ted | 3786 |
| 1623852662788694017 | Se eu fosse a Rihanna, levaria o Tom Holland pra performar Umbrella junto com ela no SuperBowl | 3432 |
| 1623825330061340673 | rihanna trying to fit all of her hits into a 13 minute half time show performance https://t.co/xViOImII2x | 2897 |
| 1623817719035355136 | It's giving @NICKIMINAJ at the #SuperBowl with @rihanna vibes. 👀👀👀👀👀👀👀👀👀👀 oh god please hear my prayers 🙏🏽🙏🏽🤞🏽🤞🏽🤞🏽🤞🏽🤞🏽 https://t.co/l9gPvhdahT | 2776 |
| 1623842106547802113 | Most streamed female artists on Spotify on Wednesday (Feb. 8, 2023): #1 @taylorswift13 51.4M #2 @sza 29.2M #3 @MileyCyrus 20.2M #4 @shakira 19.7M #5 @rihanna 17.6M #6 @LanaDelRey 15.5M #7 @billieeilish 14.7M #8 @Beyonce 14.7M #9 @ArianaGrande 14.5M #10 @karolg 12.7M | 2248 |
| 1624072630117728256 | Not surprising, Trump is attacking Rihanna days before her Super Bowl performance. He posted: "Without her stylist she'd be NOTHING. Bad everything, and NO TALENT!" Trump has a thing about attacking powerful Black women. And Rihanna must really bug him, being richer than him. https://t.co/tVrS1neboG | 2046 |
Top 3 Languages Used In Tweets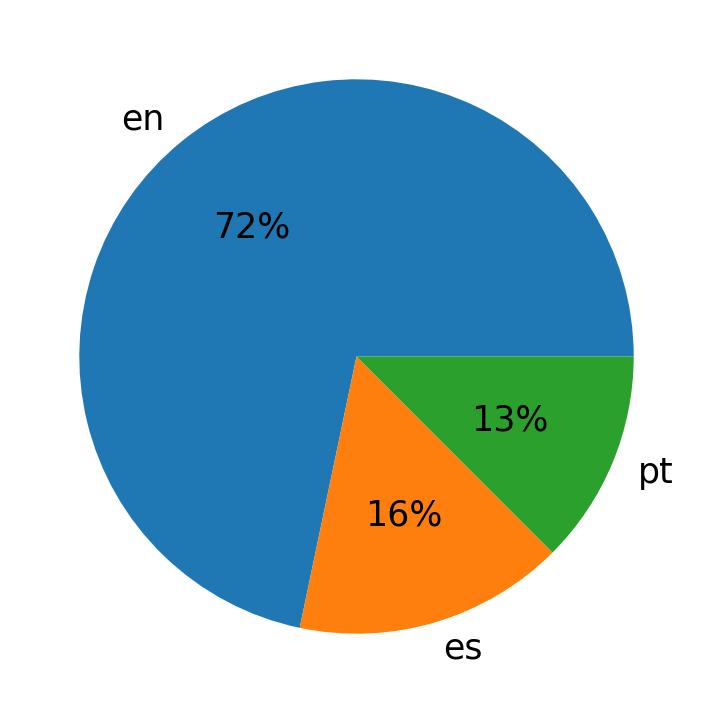 ---
Top 10 Hashtags used
| Hashtag | Count |
| --- | --- |
| #superbowl | 1551 |
| #rihanna | 1511 |
| #superbowllvii | 565 |
| #halftimeshow | 340 |
| #applemusichalftime | 264 |
| #rihannasuperbowl | 260 |
| #rihannareturns | 163 |
| #sblvii | 160 |
| #superbowl2023 | 154 |
| #nfl | 129 |
Top 10 Hashtags Used In Tweets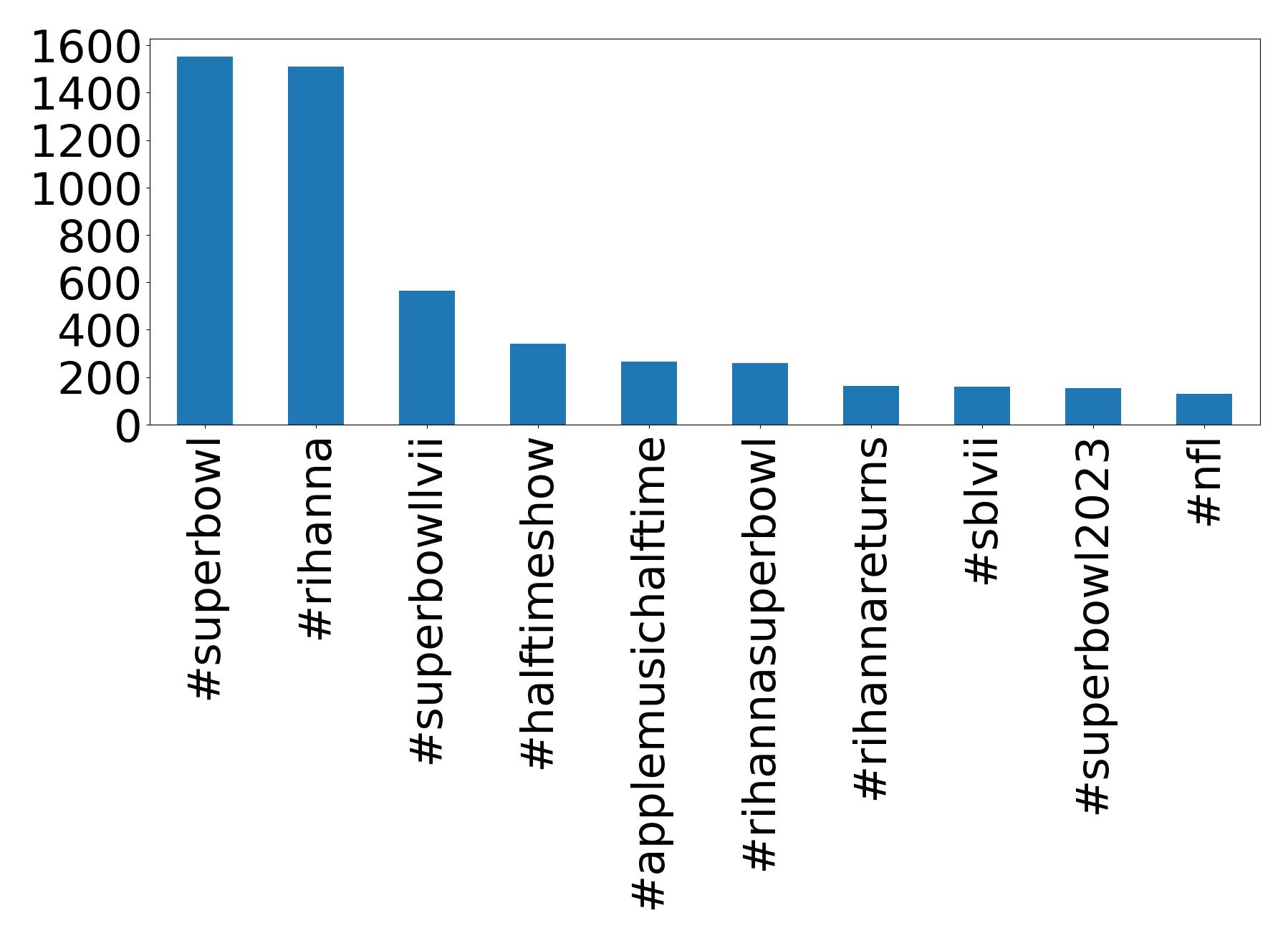 Top 10 mentions
| Mention | Count |
| --- | --- |
| @rihanna | 4439 |
| @applemusic | 399 |
| @nfl | 392 |
| @nflonfox | 321 |
| @rocnation | 294 |
| @ronnyjacksontx | 267 |
| @superbowl | 198 |
| @nickiminaj | 182 |
| @beyonce | 174 |
| @taylorswift13 | 171 |
Top 10 mentions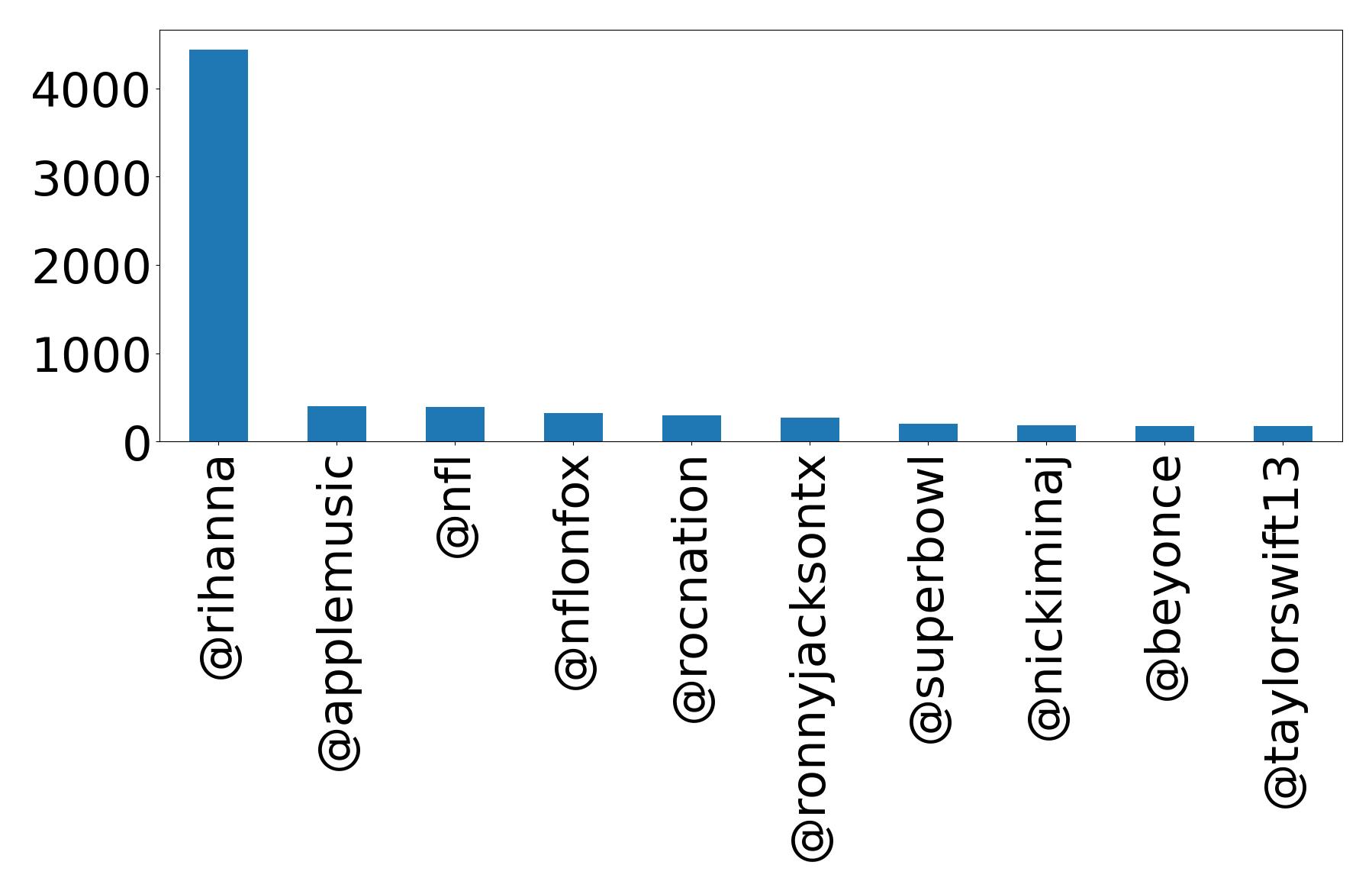 Wordcloud of Tweets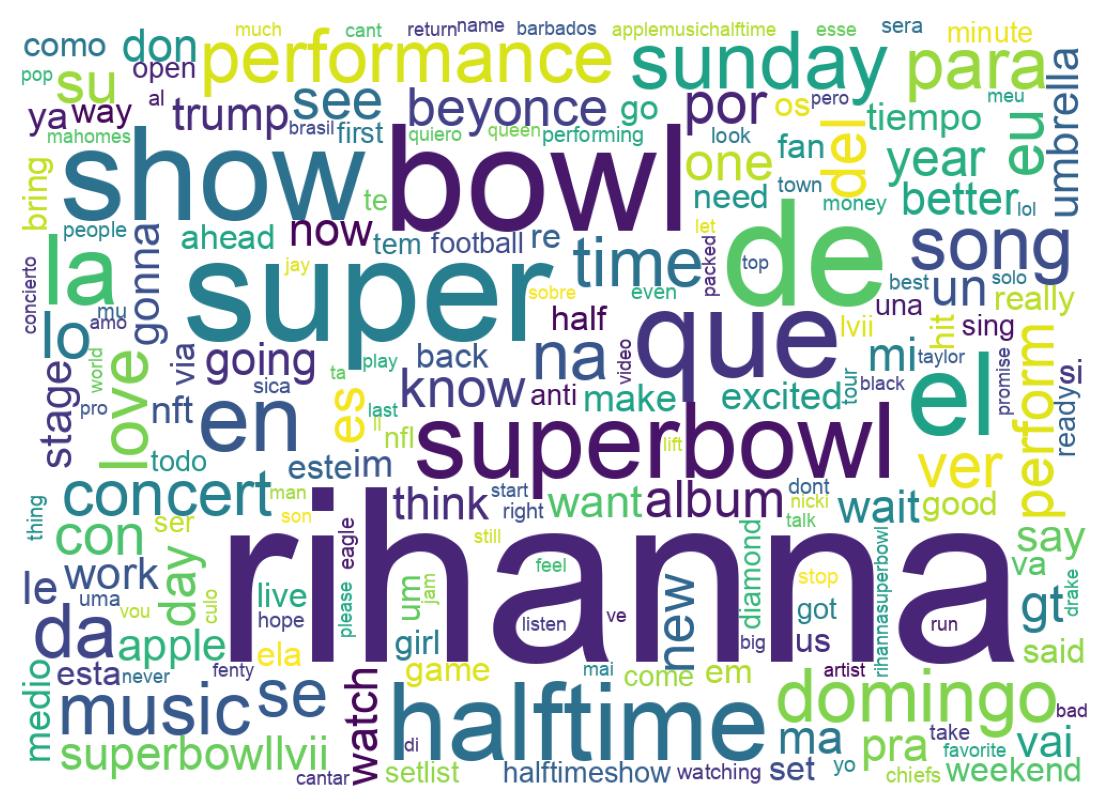 ---
Emojis
Average number of emojis used per tweet
53
Emojis used in tweets
| Emoji | Count | Emoji Text |
| --- | --- | --- |
| 😭 | 1512 | loudly_crying_face |
| 🔥 | 781 | fire |
| 😂 | 706 | face_with_tears_of_joy |
| 😍 | 567 | smiling_face_with_heart-eyes |
| 🏈 | 542 | american_football |
| 🤣 | 508 | rolling_on_the_floor_laughing |
| ❤️ | 356 | red_heart |
| 🤩 | 269 | star-struck |
| 🎶 | 229 | musical_notes |
| 🥰 | 229 | smiling_face_with_hearts |
Emojis groups
| Emoji Group | Count |
| --- | --- |
| Smileys & Emotion | 7380 |
| People & Body | 1849 |
| Objects | 1346 |
| Travel & Places | 1310 |
| Activities | 1275 |
| Symbols | 405 |
| Flags | 314 |
| Food & Drink | 122 |
| Animals & Nature | 114 |