Tweets Analysis - Keyword: @RegLiguria
Total number of tweets analysed
173
Earliest tweet was on
2023-02-18
Latest tweet was on
2023-02-28
Average age of authors' accounts
9 years
---
Summarization
The tweets cover a range of topics related to the activities and concerns of the Regione Liguria in Italy. These include the region's efforts to care for animals, particularly a goat named Ringo and a young wolf in need of medical attention. There is also discussion of infrastructure projects, such as rehabilitating neighborhoods and addressing problems with wild boars. Additionally, the tweets highlight various events and initiatives, including training programs for healthcare professionals and public employees in remote areas. Finally, some individuals express criticism of the Regione Liguria for its perceived failures in relation to events in Odessa and Ukraine.
Topic Modeling
Mistreatment of animals by the Portofino Municipality, and ENPA's efforts to care for them
The rescue and rehabilitation of animals by ENPA and various organizations
Political tensions and issues within the Liguria region
Development and tourism initiatives by the Regione Liguria government
Various events and initiatives related to healthcare, education, and training
Emotional Analysis
The emotions expressed in these tweets vary, but some common themes include frustration, concern, gratitude, and pride. There is frustration expressed towards the decision-making of the Portofino government, concern for the well-being of animals in the care of ENPA, and concern for safety in the mountains. There is also gratitude expressed towards volunteer organizations and pride in the accomplishments of the Regione Liguria government. Additionally, there are some tweets that express anger and frustration towards the government's actions or lack thereof in certain situations, such as regional conflicts or environmental concerns.
Trend Analysis
Animal welfare and rescue, specifically related to ENPA and the actions taken by the organization to care for animals that have been displaced or injured.
Political tensions and institutional management, including issues related to hate speech and the response of government institutions to tension or conflict.
Tourism and promotion of the Liguria region, including a video showcasing different locations and an event presentation related to cross-border projects.
Professional development and training opportunities offered by Regione Liguria, specifically related to healthcare and public administration roles in the region.
Economic growth and development in the Liguria region, including measures taken by Regione Liguria to support local businesses.
---
Types of Tweets
Number of Retweets
69
Percentage of total tweets
39%
Number of Original tweets
54
Percentage of total tweets
31%
Number of tweets that contain Mentions
173
Percentage of total tweets
100%
Number of tweets that were Replies
44
Percentage of total tweets
25%
Number of tweets that were Quotes
11
Percentage of total tweets
6%
Number of tweets that contain Hashtags
99
Percentage of total tweets
57%
---
Top 5 devices used to tweet
| Source | Count |
| --- | --- |
| Twitter for Android | 75 |
| Twitter Web App | 61 |
| Twitter for iPhone | 26 |
| Twitter for iPad | 9 |
| ilovebirrabuzza | 1 |
What devices were used to tweet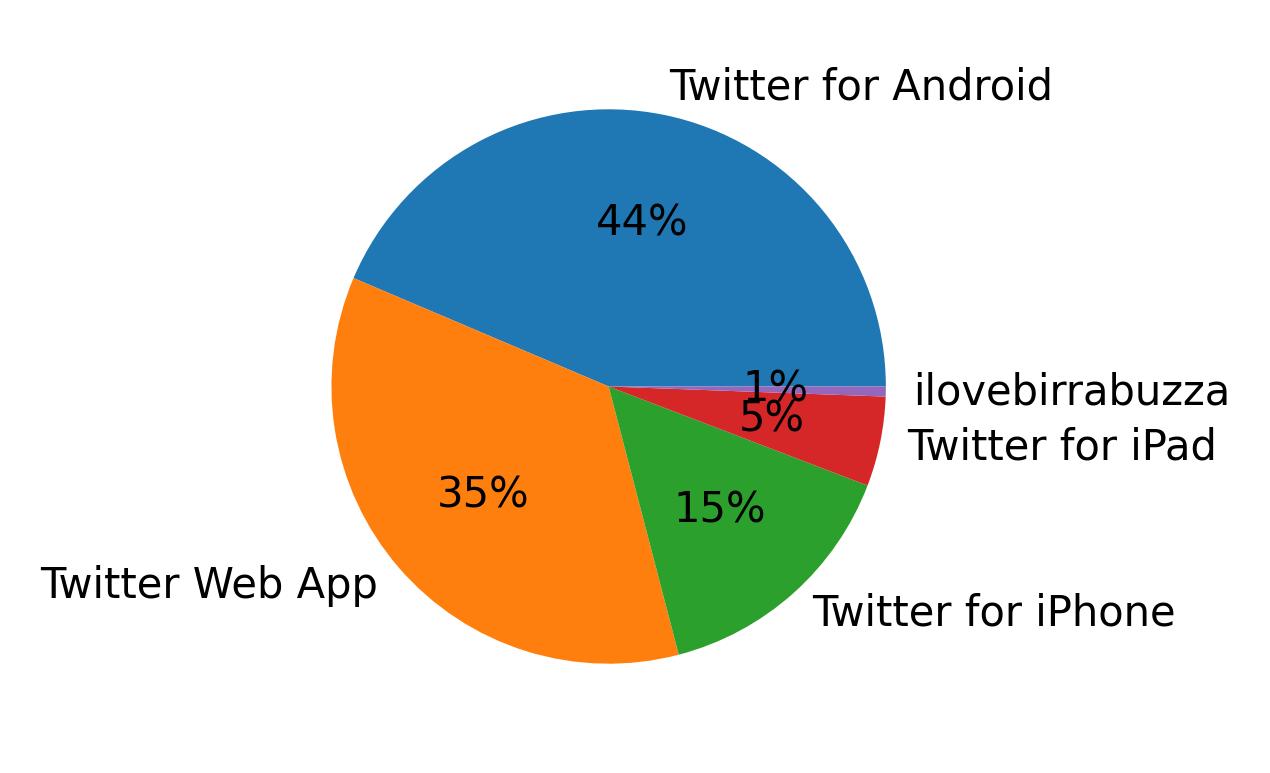 ---
Top 10 accounts with highest followers count
| Username | Name | Bio | Followers count |
| --- | --- | --- | --- |
| GiovanniToti | Giovanni Toti | Presidente della Regione Liguria, giornalista, politico per cambiare il Paese con i fatti 🇮🇹 | 80,141 |
| enpaonlus | Enpa Odv | Profilo ufficiale di Enpa Odv, la Protezione Animali dal 1871. Da più di 150 anni. Canale Telegram: https://t.co/z4pQol3QIo | 28,560 |
| crpiemonte | Cr Piemonte | Il canale twitter ufficiale del Consiglio regionale del #Piemonte. | 22,021 |
| Telenord | Telenord | Canale 11 in Liguria - Canale 165 in Piemonte - Direttore responsabile @GTimossi | 7,342 |
| GTimossi | Giampiero Timossi | Giornalista, dirige @Telenord ; legge @ilfoglio_it , esclusi i pezzi che scrive. Leggere, sempre. Rileggere Maigret, ogni estate | 6,083 |
| CCIAARIVLIG | CCIAA RIVLIG | Camera di Commercio Riviere di Liguria - Imperia La Spezia SavonaSocial media policy https://t.co/pFKkkVMctA | 5,922 |
| alecavo | Alessandro Cavo | corpo intermedio liberale di mezz'età v.p.v. e camerale | 5,170 |
| Ossmeteobargone | OssMeteoGeoRaffaelli dal 1883 | Osservatorio Meteorologico,Agrario,Geologico Prof. Don Gian Carlo Raffaelli Fondato nel 1883 a Bargone Casarza Ligure GE osservatorioraffaelli1883@gmail.com | 4,090 |
| PARCO_AVETO | PARCO DELL'AVETO | - | 3,819 |
| MOTORESANITA | Motore Sanità | Motore Sanità è un ente no-profit che opera nell'ambito della ricerca scientifica e della divulgazione sanitaria in Italia e all'Estero. | 3,336 |
Top 10 accounts with highest friends count
| Username | Name | Bio | Followers count |
| --- | --- | --- | --- |
| Ossmeteobargone | OssMeteoGeoRaffaelli dal 1883 | Osservatorio Meteorologico,Agrario,Geologico Prof. Don Gian Carlo Raffaelli Fondato nel 1883 a Bargone Casarza Ligure GE osservatorioraffaelli1883@gmail.com | 5,000 |
| ExploraGenova | Explora | vivila | scoprila | amala | 4,229 |
| crpiemonte | Cr Piemonte | Il canale twitter ufficiale del Consiglio regionale del #Piemonte. | 4,176 |
| CCIAARIVLIG | CCIAA RIVLIG | Camera di Commercio Riviere di Liguria - Imperia La Spezia SavonaSocial media policy https://t.co/pFKkkVMctA | 3,172 |
| AlsoliCinzia | cinzia.alsoli | #SaveSoil for saving soil is my commitment. | 3,083 |
| NatereF | Romina Fucà | Views are only my own. UNIVR Dept. of Management affiliated since 2020. https://t.co/QKman8MTkr | 2,704 |
| Valessiabi | Valessia | Ci sono due tipi di razzisti: i razzisti e gli antirazzisti! | 2,628 |
| StaserasolounTG | Stasera solo un TG | Non serve seguire tanti TG,Ne basta uno..Però di buon livello | 2,482 |
| robertocosta_ge | roberto costa | Coordinatore @Federparchi #Liguria, vicepresidente @parcoantola, @valliantola, ex AM @PolifarmaSpA, @CAI150, #Alpino #natura #entroterra #bike | 2,470 |
| GTimossi | Giampiero Timossi | Giornalista, dirige @Telenord ; legge @ilfoglio_it , esclusi i pezzi che scrive. Leggere, sempre. Rileggere Maigret, ogni estate | 2,258 |
Most active users
| Username | Bio | Number of tweets |
| --- | --- | --- |
| Telenord | Canale 11 in Liguria - Canale 165 in Piemonte - Direttore responsabile @GTimossi | 17 |
| Ossmeteobargone | Osservatorio Meteorologico,Agrario,Geologico Prof. Don Gian Carlo Raffaelli Fondato nel 1883 a Bargone Casarza Ligure GE osservatorioraffaelli1883@gmail.com | 14 |
| CCIAARIVLIG | Camera di Commercio Riviere di Liguria - Imperia La Spezia SavonaSocial media policy https://t.co/pFKkkVMctA | 6 |
| AnciLiguria | Associazione di rappresentanza delle Autonomie locali liguri.https://t.co/UfevxcmvGn… | 5 |
| GTimossi | Giornalista, dirige @Telenord ; legge @ilfoglio_it , esclusi i pezzi che scrive. Leggere, sempre. Rileggere Maigret, ogni estate | 5 |
| GiovanniToti | Presidente della Regione Liguria, giornalista, politico per cambiare il Paese con i fatti 🇮🇹 | 4 |
| Orientaliguria | Il più grande evento virtuale italiano su orientamento, formazione e lavoro! #Orientamenti2022 a Genova e in Liguria | 4 |
| CinziettaPisa | Amo fare le cose più difficili! | 3 |
| Marco96477869 | - | 3 |
| PierluigiVinai | Pacta sunt servanda semper! Shema' Ysrael, Ado-nai Eloheinu, Ado-nai ehadLe ciel étoilé qu'on voit toute l'année au Crack des chevaliers | 3 |
---
Tweets per day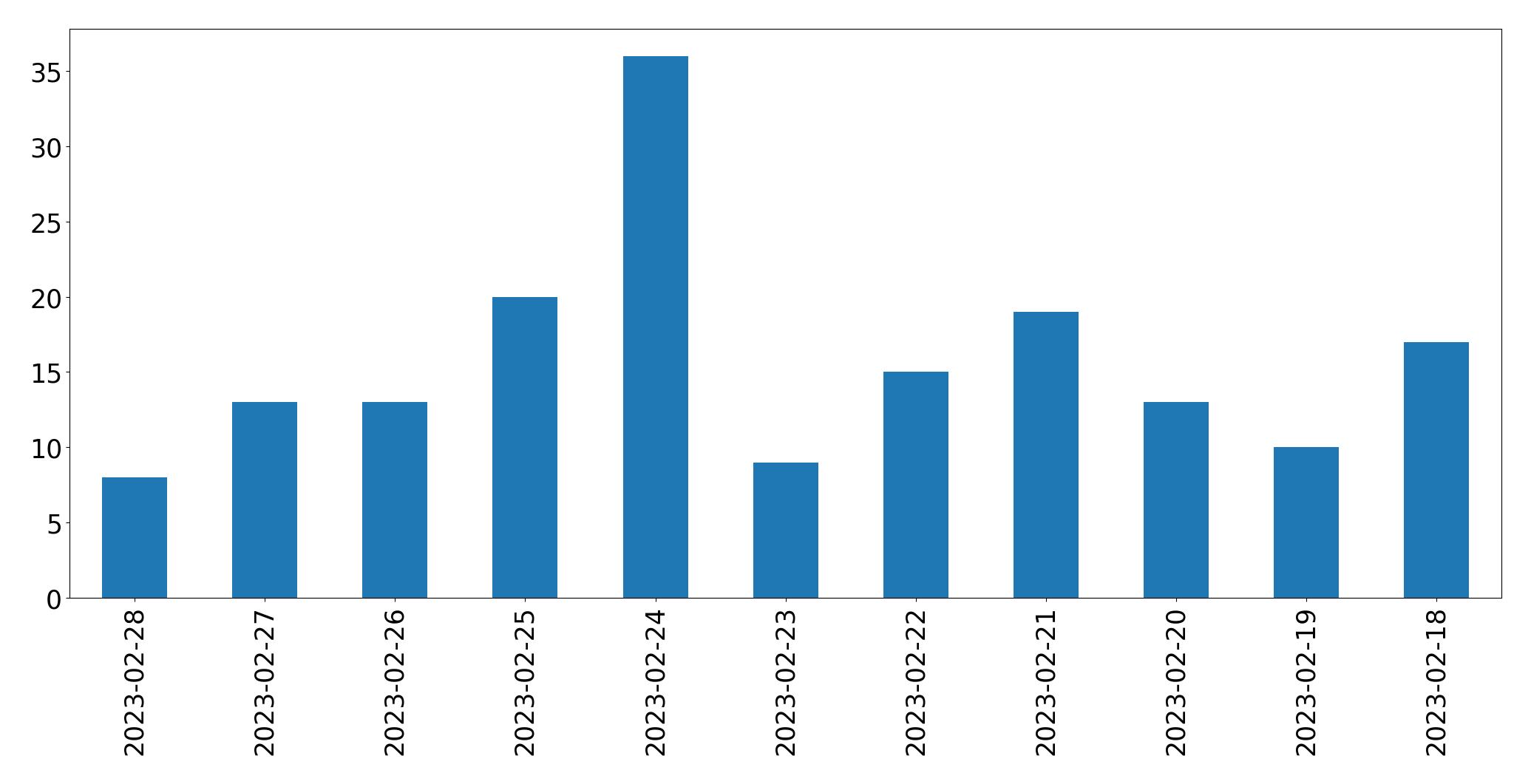 ---
Top 10 tweets with highest Retweet count
| ID | Text | Retweet count |
| --- | --- | --- |
| 1628116209051787266 | Soccorso dai volontari di ENPA Genova con l'aiuto degli addetti di ⁦@RegLiguria⁩ .Il giovane lupo è grave ma non disperiamo di salvarlo per restituirlo alla libertà ⁦@lazampa⁩ ⁦@VotaSpartaco⁩ ⁦@eleonoralilli82⁩ ⁦@blusewillis2⁩ https://t.co/dDIb34JpaW | 36 |
| 1628121030542692360 | Decisione miope del Comune di Portofino che allontana la capra-mascotte. La abbiamo accolta noi nel Cras ENPA di Campomorone e ce ne prendiamo cura con amore ⁦@ComunediGenova⁩ ⁦@RegLiguria⁩ https://t.co/kQVhxFRDto | 30 |
| 1630325995143307265 | ENPA "Portofino non vuole Ringo. Pronti ad accoglierla nel nostro CRAS di Campomorone" Ma nel frattempo è scomparsa, forse salita in montagna… ⁦@RegLiguria⁩ https://t.co/qhTAqWYFOp | 12 |
| 1628453478774325250 | Giornata bella e speciale:manovre di primo soccorso ed #educazionesanitaria in età pediatrica offerte da colleghi #infermieri esperti ai cittadini (fra questi un super nonno motivatissimo! Bravo👏👌); presenti funzionari di @poliziadistato e il presidente Giunta @RegLiguria https://t.co/JXiFR83lHd | 5 |
| 1628032897813807106 | L'inutile e costosa recinzione anti #pestesuina fra @RegLiguria e @regionepiemonte. I cancelli sono privi di rete e i cinghiali scavando nel terreno riescono tranquillamente a passare dall'altra parte. E nulla si fa per contenerne il numero. Il #Commissario cosa intende fare? https://t.co/XlxHACsVeW | 5 |
| 1627428650051067907 | Attacco informatico a #ASL5 @RegLiguria 🔹 https://t.co/BAHYNlTJV6 [ Segnalato da @BModularis ] https://t.co/52e06hicjJ | 4 |
| 1629925462775324673 | ❄️#Neve in #Liguria, viaggio nell'entroterra. Le #immagini più #belle della nevicata a #Pontinvrea 📲inviateci le vostre foto o video delle diverse località dove la neve ha reso magico il #paesaggio e saranno pubblicate 📸#liguria #neve @RegLiguria https://t.co/Lstw67O3Xb | 4 |
| 1629562344278749187 | Le scritte comparse in queste ore sul palazzo di @RegLiguria dimostrano ancora una volta che il clima d'odio che sta dilagando nel nostro Paese è diventato intollerabile. Le istituzioni devono essere unite e saper gestire con risolutezza e polso fermo i momenti di tensione. https://t.co/habOX9MPRi | 3 |
| 1628524763609006080 | Un anno di guerra in Europa. Il 24 febbraio presidio a Genova per chiedere il "cessate il fuoco" https://t.co/j78xIugLPz via @genovanewsgaia | @gaiaitaliacom @ukr @RegLiguria @FisacCGILgenova @RetePaceDisarmo | 3 |
| 1630153033936957441 | #Genova, a febbraio si prevedono 5.670 #assunzioni, 1200 in più rispetto al 2022: solo il 24% contratto stabile https://t.co/iKUeIhcwfa @RegLiguria | 2 |
Top 10 tweets with highest Like count
| ID | Text | Like count |
| --- | --- | --- |
| 1628121030542692360 | Decisione miope del Comune di Portofino che allontana la capra-mascotte. La abbiamo accolta noi nel Cras ENPA di Campomorone e ce ne prendiamo cura con amore ⁦@ComunediGenova⁩ ⁦@RegLiguria⁩ https://t.co/kQVhxFRDto | 107 |
| 1628116209051787266 | Soccorso dai volontari di ENPA Genova con l'aiuto degli addetti di ⁦@RegLiguria⁩ .Il giovane lupo è grave ma non disperiamo di salvarlo per restituirlo alla libertà ⁦@lazampa⁩ ⁦@VotaSpartaco⁩ ⁦@eleonoralilli82⁩ ⁦@blusewillis2⁩ https://t.co/dDIb34JpaW | 89 |
| 1630325995143307265 | ENPA "Portofino non vuole Ringo. Pronti ad accoglierla nel nostro CRAS di Campomorone" Ma nel frattempo è scomparsa, forse salita in montagna… ⁦@RegLiguria⁩ https://t.co/qhTAqWYFOp | 22 |
| 1629562344278749187 | Le scritte comparse in queste ore sul palazzo di @RegLiguria dimostrano ancora una volta che il clima d'odio che sta dilagando nel nostro Paese è diventato intollerabile. Le istituzioni devono essere unite e saper gestire con risolutezza e polso fermo i momenti di tensione. https://t.co/habOX9MPRi | 20 |
| 1628453478774325250 | Giornata bella e speciale:manovre di primo soccorso ed #educazionesanitaria in età pediatrica offerte da colleghi #infermieri esperti ai cittadini (fra questi un super nonno motivatissimo! Bravo👏👌); presenti funzionari di @poliziadistato e il presidente Giunta @RegLiguria https://t.co/JXiFR83lHd | 14 |
| 1628032897813807106 | L'inutile e costosa recinzione anti #pestesuina fra @RegLiguria e @regionepiemonte. I cancelli sono privi di rete e i cinghiali scavando nel terreno riescono tranquillamente a passare dall'altra parte. E nulla si fa per contenerne il numero. Il #Commissario cosa intende fare? https://t.co/XlxHACsVeW | 11 |
| 1627428650051067907 | Attacco informatico a #ASL5 @RegLiguria 🔹 https://t.co/BAHYNlTJV6 [ Segnalato da @BModularis ] https://t.co/52e06hicjJ | 11 |
| 1628496072707276800 | Subito dopo, incontro su sicurezza in montagna in ambiente innevato, dedicato a guide e accompagnatori escursionistici ambientali, con esperti #meteomont @cnsas_official e @RegLiguria https://t.co/d3pF2wnpbf https://t.co/DPnbgiu76g https://t.co/3t4T7flxxO | 8 |
| 1628795079291707394 | Compartimos hermoso video de diferentes locaciones de la @RegLiguria Liguria: 55 luoghi da non perdere https://t.co/S0mUVRjBbX via @FacebookWatch #Liguria #AGACU https://t.co/3qADpeNN3P | 7 |
| 1627638140788699136 | Più di 100 milioni di opere per cambiare il volto della #Liguria: questo è il bilancio degli ultimi 7 anni di lavoro in cui come @RegLiguria abbiamo riqualificato quartieri, restituito ai cittadini luoghi da troppo tempo abbandonati al degrado. Leggi 👉 https://t.co/BthMk0XDHD https://t.co/qsxhIb42O9 | 6 |
Top 3 Languages Used In Tweets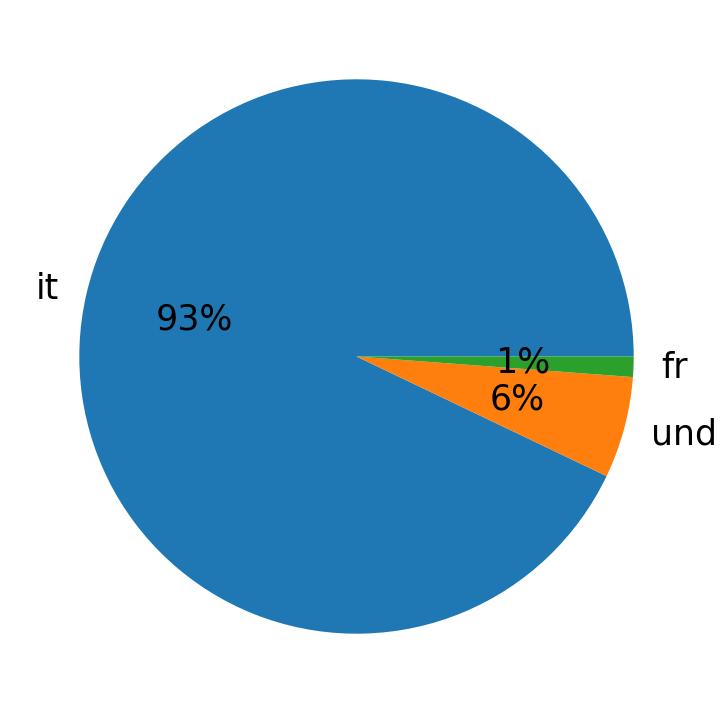 ---
Top 10 Hashtags used
| Hashtag | Count |
| --- | --- |
| #liguria | 29 |
| #genova | 9 |
| #neve | 6 |
| #toti | 6 |
| #formazione | 5 |
| #carnevale | 5 |
| #infermieri | 4 |
| #parcoaveto | 4 |
| #rigenerazioneurbana | 4 |
| #efficienza | 3 |
Top 10 Hashtags Used In Tweets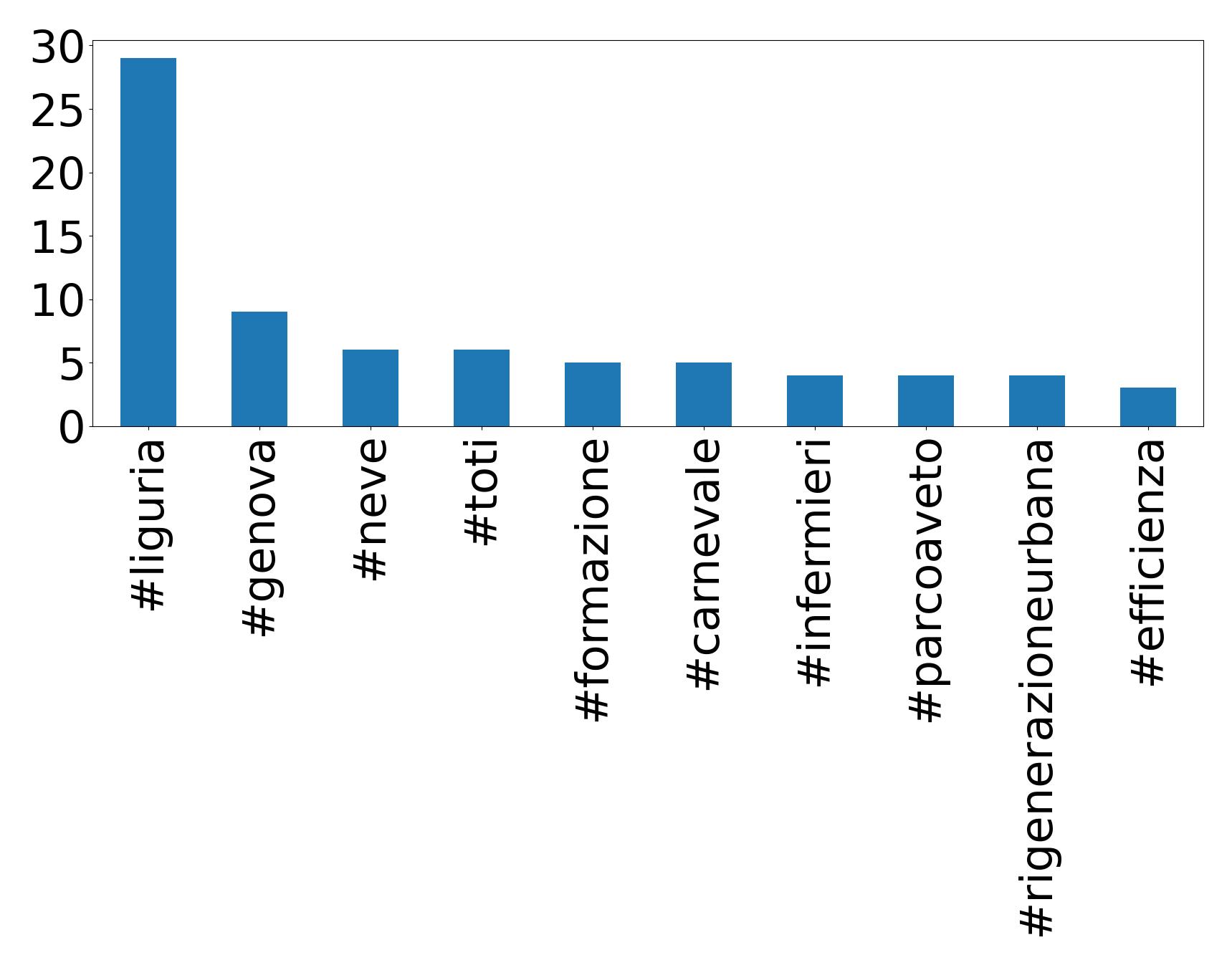 Top 10 mentions
| Mention | Count |
| --- | --- |
| @regliguria | 172 |
| @giovannitoti | 29 |
| @comunedigenova | 21 |
| @enpaonlus | 18 |
| @scajolam | 8 |
| @lazampa | 8 |
| @votaspartaco | 7 |
| @eleonoralilli82 | 7 |
| @blusewillis2 | 7 |
| @telenord | 6 |
Top 10 mentions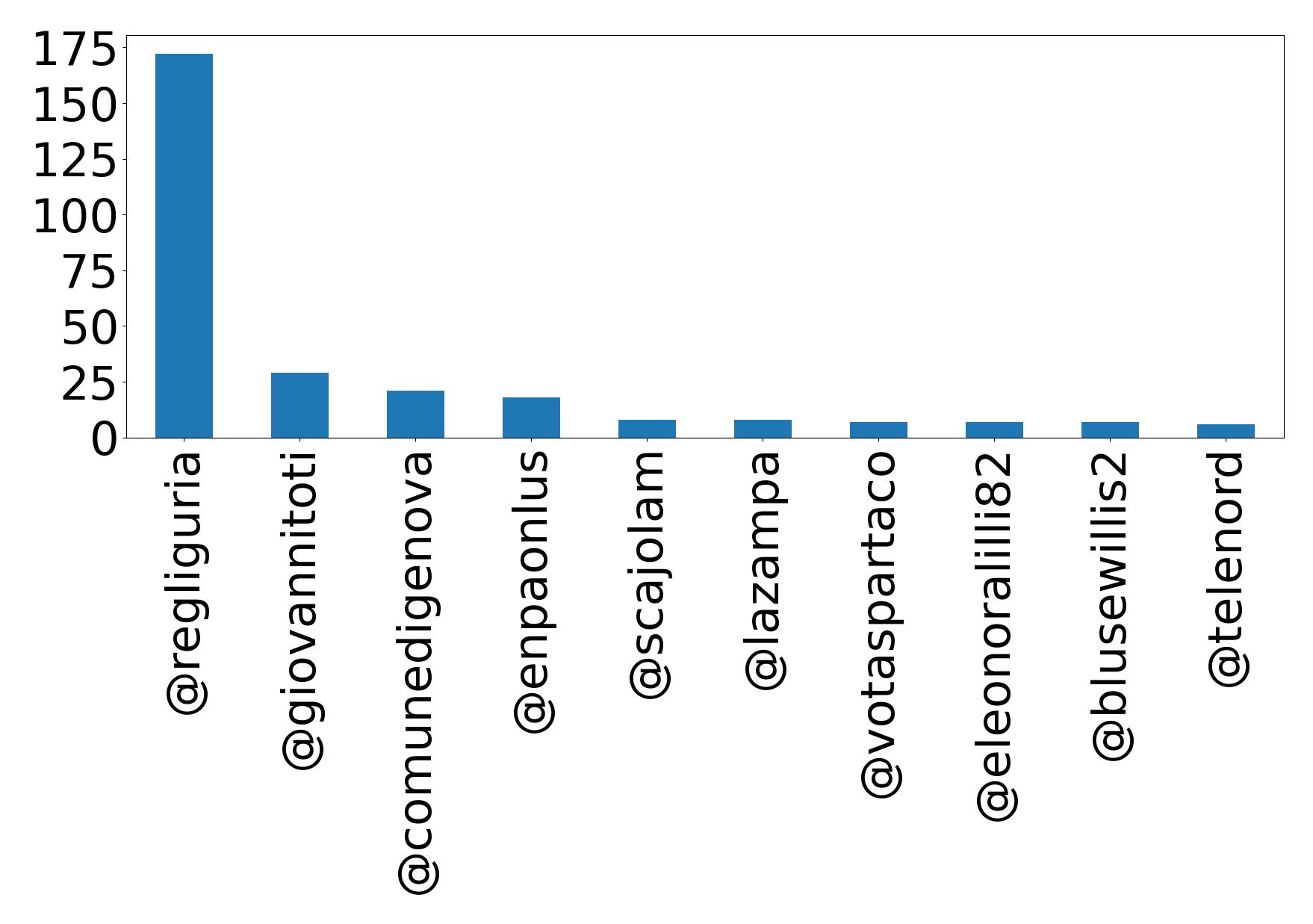 Wordcloud of Tweets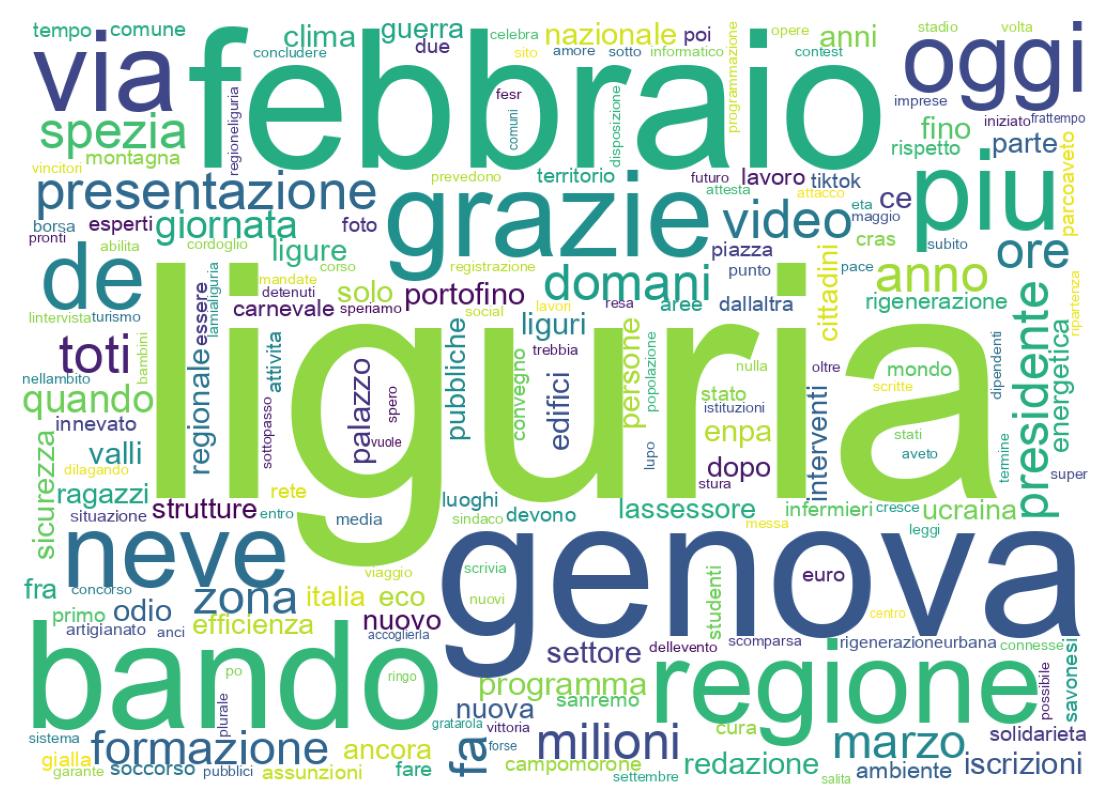 ---
Emojis
Average number of emojis used per tweet
102
Emojis used in tweets
| Emoji | Count | Emoji Text |
| --- | --- | --- |
| 👉 | 10 | backhand_index_pointing_right |
| ✅ | 8 | check_mark_button |
| 🤮 | 6 | face_vomiting |
| 🙏🏻 | 5 | folded_hands_light_skin_tone |
| ℹ️ | 5 | information |
| 📌 | 5 | pushpin |
| ⏱️ | 5 | stopwatch |
| 😂 | 5 | face_with_tears_of_joy |
| 🙏 | 5 | folded_hands |
| ❤️ | 5 | red_heart |
Emojis groups
| Emoji Group | Count |
| --- | --- |
| People & Body | 49 |
| Symbols | 36 |
| Objects | 30 |
| Smileys & Emotion | 25 |
| Travel & Places | 17 |
| Activities | 10 |
| Animals & Nature | 5 |
| Food & Drink | 4 |
| Flags | 2 |