Tweets Analysis - Keyword: @Pele
Total number of tweets analysed
1,116
Earliest tweet was on
2023-03-22
Latest tweet was on
2023-03-31
Average age of authors' accounts
5 years
---
Summarization
The tweets pay tribute to Pele, the greatest football player in history, and reflect on his legacy. They also discuss the strength of Brazilian and Argentinean football in comparison to European leagues and highlight Pele's achievements as one of the all-time leading goal-scorers. There are also mentions of Pele's influence on current football players and his impact on the sport.
Topic Modeling
Tribute to Pele and his legacy.
Football history and the comparison between South American and European leagues.
Personal admiration for Pele as a public figure.
Artistic expressions honoring Pele and other idols.
Football statistics and records of players.
Emotional Analysis
The emotions expressed in these tweets are mainly admiration, respect and love towards the football icon Pele. Several tweets commemorate his achievements and legacy, while others defend his reputation and criticize Eurocentrism. There is also excitement and pride in wearing his jersey, and appreciation for his influence on Brazilian football. Lastly, there is a sense of pride and patriotism when comparing Brazilian and Argentinean football to European leagues.
Trend Analysis
Celebrating Pele's legacy and influence in football
Comparing Brazilian and European football leagues
Personal tributes and homages to Pele
Sharing Pele's accomplishments and records in football
Debating the superiority of South American football over European football
---
Types of Tweets
Number of Retweets
97
Percentage of total tweets
8%
Number of Original tweets
83
Percentage of total tweets
7%
Number of tweets that contain Mentions
1,116
Percentage of total tweets
100%
Number of tweets that were Replies
908
Percentage of total tweets
81%
Number of tweets that were Quotes
36
Percentage of total tweets
3%
Number of tweets that contain Hashtags
72
Percentage of total tweets
6%
---
Top 5 devices used to tweet
| Source | Count |
| --- | --- |
| Twitter for Android | 640 |
| Twitter for iPhone | 294 |
| Twitter Web App | 168 |
| Twitter for iPad | 8 |
| TweetDeck | 3 |
What devices were used to tweet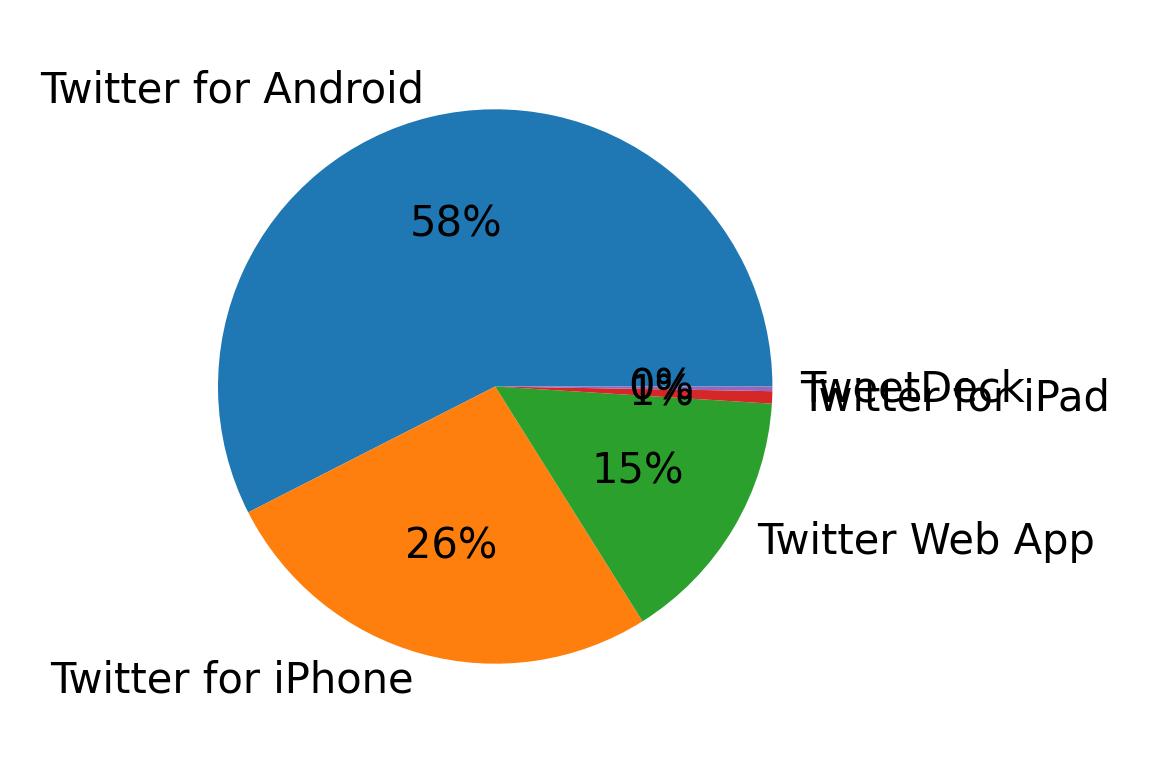 ---
Top 10 accounts with highest followers count
| Username | Name | Bio | Followers count |
| --- | --- | --- | --- |
| CBF_Futebol | CBF Futebol | OFICIAL - Twitter da Confederação Brasileira de Futebol | 5,747,523 |
| SantosFC | Santos FC | Twitter Oficial do Santos FC • https://t.co/nGILmGi48H • https://t.co/boktFUTdt2 • https://t.co/x3HJLc8QPM • https://t.co/2UhYqA3ykX | 3,103,654 |
| RodrygoGoes | Rodrygo Goes | Atleta do @realmadrid e da @cbf_futebol 🇧🇷, revelado pelo @santosfc. 📧 rodrygo@letsvanquish.com | 2,854,757 |
| CONMEBOL | CONMEBOL.com | Fútbol desde 1916. | 1,914,801 |
| JeffreyGuterman | Dr. Jeffrey Guterman | Retired mental health counselor | #ForeverObidient: @PeterObi: https://t.co/smc8Afq5Yr | @StratOMatic Baseball Network: https://t.co/s9OXHdMcTC 🎲 | 520,779 |
| UtdFaithfuls | UF | Official Utd Faithfuls account #UF • DM for business/enquiries 📥 | 281,281 |
| alertatotal | Jorge Serrão | Jorge Serrão é Jornalista-raiz. Editor-chefe deste Alerta Total. Comentarista Político da Gazeta do Povo e da Jovem Pan. Flamengo até morrer! | 239,635 |
| Edward733 | ஜ۩ღEdward Simღ۩ஜ #愛 HIKARU❤ | #Blender #Wings3D #SketchUp #LibreCAD #FreeCAD #Inkscape #GIMP #LMMS #FLstudio #Kerkythea #POV_Ray #Sweet_Home_3D #OpenOffice ღ✧ JP & KR ✧ღ ❀Google♡Chrome❀ | 224,895 |
| BrahmaCerveja | BRAHMA | Conteúdo 18+. Não compartilhe com menores de idade. #BebaComModeração | 161,395 |
| OlympicKhel | Olympic Khel | This is the official Indian account for the Olympic Games by the International Olympic Committee (IOC)! | 137,052 |
Top 10 accounts with highest friends count
| Username | Name | Bio | Followers count |
| --- | --- | --- | --- |
| Edward733 | ஜ۩ღEdward Simღ۩ஜ #愛 HIKARU❤ | #Blender #Wings3D #SketchUp #LibreCAD #FreeCAD #Inkscape #GIMP #LMMS #FLstudio #Kerkythea #POV_Ray #Sweet_Home_3D #OpenOffice ღ✧ JP & KR ✧ღ ❀Google♡Chrome❀ | 251,583 |
| SuzanneLepage1 | Suzanne Lepage | Aidante naturelle pour ma mère atteinte d'Alzheimer Merci Twitter pour mon seul répit.Vous n'avez aucune idée du bien-être que ça m'apporte! Caregiver for mom! | 43,843 |
| enyenyb | eny (えに) | @1331saint @woekisryo123 @4649douzo1 @prosekapiano | 42,783 |
| FelicPalma | Felic Palma | Ingeniero, Empresario Industrial- Instagram:@felic.palma https://t.co/xsNdLsT4lZ :feloii - Follow for Follow No DM📵block 🇨🇱🇺🇸 | 37,537 |
| CarVidro | CarVidro 🤍 | Mí vida gira en torno a los deportes: REAL MADRID ⚽ MAGALLANES⚾ LAKERS🏀 DANZ⚽ MARINOS🏀 RIVER⚽ PATRIOTS🏈 COLO COLO⚽️ | 18,726 |
| cubbystrickland | Cubby Strickland | ⚡️@TheSportsAffili⚡️#NFLDraft #FFIDP #DFS🏈 4-merly Niners Lab. In a movie 'El Cóndor en Nueva York' #SFB12 #FCE rip🧃9️⃣9️⃣9️⃣ 49ers, NYY, Cuse🍊, Lakers💔8+24 | 12,350 |
| WyclefPresley | Wyclef Presley | Anything Manchester United- Sportsbetting 🐐 https://t.co/vu8OEll4cV | 11,701 |
| FREDCHAMECHAME | FRED DO CHAME-CHAME 🏃‍♂️ | Fred Flávio. Produtor Esportivo. Economista. Radialista. Corredor de Rua. Minha Família Minha Vida. Leitor voraz. Cultura Pop. BBMP. Instagram: @fredchamechame | 11,594 |
| cadeirantes_Br | @Cadeirantes_Br👨🏻‍🦽🇧🇷 🌵 | Mais conectado com o bem. Participante da bancada digital oficial do Teleton. Fazer o bem é bom. Siga e faça uma doação ao @TeletonOficial | 11,384 |
| RyanKennedy_22 | Ryan Kennedy | Self-proclaimed #FantasyFootball Expert, Proud Dad & Husband, #NFL fan living in #SteelerNation, #DadJokes from the #RV #ChooseKind #TeacherTwitter #SFB12 | 10,624 |
Most active users
| Username | Bio | Number of tweets |
| --- | --- | --- |
| AnamnesisF | Pasión por el fútbol. Datos y opiniones 📝 | 17 |
| LewiBizzle | Beware the Ides of March | 16 |
| heker_angolano | - | 10 |
| antoniomrota | - | 10 |
| ediddy1979 | #STLCards #GoBucs #stlblues #GoHoos #BullsNation #Veteran #ClearedPro #IndependentVoter | 7 |
| cubbystrickland | ⚡️@TheSportsAffili⚡️#NFLDraft #FFIDP #DFS🏈 4-merly Niners Lab. In a movie 'El Cóndor en Nueva York' #SFB12 #FCE rip🧃9️⃣9️⃣9️⃣ 49ers, NYY, Cuse🍊, Lakers💔8+24 | 6 |
| PAR4lIAX | Pro R6??? Pro COD???? | 6 |
| osasuo | 🇬🇧 🇳🇬 Brit-Naija. Sometimes @BBC_WF reporter. African footy junkie. Lawyer. @blzzrd writer. Ex- FIFA Anti-Racism Task Force. Ex-@thenff's Reforms Committee. | 5 |
| HCandiani_ | 23y | Economista 🎓💰 | Santos Futebol Clube 🤍🖤 | ig: Henrique_candiani | 5 |
| EduLoker_YT | Oi | 5 |
---
Tweets per day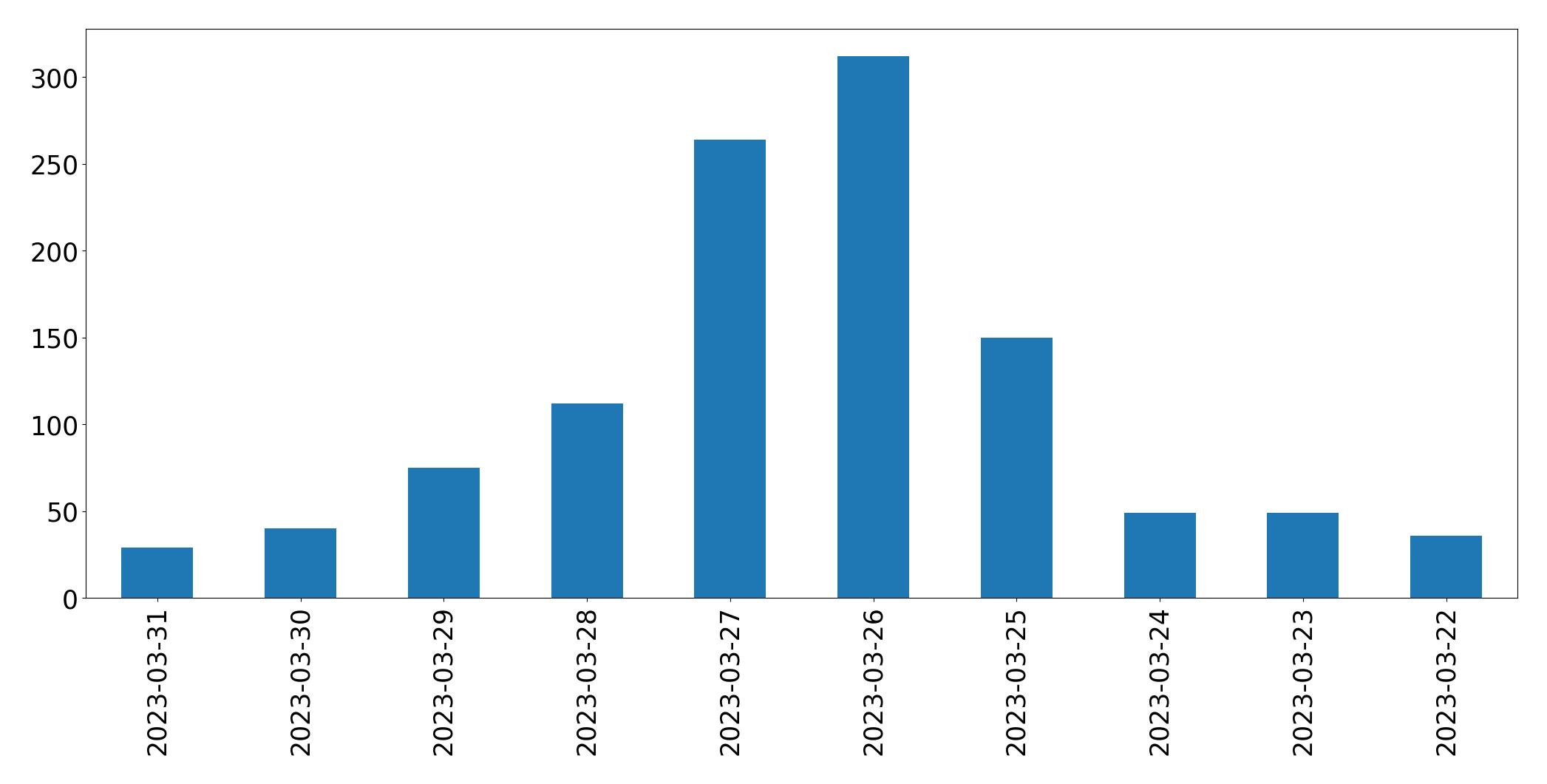 ---
Top 10 tweets with highest Retweet count
| ID | Text | Retweet count |
| --- | --- | --- |
| 1640045226419945473 | Infelizmente nem sempre tudo sai como planejamos. É um momento novo, de recomeço e muito trabalho, mas a noite de ontem foi muito especial pra mim. Foi uma honra vestir essa camisa e homenagear o maior 10 da história do futebol, nosso Rei @Pele. Seu legado é eterno! https://t.co/CIws44jQaI | 1002 |
| 1639750933314772992 | Você é eterno, Rei @Pele! 🤴🏿 | 274 |
| 1639718422991831042 | O Rei @Pele, lá de cima, está muito orgulhoso de você. 🤍🖤 📸 Rafael Ribeiro / @CBF_Futebol https://t.co/24eJIiYTys | 65 |
| 1640609668937523201 | President Jimmy Cater and @Pele at the White House on this date March 28 in 1977. Photo source: Jimmy Carter Presidential Library. #OTD ⚽️ https://t.co/RB2kYXUDas | 28 |
| 1638629886167330825 | @RodrygoGoes olhando o quadro da nossa majestade @Pele no vestiário do campo anexo do IBN Batouta no Marrocos 🇲🇦👁️ https://t.co/hCVpDOShqe | 26 |
| 1639744946688204801 | Homenagem da @CBF_Futebol 🇧🇷ao Rei 👑 do futebol! @Pele ♾️ #Pele #PeleEterno https://t.co/DQ3Vw3FfUO | 13 |
| 1639706760540725250 | @IranMota10 @Pele Great truth. It is really stupid to slander Pelé and Brazilian football. The worst thing is listening to Brazilians talking shit about Pelé. | 11 |
| 1641202246774824960 | Máximos goleadores de la historia en partidos oficiales: 832 🇵🇹 @Cristiano: 1157 PJ (0.72) 803 🇦🇷 Messi: 1018 PJ (0.79) 793 🇦🇹🇨🇿 Bican: 524 PJ (1.51) 756 🇧🇷 @Pele: 818 PJ (0.92) 744 🇧🇷 Romário 956 PJ (0.78) 709 🇭🇺 Puskás: 719 PJ (0.99) 678 🇩🇪 G. Müller: 755 PJ (0.90) https://t.co/zNh5FuYJnn | 10 |
| 1639356415235219456 | O jogador de futebol @gabigol convidou o artista plástico @LuanRibeirovisk para grafitar as paredes de sua casa, homenageando alguns dos seus ídolos como Tim Maia, @Pele e @manobrown! A arte ficou incrível! https://t.co/gsd1ARtEoz | 10 |
| 1639700023289040897 | @AnamnesisF @Pele People forget that "farmers" from Brazil played four world cup finals in 20 years without any of them playing in Europe (1950, 1958, 1962, 1970) | 8 |
Top 10 tweets with highest Like count
| ID | Text | Like count |
| --- | --- | --- |
| 1640045226419945473 | Infelizmente nem sempre tudo sai como planejamos. É um momento novo, de recomeço e muito trabalho, mas a noite de ontem foi muito especial pra mim. Foi uma honra vestir essa camisa e homenagear o maior 10 da história do futebol, nosso Rei @Pele. Seu legado é eterno! https://t.co/CIws44jQaI | 24974 |
| 1639750933314772992 | Você é eterno, Rei @Pele! 🤴🏿 | 1486 |
| 1638629886167330825 | @RodrygoGoes olhando o quadro da nossa majestade @Pele no vestiário do campo anexo do IBN Batouta no Marrocos 🇲🇦👁️ https://t.co/hCVpDOShqe | 1257 |
| 1639718422991831042 | O Rei @Pele, lá de cima, está muito orgulhoso de você. 🤍🖤 📸 Rafael Ribeiro / @CBF_Futebol https://t.co/24eJIiYTys | 871 |
| 1639700023289040897 | @AnamnesisF @Pele People forget that "farmers" from Brazil played four world cup finals in 20 years without any of them playing in Europe (1950, 1958, 1962, 1970) | 864 |
| 1639706760540725250 | @IranMota10 @Pele Great truth. It is really stupid to slander Pelé and Brazilian football. The worst thing is listening to Brazilians talking shit about Pelé. | 618 |
| 1639698983856603137 | @Worldfootball67 @Pele Argentine and Brazilian Football were better than the European leagues 😎 | 281 |
| 1639706157152444417 | @fxpdo60 @Pele Gracias. Creo que los agricultores eran los europeos 🤣 | 221 |
| 1640359820560674817 | @Casemiro @Pele Capitão Casemiro ❤️ | 215 |
| 1639356415235219456 | O jogador de futebol @gabigol convidou o artista plástico @LuanRibeirovisk para grafitar as paredes de sua casa, homenageando alguns dos seus ídolos como Tim Maia, @Pele e @manobrown! A arte ficou incrível! https://t.co/gsd1ARtEoz | 198 |
Top 3 Languages Used In Tweets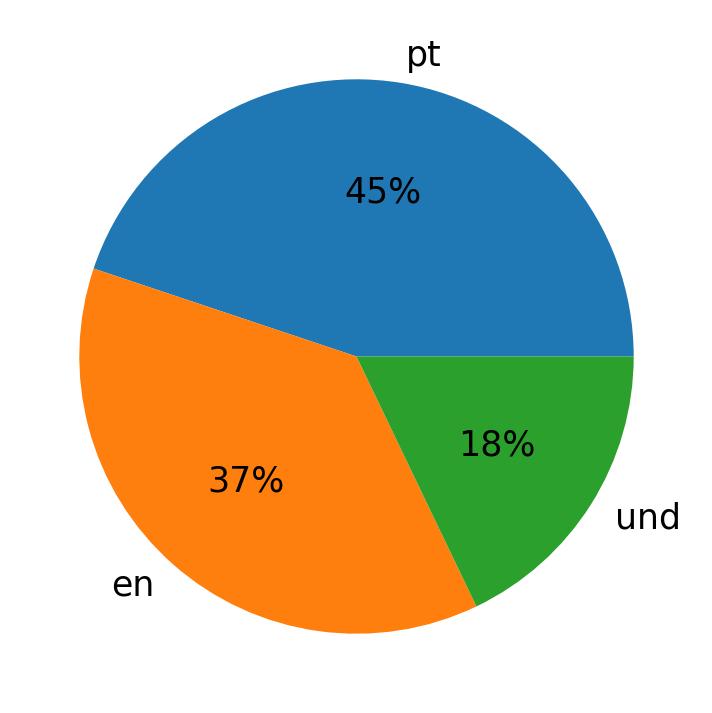 ---
Top 10 Hashtags used
| Hashtag | Count |
| --- | --- |
| #messi | 9 |
| #kigali | 7 |
| #totalenergiesafcon2023q | 7 |
| #cheetahs | 7 |
| #pele | 6 |
| #rwanda | 5 |
| #football | 4 |
| #benin | 4 |
| #josefbican | 3 |
| #beninrepublic | 3 |
Top 10 Hashtags Used In Tweets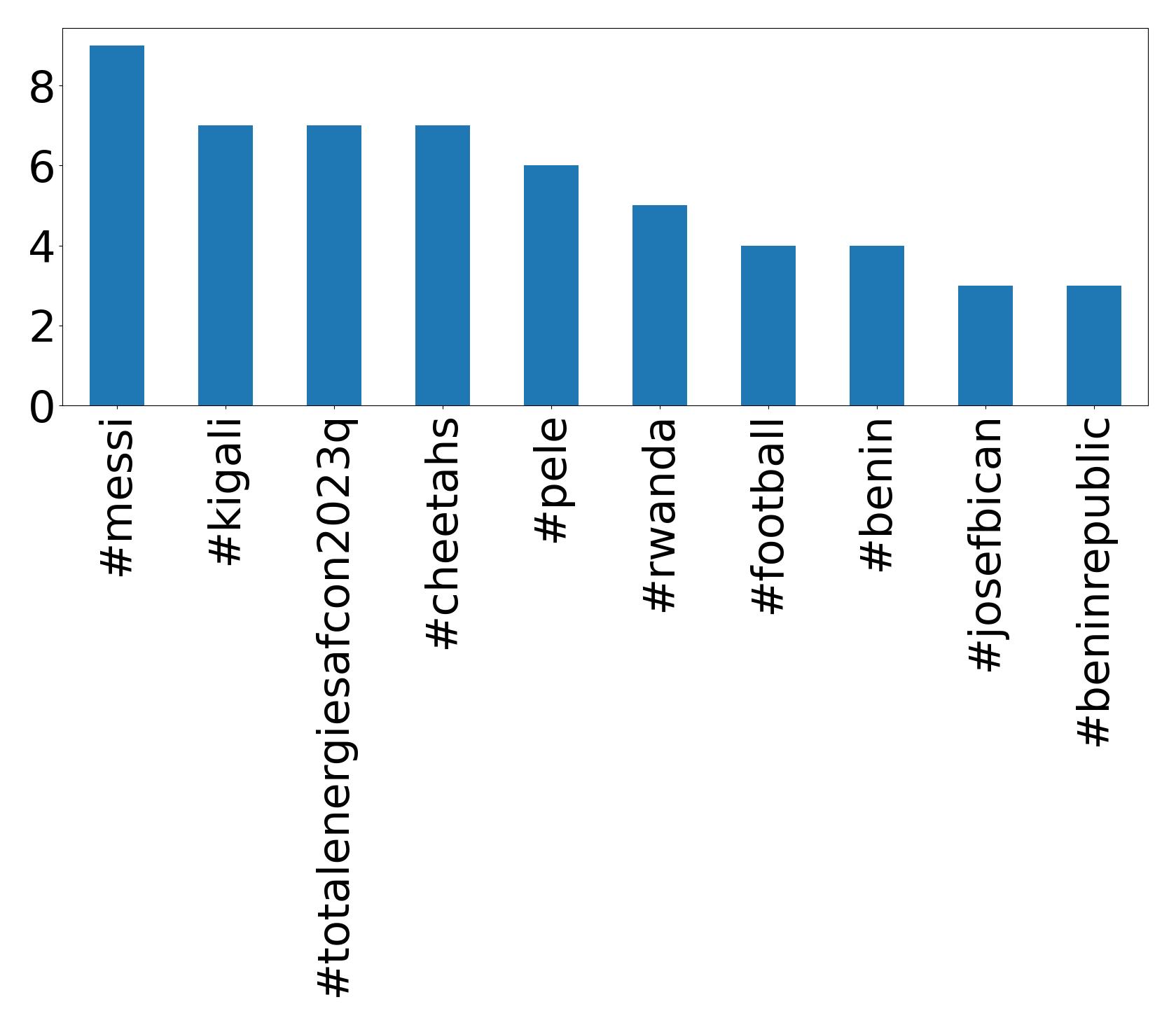 Top 10 mentions
| Mention | Count |
| --- | --- |
| @pele | 1118 |
| @rodrygogoes | 248 |
| @anamnesisf | 206 |
| @casemiro | 177 |
| @cbf_futebol | 103 |
| @santosfc | 83 |
| @cristiano | 47 |
| @worldfootball67 | 31 |
| @west_hambr | 27 |
| @neymarjr | 24 |
Top 10 mentions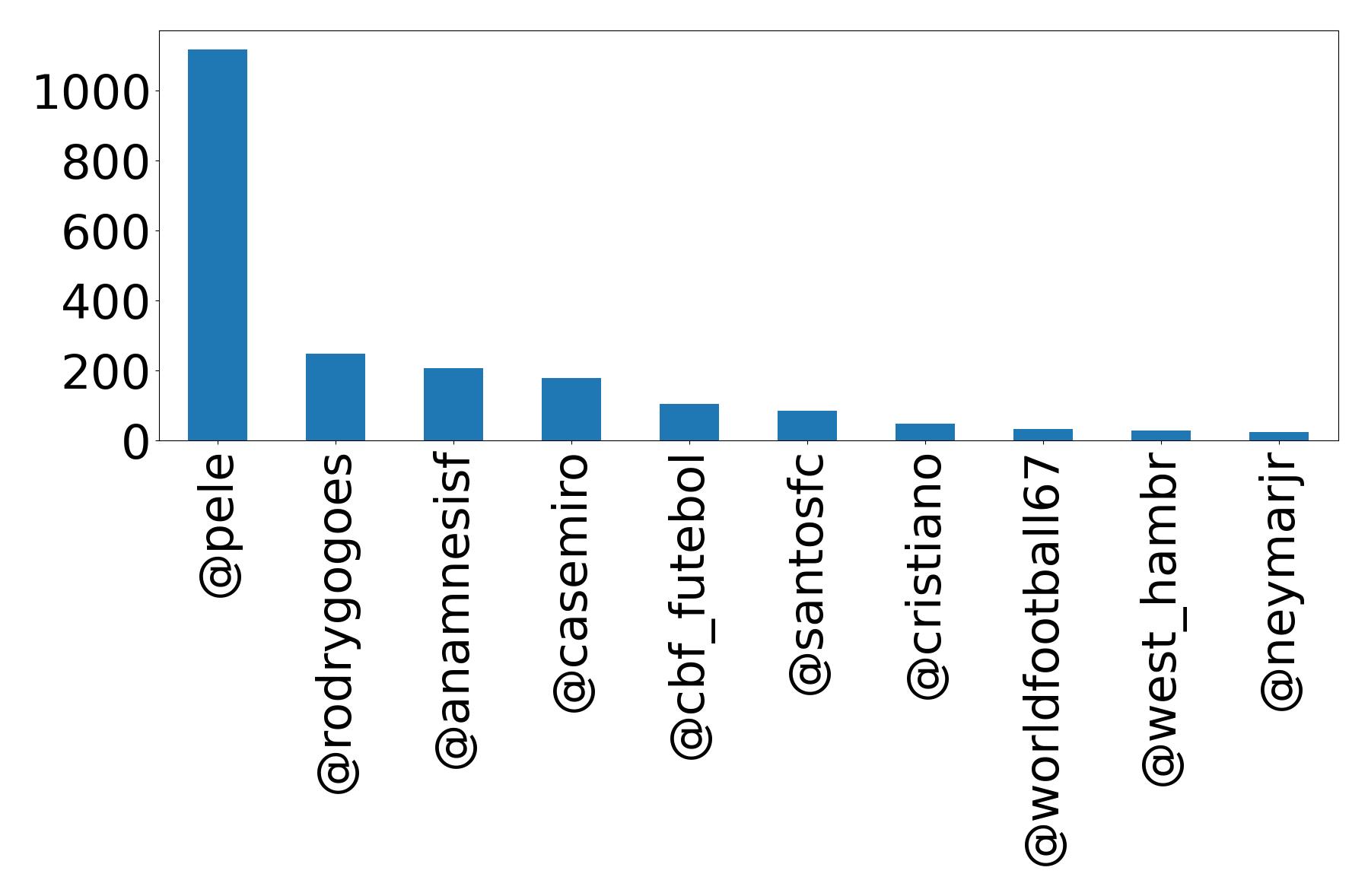 Wordcloud of Tweets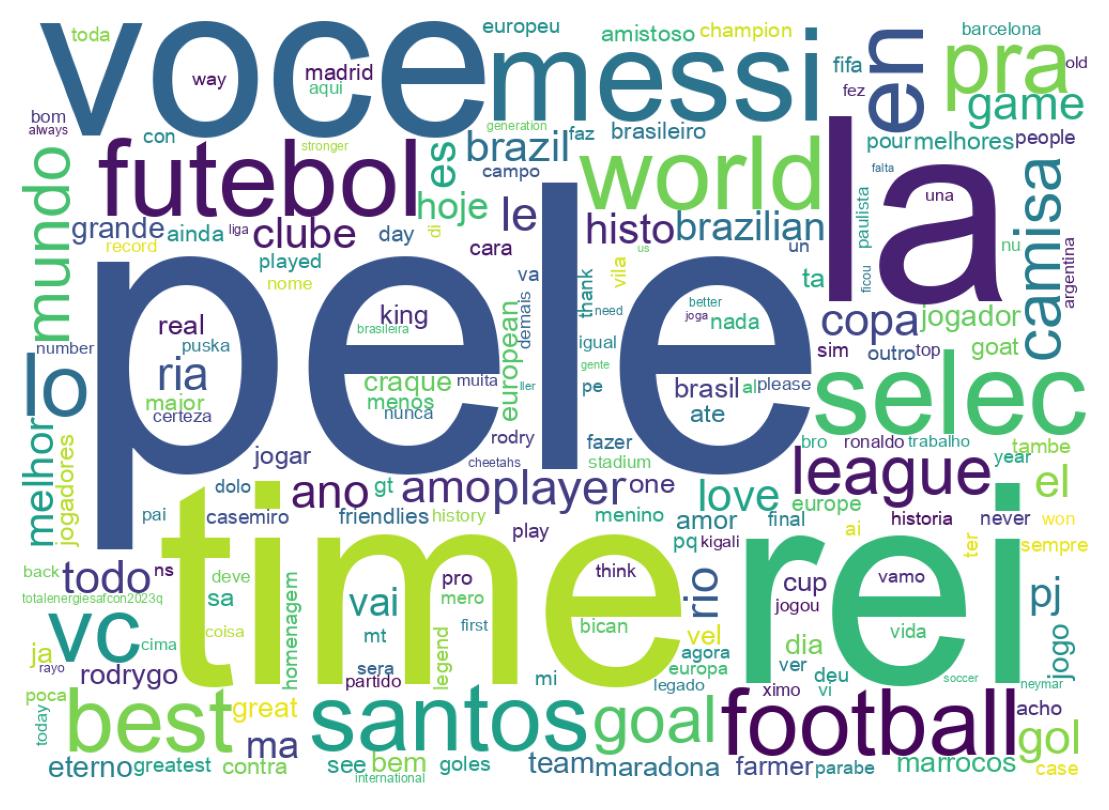 ---
Emojis
Average number of emojis used per tweet
71
Emojis used in tweets
| Emoji | Count | Emoji Text |
| --- | --- | --- |
| 🤍 | 70 | white_heart |
| ❤️ | 51 | red_heart |
| 🇧🇷 | 44 | Brazil |
| 😂 | 37 | face_with_tears_of_joy |
| 😭 | 34 | loudly_crying_face |
| ⚽ | 31 | soccer_ball |
| 👑 | 21 | crown |
| 💛 | 21 | yellow_heart |
| 👏 | 20 | clapping_hands |
| 🖤 | 16 | black_heart |
Emojis groups
| Emoji Group | Count |
| --- | --- |
| Smileys & Emotion | 363 |
| People & Body | 131 |
| Flags | 99 |
| Activities | 59 |
| Symbols | 45 |
| Travel & Places | 38 |
| Objects | 37 |
| Animals & Nature | 25 |
| Food & Drink | 4 |