Tweets Analysis - Keyword: @OleMissSports
Total number of tweets analysed
108
Earliest tweet was on
2023-03-21
Latest tweet was on
2023-03-30
Average age of authors' accounts
9 years
---
Summarization
The tweets cover a range of topics related to the University of Mississippi and its sports programs. There are updates on upcoming events, such as visits and games, as well as praise for the university's athletes and staff. There is also a focus on the success of the women's basketball team and the importance of passing on a legacy to future generations.
Topic Modeling
University of Mississippi and sports events
OleMissSports Rebel Road Trip
Ole Miss Baseball games and coverage
Personal experiences and appreciation for Ole Miss and its sports programs
Track and field and football training and athletes
Emotional Analysis
The emotions expressed in these tweets are mostly positive and enthusiastic, with many expressing excitement and pride about Ole Miss sports teams and events. There are also expressions of gratitude and appreciation for the university and individuals associated with it. Overall, the tweets reflect a strong sense of community and enthusiasm for the Ole Miss sports programs.
Trend Analysis
Sports: mentions of various Ole Miss sports teams and games, including baseball, basketball, and football
Events: upcoming visits, road trips, and games at Ole Miss
Community: mentions of alumni and coaches, as well as excitement from fans
Location: specific locations mentioned, such as Meridian and Pearl
Gratitude: expressions of thanks and appreciation for opportunities and training
---
Types of Tweets
Number of Retweets
27
Percentage of total tweets
25%
Number of Original tweets
28
Percentage of total tweets
25%
Number of tweets that contain Mentions
108
Percentage of total tweets
100%
Number of tweets that were Replies
46
Percentage of total tweets
42%
Number of tweets that were Quotes
14
Percentage of total tweets
12%
Number of tweets that contain Hashtags
28
Percentage of total tweets
25%
---
Top 5 devices used to tweet
| Source | Count |
| --- | --- |
| Twitter for iPhone | 82 |
| Twitter for Android | 15 |
| Twitter Web App | 6 |
| Twitter for iPad | 3 |
| Hootsuite Inc. | 1 |
What devices were used to tweet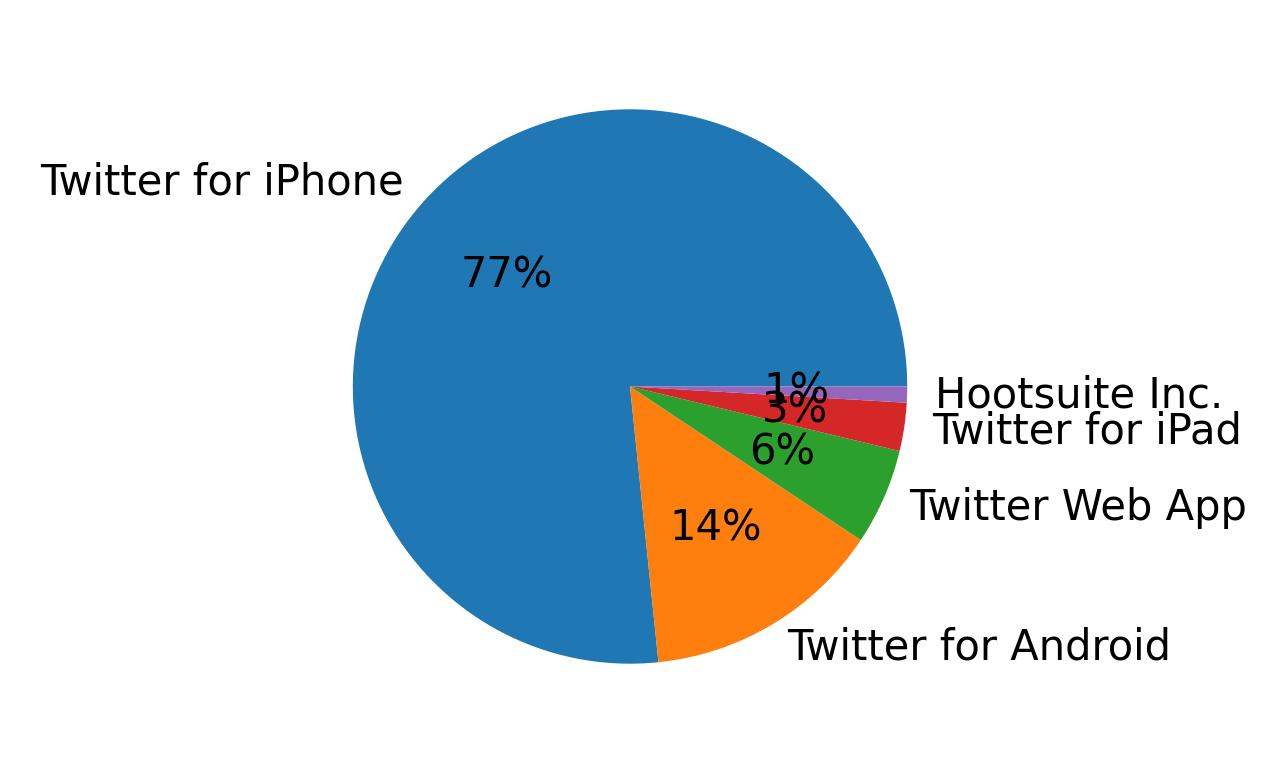 ---
Top 10 accounts with highest followers count
| Username | Name | Bio | Followers count |
| --- | --- | --- | --- |
| RebVoice | David Kellum | David Kellum, play-by-play radio announcer for the Ole Miss Rebels..Football, Basketball, and Baseball. | 30,600 |
| OleMissAlumni | Ole Miss Alumni | Official account of the Ole Miss Alumni Association #HottyToddy | 18,541 |
| quarterbackmag | Quarterback Magazine | Join our exclusive group of modern day QBs and maximize your brand with our digital mag. DM us to gain access and sign up for membership now! #quarterback | 10,678 |
| DeadSoxy | DeadSoxy | Premium socks made for the hustle. | 5,806 |
| Smoke3x | (Rebəl) | WE ARE NOT YOUR KIND! Not a Democrat nor Republican aka Crooks & Thieves! I refuse to jump in a 📦 (Rebəl) #MetalHead #HottyToddy #GoNiners #FTTB🤘 | 3,963 |
| RebelBasser | Patrick Payne | Loves Ole Miss Football & Bass Fishing!!🎣🎣 Spending Time With The Family!! #WinTheDay!! Philippians 4:13 | 3,639 |
| patti12471 | Rebel With A Cause (or Two) | Formula 1 Fan, Godmom, Mental Health Field, @TheRebelWalk, Never encountered a single member of The Village People, I write things, Ole Miss ❤️ | 3,369 |
| ReporterChrisW | Chris Woodward | I report what people say and do. woodwardchris1982@gmail.com #HailState | 3,164 |
| OleMissWTennis | Ole Miss Women's Tennis | The Official Women's Tennis Account for Ole Miss Athletics | 3,089 |
| jasondsimmons | Jason Simmons | Founder @DeadSoxy We make your favorite socks. Want a Free Pair? 🧦 Text "Socks" to 833-671-0253 | 3,081 |
Top 10 accounts with highest friends count
| Username | Name | Bio | Followers count |
| --- | --- | --- | --- |
| KennyWCarson | Kenny Carson | Opinions are my own but should be yours too. Grove Collective Founding Member | 5,003 |
| deimeke03 | Jeff Deimeke | @KSHE95 @KCMQ @morningrockshow @IceGuardians @ZeppelinCurse @lernvsradio @bonspeedboys @hockey_39 @imospizza @Athletes4care @rileecoyote @BobProbertRide | 5,001 |
| Smoke3x | (Rebəl) | WE ARE NOT YOUR KIND! Not a Democrat nor Republican aka Crooks & Thieves! I refuse to jump in a 📦 (Rebəl) #MetalHead #HottyToddy #GoNiners #FTTB🤘 | 4,978 |
| chantell22 | chantell22 | Flight Attendant...views are my own 😊 Have a blessed day! ☮️ | 4,899 |
| Umreboil | William K. Griffin | Christian,Oil & Gas Exploration,Avid Sportsman, Ole Miss Football Player, Ole Miss Baseball Player, Loving Husband,Father,Pap& Host of Willie G's Wax Radio Show | 3,182 |
| RebelBasser | Patrick Payne | Loves Ole Miss Football & Bass Fishing!!🎣🎣 Spending Time With The Family!! #WinTheDay!! Philippians 4:13 | 3,101 |
| theiKarebrand | keshia beh | Keeping Athletes Responsible and Equipped for Success 🖤. Former Director of Football Operations Last Chance U 🎥 Season 3 | 3,088 |
| Batmanttu | 🌵 Tech Batman 🌵 | Just an alum/fan #WreckEm 👆🌵 | 3,049 |
| KatieDavisCPA | Katie Davis | Partner at @JamesMooreCPAs, wife, mom x✌🏼, traveler, @UF alum. CPA & advisor to universities & college athletics. Host of News & Brews #SportsBiz. | 2,948 |
| olemissvader | Kyle Smith | #HOTTYTODDY #LaneTrain #ComeToTheSip #AlwaysLA #ForTheA | 2,662 |
Most active users
| Username | Bio | Number of tweets |
| --- | --- | --- |
| DeadSoxy | Premium socks made for the hustle. | 9 |
| RebVoice | David Kellum, play-by-play radio announcer for the Ole Miss Rebels..Football, Basketball, and Baseball. | 5 |
| wb47184 | WHT UP World.. GET N DEMBUSHES©BABY! https://t.co/qYybefmRt3 | 3 |
| wheels198516 | just a guy who enjoys braves baseball and ole miss sports | 2 |
| shortsm1 | Apparently, I am short. | 2 |
| lookitsjojo_qb1 | 2026, dual threat QB , 3.5gpa, student athlete, 135lb, 5'7, kimball high school ||https://t.co/DzVX1Uo8LO|| | 2 |
| DNPSportsShow | Chad Fisher & Coy Hopper. Podcast, man on the street and comedy sketches about sports. | 2 |
| nikgreenleaf | WVU Alumni. I love all things Mountaineer, DC, Red Devil/Devilettes & cheering on my two godsons. I miss DC everyday but love being back home as well | 2 |
| b_wilbanks82 | Love God, Family (wife and kids), and my OLE MISS REBELS! | 1 |
| dougiesean15 | Skiing. Hotty Toddy. Wahoowa. Let's Go! | 1 |
---
Tweets per day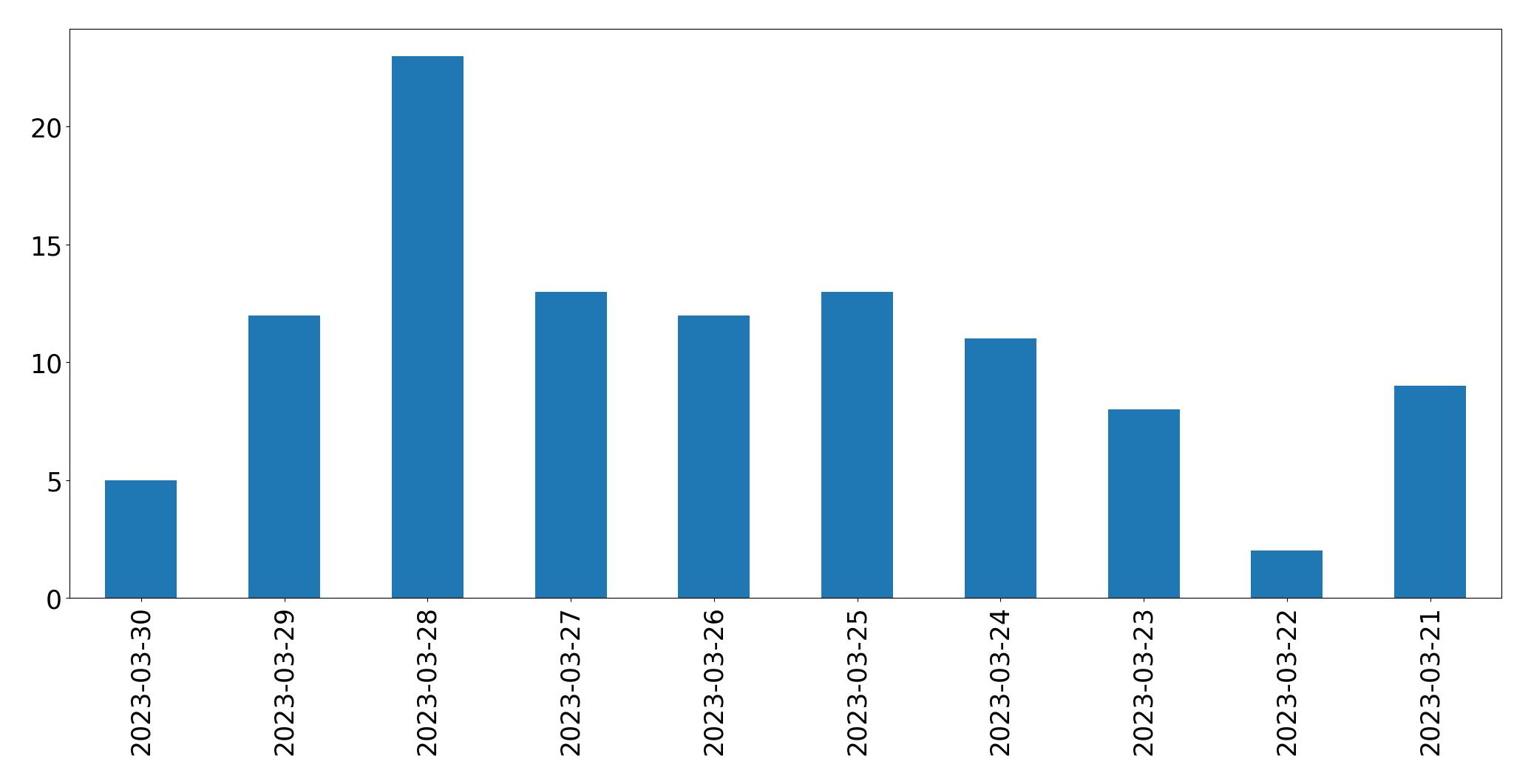 ---
Top 10 tweets with highest Retweet count
| ID | Text | Retweet count |
| --- | --- | --- |
| 1639323891888734208 | I'll be visiting the University of Mississippi on April 8th. Thank you @CoachAlexFaulk for the invite. #SEC @OleMissFB @OleMissSports @Gulfport_FB @coach_pennock @CoachHallSr2 @_kbolden https://t.co/qdLBIRgryu | 19 |
| 1639611013631729665 | Playing a doubleheader today. Game one 1st pitch between Florida & @OleMissBSB is 1:30pm. Airtime on the @OleMissNetwork is 1pm w/@RebVoice & @HenduReb. Listen 🎧➡️ 📻 local station 📱 @OleMissSports app 💻 online https://t.co/yMrei5CzW6 https://t.co/CLqrgp3zJL | 8 |
| 1640692769382453249 | At 6pm @OleMissBSB takes on @SouthernMissBSB in Pearl at Trustmark Park, the home of the @mbraves. Airtime is 5:30pm on the @OleMissNetwork w/@RebVoice & @HenduReb. @DavePolaski in studio. Listen 🎧➡️ 📻 local station 📱 @OleMissSports app 💻 online https://t.co/S2Is6gxwo9 https://t.co/AnroodocXJ | 8 |
| 1638161007561277441 | Tonight @OleMissBSB starts a home week with UAPB. 1st pitch is 6:30pm, airtime is 6pm w/@RebVoice & @HenduReb. Listen 🎧➡️ 📻 local station 📱 @OleMissSports app 💻 online https://t.co/K9rWgZ8vlb https://t.co/NQx6e7XhWB | 7 |
| 1639245461008646145 | Tonight, Florida & @OleMissBSB will play game one of this weekend's @SEC series with 1st pitch at 6:30pm from Swayze. Airtime on the @OleMissNetwork is 6pm w/@RebVoice & @HenduReb. Listen 🎧➡️ 📻 local station 📱 @OleMissSports app 💻 online https://t.co/yMrei5CzW6 https://t.co/3r9XeqvIV2 | 7 |
| 1639967850185015296 | This afternoon @OleMissBSB hosts Florida in game three of this weekend's SEC series. 1st pitch is 2pm & airtime on the @OleMissNetwork is 1:30pm w/@RebVoice & @HenduReb. Listen 🎧➡️ 📻 local station 📱 @OleMissSports app 💻 online https://t.co/5DsQFPOGLY https://t.co/L9foNRipUn | 5 |
| 1641108094116659201 | We are thrilled to have #OleMiss alums @HShetley and @BenVanCleve join our team at @OleMissAF Heidi and Ben are already doing a great job and excited to see the impact they make on @OleMissSports 🔴🔵 https://t.co/2jOcqWAUBH | 4 |
| 1640502793403265027 | We're here at The Max in Meridian for the first @OleMissSports Rebel Road Trip! #soxyinthesip https://t.co/VIWZwKCTDt | 4 |
| 1640601117276143621 | Thankfull is an understatement. I'm truly blessed with two parents who love me and provide top-quality training for track and field and QB training for football! @TopPreps @Passing_Academy @quarterbackmag @OleMissSports @LSUTrackField @OregonTF https://t.co/W20IbWOpwt | 4 |
| 1640747235871805441 | Class of 2024, LHP/OF, 4.0 GPA, 6'1, 186 lbs. #highschool #baseball @OleMissBSB @OleMissSports @CoachMikeBianco @MClementBSB @15Lafferty @jacobwag15 @ChrisEllis_10 @ColbyBortles @Brax_Lee @FlatgroundApp https://t.co/NFPokFC3SK | 2 |
Top 10 tweets with highest Like count
| ID | Text | Like count |
| --- | --- | --- |
| 1639323891888734208 | I'll be visiting the University of Mississippi on April 8th. Thank you @CoachAlexFaulk for the invite. #SEC @OleMissFB @OleMissSports @Gulfport_FB @coach_pennock @CoachHallSr2 @_kbolden https://t.co/qdLBIRgryu | 150 |
| 1640509579090968576 | Listening to @RebVoice and @Lane_Kiffin at the first stop of the @OleMissSports Rebel Road Trip. #soxyinthesip #hottytoddy https://t.co/PolDUH4KaY | 116 |
| 1638161007561277441 | Tonight @OleMissBSB starts a home week with UAPB. 1st pitch is 6:30pm, airtime is 6pm w/@RebVoice & @HenduReb. Listen 🎧➡️ 📻 local station 📱 @OleMissSports app 💻 online https://t.co/K9rWgZ8vlb https://t.co/NQx6e7XhWB | 66 |
| 1640502793403265027 | We're here at The Max in Meridian for the first @OleMissSports Rebel Road Trip! #soxyinthesip https://t.co/VIWZwKCTDt | 59 |
| 1640692769382453249 | At 6pm @OleMissBSB takes on @SouthernMissBSB in Pearl at Trustmark Park, the home of the @mbraves. Airtime is 5:30pm on the @OleMissNetwork w/@RebVoice & @HenduReb. @DavePolaski in studio. Listen 🎧➡️ 📻 local station 📱 @OleMissSports app 💻 online https://t.co/S2Is6gxwo9 https://t.co/AnroodocXJ | 52 |
| 1641108094116659201 | We are thrilled to have #OleMiss alums @HShetley and @BenVanCleve join our team at @OleMissAF Heidi and Ben are already doing a great job and excited to see the impact they make on @OleMissSports 🔴🔵 https://t.co/2jOcqWAUBH | 45 |
| 1639611013631729665 | Playing a doubleheader today. Game one 1st pitch between Florida & @OleMissBSB is 1:30pm. Airtime on the @OleMissNetwork is 1pm w/@RebVoice & @HenduReb. Listen 🎧➡️ 📻 local station 📱 @OleMissSports app 💻 online https://t.co/yMrei5CzW6 https://t.co/CLqrgp3zJL | 43 |
| 1639967850185015296 | This afternoon @OleMissBSB hosts Florida in game three of this weekend's SEC series. 1st pitch is 2pm & airtime on the @OleMissNetwork is 1:30pm w/@RebVoice & @HenduReb. Listen 🎧➡️ 📻 local station 📱 @OleMissSports app 💻 online https://t.co/5DsQFPOGLY https://t.co/L9foNRipUn | 36 |
| 1638907169603985409 | Let's go @YolettMcCuin @OleMissSports Keep supporting Rebel fans. It's a great time to be a Rebel! @grovecollectnil https://t.co/t1c4f5taOn | 35 |
| 1639245461008646145 | Tonight, Florida & @OleMissBSB will play game one of this weekend's @SEC series with 1st pitch at 6:30pm from Swayze. Airtime on the @OleMissNetwork is 6pm w/@RebVoice & @HenduReb. Listen 🎧➡️ 📻 local station 📱 @OleMissSports app 💻 online https://t.co/yMrei5CzW6 https://t.co/3r9XeqvIV2 | 35 |
Top 3 Languages Used In Tweets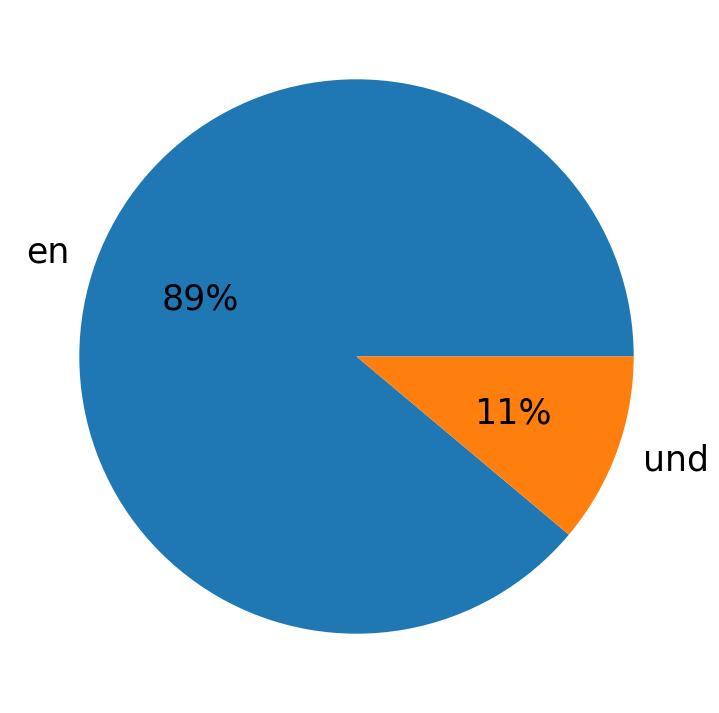 ---
Top 10 Hashtags used
| Hashtag | Count |
| --- | --- |
| #hottytoddy | 12 |
| #soxyinthesip | 7 |
| #sweet16 | 3 |
| #marchmadness | 3 |
| #onemississippi | 2 |
| #highschool | 2 |
| #baseball | 2 |
| #olemiss | 2 |
| #sec | 2 |
| #olemissbasketball | 2 |
Top 10 Hashtags Used In Tweets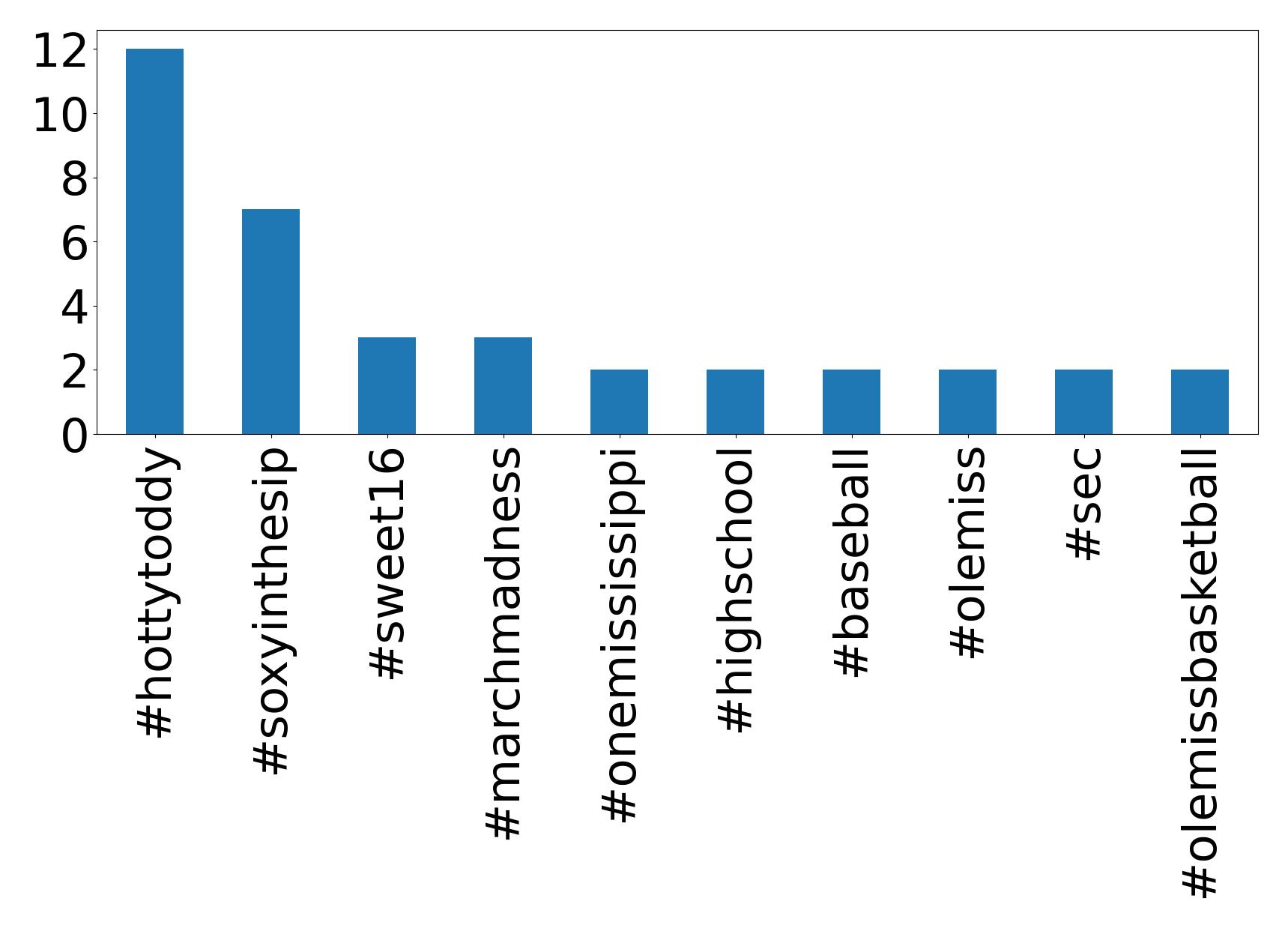 Top 10 mentions
| Mention | Count |
| --- | --- |
| @olemisssports | 108 |
| @rebvoice | 28 |
| @olemissbsb | 23 |
| @hendureb | 15 |
| @lane_kiffin | 13 |
| @deadsoxy | 13 |
| @olemisswbb | 13 |
| @olemissfb | 12 |
| @olemissnetwork | 12 |
| @olemiss | 10 |
Top 10 mentions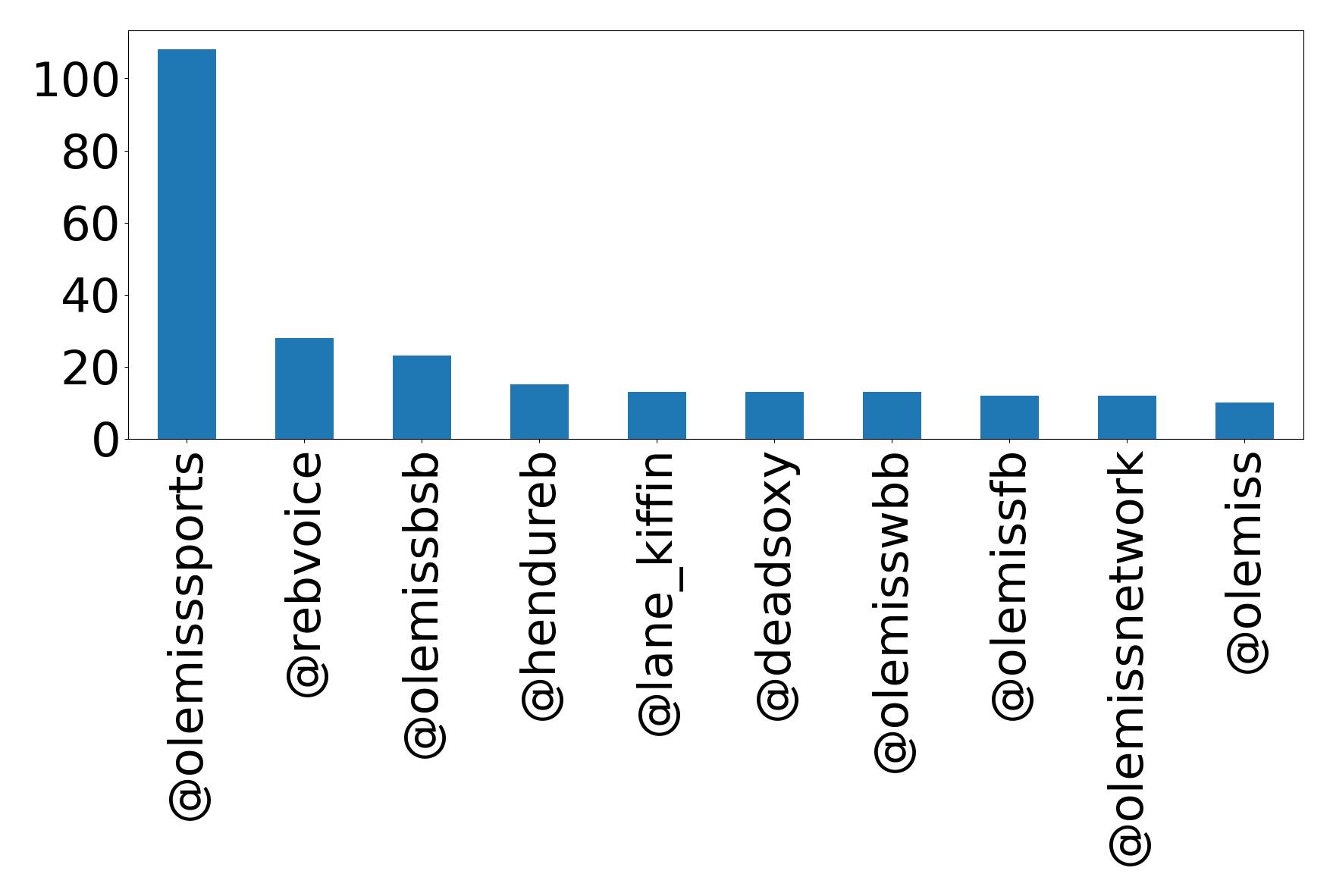 Wordcloud of Tweets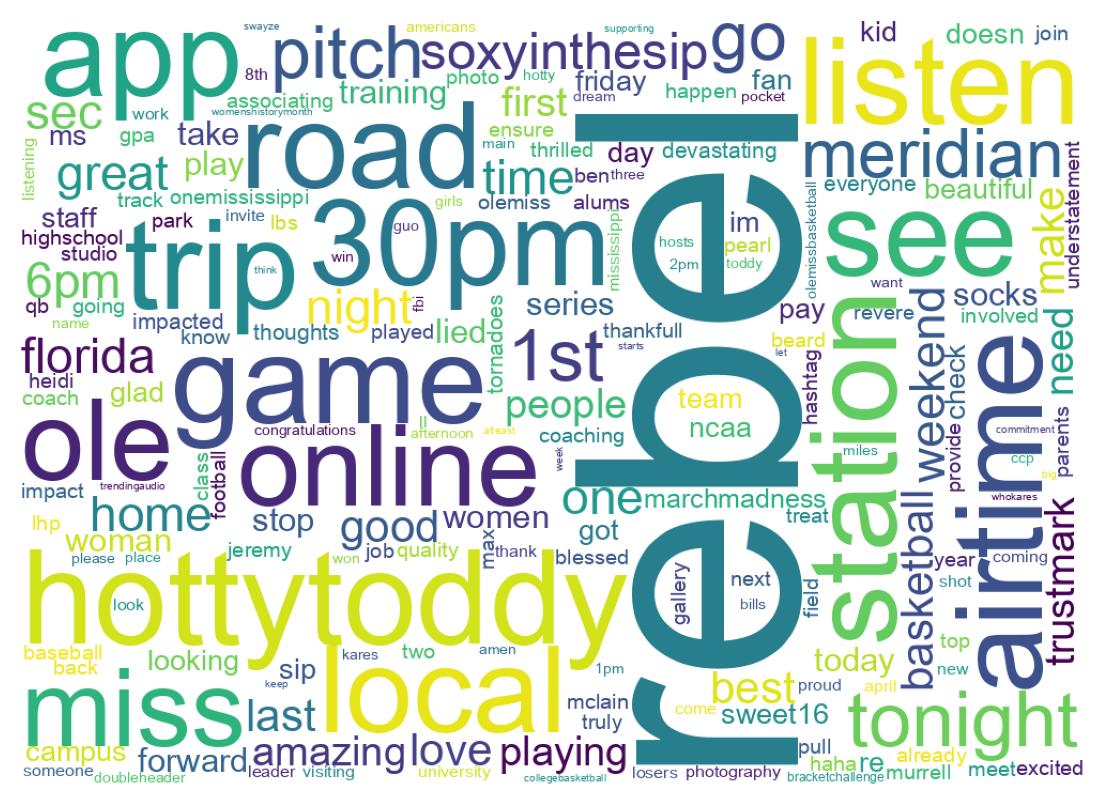 ---
Emojis
Average number of emojis used per tweet
92
Emojis used in tweets
| Emoji | Count | Emoji Text |
| --- | --- | --- |
| 🎧 | 10 | headphone |
| ➡️ | 10 | right_arrow |
| 📻 | 10 | radio |
| 📱 | 10 | mobile_phone |
| 💻 | 10 | laptop |
| ❤️ | 6 | red_heart |
| 🔥 | 5 | fire |
| 🏀 | 4 | basketball |
| 🔴 | 3 | red_circle |
| 🔵 | 3 | blue_circle |
Emojis groups
| Emoji Group | Count |
| --- | --- |
| Objects | 46 |
| Symbols | 17 |
| Smileys & Emotion | 14 |
| Activities | 13 |
| Travel & Places | 5 |
| People & Body | 4 |
| Animals & Nature | 1 |