Tweets Analysis - Keyword: @NPTO
Total number of tweets analysed
207
Earliest tweet was on
2023-03-16
Latest tweet was on
2023-03-25
Average age of authors' accounts
9 years
---
Summarization
The tweets discuss various opinions and observations about Brazilian politics, particularly regarding the current government led by Luiz Inácio Lula da Silva. Author and commentator Celso Rocha de Barros (NPTO) is praised for his balanced analysis of Lula and the PT, and his new book about the history of the PT is discussed. Some criticize leftist politicians for only recognizing crises when they become budget cuts, while the market only sees problems when they become expenses. Some express frustration with those who did not vote for Haddad in 2018 but now worry about Lula not letting him work effectively. Lula's recent actions and motivations are analyzed, as are issues like the fragile economy and banking rates. The tweets also mention NPTO's upcoming speech in BH and his opinions about Moro and the bancos.
Topic Modeling
Criticism and analysis of Brazilian politics, specifically regarding Lula and the PT party
Discussion of the book "PT, uma história" by @NPTO
Interest in attending @NPTO's upcoming talk in BH and admiration of his work
Market and economic analysis, including criticisms of the left and right
Social media interactions with @NPTO regarding his work and opinions
Emotional Analysis
The emotions expressed in these tweets include admiration, criticism, humor, frustration, and support for Lula and the PT party. Tweet authors discuss issues such as the market's tendency to only see problems as costs, voting choices, Lula's recent actions, and the book "PT: Uma História" by @NPTO. Some tweets express support for @NPTO as a writer and speaker. There is also some use of vulgar language and insults towards political figures. Overall, the emotions expressed are diverse, but many tweets are critical of current political situations and express concern about the future.
Trend Analysis
The discussion of the left versus the market in terms of their approaches to viewing crises and problems.
Analysis and criticism of Lula and the PT (Partido dos Trabalhadores) in Brazil.
Positive reception and recognition of Celso Rocha de Barros (@NPTO) and his recent book on the history of the PT.
Discussion and analysis of Lula's first 100 days back in office as Brazil's president.
Engagement and interaction with @NPTO on social media, including comments on his posts and upcoming speaking engagements.
---
Types of Tweets
Number of Retweets
29
Percentage of total tweets
14%
Number of Original tweets
16
Percentage of total tweets
7%
Number of tweets that contain Mentions
207
Percentage of total tweets
100%
Number of tweets that were Replies
161
Percentage of total tweets
77%
Number of tweets that were Quotes
12
Percentage of total tweets
5%
Number of tweets that contain Hashtags
6
Percentage of total tweets
2%
---
Top 5 devices used to tweet
| Source | Count |
| --- | --- |
| Twitter for Android | 92 |
| Twitter for iPhone | 66 |
| Twitter Web App | 48 |
| TweetDeck | 1 |
What devices were used to tweet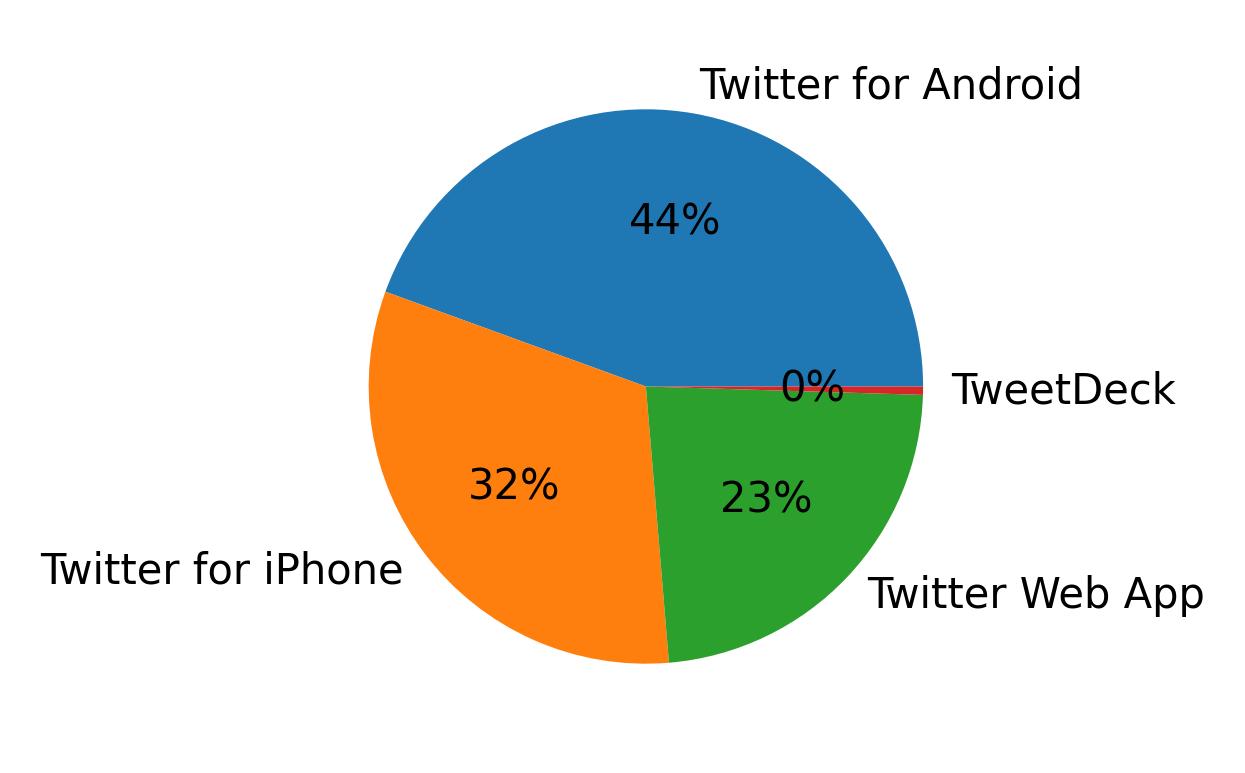 ---
Top 10 accounts with highest followers count
| Username | Name | Bio | Followers count |
| --- | --- | --- | --- |
| folha | Folha de S.Paulo | Um jornal a serviço do Brasil. No Insta: https://t.co/gJfvNuf8me. No Telegram: https://t.co/hAmN2lKJtS. Assine a Folha: https://t.co/0c23Z00SIr | 8,848,659 |
| traumann | thomas traumann | Jornalista. Poder360 e @Veja. Autor de "O Pior Emprego do Mundo". Opiniões pessoais. Tricolor | 121,106 |
| NPTO | Celso Rocha de Barros | Flamenguista, sociólogo (eu sei, eu sei) meio esquerdoso. Escrevo aos domingos uma coluna na @folha sobre política. Autor de "PT, uma História". | 117,666 |
| BrazilBrian | Brian Winter | Editor-in-chief @AmerQuarterly. Latin America political analyst. "O mais brasileiro dos texanos." Opinions mine. | 64,417 |
| ASCOA | Americas Society/Council of the Americas | The premier forum for dialogue on Latin American politics, economics, and culture. 📧Sign up for our newsletters: https://t.co/HenRZJA1mH | 32,891 |
| lucasapaulino | Lucas Paulino | Democracia, Constituição, Estado de Direito e Justiça | Progressista, Pró-Ciência, logo, Antibolsonarista | Cruzeirense Corneta e Mineiro Bairrista | 30,622 |
| AmerQuarterly | Americas Quarterly | Politics, business and culture in Latin America. An independent publication of @ASCOA | 29,752 |
| luciaguimaraes | Lúcia Guimarães | Own opinion here. Fed my kid Duck Soup. Made Philip Roth laugh on camera. Purveyor of mean Brazilian feijoada. Correspondent/columnist @folha @LGuimaraes@newsie | 29,206 |
| BrunoCarazza | Bruno Carazza | Colunista @valoreconomico. Autor de "Dinheiro, Eleições e Poder" (@ciadasletras). Professor @DomCabral. Análises econômicas e políticas sob medida. | 27,806 |
| sobotelha | Carolina Botelho | cientista política IESP UERJ | IEA-USP | Opinião Públi | exec X legislativo | Política Pub |Doxa@uerj_iesp| fellow @clasberkeley @Headline_BR Opiniões pessoais | 27,310 |
Top 10 accounts with highest friends count
| Username | Name | Bio | Followers count |
| --- | --- | --- | --- |
| folha | Folha de S.Paulo | Um jornal a serviço do Brasil. No Insta: https://t.co/gJfvNuf8me. No Telegram: https://t.co/hAmN2lKJtS. Assine a Folha: https://t.co/0c23Z00SIr | 170,514 |
| paulo47araujo | Paulocruz47 | Pai da Sam e Eric 😍 Deus me livre da bondade de gente ruim!🚩🚩🚩🚩 | 12,501 |
| Maria_Irritada | Maria irritada🧨💣1️⃣3️⃣🚩🌟 | ⬅️Sempre Agora é 13!!!! PT Sempre. #LulaSim 13 🌟🚩 #VamosJuntosPeloBrasil 🌟🚩 | 5,628 |
| hopeluta_ | 但Esperança Lula da Silva 🌎 | 🚩pro vacina 💉 use máscaras 😷🐊🏹SOSYanomami 🏹🌳💚🚩💫1️⃣3️⃣ | 5,623 |
| Linoabcd | Lino ☭⃠🇻🇪 | Antisocialista, católico| Desarrollo de software 🤓💻| cinefilo 🎥 🎞🎬. | 5,000 |
| parego | Paulo Rego Cajade 🇨🇺🇺🇲🇧🇷 | A strange guy who loves Salvador Dali, Luis Buñuel, Che Guevara, Monty Python, Tarantino, Kubrick, Hitchcock, Billy Wilder, Scorsese and Kurosawa 🎥🎬😁👊 | 5,000 |
| hmsconsultoria | Marcos Freitas Pereira | Doutorando em Turismo, Mestre em Financas, economista, Sócio AM Invest e Partic., fundador da WAM Group, incorporadora e comercializadora de multipropriedade. | 5,000 |
| Fabia_de_Aguiar | ⛧ | 'Conhecimento destrói mitos' #BolsonaroGenocida #FreePalestine #FreeSyria #Antiimperialism #HandsOffVenezuela #FreeYemen #PatriaGrande #USHandsOffHaiti | 4,992 |
| IlegalPepe | Moi même | É ruim de ser eu by Gugu Olimecha also unknown as Pedro Só | 4,911 |
| traumann | thomas traumann | Jornalista. Poder360 e @Veja. Autor de "O Pior Emprego do Mundo". Opiniões pessoais. Tricolor | 4,849 |
Most active users
| Username | Bio | Number of tweets |
| --- | --- | --- |
| hopeluta_ | 🚩pro vacina 💉 use máscaras 😷🐊🏹SOSYanomami 🏹🌳💚🚩💫1️⃣3️⃣ | 8 |
| cjsazevedo | Profissional de Telecomunicações e Flamenguista inveterado | 6 |
| ThiagoGehrke | Mestrando em Direito Econômico na @ufrgsnoticias Direito, Filosofia, Política. Filósofo de boteco em tempo integral; advogado nas horas vagas. | 6 |
| ivannunes | I struggled with some demons/ they were middle class and tame | 4 |
| HeLoisa_Chow | Pedagoga, Núcleo de Estudos e Pesquisas sobre a Eficiência e Deficiência da Aplicação do ECA no Brasil em 1996, Sólida Carreira Desenvolvida na Área de ADM. | 3 |
| dainezi | Mestre e doutorando. RP (ECA-USP) + comunicação (ESPM-SP). Palestrante. Co-Autor de "Liberdade: fato ou ilusão?" c/ @clovisdebarros. koo: @dainezi | 3 |
| luciaguimaraes | Own opinion here. Fed my kid Duck Soup. Made Philip Roth laugh on camera. Purveyor of mean Brazilian feijoada. Correspondent/columnist @folha @LGuimaraes@newsie | 3 |
| BrazilBrian | Editor-in-chief @AmerQuarterly. Latin America political analyst. "O mais brasileiro dos texanos." Opinions mine. | 3 |
| cidmaisoumenos | - | 3 |
| ricsdeol | Causos de Engenharia de Software e algumas pitadas de política e história. Programador de console #Linux #Ruby #RubyOnRails #Developer | 3 |
---
Tweets per day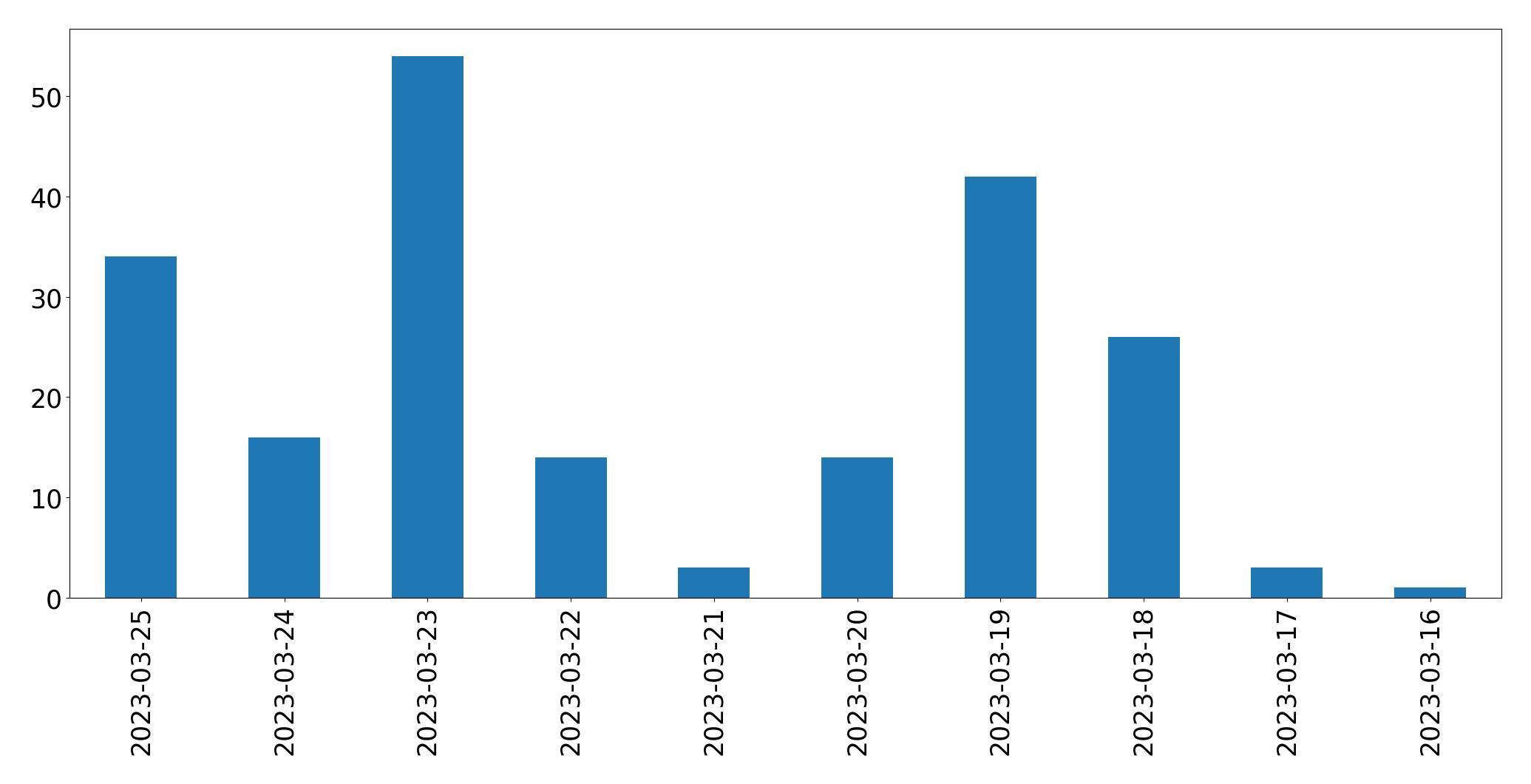 ---
Top 10 tweets with highest Retweet count
| ID | Text | Retweet count |
| --- | --- | --- |
| 1637382131096731649 | Do @NPTO: "[...] boa parte da turma que hoje tem medo de que 'Lula não deixe Haddad trabalhar' teve a chance de eleger Haddad presidente em 2018. Ao invés disso, preferiram votar em um muambeiro genocida e golpista que quebrou o país e fugiu pra Disney." https://t.co/GhZwvdO9OY | 32 |
| 1637424279405903874 | "se o mercado só enxerga o problema quando ele vira gasto, a esquerda às vezes só enxerga a crise quando ela vira corte de gastos. Como o mercado nos casos acima, ela também tende a colocar a culpa no cara que tenta resolver o problema" @NPTO, na @folha https://t.co/zhZwumJ7nq | 29 |
| 1638634984373141508 | NEW: Luiz Inácio Lula da Silva's third term nears the 100-day mark as he faces a fragile economy and other issues. Celso Rocha de Barros (@NPTO), author of a new history of Lula's party, takes the long view on the latest episode of the AQ Podcast. https://t.co/lcCfZxAWDC | 4 |
| 1636531037831299073 | Tentei fazer um resumão de "PT, uma história", livro do @NPTO, lá pro @meteoro_br Espero não ter passado muita vergonha. https://t.co/I7qHhabwYk | 3 |
| 1638633126841786373 | I have always admired @NPTO & how he strikes a sympathetic but critical balance when writing about Lula & the PT. This made him a great guest to analyze Lula's govt as it approaches the 100 day mark. I revisited some of my own assumptions after our chat https://t.co/u8OngNnCrk | 3 |
| 1637218091481300994 | #OPINIÃO 📝Celso Rocha de Barros | Mercado só enxerga problema quando vira gasto. Por outro lado, esquerda às vezes só enxerga a crise quando ela vira corte de gastos. (@NPTO) https://t.co/H1obWqtxWo | 3 |
| 1639612541998628866 | Some of Lula's recent provocations are mystifying even his supporters. In this podcast, @NPTO and I try to dissect his first 100 days and what his motivations might be https://t.co/u8OngNoagS | 3 |
| 1637562635079106560 | @dazibaonomeio @NPTO Haddad, em 2018, foi vítima das fake,s. Assim como milhares de "eleitores" irresponsáveis ou (burros), povo se deixou influenciar por mentiras. O mais ridículo e preocupante é que muitos ainda resistem a essa coisa que chamam de "bolsonarismo" | 1 |
| 1638898628629504001 | E eu que descobri por acaso que o @NPTO estará em BH semana que vem em uma palestra na @fdufmg? Além de ir lá assisti-lo, vou pedir um autógrafo no livro dele. Hehehe https://t.co/HX3Ni1BIgW | 1 |
| 1638715206900613122 | @delucca @NPTO @randolfeap Enrabada gostosa | 1 |
Top 10 tweets with highest Like count
| ID | Text | Like count |
| --- | --- | --- |
| 1637424279405903874 | "se o mercado só enxerga o problema quando ele vira gasto, a esquerda às vezes só enxerga a crise quando ela vira corte de gastos. Como o mercado nos casos acima, ela também tende a colocar a culpa no cara que tenta resolver o problema" @NPTO, na @folha https://t.co/zhZwumJ7nq | 298 |
| 1637382131096731649 | Do @NPTO: "[...] boa parte da turma que hoje tem medo de que 'Lula não deixe Haddad trabalhar' teve a chance de eleger Haddad presidente em 2018. Ao invés disso, preferiram votar em um muambeiro genocida e golpista que quebrou o país e fugiu pra Disney." https://t.co/GhZwvdO9OY | 238 |
| 1638898628629504001 | E eu que descobri por acaso que o @NPTO estará em BH semana que vem em uma palestra na @fdufmg? Além de ir lá assisti-lo, vou pedir um autógrafo no livro dele. Hehehe https://t.co/HX3Ni1BIgW | 63 |
| 1638633126841786373 | I have always admired @NPTO & how he strikes a sympathetic but critical balance when writing about Lula & the PT. This made him a great guest to analyze Lula's govt as it approaches the 100 day mark. I revisited some of my own assumptions after our chat https://t.co/u8OngNnCrk | 61 |
| 1638716611816308737 | @delucca @NPTO @randolfeap Todo dia ele leva uma enraba*a. Não tenho pena dele não. | 55 |
| 1637218091481300994 | #OPINIÃO 📝Celso Rocha de Barros | Mercado só enxerga problema quando vira gasto. Por outro lado, esquerda às vezes só enxerga a crise quando ela vira corte de gastos. (@NPTO) https://t.co/H1obWqtxWo | 50 |
| 1639612541998628866 | Some of Lula's recent provocations are mystifying even his supporters. In this podcast, @NPTO and I try to dissect his first 100 days and what his motivations might be https://t.co/u8OngNoagS | 32 |
| 1638715206900613122 | @delucca @NPTO @randolfeap Enrabada gostosa | 21 |
| 1636538983621484545 | Lendo o ótimo livro da história do PT, do @NPTO, e morri de rir no episódio dos brizolistas reclamando após Brizola ter ficado fora do segundo turno em 1989 por apenas 0,7%. "Por culpa de vocês [petistas] o Brasil não vai ter o melhor presidente de sua história" Enfim... o PDT | 19 |
| 1636531037831299073 | Tentei fazer um resumão de "PT, uma história", livro do @NPTO, lá pro @meteoro_br Espero não ter passado muita vergonha. https://t.co/I7qHhabwYk | 16 |
Top 3 Languages Used In Tweets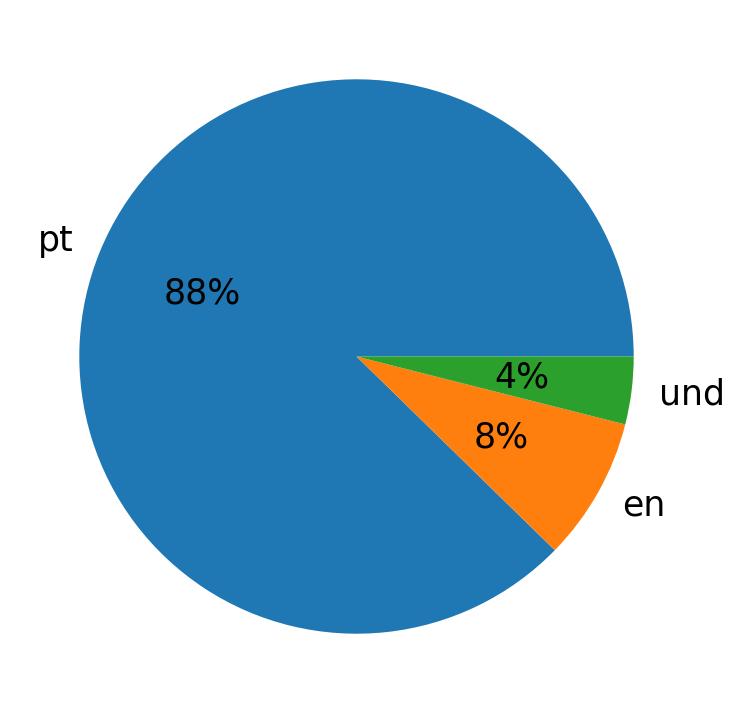 ---
Top 10 Hashtags used
| Hashtag | Count |
| --- | --- |
| #tbt | 2 |
| #opinião | 2 |
| #palindromo | 1 |
| #lulareconstruindoobrasil | 1 |
| #lulagovernodavida | 1 |
| #lulaeobrasilsubindoarampa | 1 |
Top 10 Hashtags Used In Tweets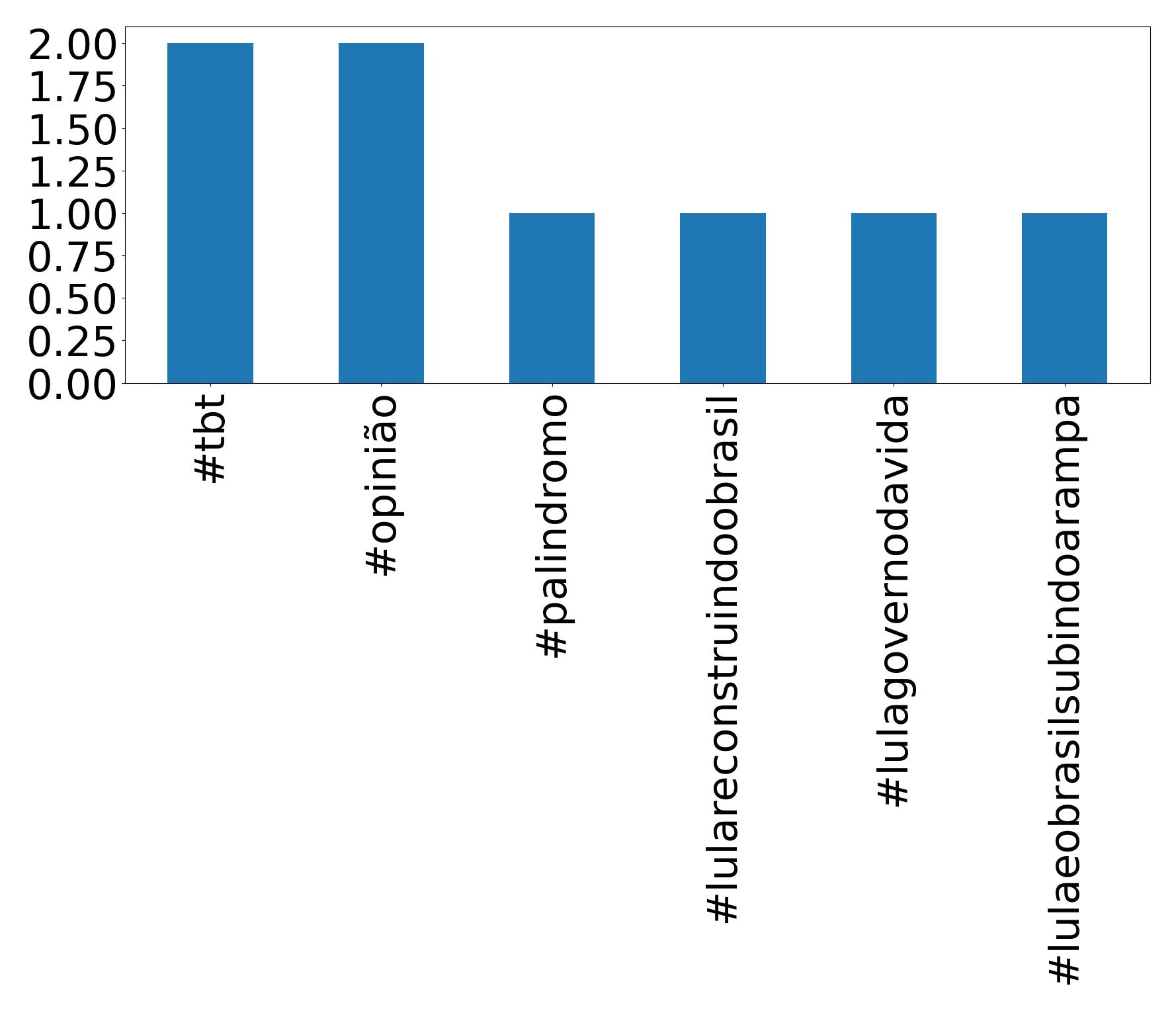 Top 10 mentions
| Mention | Count |
| --- | --- |
| @npto | 208 |
| @folha | 24 |
| @lulaoficial | 17 |
| @brazilbrian | 11 |
| @quaestpesquisa | 8 |
| @haddad_fernando | 8 |
| @simonetebetbr | 8 |
| @traumann | 7 |
| @fdufmg | 7 |
| @valoreconomico | 6 |
Top 10 mentions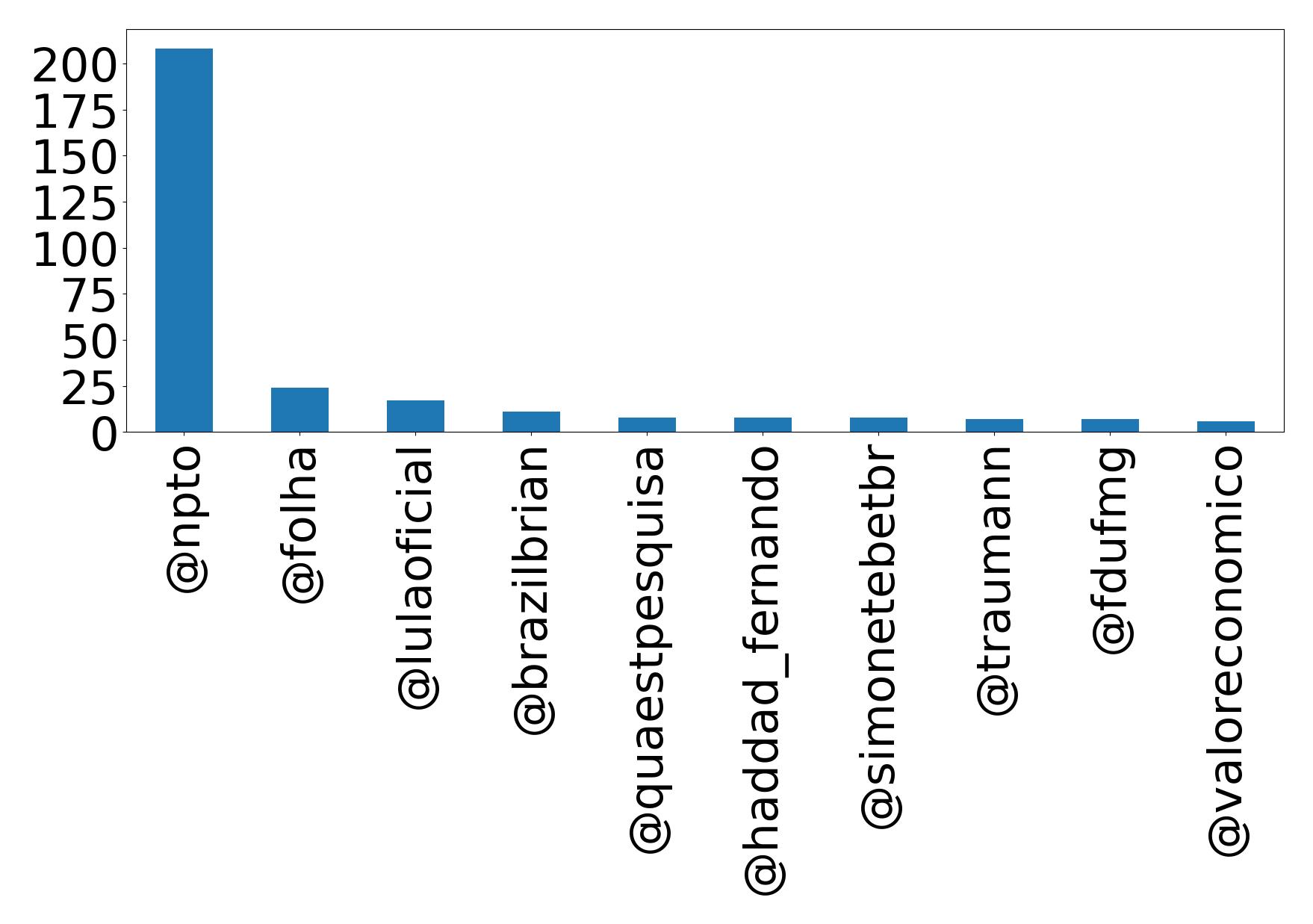 Wordcloud of Tweets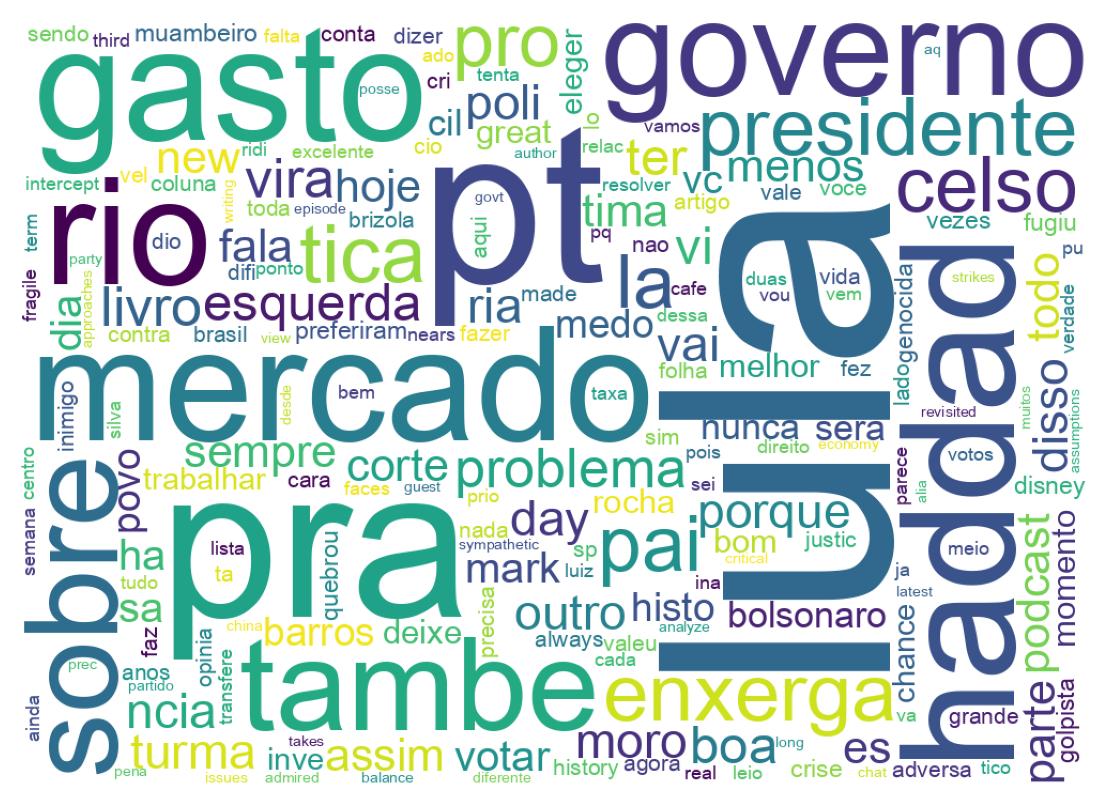 ---
Emojis
Average number of emojis used per tweet
17
Emojis used in tweets
| Emoji | Count | Emoji Text |
| --- | --- | --- |
| 🤣 | 8 | rolling_on_the_floor_laughing |
| 😂 | 4 | face_with_tears_of_joy |
| 👏🏻 | 4 | clapping_hands_light_skin_tone |
| 🤦🏻‍♂️ | 4 | man_facepalming_light_skin_tone |
| 👏🏼 | 3 | clapping_hands_medium-light_skin_tone |
| 🗳️ | 2 | ballot_box_with_ballot |
| 📝 | 2 | memo |
| 🤡 | 1 | clown_face |
| 🥺 | 1 | pleading_face |
| 📰 | 1 | newspaper |
Emojis groups
| Emoji Group | Count |
| --- | --- |
| Smileys & Emotion | 16 |
| People & Body | 14 |
| Objects | 5 |
| Flags | 1 |
| Activities | 1 |