Tweets Analysis - Keyword: @ninjakiwigames
Total number of tweets analysed
488
Earliest tweet was on
2023-03-17
Latest tweet was on
2023-03-27
Average age of authors' accounts
3 years
---
Summarization
The tweets are mostly about the game Bloons TD 6 from @NinjaKiwiGames, with mentions of updates and new content. One tweet mentions a garlic bread creation by an event host for the company. There is also mention of a live event and a promo code for the game. Some tweets mention wanting a "sex update" for the game, while others express excitement for upcoming content.
Topic Modeling
NinjaKiwiGames gaming updates and promotions
Bloons Tower Defense 6 gameplay and strategies
User requests and suggestions for game updates and features
Social media engagement and humor
Event and collaboration announcements
Emotional Analysis
The emotions expressed in these tweets vary widely, from excitement and anticipation to humor and even some criticism. Some tweets express excitement about new updates and features, such as the new tower defense game and the upcoming "breast handler" feature. Others express humor and lightheartedness, such as the garlic bread tweet or the reference to Groudon and Kyogre. Some tweets express frustration or criticism, such as the request for a sex update or the reference to recent criticism of the company. Overall, there is a mix of positive and negative emotions expressed in these tweets.
Trend Analysis
Excitement and anticipation for new updates and features from @ninjakiwigames
Positive reviews and recommendations for Bloons TD 6+
Humorous and playful language, including references to sex and memes
Discussion and speculation about new additions to the game, such as towers and handlers
Promotion of events and tournaments featuring Bloons TD 6
---
Types of Tweets
Number of Retweets
26
Percentage of total tweets
5%
Number of Original tweets
28
Percentage of total tweets
5%
Number of tweets that contain Mentions
488
Percentage of total tweets
100%
Number of tweets that were Replies
432
Percentage of total tweets
88%
Number of tweets that were Quotes
4
Percentage of total tweets
0%
Number of tweets that contain Hashtags
17
Percentage of total tweets
3%
---
Top 5 devices used to tweet
| Source | Count |
| --- | --- |
| Twitter for Android | 198 |
| Twitter Web App | 137 |
| Twitter for iPhone | 134 |
| Twitter for iPad | 14 |
| Sprout Social | 2 |
What devices were used to tweet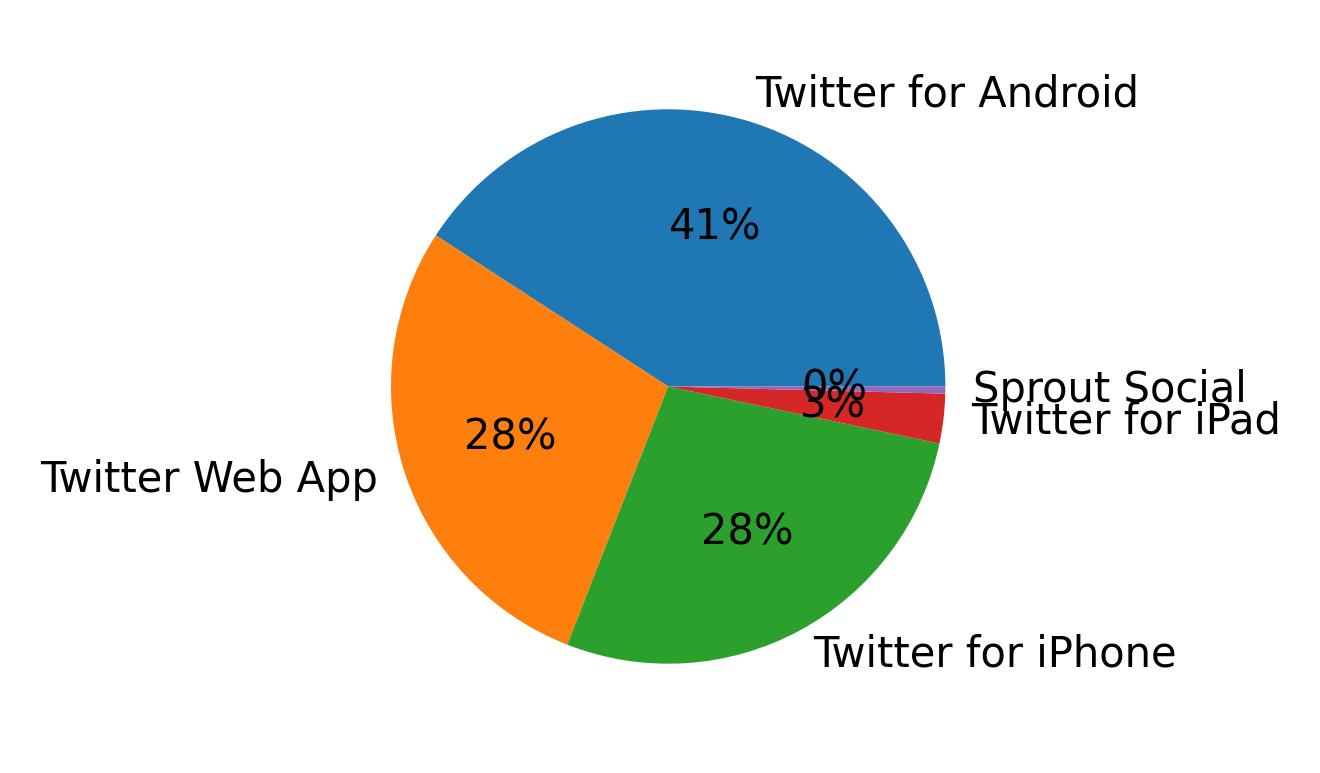 ---
Top 10 accounts with highest followers count
| Username | Name | Bio | Followers count |
| --- | --- | --- | --- |
| Makeship | Makeship | Designed by Creators. Fueled by Fans. Fund limited edition campaigns ⚡️ | 171,051 |
| msdanifernandez | Dani Fernandez | Chicana 💃🏻 Actress • Writer (Netflix, HBO Max, DC Comics) • Disney Character • Bi AF 🌈 she/her • norm@mainstayentertainment.com | 108,231 |
| AppleArcade | Apple Arcade | An always evolving catalog of 200+ incredibly fun games. One subscription. Zero ads. Your next favorite game is here. | 88,853 |
| TheRealGDColon | Colon :🦊: | Entertainer, programmer, punctuation, kitsune. I came here to shitpost and shitpost I will. (PFP by @LoafeeBuns & banner by @yumefoxx) | 46,360 |
| TheAgentShadow | Shadow | News And Other Fortnite Related Stuff // Support A Creator Code: AgentShadow (#Ad) // Fiend Paradise Map Code: 5120-6287-2441 | 25,915 |
| LeoTheLionel | Leo 🌟 | I try | Low self esteem, high anxiety ♂️🖌️🇵🇭🏳️‍🌈 21 SFW-ish | 24,370 |
| crownchannel | Crown | Crown is home to those Let's Go moments in gaming, happening live on the screen + in the chat. #LetsGoCrown Join The Game ⬇️ | 18,397 |
| KatyBentz | Katy Bentz | Actor/Streamer Steph Gingrich in Life is Strange: True Colors https://t.co/uJcES83n7Y Business Email: Katybentztwitch@gmail.com Opinions are my own | 17,412 |
| softndeadly | Shila Vikström ❤️‍🔥 Make Games With Humanity | 🌈 Exec Producer @OutsidersGames @MetalHellsinger @Funcom. Tank. Will laugh very loud. Love to be wrong, need to be right. Games made with humanity. She/Her | 4,461 |
| lugster187 | Doug | - | 3,553 |
Top 10 accounts with highest friends count
| Username | Name | Bio | Followers count |
| --- | --- | --- | --- |
| JoelTheParrot | JoelTheParrot | Gamer | Artist | Tetohead | Miitopia: https://t.co/KTo5DEa10e Mario Maker: V7D-JCT-9BG NO N/F/T (Is that how I get them gone?) He/Him I guess? Art Account: @JoelTheParrART_ Kirby/Jake | 5,005 |
| samorips5 | 🐿samori 🐿 | #SooUltra #ROKKR #LeafsForever #TFCLive #teamCanada #BlueJays and ratchet and clank fan 🇨🇦#DrownThemOut agents of shield /marvel fan #flames Toronto six fan | 5,000 |
| SlitherSong_ | Cyfrin 🐍 スリザーソング | 🐍22|He/Him|Straight 🎨Artist 🎼Music Maker 🌟Autistic 🔆Multifandom 🚫I do not take free art requests PFP: Endy30 | 4,945 |
| lugster187 | Doug | - | 4,789 |
| TuraNome | The God of Gods (is a bottom) | 💜17💜Fantastic Frontier & Adastra brain rotted💜Furry Artist💜Pansexual & Androgynous 💜I follow back (95%)💜Autistic💜pfp by @griverthecoyote on Twitter💜 | 3,108 |
| kirbpoyo3poyo | Kirbpoyo3 | follow me or die | 2,950 |
| AceEx07 | Ace | My bio is pretty cool, I think | 2,567 |
| SenpaiLego | 𝓛𝓮𝓰𝓸 | 🃏 ⚜️ | 2,452 |
| EndDragon2016 | Kitsuno | Hope to do some art at some point | 2,377 |
| ShocktheFolf | ShockTheFolf 3/3 💉 | Folf|Male|Bisexual|Mildly Autistic|Clovercat Creations (@FigbyWolf) Wannabe |Age:19 | 2,331 |
Most active users
| Username | Bio | Number of tweets |
| --- | --- | --- |
| TPCo0Lz_YT | Gaming & Guns. Two of my favorite Gs! | 10 |
| Kamaleonx2 | - | 7 |
| snufalupaguss | - | 4 |
| YourHomieFrog | Im just a big ol nerd | 3 |
| softndeadly | 🌈 Exec Producer @OutsidersGames @MetalHellsinger @Funcom. Tank. Will laugh very loud. Love to be wrong, need to be right. Games made with humanity. She/Her | 3 |
| LegitSnow | Life is cancer without fingers. I like sus shit on this acc so be warned | 3 |
| AwesomePng | I Am Peter Griffin From Family Guy! @PeterGriffiin Was Posting Once, But not Anymore. So I'm Here Now. Parody Account, Not Affiliated With @FoxTV or @FamilyGuy | 3 |
| MaruanBiasi | make mercedes great again | 3 |
| swagmoneybacon | Watch One Piece | 3 |
| Xzand3rman | a gamer in a gamers world🌎 | Average enjoyer of Fortnite, Castlevania, Splatoon, Kirby, Borderlands, PvZ, Brawl Stars, etc etc... art: @XzanderOnSwitch | 3 |
---
Tweets per day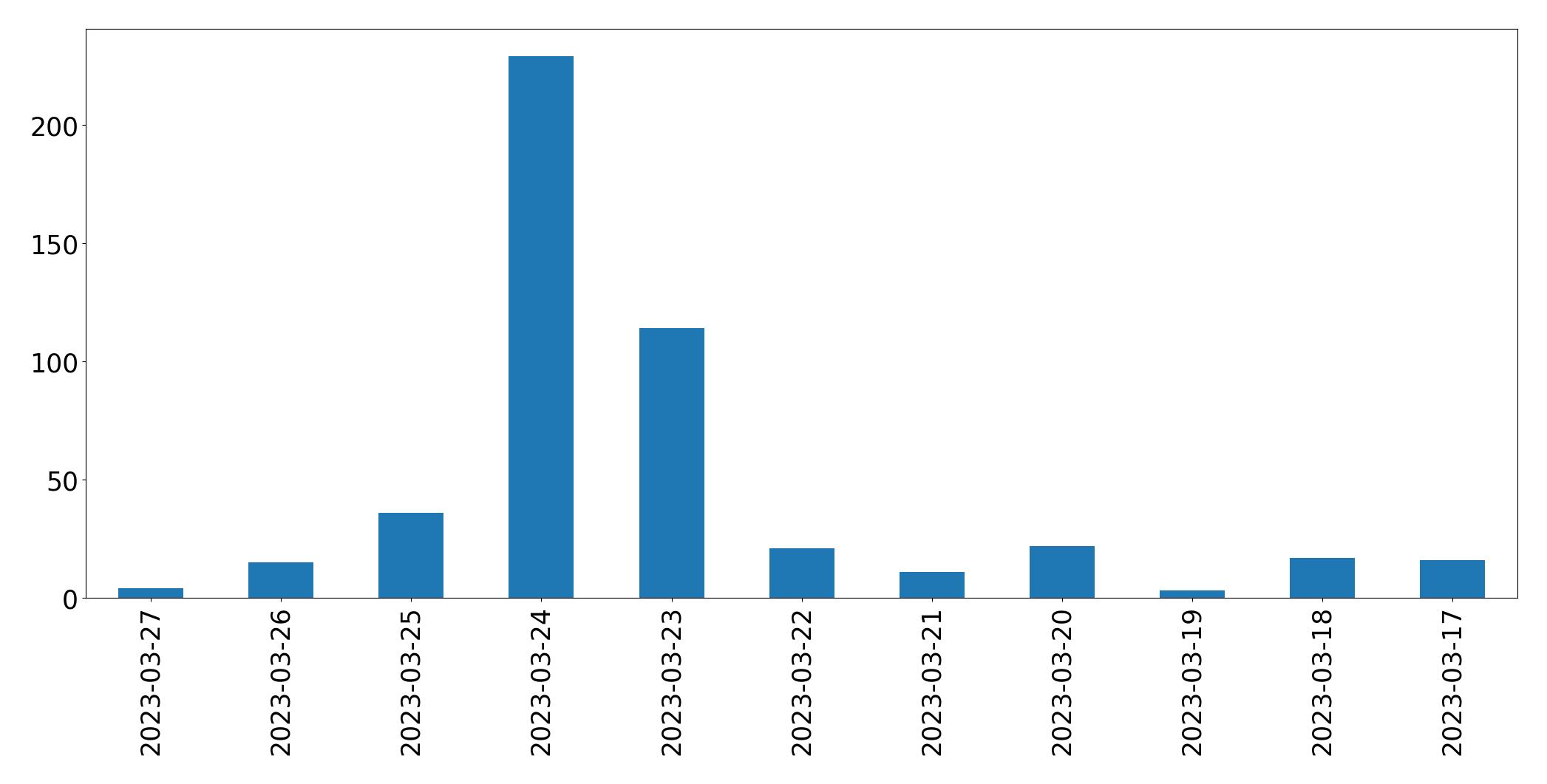 ---
Top 10 tweets with highest Retweet count
| ID | Text | Retweet count |
| --- | --- | --- |
| 1637880501015920640 | Bloons TD 6+ from @NinjaKiwiGames is one of the best tower defense games around, and you're like three taps away from playing it on Apple Arcade. 🕹: https://t.co/I9MDXPLa3V https://t.co/O4DV0KfNIT | 15 |
| 1639046851088318465 | @ninjakiwigames NO WAY https://t.co/U8cppXmZPf | 14 |
| 1638314062902591490 | ↔️ MULTITUDE IS LIVE ↔️ Brought to you by @ninjakiwigames 🎈 Bloons TD 6 🎈 🕹️ Team @SanchoWest VS Team @TheWillNeff 📺 https://t.co/UiTtJZgLp0 https://t.co/G8iEcqyWMv | 5 |
| 1639042019606556673 | @ninjakiwigames I speak for everyone when I say, WE WANT A SEX UPDATE‼️ | 3 |
| 1639051585115287554 | @ninjakiwigames BREAST HANDLER | 2 |
| 1639048624788103168 | @ninjakiwigames I am so excited | 2 |
| 1637906865588944896 | Bloons 2 (2010) Creator(s): @ninjakiwigames Type: Flash Language: [EN] Status: Port Available https://t.co/qe97lvRttw https://t.co/zoTMUOLzBN | 2 |
| 1639042116872556544 | @ninjakiwigames BREAST HANDLER SOON LETS GOOOO | 1 |
| 1638272722936516617 | If the G in GDC doesn't stand for garlic-bread then I don't want any part of it I'm Fergus! An event host, presenter, artist for @ninjakiwigames and I made this garlic bread months ago and I'm still thinking about it #WhatAGameDevLooksLike https://t.co/fumwGT9vUb https://t.co/3JVfqFzH5n | 1 |
| 1639418950156193792 | My NK account just got hacked into today by some bozo by qusay I hope that @ninjakiwigames does respond to me asap like I can't afford to lose my rank in HoM everytime I make it I worked extremely hard to get a good rank so please Ninja kiwi please help me get rid of this hacker | 1 |
Top 10 tweets with highest Like count
| ID | Text | Like count |
| --- | --- | --- |
| 1639046851088318465 | @ninjakiwigames NO WAY https://t.co/U8cppXmZPf | 331 |
| 1639059458780463104 | @ninjakiwigames looking headass https://t.co/iWBnFnG4Vd | 263 |
| 1637880501015920640 | Bloons TD 6+ from @NinjaKiwiGames is one of the best tower defense games around, and you're like three taps away from playing it on Apple Arcade. 🕹: https://t.co/I9MDXPLa3V https://t.co/O4DV0KfNIT | 195 |
| 1639042116872556544 | @ninjakiwigames BREAST HANDLER SOON LETS GOOOO | 82 |
| 1639051585115287554 | @ninjakiwigames BREAST HANDLER | 66 |
| 1639042019606556673 | @ninjakiwigames I speak for everyone when I say, WE WANT A SEX UPDATE‼️ | 56 |
| 1638272722936516617 | If the G in GDC doesn't stand for garlic-bread then I don't want any part of it I'm Fergus! An event host, presenter, artist for @ninjakiwigames and I made this garlic bread months ago and I'm still thinking about it #WhatAGameDevLooksLike https://t.co/fumwGT9vUb https://t.co/3JVfqFzH5n | 51 |
| 1639045632529670144 | @Xzand3rman @ninjakiwigames New tower completely i think (best ending) | 47 |
| 1638314062902591490 | ↔️ MULTITUDE IS LIVE ↔️ Brought to you by @ninjakiwigames 🎈 Bloons TD 6 🎈 🕹️ Team @SanchoWest VS Team @TheWillNeff 📺 https://t.co/UiTtJZgLp0 https://t.co/G8iEcqyWMv | 43 |
| 1639045759050956800 | @ninjakiwigames CHILE REFERENCIADO https://t.co/xycXQ0MPXg | 42 |
Top 3 Languages Used In Tweets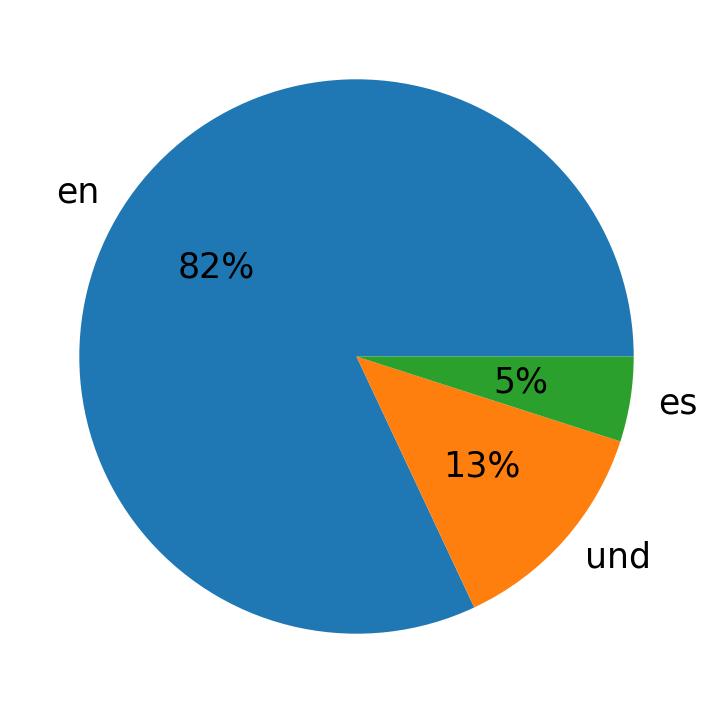 ---
Top 10 Hashtags used
| Hashtag | Count |
| --- | --- |
| #btd6 | 6 |
| #internationalwomensday | 2 |
| #whatagamedevlookslike | 2 |
| #gdc | 2 |
| #kreativeluftballonzerstörung | 1 |
| #twitchde | 1 |
| #twitchdesupport | 1 |
| #supportsmallstreamers | 1 |
| #twitchaffiliate | 1 |
| #twitchstreamer | 1 |
Top 10 Hashtags Used In Tweets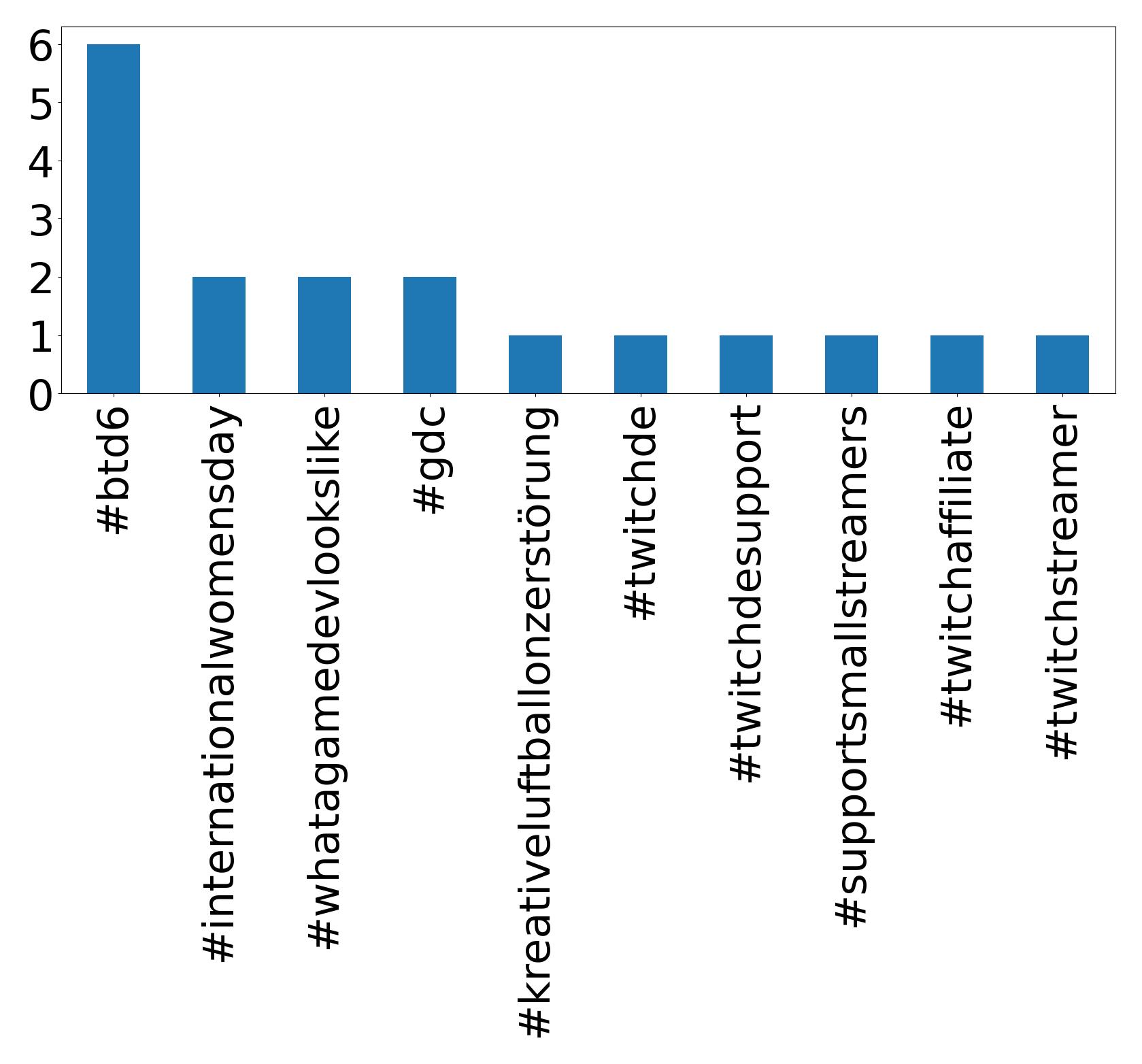 Top 10 mentions
| Mention | Count |
| --- | --- |
| @ninjakiwigames | 489 |
| @applearcade | 18 |
| @facubotbtd | 14 |
| @tpco0lz_yt | 11 |
| @xzand3rman | 9 |
| @backpackshibe | 7 |
| @jynkesi | 7 |
| @jaxterxiii | 7 |
| @therealgdcolon | 6 |
| @pllayer171 | 6 |
Top 10 mentions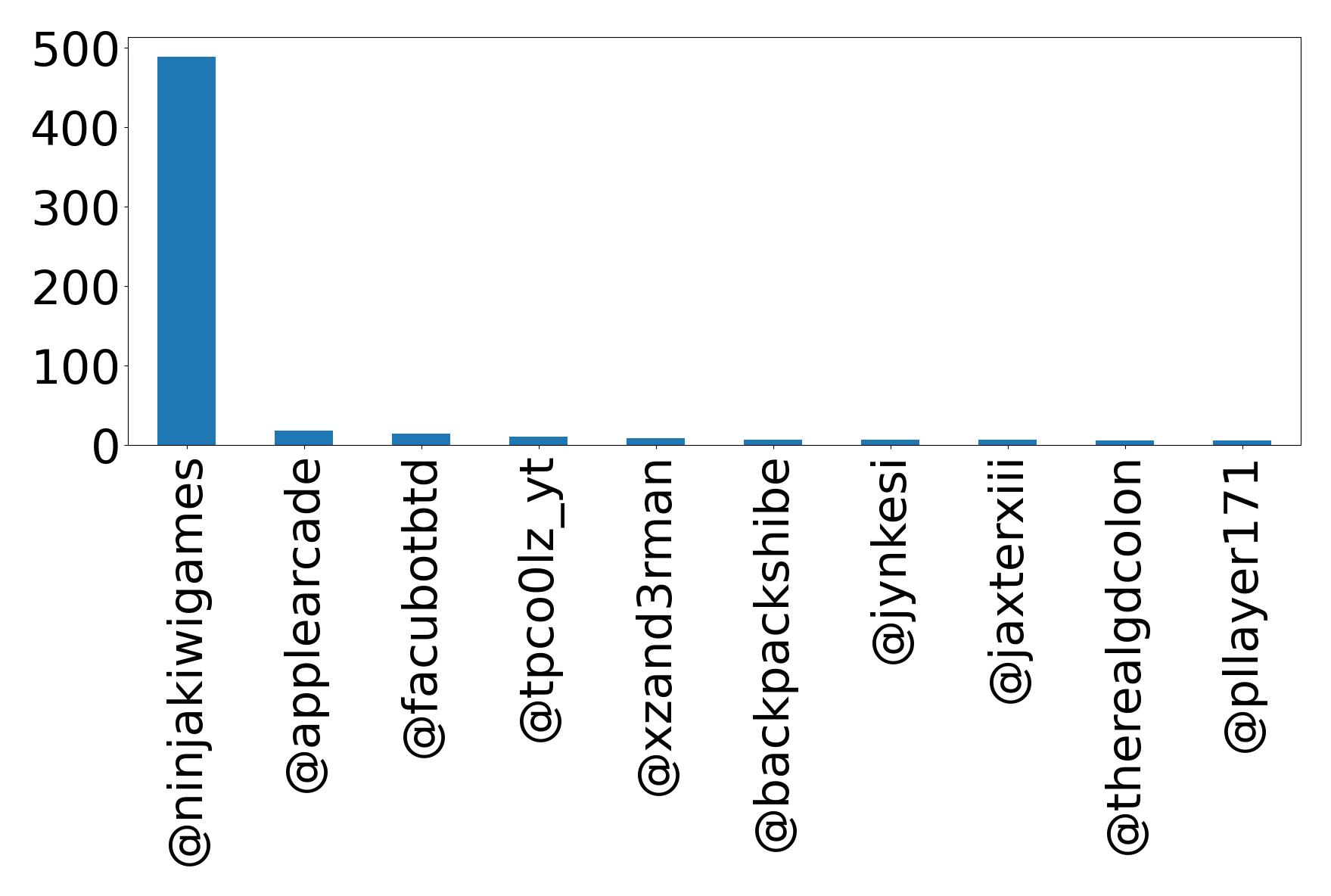 Wordcloud of Tweets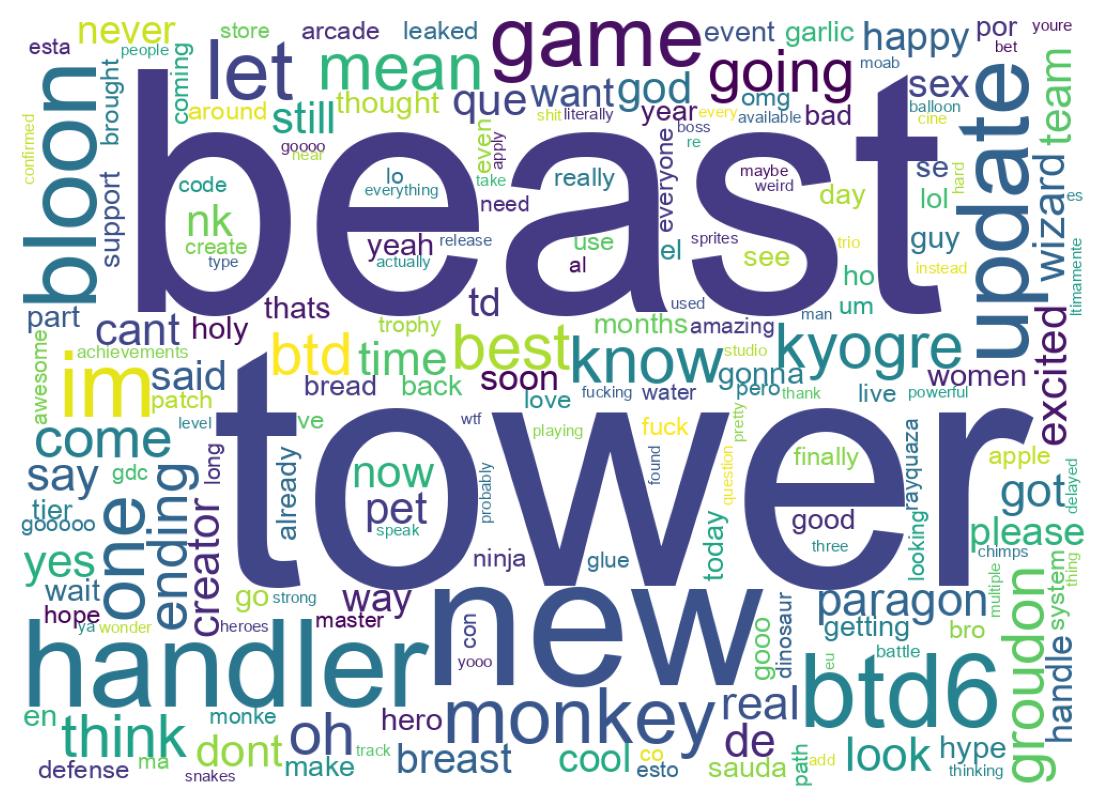 ---
Emojis
Average number of emojis used per tweet
21
Emojis used in tweets
| Emoji | Count | Emoji Text |
| --- | --- | --- |
| 🎈 | 9 | balloon |
| 👀 | 7 | eyes |
| 😱 | 7 | face_screaming_in_fear |
| 😭 | 6 | loudly_crying_face |
| ↔️ | 6 | left-right_arrow |
| 😃 | 3 | grinning_face_with_big_eyes |
| 💕 | 3 | two_hearts |
| 🙏 | 3 | folded_hands |
| ❤️ | 3 | red_heart |
| 🕹️ | 3 | joystick |
Emojis groups
| Emoji Group | Count |
| --- | --- |
| Smileys & Emotion | 41 |
| People & Body | 19 |
| Activities | 18 |
| Symbols | 13 |
| Animals & Nature | 8 |
| Objects | 4 |
| Travel & Places | 2 |
| Food & Drink | 1 |