Tweets Analysis - Keyword: @NickTorfaen
Total number of tweets analysed
139
Earliest tweet was on
2023-03-21
Latest tweet was on
2023-03-30
Average age of authors' accounts
8 years
---
Summarization
These tweets cover a range of topics related to Labour Party MP Nick Torfaen, including his participation in events discussing former Labour leader Harold Wilson and his ideas, as well as his meetings and endorsements of various initiatives related to trade, small businesses, charities, and industrial strategy. Some tweets also include criticism of Torfaen and the Labour Party.
Topic Modeling
Labour Party
Harold Wilson
Trade and Business
Online Events
Book Reviews
Emotional Analysis
The tweets express a range of emotions towards Labour party leader Keir Starmer, with some criticizing his leadership qualities and others seeking to learn from historical Labour leaders like Harold Wilson. There is also gratitude towards MP Nick Torfaen for his presence and contributions in various events and meetings. Additionally, there is excitement and anticipation towards upcoming online events discussing the life and career of Harold Wilson and what can be learned from his leadership style. Positive emotions are also expressed towards the need for businesses to export more and the engagement of local charities in Torfaen.
Trend Analysis
Discussion on the legacy of Harold Wilson and what today's Labour Party can learn from his leadership.
Meetings and events attended by MP Nick Torfaen related to trade, small businesses, and charity funding.
Critiques and criticism towards Keir Starmer's leadership of the Labour Party.
Promotion of various online events featuring Nick Torfaen, Lara Spirit, and Gavin Schaffer discussing Harold Wilson's legacy and leadership.
Discussions on trade, export, and industrial strategy.
---
Types of Tweets
Number of Retweets
51
Percentage of total tweets
36%
Number of Original tweets
22
Percentage of total tweets
15%
Number of tweets that contain Mentions
139
Percentage of total tweets
100%
Number of tweets that were Replies
56
Percentage of total tweets
40%
Number of tweets that were Quotes
23
Percentage of total tweets
16%
Number of tweets that contain Hashtags
35
Percentage of total tweets
25%
---
Top 5 devices used to tweet
| Source | Count |
| --- | --- |
| Twitter for iPhone | 51 |
| Twitter Web App | 35 |
| Twitter for Android | 33 |
| Twitter for iPad | 16 |
| Politicians Tweet Climate | 2 |
What devices were used to tweet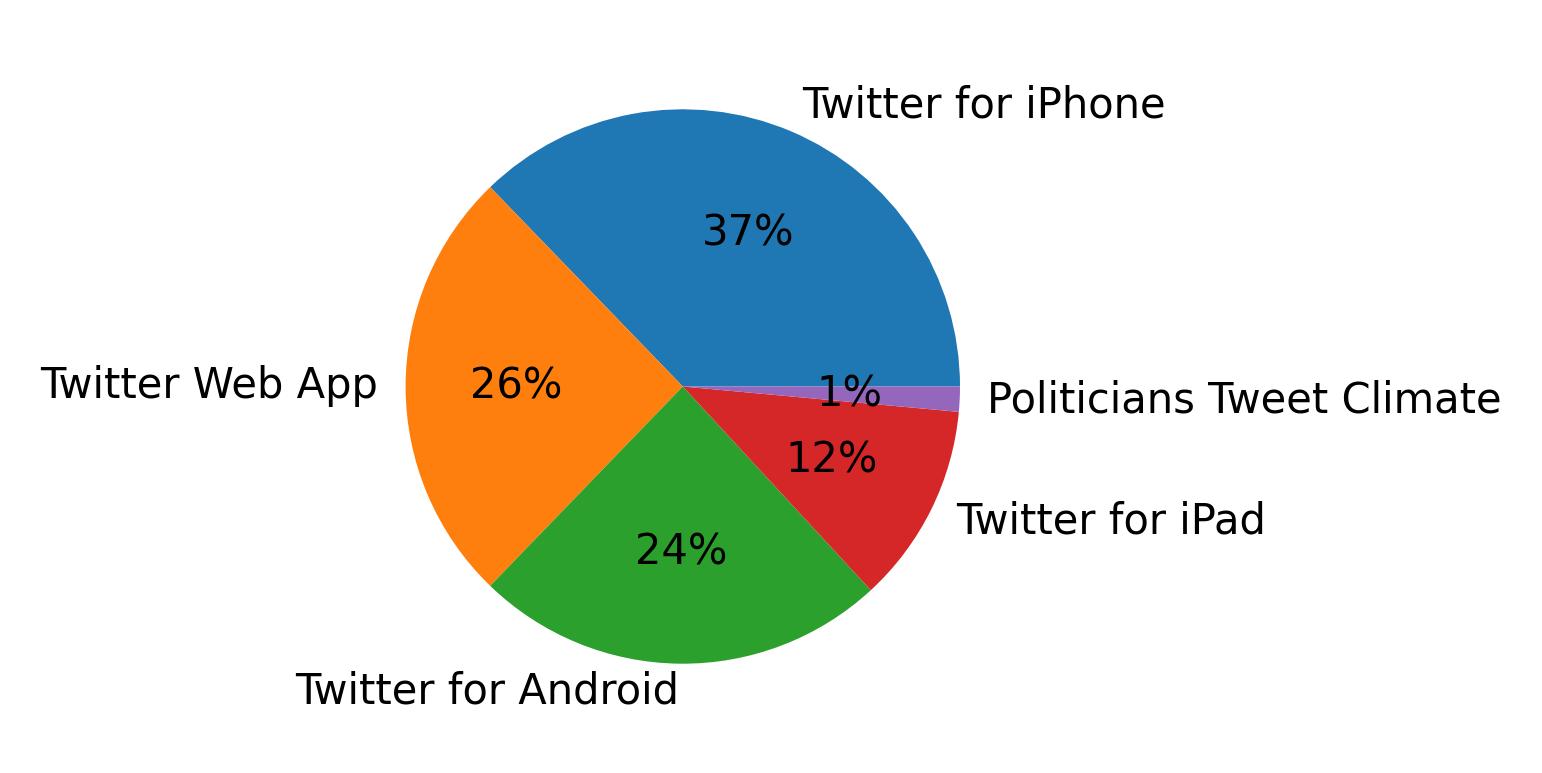 ---
Top 10 accounts with highest followers count
| Username | Name | Bio | Followers count |
| --- | --- | --- | --- |
| politicshome | PoliticsHome | Fast, informed, comprehensive coverage of UK politics. With debate & insight from Parliament via @TheHouseMag. Subscribe to our podcast: https://t.co/CXLZFhNDLQ | 123,742 |
| fsb_policy | Federation of Small Businesses (FSB) | Official page of the Federation of Small Businesses. The voice of UK small businesses and the self-employed since 1974. National Chair: @MMcTagueFSB | 74,902 |
| Bill_Esterson | Bill Esterson | Labour MP for Sefton Central. Shadow Minister for Business and Industry. bill.esterson.mp@parliament.uk | 42,355 |
| NickTorfaen | Nick Thomas-Symonds MP | Shadow Secretary of State for International Trade and Welsh Labour MP for Torfaen | 35,247 |
| progbrit | Progressive Britain | Imaginative thinking to rebuild Labour and the Nation. #ProgressiveBritain Sign up to our newsletter here: https://t.co/DjNd0YtEFX. | 33,143 |
| gsoh31 | Glen O'Hara | I teach History at Oxford Brookes University. Occasionally I write about politics. | 31,099 |
| SeemaMalhotra1 | Seema Malhotra MP💙 | Labour & Co-op MP for Feltham & Heston. Shadow Minister for Business and Consumers. Co-Founder & President of the Fabian Women's Network. | 26,659 |
| ItalyinUK | Italy in UK | Official profile of the Italian Embassy in UK. Follow us also on our other social media https://t.co/WQbvhCQQZG. Ambassador Inigo Lambertini @InigoLND | 20,481 |
| GarethThomasMP | Gareth Thomas MP | Labour & Co-op MP for Harrow West; Shadow Minister for International Trade. If you have a casework matter, please e-mail me on: gareth.thomas.mp@parliament.uk | 19,192 |
| coccinellanovem | 💚🤍💜Hoardosaurus 💚🤍💜 | Gender Atheist Bisexual Crone ♿ More research/better care for #Dysphoric & trans IDing kids & detrans adults. Follow @genspect @MyBodyIsMeBooks @2020affirmation | 13,444 |
Top 10 accounts with highest friends count
| Username | Name | Bio | Followers count |
| --- | --- | --- | --- |
| gsoh31 | Glen O'Hara | I teach History at Oxford Brookes University. Occasionally I write about politics. | 27,496 |
| progbrit | Progressive Britain | Imaginative thinking to rebuild Labour and the Nation. #ProgressiveBritain Sign up to our newsletter here: https://t.co/DjNd0YtEFX. | 9,574 |
| coccinellanovem | 💚🤍💜Hoardosaurus 💚🤍💜 | Gender Atheist Bisexual Crone ♿ More research/better care for #Dysphoric & trans IDing kids & detrans adults. Follow @genspect @MyBodyIsMeBooks @2020affirmation | 8,093 |
| Thehuck_59 | The_Huck #KS4PM 🌹 #GeneralElectionNOW | #IStandWithStarmer #GordonBrownCultist | 5,467 |
| FurryDuffer | RA Watt 💙💛 | - | 5,003 |
| tutt_brian | Brian Tutt | Academic. LGBTQ 🌈 pronouns he/him. All opinions personal. #FBPA | 5,002 |
| snevinoj | Jon 🇺🇦🌹💚💙 #FBPE 🏴󠁧󠁢󠁥󠁮󠁧󠁿🇬🇧 🇩🇪 🇪🇺 | Looking forward to the Tories getting kicked out this year or next. Brexit turning out to be the disaster everyone warned it would be #FBPE | 4,999 |
| MalcFleming | Malcolm Fleming | @PostcodeLottery Group Public Affairs Manager & UK Head of Public Affairs. Board Member @LotteriesC & @ACLEU_Lotteries. Former @ScotGov Special Adviser. | 4,985 |
| SamLowry60 | Sam Lowry | Don't forget Keir Starmer was campaigning to make Jeremy Corbyn Prime Minister, John McDonnell Chancellor & Diane Abbott Home Secretary until December 2019 ! | 4,949 |
| NormalN7 | Norman Normal #CorbynWasRight #LabourFiles | Fighting for a Socialist Gov. Independent Wales if not. Ex Labour, Support Corbyn and all those falsely victimised by them. Retweets do not mean an endorsement. | 4,940 |
Most active users
| Username | Bio | Number of tweets |
| --- | --- | --- |
| progbrit | Imaginative thinking to rebuild Labour and the Nation. #ProgressiveBritain Sign up to our newsletter here: https://t.co/DjNd0YtEFX. | 9 |
| coccinellanovem | Gender Atheist Bisexual Crone ♿ More research/better care for #Dysphoric & trans IDing kids & detrans adults. Follow @genspect @MyBodyIsMeBooks @2020affirmation | 7 |
| rhi4islwyn | Welsh Labour & Co-op Member of the Senedd for Islwyn #PuttingIslwynFirst | Please use email for casework Rhianon.Passmore@senedd.wales | 3 |
| MarkHazard2020 | "Interesting … where were you measured for this, bud?" "My tailor. Savile Row." "That's so? Mine's a guy in Washington." | 2 |
| Michael91347878 | - | 2 |
| HansonLucy | #GoodMusic; @hansonmusic @Opera @allanmhanson If you follow me I follow you. We are all brothers. Greetings🙋‍♀️ | 2 |
| DarrenL68346529 | The time has come for us to unite! Together we stand, divided we fall! ALL LIVES MATTER, WE ARE ONE RACE (THE HUMAN RACE)🤍🖤🤎💜💙💚💛🧡❤ | 2 |
| Thehuck_59 | #IStandWithStarmer #GordonBrownCultist | 2 |
| snevinoj | Looking forward to the Tories getting kicked out this year or next. Brexit turning out to be the disaster everyone warned it would be #FBPE | 2 |
| PTClimate_UK | I automatically find and bring you all climate change related tweets from British MPs - stay up to date with me! Run by @RobbieMallett | 2 |
---
Tweets per day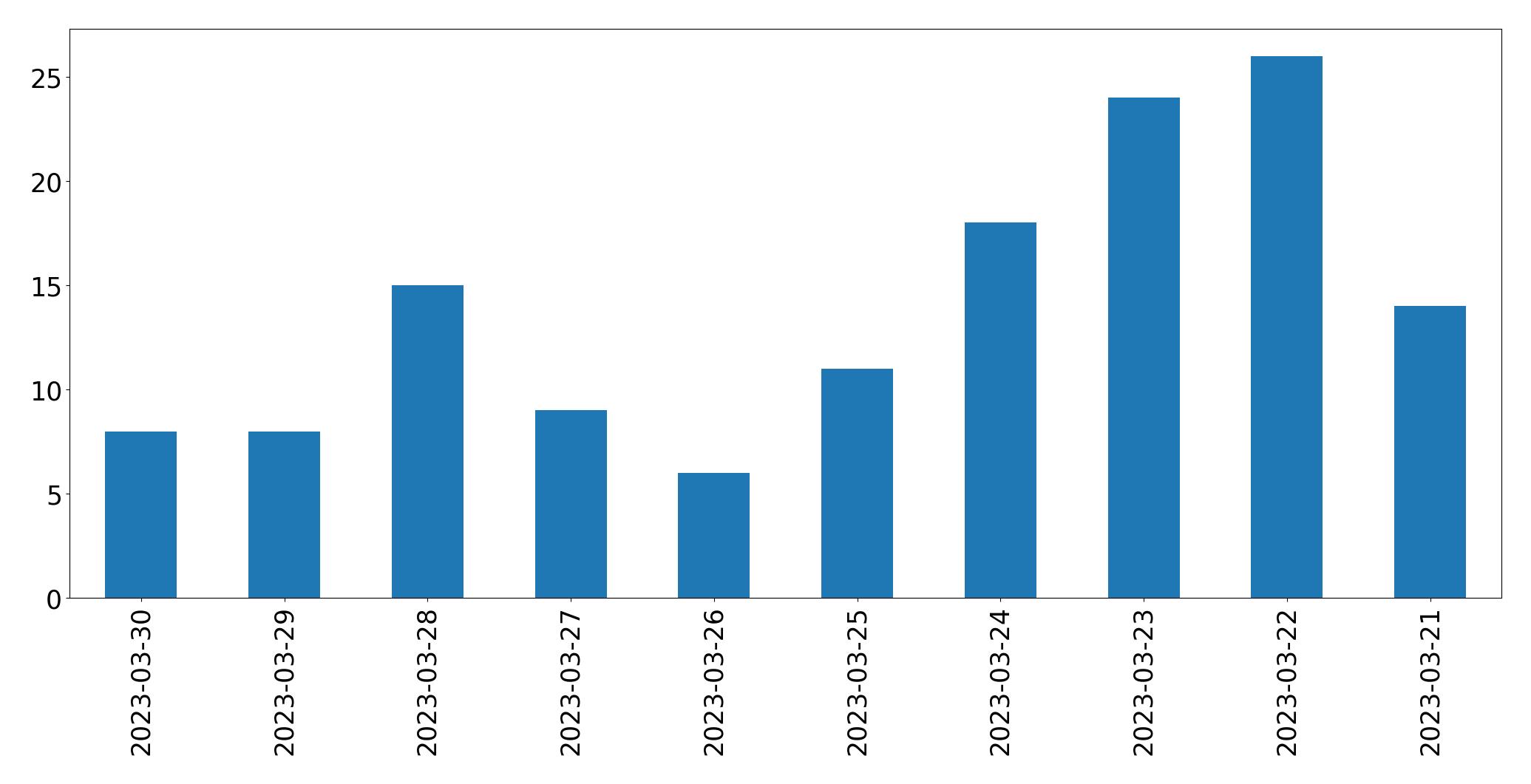 ---
Top 10 tweets with highest Retweet count
| ID | Text | Retweet count |
| --- | --- | --- |
| 1638988705326157827 | @GBNEWS @Jacob_Rees_Mogg @Ianblackford_MP @BBCRosAtkins @NickTorfaen @RhonddaBryant, millions of now on the brink @OfficialEUA #Excluded are calling on @RishiSunak to be tried for treason and especially with today being the 3rd anniversary He has broken every law set by the @ECHR_CEDH! #ToriesOut259 https://t.co/VLMOT4mRbb | 13 |
| 1641112944640393216 | What can today's Labour Party learn from Harold Wilson, a leader who oversaw great technical and social revolutions in Britain? Join Times Red Box reporter @lara_spirit, historian @gsoh31 and MP @NickTorfaen in our next online event to find out ⬇️ https://t.co/d1As3s5pT1 https://t.co/mJZe2w8Ccg | 8 |
| 1638222605214687232 | Join us on 4th April for our next online event with @NickTorfaen, @gsoh31 and @lara_spirit. What can Starmer's Labour Party learn from Harold Wilson's ideas about how we can manage and thrive in a time of change? Register here! ⬇️ https://t.co/d1As3s5pT1 https://t.co/oggzdfXcwv | 7 |
| 1641449932413612038 | I thank the Shadow Secretary of State for Trade @NickTorfaen for our meeting It has been a pleasure to receive him in #GrosvenorSquare https://t.co/OStumuj3cx | 6 |
| 1640040984925929474 | "To be quite honest I feel like a drink." Join Times Red Box reporter @lara_spirit, historian @gsoh31 and MP @NickTorfaen as they discuss the life and career of Harold Wilson. What can today's Labour party can learn from his successes and failures? ⬇️ https://t.co/d1As3s5pT1 https://t.co/4IpddCyzFs | 6 |
| 1638955841406509078 | Don't miss our next online event 🔊 Join author and MP @NickTorfaen, Historian @gsoh31 and Times Red Box reporter @lara_spirit as they discuss what today's Labour party can learn from Harold Wilson's extraordinary time in government. Register now: https://t.co/d1As3s5pT1 https://t.co/fe0NnRY8ke | 4 |
| 1640748063290474497 | One week to go 📢 Join Times Red Box reporter @lara_spirit, historian @gsoh31 and author of 'Harold Wilson: The Winner' @NickTorfaen as they ask what Starmer's Labour can learn from Harold Wilson's command of the country during a time of great change. https://t.co/d1As3s5pT1 https://t.co/yW27xUGdJc | 3 |
| 1638798482323685377 | The #history of now from @Itwitus @NickTorfaen @peterfrankopan & @OxfordYasmin @kavpuri & @jojo_durrant To attend these talks click here👇🏼 https://t.co/hoFjBSfXV8 #GlosHistFest23 @yalebooks @HeatherNathan @wnbooks @eandtbooks @elizabethallen @bloomsburybooks @profilebooks https://t.co/pdb720N2Rv | 3 |
| 1640758950399279130 | Thank you @JaneMHunt for chairing our #CustomsClearance report launch at the Parliament today. Great to have @NickTorfaen fully endorsing a "think small first" approach as critical to unlocking international trade for small businesses up and down the UK. https://t.co/oldVC69dXl | 3 |
| 1639324232378089486 | Join Times Red Box reporter @lara_spirit, historian @gsoh31 and author @NickTorfaen MP as they discuss his recent book on the remarkable career of Harold Wilson. What can we learn from a man who led the country through a time of great change? Tickets ⬇️ https://t.co/d1As3s5pT1 https://t.co/imVgQvKfn6 | 2 |
Top 10 tweets with highest Like count
| ID | Text | Like count |
| --- | --- | --- |
| 1641112944640393216 | What can today's Labour Party learn from Harold Wilson, a leader who oversaw great technical and social revolutions in Britain? Join Times Red Box reporter @lara_spirit, historian @gsoh31 and MP @NickTorfaen in our next online event to find out ⬇️ https://t.co/d1As3s5pT1 https://t.co/mJZe2w8Ccg | 16 |
| 1641449932413612038 | I thank the Shadow Secretary of State for Trade @NickTorfaen for our meeting It has been a pleasure to receive him in #GrosvenorSquare https://t.co/OStumuj3cx | 11 |
| 1638931958016163840 | @NickTorfaen @Keir_Starmer Hard to believe when I find the man (in no particular order): Vacuous Duplicitous Dictatorial Vindictive Thin-skinned Dishonest Cowardly Undemocratic and War-mongering Not good characteristic to deliver anything IMHO. Other than disaster. | 10 |
| 1640040984925929474 | "To be quite honest I feel like a drink." Join Times Red Box reporter @lara_spirit, historian @gsoh31 and MP @NickTorfaen as they discuss the life and career of Harold Wilson. What can today's Labour party can learn from his successes and failures? ⬇️ https://t.co/d1As3s5pT1 https://t.co/4IpddCyzFs | 10 |
| 1640758950399279130 | Thank you @JaneMHunt for chairing our #CustomsClearance report launch at the Parliament today. Great to have @NickTorfaen fully endorsing a "think small first" approach as critical to unlocking international trade for small businesses up and down the UK. https://t.co/oldVC69dXl | 9 |
| 1638988705326157827 | @GBNEWS @Jacob_Rees_Mogg @Ianblackford_MP @BBCRosAtkins @NickTorfaen @RhonddaBryant, millions of now on the brink @OfficialEUA #Excluded are calling on @RishiSunak to be tried for treason and especially with today being the 3rd anniversary He has broken every law set by the @ECHR_CEDH! #ToriesOut259 https://t.co/VLMOT4mRbb | 9 |
| 1638222605214687232 | Join us on 4th April for our next online event with @NickTorfaen, @gsoh31 and @lara_spirit. What can Starmer's Labour Party learn from Harold Wilson's ideas about how we can manage and thrive in a time of change? Register here! ⬇️ https://t.co/d1As3s5pT1 https://t.co/oggzdfXcwv | 9 |
| 1639190100616806402 | @NickTorfaen @Keir_Starmer He can't even define what a woman is let along protect them. | 6 |
| 1638836950257012736 | In Chamber for first Business and Trade Questions with @RuthCadbury @jreynoldsMP @NickTorfaen @NiaGriffithMP @Bill_Esterson @GarethThomasMP @justinmadders | 6 |
| 1638798482323685377 | The #history of now from @Itwitus @NickTorfaen @peterfrankopan & @OxfordYasmin @kavpuri & @jojo_durrant To attend these talks click here👇🏼 https://t.co/hoFjBSfXV8 #GlosHistFest23 @yalebooks @HeatherNathan @wnbooks @eandtbooks @elizabethallen @bloomsburybooks @profilebooks https://t.co/pdb720N2Rv | 6 |
Top 3 Languages Used In Tweets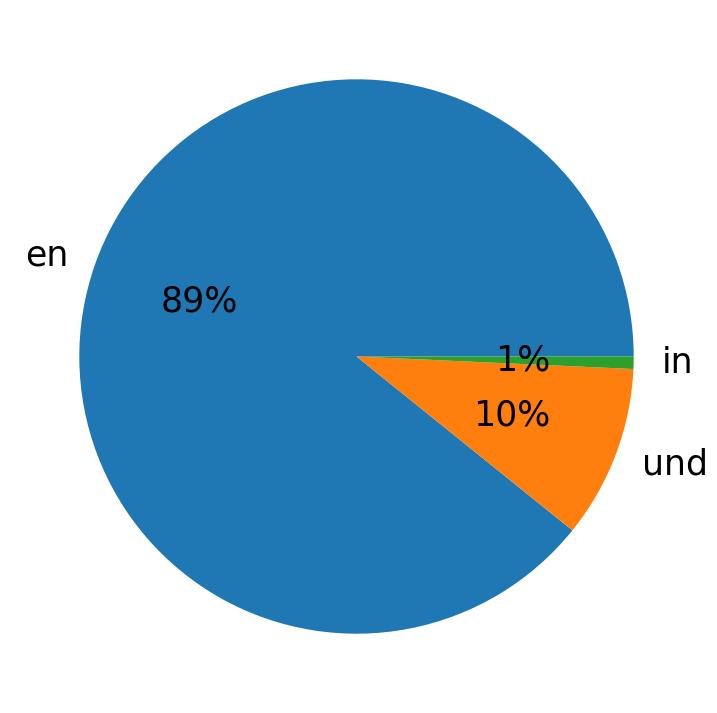 ---
Top 10 Hashtags used
| Hashtag | Count |
| --- | --- |
| #justice4tigray | 5 |
| #excluded | 3 |
| #toriesout259 | 3 |
| #labourlosingwomen | 3 |
| #factsmatter | 3 |
| #safeguardingmatters | 3 |
| #grosvenorsquare | 2 |
| #letwomenspeak | 2 |
| #customsclearance | 2 |
| #export | 2 |
Top 10 Hashtags Used In Tweets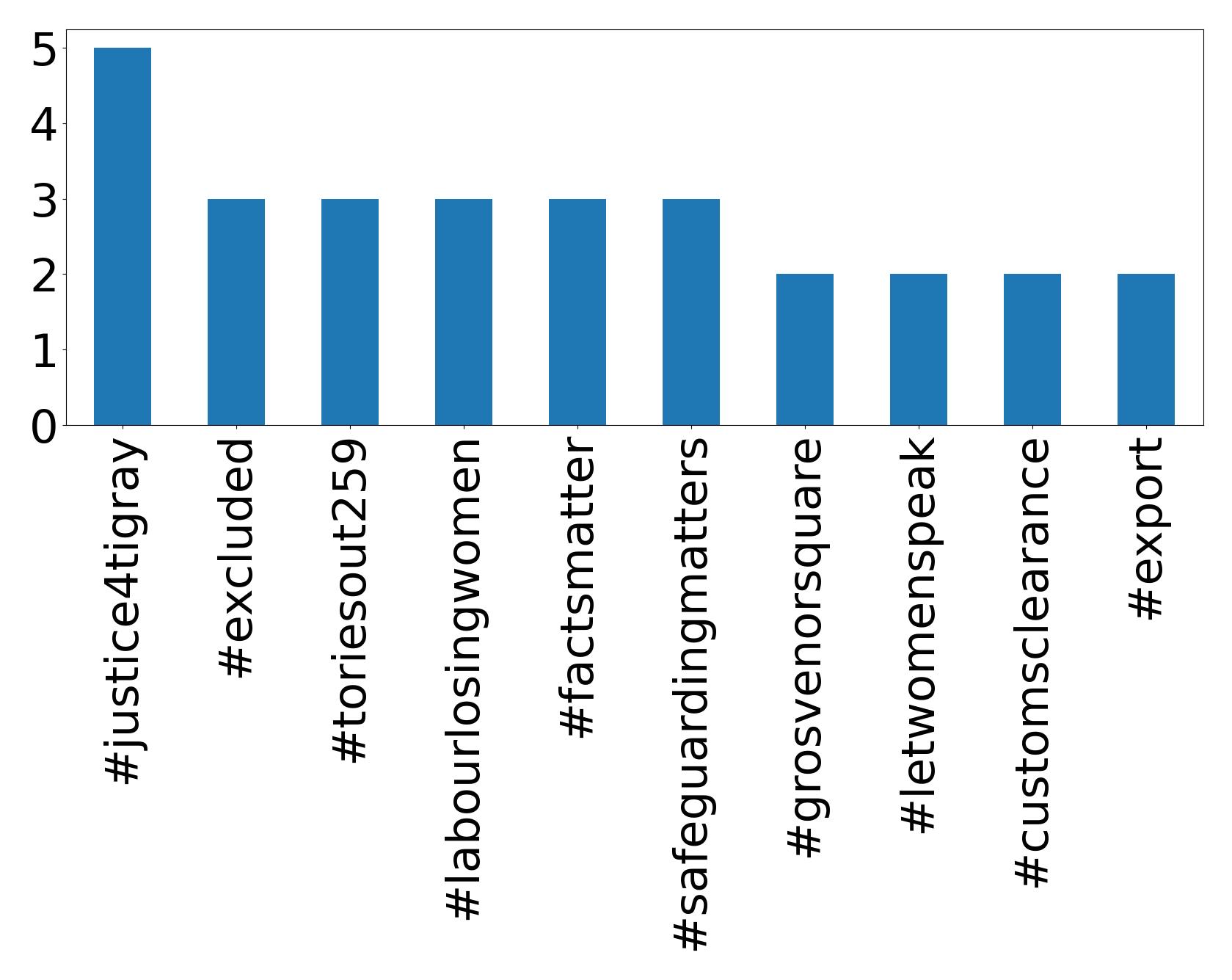 Top 10 mentions
| Mention | Count |
| --- | --- |
| @nicktorfaen | 140 |
| @keir_starmer | 34 |
| @vaughangething | 25 |
| @uklabour | 23 |
| @rachelreevesmp | 19 |
| @lara_spirit | 17 |
| @gsoh31 | 17 |
| @davidlammy | 16 |
| @lisanandy | 16 |
| @jreynoldsmp | 15 |
Top 10 mentions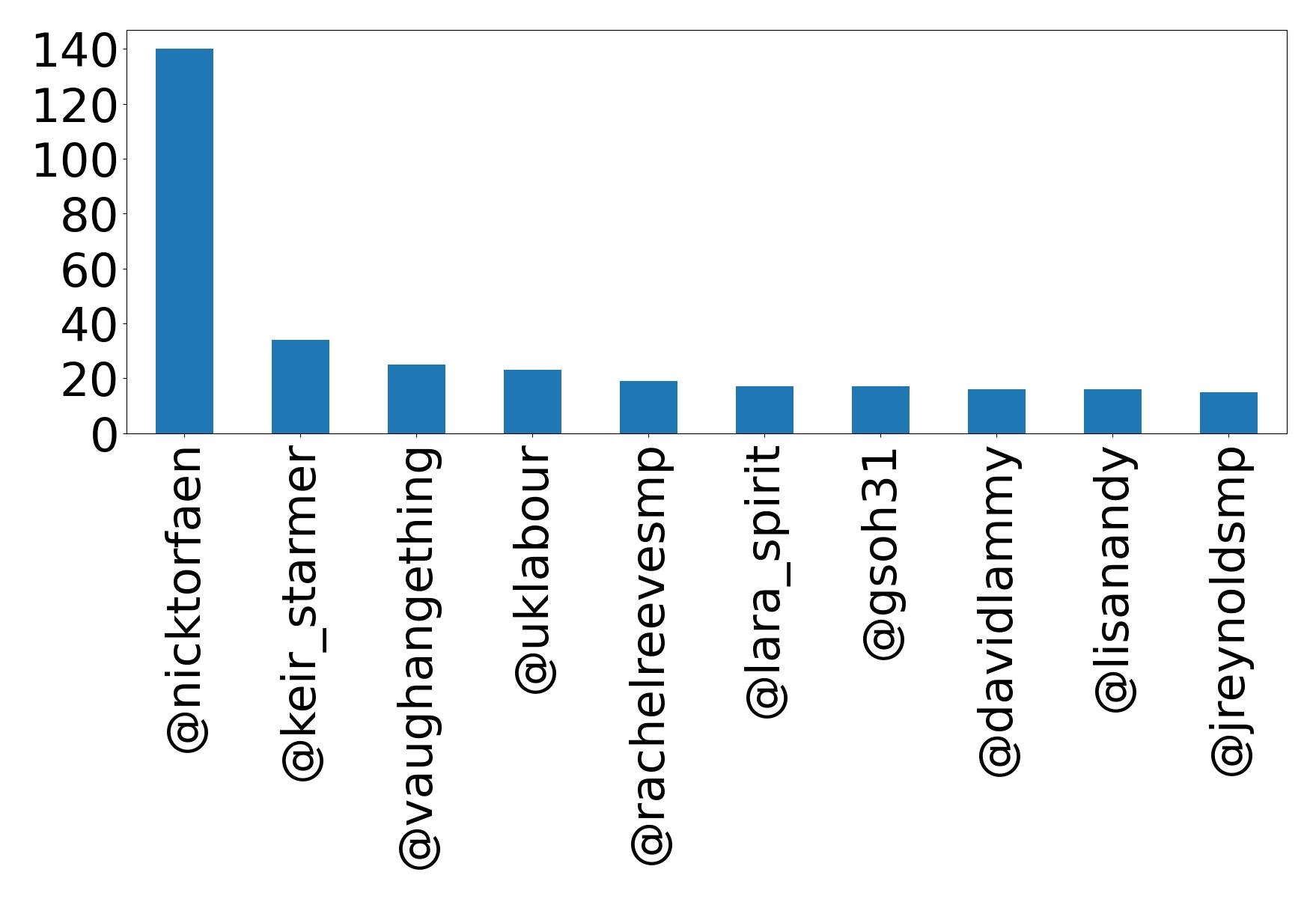 Wordcloud of Tweets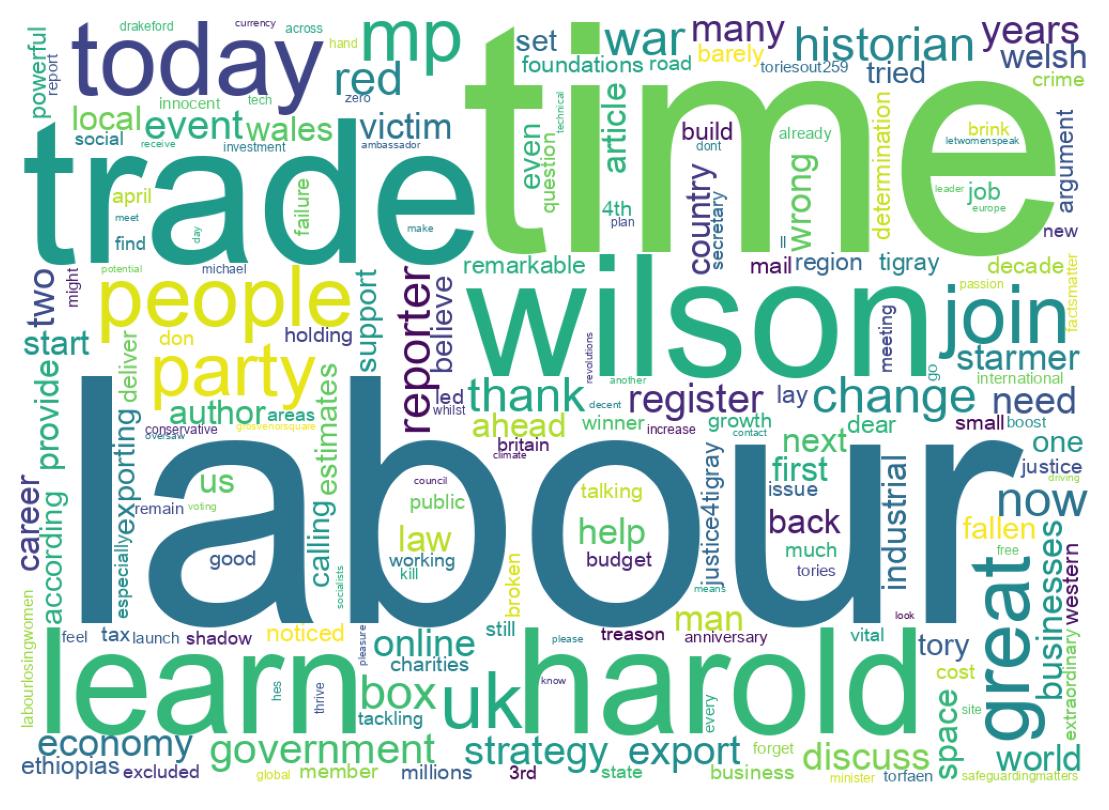 ---
Emojis
Average number of emojis used per tweet
29
Emojis used in tweets
| Emoji | Count | Emoji Text |
| --- | --- | --- |
| ⬇️ | 8 | down_arrow |
| ⤵️ | 5 | right_arrow_curving_down |
| ©️ | 5 | copyright |
| 😂 | 4 | face_with_tears_of_joy |
| 👇 | 3 | backhand_index_pointing_down |
| 🇬🇧 | 2 | United_Kingdom |
| 📢 | 2 | loudspeaker |
| 👇🏼 | 2 | backhand_index_pointing_down_medium-light_skin_tone |
| 🔊 | 2 | speaker_high_volume |
| 💰 | 2 | money_bag |
Emojis groups
| Emoji Group | Count |
| --- | --- |
| Symbols | 18 |
| Objects | 8 |
| People & Body | 7 |
| Flags | 4 |
| Smileys & Emotion | 4 |