Tweets Analysis - Keyword: Nicki
Total number of tweets analysed
6,724
Earliest tweet was on
2023-04-05
Latest tweet was on
2023-04-05
Average age of authors' accounts
4 years
---
Summarization
The tweets cover a range of topics related to Nicki Minaj, including her past song collaborations and rejections, her success as a female rapper, and her fashion choices. Specific points include Minaj turning down collaborations with Gunna and Doja Cat, being the most streamed female rapper on Spotify in March 2023, and declining a feature on Lil Nas X's "Industry Baby." The tweets also mention Minaj's history-making release of "Super Bass" twelve years ago and ask for opinions on her best bridges in songs.
Topic Modeling
Nicki Minaj's declined collaborations
Nicki Minaj's career achievements
Nicki Minaj's creative process
Nicki Minaj's fan base and haters
Nicki Minaj's fashion and appearance
Emotional Analysis
The tweets cover a range of emotions towards Nicki Minaj, from admiration for her music and fashion sense to disappointment or frustration that she turned down collaborations or declined to participate in certain projects. Some tweets express pride in her achievements, such as being the most streamed female rapper on Spotify, while others criticize those who dislike her. Overall, the emotions expressed are generally positive and supportive of Nicki Minaj.
Trend Analysis
Nicki Minaj's music career and collaborations
Nicki Minaj's impact on rap and pop music
Nicki Minaj's personal life and opinions
Celebrating the anniversary of Nicki Minaj's hit song "Super Bass"
Fan appreciation and admiration for Nicki Minaj's fashion and style
---
Types of Tweets
Number of Retweets
1,533
Percentage of total tweets
22%
Number of Original tweets
1,592
Percentage of total tweets
23%
Number of tweets that contain Mentions
4,652
Percentage of total tweets
69%
Number of tweets that were Replies
3,026
Percentage of total tweets
45%
Number of tweets that were Quotes
845
Percentage of total tweets
12%
Number of tweets that contain Hashtags
424
Percentage of total tweets
6%
---
Top 5 devices used to tweet
| Source | Count |
| --- | --- |
| Twitter for iPhone | 3896 |
| Twitter for Android | 2002 |
| Twitter Web App | 562 |
| Twitter for iPad | 54 |
| Radio.co now playing | 34 |
What devices were used to tweet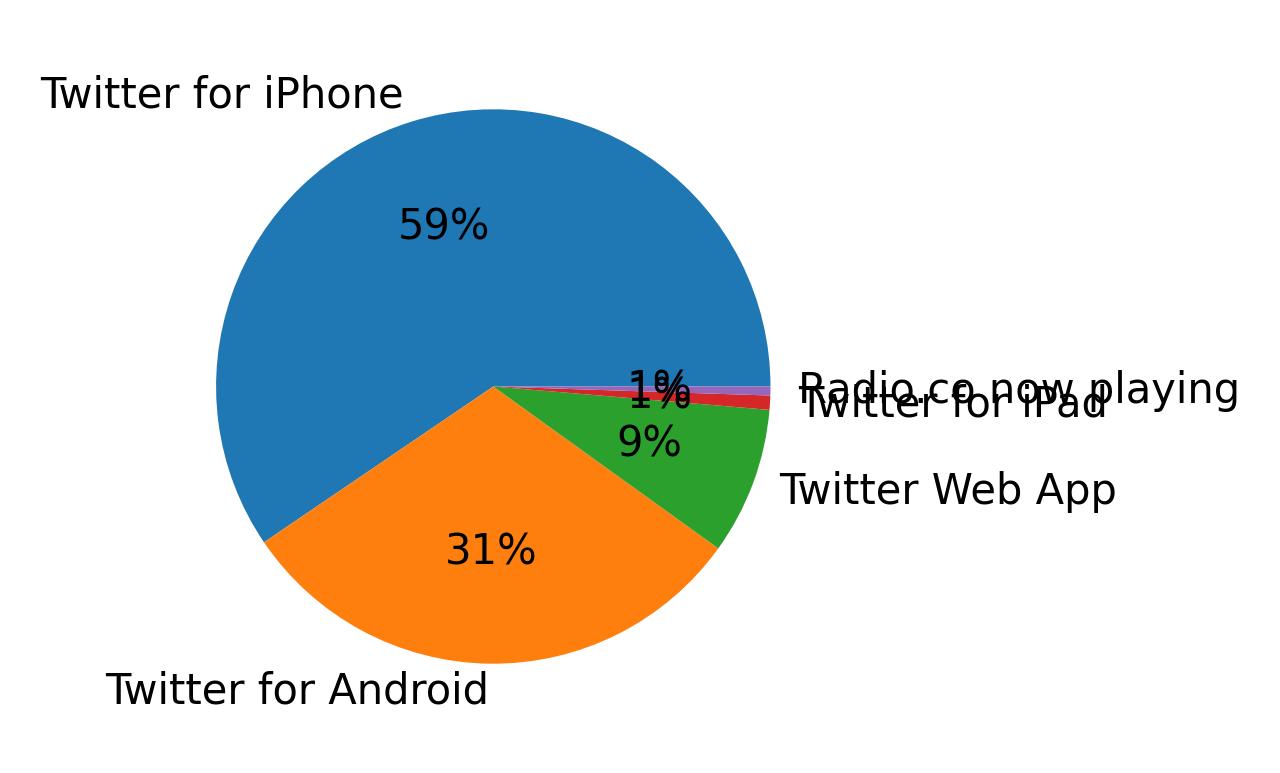 ---
Top 10 accounts with highest followers count
| Username | Name | Bio | Followers count |
| --- | --- | --- | --- |
| infobae | infobae | Hacemos periodismo, lo hacemos con pasión. @infobaeamerica 🌎 @infobaedeportes ⚽ @teleshowcom 🎥 @infobaeeconomia 🏦 @infobaetrends 📸 @infobaemexico 🇲🇽 | 3,421,825 |
| AngieVelasco08 | Angie Velasco | no soy youtuber | 1,602,569 |
| infobaeamerica | Infobae América | Las últimas noticias de Latinoamérica y del mundo. Todo el tiempo. | 1,377,873 |
| CityPowerJhb | @CityPowerJhb | City Power lights the way in Johannesburg. Report outages, faults & compliments to https://t.co/IJC4ePTaAo or Call Centre 011 490 7484 /0860JOBURG / 0860562874 | 1,067,197 |
| caras | Revista Caras | Twitter oficial de la revista CARAS Argentina | 530,462 |
| JohnLewisRetail | John Lewis & Partners | Shop in-store or online at https://t.co/RcwsphHQTR 🛍 Need help? @johnlewishelp 👋 | 419,337 |
| waitrose | Waitrose & Partners | Follow us for all the latest news, recipes and offers from Waitrose & Partners. We're available on Twitter whenever our shops are open. | 348,735 |
| forumpandlr | PAN | A PAN é um fórum criado na rede social https://t.co/d5FlzhMvAN Música, TV, humor, cinema e cotidiano, tudo no mesmo lugar! | 308,395 |
| Nicki_Nicole19 | naiki | - | 304,352 |
| NotiUno | NotiUno 630 | La emisora de noticias y análisis de mayor audiencia en Puerto Rico. Primera Fiscalizando. #NotiUno630 Contacto: noticias@unoradio.com | 284,755 |
Top 10 accounts with highest friends count
| Username | Name | Bio | Followers count |
| --- | --- | --- | --- |
| TPBlue4 | TPBlue💔 | 🇺🇸 Biden Harris 🇺🇸 BLM #EQUALITY 🏳️‍🌈 Ally 🏳️‍🌈 #IStandWithUkraine ⭐️ Woke AF! ⛔️maga⛔️ No DMs or Lists | 42,534 |
| PopCrush | PopCrush | All things pop culture | 37,596 |
| Hits93Toronto | Hits 93 Toronto | Canada's Biggest Radio Station. Home of #1DHour at 12 and 8 p.m. ET. *Support Indie Radio: https://t.co/Wcfabm8IB5. ^Owned by @OnAirWithViktor. | 32,969 |
| Kupa07 | Dr Kupa | Vet(BVSc,EMBA)|Business|Farmer|Level Up|Motivate💯🫶God🔌. 1️⃣Health, Econ, Leadership, Pub Policy, Sust Dev, Social Sc, Fun😜⚽♟️🎱🎶💎💰RT🔃≠ENDO, Let's go👣🤳 | 31,265 |
| nmamnga | genevieve vavance. | - | 22,963 |
| colacasia2 | 🌴The Gardener🌴 | Husband, Father, Patriot,✝️ 2A, ,Ultra MAGA love my country, USAF Veteran! 🇺🇲🇩🇴.Latino, IFBAP.🚫DM's Patriots only! Tropical, Gardener in Central NJ 🌴 🇺🇲 | 21,960 |
| nickialanoche | Nicki Escudero 🏀 | Freelance journalist, copywriter, editor. Yoga instructor @fairfaxparks. Travel, cooking, golf, reading, music, @NBA, comedy, nature, art, crafts, gaming. | 21,701 |
| FrankieRusso1 | FRANKIE RUSSO, TALK SHOW HOST @ 77 WABC | 'LOVE ME OR HATE ME' KID FROM BROOKLYN, #Trump2024, #AMERICAfirst, #MAGAforever, https://t.co/Nnpw2kM4Ct… . | 21,456 |
| FABIOTHEBARB | 𝗙𝗔🅱️𝗜𝗢ᴺᴹ | fan account (nicki, beyonce, cbreezy & frank stan) - followed by nicki minaj, cupcakke & doechii. | 19,975 |
| CMY1952 | Melinda Young | Happily married to an RAF veteran. Mother. Christian. Brexit. ❤️ DJT. Dog & cricket lover. No Lists or DMs. 🏴󠁧󠁢󠁷󠁬󠁳󠁿🇬🇧🇺🇸🇮🇱 | 19,649 |
Most active users
| Username | Bio | Number of tweets |
| --- | --- | --- |
| Nicki__Chyna | Bury me and I'll be born again.. | 102 |
| nicki_ray17 | Independent. Conservative. Foul-mouthed at times. Sick of woke agendas. Covidians need not reply. Ukrainian flags in bio can pound sand. Anti-War. World Peace. | 69 |
| Nicki_Arts | 🦄 Fan/Parody Account. I show my love for Nic through my art.🦄 Nicki follows, liked 1x on IG,43x here, rtwt 2x, replied 1x, art 3x,& posted 2 of my pics on IG | 47 |
| Nicki_justnicki | yedi göbektir ofansif mizahçı ve kronik kırşehirli | 44 |
| Nicki_Mags | 📖#reading The Truth About Her by Annie Taylor #listeningto A Secret Garden Affair by Erica James 🎧 | 42 |
| Nicki_Malaysia | Follow my Instagram and Renaissance fan page for my current Nicki Minaj Spotify Streams! @Nicki_Minaj_Malaysia | 31 |
| nicki_bh_ | ˚ʚ♡ɞ˚ Woman .life. freedom | 29 |
| starry__night9 | ✊🏼✊🏽✊🏾✊🏿 | 28 |
| nicki_slow | Assistendo al tracollo di Twitter. La prego signor Musk non mi banni. Russofobo ero e russofobo rimango, sia già così in eterno. Centrista da divano. | 28 |
| Kevoskidasleeze | 💚💤W/o my C🍪🍪kie I'm jus a monster😈 | 25 |
---
Tweets per day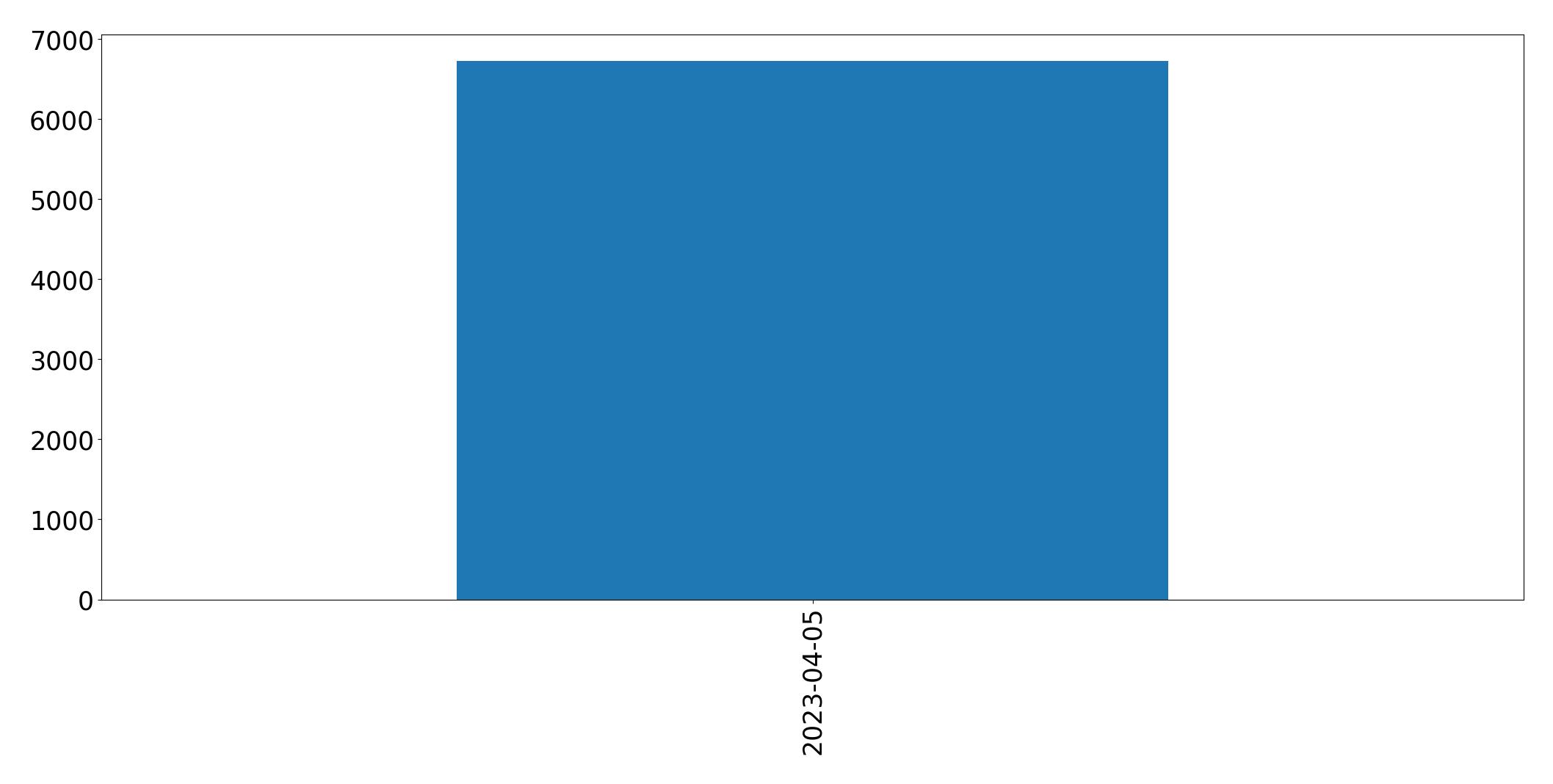 ---
Top 10 tweets with highest Retweet count
| ID | Text | Retweet count |
| --- | --- | --- |
| 1643447130554765313 | Songs Nicki Minaj has turned down! A fun and educational thread: https://t.co/coab4wS5zD | 489 |
| 1643482198794809347 | esta vuelta no me voy a dejar | 406 |
| 1643537950171361280 | Nicki Minaj was the most streamed female rapper on Spotify in March 2023 across all credits. https://t.co/pADD0SqleA | 113 |
| 1643471145134440448 | Nicki Minaj Bridges. What's your favorite bridge from Minaj? https://t.co/Ji28r4lc4l | 98 |
| 1643426740209872896 | nicki minaj in cornrows >>> https://t.co/QWfG6LZqac | 92 |
| 1643485360192647173 | Nicki when Fivio asked her what the topic was for We Go Up https://t.co/WcVnyFIEGR | 90 |
| 1643461324867792898 | 🚨💖 HISTÓRICO: há 12 anos, Nicki Minaj lançava "Super Bass". O smash hit mesclava pop com rap, introduzindo o rap feminino de volta ao mainstream e conquistando 2 públicos diferentes de uma vez só. https://t.co/RQbHoReMPO | 70 |
| 1643467901754548224 | 12 years ago today Nicki Minaj released "Super Bass" as a single. It peaked at #3 on the Billboard Hot 100 and is certified diamond. https://t.co/DdQhAbCEyZ | 63 |
| 1643523332686397448 | Here are pictures that can make your day😅🛠️ contact @gknplumbing_cc so we can make your day for real and put a smile in you❤️ Based in:Kzn, Gauteng and Capetown ✨ Call No:0710809084✨ #Iblewit #xrepo Eskom/Pitso/World Cup/Nicki/Skeem Saam/Messi/Ramaphosa/ANC/Malema/Tiwa https://t.co/r5tt8YvLV7 | 61 |
| 1643630483366879239 | With 126 entries under her belt (and more on the way! 👀), Nicki Minaj is the 2nd female artist & 8th overall with the most songs on the Hot 100. Here are the top 10 years our Billboard Queen has dominated this chart with the most weeks: https://t.co/13yuqnjQgg | 60 |
Top 10 tweets with highest Like count
| ID | Text | Like count |
| --- | --- | --- |
| 1643482198794809347 | esta vuelta no me voy a dejar | 8134 |
| 1643447130554765313 | Songs Nicki Minaj has turned down! A fun and educational thread: https://t.co/coab4wS5zD | 6197 |
| 1643484663053156354 | @Nicki_Nicole19 tu segundo mejor tema el primero es plegarias ☝🏼 | 1294 |
| 1643426740209872896 | nicki minaj in cornrows >>> https://t.co/QWfG6LZqac | 1288 |
| 1643447232744820736 | P Power • Gunna, Nicki Minaj Nicki Minaj revealed that she was suppose to be on Gunna's P Power. Though, due to the timing of her being pregnant, she could not bring herself to write explicitly. https://t.co/AkT4Mspf8R | 1183 |
| 1643447425443696641 | Get Into It Yuh • Doja Cat, Nicki Minaj In the same Twitter space, Nicki revealed that Doja Cat had sent her Get Into It Yuh to feature on. Unfortunately, Nicki felt as if she couldn't bring anything to the table for that song. https://t.co/kODRlecCqG | 787 |
| 1643439287436730368 | nicki haters have a common similarity. https://t.co/EOb72gLvDM | 718 |
| 1643447239799615488 | California Gurls • Katy Perry, Nicki Minaj This was never officially confirmed but Katy did say she would love to have Nicki remix the song. https://t.co/opbdrjky3V | 671 |
| 1643447301552357378 | Papi's Home • Drake, Nicki Minaj Nicki revealed in a twitter space that she thought of sending Drake a verse back for Papi's Home. But she felt as those Dricki moments should be for her project. (nm5) https://t.co/HJ1A9rXgxB | 657 |
| 1643537950171361280 | Nicki Minaj was the most streamed female rapper on Spotify in March 2023 across all credits. https://t.co/pADD0SqleA | 648 |
Top 3 Languages Used In Tweets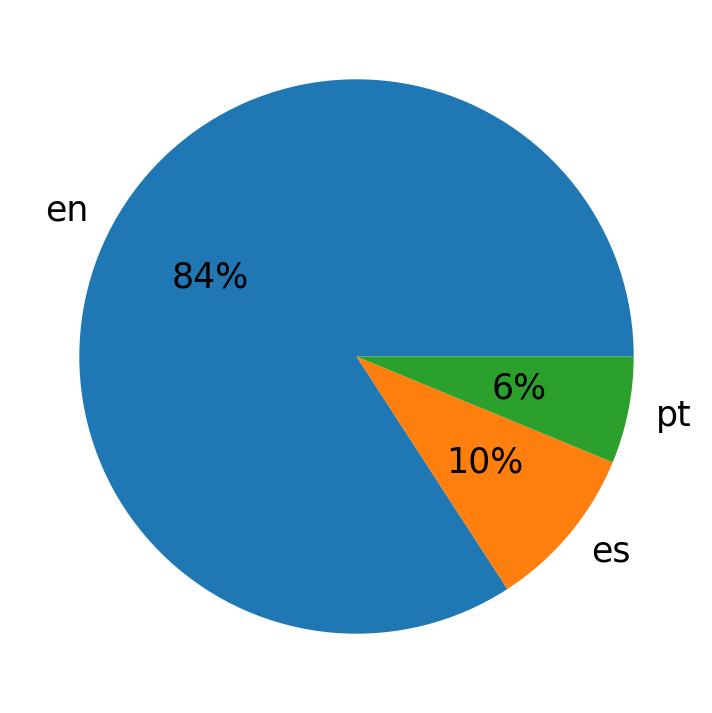 ---
Top 10 Hashtags used
| Hashtag | Count |
| --- | --- |
| #1 | 73 |
| #barbie | 27 |
| #nowplaying | 25 |
| #lafirmanetflix | 21 |
| #booktwitter | 19 |
| #nickiminaj | 19 |
| #secretlibrarybookblog | 18 |
| #wwwwednesdays | 17 |
| #happyshrugday | 16 |
| #whatamireading | 16 |
Top 10 Hashtags Used In Tweets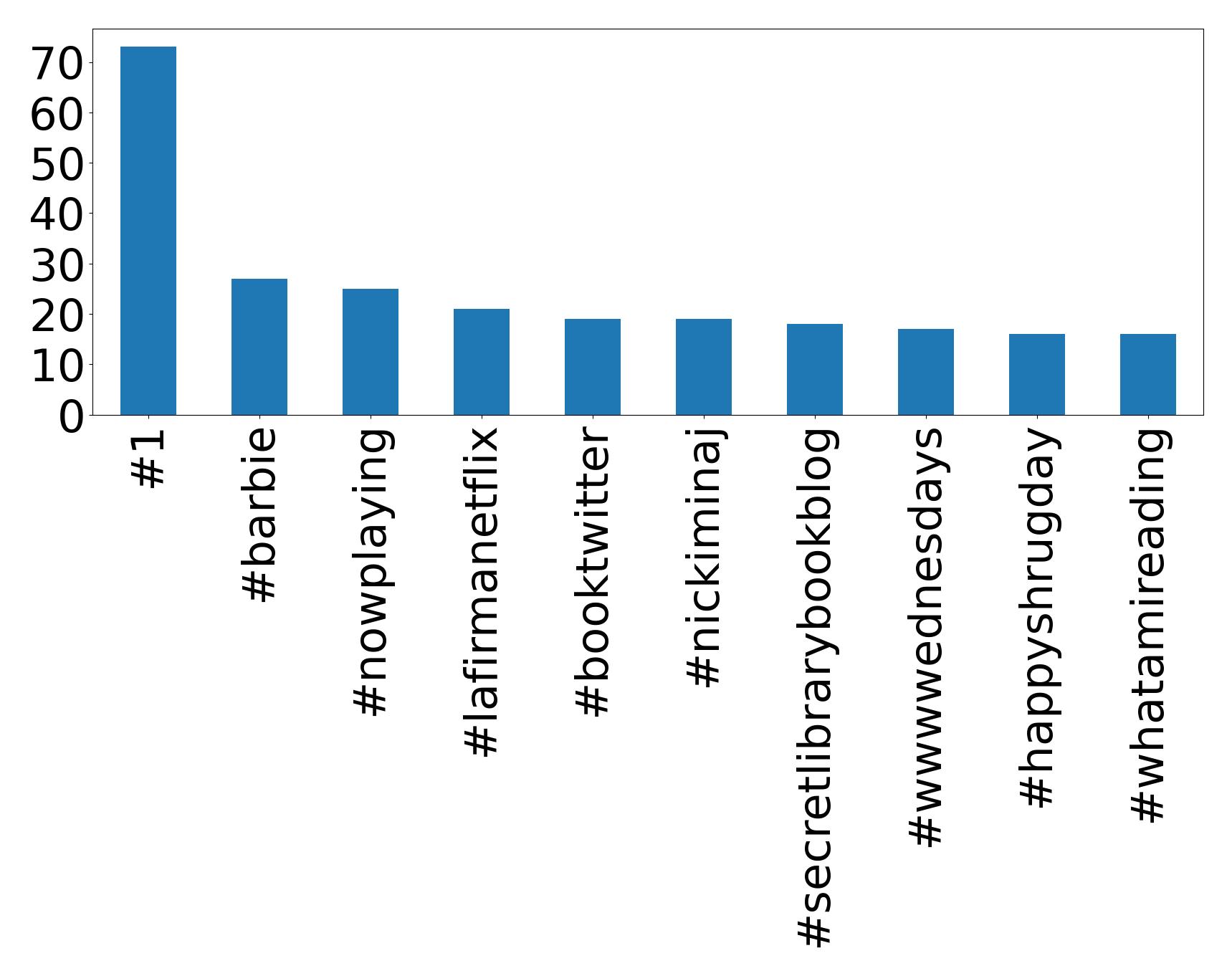 Top 10 mentions
| Mention | Count |
| --- | --- |
| @nicki_nicole19 | 247 |
| @nickiminaj | 159 |
| @girlsinrap | 84 |
| @popbase | 69 |
| @beyawonce | 67 |
| @iamcardib | 62 |
| @arisaidthatt | 60 |
| @chartdata | 58 |
| @picturesfoider | 58 |
| @nicki_mvrie | 57 |
Top 10 mentions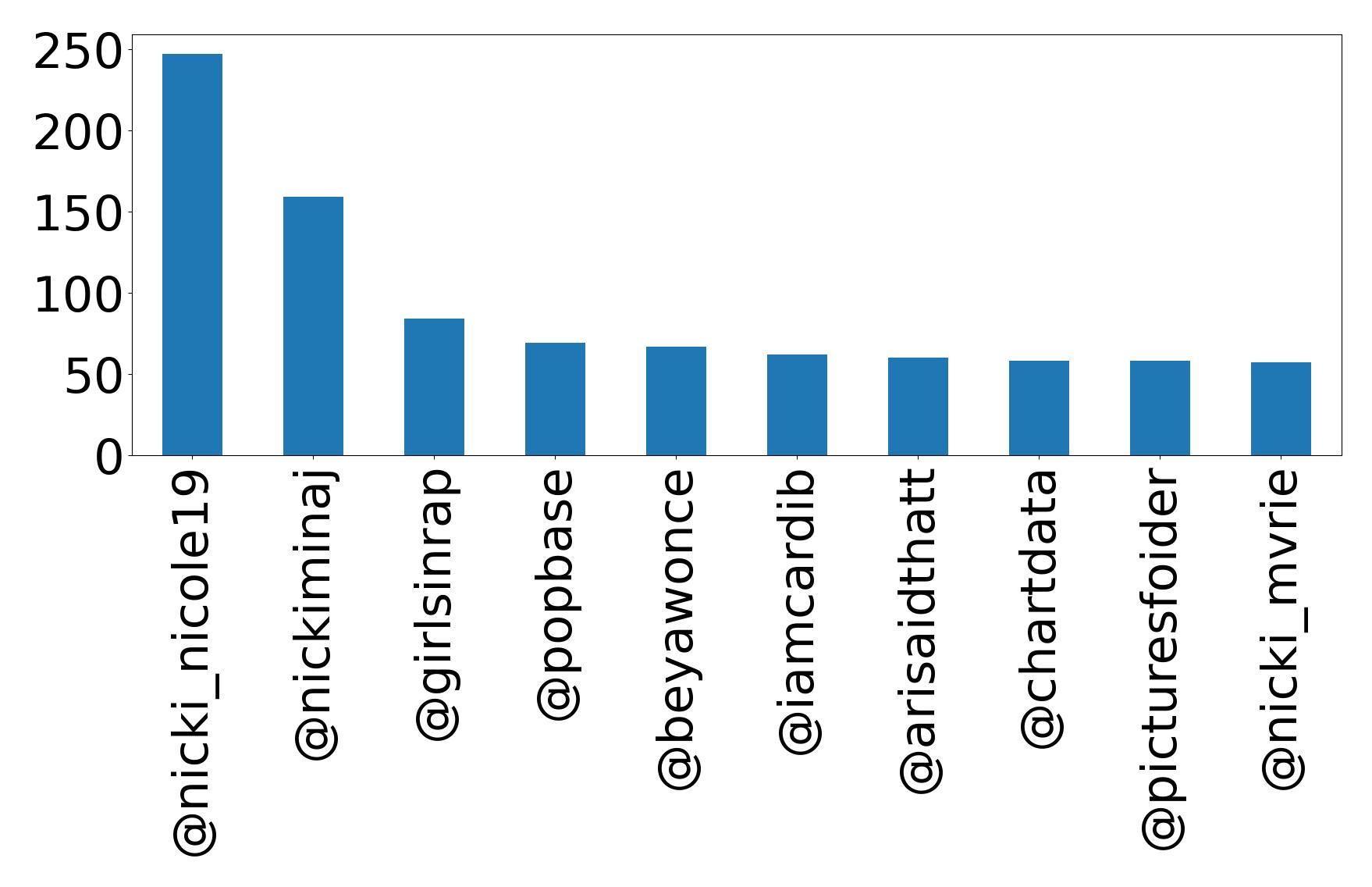 Wordcloud of Tweets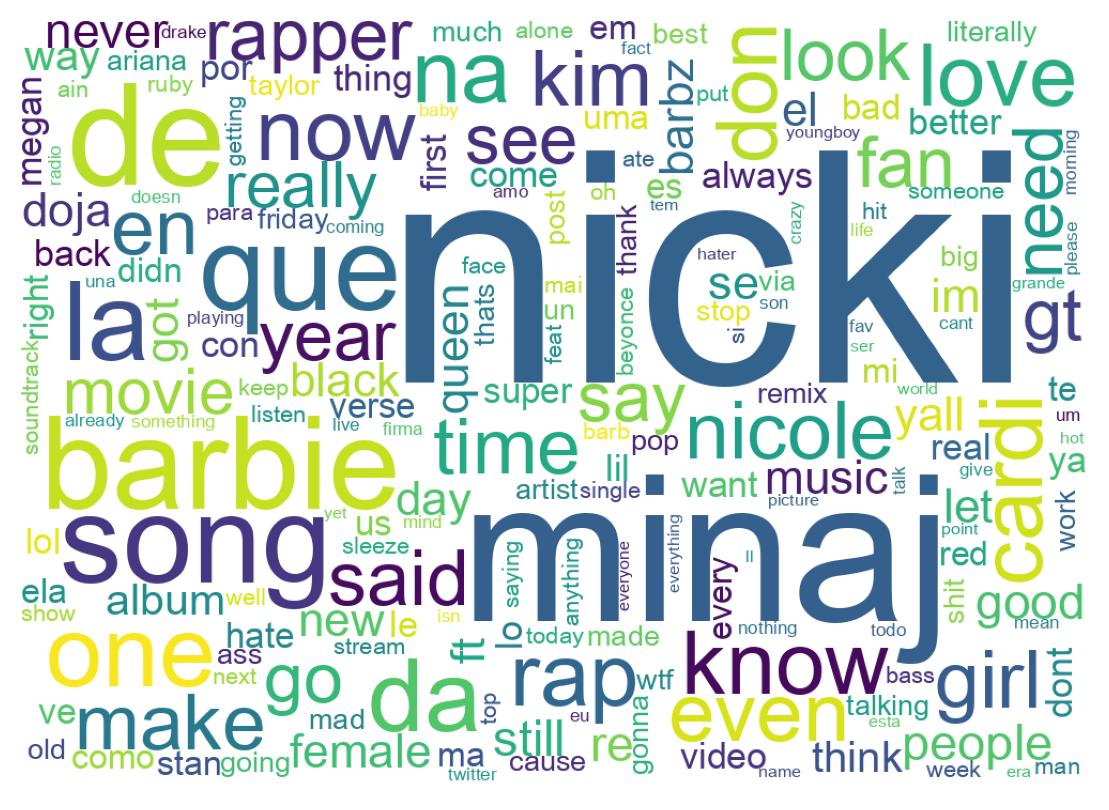 ---
Emojis
Average number of emojis used per tweet
56
Emojis used in tweets
| Emoji | Count | Emoji Text |
| --- | --- | --- |
| 😭 | 545 | loudly_crying_face |
| 😂 | 372 | face_with_tears_of_joy |
| 🤣 | 258 | rolling_on_the_floor_laughing |
| 🔥 | 142 | fire |
| 😍 | 121 | smiling_face_with_heart-eyes |
| 💀 | 105 | skull |
| ❤️ | 72 | red_heart |
| 🚨 | 56 | police_car_light |
| 💕 | 52 | two_hearts |
| ✨ | 52 | sparkles |
Emojis groups
| Emoji Group | Count |
| --- | --- |
| Smileys & Emotion | 2523 |
| People & Body | 322 |
| Travel & Places | 261 |
| Objects | 178 |
| Symbols | 175 |
| Animals & Nature | 154 |
| Activities | 109 |
| Food & Drink | 49 |
| Flags | 26 |