Tweets Analysis - Keyword: @mvmt
Total number of tweets analysed
12
Earliest tweet was on
2023-03-25
Latest tweet was on
2023-03-29
Average age of authors' accounts
9 years
---
Summarization
The tweets discuss a collaboration between artist @kimroseart and @mvmt, with compliments on the packaging. However, there are also negative tweets about @mvmt's customer service and issues with delivery and returns.
Topic Modeling
MVMT collaboration and packaging:
'@kimroseart out there making major moves! Congratulations on the collaboration with @mvmt 🙌'
'@kimroseart @mvmt Amazing job on the packaging!'
Positive customer feedback:
'@MisterBenjamin8 @mvmt Thank you!'
'@matt_i_e @mvmt Thank youuuu!'
'@mvmt So excited for this collection 🤍'
Celebrity endorsement of MVMT and other brands:
'@dennishegstad Daniel Wellington I mean. But @puravida and @mvmt were early on too! Of course @WarbyParker as well.'
Negative customer experience:
'I will NEVER buy anything from @mvmt. Horrible #customerservice. They advertise #nohassle returns. 100% not true. Don't EVER buy from @mvmt. I will NEVER do business with them again. #scam company. #buylocal'
'Don't EVER buy from @mvmt. Their customer service is #Horrible. I bought 3 watches from them. 1 was too small and contrary to their ads, @mvmt refused a return, then accepted the return. They received it on 3/3. Today is 3/26 and STILL no refund. Don't buy from @mvmt !'
'Ordered @mvmt watch for hub on 3/9. Supposed be delivered on 3/16. UPS tracking has said "ON THE WAY" every day since the 16th. Pissed! I had no gift for the date needed. It's 3/26 and no one can tell me why a pkg that has been here since 3/11 hasn't been delivered. #NoMVMT'
Emotional Analysis
The majority of the tweets express positive emotions towards MVMT, with users congratulating them on their collaboration, praising their packaging, and expressing excitement for their collection. However, there are also a few tweets that express negative emotions towards the company's customer service and delivery, with users claiming that they were deceived by the company's return policy and that their orders were not delivered on time. Overall, the emotions expressed in the tweets are mixed but tend towards positive.
Trend Analysis
Kimroseart's collaboration with MVMT
Congratulations and praise for Kimroseart's work on the packaging
Complaints about poor customer service from MVMT
Delays in delivery and issues with tracking from MVMT
Discussion of other companies in the watch industry (Daniel Wellington, Puravida, Warby Parker)
---
Types of Tweets
Number of Retweets
3
Percentage of total tweets
25%
Number of Original tweets
3
Percentage of total tweets
25%
Number of tweets that contain Mentions
12
Percentage of total tweets
100%
Number of tweets that were Replies
5
Percentage of total tweets
41%
Number of tweets that were Quotes
1
Percentage of total tweets
8%
Number of tweets that contain Hashtags
3
Percentage of total tweets
25%
---
Top 5 devices used to tweet
| Source | Count |
| --- | --- |
| Twitter for iPhone | 8 |
| Twitter Web App | 3 |
| Twitter for Android | 1 |
What devices were used to tweet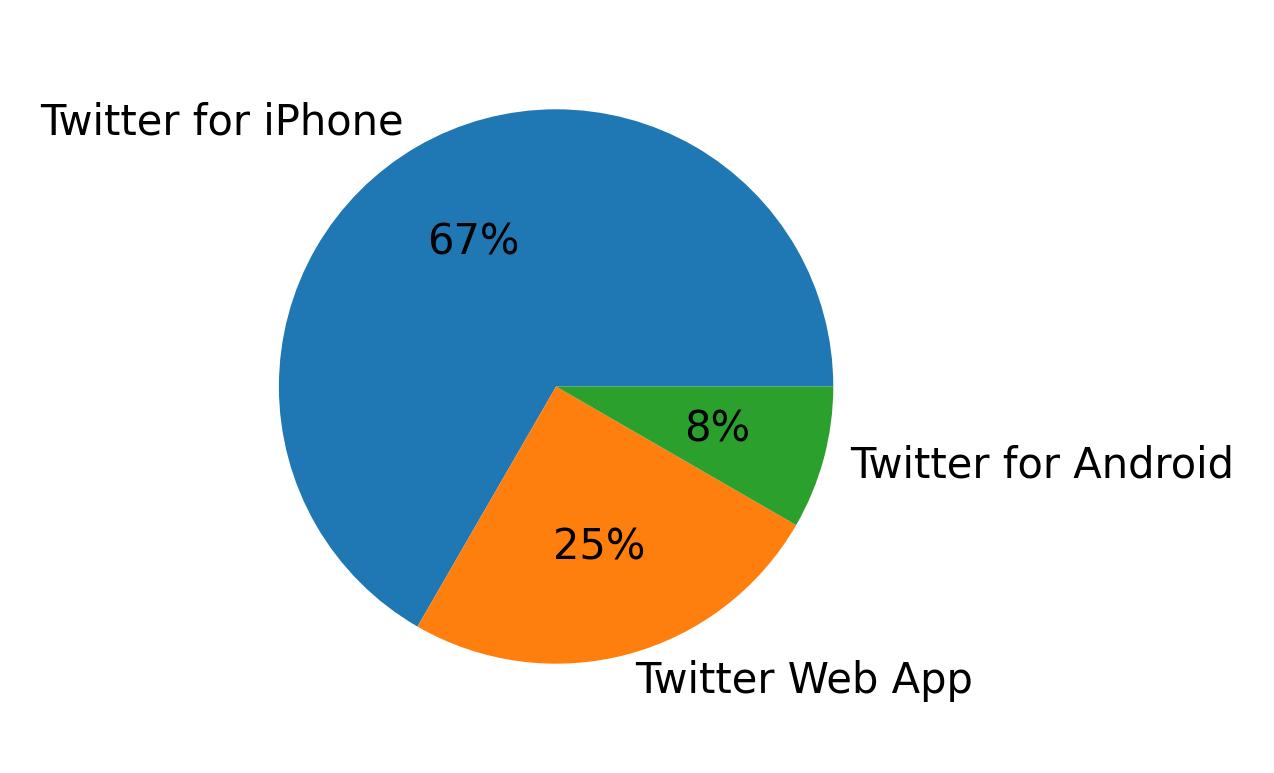 ---
Top 10 accounts with highest followers count
| Username | Name | Bio | Followers count |
| --- | --- | --- | --- |
| matt_i_e | Matthew Cherrie | Photographer - Creative - Artist - Carpenter - @TimePieces Artist & Community Council - Co/Creator @Inspired - @Arkive Member - @GQ3_io | 5,682 |
| MisterBenjamin8 | MisterBenjamin | Creative Director | Branding | Web3 🪐 | 3,220 |
| kimroseart | Kim Rose | ig - https://t.co/HonTt92sds // ✨ sold out art 🙏🏼💛 - genesis SR NFT coming soon 💎 | 1,386 |
| jamiefw | Jamie Ferguson-Woods | I bootstrapped an ecommerce brand to 8-figures. 🛍 DTC since 2011 🥇 Word's First Shopfiy Facebook Shop (ask me about it if you like). | 567 |
| Xquizzyt1 | ESQuisite One | A Brooklyn-born, Bronx-raised Attorney who not only passed the bar, but is committed to raising it. | 223 |
| REFlipsNOFlops | #HousetheHomeless | Conservative, Patriot, Father of 3, now 2 boys. Huge sports fan. | 12 |
Top 10 accounts with highest friends count
| Username | Name | Bio | Followers count |
| --- | --- | --- | --- |
| matt_i_e | Matthew Cherrie | Photographer - Creative - Artist - Carpenter - @TimePieces Artist & Community Council - Co/Creator @Inspired - @Arkive Member - @GQ3_io | 2,902 |
| MisterBenjamin8 | MisterBenjamin | Creative Director | Branding | Web3 🪐 | 998 |
| kimroseart | Kim Rose | ig - https://t.co/HonTt92sds // ✨ sold out art 🙏🏼💛 - genesis SR NFT coming soon 💎 | 634 |
| jamiefw | Jamie Ferguson-Woods | I bootstrapped an ecommerce brand to 8-figures. 🛍 DTC since 2011 🥇 Word's First Shopfiy Facebook Shop (ask me about it if you like). | 602 |
| Xquizzyt1 | ESQuisite One | A Brooklyn-born, Bronx-raised Attorney who not only passed the bar, but is committed to raising it. | 276 |
| REFlipsNOFlops | #HousetheHomeless | Conservative, Patriot, Father of 3, now 2 boys. Huge sports fan. | 7 |
Most active users
| Username | Bio | Number of tweets |
| --- | --- | --- |
| kimroseart | ig - https://t.co/HonTt92sds // ✨ sold out art 🙏🏼💛 - genesis SR NFT coming soon 💎 | 6 |
| REFlipsNOFlops | Conservative, Patriot, Father of 3, now 2 boys. Huge sports fan. | 2 |
| MisterBenjamin8 | Creative Director | Branding | Web3 🪐 | 1 |
| Xquizzyt1 | A Brooklyn-born, Bronx-raised Attorney who not only passed the bar, but is committed to raising it. | 1 |
| jamiefw | I bootstrapped an ecommerce brand to 8-figures. 🛍 DTC since 2011 🥇 Word's First Shopfiy Facebook Shop (ask me about it if you like). | 1 |
| matt_i_e | Photographer - Creative - Artist - Carpenter - @TimePieces Artist & Community Council - Co/Creator @Inspired - @Arkive Member - @GQ3_io | 1 |
---
Tweets per day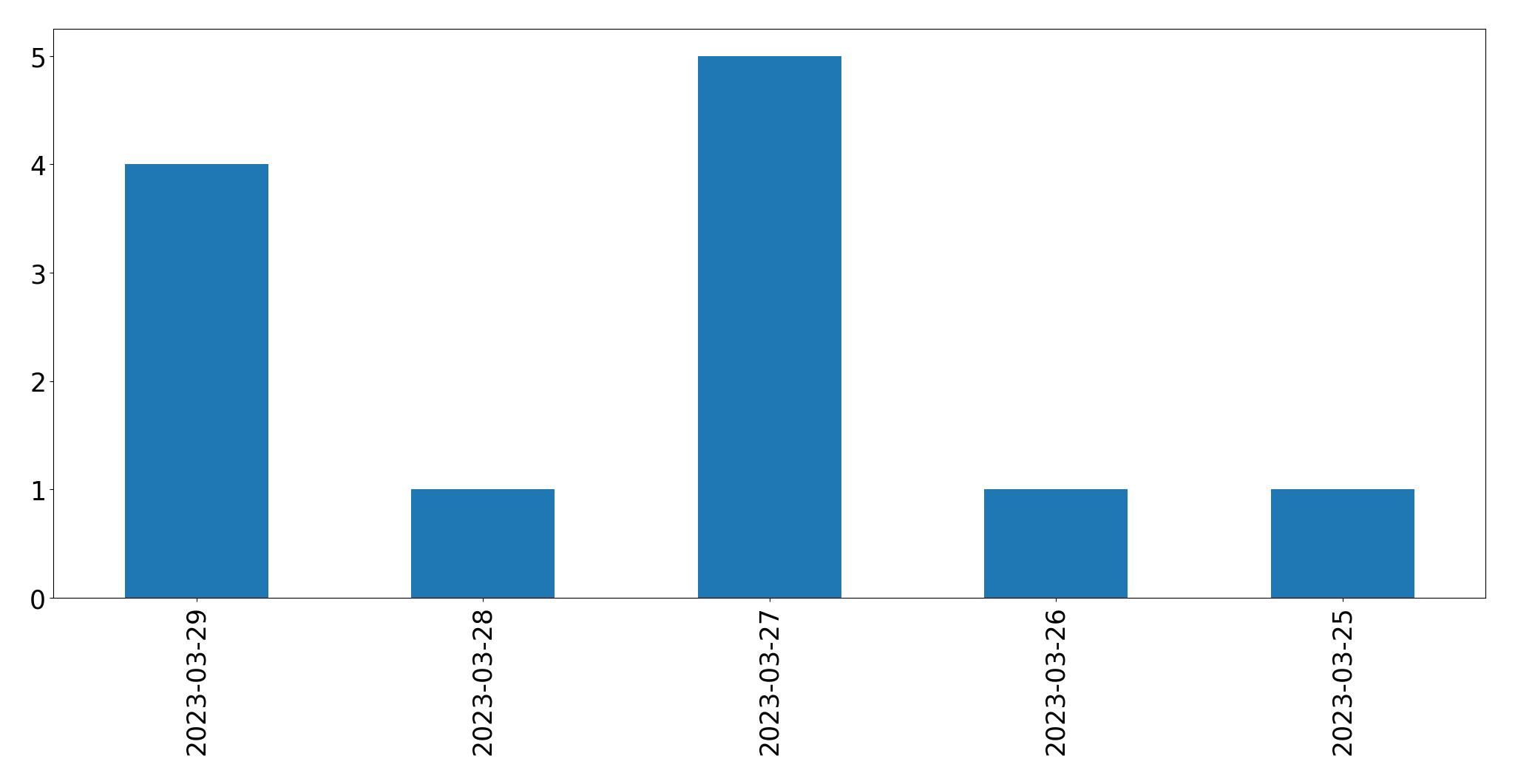 ---
Top 10 tweets with highest Retweet count
| ID | Text | Retweet count |
| --- | --- | --- |
| 1641189791822671873 | @matt_i_e @mvmt Thank youuuu! | 0 |
| 1641189581423796224 | @mvmt So excited for this collection 🤍 | 0 |
| 1640882502880329732 | @dennishegstad Daniel Wellington I mean. But @puravida and @mvmt were early on too! Of course @WarbyParker as well. | 0 |
| 1640776772865122305 | . @kimroseart out there making major moves! Congratulations on the collaboration with @mvmt 🙌 https://t.co/89ncc4scCh | 0 |
| 1640428622401110016 | @MisterBenjamin8 @mvmt Thank you! | 0 |
| 1640428478540464139 | @kimroseart @mvmt Amazing job on the packaging! | 0 |
| 1640172991420956681 | I will NEVER buy anything from @mvmt. Horrible #customerservice. They advertise #nohassle returns. 100% not true. Don't EVER buy from @mvmt. I will NEVER do business with them again. #scam company. #buylocal | 0 |
| 1640171938709471234 | Don't EVER buy from @mvmt. Their customer service is #Horrible. I bought 3 watches from them. 1 was too small and contrary to their ads, @mvmt refused a return, then accepted the return. They received it on 3/3. Today is 3/26 and STILL no refund. Don't buy from @mvmt ! | 0 |
| 1639994095652282374 | Ordered @mvmt watch for hub on 3/9. Supposed be delivered on 3/16. UPS tracking has said "ON THE WAY" every day since the 16th. Pissed! I had no gift for the date needed. It's 3/26 and no one can tell me why a pkg that has been here since 3/11 hasn't been delivered. #NoMVMT | 0 |
Top 10 tweets with highest Like count
| ID | Text | Like count |
| --- | --- | --- |
| 1640776772865122305 | . @kimroseart out there making major moves! Congratulations on the collaboration with @mvmt 🙌 https://t.co/89ncc4scCh | 2 |
| 1640428622401110016 | @MisterBenjamin8 @mvmt Thank you! | 1 |
| 1640428478540464139 | @kimroseart @mvmt Amazing job on the packaging! | 1 |
| 1641189791822671873 | @matt_i_e @mvmt Thank youuuu! | 0 |
| 1641189581423796224 | @mvmt So excited for this collection 🤍 | 0 |
| 1640882502880329732 | @dennishegstad Daniel Wellington I mean. But @puravida and @mvmt were early on too! Of course @WarbyParker as well. | 0 |
| 1640172991420956681 | I will NEVER buy anything from @mvmt. Horrible #customerservice. They advertise #nohassle returns. 100% not true. Don't EVER buy from @mvmt. I will NEVER do business with them again. #scam company. #buylocal | 0 |
| 1640171938709471234 | Don't EVER buy from @mvmt. Their customer service is #Horrible. I bought 3 watches from them. 1 was too small and contrary to their ads, @mvmt refused a return, then accepted the return. They received it on 3/3. Today is 3/26 and STILL no refund. Don't buy from @mvmt ! | 0 |
| 1639994095652282374 | Ordered @mvmt watch for hub on 3/9. Supposed be delivered on 3/16. UPS tracking has said "ON THE WAY" every day since the 16th. Pissed! I had no gift for the date needed. It's 3/26 and no one can tell me why a pkg that has been here since 3/11 hasn't been delivered. #NoMVMT | 0 |
Top 3 Languages Used In Tweets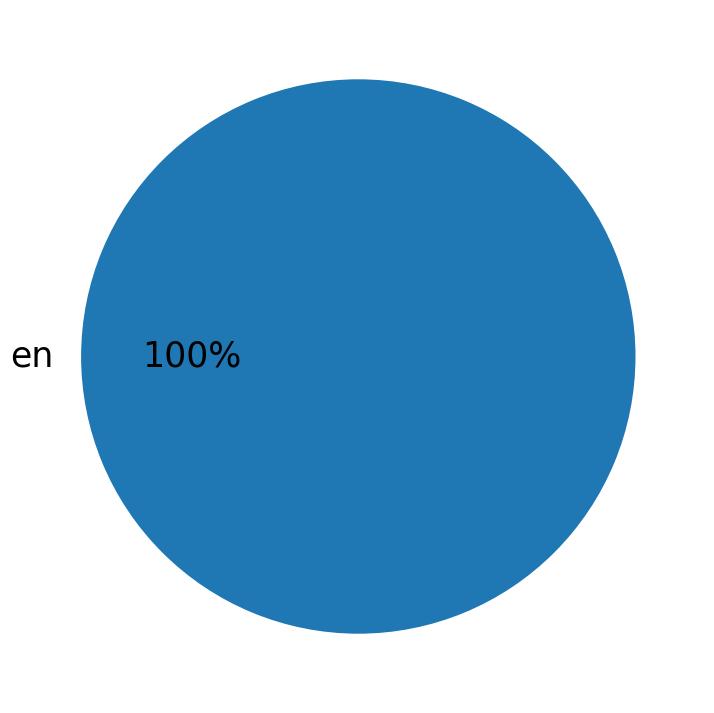 ---
Top 10 Hashtags used
| Hashtag | Count |
| --- | --- |
| #customerservice | 1 |
| #nohassle | 1 |
| #scam | 1 |
| #buylocal | 1 |
| #horrible | 1 |
| #nomvmt | 1 |
Top 10 Hashtags Used In Tweets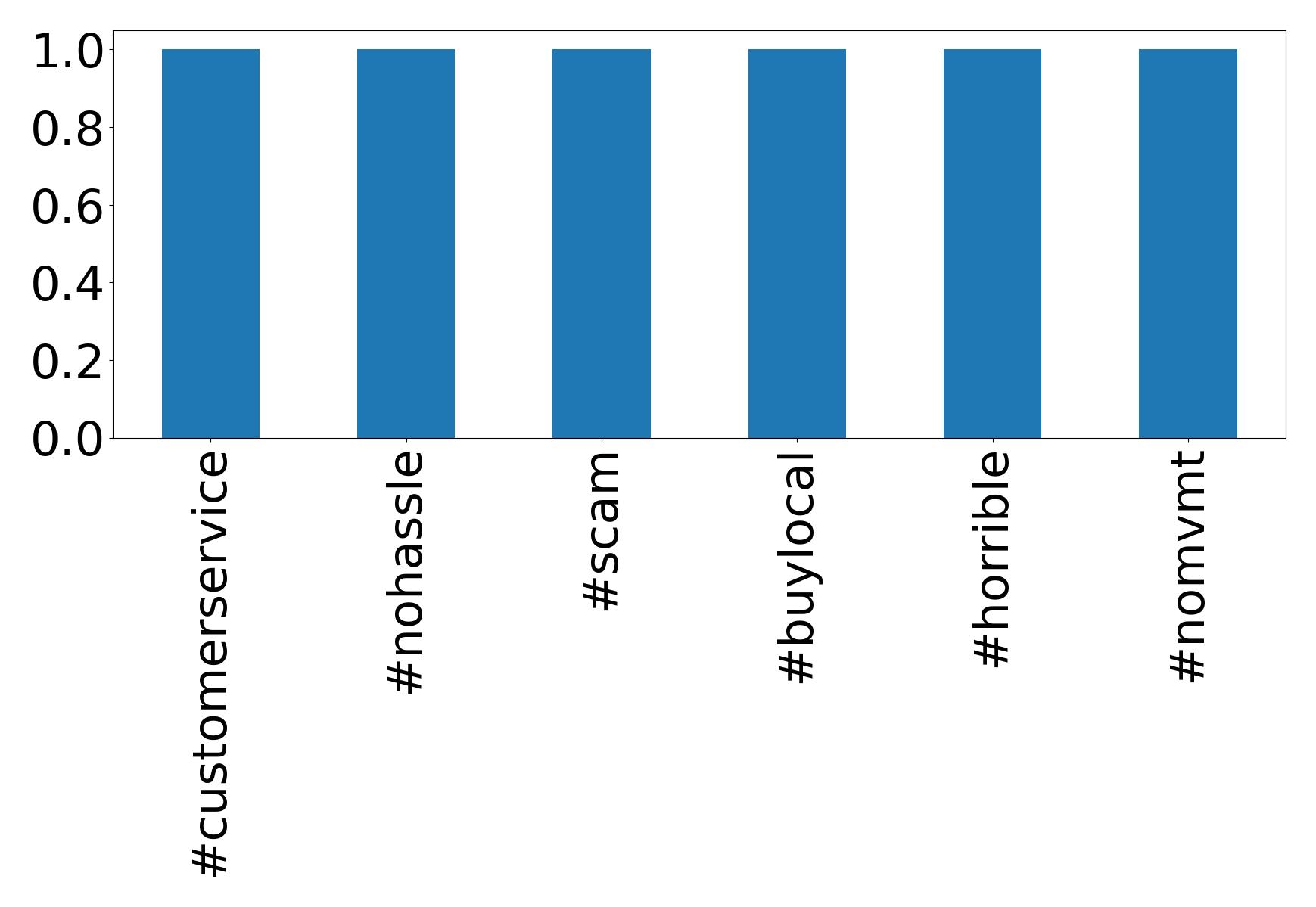 Top 10 mentions
| Mention | Count |
| --- | --- |
| @mvmt | 15 |
| @kimroseart | 5 |
| @matt_i_e | 1 |
| @dennishegstad | 1 |
| @puravida | 1 |
| @warbyparker | 1 |
| @misterbenjamin8 | 1 |
Top 10 mentions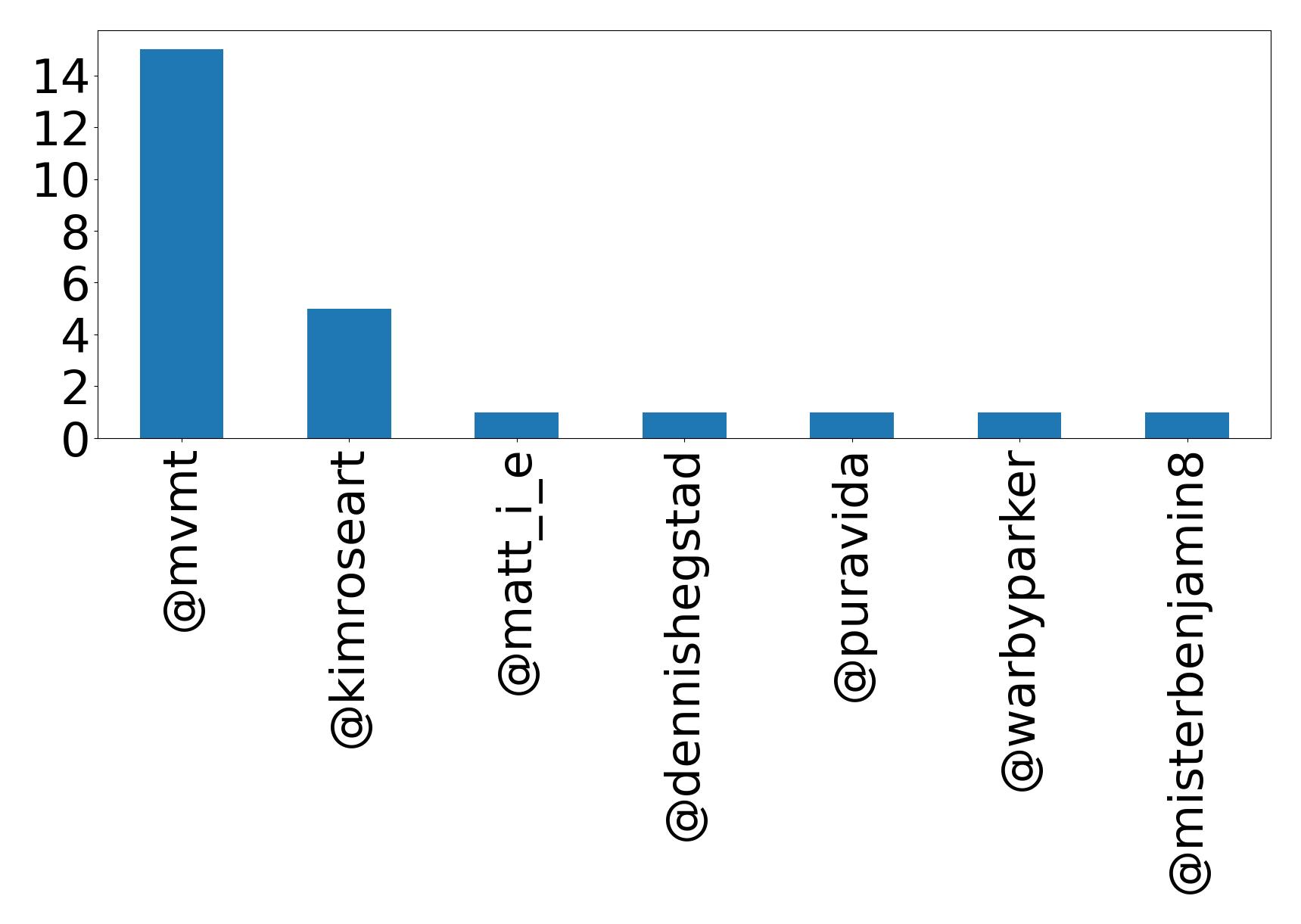 Wordcloud of Tweets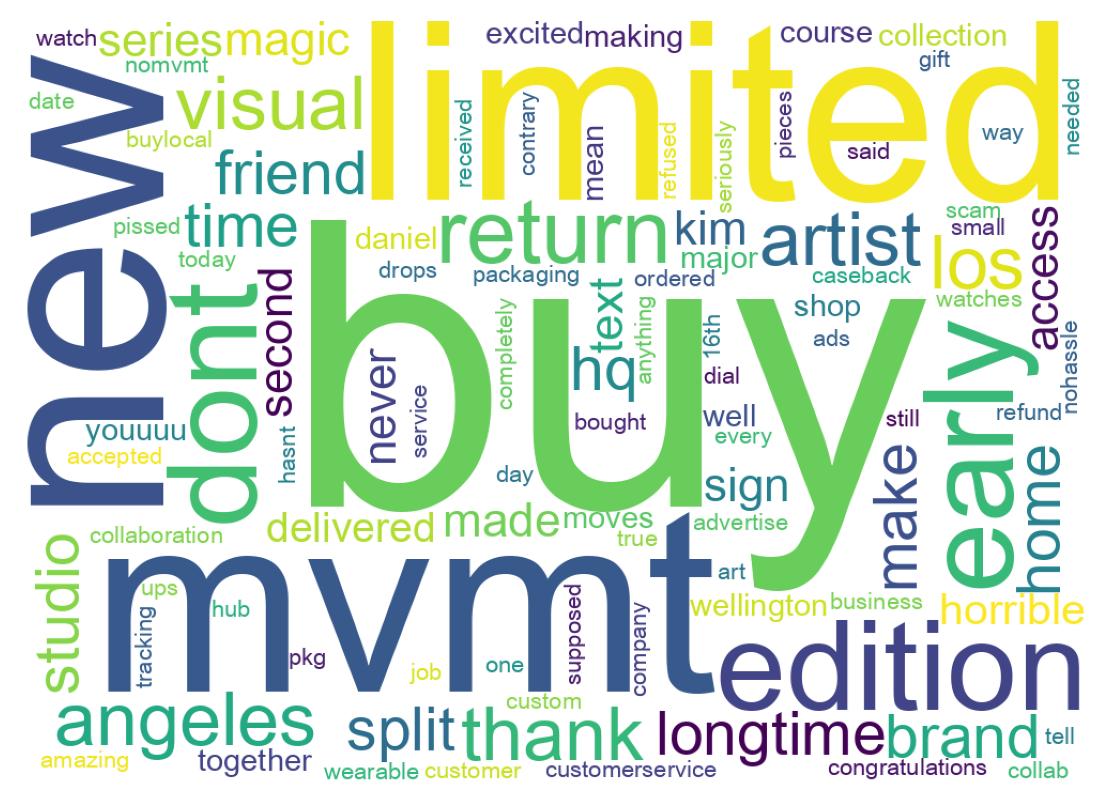 ---
Emojis
Average number of emojis used per tweet
16
Emojis used in tweets
| Emoji | Count | Emoji Text |
| --- | --- | --- |
| 🤍 | 1 | white_heart |
| 🙌 | 1 | raising_hands |
Emojis groups
| Emoji Group | Count |
| --- | --- |
| Smileys & Emotion | 1 |
| People & Body | 1 |