Tweets Analysis - Keyword: @MeherRamesh
Total number of tweets analysed
1,700
Earliest tweet was on
2023-03-16
Latest tweet was on
2023-03-25
Average age of authors' accounts
4 years
---
Summarization
The tweets are about the upcoming Telugu film, "Bholaa Shankar," featuring actor Chiranjeevi and actresses Tamannaah and Keerthy Suresh, among others. The film is set to release worldwide on August 11th, 2023. The tweets also mention actor Sushanth's involvement in the film and director Meher Ramesh's presence at Ram Charan's birthday celebrations. A few tweets express excitement and well wishes for the film's success.
Topic Modeling
Movie Release Announcement
Celebrity Birthday Wishes
Collaboration with Mega Star Chiranjeevi
Director Meher Ramesh
Excitement and Anticipation for Movie Release
Emotional Analysis
The tweets express excitement and anticipation towards the release of the movie "#BholaaShankar" featuring superstar KChiruTweets. Additionally, there is appreciation and gratitude towards the director MeherRamesh, and the rest of the cast and crew involved. The tweets also include birthday wishes for actor Sushanth, who is part of the movie. Overall, the emotions expressed are positive and enthusiastic.
Trend Analysis
The upcoming release of the Telugu film #BholaaShankar, starring MegaStar @KChiruTweets, set to release worldwide on August 11th, 2023
Celebration of the Telugu New Year and #HappyUgadi
The excitement and honor of working with MegaStar @KChiruTweets and the rest of the #BholaaShankar cast and crew
Birthday wishes for actor @iamSushanthA and his role in #BholaaShankar
Acknowledgment and appreciation for director @MeherRamesh's work on #BholaaShankar and involvement in other industry events
---
Types of Tweets
Number of Retweets
284
Percentage of total tweets
16%
Number of Original tweets
329
Percentage of total tweets
19%
Number of tweets that contain Mentions
1,700
Percentage of total tweets
100%
Number of tweets that were Replies
1,055
Percentage of total tweets
62%
Number of tweets that were Quotes
41
Percentage of total tweets
2%
Number of tweets that contain Hashtags
580
Percentage of total tweets
34%
---
Top 5 devices used to tweet
| Source | Count |
| --- | --- |
| Twitter for Android | 1393 |
| Twitter for iPhone | 192 |
| Twitter Web App | 106 |
| TweetDeck | 6 |
| Twitter for iPad | 1 |
What devices were used to tweet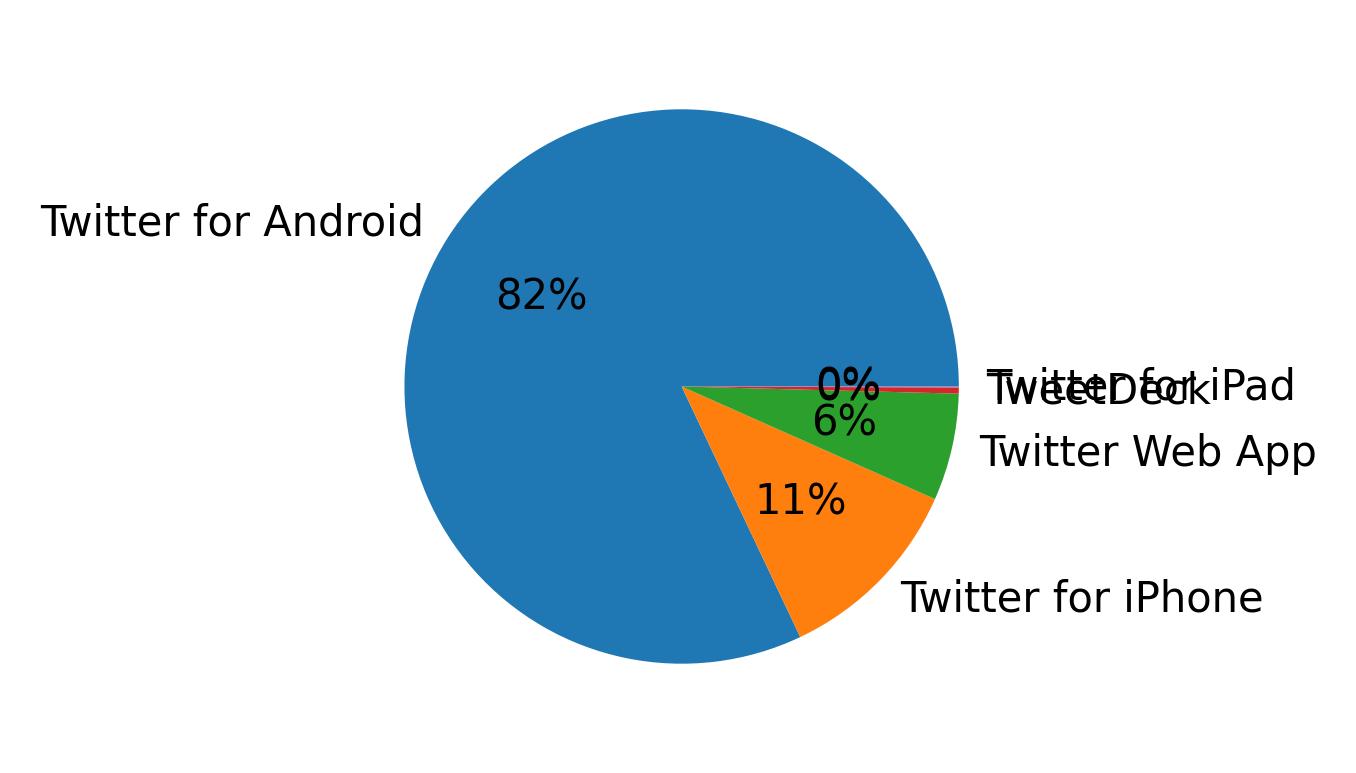 ---
Top 10 accounts with highest followers count
| Username | Name | Bio | Followers count |
| --- | --- | --- | --- |
| telugufilmnagar | Telugu FilmNagar | The only destination for Telugu movie buffs. https://t.co/tJAKkQvNCA | 1,071,246 |
| iamSushanthA | Sushanth A | Actor Engineer Learner https://t.co/fR2WR0zVCz | 906,551 |
| rameshlaus | Ramesh Bala | Entertainment Industry Tracker | Covers Hollywood, Bollywood, South Indian | Previously, Did Consulting for Fortune 500 Companies in US | RTs NOT Endorsements | 765,139 |
| vamsikaka | Vamsi Kaka | Media/PR Consultant in Telugu Film Industry. Cinema Lover. Living My Dream. Views expressed here are purely personal. #COYS #CSK Email: vamsikaka2@gmail.com | 584,097 |
| galattadotcom | Galatta Media | Leading digital media company, organiser of India's biggest and most credible digital media awards ceremony, The Galatta Crown. Wholly owned by @arunarkrishnan | 419,134 |
| 123telugu | 123telugu | The Official Twitter account of https://t.co/c585FQpRQQ, a Mallemaala Entertainments company.We are a comprehensive & reliable resource for Telugu Movie News & Reviews | 351,062 |
| MeherRamesh | Meher Ramesh 🇮🇳 | Indian Film Writer&Director🇮🇳 currently Filming #Megastarchiranjeevi @Bholaashankar | 281,046 |
| abntelugutv | ABN Telugu | ABN Andhrajyothy, the No.1 Telugu 24/7 news channel, dedicated to live reports, exclusive interviews, breaking news, sports, entertainment, and all. | 211,987 |
| AKentsOfficial | AK Entertainments | Celebrating & Rejoicing Cinema! 🎬 Official Twitter Handle of AK Entertainments. Films. Distribution. Exhibition. | 118,306 |
| MalayalamReview | MalayalamReview | Malayali 😍 || Kerala Boxoffice Updates || Movie Reviews || Sports || Politics || Indian 🇮🇳 | 76,826 |
Top 10 accounts with highest friends count
| Username | Name | Bio | Followers count |
| --- | --- | --- | --- |
| _Naveengoud_ | Naveen Goud💫 | Naveen 🧛 main @_Naveengoud | 5,004 |
| DineshPaluri | Monster 😎 | Jai Hind ...🇮🇳✊ | 4,995 |
| akhilTweetszz | Akhil dhfm 💙💫 | cult fan of mahesh anna and hitman 😎🔥 ...... | 4,372 |
| _BALUMAHENDRA | BaluMahendra | - | 4,151 |
| chintu_mawa | Sintu Mawa👶 | @PawanKalyan 🙌 ll 𝐂𝐮𝐥𝐭 𝐟𝐚𝐧 𝐨𝐟 🅿🅾🅾🅹🅰 🅷🅴🅶🅳🅴 ❤️ll 𝐈𝐍𝐓𝐑𝐎𝐕𝐄𝐑𝐓 🙇‍♂️ ll koddi rojulu he nacchutha 😑 ll PIN Tweet 😻💞 | 4,043 |
| Manojkumar_099 | Manojkumar | NTRO❤️ @kalyanipriyan 🫶 | 3,888 |
| Lazy_Elegance45 | Aѕ͢ѕ͠αυℓ͟͞тツ 🦁 | #MumbaiIndians | 3,859 |
| KINGVettri_offl | Thee 🔥 Thalapathy | @actorvijay 🔥❤ Mallu Boy ❤ Trivian ❤ Film addict 🎬 music addict 🎧 😘 @mohanlal @sachin_rt | 3,777 |
| Psychobadass7 | Mushoku Tensei⁷ | Random Rt's | 3,524 |
| firstshowz | FirstShowz 🇮🇳 | Latest happenings in Telugu film industry via Entertainment News, Photo Stills, Videos, Tollywood box office info,Movie Reviews Email : firstshowz1@gmail.com | 3,327 |
Most active users
| Username | Bio | Number of tweets |
| --- | --- | --- |
| Prabhas88888888 | Prabhas Anna👑 Athiest🎃 Movies📽 Nature🏝 | 19 |
| HemanthBoddet10 | Jai RC Biggest Film India Star No 1 🔥🦁🙏🙌❤️👑 #RC15 RC16 RC17 RC18 #RC19 #RC20 | 18 |
| RajendraJeevan | Student | 15 |
| zunkkkkkk | Cinema Stan | 13 |
| Keerthy_Cult | 🔙🆙 | 11 |
| Pranaybhaskar9 | DHF #PRABHAS💉👑 #Adipurush🏹🚩 #YSRForEver🙏 @ysjagan #WillSmith🖤 @ImRo45 @gvprakash @wizkhalifa @RITVIZ @jaden @tomhanks @EmileHirsch @adah_sharma🧎#Arthi ❤️ | 11 |
| KuthaRamp | 'But poetry, beauty, romance, love.. these are what we stay alive for' | 9 |
| ThoppulTammu | Tamanna Navel is the best | 9 |
| AAbhi0710 | Football, Cricket, movies, music 🔁 | 9 |
| amarnath_y | Devotee of @KChiruTweets Annayya. #Walterveerayya #Bholashankar @KeerthyOfficial ❤ @Sai_Pallavi92 | 8 |
---
Tweets per day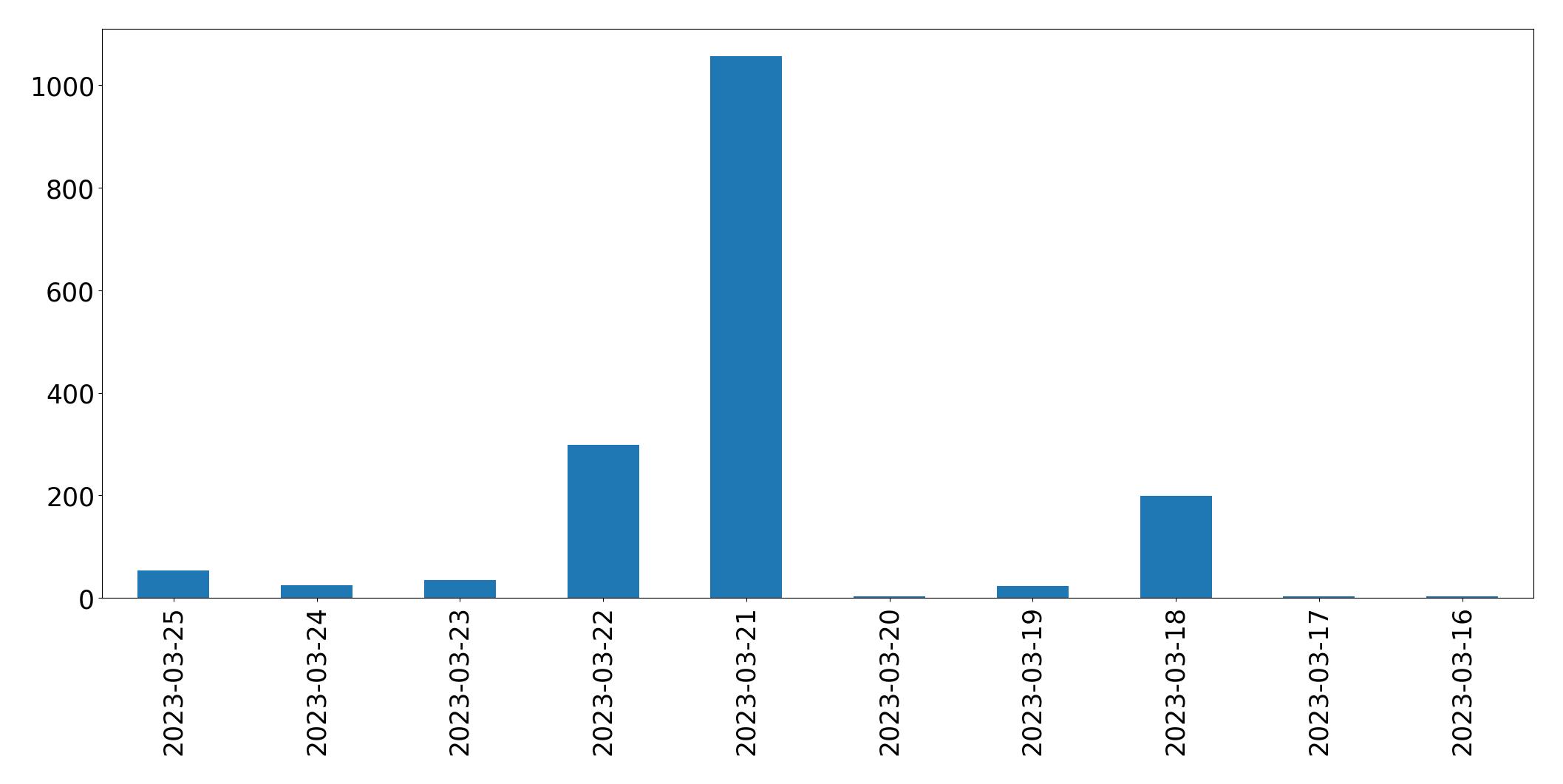 ---
Top 10 tweets with highest Retweet count
| ID | Text | Retweet count |
| --- | --- | --- |
| 1638178692034854917 | This Telugu NEW YEAR Begins in Advance with a MEGA upDATE 😎 Mega🌟@KChiruTweets #BholaaShankar 🔱 Releasing WorldWide In Theatres on AUG 11th 2023 ❤️‍🔥 #HappyUgadi @MeherRamesh @AnilSunkara1 @tamannaahspeaks @KeerthyOfficial @iamSushanth @AKentsOfficial @adityamusic https://t.co/ksqeqldaiA | 1871 |
| 1636956992911872001 | Its a privilege & an honour to share screen with the one & only MegaStar @KChiruTweets Sir!😀🙏A fan boy moment I'll cherish for life!❤️ Thank You @MeherRamesh Sir @AnilSunkara1 Sir @AKentsOfficial @kishore_Atv garu &team!🤗 The stunners @KeerthyOfficial @tamannaahspeaks & team💐 https://t.co/o2afJechAW | 777 |
| 1638170516984057857 | Let's begin the festival with a Mega update 😍❤️‍🔥 #BholaaShankar 🔱 UGADI Special Poster with Release Date coming up at 7:30 PM Today💥 Stay Tuned ❤️ Mega🌟@KChiruTweets @MeherRamesh @AnilSunkara1 @tamannaahspeaks @KeerthyOfficial @iamSushanth @AKentsOfficial @adityamusic https://t.co/7MWw2IgGn9 | 611 |
| 1638170874326167552 | Let's begin the festival with a Mega update 😍❤️‍🔥 #BholaaShankar 🔱 UGADI Special Poster with Release Date coming up at 7:30PM Today💥 Stay Tuned ❤️ Mega🌟@KChiruTweets @MeherRamesh @AnilSunkara1 @tamannaahspeaks @KeerthyOfficial @iamSushanth @BholaaShankar @adityamusic https://t.co/ejUMGhLjVP | 417 |
| 1636944355792683009 | The #BholaaShankar family wishes the charming @iamSushanthA a very Happy Birthday❤️ The whole team is elated to have him aboard to play a Lover boy in a very special role🤗 Mega🌟@KChiruTweets @MeherRamesh @AnilSunkara1 @tamannaahspeaks @KeerthyOfficial @AKentsOfficial https://t.co/O4GAL4EJSy | 409 |
| 1639521217832169472 | The most stylish director @MeherRamesh Garu is the honorable guest for our beloved 𝐆𝐋𝐎𝐁𝐀𝐋 𝐒𝐓𝐀𝐑 @AlwaysRamCharan 's Birthday Celebrations🤗💥 Event By @MediaYouwe ✌️ Initiative by @RcYuvaShakthi #RamCharan #RamCharanBirthdayCelebrations #GlobalStarRamCharan https://t.co/P59QcWvvgV | 203 |
| 1636946408023658496 | The #BholaaShankar family wishes 🎉charming @iamSushanthA a very Happy Birthday❤️ Our team is elated to have him aboard to play as a Lover boy in a very special role🤗 Mega🌟@KChiruTweets @MeherRamesh @AnilSunkara1 @tamannaahspeaks @KeerthyOfficial @AKentsOfficial @kishore_Atv https://t.co/EalgvMeyPm | 202 |
| 1636944288474091526 | The #BholaaShankar family wishes the charming @iamSushanthA a very Happy Birthday❤️ The whole team is elated to have him aboard to play a Lover boy in a very special role🤗 Mega🌟@KChiruTweets @MeherRamesh @AnilSunkara1 @tamannaahspeaks @KeerthyOfficial @dudlyraj @BholaaShankar https://t.co/j4pF1OsoMP | 190 |
| 1638180721713102849 | This Telugu NEW YEAR Begins in Advance with a MEGA upDATE 😎 Mega🌟@KChiruTweets #BholaaShankar 🔱 Releasing WorldWide In Theatres on AUG 11th 2023 ❤️‍🔥 #HappyUgadi @MeherRamesh @AnilSunkara1 @tamannaahspeaks @KeerthyOfficial @iamSushanth @AKentsOfficial @adityamusic https://t.co/d8mBsExDHR | 160 |
| 1638179101763850242 | This Telugu NEW YEAR Begins in Advance with a MEGA upDATE 😎 Mega🌟@KChiruTweets #BholaaShankar 🔱 Releasing WorldWide In Theatres on AUG 11th 2023 ❤️‍🔥 #HappyUgadi @MeherRamesh @AnilSunkara1 @tamannaahspeaks @KeerthyOfficial @iamSushanth @AKentsOfficial https://t.co/7F0EHqcgGQ | 155 |
Top 10 tweets with highest Like count
| ID | Text | Like count |
| --- | --- | --- |
| 1638178692034854917 | This Telugu NEW YEAR Begins in Advance with a MEGA upDATE 😎 Mega🌟@KChiruTweets #BholaaShankar 🔱 Releasing WorldWide In Theatres on AUG 11th 2023 ❤️‍🔥 #HappyUgadi @MeherRamesh @AnilSunkara1 @tamannaahspeaks @KeerthyOfficial @iamSushanth @AKentsOfficial @adityamusic https://t.co/ksqeqldaiA | 8771 |
| 1636956992911872001 | Its a privilege & an honour to share screen with the one & only MegaStar @KChiruTweets Sir!😀🙏A fan boy moment I'll cherish for life!❤️ Thank You @MeherRamesh Sir @AnilSunkara1 Sir @AKentsOfficial @kishore_Atv garu &team!🤗 The stunners @KeerthyOfficial @tamannaahspeaks & team💐 https://t.co/o2afJechAW | 4715 |
| 1638170516984057857 | Let's begin the festival with a Mega update 😍❤️‍🔥 #BholaaShankar 🔱 UGADI Special Poster with Release Date coming up at 7:30 PM Today💥 Stay Tuned ❤️ Mega🌟@KChiruTweets @MeherRamesh @AnilSunkara1 @tamannaahspeaks @KeerthyOfficial @iamSushanth @AKentsOfficial @adityamusic https://t.co/7MWw2IgGn9 | 2283 |
| 1636946408023658496 | The #BholaaShankar family wishes 🎉charming @iamSushanthA a very Happy Birthday❤️ Our team is elated to have him aboard to play as a Lover boy in a very special role🤗 Mega🌟@KChiruTweets @MeherRamesh @AnilSunkara1 @tamannaahspeaks @KeerthyOfficial @AKentsOfficial @kishore_Atv https://t.co/EalgvMeyPm | 2085 |
| 1638170874326167552 | Let's begin the festival with a Mega update 😍❤️‍🔥 #BholaaShankar 🔱 UGADI Special Poster with Release Date coming up at 7:30PM Today💥 Stay Tuned ❤️ Mega🌟@KChiruTweets @MeherRamesh @AnilSunkara1 @tamannaahspeaks @KeerthyOfficial @iamSushanth @BholaaShankar @adityamusic https://t.co/ejUMGhLjVP | 1967 |
| 1636944355792683009 | The #BholaaShankar family wishes the charming @iamSushanthA a very Happy Birthday❤️ The whole team is elated to have him aboard to play a Lover boy in a very special role🤗 Mega🌟@KChiruTweets @MeherRamesh @AnilSunkara1 @tamannaahspeaks @KeerthyOfficial @AKentsOfficial https://t.co/O4GAL4EJSy | 1879 |
| 1636944288474091526 | The #BholaaShankar family wishes the charming @iamSushanthA a very Happy Birthday❤️ The whole team is elated to have him aboard to play a Lover boy in a very special role🤗 Mega🌟@KChiruTweets @MeherRamesh @AnilSunkara1 @tamannaahspeaks @KeerthyOfficial @dudlyraj @BholaaShankar https://t.co/j4pF1OsoMP | 1382 |
| 1638179101763850242 | This Telugu NEW YEAR Begins in Advance with a MEGA upDATE 😎 Mega🌟@KChiruTweets #BholaaShankar 🔱 Releasing WorldWide In Theatres on AUG 11th 2023 ❤️‍🔥 #HappyUgadi @MeherRamesh @AnilSunkara1 @tamannaahspeaks @KeerthyOfficial @iamSushanth @AKentsOfficial https://t.co/7F0EHqcgGQ | 1050 |
| 1638180367437004804 | #BholaaShankar 🔱 Releasing WorldWide In Theatres on AUG 11th 2022💥⚡✅ శోభ కృతి శోభను ముందే తెచ్చేసారు బాసు 🔥🔥 @KChiruTweets | @MeherRamesh #HappyUgadi https://t.co/cmmYnmfhIZ | 937 |
| 1638180721713102849 | This Telugu NEW YEAR Begins in Advance with a MEGA upDATE 😎 Mega🌟@KChiruTweets #BholaaShankar 🔱 Releasing WorldWide In Theatres on AUG 11th 2023 ❤️‍🔥 #HappyUgadi @MeherRamesh @AnilSunkara1 @tamannaahspeaks @KeerthyOfficial @iamSushanth @AKentsOfficial @adityamusic https://t.co/d8mBsExDHR | 886 |
Top 3 Languages Used In Tweets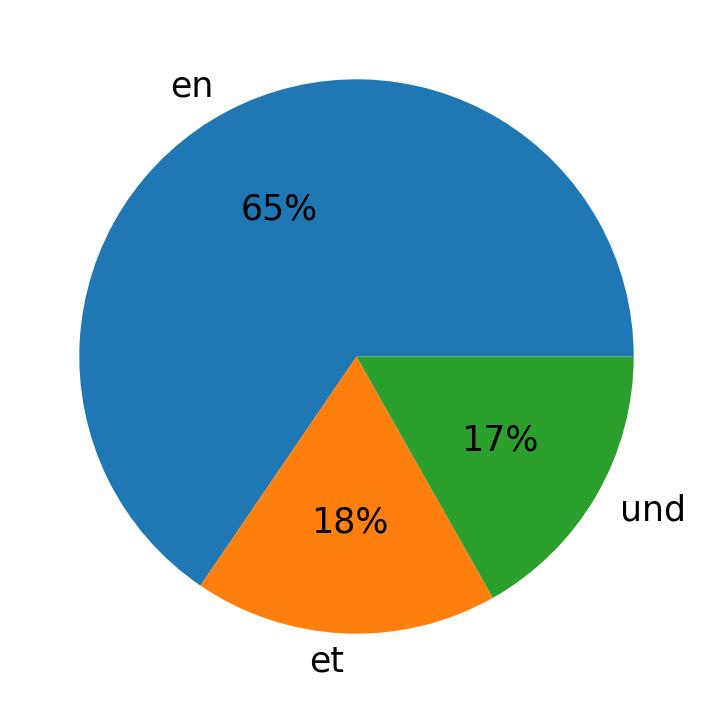 ---
Top 10 Hashtags used
| Hashtag | Count |
| --- | --- |
| #bholaashankar | 443 |
| #happyugadi | 237 |
| #prabhas | 32 |
| #globalstarramcharan | 27 |
| #ramcharanbirthdaycelebrations | 26 |
| #bholashankar | 26 |
| #ramcharan | 24 |
| #chiranjeevi | 24 |
| #megastarchiranjeevi | 22 |
| #billa4k | 20 |
Top 10 Hashtags Used In Tweets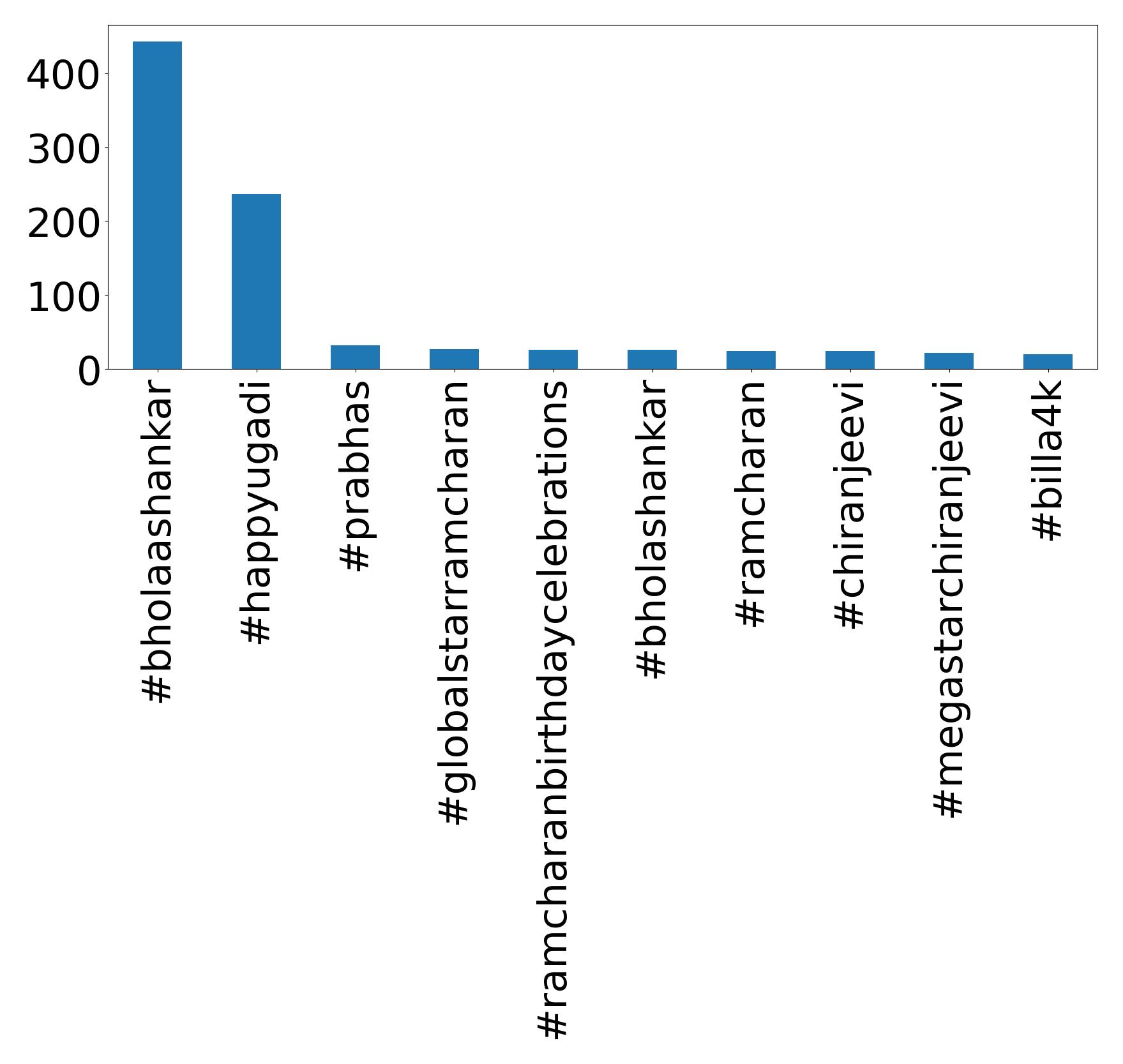 Top 10 mentions
| Mention | Count |
| --- | --- |
| @meherramesh | 1716 |
| @kchirutweets | 1427 |
| @akentsofficial | 1357 |
| @keerthyofficial | 1356 |
| @anilsunkara1 | 1355 |
| @tamannaahspeaks | 1347 |
| @adityamusic | 1005 |
| @iamsushanth | 788 |
| @dudlyraj | 368 |
| @prakash3933 | 335 |
Top 10 mentions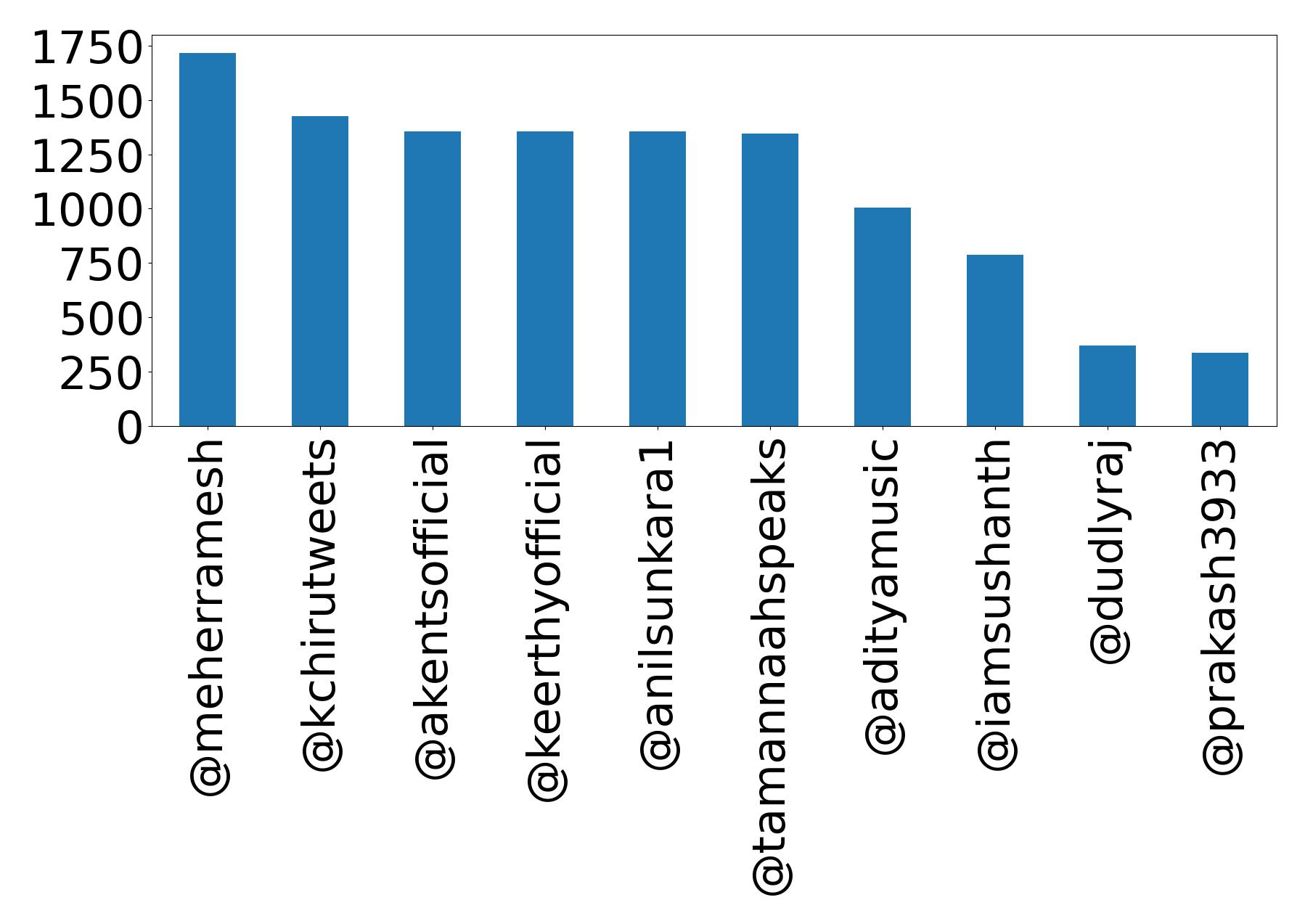 Wordcloud of Tweets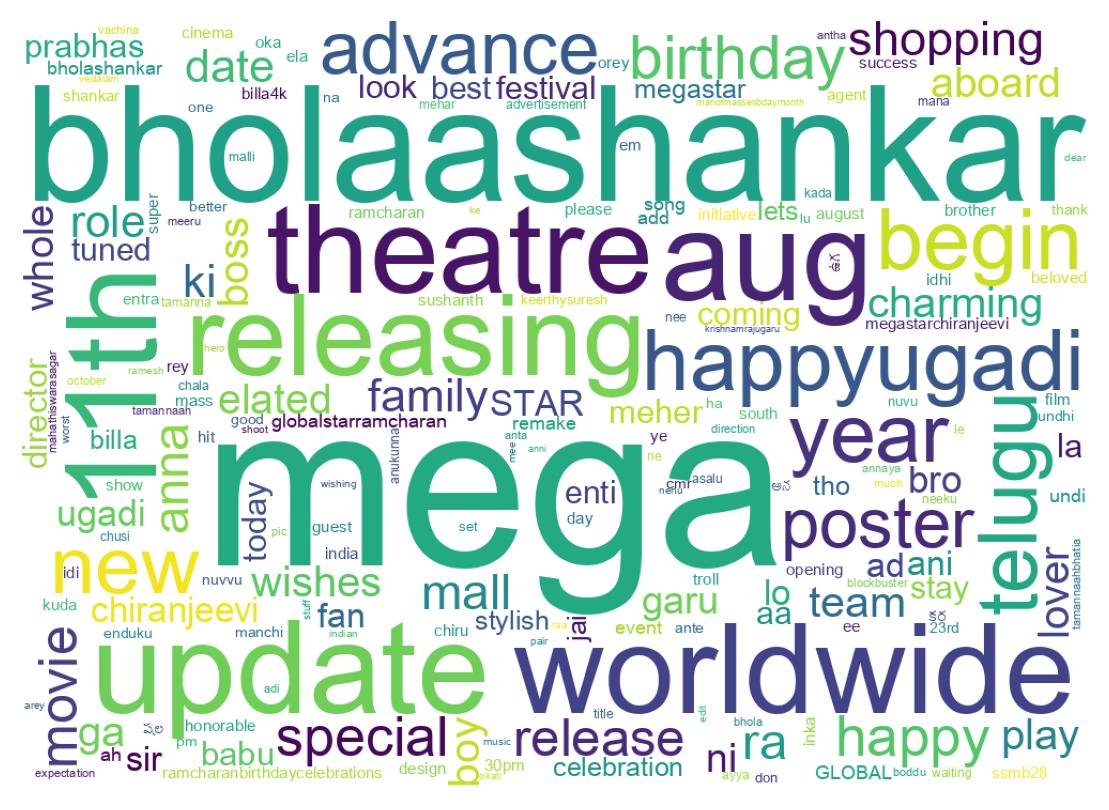 ---
Emojis
Average number of emojis used per tweet
157
Emojis used in tweets
| Emoji | Count | Emoji Text |
| --- | --- | --- |
| 🌟 | 342 | glowing_star |
| 🔱 | 281 | trident_emblem |
| ❤️‍🔥 | 264 | heart_on_fire |
| 😎 | 216 | smiling_face_with_sunglasses |
| 🤣 | 159 | rolling_on_the_floor_laughing |
| 😂 | 149 | face_with_tears_of_joy |
| ❤️ | 129 | red_heart |
| 💥 | 116 | collision |
| 🔥 | 103 | fire |
| 😭 | 85 | loudly_crying_face |
Emojis groups
| Emoji Group | Count |
| --- | --- |
| Smileys & Emotion | 1517 |
| Travel & Places | 468 |
| Symbols | 290 |
| People & Body | 234 |
| Objects | 51 |
| Activities | 44 |
| Animals & Nature | 37 |
| Food & Drink | 24 |
| Flags | 8 |