Tweets Analysis - Keyword: @KnorrArgentina
Total number of tweets analysed
49
Earliest tweet was on
2023-03-22
Latest tweet was on
2023-03-31
Average age of authors' accounts
8 years
---
Summarization
The tweets discuss a cooking account that shares simple and complex recipes, including a recipe for potato cookies. Users share their own photos of the recipe and some request product samples or ask for canje deals with the brand KnorrArgentina. There is also discussion about the quality of KnorrArgentina's products, including praise for their broths and suggestions to use them in school lunches or for snacks. Some tweets are also focused on lighthearted banter and jokes.
Topic Modeling
Easy and simple recipes
KnorrArgentina product reviews and requests
Ingredients and preparation methods
User-generated content showcasing recipes
Opinions and humor related to KnorrArgentina
Emotional Analysis
The tweets express a range of emotions, including enthusiasm, satisfaction, humor, irritation, and appreciation. Some users express their love for the recipes and recommend them to others, while others request free samples or promotional deals. There is also some joking around regarding payment for advertisements and the use of diminutives. Users share photos and ideas for using the products, and some mention dietary needs like gluten-free options. Overall, there is a positive and engaged tone in the tweets towards the KnorrArgentina brand and their products.
Trend Analysis
Easy and simple recipes
KnorrArgentina products
Cooking tips and ideas
User-generated content sharing
Sense of humor and playful banter
---
Types of Tweets
Number of Retweets
9
Percentage of total tweets
18%
Number of Original tweets
3
Percentage of total tweets
6%
Number of tweets that contain Mentions
49
Percentage of total tweets
100%
Number of tweets that were Replies
37
Percentage of total tweets
75%
Number of tweets that were Quotes
0
Percentage of total tweets
0%
Number of tweets that contain Hashtags
1
Percentage of total tweets
2%
---
Top 5 devices used to tweet
| Source | Count |
| --- | --- |
| Twitter for Android | 28 |
| Twitter for iPhone | 14 |
| Twitter Web App | 5 |
| TweetDeck | 1 |
| Twitter for iPad | 1 |
What devices were used to tweet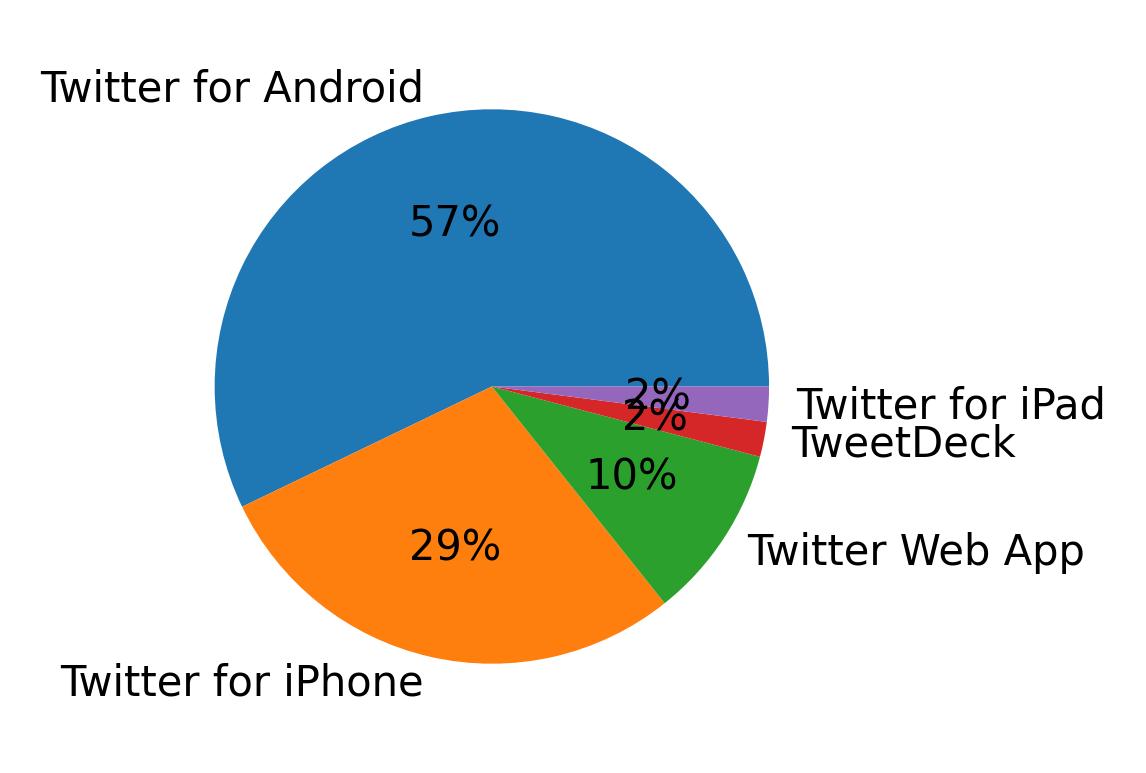 ---
Top 10 accounts with highest followers count
| Username | Name | Bio | Followers count |
| --- | --- | --- | --- |
| rodricarreraaa | carre | @karre333 | 823,148 |
| Silnari | Silvina | Pastelera de alma para El Gourmet y Tregar | 72,954 |
| walter_costa8 | Walter White | Llorando con Gustavo Cerati de fondo | 11,197 |
| GarbeaBeatriz | Beatriz | lectora impenitente | 3,687 |
| magalacantante | Maga™ 🦮🎶 | Soy Magalí Rossi, Cantante, comunicadora, Coach Ontológico Profesional, 👩🏽‍🦯 estudiante de la Lic en Cs de la Educ. Creo en Dios y amo a mi familia! | 3,633 |
| zanoni31 | Marcela Zanoni | - | 3,163 |
| valenfiorno | Val🍷 | ♑️ | 2,196 |
| Flechadel78 | Flecha | Es la anécdota más graciosa que he escuchado en mi vida. Ahora, cuenta una tú. | 1,090 |
| Pele2266 | Peelee ⭐️⭐️⭐️🇦🇷 | 🏝 ig: peleefilleaudeau | 1,006 |
| CozzoniBenito | Benito | del gran Newell's Old Boys | 542 |
Top 10 accounts with highest friends count
| Username | Name | Bio | Followers count |
| --- | --- | --- | --- |
| walter_costa8 | Walter White | Llorando con Gustavo Cerati de fondo | 8,114 |
| GarbeaBeatriz | Beatriz | lectora impenitente | 3,975 |
| magalacantante | Maga™ 🦮🎶 | Soy Magalí Rossi, Cantante, comunicadora, Coach Ontológico Profesional, 👩🏽‍🦯 estudiante de la Lic en Cs de la Educ. Creo en Dios y amo a mi familia! | 3,213 |
| zanoni31 | Marcela Zanoni | - | 2,669 |
| Silnari | Silvina | Pastelera de alma para El Gourmet y Tregar | 1,508 |
| Jorita14 | Jøritª14⭐⭐⭐ | 🇦🇷👩‍👧la Victoria de mi vida💕🇦🇷 🎬🇱🇻📚🎶🏔🍻✌ | 1,357 |
| MicaGusCami | MicaMante | Ante todo humanes ... orgullosamente estatal, adulta responsable x 5🏄👩‍🚀👶🐈🐕 ...la revolución se lleva en el💜... | 1,013 |
| daandreacc | Dario, estrellado ✨💫 | Astrónomo de nacimiento 🇦🇷🇨🇭 | 981 |
| valenfiorno | Val🍷 | ♑️ | 938 |
| marigui4498 | Marie Be | - | 888 |
Most active users
| Username | Bio | Number of tweets |
| --- | --- | --- |
| Silnari | Pastelera de alma para El Gourmet y Tregar | 6 |
| zanoni31 | - | 4 |
| valenfiorno | ♑️ | 4 |
| walter_costa8 | Llorando con Gustavo Cerati de fondo | 2 |
| superpili_22 | soy yo uachines, volví a pedido de ustedes | 2 |
| Badrraa | ig: cande.elizalde__ 🐈 acusada por todo, respetada por nadie | 2 |
| GuilePic | Mmmm Hola :3 | 1 |
| ily_sophie011 | acusado por todos, respetado por nadie | 1 |
| CozzoniBenito | del gran Newell's Old Boys | 1 |
| Flechadel78 | Es la anécdota más graciosa que he escuchado en mi vida. Ahora, cuenta una tú. | 1 |
---
Tweets per day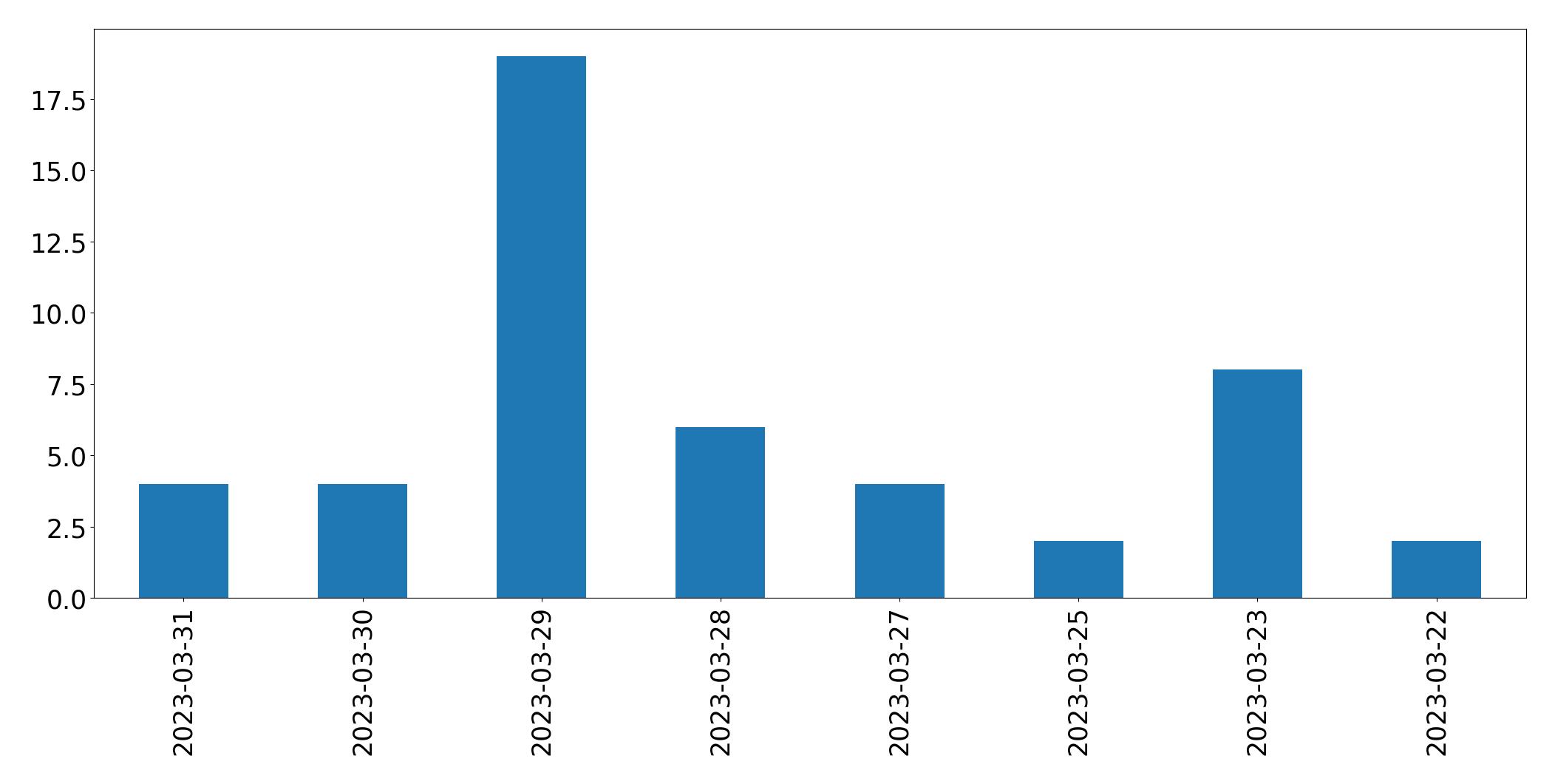 ---
Top 10 tweets with highest Retweet count
| ID | Text | Retweet count |
| --- | --- | --- |
| 1641095639688785921 | Recetas fáciles y simples, eso vas a encontrar en esta cuenta. De las otras, las complejas, también hay de vez en cuando. Esta receta ya la subí y muchos las replicaron, Cookies de puré papa @KnorrArgentina, queso y orégano. RT si te gusta así la pasamos a más gente. https://t.co/Oq2BebVN72 | 211 |
| 1641095850595176452 | Ingredientes 1 paquete de pure de papas instantáneo @KnorrArgentina 50grs de queso parmesano Sal 1 huevo 50 grs de manteca derretida 70 cc de agua Hierbas a gusto ( yo usé orégano) https://t.co/1OZwb2Jbyd | 18 |
| 1640440160025190417 | @KnorrArgentina @shainaprrr no hagan publicidad en mi tweet ahora me deben $200 usd | 9 |
| 1641097395122438145 | Les dejo fotos de las que hicieron ustedes @KnorrArgentina https://t.co/u4LBzJ3ybo | 3 |
| 1641644068269686785 | @celebaigorriaa @Silnari @KnorrArgentina Me haces soñarrrrrr | 0 |
| 1640778862396162048 | Hola, @KnorrArgentina. Por qué dejaron de hacer los "Sabor en cubos"? Extraño mucho el de crema y verdeo y el de ajo y albahaca. Tuvieron éxito varios años. Qué pasó? | 0 |
| 1640535780857634821 | @KnorrArgentina @rodricarreraaa @shainaprrr ahre💀 | 0 |
| 1640535710510858241 | @rodricarreraaa @KnorrArgentina @shainaprrr exacto | 0 |
| 1640486578794446848 | @rodricarreraaa @KnorrArgentina Bien dicho ! Xd | 0 |
| 1640450794439995392 | @KnorrArgentina @rodricarreraaa @shainaprrr Como odio el diminutivo la concha de su madre | 0 |
Top 10 tweets with highest Like count
| ID | Text | Like count |
| --- | --- | --- |
| 1641095639688785921 | Recetas fáciles y simples, eso vas a encontrar en esta cuenta. De las otras, las complejas, también hay de vez en cuando. Esta receta ya la subí y muchos las replicaron, Cookies de puré papa @KnorrArgentina, queso y orégano. RT si te gusta así la pasamos a más gente. https://t.co/Oq2BebVN72 | 1277 |
| 1640440160025190417 | @KnorrArgentina @shainaprrr no hagan publicidad en mi tweet ahora me deben $200 usd | 373 |
| 1641095850595176452 | Ingredientes 1 paquete de pure de papas instantáneo @KnorrArgentina 50grs de queso parmesano Sal 1 huevo 50 grs de manteca derretida 70 cc de agua Hierbas a gusto ( yo usé orégano) https://t.co/1OZwb2Jbyd | 98 |
| 1641097395122438145 | Les dejo fotos de las que hicieron ustedes @KnorrArgentina https://t.co/u4LBzJ3ybo | 60 |
| 1638767791376351235 | @KnorrArgentina estoy abierto a canjes jejejej https://t.co/y9hNPCzuND | 11 |
| 1638564467129581569 | @KnorrArgentina mandenme un par | 6 |
| 1640486578794446848 | @rodricarreraaa @KnorrArgentina Bien dicho ! Xd | 5 |
| 1638686873219485699 | @valenfiorno @KnorrArgentina jajajaja no te puede comentar knor | 3 |
| 1641196483373412353 | @Silnari @KnorrArgentina tenes un libro de estas recetas faciles? porque amo internet pero necesito las cosas en papel por dios amo tu cuenta desde que me anime a prender la hornalla jajaja | 3 |
| 1641242590212243456 | @Silnari @KnorrArgentina Quedan riquísimas!!! Las favoritas de mi hijo!! | 2 |
Top 3 Languages Used In Tweets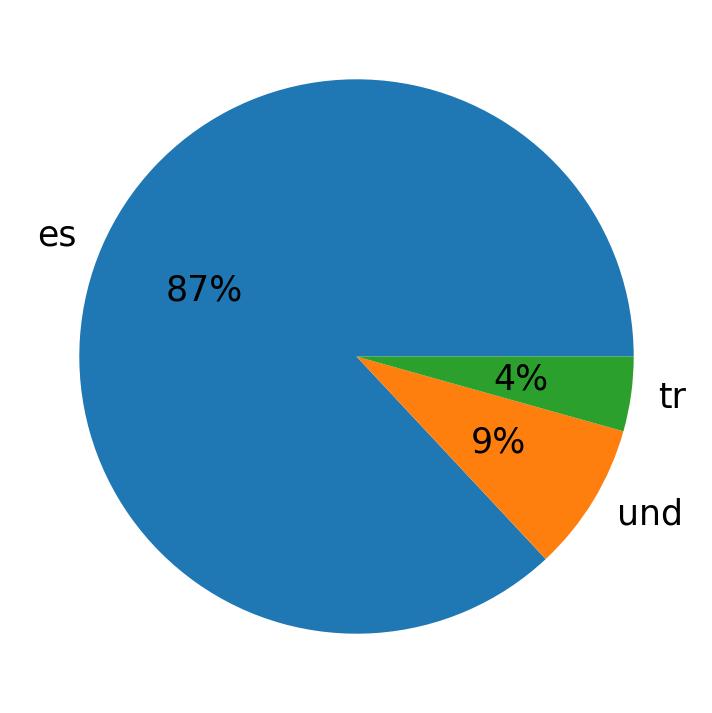 ---
Top 10 Hashtags Used In Tweets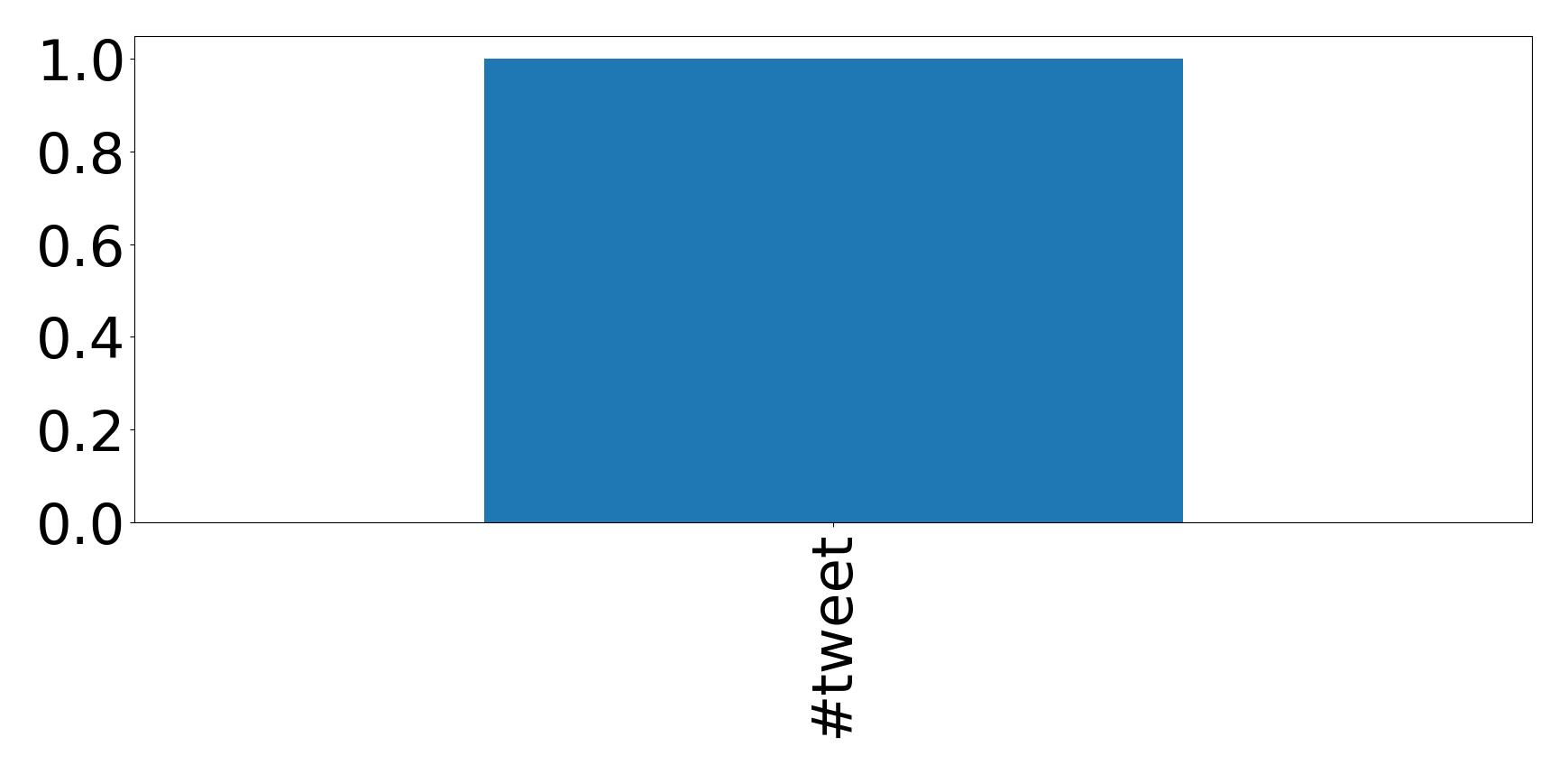 Top 10 mentions
| Mention | Count |
| --- | --- |
| @knorrargentina | 49 |
| @silnari | 20 |
| @rodricarreraaa | 7 |
| @shainaprrr | 7 |
| @valenfiorno | 3 |
| @celebaigorriaa | 2 |
| @sylvya14520668 | 1 |
| @savetonotion | 1 |
| @zanoni31 | 1 |
| @bimboargentina | 1 |
Top 10 mentions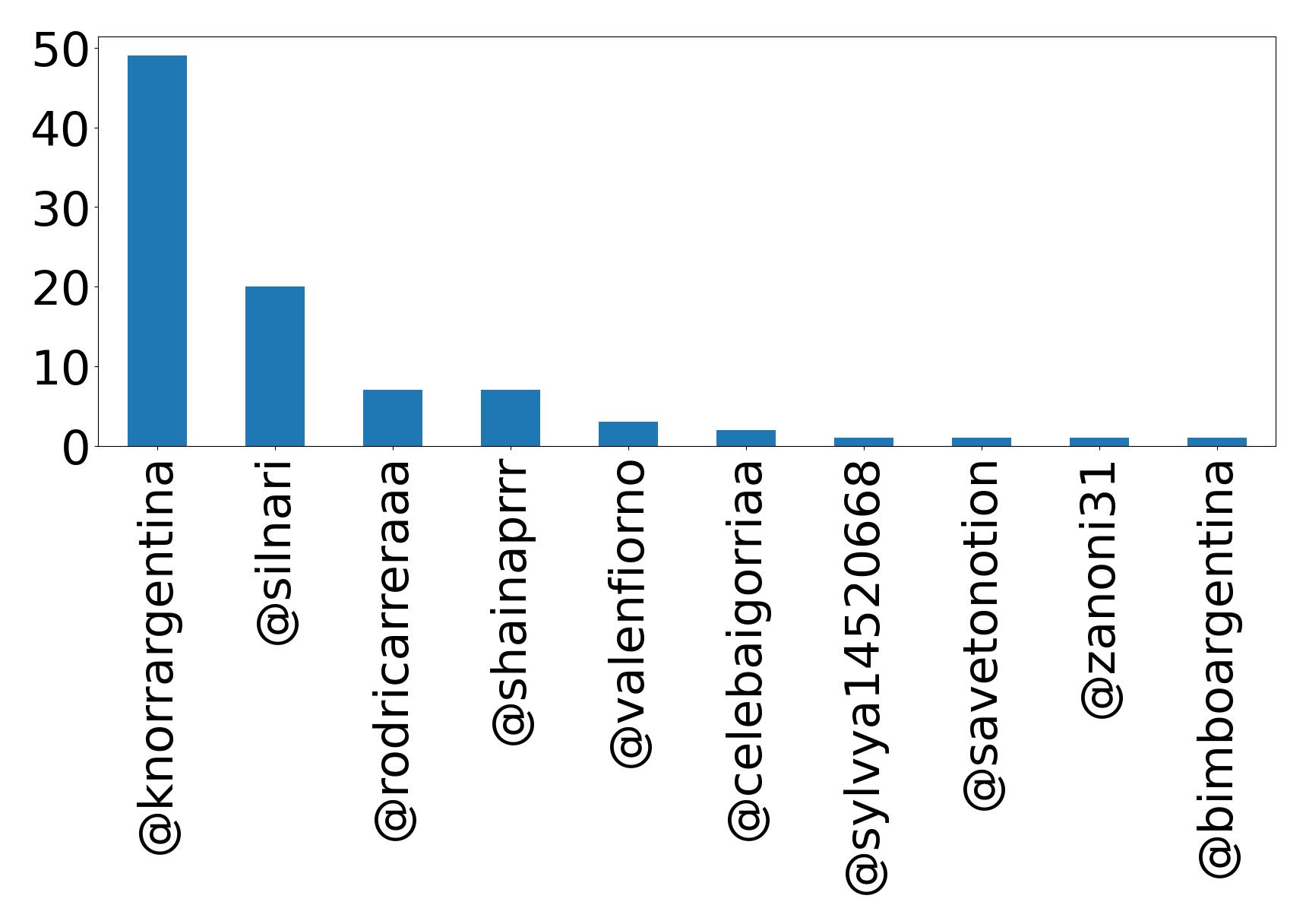 Wordcloud of Tweets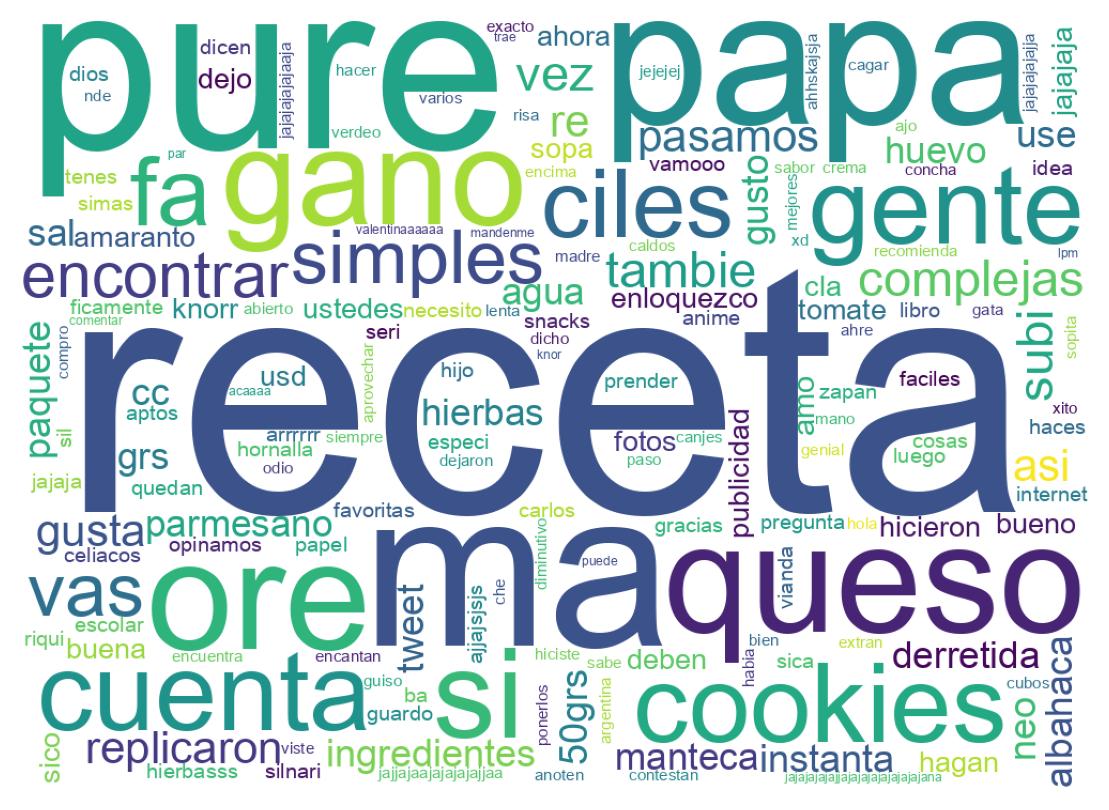 ---
Emojis
Average number of emojis used per tweet
30
Emojis used in tweets
| Emoji | Count | Emoji Text |
| --- | --- | --- |
| 👏🏻 | 3 | clapping_hands_light_skin_tone |
| 🤩 | 2 | star-struck |
| 💪🏻 | 1 | flexed_biceps_light_skin_tone |
| 💜 | 1 | purple_heart |
| 😋 | 1 | face_savoring_food |
| 👌🏻 | 1 | OK_hand_light_skin_tone |
| 😍 | 1 | smiling_face_with_heart-eyes |
| 😉 | 1 | winking_face |
| 💀 | 1 | skull |
| 👍🏻 | 1 | thumbs_up_light_skin_tone |
Emojis groups
| Emoji Group | Count |
| --- | --- |
| Smileys & Emotion | 8 |
| People & Body | 6 |
| Food & Drink | 1 |