Tweets Analysis - Keyword: @kdeleon
Total number of tweets analysed
49
Earliest tweet was on
2023-03-21
Latest tweet was on
2023-03-30
Average age of authors' accounts
5 years
---
Summarization
The tweets cover various topics related to LA politics and Kevin de Leon, a political figure in the area. Some criticize de Leon's negligence in maintaining streetlights and other infrastructure, while others defend him against accusations of racism. The tweets also mention various other figures and incidents related to LA politics.
Topic Modeling
LA politics
Infrastructure and safety in Kevin de Leon's district
Criticism of Kevin de Leon's actions and leadership
Mentions of accidents and incidents in Kevin de Leon's district
Miscellaneous political commentary and attacks on Kevin de Leon
Emotional Analysis
The tweets express a range of emotions, including anger and frustration towards Kevin de Leon for his perceived neglect and lack of action in addressing issues in his district, particularly related to street lighting and safety. Some tweets also express support for other political figures and criticism towards media outlets. The tweets also touch on broader LA politics issues and incidents of pedestrian accidents in the city.
Trend Analysis
LA politics
Criticism of Kevin de Leon
Housing and safety concerns in his district
Journalistic coverage of Kevin de Leon
Various accidents and incidents in Los Angeles
---
Types of Tweets
Number of Retweets
14
Percentage of total tweets
28%
Number of Original tweets
11
Percentage of total tweets
22%
Number of tweets that contain Mentions
49
Percentage of total tweets
100%
Number of tweets that were Replies
16
Percentage of total tweets
32%
Number of tweets that were Quotes
12
Percentage of total tweets
24%
Number of tweets that contain Hashtags
7
Percentage of total tweets
14%
---
Top 5 devices used to tweet
| Source | Count |
| --- | --- |
| Twitter for iPhone | 19 |
| Twitter Web App | 16 |
| SFA-Alerts | 8 |
| Twitter for Android | 6 |
What devices were used to tweet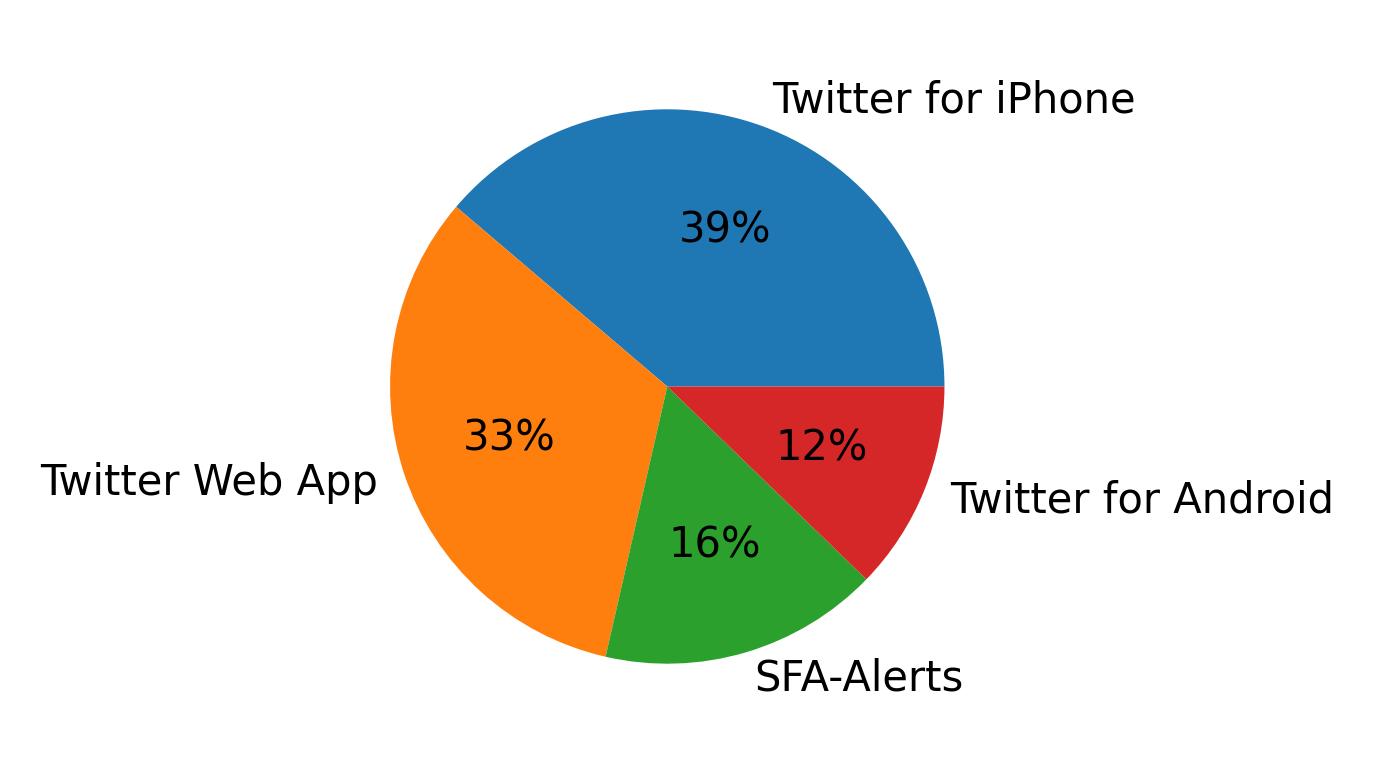 ---
Top 10 accounts with highest followers count
| Username | Name | Bio | Followers count |
| --- | --- | --- | --- |
| jenvanlaar | Jennifer Van Laar | Mg Ed @redstate @bualumni #LawGeek #BoyMom #girlgramie #RamsHouse #AlwaysLA #TarHeels #UCLA #GKG #keeppounding | 50,071 |
| TheIssueIsShow | The Issue Is | Discussions and debates with top newsmakers about the most controversial and interesting issues impacting California, hosted by @foxla's @Elex_Michaelson | 10,057 |
| kyliesparks | kylie sparks 🖤🥂⚾️🏀⚽️ | they/them // IG/Hive: @kyliesparks, 🐘: kyliesparks@mastodon.lol, https://t.co/kI5sBfB07p // acting: @revenantent / Activity // @acpandemonium @jillianforcd2 | 8,083 |
| busblog | tony pierce | host, hear in LA https://t.co/DbV9Su8J8a | 5,563 |
| CaliCre8ive | Katherine the Chaos Agent 🏴 | LA local politics obsessed 🤓 Notorious @RickCarusoLA troll 😈 Dem Strategist @bearstarca 🤩 Cop Watcher 👀 Artist 🖊 Organizer 💚 #MutualAid | 5,003 |
| CheersToMe2 | Kat 🍻🥂 | A little bit of everything all rolled into one. Cheers!🥂 Married 🚫Date DMs🚫 🇺🇸 #MAGA 🇺🇸 #Libra⚖️ | 1,703 |
| ShelleyBruce | ArtistShelleyBruce.nft | poet/painter/community organizer/love worker @AfroZeroNFT Artist. Founder @theheartdept outreach strategy genius. graceful unapologetically awkward Black girl🌸 | 1,393 |
| HRCoclbps | HRC Orange County | HRC envisions a world where LGBTQ people everywhere are ensured equal rights, living open & safe at home & work, in every community 🏳️‍🌈 | 1,358 |
| CraigABrill | Craig for Common Sense | Husband, 🐶 Lover, LGBT 🏳️‍🌈 Was a Candidate for LA County BOS DIST 3 🌺 #VoteCommonSense #VoteChange 🪳 | 1,348 |
| LeannEAF | Leann Files | There is but one straight course, and that is to seek truth and pursue it steadily. ~George Washington #shoutyouradoption | 1,295 |
Top 10 accounts with highest friends count
| Username | Name | Bio | Followers count |
| --- | --- | --- | --- |
| CraigABrill | Craig for Common Sense | Husband, 🐶 Lover, LGBT 🏳️‍🌈 Was a Candidate for LA County BOS DIST 3 🌺 #VoteCommonSense #VoteChange 🪳 | 4,996 |
| HRCoclbps | HRC Orange County | HRC envisions a world where LGBTQ people everywhere are ensured equal rights, living open & safe at home & work, in every community 🏳️‍🌈 | 4,947 |
| jenvanlaar | Jennifer Van Laar | Mg Ed @redstate @bualumni #LawGeek #BoyMom #girlgramie #RamsHouse #AlwaysLA #TarHeels #UCLA #GKG #keeppounding | 4,767 |
| CaliCre8ive | Katherine the Chaos Agent 🏴 | LA local politics obsessed 🤓 Notorious @RickCarusoLA troll 😈 Dem Strategist @bearstarca 🤩 Cop Watcher 👀 Artist 🖊 Organizer 💚 #MutualAid | 4,730 |
| TheIssueIsShow | The Issue Is | Discussions and debates with top newsmakers about the most controversial and interesting issues impacting California, hosted by @foxla's @Elex_Michaelson | 3,327 |
| kyliesparks | kylie sparks 🖤🥂⚾️🏀⚽️ | they/them // IG/Hive: @kyliesparks, 🐘: kyliesparks@mastodon.lol, https://t.co/kI5sBfB07p // acting: @revenantent / Activity // @acpandemonium @jillianforcd2 | 3,249 |
| ktmgemini11111 | 🪽🩵 That Bitch | Enby / Latine-Guatemalan / She/Her-He/Him /36 | 2,421 |
| CheersToMe2 | Kat 🍻🥂 | A little bit of everything all rolled into one. Cheers!🥂 Married 🚫Date DMs🚫 🇺🇸 #MAGA 🇺🇸 #Libra⚖️ | 1,865 |
| mercat | General Porgana | A slight penchant for hyperbole. (Only mildly.) Queen of luggage tetris. Burrito Supreme Court Chief Justice. Womanticore. I talk about Indiana Jones a lot. | 1,678 |
| busblog | tony pierce | host, hear in LA https://t.co/DbV9Su8J8a | 1,502 |
Most active users
| Username | Bio | Number of tweets |
| --- | --- | --- |
| sfa_alerts | Bot that illuminates traffic violence in the LA area by @streetsforall (Data from @citizenapp) | 8 |
| BelleFreedman | ~ interdependent musician: https://t.co/Eol1x6x8MK ~ upcycled apparel, art, merch && more: https://t.co/T0NXaTr1tQ | 3 |
| ktmgemini11111 | Enby / Latine-Guatemalan / She/Her-He/Him /36 | 3 |
| SurfTheSpect2 | Philippians 4:13. Mom,Wife,GiGi, Homeschooler, Medical Freedom Advocate & Californian 🚫NeoCons Kevin Kiley fan club President | 3 |
| CraigABrill | Husband, 🐶 Lover, LGBT 🏳️‍🌈 Was a Candidate for LA County BOS DIST 3 🌺 #VoteCommonSense #VoteChange 🪳 | 3 |
| chicopadre22 | - | 2 |
| ShelleyBruce | poet/painter/community organizer/love worker @AfroZeroNFT Artist. Founder @theheartdept outreach strategy genius. graceful unapologetically awkward Black girl🌸 | 2 |
| GingerSnap54321 | Loves and respects everyone until they show me not to. | 2 |
| Stuff4DR | Realtor & small time RE investor. Lover of @angels baseball & @49ers football. Knowledge and competence are not elitist. | 1 |
| drolkrad420 | fence sitter. multiple things can be true at once he/him/his | 1 |
---
Tweets per day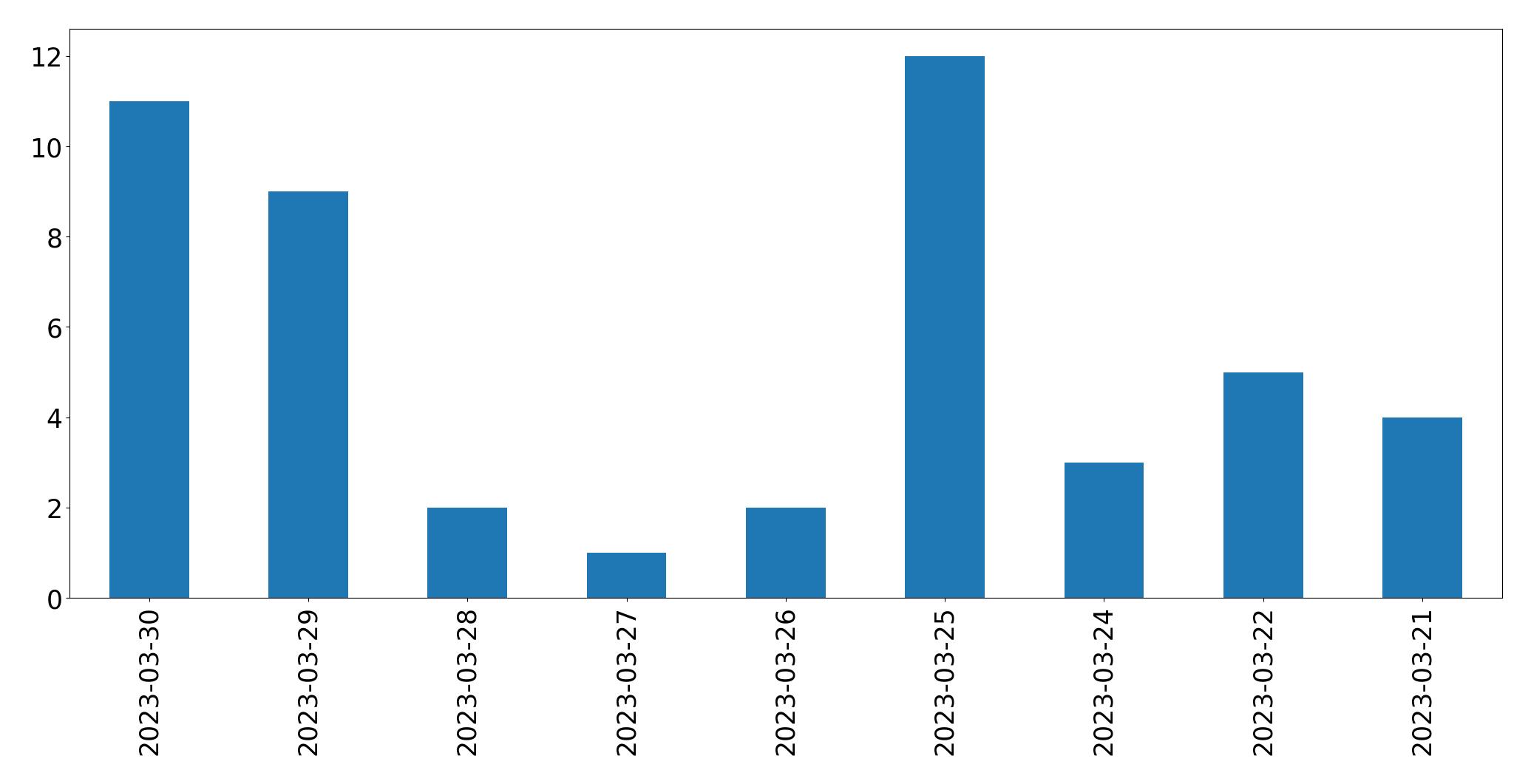 ---
Top 10 tweets with highest Retweet count
| ID | Text | Retweet count |
| --- | --- | --- |
| 1639154838037753856 | This is a smear. Marco was endorsed by the SFV Democratic Party, a club of which reps the district he is running in. Imelda Padilla has close ties with Nury Martinez who was forced to resign after her racist remarks (along with @kdeleon and Gil Cedillo) were heard on tape. https://t.co/z8rXua6YRy | 4 |
| 1639437243889893376 | "Kevin de Leon represents Skid Row... he represents East LA... his constituents deserve to be served." @MayorOfLA @KarenBassLA says she has not been in contact w/ @kdeleon, but she is working w/ his office to house people in his district. @Elex_Michaelson hosts @TheIssueIsShow https://t.co/esGdIxYsGv | 3 |
| 1638287045109112835 | I've been submitting streetlight outages through @MyLA311 since November on Boyle Ave in Boyle heights where @kdeleon has remained negligent. Since the outages, my car has been hit twice, there have been many other accidents, and someone was stabbed at the corner. | 2 |
| 1641198978141417472 | Our streetlights are still out. Not a word and at least one request submitted a week since November. Stabbings, break ins, trash fires, and lots of car accidents. @MayorOfLA can you let @kdeleon know he needs to take better care of his district's safety? @MyLA311 #LA https://t.co/gFZkfQJeMO | 1 |
| 1638287047105593345 | Please immediately restore this basic infrastructure necessity that we pay taxes for @MyLA311 and @kdeleon before we have more unnecessary costs to human life and our safety. | 1 |
| 1641458291241803776 | @carldemaio "I'm resigning, effective immediately following collecting my paycheck for 2023" ~ @nathanfletcher by way of @kdeleon | 1 |
| 1641210399566749696 | @HearInLAdotcom @busblog @HugoForCD13 @kdeleon @PplsCityCouncil @Erika_D_Smith @AntoinetteForLA Antoinette is the best!!! #TeamScully | 1 |
| 1641205520362258432 | @busblog @HugoForCD13 @kdeleon @PplsCityCouncil @Erika_D_Smith Shout out to @CaliCre8ive for introducing us to @AntoinetteForLA! | 1 |
| 1641204691106410496 | In this episode we talk alot about LA politics. All your favorites: Nury, @HugoForCD13, @kdeleon, @PplsCityCouncil, and @Erika_D_Smith. This is our 90th episode and our third in a row with a Black Angeleno. https://t.co/2o8E0rpZzW | 1 |
| 1639417826334355457 | Pedestrian Struck by Vehicle 777 S Figueroa St Downtown, Los Angeles 03/24/2023 • 04:39 PM https://t.co/ke319lq4AP @kdeleon https://t.co/YRcs4Isq2h | 0 |
Top 10 tweets with highest Like count
| ID | Text | Like count |
| --- | --- | --- |
| 1639154838037753856 | This is a smear. Marco was endorsed by the SFV Democratic Party, a club of which reps the district he is running in. Imelda Padilla has close ties with Nury Martinez who was forced to resign after her racist remarks (along with @kdeleon and Gil Cedillo) were heard on tape. https://t.co/z8rXua6YRy | 10 |
| 1641204691106410496 | In this episode we talk alot about LA politics. All your favorites: Nury, @HugoForCD13, @kdeleon, @PplsCityCouncil, and @Erika_D_Smith. This is our 90th episode and our third in a row with a Black Angeleno. https://t.co/2o8E0rpZzW | 9 |
| 1641458291241803776 | @carldemaio "I'm resigning, effective immediately following collecting my paycheck for 2023" ~ @nathanfletcher by way of @kdeleon | 6 |
| 1639437243889893376 | "Kevin de Leon represents Skid Row... he represents East LA... his constituents deserve to be served." @MayorOfLA @KarenBassLA says she has not been in contact w/ @kdeleon, but she is working w/ his office to house people in his district. @Elex_Michaelson hosts @TheIssueIsShow https://t.co/esGdIxYsGv | 6 |
| 1638287045109112835 | I've been submitting streetlight outages through @MyLA311 since November on Boyle Ave in Boyle heights where @kdeleon has remained negligent. Since the outages, my car has been hit twice, there have been many other accidents, and someone was stabbed at the corner. | 4 |
| 1641210399566749696 | @HearInLAdotcom @busblog @HugoForCD13 @kdeleon @PplsCityCouncil @Erika_D_Smith @AntoinetteForLA Antoinette is the best!!! #TeamScully | 3 |
| 1641205520362258432 | @busblog @HugoForCD13 @kdeleon @PplsCityCouncil @Erika_D_Smith Shout out to @CaliCre8ive for introducing us to @AntoinetteForLA! | 3 |
| 1638287047105593345 | Please immediately restore this basic infrastructure necessity that we pay taxes for @MyLA311 and @kdeleon before we have more unnecessary costs to human life and our safety. | 2 |
| 1641198978141417472 | Our streetlights are still out. Not a word and at least one request submitted a week since November. Stabbings, break ins, trash fires, and lots of car accidents. @MayorOfLA can you let @kdeleon know he needs to take better care of his district's safety? @MyLA311 #LA https://t.co/gFZkfQJeMO | 2 |
| 1639662190646140929 | It's nice now that @kdeleon is persona non grata at the @latimes that they actually do journalism rather than political gate keeping for the @CADEM party! No one thought this was important b4 the election? Weird https://t.co/RLBWjTZ27x | 2 |
Top 3 Languages Used In Tweets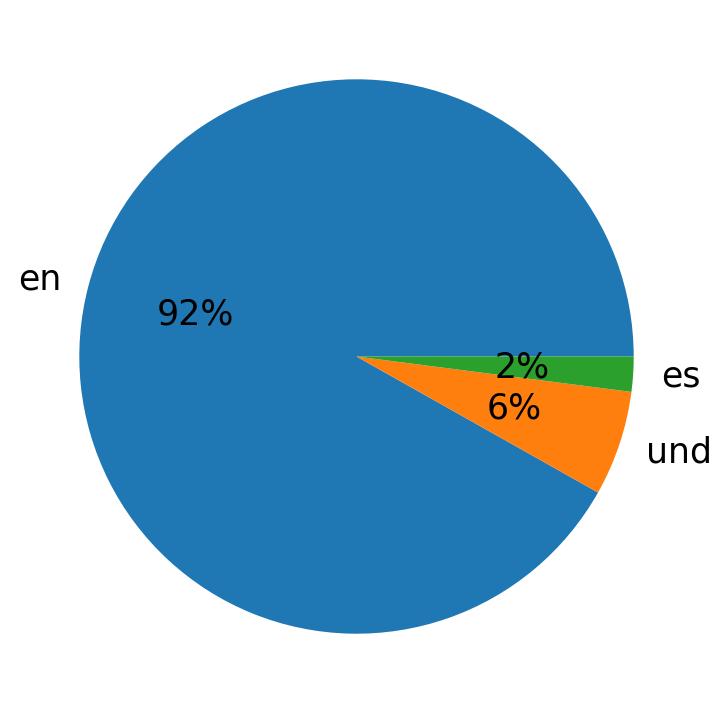 ---
Top 10 Hashtags used
| Hashtag | Count |
| --- | --- |
| #teamscully | 2 |
| #la | 2 |
| #resignkdl | 1 |
| #racist | 1 |
| #hater | 1 |
| #resign | 1 |
| #karenbass | 1 |
| #tracipark | 1 |
| #california | 1 |
Top 10 Hashtags Used In Tweets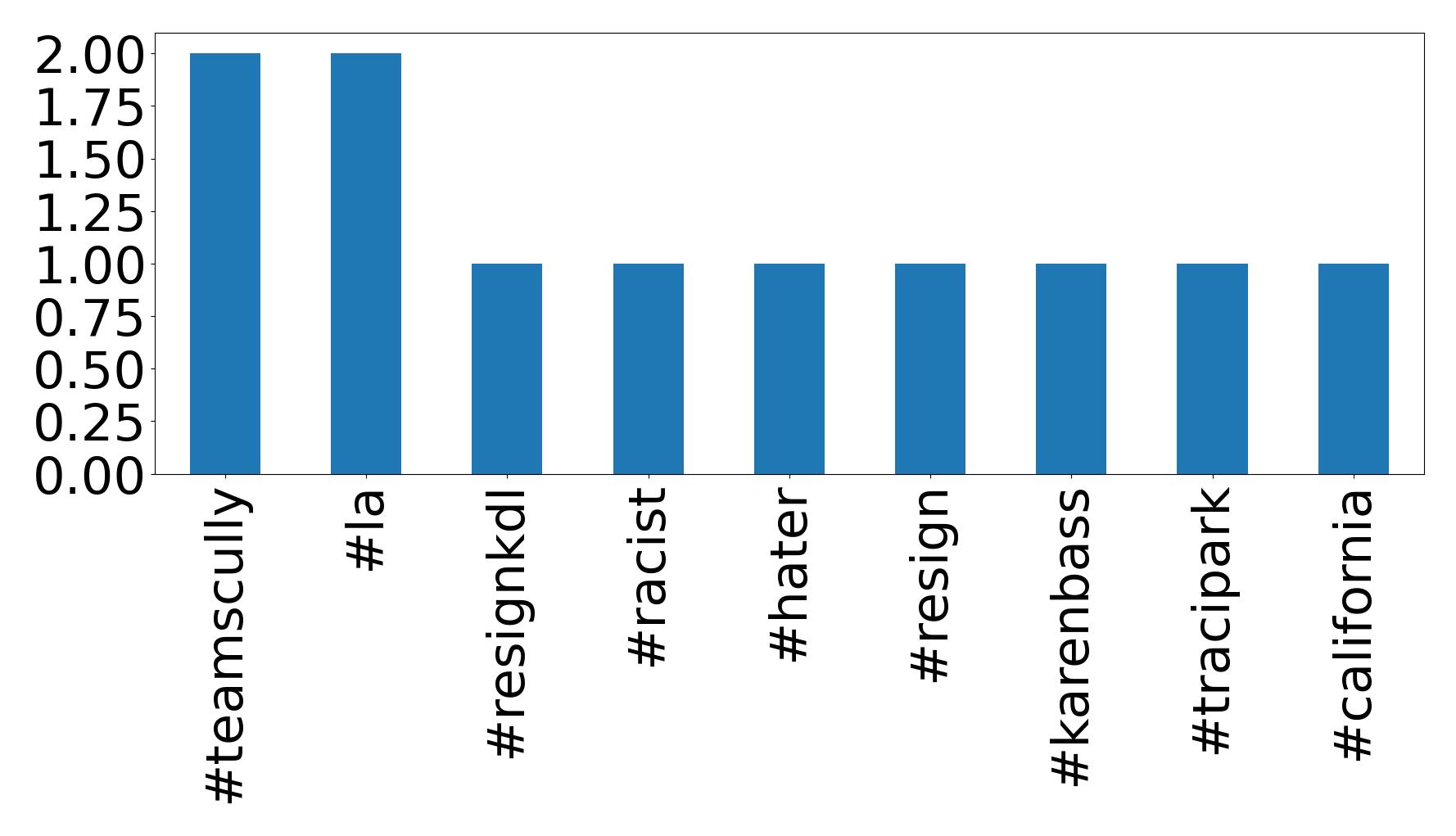 Top 10 mentions
| Mention | Count |
| --- | --- |
| @kdeleon | 49 |
| @hugoforcd13 | 7 |
| @mayorofla | 6 |
| @pplscitycouncil | 6 |
| @erika_d_smith | 6 |
| @myla311 | 6 |
| @busblog | 5 |
| @latimes | 5 |
| @carldemaio | 4 |
| @nathanfletcher | 4 |
Top 10 mentions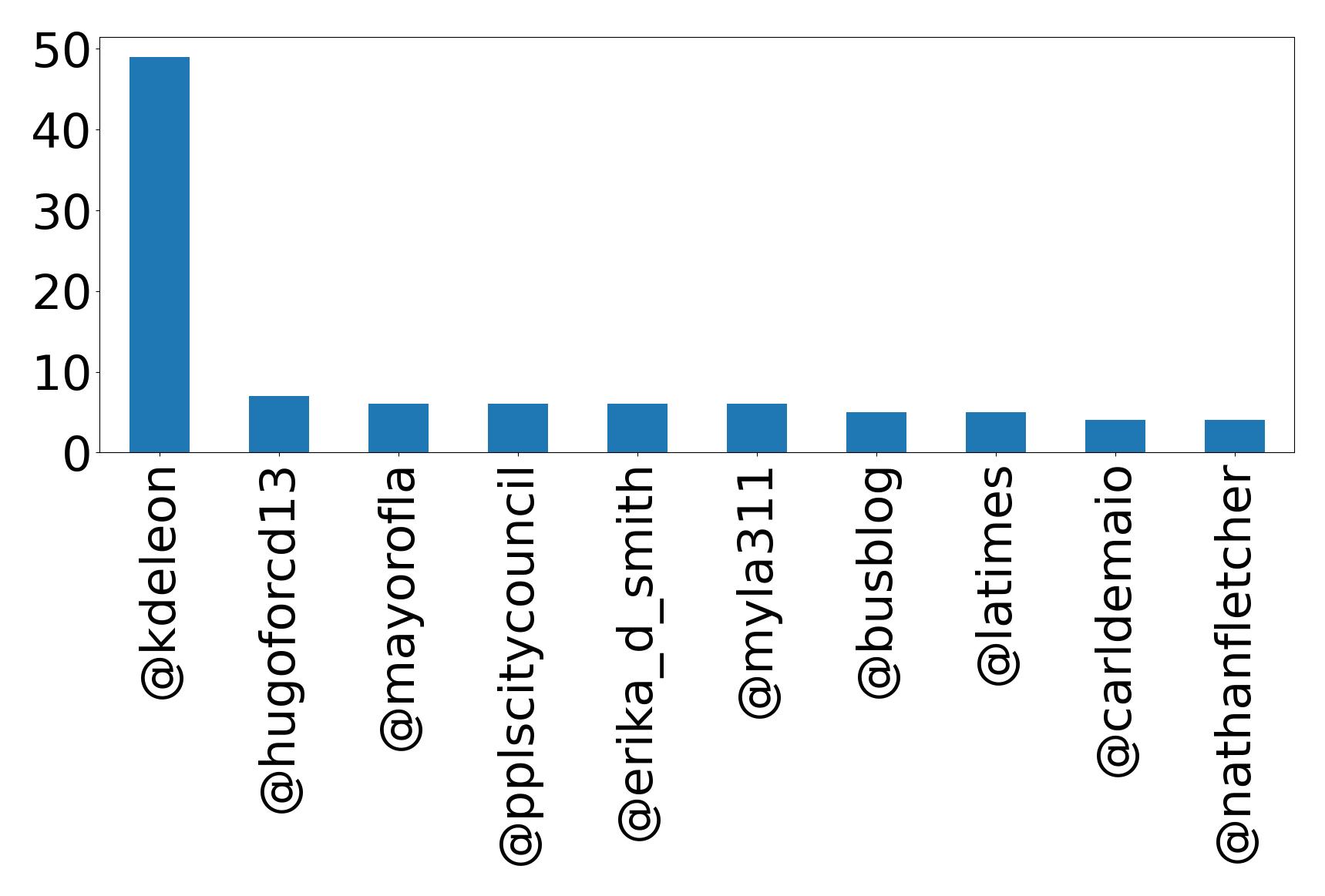 Wordcloud of Tweets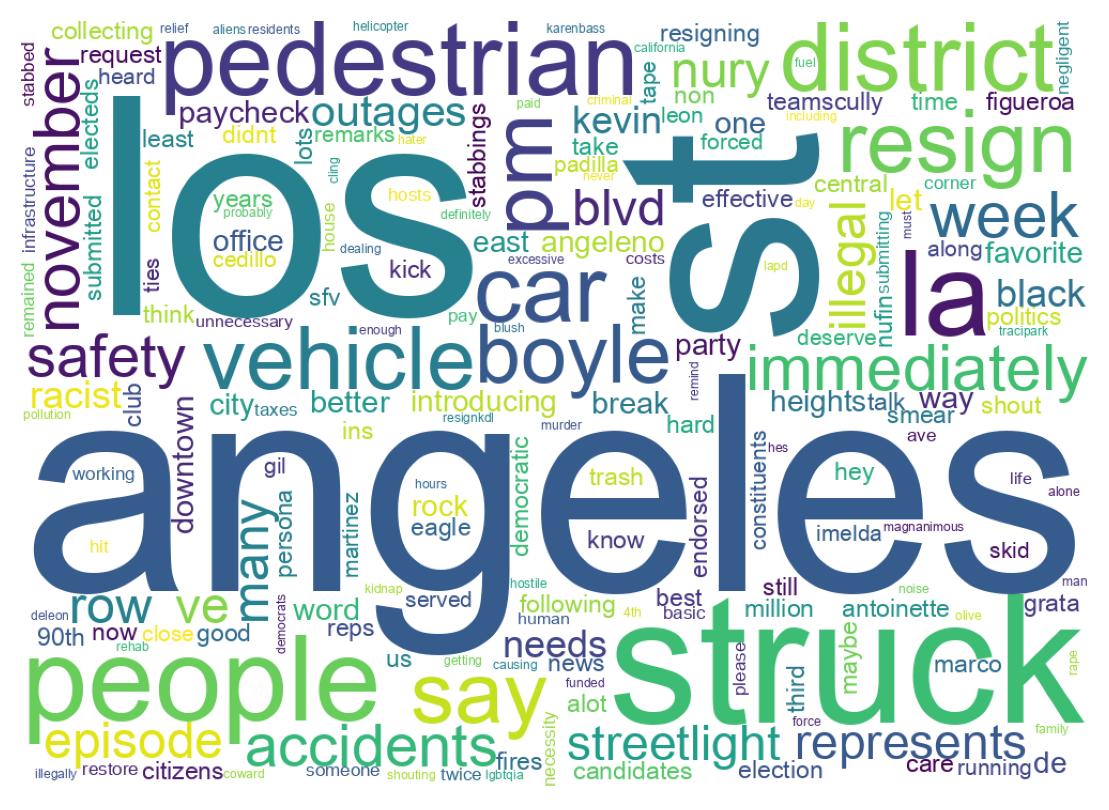 ---
Emojis
Average number of emojis used per tweet
2
Emojis used in tweets
| Emoji | Count | Emoji Text |
| --- | --- | --- |
| 👎🏽 | 1 | thumbs_down_medium_skin_tone |
Emojis groups
| Emoji Group | Count |
| --- | --- |
| People & Body | 1 |