Tweets Analysis - Keyword: @KatoProducer
Total number of tweets analysed
111
Earliest tweet was on
2023-02-21
Latest tweet was on
2023-03-02
Average age of authors' accounts
7 years
---
Summarization
The tweets are primarily focused on music producer @KatoProducer, with multiple users expressing interest in working with him and congratulating him on recent successes such as producing a track titled "#BetterDays" and selling beats on @BeatStars. Many users ask for advice or clarification on various aspects of the music industry, while others collaborate with KatoProducer on remixes or express admiration for his work.
Topic Modeling
Working with @KatoProducer
Music production and releases
Congratulations and wins
Use of BeatStars platform
Musical collaboration and remixes
Emotional Analysis
The tweets express a range of positive emotions towards @KatoProducer, including admiration, excitement, congratulations, inspiration, and congratulations on his success. The tweeters express a desire to work with KatoProducer, praise his skills and music, celebrate his achievements and motivate him to continue his success. There is also a question about his use of beatstars and a request for clarification on lease purchases. Overall, the tweets convey a supportive and positive sentiment towards KatoProducer.
Trend Analysis
KatoProducer has a strong following and fans are trying to collaborate with him.
KatoProducer's beats are highly regarded and fans are praising his work.
KatoProducer recently produced a song called "BetterDays" and fans are promoting it.
KatoProducer's recent success is being celebrated by fans.
Discussion and questions around KatoProducer's use of platforms like BeatStars for selling beats.
---
Types of Tweets
Number of Retweets
18
Percentage of total tweets
16%
Number of Original tweets
10
Percentage of total tweets
9%
Number of tweets that contain Mentions
111
Percentage of total tweets
100%
Number of tweets that were Replies
82
Percentage of total tweets
73%
Number of tweets that were Quotes
3
Percentage of total tweets
2%
Number of tweets that contain Hashtags
5
Percentage of total tweets
4%
---
Top 5 devices used to tweet
| Source | Count |
| --- | --- |
| Twitter for iPhone | 73 |
| Twitter for Android | 22 |
| Twitter Web App | 14 |
| MateCha | 1 |
| Twitter for Mac | 1 |
What devices were used to tweet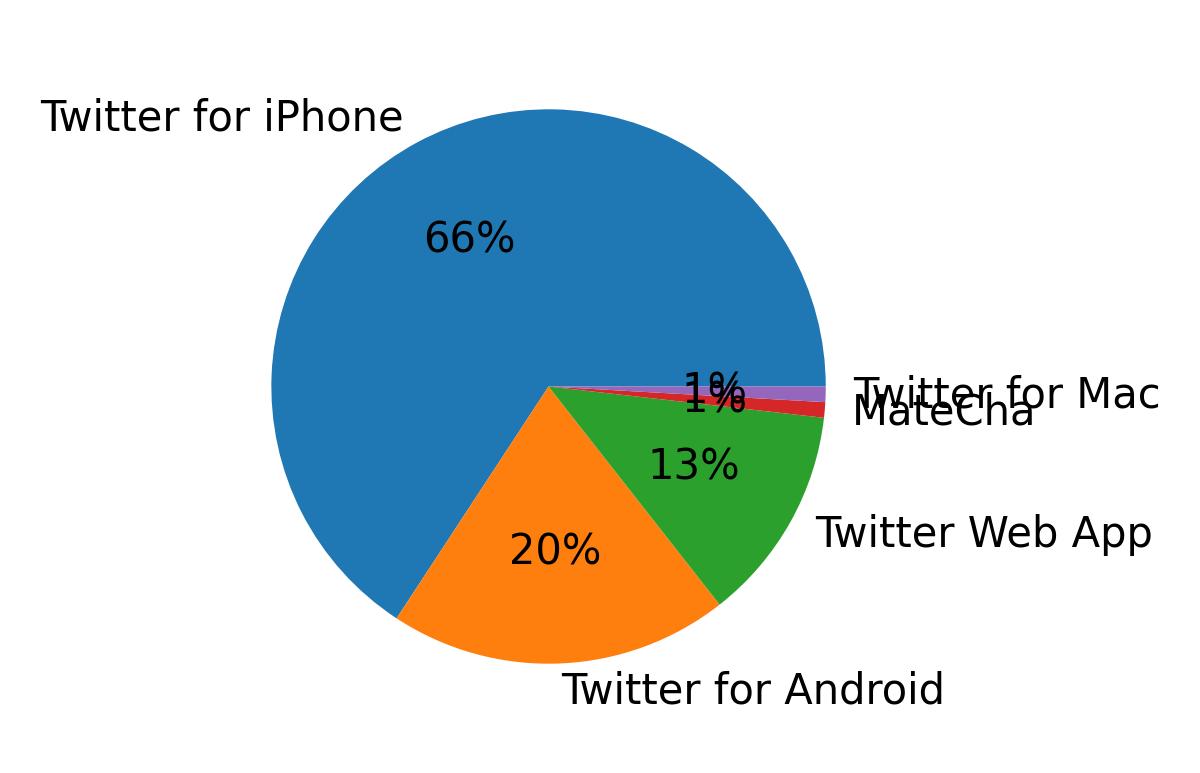 ---
Top 10 accounts with highest followers count
| Username | Name | Bio | Followers count |
| --- | --- | --- | --- |
| JonConnorMusic | Jon Connor | The People's Rapper. For inquiries allvarsitymusicgroup@gmail.com | 47,707 |
| THROWEDTOBIN | THROWEDTOBIN 🦅 | Producer • Mixing & Mastering • Founder of @terawav 💿 Cred: SSG Splurge, Sosamann, Quin NFN, Sybyr, Peso Peso, Brick Wolfpack, Guapo, Josh Kream & many more | 40,601 |
| Starkillers | Starkillers.x | - | 27,588 |
| BrianZisook | Z | Co-Founder, SVP of Operations @Audiomack / z@audiomack.com / @DJBooth / @SundaeSongs / @RecordingAcad Member / #GirlDad | 27,191 |
| nitrogetlive | NiTROGETLiVE™ | 🇵🇷 Producer/ Songwriter FCH, GLE🎸🤟🏾 | 22,845 |
| iamkyannadenice | Kyanna Denice | Lonely Night :/ out now! | 20,602 |
| OfficialDenial | Denial | #Engineer #Rapper #Writer @UncarvedCulture | 11,414 |
| LinkPellow | Link Pellow | I rap and do other shit sometimes https://t.co/lVXniwiF9A | 7,348 |
| splashgvng | splashgvng | HAVE HOPE | 6,226 |
| metawoofer | Mikey Ruiz | - | 5,569 |
Top 10 accounts with highest friends count
| Username | Name | Bio | Followers count |
| --- | --- | --- | --- |
| nitrogetlive | NiTROGETLiVE™ | 🇵🇷 Producer/ Songwriter FCH, GLE🎸🤟🏾 | 8,949 |
| THROWEDTOBIN | THROWEDTOBIN 🦅 | Producer • Mixing & Mastering • Founder of @terawav 💿 Cred: SSG Splurge, Sosamann, Quin NFN, Sybyr, Peso Peso, Brick Wolfpack, Guapo, Josh Kream & many more | 8,380 |
| iamkyannadenice | Kyanna Denice | Lonely Night :/ out now! | 7,901 |
| LWilliamsBeatss | LWilliamsBeats 📀🏴󠁧󠁢󠁷󠁬󠁳󠁿 | Credits💿 @nafesmallz @samara_riahi @heuss_lenfoire @smokeboys_ @joshimizu | 5,669 |
| LinkPellow | Link Pellow | I rap and do other shit sometimes https://t.co/lVXniwiF9A | 5,311 |
| OfficialDenial | Denial | #Engineer #Rapper #Writer @UncarvedCulture | 5,251 |
| majorpain90 | MajorPain.eth | Artist, Music Producer / Creative Individual- musicis.eth entirely.eth probing.eth multitracks.eth findbeats.eth soundsonline.eth aili.eth tatto.eth | 5,000 |
| JonConnorMusic | Jon Connor | The People's Rapper. For inquiries allvarsitymusicgroup@gmail.com | 3,960 |
| metawoofer | Mikey Ruiz | - | 2,984 |
| So_Easy_ | So Easy | Pre-save "This Is It" ⤵️ | 2,835 |
Most active users
| Username | Bio | Number of tweets |
| --- | --- | --- |
| Mo_Wesly | Wassuuup :D this is Kriz B) "I like turtles" aaand I like to write music. Peace & Love | 4 |
| BEWARE4 | Husband | Father | Producer | Editor @WeAreStillCrew | Strategist | Stream Gibraltar Trade Center https://t.co/lrSU4GQ5Fi | 3 |
| oseygh | sometimes, you'll hear👂🏾:"ō #somethingelse on A Tr?ck!". % negotiator and a HACKER! accepting BTC via lightning 👉🏾⚡️oseygh@getalby.com | 3 |
| splashgvng | HAVE HOPE | 2 |
| NothinPodcast | It May Not Mean Nothin To You But Its Everything to us | 2 |
| magprime_atocha | Hip-Hop all day homie Damn(BeatMaker and Producer) 🇨🇺 | 2 |
| RSytro | Artistic Being 😈RG GVNG C.E.O💰Newcastle Baby🐐SOUTH.AFRICAN.AMERICAN🇿🇦🇺🇸 | 2 |
| kingsnowflakee | 814➡️UH Bauer Alumnus, stat generator/writer/editor for LTBR Podcast @JacksMescudi💍❤️ | 2 |
| misc_alt_ | (s/h/t) Creativity & Sound Design / peculiar to a fault | 2 |
| LWilliamsBeatss | Credits💿 @nafesmallz @samara_riahi @heuss_lenfoire @smokeboys_ @joshimizu | 2 |
---
Tweets per day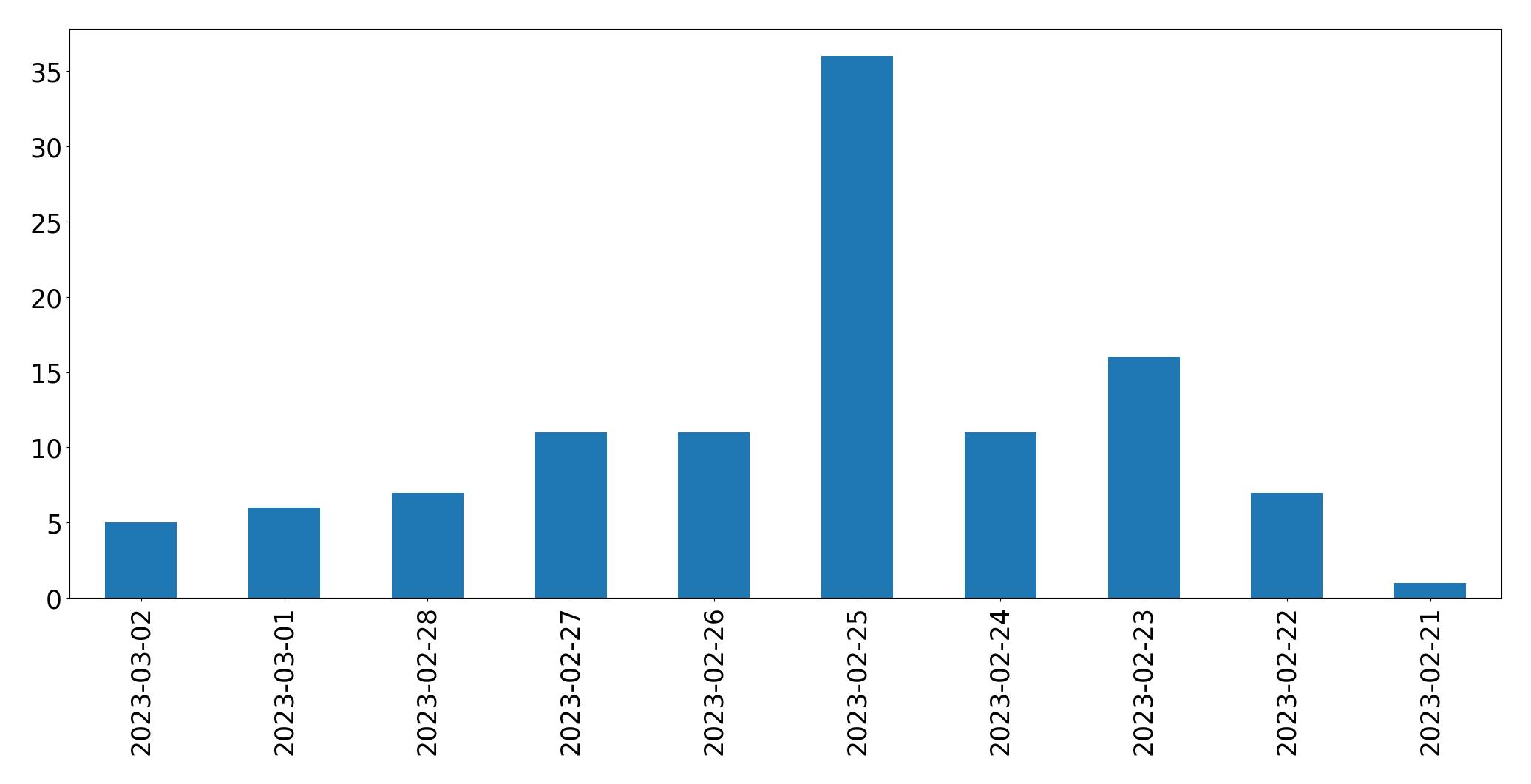 ---
Top 10 tweets with highest Retweet count
| ID | Text | Retweet count |
| --- | --- | --- |
| 1631118981812875265 | I'm trynna work with @KatoProducer this year. Tag him n let him know let's get to it 🤞🏾💪🏾 https://t.co/0J171jQhld | 10 |
| 1629886004411736066 | #BetterDays produced by @KatoProducer 🫡🔥💯💪Run it up on Spotify!! And get ready for a new release very soon! #UncarvedCulture #Hiphop #Rap #Beats #ATL #Salisbury #MD #GA #Musichttps://t.co/qKEwX5FIT1 | 1 |
| 1628538266990395394 | @KatoProducer 😂😂😂 at least he had the subject down pack 💀 wait you check your emails lemme go ahead and send this heat 😂 | 1 |
| 1630289728854532098 | @KatoProducer @Prodbyskowp One day ima get notifications like this 🫠 | 1 |
| 1629304390958956544 | Y'all! Look at this! Don't give up! 👏🏽👏🏽👏🏽👏🏽🗣🗣🗣🗣🗣 Congrats @KatoProducer 🎊🍾🎉 https://t.co/c3rIDaAqKh | 1 |
| 1628553942119350273 | @KatoProducer literally everything is wrong with this | 1 |
| 1628539788776325121 | @KatoProducer Ceos and bosses say the less the better. Nobody has time for an essay. Give them a chance because of the audacity. | 1 |
| 1629308744109633538 | New freestyle verse on TikTok. Duet wit @KatoProducer Check out Blest's video! #TikTok https://t.co/tIgfrYIQjs | 1 |
| 1629422455528759296 | @KatoProducer mad respect bro 👏 | 0 |
| 1629433801540616194 | @KatoProducer you right, its gonna take a lot of work tho, but if you hungry for it you wont even notice💯 | 0 |
Top 10 tweets with highest Like count
| ID | Text | Like count |
| --- | --- | --- |
| 1631118981812875265 | I'm trynna work with @KatoProducer this year. Tag him n let him know let's get to it 🤞🏾💪🏾 https://t.co/0J171jQhld | 25 |
| 1630715238260539394 | .@KatoProducer this sound is goated 🤝 https://t.co/ueItb272f0 | 6 |
| 1629886004411736066 | #BetterDays produced by @KatoProducer 🫡🔥💯💪Run it up on Spotify!! And get ready for a new release very soon! #UncarvedCulture #Hiphop #Rap #Beats #ATL #Salisbury #MD #GA #Musichttps://t.co/qKEwX5FIT1 | 3 |
| 1629304390958956544 | Y'all! Look at this! Don't give up! 👏🏽👏🏽👏🏽👏🏽🗣🗣🗣🗣🗣 Congrats @KatoProducer 🎊🍾🎉 https://t.co/c3rIDaAqKh | 3 |
| 1629577322453168128 | @KatoProducer Just sold my first beat on @BeatStars 2 days ago & the next day I sold 4 more beats! 🥹🙏🏾 | 3 |
| 1628125594511675430 | @drjpol @therealJoeyCool @Photoshop @TechN9ne @StrangeMusicInc @TheRealKingIso @OfficialXRaided @Wyshmasterbeats @JehryRobinson @MackenzieNicole @KatoProducer @CMob765 Dope!! | 2 |
| 1630237378878091264 | Had some fun doing this quick remix collabo with @KatoProducer! Check it out!✌🏾 https://t.co/rplgbaZvC7 | 2 |
| 1629140163262656512 | @theneedledrop @abhithenomad and @KatoProducer ofc 🔥🔥🔥 https://t.co/lI5CxN5Juo | 2 |
| 1629524061503074305 | @KatoProducer @LetsGoHayes_ I have a baby on the way this makes me wanna grind 10x harder | 2 |
| 1629223101060849667 | @KatoProducer Got it got it I need to figure my shit out man | 2 |
Top 3 Languages Used In Tweets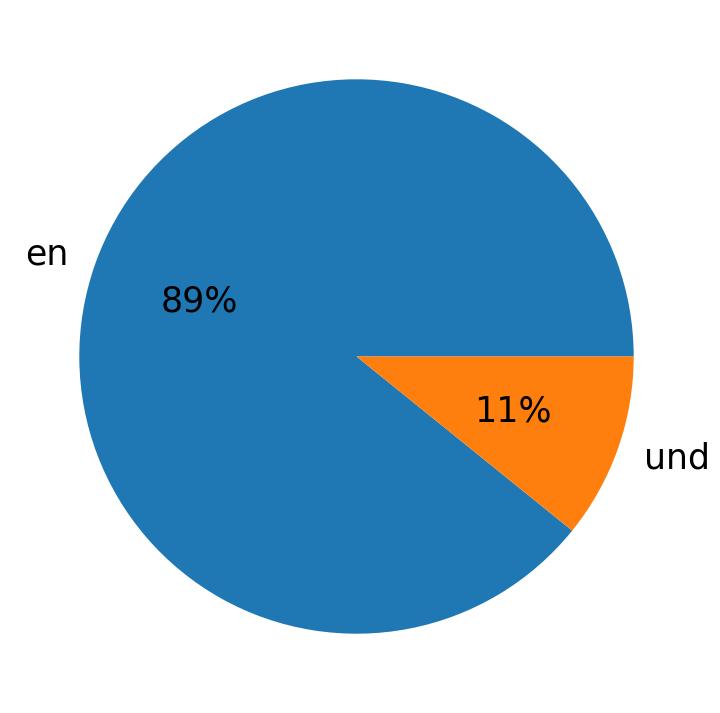 ---
Top 10 Hashtags used
| Hashtag | Count |
| --- | --- |
| #betterdays | 2 |
| #uncarvedculture | 2 |
| #hiphop | 2 |
| #rap | 2 |
| #beats | 2 |
| #atl | 2 |
| #salisbury | 2 |
| #md | 2 |
| #ga | 2 |
| #musichttps | 2 |
Top 10 Hashtags Used In Tweets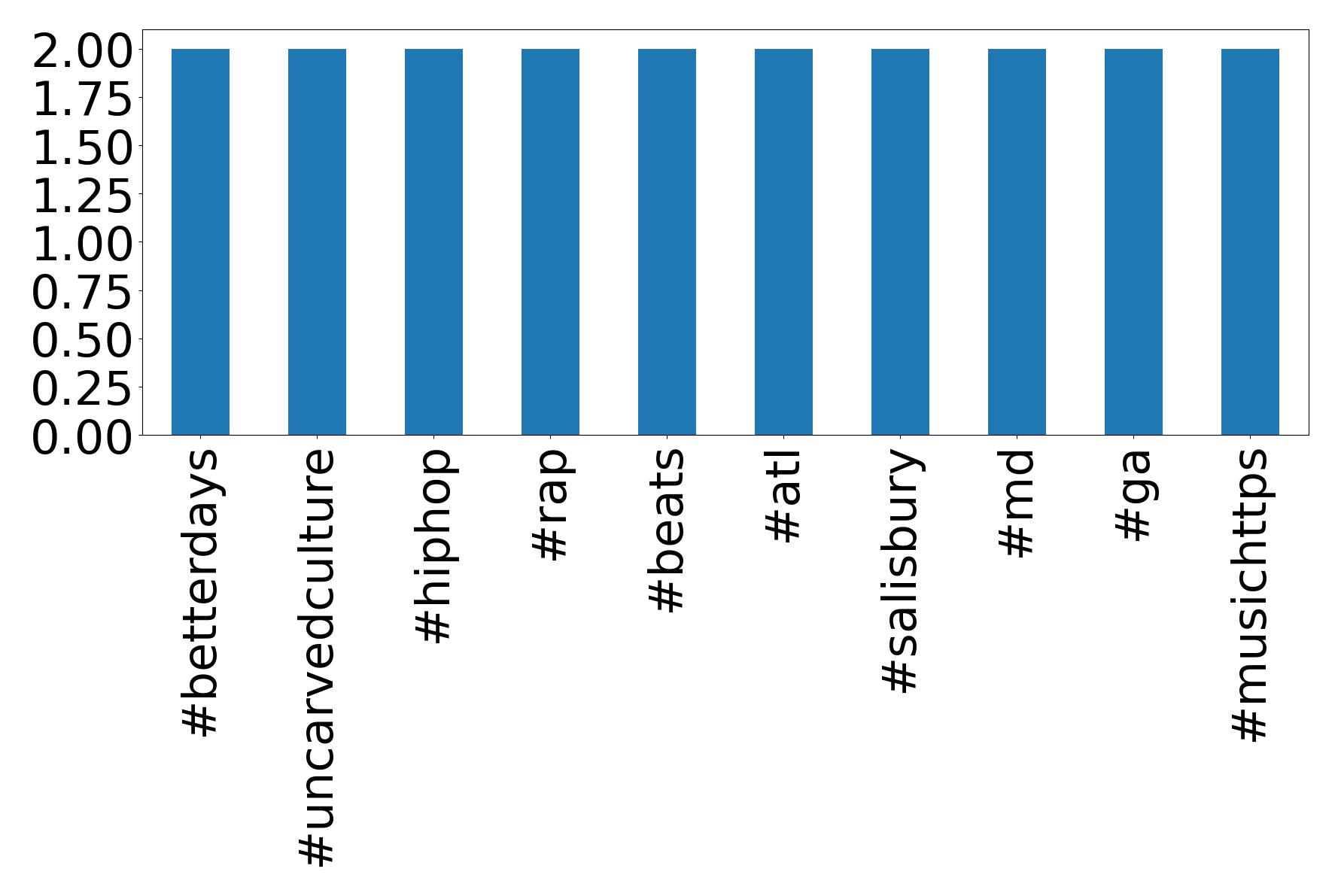 Top 10 mentions
| Mention | Count |
| --- | --- |
| @katoproducer | 112 |
| @abhithenomad | 3 |
| @sefam | 2 |
| @93madeit | 2 |
| @prodbyskowp | 2 |
| @lwilliamsbeatss | 2 |
| @officialdenial | 2 |
| @mo_wesly | 2 |
| @beware4 | 2 |
| @beatstars | 2 |
Top 10 mentions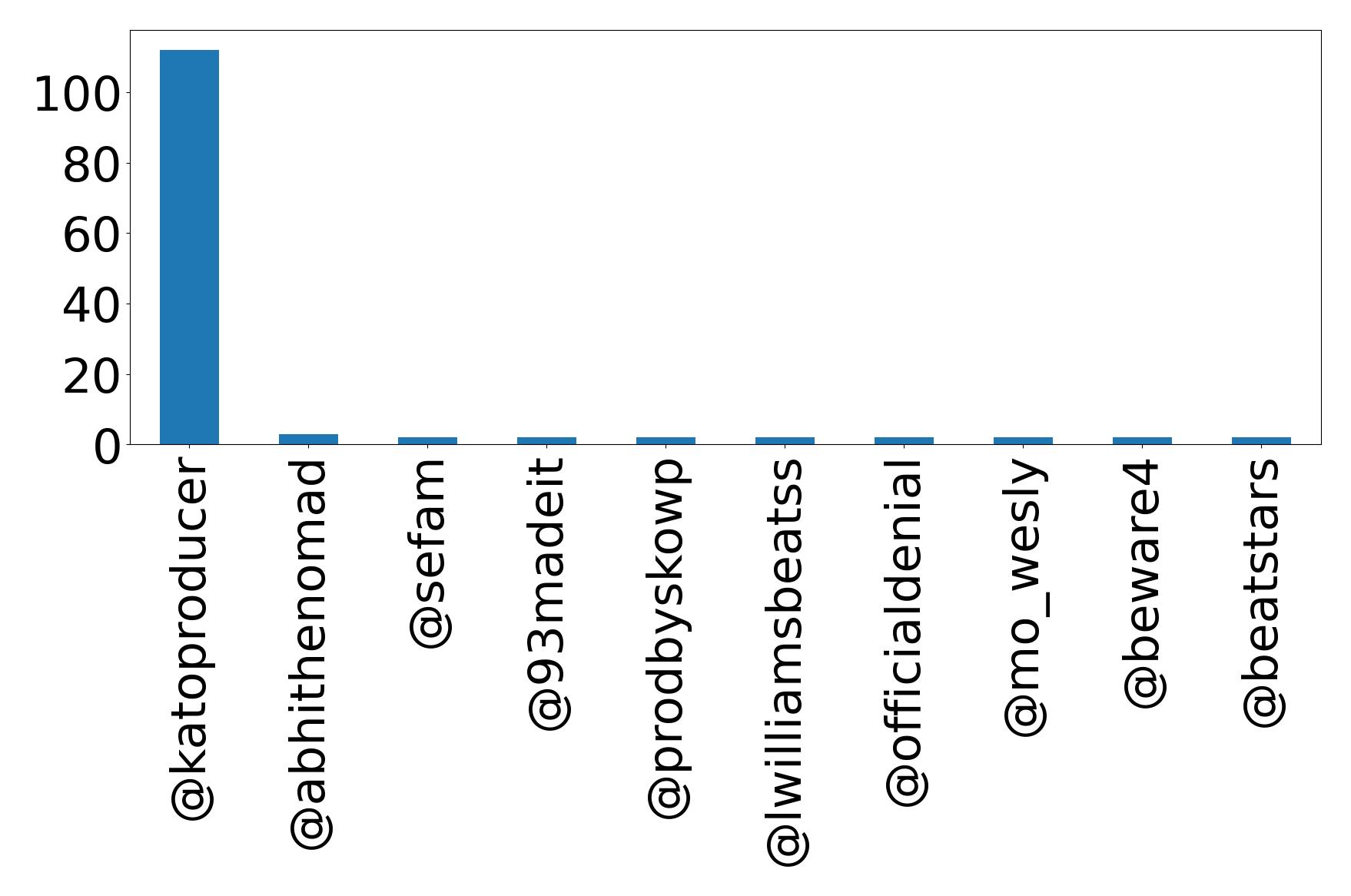 Wordcloud of Tweets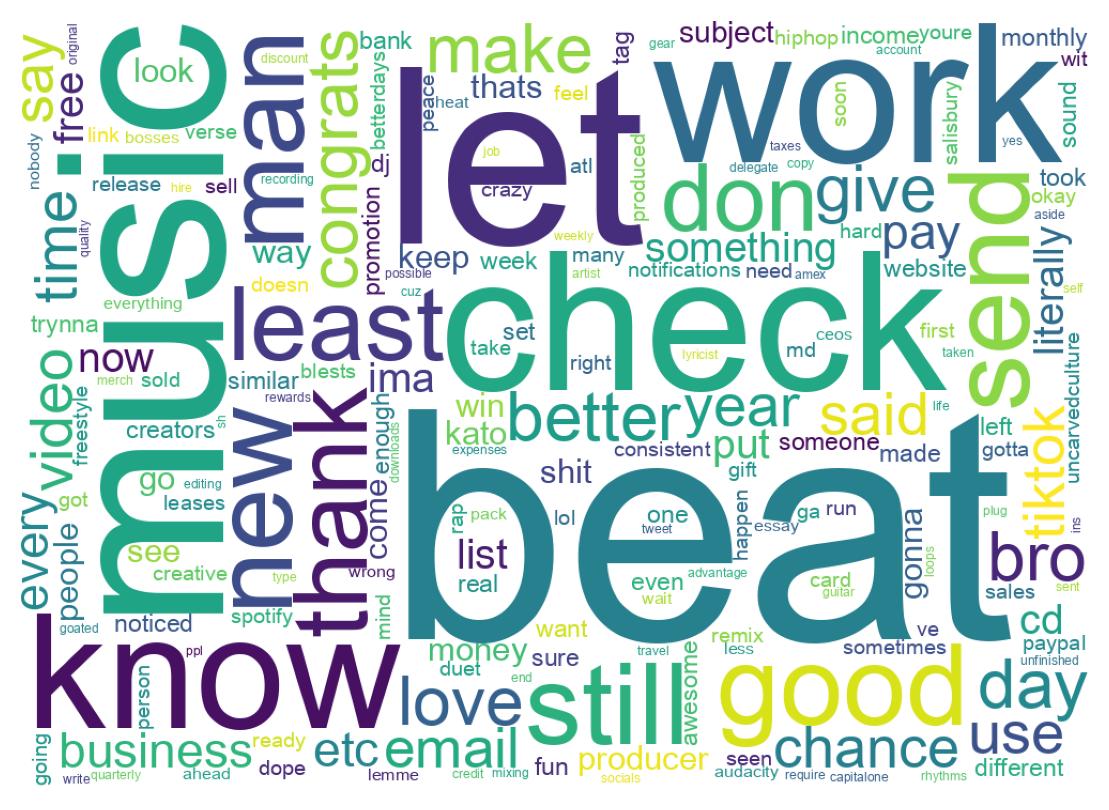 ---
Emojis
Average number of emojis used per tweet
146
Emojis used in tweets
| Emoji | Count | Emoji Text |
| --- | --- | --- |
| 🔥 | 26 | fire |
| 🤣 | 19 | rolling_on_the_floor_laughing |
| 😂 | 16 | face_with_tears_of_joy |
| 🗣 | 10 | speaking_head |
| 💯 | 8 | hundred_points |
| 👏🏽 | 8 | clapping_hands_medium_skin_tone |
| 💪 | 7 | flexed_biceps |
| 💀 | 6 | skull |
| 😭 | 5 | loudly_crying_face |
| 🙏🏾 | 4 | folded_hands_medium-dark_skin_tone |
Emojis groups
| Emoji Group | Count |
| --- | --- |
| Smileys & Emotion | 66 |
| People & Body | 57 |
| Travel & Places | 27 |
| Activities | 7 |
| Objects | 3 |
| Food & Drink | 2 |
| Animals & Nature | 1 |