Tweets Analysis - Keyword: @KateMaltby
Total number of tweets analysed
43
Earliest tweet was on
2023-03-17
Latest tweet was on
2023-03-25
Average age of authors' accounts
12 years
---
Summarization
The tweets cover a range of topics including St Patrick's and St Gertrude's day, the defense of a minister accused of breaking parliamentary rules, book recommendations, a subscription offer, contempt towards parliament, praise for St Gertrude for protecting cats, an interview with a choreographer, and a play recommendation.
Topic Modeling
St Patrick's Day and St Gertrude's Day
Politics and parliament
Books and literature
Cats and animals
Dance and theater
Emotional Analysis
The tweets show a range of emotions, including excitement and gratitude for receiving a new book and being able to attend a dance performance, humor and lightheartedness in celebrating St Gertrude's Day and Daphne (the cat), frustration and criticism towards politicians and their disregard for parliamentary standards, and concern about the state of institutions and democracy. Overall, there is a mix of positive and negative emotions expressed in the tweets.
Trend Analysis
St Patrick's Day celebrations
Discussion and criticism of parliamentary practices and standards
Book reviews and appreciation
Praise for St Gertrude, the patron saint of cats
Interviews and discussions about dance and theatre
---
Types of Tweets
Number of Retweets
9
Percentage of total tweets
20%
Number of Original tweets
6
Percentage of total tweets
13%
Number of tweets that contain Mentions
43
Percentage of total tweets
100%
Number of tweets that were Replies
28
Percentage of total tweets
65%
Number of tweets that were Quotes
0
Percentage of total tweets
0%
Number of tweets that contain Hashtags
1
Percentage of total tweets
2%
---
Top 5 devices used to tweet
| Source | Count |
| --- | --- |
| Twitter for iPhone | 15 |
| Twitter for Android | 11 |
| Twitter Web App | 8 |
| TweetDeck | 5 |
| Twitter for iPad | 2 |
What devices were used to tweet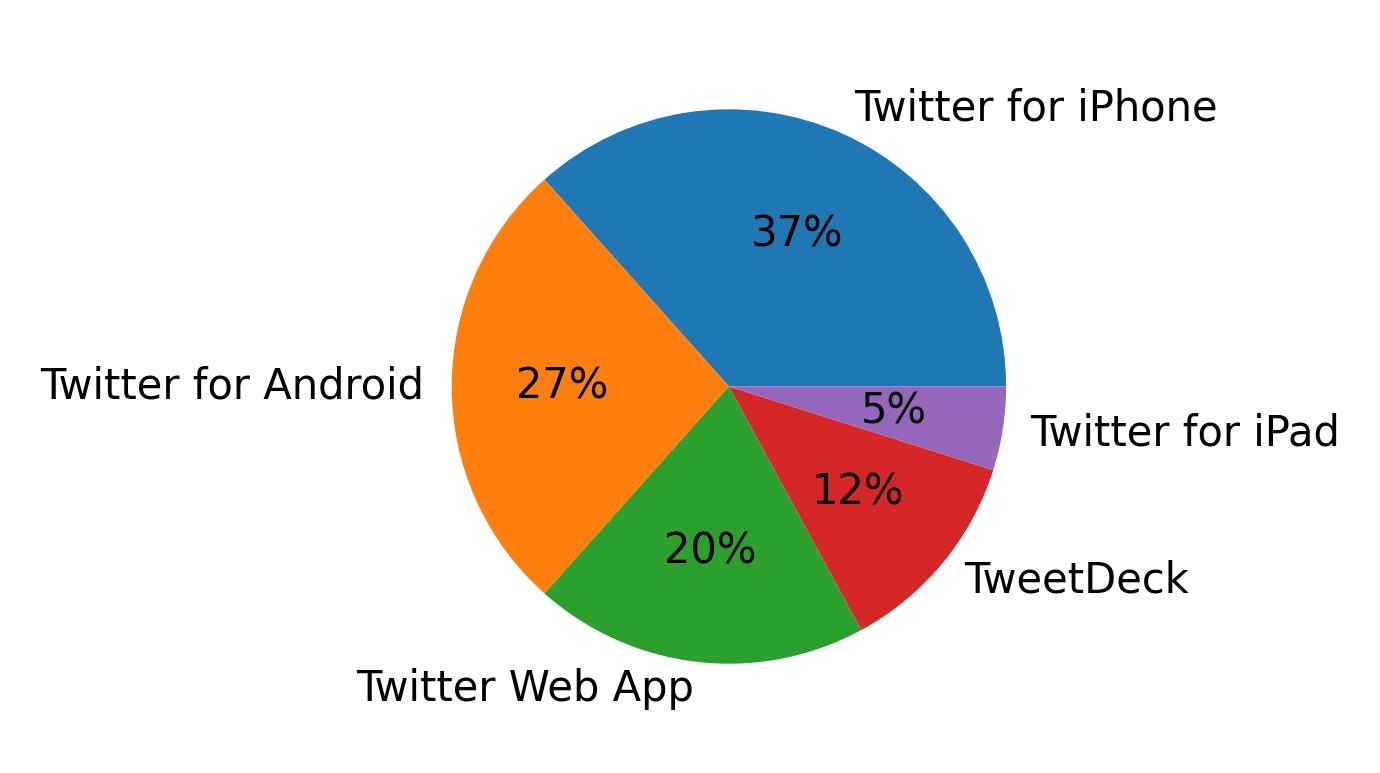 ---
Top 10 accounts with highest followers count
| Username | Name | Bio | Followers count |
| --- | --- | --- | --- |
| paulwaugh | Paul Waugh | Chief Political Commentator, @theipaper. News, insight and analysis from the House of Commons. Presenter, BBC Radio 4's The Week In Westminster. | 228,054 |
| theipaper | i newspaper | Your essential daily briefing. Follow us @ipaperviews🗣️ @ipapersport🏉 @ipapermoney📈 @iPaperTravel✈️ Sign up for exclusive journalism 📨 https://t.co/U5x0DplGeO | 135,833 |
| prospect_uk | Prospect | A politically independent monthly current affairs, culture & ideas magazine Established 1995 Editor: Alan Rusbridger @arusbridger; https://t.co/bH4LclIF2P | 56,955 |
| RobDotHutton | Robert Hutton | Parliamentary sketches and film columnist for @TheCriticMag, co-host of war movie love-in @PodTooFar. Books about journalese and wartime intelligence. | 49,734 |
| Sime0nStylites | The Columnist | Former Sage. aka David Hayward. Not ascetic. Best years far behind him. Pillar Talk substack. Owner of Felix the Dog. Lives in Paris. Poetry Phd in progress. | 38,613 |
| jillongovt | Jill Rutter | Jill Rutter, Brexit at UK in a Changing Europe. Any other stuff at Institute for Government. Full Fact fan. Very ex-civil servant. My views not theirs. | 34,035 |
| katebevan | Kate Bevan | Usually tired. Cat pictures, tech & much 🙄🙄. Occasionally on telly/radio. Owner of @Raspberry_Pi-powered tweeting catflap @daphneflap. Fire mage. | 22,925 |
| jack_sommers | Jack Sommers | 'A joy' - @reallorraine. Editor @Businessinsider. Writing a book and running, writing a Substack about both: https://t.co/yQNXTbXkIz | 12,156 |
| drrachelhewitt | Rachel Hewitt | Books: IN HER NATURE (April 2023), MAP OF A NATION, A REVOLUTION OF FEELING. Headshot by Diana Patient. Tweeting daily about historical outdoorsy & sporty women | 9,365 |
| AlevScott | Alev Scott | "Second-hand butler of imperialists". https://t.co/mmHvCi2OGD Enquiries: Antony Topping ATopping@GreeneHeaton.co.uk @GreeneandHeaton | 7,479 |
Top 10 accounts with highest friends count
| Username | Name | Bio | Followers count |
| --- | --- | --- | --- |
| paulwaugh | Paul Waugh | Chief Political Commentator, @theipaper. News, insight and analysis from the House of Commons. Presenter, BBC Radio 4's The Week In Westminster. | 10,615 |
| molynj_twtr | Charles Julian | Politically homeless. Not a fan of Boris Johnson (The Disgraced Former Prime Minister). Retweets are not endorsements. | 5,690 |
| katebevan | Kate Bevan | Usually tired. Cat pictures, tech & much 🙄🙄. Occasionally on telly/radio. Owner of @Raspberry_Pi-powered tweeting catflap @daphneflap. Fire mage. | 4,976 |
| prospect_uk | Prospect | A politically independent monthly current affairs, culture & ideas magazine Established 1995 Editor: Alan Rusbridger @arusbridger; https://t.co/bH4LclIF2P | 4,432 |
| KareCarado | kare | voodoo mama supremacy | she/her | ben daniels' unofficial publicist | fangirl | entrepreneur | history major | also @bestbendaniels @wmoseley @the_snowdons | 4,431 |
| theipaper | i newspaper | Your essential daily briefing. Follow us @ipaperviews🗣️ @ipapersport🏉 @ipapermoney📈 @iPaperTravel✈️ Sign up for exclusive journalism 📨 https://t.co/U5x0DplGeO | 4,156 |
| Sime0nStylites | The Columnist | Former Sage. aka David Hayward. Not ascetic. Best years far behind him. Pillar Talk substack. Owner of Felix the Dog. Lives in Paris. Poetry Phd in progress. | 3,845 |
| Dan_Zep | Dan Richards | Writer & Broadcaster — Holloway • The Beechwood Airship Interviews • Climbing Days • Outpost • Overnight (2025) / Only After Dark - @bbcradio4 (December 2022) | 2,994 |
| XiaoXMaVictoria | Victoria is alchemising 🦊 | PhD of Environmental Humanities @LeedsUniEnglish, @LeedsEnvHums. #walking #roads #JohnClare #Wordsworth. Love our 🌍; Love the Universe! | 2,724 |
| SusieD_LON | Susie D | Working for @trustforlondon on #UKhousing. Currently thinking a lot about #TemporaryAccommodation and #LondonHousingPanel. Christian. Mum. Views are my own. | 2,618 |
Most active users
| Username | Bio | Number of tweets |
| --- | --- | --- |
| katebevan | Usually tired. Cat pictures, tech & much 🙄🙄. Occasionally on telly/radio. Owner of @Raspberry_Pi-powered tweeting catflap @daphneflap. Fire mage. | 4 |
| Sime0nStylites | Former Sage. aka David Hayward. Not ascetic. Best years far behind him. Pillar Talk substack. Owner of Felix the Dog. Lives in Paris. Poetry Phd in progress. | 3 |
| jillongovt | Jill Rutter, Brexit at UK in a Changing Europe. Any other stuff at Institute for Government. Full Fact fan. Very ex-civil servant. My views not theirs. | 3 |
| AlCalves100 | Great tea drinker, cracking cake eater, average bike rider | 2 |
| theipaper | Your essential daily briefing. Follow us @ipaperviews🗣️ @ipapersport🏉 @ipapermoney📈 @iPaperTravel✈️ Sign up for exclusive journalism 📨 https://t.co/U5x0DplGeO | 2 |
| lizwharf | Retired crusader for better services for children and families. Now furiously observing a life's work being decimated. | 2 |
| vicki_pope | Uniformed. Former photographer. Vegetarian. Animalis amans. Art appreciator. Autodidact. Bibliophile. Haberet dominum nomine felem. | 2 |
| JimCuthbert | Diaspora Scot, curious. Distracted by what next for Scotland, UK, EU, life on Earth. Trying to find something else to distract me from the above 🙄🤔 | 2 |
| Dan_Zep | Writer & Broadcaster — Holloway • The Beechwood Airship Interviews • Climbing Days • Outpost • Overnight (2025) / Only After Dark - @bbcradio4 (December 2022) | 2 |
| RobJam27 | Freelance PR person from London. Lover of all things art, culture, wine, and dogs! 🏳️‍🌈🏳️‍⚧️ (he/him) | 1 |
---
Tweets per day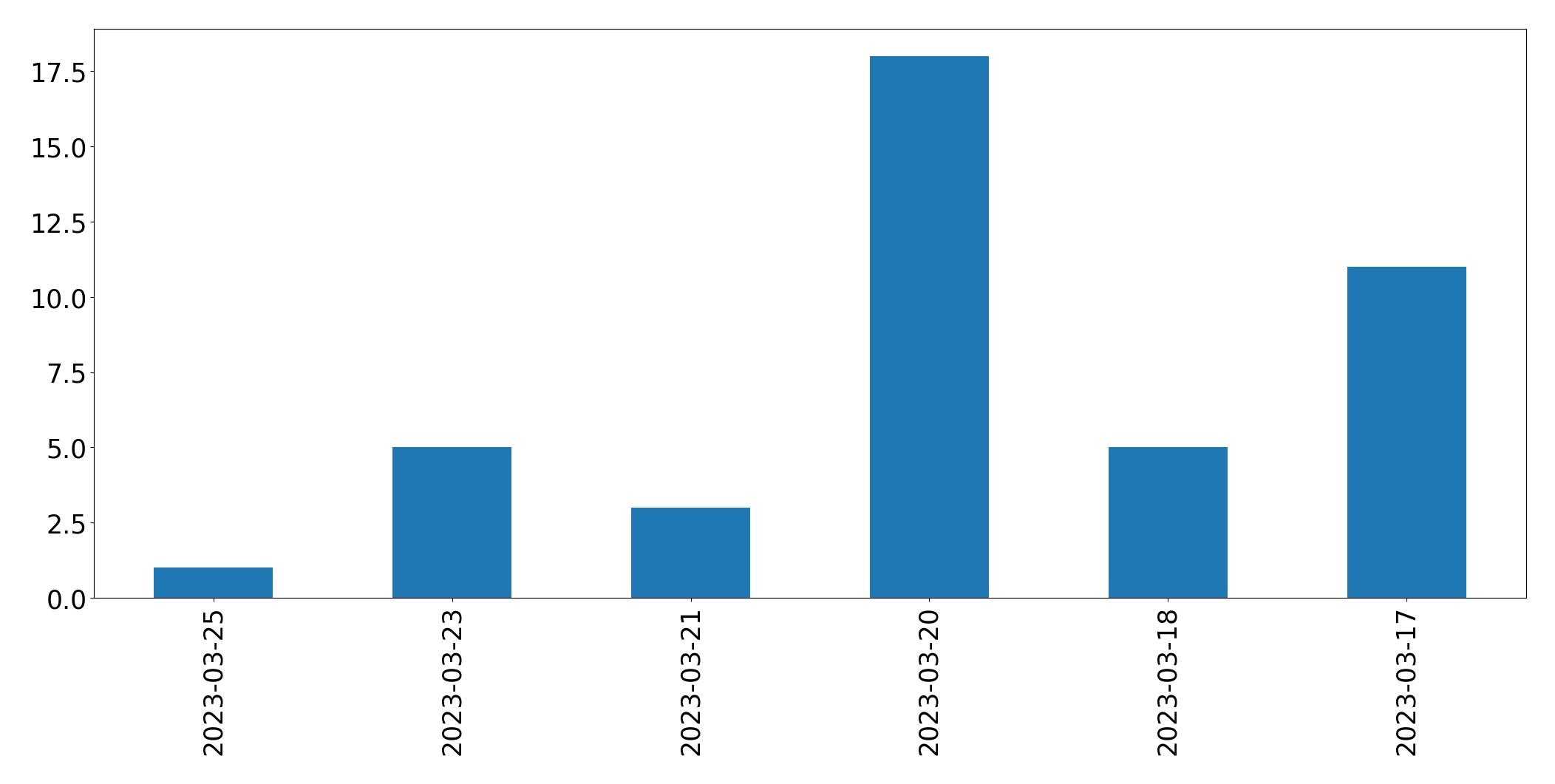 ---
Top 10 tweets with highest Retweet count
| ID | Text | Retweet count |
| --- | --- | --- |
| 1637796155948953601 | @Sime0nStylites @KateMaltby @RobDotHutton defence basically seems to be 1) I am so useless I just parrot lines I am given 2) I am too dim to understand the rules I announce. And 3) I would rather be in court because you can't trust Parliament/MPs to uphold standards. | 15 |
| 1637817635034259463 | You can become a digital subscriber at @theipaper – and it will cost you £3 for 3 months. Frankly not a lot for columnists including @y_alibhai, @IanDunt, @paulwaugh, @KateMaltby and @katyballs https://t.co/e8cgCODCTs | 6 |
| 1636793434458423305 | yes yes St Patrick, but as @KateMaltby has just reminded me, and Daphne would like to point out to you, today is also St Gertrude's day - she is the patron saint of cats. https://t.co/RjjepH599n | 6 |
| 1637046888649113601 | Amazing book post today ! Thank you @drrachelhewitt and @ChattoBooks / @vintagebooks - In Her Nature looks fantastic. 'A vital feminist memoir of the outdoors' as @KateMaltby says. I'm sure Dorothy Pilley & her fellow founding would be delighted to know this exists. https://t.co/EuAmA7IDlb | 6 |
| 1637795651927908353 | @Sime0nStylites @KateMaltby @RobDotHutton the people who should be insulted are all other ministers... no Minister I have come across moronically takes the line to take without asking themselves whether it stands up at all/squares with personal experience/understanding | 4 |
| 1638895620089090054 | Choreographer Akram Khan talks to @KateMaltby about the power of dance and the loss of risk-taking in theatre 🎙️ Interview https://t.co/FX2tusviKg | 1 |
| 1637830301048004609 | @RobDotHutton @Sime0nStylites @KateMaltby maybe we should make misleading parliament a crime as Johnson seems to suggest - see you in court.. | 1 |
| 1636796796646064139 | @katebevan @KateMaltby Although, personally I quite like this one as I rather like the idea of a saint looking after my boy... https://t.co/LP12yqbJU5 | 0 |
| 1636807273270919186 | @katebevan @KateMaltby Every day should be (& probably is) Daphne Day 😁👍 | 0 |
| 1636800678059180047 | @AlCalves100 @KateMaltby She's prefer it to be Daphne Day, tbh | 0 |
Top 10 tweets with highest Like count
| ID | Text | Like count |
| --- | --- | --- |
| 1636793434458423305 | yes yes St Patrick, but as @KateMaltby has just reminded me, and Daphne would like to point out to you, today is also St Gertrude's day - she is the patron saint of cats. https://t.co/RjjepH599n | 135 |
| 1637796155948953601 | @Sime0nStylites @KateMaltby @RobDotHutton defence basically seems to be 1) I am so useless I just parrot lines I am given 2) I am too dim to understand the rules I announce. And 3) I would rather be in court because you can't trust Parliament/MPs to uphold standards. | 47 |
| 1637046888649113601 | Amazing book post today ! Thank you @drrachelhewitt and @ChattoBooks / @vintagebooks - In Her Nature looks fantastic. 'A vital feminist memoir of the outdoors' as @KateMaltby says. I'm sure Dorothy Pilley & her fellow founding would be delighted to know this exists. https://t.co/EuAmA7IDlb | 25 |
| 1637795651927908353 | @Sime0nStylites @KateMaltby @RobDotHutton the people who should be insulted are all other ministers... no Minister I have come across moronically takes the line to take without asking themselves whether it stands up at all/squares with personal experience/understanding | 15 |
| 1637817635034259463 | You can become a digital subscriber at @theipaper – and it will cost you £3 for 3 months. Frankly not a lot for columnists including @y_alibhai, @IanDunt, @paulwaugh, @KateMaltby and @katyballs https://t.co/e8cgCODCTs | 7 |
| 1636795081809068041 | @katebevan @KateMaltby An acceptable day then. https://t.co/USJSojmn0x | 5 |
| 1637796402720808961 | @jillongovt @KateMaltby @RobDotHutton I suspect the weekend spin has been counterproductive. | 5 |
| 1637830301048004609 | @RobDotHutton @Sime0nStylites @KateMaltby maybe we should make misleading parliament a crime as Johnson seems to suggest - see you in court.. | 4 |
| 1637797382887813122 | @Sime0nStylites @jillongovt @KateMaltby @RobDotHutton It's a Trumpian call to the faithful to overthrow the institutions of parliament: a worse contempt than the one of which he stands accused | 3 |
| 1636796373013233665 | @katebevan @KateMaltby For Daphne. https://t.co/vgee41KzkN | 3 |
Top 3 Languages Used In Tweets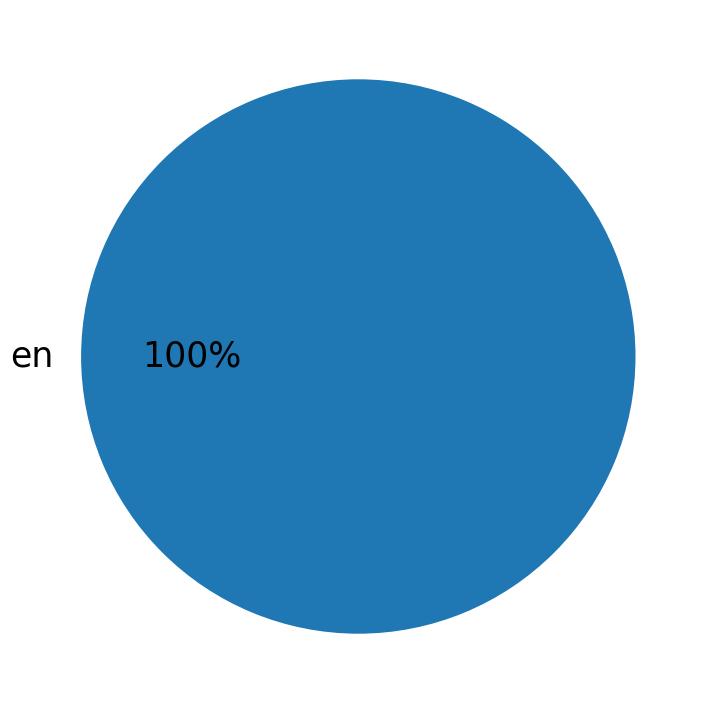 ---
Top 10 Hashtags used
| Hashtag | Count |
| --- | --- |
| #criticscircletheatreawards | 1 |
Top 10 Hashtags Used In Tweets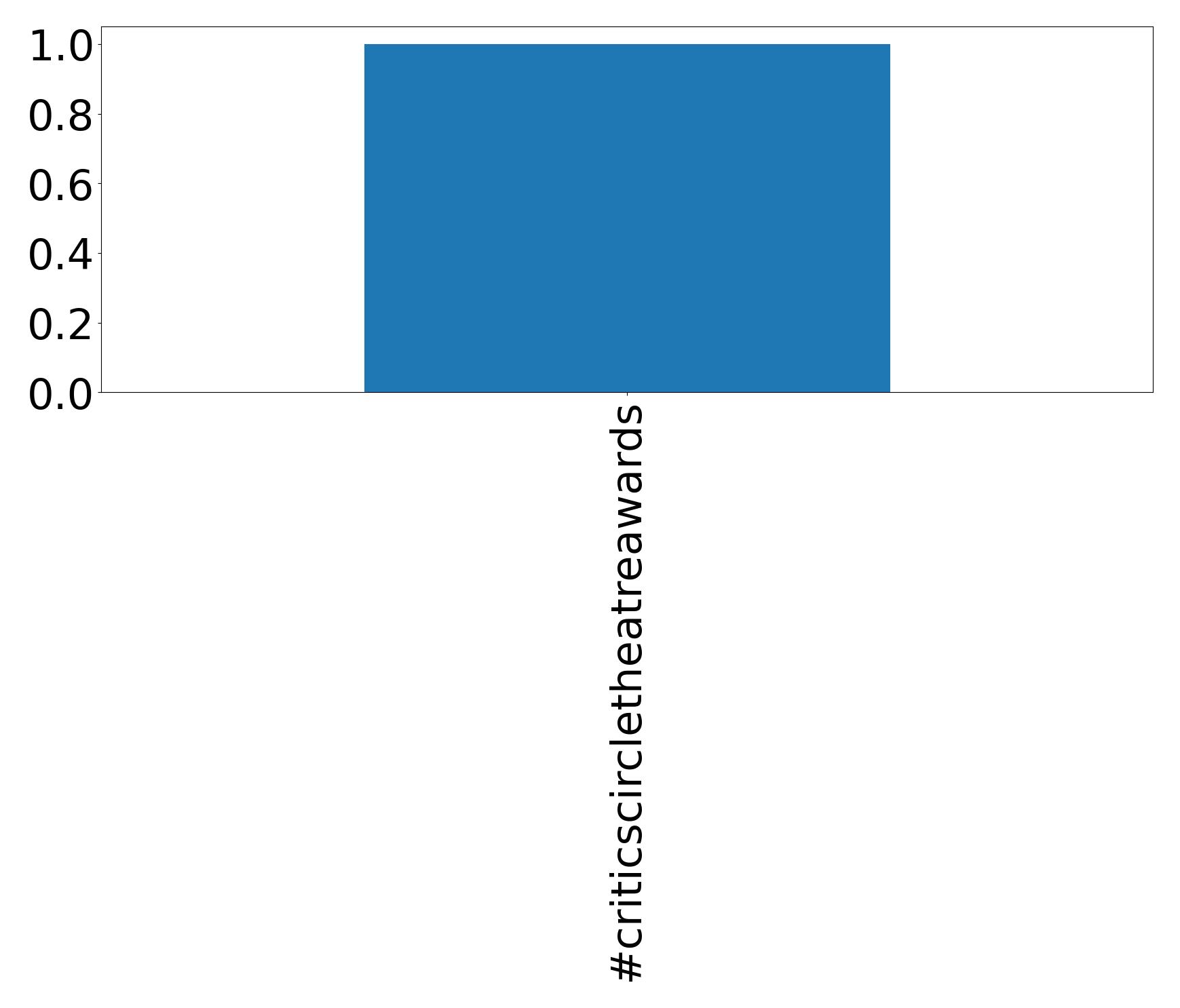 Top 10 mentions
| Mention | Count |
| --- | --- |
| @katemaltby | 43 |
| @robdothutton | 15 |
| @sime0nstylites | 12 |
| @jillongovt | 10 |
| @katebevan | 7 |
| @theipaper | 6 |
| @chattobooks | 5 |
| @vintagebooks | 5 |
| @drrachelhewitt | 4 |
| @dan_zep | 3 |
Top 10 mentions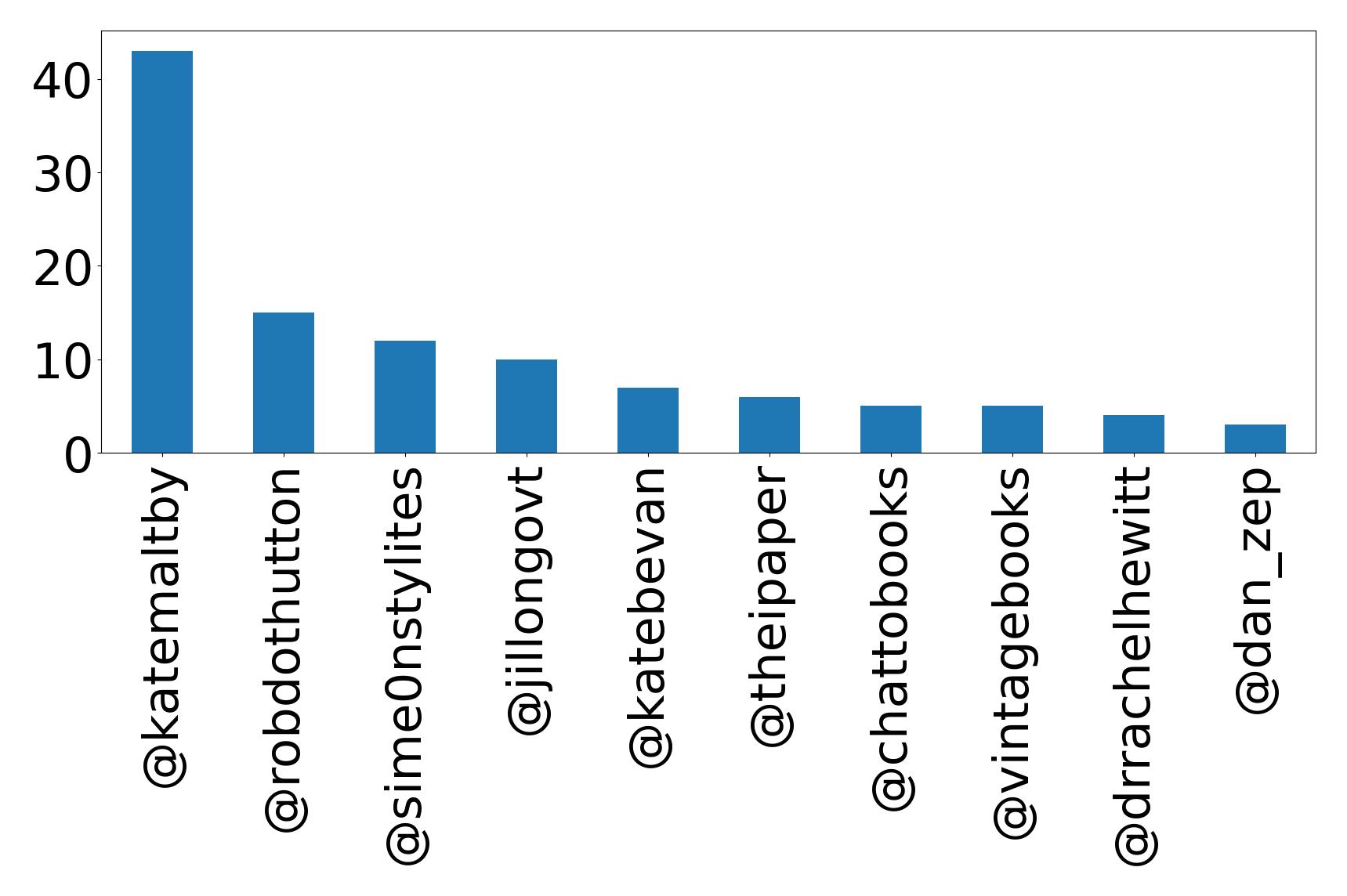 Wordcloud of Tweets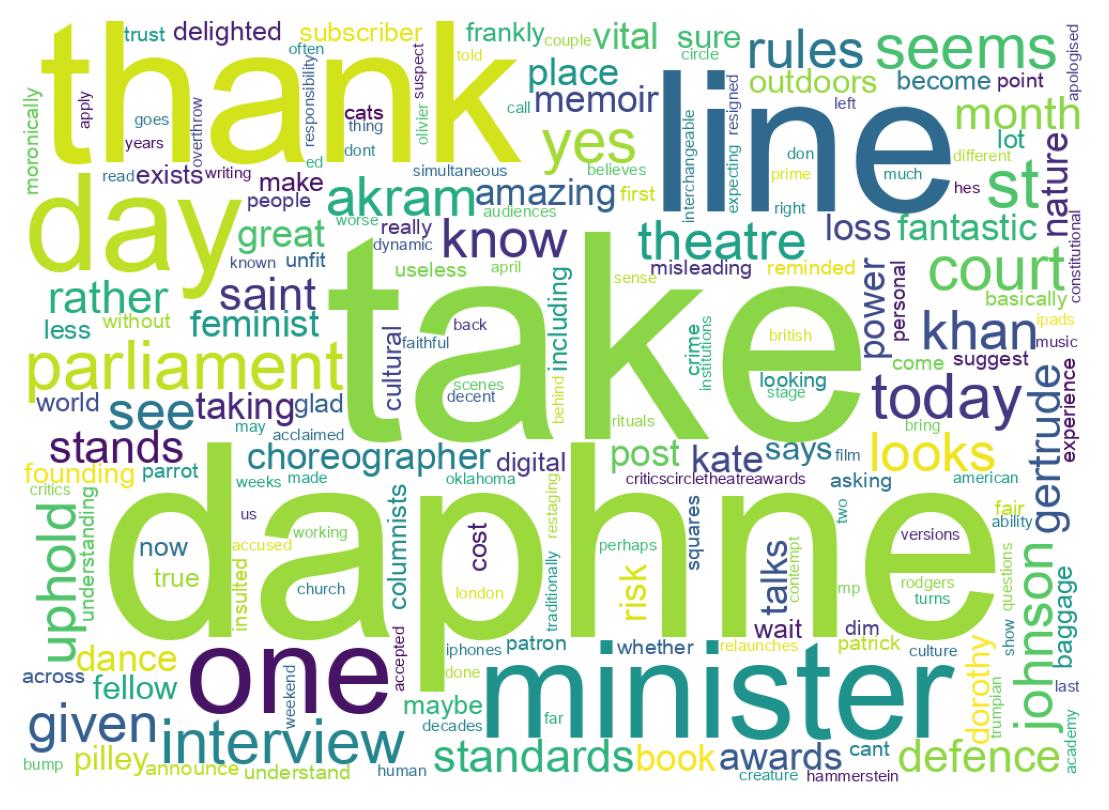 ---
Emojis
Average number of emojis used per tweet
9
Emojis used in tweets
| Emoji | Count | Emoji Text |
| --- | --- | --- |
| 🎙️ | 2 | studio_microphone |
| 😁 | 1 | beaming_face_with_smiling_eyes |
| 👍 | 1 | thumbs_up |
Emojis groups
| Emoji Group | Count |
| --- | --- |
| Objects | 2 |
| Smileys & Emotion | 1 |
| People & Body | 1 |