Tweets Analysis - Keyword: @justinmartin
Total number of tweets analysed
37
Earliest tweet was on
2023-03-23
Latest tweet was on
2023-03-31
Average age of authors' accounts
10 years
---
Summarization
These tweets discuss various events and experiences related to electronic music artist Justin Martin, including upcoming shows and collaborations, personal experiences at his shows, and requests for shoutouts during live performances. Several tweets highlight the excitement and enthusiasm of fans for Martin's music and performances.
Topic Modeling
Music and Concerts
Emotions and Experience
Social Connections
Artists and Performers
Requests and Interactions
Emotional Analysis
The emotions expressed in these tweets vary from excitement and anticipation for upcoming shows featuring Justin Martin, to admiration for his skills as a DJ and appreciation for his music. Several tweets express gratitude for the opportunity to open for Justin Martin or attend his shows, while others express a deep emotional connection to his music, even prompting tears. Overall, the tweets convey a strong sense of admiration and appreciation for Justin Martin as a musician and performer.
Trend Analysis
Justin Martin performances
Music events and lineups featuring Justin Martin
Fan experiences and emotions related to Justin Martin's music
Requests and interactions with Justin Martin
Personal music preferences and playlists including Justin Martin
---
Types of Tweets
Number of Retweets
8
Percentage of total tweets
21%
Number of Original tweets
12
Percentage of total tweets
32%
Number of tweets that contain Mentions
37
Percentage of total tweets
100%
Number of tweets that were Replies
17
Percentage of total tweets
45%
Number of tweets that were Quotes
1
Percentage of total tweets
2%
Number of tweets that contain Hashtags
2
Percentage of total tweets
5%
---
Top 5 devices used to tweet
| Source | Count |
| --- | --- |
| Twitter for iPhone | 27 |
| Twitter Web App | 9 |
| Twitter for Android | 1 |
What devices were used to tweet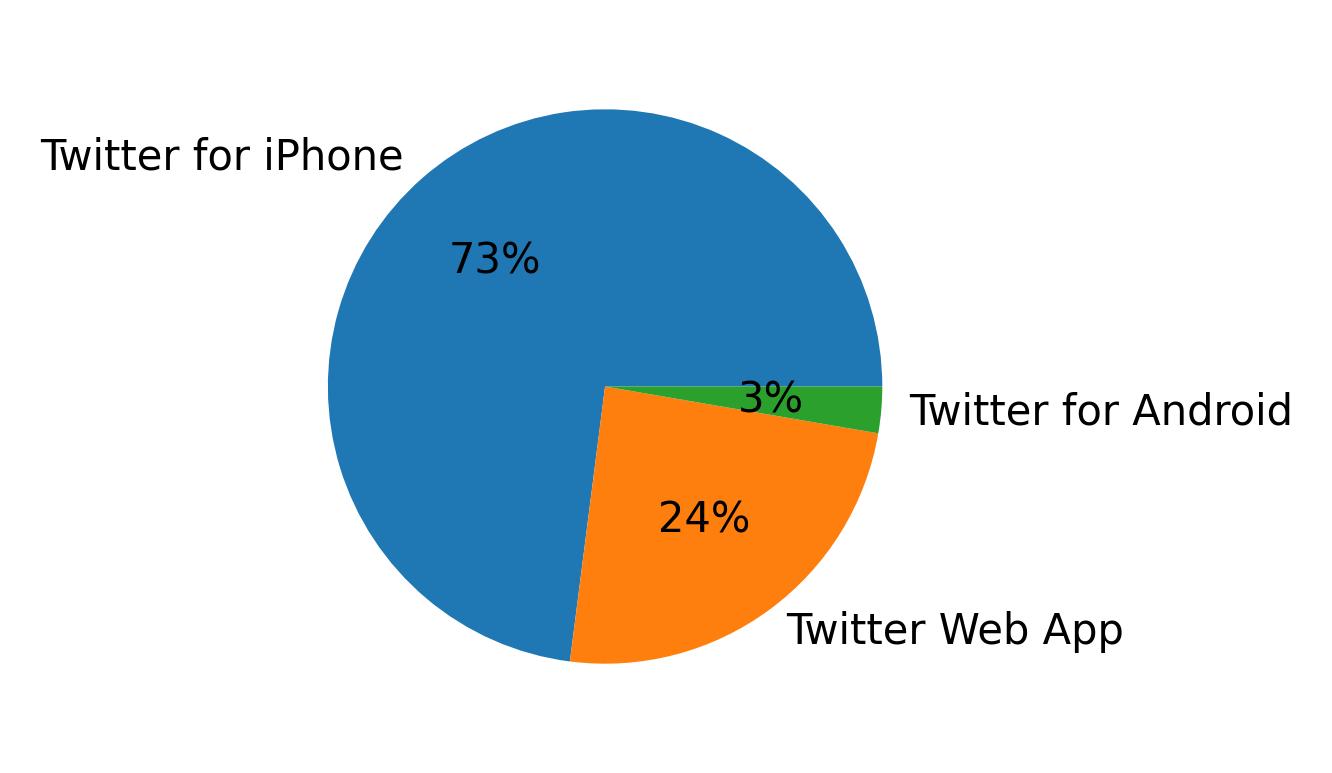 ---
Top 10 accounts with highest followers count
| Username | Name | Bio | Followers count |
| --- | --- | --- | --- |
| justinmartin | Justin Martin | https://t.co/FWtmiej6Jw… | 57,323 |
| bot106 | BOT | BOT IS HOT | 15,328 |
| OLANSOUND | OLAN | My debut album 'CONTRA' is out now on @anjunadeep mgmt:mwyatt@bloodcompany.net jeffer@bloodcompany.net booking: mrodriguez@teamwass.com lroblesi@teamwass.com | 2,969 |
| E_V_A_M_S | Jambert | Electronic Vibes Are My Sound | 2,861 |
| JBartilomo | JB 𓅓 | all the things | TM @habstrakt | Merch & Logistics | techno enthusiast | self-proclaimed food critic 🇮🇹 «everyone eats at my table» | 2,225 |
| lizzpom | gliz lord ☻ | that one AR girl🤘🏽 insta-@ Lizziepom •hospitality @ Darkstar, Shady Park, Sunbar Tempe 🪩 | 2,167 |
| AlexMuffinn | Muffinn 🍍🪩 | #shipfam 💗💜💙 PhD in whimsical nonsense | 1,946 |
| Discopussy | DISCOPUSSY | 🐙 Minimal In Everything But Sound. Dance Under Our Neon Tentacles. House X Techno Nightly. | 1,394 |
| marydroppinz | ♡ Mary Droppinz ⭒ | we get it poppin'☔️ ♛ ♡ ⭒ ☆ ♡ ♛ ✨✨✨✨✨bookings: brent.tactic@etp.agency | 1,333 |
| playelectric | Electric Playhouse | ✨We build breakthrough immersive + interactive spaces for games, dining, private parties, and special events⚡️ TikTok/Instagram : PlayElectric #FindYourPlay | 1,198 |
Top 10 accounts with highest friends count
| Username | Name | Bio | Followers count |
| --- | --- | --- | --- |
| E_V_A_M_S | Jambert | Electronic Vibes Are My Sound | 4,952 |
| justinmartin | Justin Martin | https://t.co/FWtmiej6Jw… | 3,725 |
| AlexMuffinn | Muffinn 🍍🪩 | #shipfam 💗💜💙 PhD in whimsical nonsense | 1,756 |
| bot106 | BOT | BOT IS HOT | 1,622 |
| JBartilomo | JB 𓅓 | all the things | TM @habstrakt | Merch & Logistics | techno enthusiast | self-proclaimed food critic 🇮🇹 «everyone eats at my table» | 1,227 |
| Shad0w_energy | s҉h҉a҉d҉o҉w҉ e҉n҉e҉g҉r҉y҉ | RIP MAC MILLER 9/7/18 Big music fan. https://t.co/k8BCIIVYSU | 1,174 |
| mellcath | still mellcath (with the ones that i came with) | superstylin' | 1,156 |
| justinmorley | Justin Morley | this is axiom | 🏳️‍🌈 | @lafayetteus | 1,070 |
| CheechmoMusic | BIG CHEECH | unequivocally the hardest handlebar in house music 🏠 NV'D RECORDS / PSYCHO DISCO! / HOUSE OF HUSTLE / BROOKLYN FIRE / OKNF / OFDM / ADMIT ONE | 1,041 |
| playelectric | Electric Playhouse | ✨We build breakthrough immersive + interactive spaces for games, dining, private parties, and special events⚡️ TikTok/Instagram : PlayElectric #FindYourPlay | 1,039 |
Most active users
| Username | Bio | Number of tweets |
| --- | --- | --- |
| CheechmoMusic | unequivocally the hardest handlebar in house music 🏠 NV'D RECORDS / PSYCHO DISCO! / HOUSE OF HUSTLE / BROOKLYN FIRE / OKNF / OFDM / ADMIT ONE | 4 |
| VeeeencentVega | music is life. This vessel is not for you. | 2 |
| CocoaJeffe | I'm a fucking idiot and I still bagged a 10. | 2 |
| Discopussy | 🐙 Minimal In Everything But Sound. Dance Under Our Neon Tentacles. House X Techno Nightly. | 2 |
| FiveThree0 | (530), Grant Thomas Hedrick, as his DJ before him mother calls him, was born and raised in Northern California, The (530)... | 2 |
| bot106 | BOT IS HOT | 2 |
| anam_xoxx | Event Curator • DJ • Blogger • Lover of Bass • House • Techno • Disco • ABQ, NM 🌵Creator of MIXXD Dance Parties 🖤 | 2 |
| AlexMuffinn | #shipfam 💗💜💙 PhD in whimsical nonsense | 1 |
| playelectric | ✨We build breakthrough immersive + interactive spaces for games, dining, private parties, and special events⚡️ TikTok/Instagram : PlayElectric #FindYourPlay | 1 |
| mellcath | superstylin' | 1 |
---
Tweets per day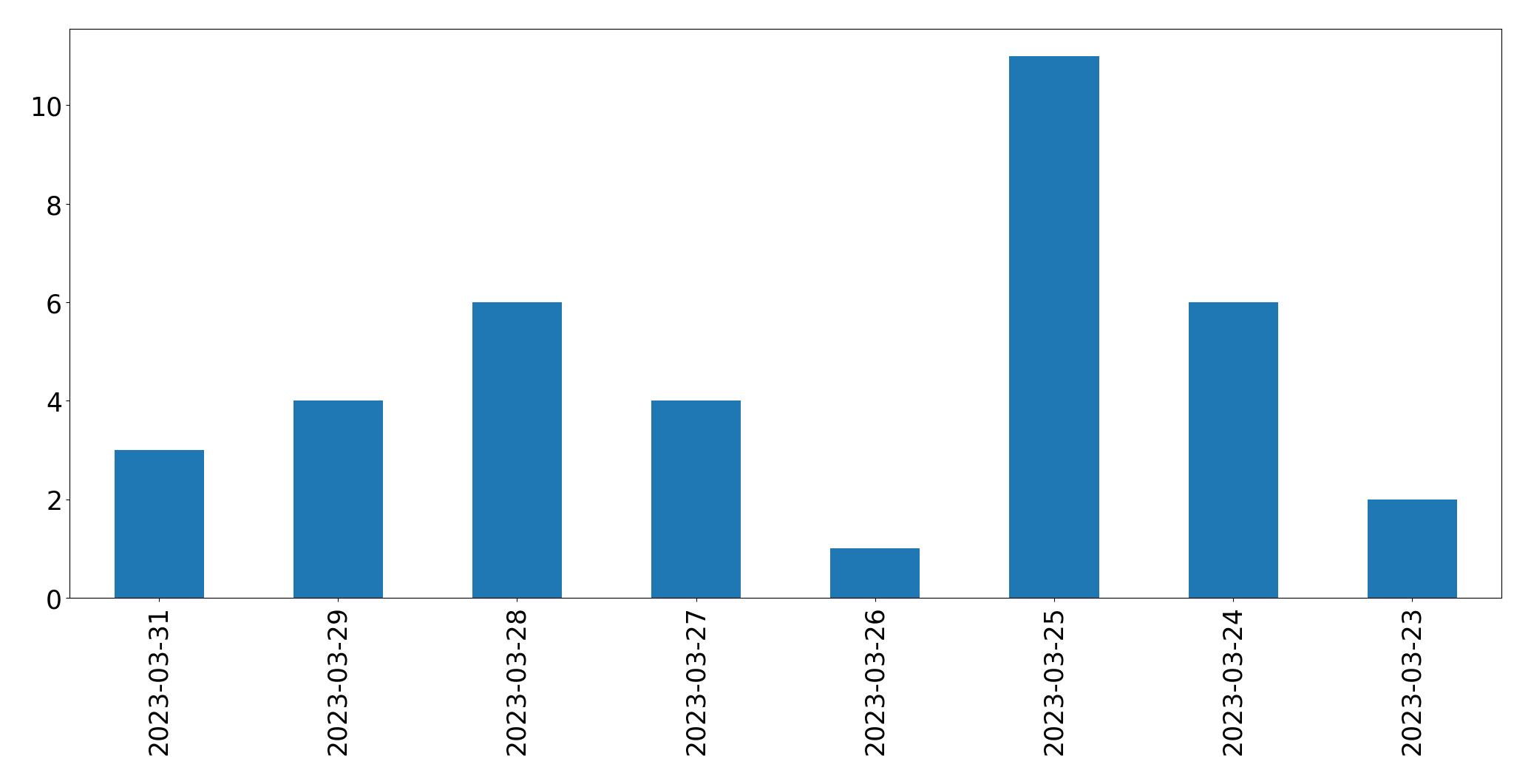 ---
Top 10 tweets with highest Retweet count
| ID | Text | Retweet count |
| --- | --- | --- |
| 1639025124799283200 | @itschiddy & I are opening for @justinmartin tomorrow 😮‍💨😮‍💨 @playelectric is going to be real vibeyyyyy | 3 |
| 1639716948601876481 | 🐙 DISCOPUSSY TV EPISODE 55 Part 2 w/ @fivethree0 Featuring Saturday's headliner, @justinmartin … TICKETS / GUEST LIST: https://t.co/qF8Ubr9ol9 🎥: @brightlightda https://t.co/amJUzEAspu | 2 |
| 1640842568912211968 | THIS IS MY HOME ⚓️ We felt that one deep in our soul. @justinmartin with the extended set for a Saturday night to remember at THE PUSS… 📸: @endvrsmedia https://t.co/8oQoeXfsFi | 2 |
| 1639405060546510848 | Tonight catch me & @anam_xoxx opening up for the homie @justinmartin ! Big show with all my friends ! https://t.co/zd1qUWFNX4 | 2 |
| 1641136970893266945 | next friday i'll be throwing down w/ @Tiga , @justinmartin & more insane artists 🔥 #acidmama #hailmaryfullofbass #canada #headlining https://t.co/1TcIzCr7dj | 1 |
| 1639695688123678720 | @CocoaJeffe @justinmartin @TerraceAfters You can yes, and you can go down if you just go thru the terrace entrance but I never do lol not my vibe | 0 |
| 1639117542534033410 | Putting together my 4/4 show for @siriusxmchill.. I've got so many amazing, new songs on here! Featuring @Lane8music @gryffinofficial @SonsOfMaria @cyrilhahn @sultanshepard @kx5official @jerromusic_ @justinmartin @SoundRemedy and more! | 0 |
| 1639351155678654465 | @justinmartin duuuuuude you think you could maybe wish my friend a happy birthday during your set tonight in ABQ?!?!?!?1 it would make her entire life!!!!!! | 0 |
| 1639394535787704321 | Dead serious the first time I've ever cried at a show was last month when @justinmartin played this…. I had never heard him play it before https://t.co/oxilkRSbCc | 0 |
| 1639424229753102336 | @justinmartin hell yeah man! i'll make sure to bring her to you or something! lol | 0 |
Top 10 tweets with highest Like count
| ID | Text | Like count |
| --- | --- | --- |
| 1641136970893266945 | next friday i'll be throwing down w/ @Tiga , @justinmartin & more insane artists 🔥 #acidmama #hailmaryfullofbass #canada #headlining https://t.co/1TcIzCr7dj | 31 |
| 1640842568912211968 | THIS IS MY HOME ⚓️ We felt that one deep in our soul. @justinmartin with the extended set for a Saturday night to remember at THE PUSS… 📸: @endvrsmedia https://t.co/8oQoeXfsFi | 11 |
| 1639686979507089409 | I should probably put @justinmartin +2 on my list for @TerraceAfters in case he's feeling frisky after his set tn yeah? Best view of the sunrise in vegas tbh :) | 9 |
| 1639405060546510848 | Tonight catch me & @anam_xoxx opening up for the homie @justinmartin ! Big show with all my friends ! https://t.co/zd1qUWFNX4 | 9 |
| 1640497752084987906 | RUFF STUFF 🐶🧤 Round of applause for everyone at that Saturday Night Smackdown with @justinmartin this past weekend… 📸: @endvrsmedia https://t.co/NB8L0kvZSG | 8 |
| 1639025124799283200 | @itschiddy & I are opening for @justinmartin tomorrow 😮‍💨😮‍💨 @playelectric is going to be real vibeyyyyy | 8 |
| 1640510018998132736 | @justinmartin @lizzpom giving love is for nothing back and if they're shit it doesn't change the value of your actions at all. Unless you give love expecting something back which is not how it works. | 5 |
| 1639898786549092357 | if @justinmartin is performing 2 blocks from your hotel you have to attend right | 5 |
| 1640498753168887809 | @justinmartin Love you 4ever 🥹 We'll get the love we deserve in ourselves bb | 5 |
| 1639117542534033410 | Putting together my 4/4 show for @siriusxmchill.. I've got so many amazing, new songs on here! Featuring @Lane8music @gryffinofficial @SonsOfMaria @cyrilhahn @sultanshepard @kx5official @jerromusic_ @justinmartin @SoundRemedy and more! | 4 |
Top 3 Languages Used In Tweets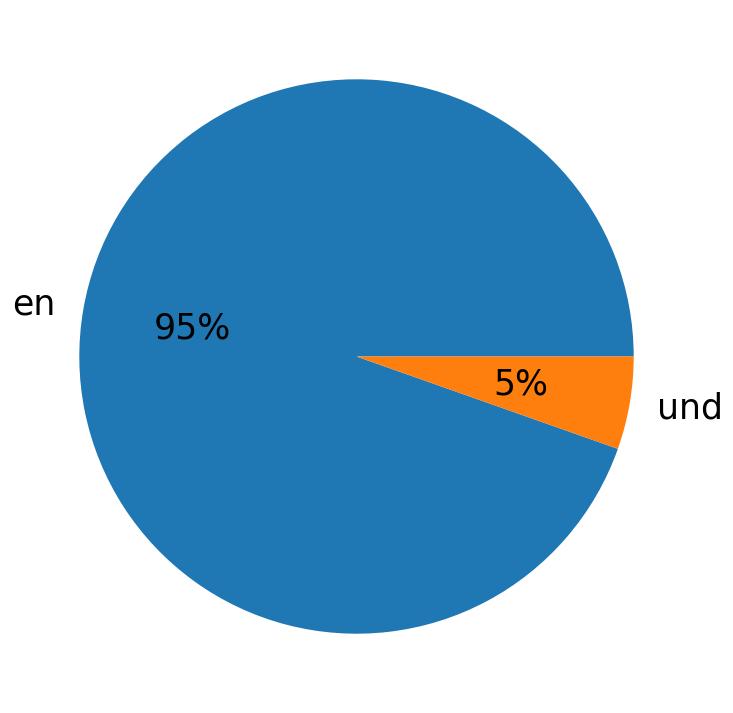 ---
Top 10 Hashtags used
| Hashtag | Count |
| --- | --- |
| #acidmama | 2 |
| #hailmaryfullofbass | 2 |
| #canada | 2 |
| #headlining | 2 |
Top 10 Hashtags Used In Tweets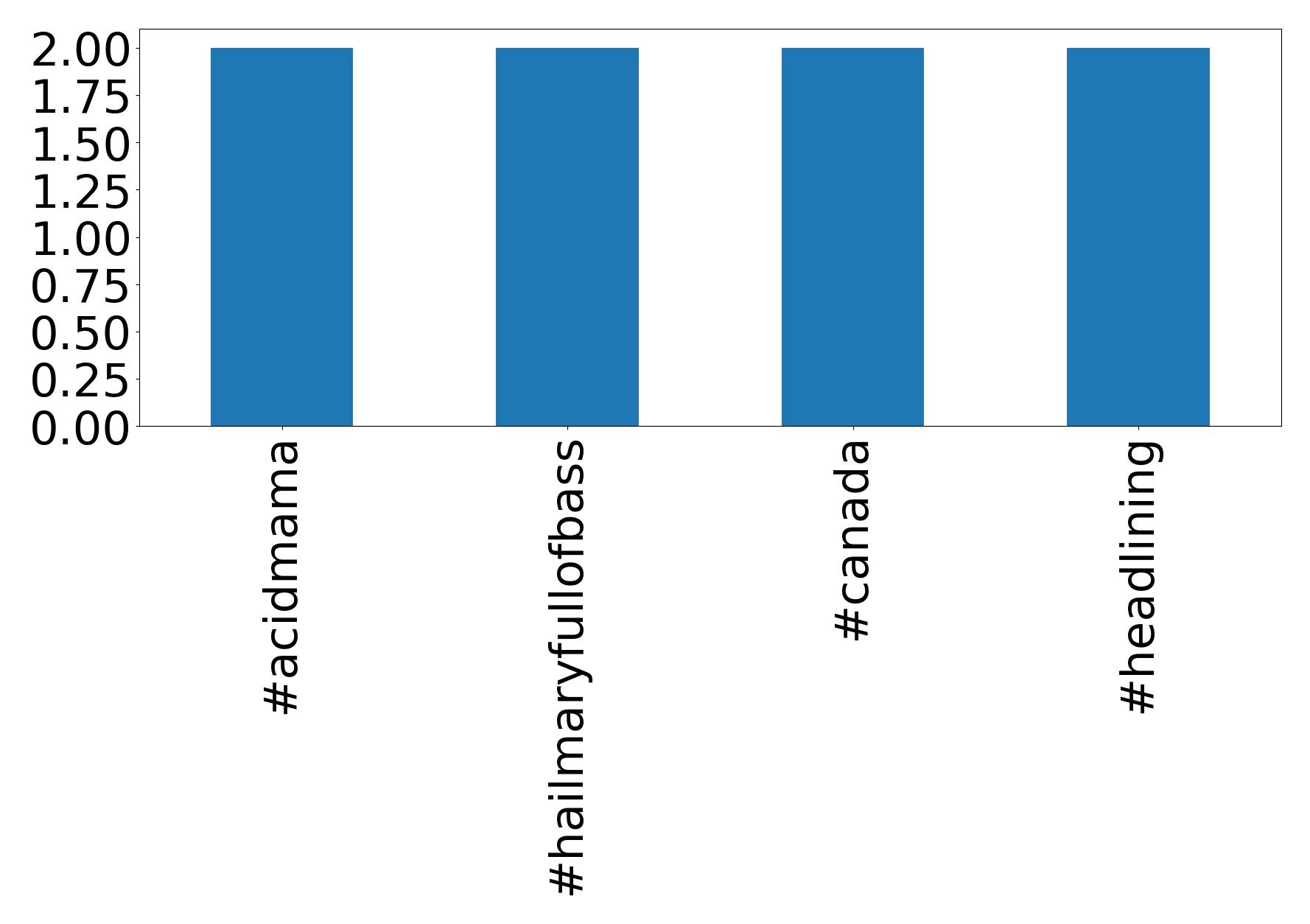 Top 10 mentions
| Mention | Count |
| --- | --- |
| @justinmartin | 37 |
| @terraceafters | 6 |
| @tiga | 5 |
| @endvrsmedia | 5 |
| @marydroppinz | 4 |
| @lizzpom | 4 |
| @discopussy | 3 |
| @fivethree0 | 3 |
| @itschiddy | 3 |
| @anam_xoxx | 3 |
Top 10 mentions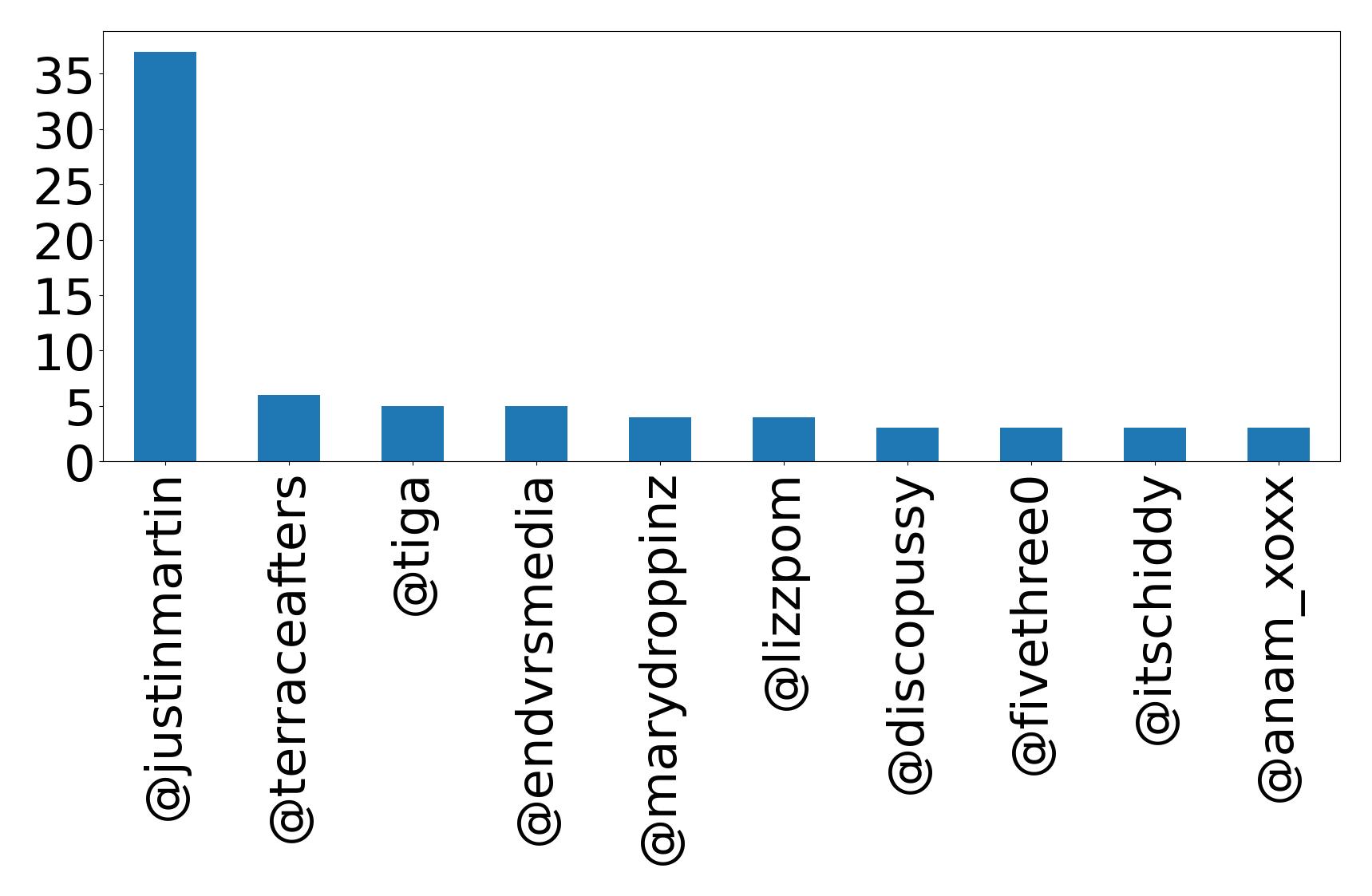 Wordcloud of Tweets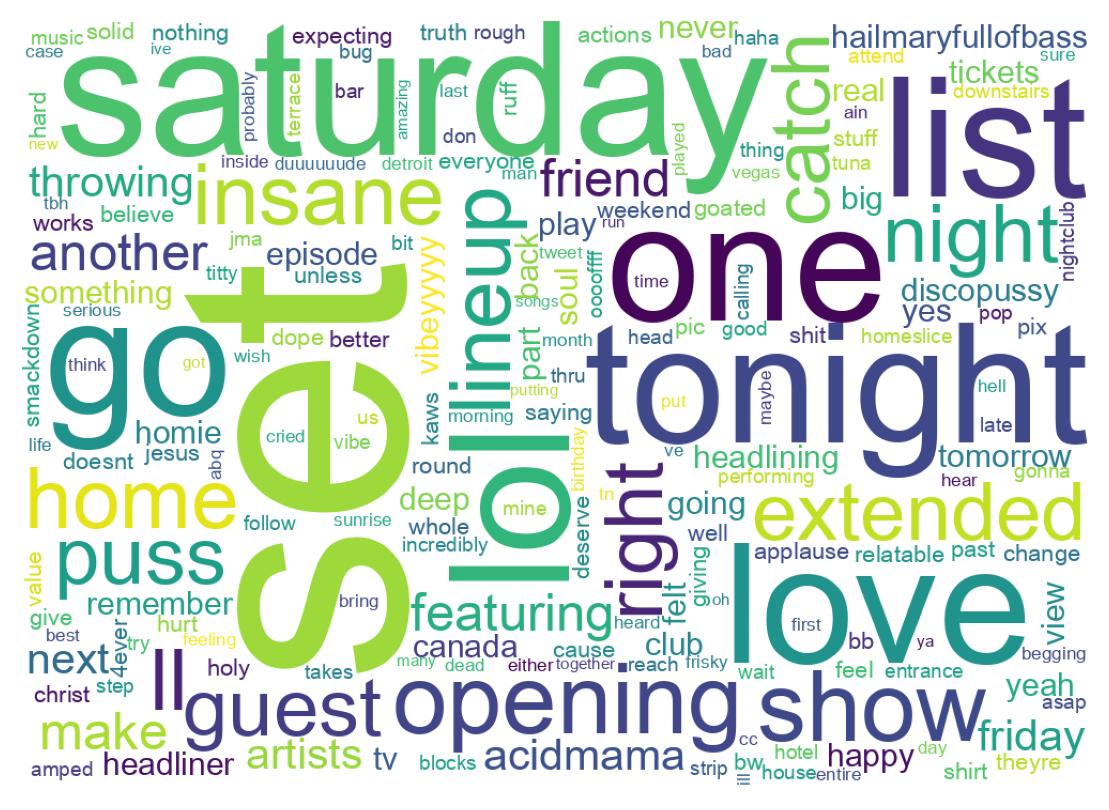 ---
Emojis
Average number of emojis used per tweet
75
Emojis used in tweets
| Emoji | Count | Emoji Text |
| --- | --- | --- |
| 😮‍💨 | 4 | face_exhaling |
| 📸 | 3 | camera_with_flash |
| 🐙 | 3 | octopus |
| 🔥 | 2 | fire |
| ⚓ | 2 | anchor |
| 👏🏼 | 2 | clapping_hands_medium-light_skin_tone |
| 🎥 | 2 | movie_camera |
| 🥳 | 1 | partying_face |
| 🐐 | 1 | goat |
| 👊 | 1 | oncoming_fist |
Emojis groups
| Emoji Group | Count |
| --- | --- |
| Smileys & Emotion | 9 |
| Objects | 6 |
| Animals & Nature | 5 |
| Travel & Places | 4 |
| People & Body | 4 |