Tweets Analysis - Keyword: @jojol67
Total number of tweets analysed
31
Earliest tweet was on
2023-03-21
Latest tweet was on
2023-03-30
Average age of authors' accounts
6 years
---
Summarization
The tweets mention various individuals, including @jojol67 and @TeufeurSoff, and discuss the end of paid smartphone reviews on YouTube. Some tweets praise the actions of @Gfunkera86, @jojol67, and @swapleonicorn. The lack of a JoJolBox is also mentioned, with a suggestion to recruit a recent digital management graduate to help with the project. There are also tweets about personal relationships and mentions of Apple not needing to pay for publicity.
Topic Modeling
Smartphone industry and reviews
Social media presence and followers
Personal relationships and interactions
Interesting business moves and collaborations
Mentions and recommendations of individuals or companies
Emotional Analysis
The emotions expressed in these tweets are varied. Most of the tweets express admiration and respect towards @jojol67, @TeufeurSoff, @Gfunkera86, and @swapleonicorn for their actions or work. Some tweets express disappointment or frustration towards the lack of progress in certain projects, such as the absence of the JoJolBox. There are also some negative and derogatory comments directed towards @jojol67 and their behavior. In general, the emotions expressed in these tweets range from positive to negative.
Trend Analysis
Technology and smartphones: The tweets discuss the testing and reviewing of smartphones, mention tech influencers, and make references to Apple.
Social media and internet personalities: The tweets mention specific accounts, their followers, and their activities online.
Friendship and camaraderie: Several tweets congratulate or commend individuals for their actions or achievements, indicating friendly relationships between users.
Humor and entertainment: Some tweets use sarcasm, jokes, or memes for comedic effect, including laughing at or teasing others.
Business and entrepreneurship: One tweet suggests the creation of a digital project and hiring a team, implying a potential business opportunity.
---
Types of Tweets
Number of Retweets
4
Percentage of total tweets
12%
Number of Original tweets
1
Percentage of total tweets
3%
Number of tweets that contain Mentions
31
Percentage of total tweets
100%
Number of tweets that were Replies
21
Percentage of total tweets
67%
Number of tweets that were Quotes
5
Percentage of total tweets
16%
Number of tweets that contain Hashtags
3
Percentage of total tweets
9%
---
Top 5 devices used to tweet
| Source | Count |
| --- | --- |
| Twitter for iPhone | 13 |
| Twitter for Android | 13 |
| Twitter Web App | 5 |
What devices were used to tweet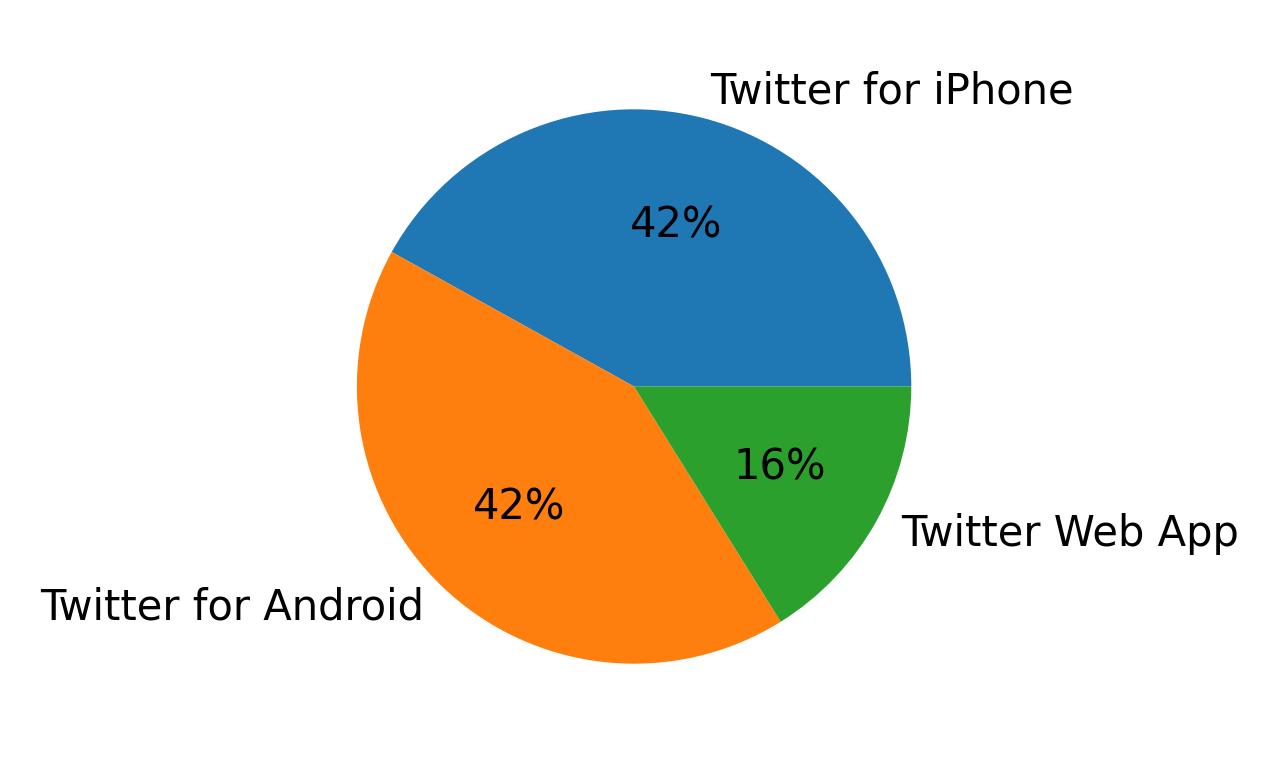 ---
Top 10 accounts with highest followers count
| Username | Name | Bio | Followers count |
| --- | --- | --- | --- |
| MonsieurGRrr | Monsieur GRrr | 🇫🇷 Tech Vlogger / Vlogueur Tech Mon Podcast https://t.co/M3xUHmu2pb Mes Vidéos https://t.co/sUFIgLrtN3 | 17,437 |
| Kumarbaaboo1 | Captain 🔶 Kumar | DM me for Crypto promotion #BSC #BNB #BINANCE #CZ_Fan | 15,943 |
| Saiifyy | Saify | J'fais danser les poussières de moi dans l'élégance des nuits. /// Membre de La Patronnade !! | 904 |
| DiaTierno | TIBRVD | 💻📺 | Rédacteur pour @Amksport_off 👻: Dia_Tierno | 276 |
| mossi_doudou | Mossi Doudou | Sais-tu seulement à quel point tu ne sais pas? | 185 |
| Jafnahar | TheJustice | « Rester soi-même dans un monde qui tente constamment de te changer est le plus grand accomplissement. » | 67 |
| Notaprod__ | K'sante la | - | 63 |
| Broowoolf | Broowolf | - | 53 |
| tritton74 | Manolo | - | 39 |
| alcappucino27 | Al Cappucino | - | 37 |
Top 10 accounts with highest friends count
| Username | Name | Bio | Followers count |
| --- | --- | --- | --- |
| Broowoolf | Broowolf | - | 555 |
| Jafnahar | TheJustice | « Rester soi-même dans un monde qui tente constamment de te changer est le plus grand accomplissement. » | 514 |
| Notaprod__ | K'sante la | - | 478 |
| MonsieurGRrr | Monsieur GRrr | 🇫🇷 Tech Vlogger / Vlogueur Tech Mon Podcast https://t.co/M3xUHmu2pb Mes Vidéos https://t.co/sUFIgLrtN3 | 467 |
| mossi_doudou | Mossi Doudou | Sais-tu seulement à quel point tu ne sais pas? | 458 |
| DiaTierno | TIBRVD | 💻📺 | Rédacteur pour @Amksport_off 👻: Dia_Tierno | 276 |
| Saiifyy | Saify | J'fais danser les poussières de moi dans l'élégance des nuits. /// Membre de La Patronnade !! | 275 |
| alcappucino27 | Al Cappucino | - | 243 |
| skinicornet | Tibo 🦊 | - | 236 |
| Nooooriyy | sheeees Orion | - | 169 |
Most active users
| Username | Bio | Number of tweets |
| --- | --- | --- |
| Kumarbaaboo1 | DM me for Crypto promotion #BSC #BNB #BINANCE #CZ_Fan | 7 |
| y_koze | ICI Y dit kalité nou péï | 3 |
| Broowoolf | - | 3 |
| skinicornet | - | 2 |
| alcappucino27 | - | 1 |
| wanih69 | - | 1 |
| tritton74 | - | 1 |
| mossi_doudou | Sais-tu seulement à quel point tu ne sais pas? | 1 |
| jupdollars | - | 1 |
| erasered0 | - | 1 |
---
Tweets per day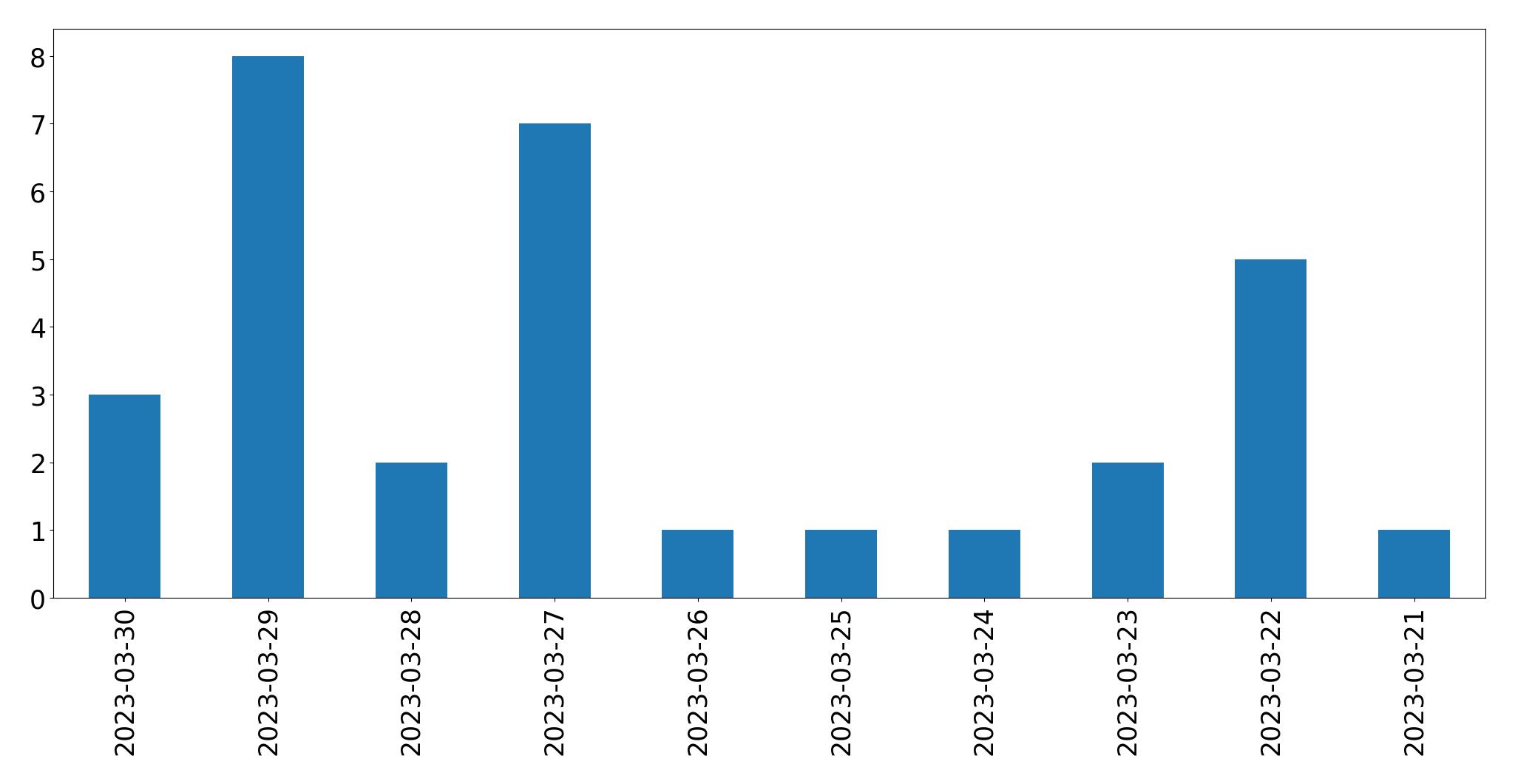 ---
Top 10 tweets with highest Retweet count
| ID | Text | Retweet count |
| --- | --- | --- |
| 1638649386962935808 | @jojol67 @TeufeurSoff https://t.co/PuhjEjr0Ul | 1 |
| 1641205331396280320 | @skinicornet @Broowoolf @Frandroid @jojol67 Absolument pas 😉 | 0 |
| 1640232409835663360 | Awesome move @Gfunkera86 @jojol67 @swapleonicorn https://t.co/GWgROFHyw5 | 0 |
| 1638443734835556352 | @jojol67 à bientôt 2.5 Millions d'abonnés, et 5 ans après : Toujours pas de #JoJolBox de retour dans nos boites à lettres 😣 Qu'attendez-vous pour recruter un jeune diplômé de Master en Digital/Gestion de projet pour relancer avec l'équipe ce beau projet ?😏 Mes DM restent open | 0 |
| 1638630432400089089 | @jojol67 @TeufeurSoff Ptdr | 0 |
| 1638633272195567617 | @jojol67 @TeufeurSoff Lache ça | 0 |
| 1638834842543554561 | @jojol67 @TeufeurSoff Personne t'aime jojol que tu suce dans tout les commentaires des gens arrête un peut tu fait pitier | 0 |
| 1638848787971031046 | @wanih69 @jojol67 @TeufeurSoff PTDRRRRR je dis hagra | 0 |
| 1639076213624045568 | @hira_yazz @jojol67 @TeufeurSoff Y'a aucun rapport il peut ne pas aimer le gambling mais être amis avec quelqu'un qui en fait | 0 |
| 1639719947151503361 | @MhaActuFR @Maji_FR Je mentionne le meilleur (tech divertissement) @jojol67 | 0 |
Top 10 tweets with highest Like count
| ID | Text | Like count |
| --- | --- | --- |
| 1638649386962935808 | @jojol67 @TeufeurSoff https://t.co/PuhjEjr0Ul | 77 |
| 1641092118281060357 | @Frandroid "L'époque des tests faussement honnêtes de smartphones dans des vidéos YouTube payées par le constructeur est révolue." Aie @MonsieurGRrr et @jojol67 au chômage | 2 |
| 1640817844819574784 | Wesh @jojol67 qu'est-ce que tu fous la?🤣🤣 https://t.co/H55znxA3r0 | 2 |
| 1640232472108572672 | Awesome move @Gfunkera86 @jojol67 @swapleonicorn https://t.co/yfjEwNUEe3 | 1 |
| 1640232287710183425 | Awesome move @Gfunkera86 @jojol67 @swapleonicorn https://t.co/dWFydCt0UQ | 1 |
| 1641128246891757573 | @raficelle Le temps passe vite @AnilBrancaleoni @jojol67 @73steven ✌🏼 https://t.co/KpOrjTmlJ1 | 1 |
| 1638834842543554561 | @jojol67 @TeufeurSoff Personne t'aime jojol que tu suce dans tout les commentaires des gens arrête un peut tu fait pitier | 1 |
| 1640232633119506433 | Awesome move @Gfunkera86 @jojol67 @swapleonicorn https://t.co/mxwXX0YbS7 | 1 |
| 1640232409835663360 | Awesome move @Gfunkera86 @jojol67 @swapleonicorn https://t.co/GWgROFHyw5 | 1 |
| 1638443734835556352 | @jojol67 à bientôt 2.5 Millions d'abonnés, et 5 ans après : Toujours pas de #JoJolBox de retour dans nos boites à lettres 😣 Qu'attendez-vous pour recruter un jeune diplômé de Master en Digital/Gestion de projet pour relancer avec l'équipe ce beau projet ?😏 Mes DM restent open | 0 |
Top 3 Languages Used In Tweets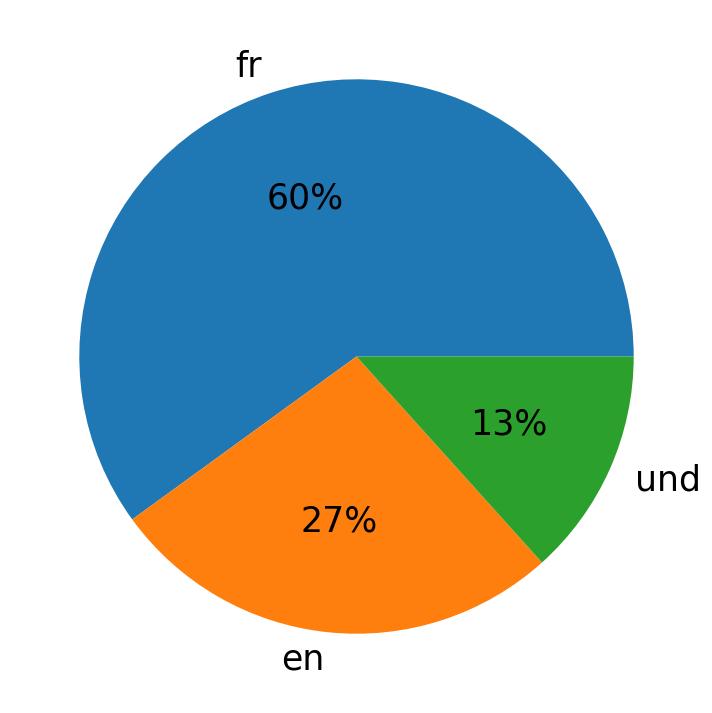 ---
Top 10 Hashtags used
| Hashtag | Count |
| --- | --- |
| #ces2023 | 1 |
| #honormagic5pro | 1 |
| #jojolbox | 1 |
Top 10 Hashtags Used In Tweets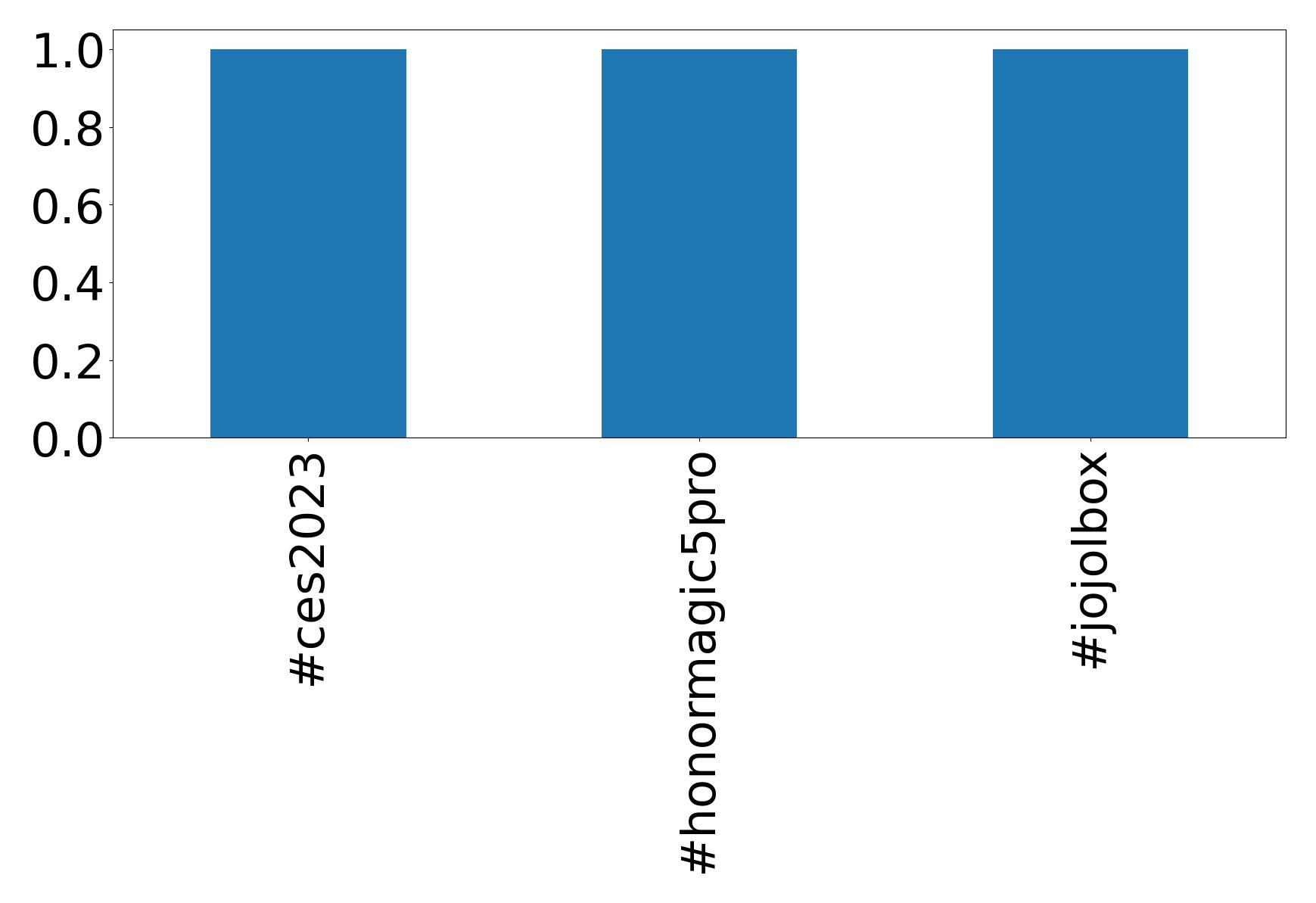 Top 10 mentions
| Mention | Count |
| --- | --- |
| @jojol67 | 31 |
| @gfunkera86 | 7 |
| @swapleonicorn | 7 |
| @teufeursoff | 7 |
| @frandroid | 6 |
| @monsieurgrrr | 5 |
| @skinicornet | 3 |
| @broowoolf | 3 |
| @freenft | 3 |
| @honor_fr | 1 |
Top 10 mentions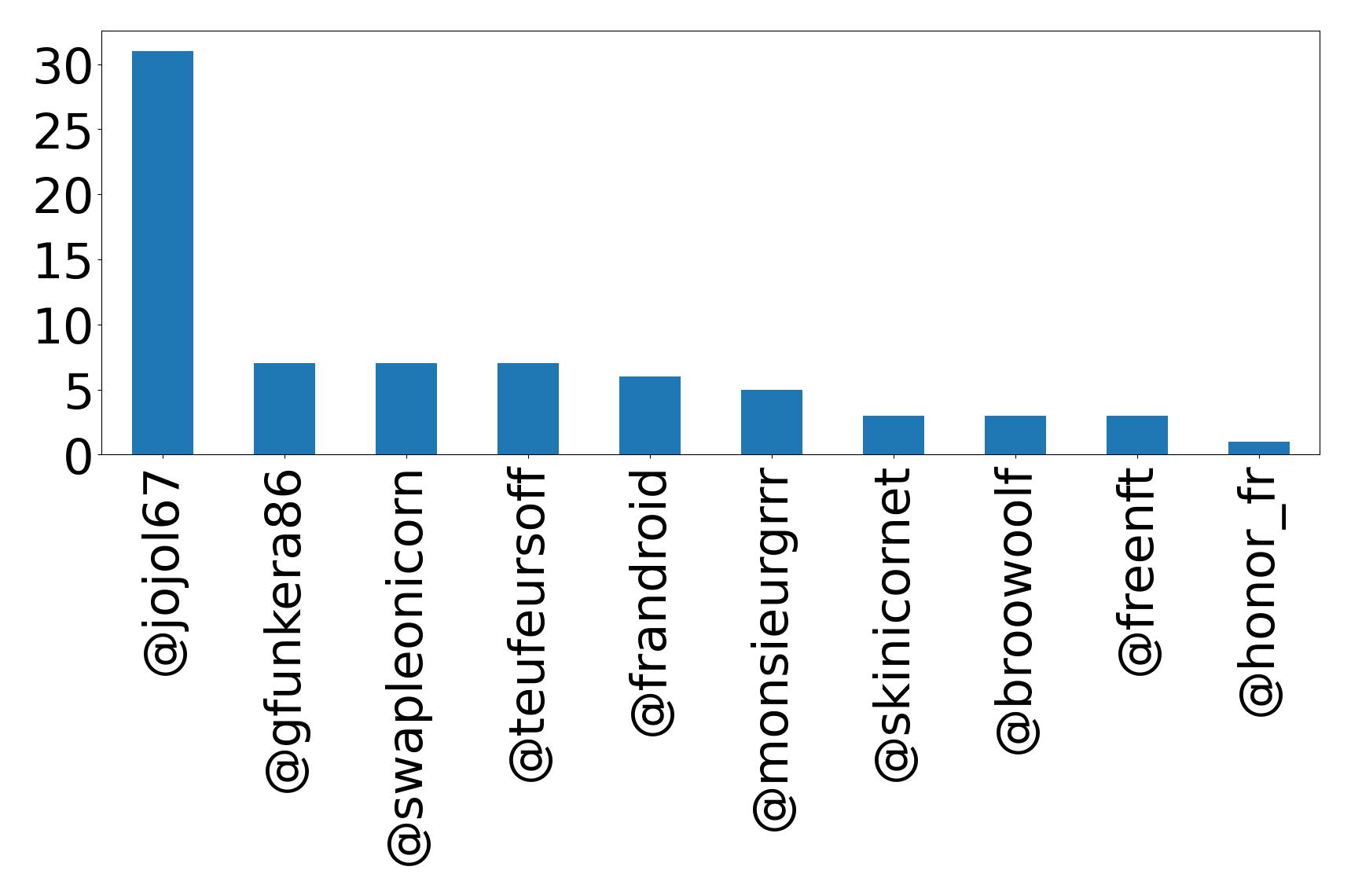 Wordcloud of Tweets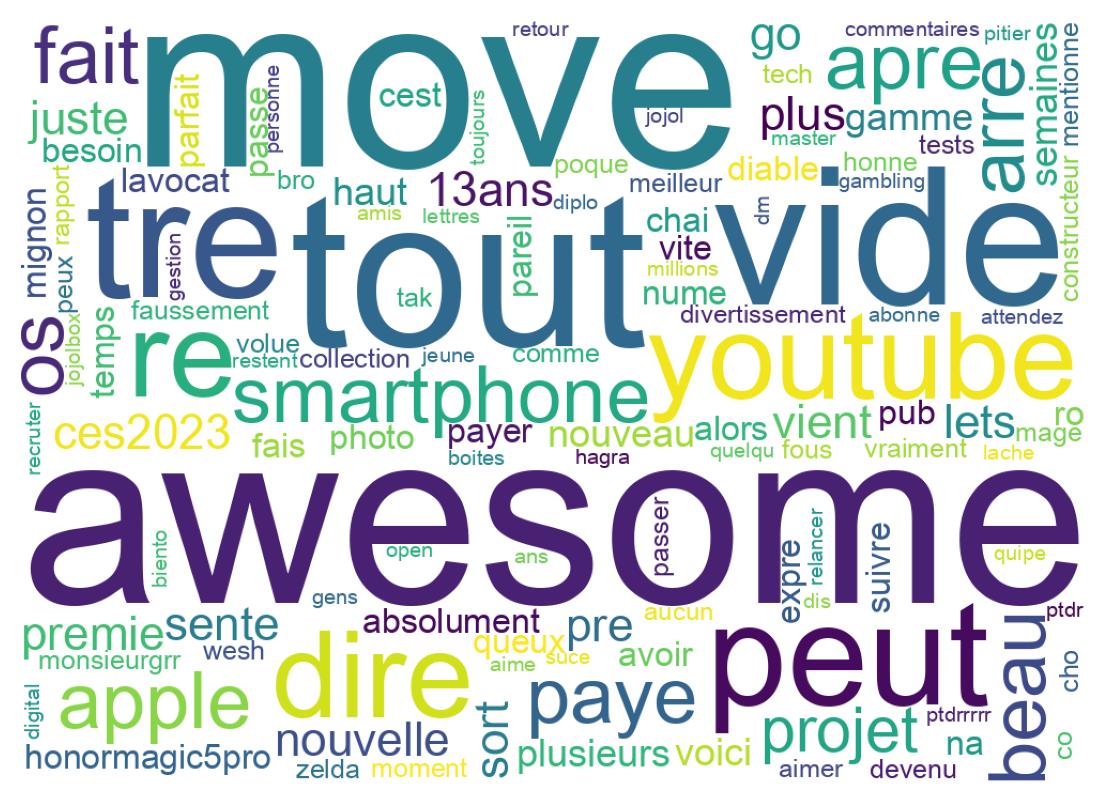 ---
Emojis
Average number of emojis used per tweet
38
Emojis used in tweets
| Emoji | Count | Emoji Text |
| --- | --- | --- |
| 🤣 | 2 | rolling_on_the_floor_laughing |
| 🤗 | 1 | smiling_face_with_open_hands |
| 😂 | 1 | face_with_tears_of_joy |
| 📹 | 1 | video_camera |
| 😀 | 1 | grinning_face |
| ➡️ | 1 | right_arrow |
| 😉 | 1 | winking_face |
| ✌🏼 | 1 | victory_hand_medium-light_skin_tone |
| 😭 | 1 | loudly_crying_face |
| 😣 | 1 | persevering_face |
Emojis groups
| Emoji Group | Count |
| --- | --- |
| Smileys & Emotion | 9 |
| Objects | 1 |
| Symbols | 1 |
| People & Body | 1 |