Tweets Analysis - Keyword: @IUPhilanthropy
Total number of tweets analysed
52
Earliest tweet was on
2023-03-17
Latest tweet was on
2023-03-24
Average age of authors' accounts
9 years
---
Summarization
The tweets highlight various philanthropic initiatives undertaken by The Patterson Foundation (TPF) and the Indiana University Lilly Family School of Philanthropy (IUPhilanthropy). These include selecting 16 Black Changemakers for a $50K grant, leadership training and assistance from Network4Good, collaborating with various non-profits and partners for enhanced mission impact, and hosting research workshops. Some tweets acknowledge and congratulate specific individuals for their achievements and roles in these initiatives. However, some tweets also prompt questions around possible biases and racism in the selection of beneficiaries.
Topic Modeling
Philanthropic leadership and advancement
Non-profit grants and leadership training
Collaboration and partnerships in philanthropy
Reflection and celebration of successful philanthropy initiatives
Religious philanthropy and its impact on the world
Emotional Analysis
The tweets express emotions of congratulations, appreciation, gratitude, excitement, and positivity towards philanthropic leaders, non-profit leaders, and the work being done to create positive change. Some tweets also mention the celebration of diversity and inclusion, such as selecting Black Changemakers and acknowledging the Muslim community during Ramadan. There are also some negative emotions expressed, such as criticism of PepsiCo's motives and accusations of racism. Overall, the tweets convey a sense of community and collaboration towards creating a better world through philanthropy.
Trend Analysis
- Philanthropy and nonprofit leadership development (#TPFStudyAway, @ThePattersonFdn, @IUPhilanthropy) - Recognition and celebration of nonprofit leaders (#BlackChangemakers, @PepsiCo Foundation) - Interfaith and Muslim philanthropy (#Ramadan, @IUphilanthropy) - Collaboration and partnerships between organizations (@VisualArtsPG, @weloveresilient, @CFSarasota, @BarancikCMBF, @SelbyFoundation, @GulfCoastCF) - Criticism and debate around diversity and inclusion in philanthropy (@ramonlaguarta, @web3earner)
Philanthropy and nonprofit leadership development (#TPFStudyAway, @ThePattersonFdn, @IUPhilanthropy)
Recognition and celebration of nonprofit leaders (#BlackChangemakers, @PepsiCo Foundation)
Interfaith and Muslim philanthropy (#Ramadan, @IUphilanthropy)
Collaboration and partnerships between organizations (@VisualArtsPG, @weloveresilient, @CFSarasota, @BarancikCMBF, @SelbyFoundation, @GulfCoastCF)
Criticism and debate around diversity and inclusion in philanthropy (@ramonlaguarta, @web3earner)
---
Types of Tweets
Number of Retweets
34
Percentage of total tweets
65%
Number of Original tweets
11
Percentage of total tweets
21%
Number of tweets that contain Mentions
52
Percentage of total tweets
100%
Number of tweets that were Replies
4
Percentage of total tweets
7%
Number of tweets that were Quotes
8
Percentage of total tweets
15%
Number of tweets that contain Hashtags
22
Percentage of total tweets
42%
---
Top 5 devices used to tweet
| Source | Count |
| --- | --- |
| Twitter for iPhone | 23 |
| Twitter Web App | 16 |
| Twitter for iPad | 9 |
| Powered by Sprinklr | 2 |
| Sprout Social | 1 |
What devices were used to tweet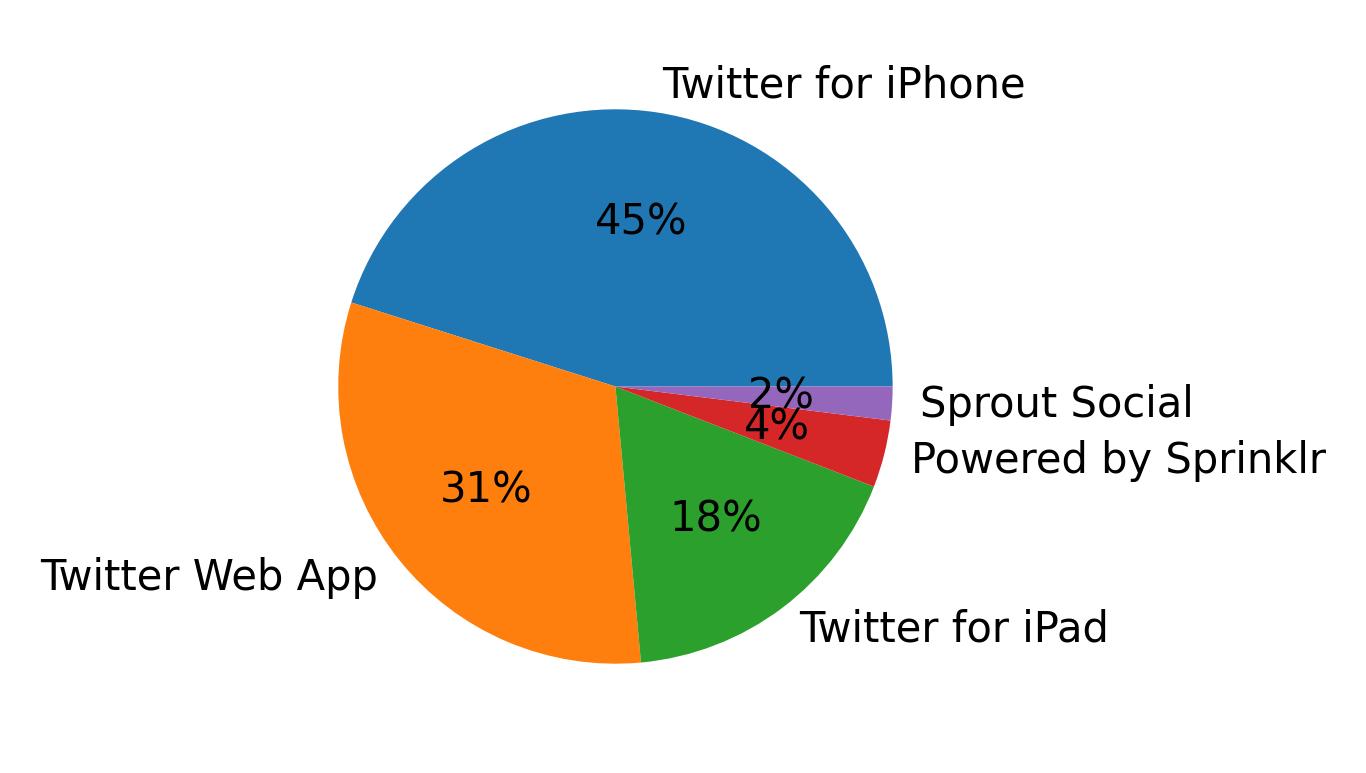 ---
Top 10 accounts with highest followers count
| Username | Name | Bio | Followers count |
| --- | --- | --- | --- |
| ramonlaguarta | Ramon Laguarta | CEO & Chairman @PepsiCo. Purposeful leadership. Sustainable performance. Culture of opportunity. Believer in simplicity and executional excellence. Husband/dad. | 18,656 |
| IUPhilanthropy | IU Philanthropy | Dedicated to training and empowering students and professionals to be innovators and leaders who create positive and lasting change. | 18,322 |
| UinvitedU | Paul Nazareth | Helping charities fundraise, donors give, advisors with client philanthropy. Networking & digital business enthusiast. Opinions, my own. | 16,939 |
| robertocazevedo | Roberto Azevêdo | Chief Corporate Affairs Officer @PepsiCo and Chairman @PepsiCo Foundation | Former Director-General of @WTO | Husband | Father | Grandfather | 15,356 |
| FUNED_MX | FUNED_MX | Fundación que da apoyos económicos a estudiantes mexicanos que estén aceptados en las mejores universidades del mundo a realizar maestrías. | 5,003 |
| ThePattersonFdn | The Patterson Foundation | Strengthening the efforts of people, organizations & communities. We focus on issues that address common aspirations & foster participation in #philanthropy. | 4,884 |
| Givelify | Givelify | The most trusted and loved online and mobile giving platform, powering a feel-good movement of kindness and generosity. Let's do #MoreGoodTogether! 🧡 | 3,430 |
| LucasMeijs | Lucas Meijs | hoogleraar strategic philanthropy and volunteering, RSM, Erasmus University | 3,263 |
| DebraMJacobs | Debra Jacobs | President & CEO building connective tissue to create new realities in #philanthropy with @ThePattersonFdn. | 2,867 |
| cdglin | C.D. Glin | President, PepsiCo Foundation & Global Head of Philanthropy, @PepsiCo. Former P/CEO @USADF, alumni @RockefellerFdn, @PYXERAGlobal, @PeaceCorps,@HowardU Post=own | 1,680 |
Top 10 accounts with highest friends count
| Username | Name | Bio | Followers count |
| --- | --- | --- | --- |
| UinvitedU | Paul Nazareth | Helping charities fundraise, donors give, advisors with client philanthropy. Networking & digital business enthusiast. Opinions, my own. | 15,105 |
| Givelify | Givelify | The most trusted and loved online and mobile giving platform, powering a feel-good movement of kindness and generosity. Let's do #MoreGoodTogether! 🧡 | 3,167 |
| margin_mission | No Margin,No Mission | We help organizations with a social mission diversify revenue, expand impact & build a lasting future through entrepreneurship, innovation, & business strategy. | 2,223 |
| ThePattersonFdn | The Patterson Foundation | Strengthening the efforts of people, organizations & communities. We focus on issues that address common aspirations & foster participation in #philanthropy. | 1,528 |
| bchalfin | The_Fish_Guy_ | husband, father of furry baby and human child. bourbon drinker and fish breeder | 1,300 |
| DebraMJacobs | Debra Jacobs | President & CEO building connective tissue to create new realities in #philanthropy with @ThePattersonFdn. | 1,255 |
| cdglin | C.D. Glin | President, PepsiCo Foundation & Global Head of Philanthropy, @PepsiCo. Former P/CEO @USADF, alumni @RockefellerFdn, @PYXERAGlobal, @PeaceCorps,@HowardU Post=own | 1,065 |
| a2kelly | Kelly Palkowski | Fundraising, nurses, history, and everything Michigan. #GoBlue alum 💙| #Spartan Mom 💚 | she/her | 805 |
| FUNED_MX | FUNED_MX | Fundación que da apoyos económicos a estudiantes mexicanos que estén aceptados en las mejores universidades del mundo a realizar maestrías. | 797 |
| IUPhilanthropy | IU Philanthropy | Dedicated to training and empowering students and professionals to be innovators and leaders who create positive and lasting change. | 724 |
Most active users
| Username | Bio | Number of tweets |
| --- | --- | --- |
| ccoryeatpf | - | 9 |
| margin_mission | We help organizations with a social mission diversify revenue, expand impact & build a lasting future through entrepreneurship, innovation, & business strategy. | 8 |
| DebraMJacobs | President & CEO building connective tissue to create new realities in #philanthropy with @ThePattersonFdn. | 7 |
| KelAlexander_ | Fellow @ThePattersonFdn | 3 |
| PierretteGKelly | Critical thinking, emotional intelligence tools to solve local and global issues and in a socially, financially responsible and sustainable manner. | 3 |
| ThePattersonFdn | Strengthening the efforts of people, organizations & communities. We focus on issues that address common aspirations & foster participation in #philanthropy. | 2 |
| NevaSimba | Packaging Specialist @PepsiCoAMESA | 2 |
| AExantusTPF | - | 1 |
| ramonlaguarta | CEO & Chairman @PepsiCo. Purposeful leadership. Sustainable performance. Culture of opportunity. Believer in simplicity and executional excellence. Husband/dad. | 1 |
| chericoryea | - | 1 |
---
Tweets per day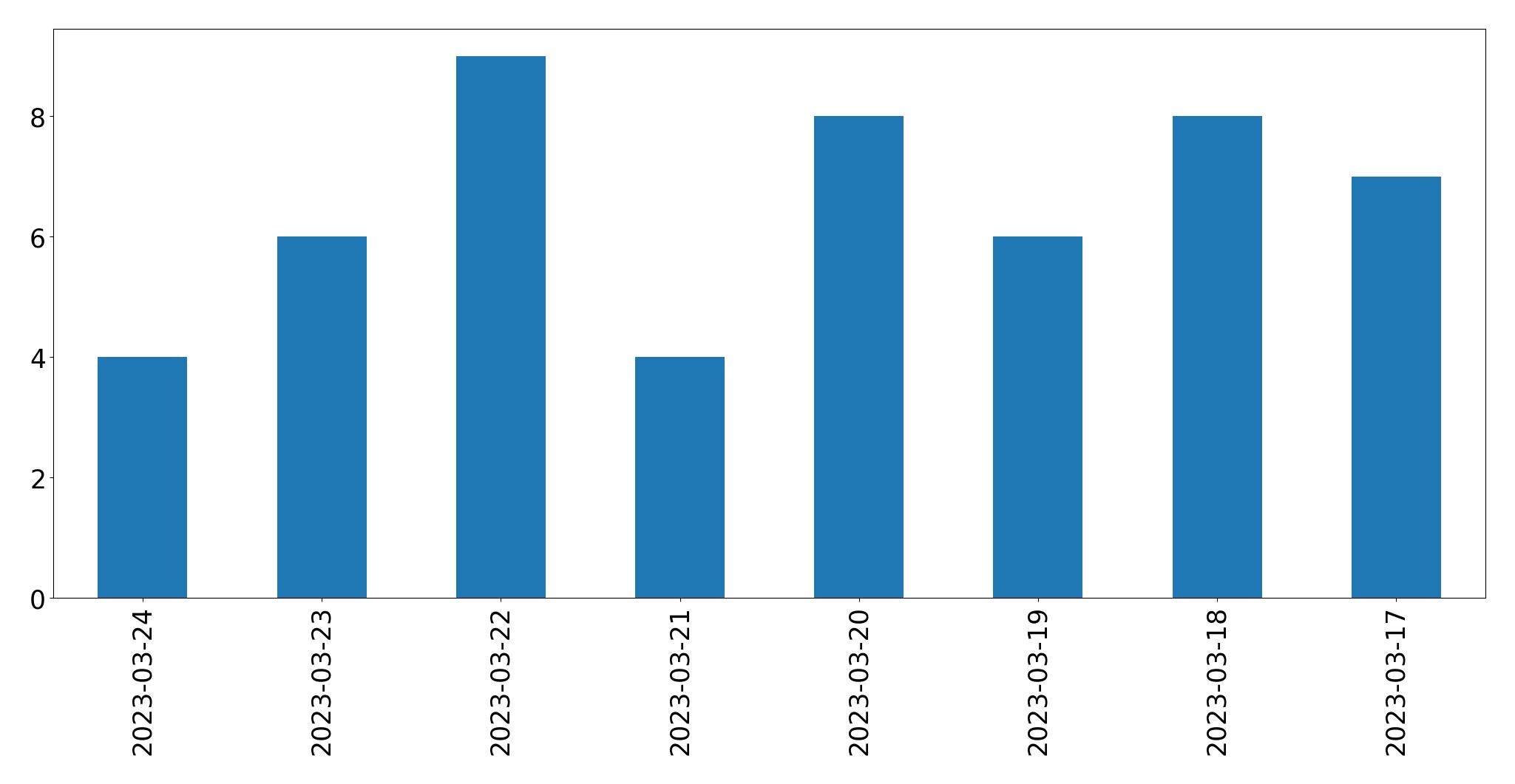 ---
Top 10 tweets with highest Retweet count
| ID | Text | Retweet count |
| --- | --- | --- |
| 1638858168104280064 | 👏 @therealhsk1⁩ ⁦@LagrangeConnor⁩ ⁦@MichaelJZim⁩ ⁦@RachelHett22⁩ ⁦@AbbyRolland4⁩ ⁦@TheRealJohnFerg⁩ ⁦@KelAlexander_⁩ advancing philanthropic leadership ⁦@ThePattersonFdn⁩ ⁦@IUPhilanthropy⁩ https://t.co/wdDT6SPD1t | 5 |
| 1636808041617149953 | What an extraordinary #TPFStudyAway week with @IUPhilanthropy and @ThePattersonFdn! Thank you to the students, TPF staff and consultants, and Suncoast region partners! https://t.co/Eov9nO7aHO | 5 |
| 1636678937181863936 | Kudos @SaraTampa for leading a meaningful discussion! @ThePattersonFdn @IUPhilanthropy https://t.co/0kK5poyOwR | 4 |
| 1638142764364726272 | Thank you @CFSarasota @BarancikCMBF @SelbyFoundation @GulfCoastCF & more ..well done @LagrangeConnor @IUPhilanthropy @ThePattersonFdn https://t.co/F5tCxEoceC | 4 |
| 1638257457649549313 | During #TPFStudyAway wk, it was a treat 2 work w/@IUPhilanthropy students Alexa Carr & Avery Crews Prado de Lima as they became #TPFMarginMission consultants working w/ @VisualArtsPG on an assignment 2 boost revenue & #mission impact. Thx 2 @ThePattersonFdn 4 making it possible! https://t.co/59S0tLdoXI | 3 |
| 1637855216530870273 | Congrats to the 16 incredible non-profit leaders selected as our 2023 Black Changemakers! These leaders will receive a $50K grant from the @PepsiCo Foundation, leadership training with @IUphilanthropy, assistance from @Network4Good, and amplification from Doritos SOLID BLACK. https://t.co/XgpyNJ0MqS | 2 |
| 1638636692977643520 | Wishing all our Muslim community a blessed #Ramadan! This holy month is a time for reflection, prayer, and giving back. Learn more about the incredible impact of Muslim philanthropy and how it's changing the world from our friends at @IUphilanthropy. https://t.co/ext4xOwF1q https://t.co/9Ij6jNhRTs | 1 |
| 1638635382383460352 | Congratulations to our 2023 @Doritos + #PepsiCoFoundation Black Changemakers! These 16 nonprofit leaders will each receive a $50K grant, leadership training with @IUPhilanthropy, and assistance from @Network4Good. https://t.co/QIHeSuSGUY https://t.co/BeOzahCR27 https://t.co/gFjQ2NViKB | 1 |
| 1638574743052754947 | #TPFStudyAway Week was a WOW and we LOVED working w/@IUPhilanthropy students Avery Crews Prado de Lima & Alexa Carr who became #TPFMarginMission consultants working w/@weloveresilient on an assignment 2 boost revenue & #mission impact. Thx 2 @ThePattersonFdn 4 making it possible! https://t.co/czfkDq75XG | 1 |
| 1638486562244632577 | Next Tuesday, March 28 at noon ET @IUPhilanthropy's Research Workshop will host Ramazan Kilinc, who will discuss Generating Generosity in Catholicism and Islam: Beliefs, Institutions, and Public Goods Provision. More information and registering: https://t.co/rupYgGCRmY | 1 |
Top 10 tweets with highest Like count
| ID | Text | Like count |
| --- | --- | --- |
| 1638858168104280064 | 👏 @therealhsk1⁩ ⁦@LagrangeConnor⁩ ⁦@MichaelJZim⁩ ⁦@RachelHett22⁩ ⁦@AbbyRolland4⁩ ⁦@TheRealJohnFerg⁩ ⁦@KelAlexander_⁩ advancing philanthropic leadership ⁦@ThePattersonFdn⁩ ⁦@IUPhilanthropy⁩ https://t.co/wdDT6SPD1t | 14 |
| 1636678937181863936 | Kudos @SaraTampa for leading a meaningful discussion! @ThePattersonFdn @IUPhilanthropy https://t.co/0kK5poyOwR | 11 |
| 1637855216530870273 | Congrats to the 16 incredible non-profit leaders selected as our 2023 Black Changemakers! These leaders will receive a $50K grant from the @PepsiCo Foundation, leadership training with @IUphilanthropy, assistance from @Network4Good, and amplification from Doritos SOLID BLACK. https://t.co/XgpyNJ0MqS | 10 |
| 1638257457649549313 | During #TPFStudyAway wk, it was a treat 2 work w/@IUPhilanthropy students Alexa Carr & Avery Crews Prado de Lima as they became #TPFMarginMission consultants working w/ @VisualArtsPG on an assignment 2 boost revenue & #mission impact. Thx 2 @ThePattersonFdn 4 making it possible! https://t.co/59S0tLdoXI | 9 |
| 1638142764364726272 | Thank you @CFSarasota @BarancikCMBF @SelbyFoundation @GulfCoastCF & more ..well done @LagrangeConnor @IUPhilanthropy @ThePattersonFdn https://t.co/F5tCxEoceC | 9 |
| 1636808041617149953 | What an extraordinary #TPFStudyAway week with @IUPhilanthropy and @ThePattersonFdn! Thank you to the students, TPF staff and consultants, and Suncoast region partners! https://t.co/Eov9nO7aHO | 9 |
| 1637831743775416322 | Great to hear about the collaboration between @IUPhilanthropy students and @weloveresilient during #TPFStudyAway. Grateful for your time and sharing your cookies 🍪🌴 https://t.co/pEjg3iZZBb | 7 |
| 1636809314399649795 | Incredible week with wonderful people truly changing the world. I am honored to have been a part of it. Thank you to all that made it a huge success! @ThePattersonFdn @IUPhilanthropy https://t.co/Rx0pw1OKRH | 6 |
| 1636760461742931969 | Final day of #TPFStudyAway takes us to @CFSarasota for a Knowledge Sharing Session facilitated by @mikeox41 and @Larry_JClark. @IUPhilanthropy students share reflections from the week using guidance from @ThePattersonFdn approach, LWRCC. https://t.co/YHsgjm8Uwy | 6 |
| 1638636692977643520 | Wishing all our Muslim community a blessed #Ramadan! This holy month is a time for reflection, prayer, and giving back. Learn more about the incredible impact of Muslim philanthropy and how it's changing the world from our friends at @IUphilanthropy. https://t.co/ext4xOwF1q https://t.co/9Ij6jNhRTs | 4 |
Top 3 Languages Used In Tweets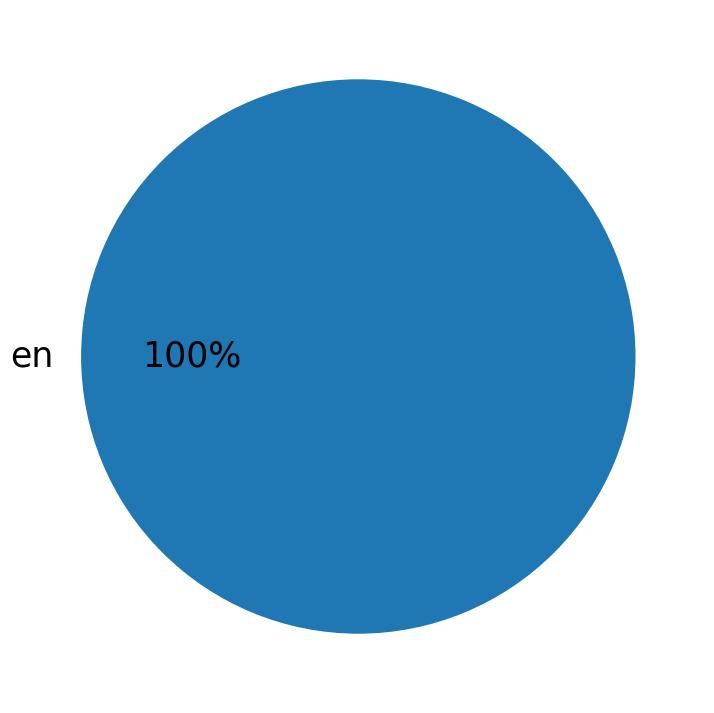 ---
Top 10 Hashtags used
| Hashtag | Count |
| --- | --- |
| #tpfstudyaway | 14 |
| #tpfmarginmission | 4 |
| #mission | 4 |
| #pepsicofoundation | 3 |
| #ramadan | 2 |
| #philanthropy | 1 |
| #tpffellows | 1 |
| #digitalnavigators | 1 |
| #freelaundryday | 1 |
| #patriotplaza | 1 |
Top 10 Hashtags Used In Tweets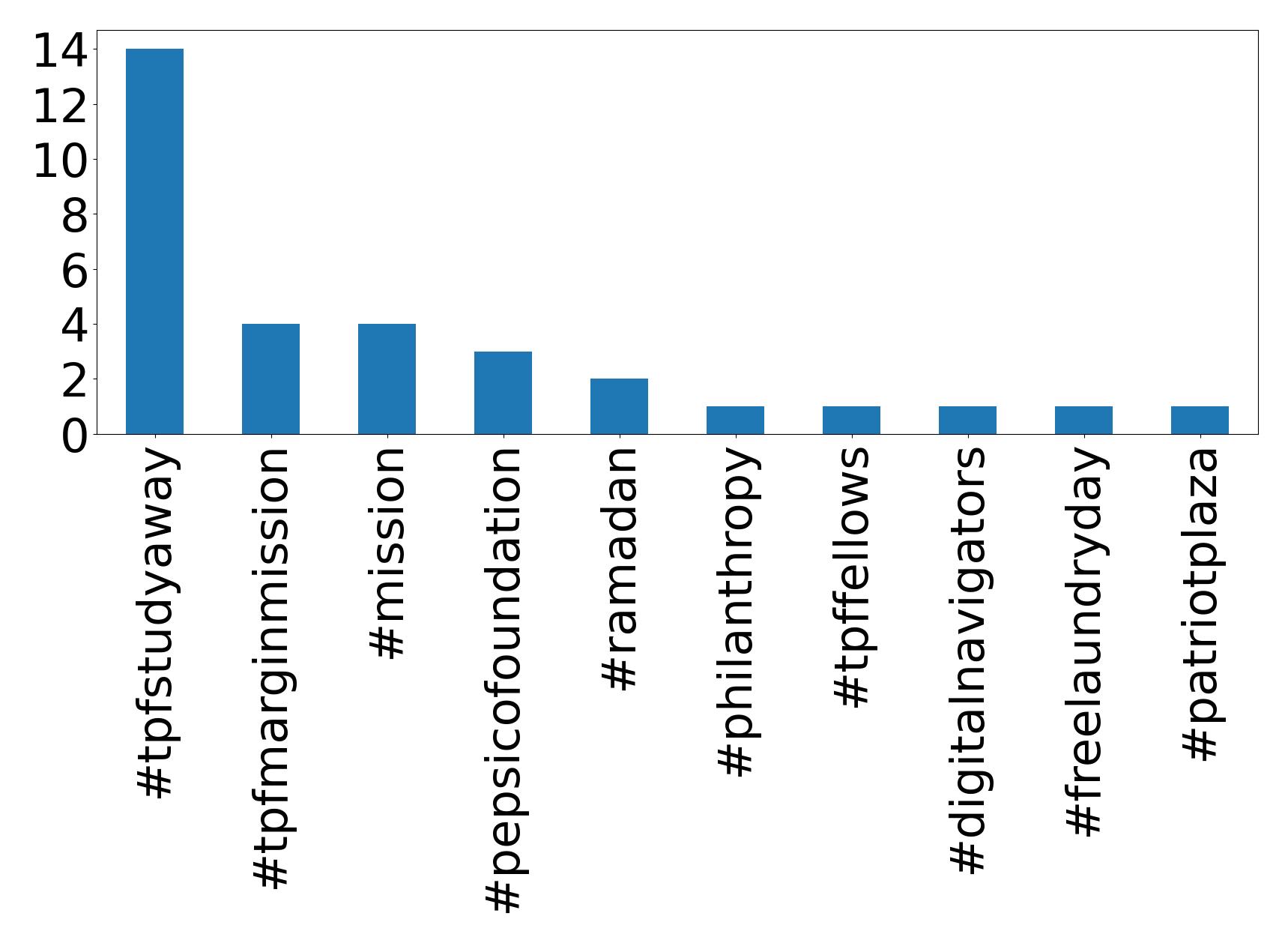 Top 10 mentions
| Mention | Count |
| --- | --- |
| @iuphilanthropy | 52 |
| @thepattersonfdn | 25 |
| @kelalexander_ | 10 |
| @network4good | 8 |
| @cfsarasota | 7 |
| @debramjacobs | 5 |
| @pepsico | 5 |
| @lagrangeconnor | 4 |
| @doritos | 4 |
| @saratampa | 4 |
Top 10 mentions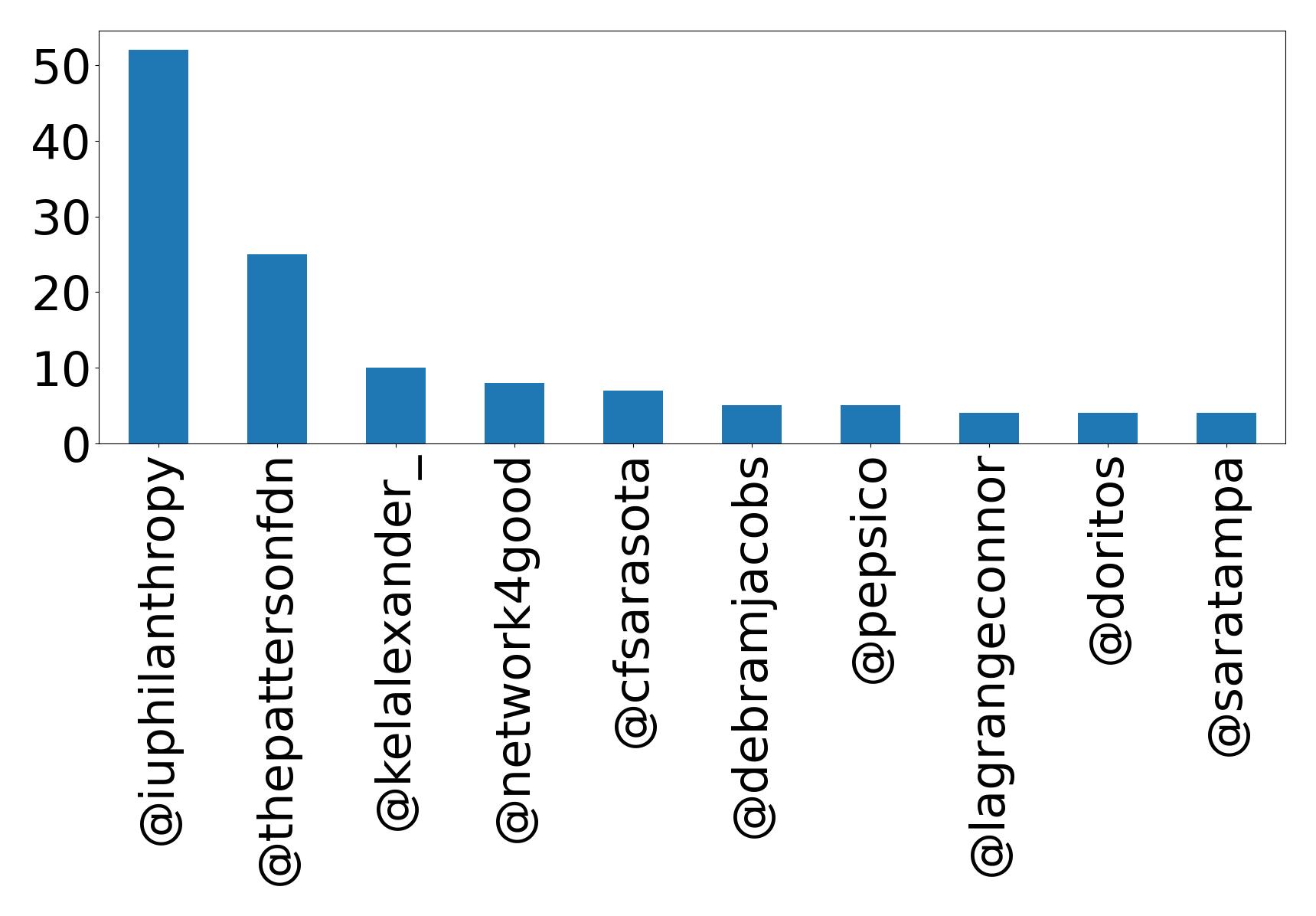 Wordcloud of Tweets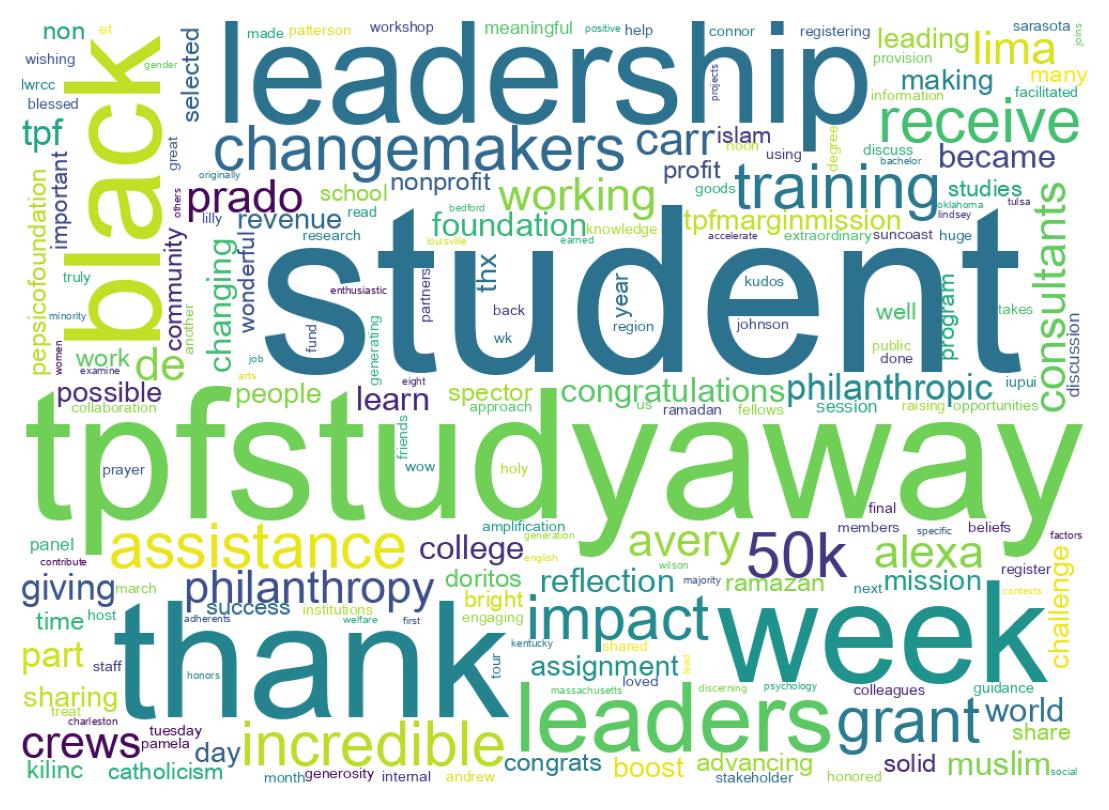 ---
Emojis
Average number of emojis used per tweet
32
Emojis used in tweets
| Emoji | Count | Emoji Text |
| --- | --- | --- |
| 🙌🏾 | 4 | raising_hands_medium-dark_skin_tone |
| 👏 | 2 | clapping_hands |
| 🌴 | 2 | palm_tree |
| ▶️ | 1 | play_button |
| ☀️ | 1 | sun |
| 🇨🇦 | 1 | Canada |
| 🍪 | 1 | cookie |
| 🐦 | 1 | bird |
| 🦀 | 1 | crab |
| 🐚 | 1 | spiral_shell |
Emojis groups
| Emoji Group | Count |
| --- | --- |
| People & Body | 6 |
| Animals & Nature | 4 |
| Food & Drink | 2 |
| Symbols | 1 |
| Travel & Places | 1 |
| Flags | 1 |
| Objects | 1 |
| Activities | 1 |