Tweets Analysis - Keyword: @ItsMalloryHagan
Total number of tweets analysed
5
Earliest tweet was on
2023-03-24
Latest tweet was on
2023-03-30
Average age of authors' accounts
12 years
---
Summarization
A group of powerful women are at The Wall Street Hotel to celebrate International Women's Month. The Women of New York are lighting up Wall Street. The tweet also includes the Twitter handles of several women in attendance. One person expressing regret at not being able to attend.
Topic Modeling
Women Empowerment
International Women's Month
Networking and Social Events
New York City
FOMO (Fear of Missing Out)
Emotional Analysis
The emotions expressed in these tweets include excitement, pride, and admiration for the powerful women attending the event. There is a sense of celebration for International Women's Month and the success of women in the financial industry, as they "light up" Wall Street. The second tweet also expresses a hint of disappointment that the user is not able to attend the event in person. Overall, there is a positive and supportive tone.
Trend Analysis
International Women's Month
Women empowerment
Networking events
Wall Street culture
Geographical preference (New York area)
---
Types of Tweets
Number of Retweets
3
Percentage of total tweets
60%
Number of Original tweets
1
Percentage of total tweets
20%
Number of tweets that contain Mentions
5
Percentage of total tweets
100%
Number of tweets that were Replies
1
Percentage of total tweets
20%
Number of tweets that were Quotes
2
Percentage of total tweets
40%
Number of tweets that contain Hashtags
2
Percentage of total tweets
40%
---
Top 5 devices used to tweet
| Source | Count |
| --- | --- |
| Twitter Web App | 3 |
| Twitter for iPhone | 2 |
What devices were used to tweet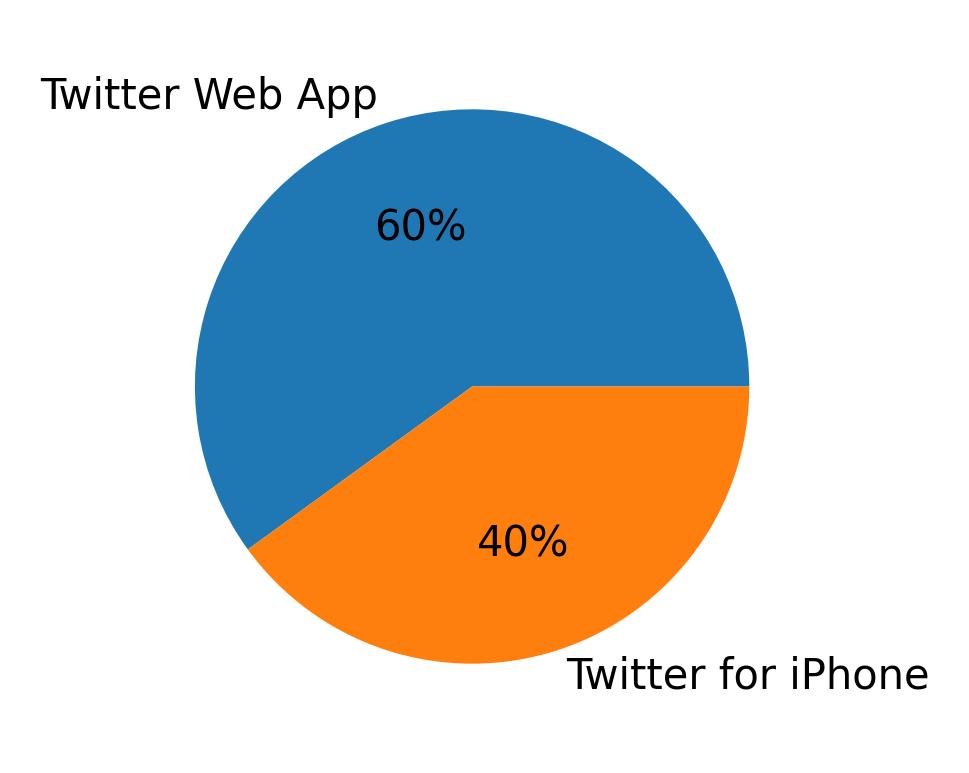 ---
Top 10 accounts with highest followers count
| Username | Name | Bio | Followers count |
| --- | --- | --- | --- |
| JackieCinMHT | Rep. Jackie Chretien | State Rep in MHT Wards 2,4,5,&7. NH raised, Mom x 3. @brandeisu alum; @ucberkeley MCB PhD; @ResearchSquare; loves big words, big ideas, and coffee | 2,261 |
| tiffanytownsend | Tiffany Townsend | EVP, Global Comms @nycgo @nycgo_press | 🇯🇲 | Collector of passport stamps | Opinions are my own | 2,054 |
| fwaychel | Rachel Harrison | 🐕 🍕 🍔🌮🌮🌮🥟 🌊 🏝 🥑 🚴 🧗 🧟‍♀️🕶🐶🦞🌈🥯🤸🏻‍♀️🧘🏼‍♂️🏄🏼🎧🛵✈️ | 1,995 |
| Blaine_Volpe | Blaine Volpe | Membership Director @MActionProject uplifting & supporting young legislators | @HofstraU alum | Artichoke's bestie 🐕 | RT ≠ endorsement | 1,254 |
| SaraDuffy | SaraDuffy | - | 173 |
Top 10 accounts with highest friends count
| Username | Name | Bio | Followers count |
| --- | --- | --- | --- |
| Blaine_Volpe | Blaine Volpe | Membership Director @MActionProject uplifting & supporting young legislators | @HofstraU alum | Artichoke's bestie 🐕 | RT ≠ endorsement | 2,361 |
| tiffanytownsend | Tiffany Townsend | EVP, Global Comms @nycgo @nycgo_press | 🇯🇲 | Collector of passport stamps | Opinions are my own | 2,129 |
| JackieCinMHT | Rep. Jackie Chretien | State Rep in MHT Wards 2,4,5,&7. NH raised, Mom x 3. @brandeisu alum; @ucberkeley MCB PhD; @ResearchSquare; loves big words, big ideas, and coffee | 1,876 |
| SaraDuffy | SaraDuffy | - | 1,220 |
| fwaychel | Rachel Harrison | 🐕 🍕 🍔🌮🌮🌮🥟 🌊 🏝 🥑 🚴 🧗 🧟‍♀️🕶🐶🦞🌈🥯🤸🏻‍♀️🧘🏼‍♂️🏄🏼🎧🛵✈️ | 276 |
Most active users
| Username | Bio | Number of tweets |
| --- | --- | --- |
| Blaine_Volpe | Membership Director @MActionProject uplifting & supporting young legislators | @HofstraU alum | Artichoke's bestie 🐕 | RT ≠ endorsement | 1 |
| JackieCinMHT | State Rep in MHT Wards 2,4,5,&7. NH raised, Mom x 3. @brandeisu alum; @ucberkeley MCB PhD; @ResearchSquare; loves big words, big ideas, and coffee | 1 |
| SaraDuffy | - | 1 |
| fwaychel | 🐕 🍕 🍔🌮🌮🌮🥟 🌊 🏝 🥑 🚴 🧗 🧟‍♀️🕶🐶🦞🌈🥯🤸🏻‍♀️🧘🏼‍♂️🏄🏼🎧🛵✈️ | 1 |
| tiffanytownsend | EVP, Global Comms @nycgo @nycgo_press | 🇯🇲 | Collector of passport stamps | Opinions are my own | 1 |
---
Tweets per day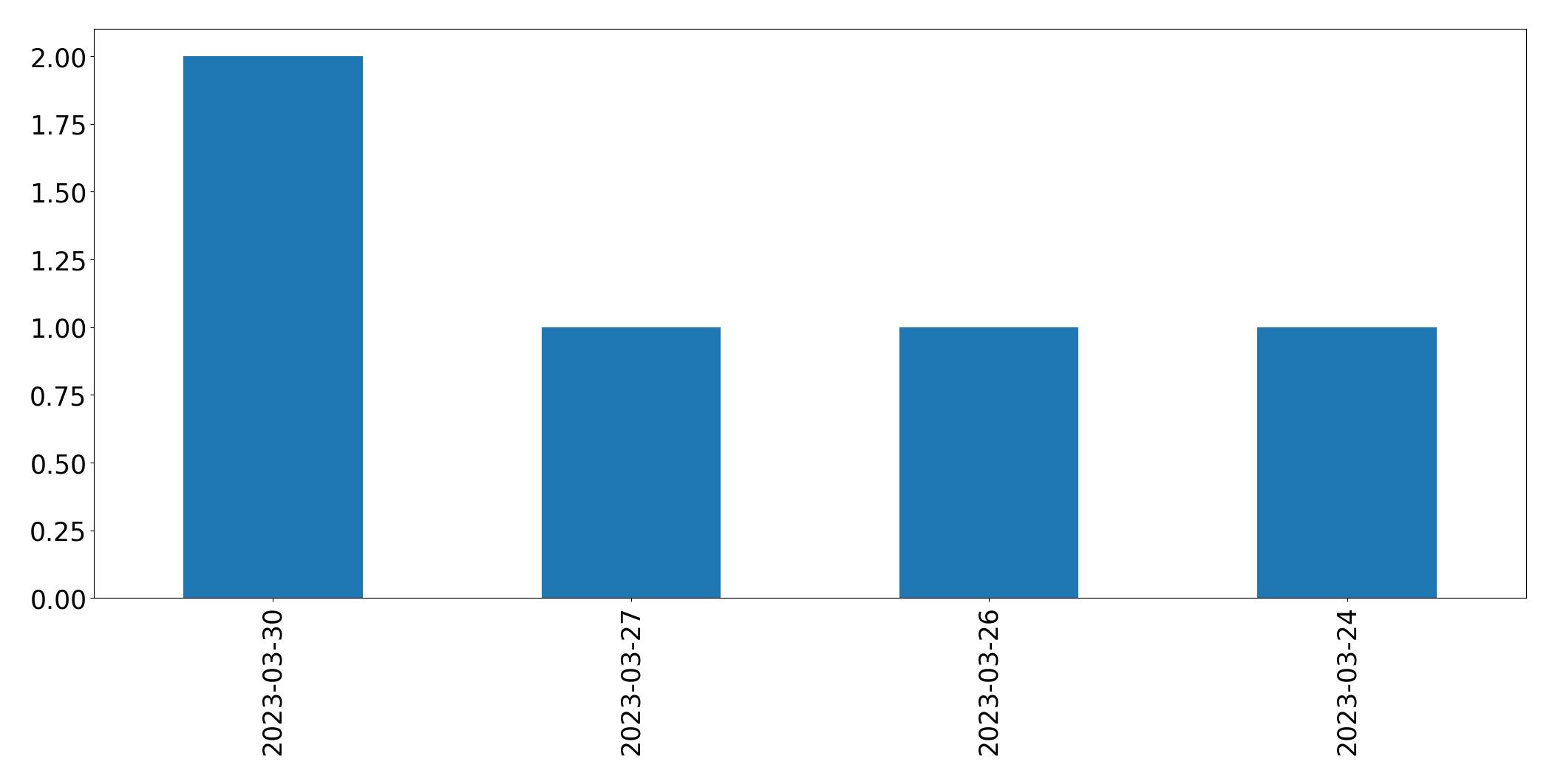 ---
Top 10 tweets with highest Retweet count
| ID | Text | Retweet count |
| --- | --- | --- |
| 1639305773808336915 | Excited to be here at #thewallstreethotel with these powerful women. #InternationalWomansMonth The Women of New York Light Up Wall Street  @kayfinn @pingquipong  @mixtressnyc  @nicoleeckels @tiffanytownsend @itsmalloryhagan @saraduffy https://t.co/0MhY3f9uQi | 2 |
| 1639904157745201153 | @fwaychel @KayFinn @pingquipong @mixtressnyc @NicoleEckels @tiffanytownsend @ItsMalloryHagan wish I was in New York ! 🙌 lol | 0 |
Top 10 tweets with highest Like count
| ID | Text | Like count |
| --- | --- | --- |
| 1639305773808336915 | Excited to be here at #thewallstreethotel with these powerful women. #InternationalWomansMonth The Women of New York Light Up Wall Street  @kayfinn @pingquipong  @mixtressnyc  @nicoleeckels @tiffanytownsend @itsmalloryhagan @saraduffy https://t.co/0MhY3f9uQi | 3 |
| 1639904157745201153 | @fwaychel @KayFinn @pingquipong @mixtressnyc @NicoleEckels @tiffanytownsend @ItsMalloryHagan wish I was in New York ! 🙌 lol | 1 |
Top 3 Languages Used In Tweets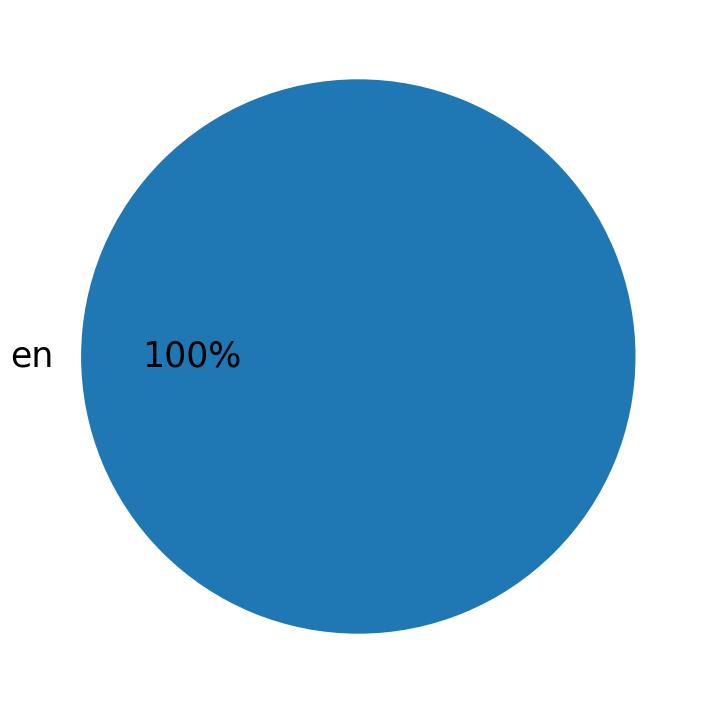 ---
Top 10 Hashtags used
| Hashtag | Count |
| --- | --- |
| #thewallstreethotel | 2 |
| #internationalwomansmonth | 2 |
Top 10 Hashtags Used In Tweets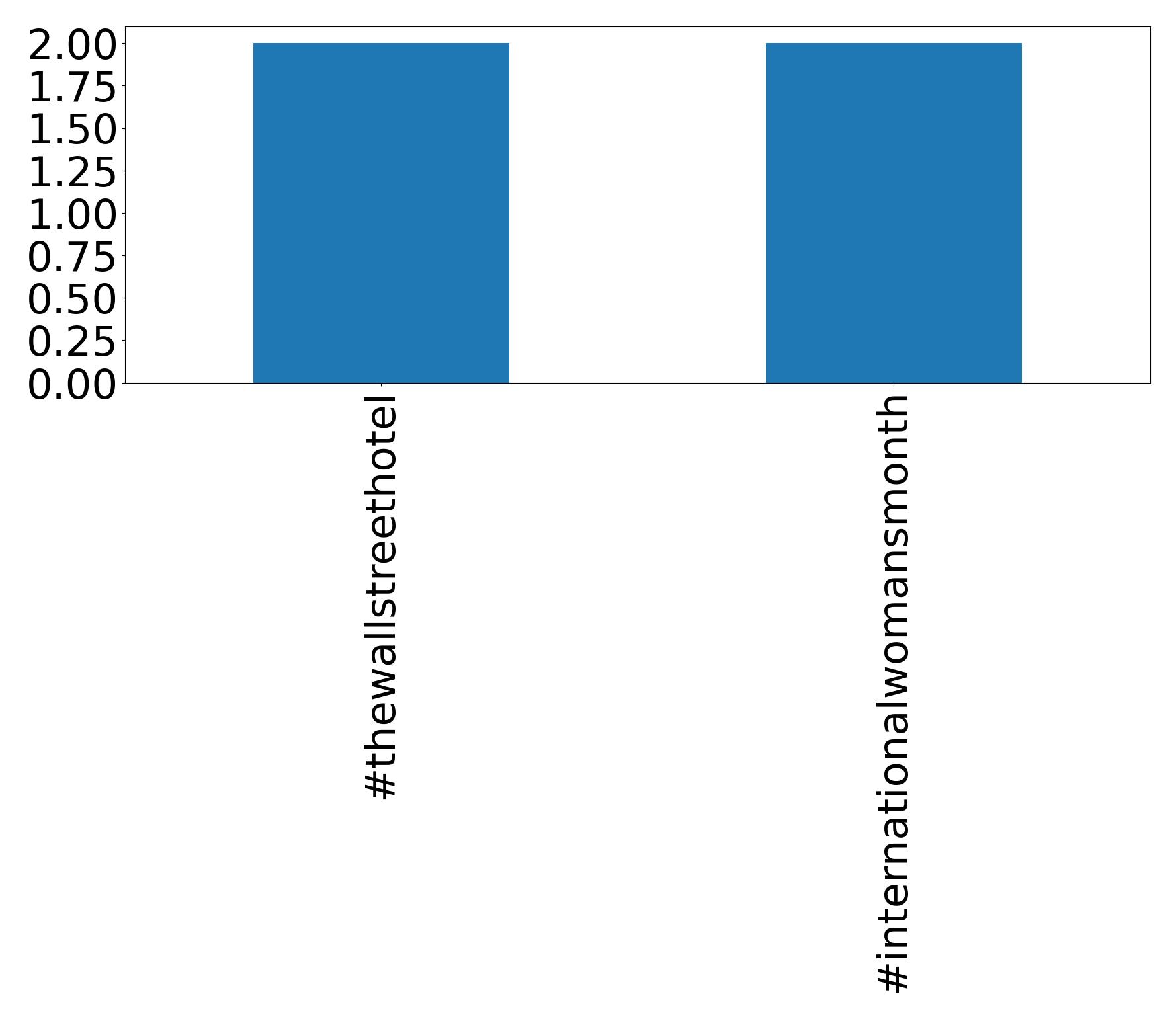 Top 10 mentions
| Mention | Count |
| --- | --- |
| @itsmalloryhagan | 5 |
| @kayfinn | 3 |
| @pingquipong | 3 |
| @mixtressnyc | 3 |
| @nicoleeckels | 3 |
| @tiffanytownsend | 3 |
| @fwaychel | 2 |
| @saraduffy | 2 |
Top 10 mentions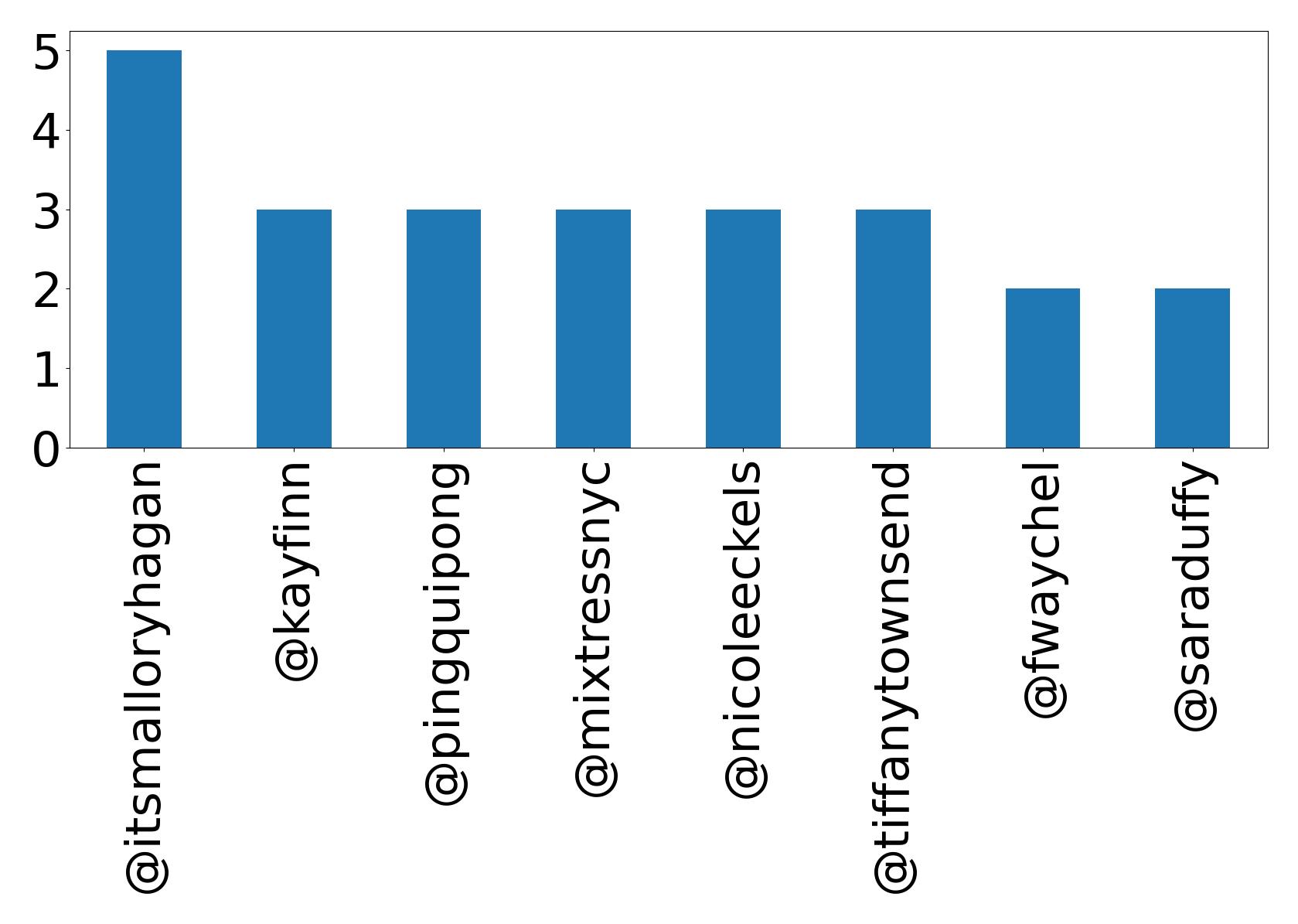 Wordcloud of Tweets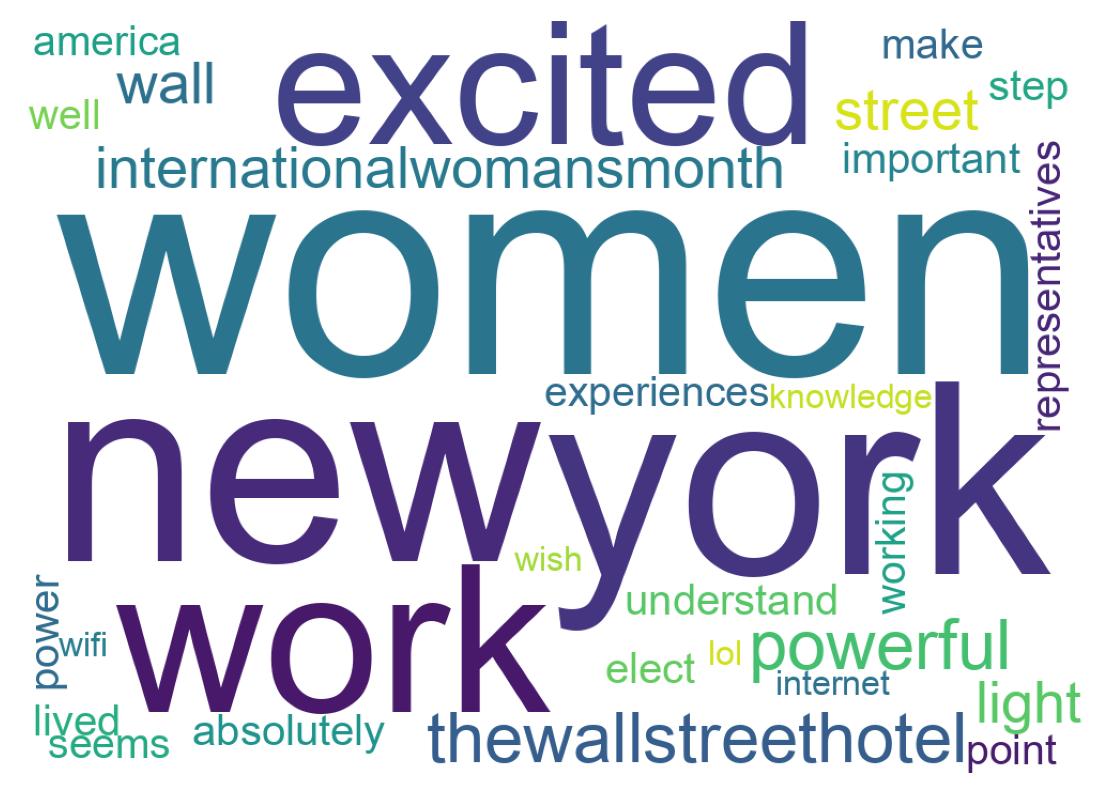 ---
Emojis
Average number of emojis used per tweet
20
Emojis used in tweets
| Emoji | Count | Emoji Text |
| --- | --- | --- |
| 🙌 | 1 | raising_hands |
Emojis groups
| Emoji Group | Count |
| --- | --- |
| People & Body | 1 |