Tweets Analysis - Keyword: @ImeldaOfficial
Total number of tweets analysed
30
Earliest tweet was on
2023-03-22
Latest tweet was on
2023-03-31
Average age of authors' accounts
10 years
---
Summarization
The tweets mention a fundraiser for Aspire Charity, which built accessible houses 30 years ago, and now has nearly 50 throughout the UK. Various Irish musicians, including Imelda May, have been featured in recent events or films. There are also references to Imelda May's music, art, and early career. Anneka Rice is mentioned several times, along with Ronnie Wood and Chanel Haynes. Finally, there is a mention of a concert at the Ivy Club in London featuring Ronnie Wood, Chanel Haynes, Imelda May, and Ben Waters in March 2023.
Topic Modeling
Charity fundraiser and support for accessibility housing
Irish music industry and recording studios
Movies and music recommendations and reviews
Appreciation for Imelda May's music and performances
Personal anecdotes and conversations with Anneka Rice, Ronnie Wood, and others
Emotional Analysis
The tweets express various emotions such as excitement, admiration, appreciation, and gratitude towards Imelda May, a musician, and her work. The tweets also express support towards AspireCharity and their cause, as well as mention of other notable musicians and their work. The tweets also convey a sense of nostalgia, reminiscing about past events and experiences with Imelda May and her music. Overall, the tweets display a positive and enthusiastic attitude towards the musicians and their contributions to the music industry.
Trend Analysis
Charity work and fundraising, specifically for Aspire Charity and their accessible housing projects
Irish music and musicians, with a focus on Camden Recording Studio and the success of artists like Niall Horan and Hozier
Praise and recommendations for Imelda May's music and performances, including mention of her involvement in events for Aspire Charity and her appearance in the film Fisherman's Friends 2
Celebrity sightings and events, including mentions of Ronnie Wood and Anneka Rice
Casual conversation and personal anecdotes, covering topics like favorite music, poetry, and how rock stars are perceived
---
Types of Tweets
Number of Retweets
7
Percentage of total tweets
23%
Number of Original tweets
8
Percentage of total tweets
26%
Number of tweets that contain Mentions
30
Percentage of total tweets
100%
Number of tweets that were Replies
14
Percentage of total tweets
46%
Number of tweets that were Quotes
2
Percentage of total tweets
6%
Number of tweets that contain Hashtags
12
Percentage of total tweets
40%
---
Top 5 devices used to tweet
| Source | Count |
| --- | --- |
| Twitter for Android | 13 |
| Twitter for iPhone | 8 |
| Twitter Web App | 4 |
| Twitter for iPad | 3 |
| GS Post To Twitter | 1 |
What devices were used to tweet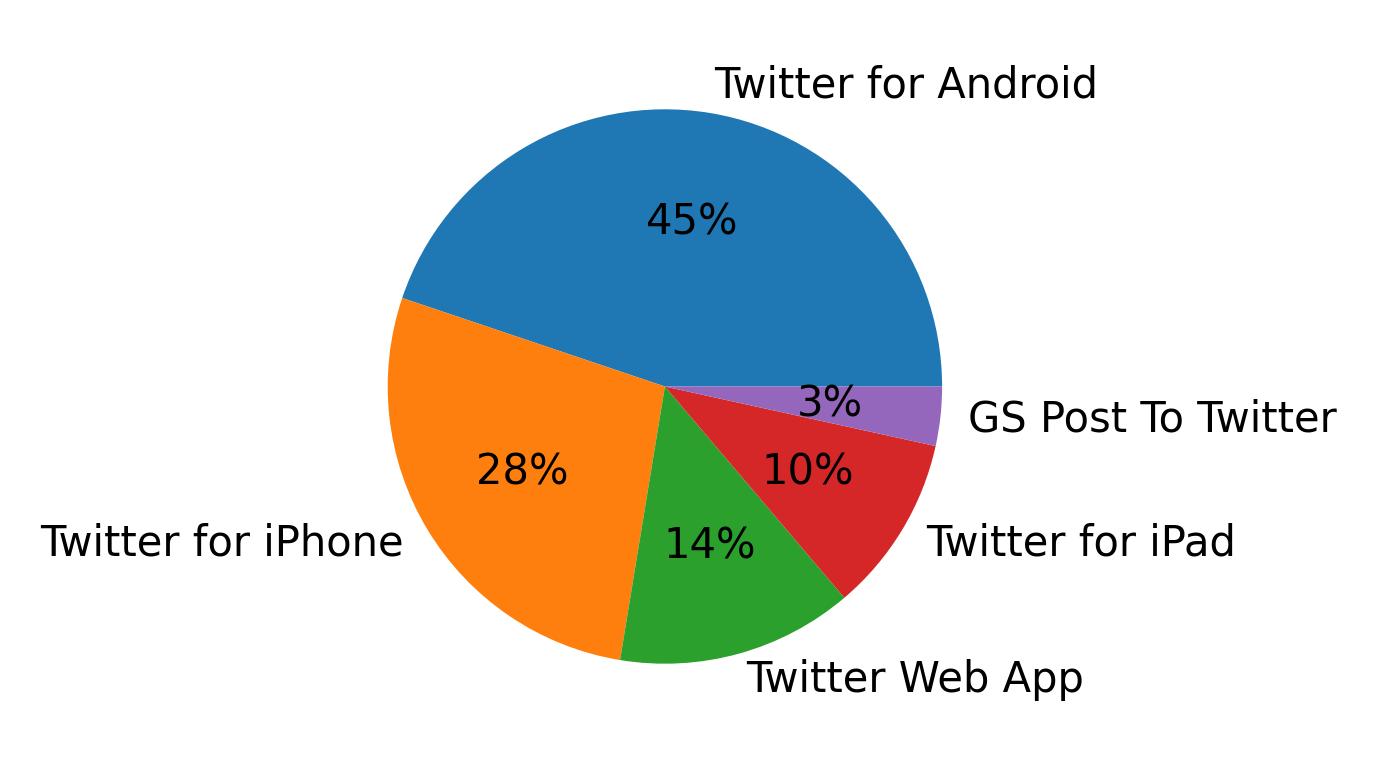 ---
Top 10 accounts with highest followers count
| Username | Name | Bio | Followers count |
| --- | --- | --- | --- |
| AnnekaRice | Anneka Rice | - | 71,847 |
| hotpress | Hot Press | Ireland's legendary music, entertainment, politics and pop culture magazine based in Dublin. | 61,537 |
| AspireCharity | Aspire | Aspire is a national charity supporting people with Spinal Cord Injury from injury to independence. | 12,342 |
| MarketingInCork | Stephen Ryan | Podcast Host @24storiestribe | MD @NarrationIE | Lecturer @MTU_ie | Digital Marketing | Social Media | PR | Speaker | Trainer | Consultant | Cork | Ireland | 8,085 |
| vinylvanity1 | Vainglorious Vinyl | THIS RECORD SHOULD BE PLAYED LOUD | 3,835 |
| A_NHDogLover | 🕊Sharon 🗽⚖ #DefendDemocracy | #WithLibertyAndJusticeForAll #WomensRightsAreHumanRights 📌Spoutible: @A_NHDogLover 📌Post: @A_NHDogLover 📌@nhdogmom@mastodon.social | 3,530 |
| Gaelgory | T-Rex Ó Saurus | Gaeilge le Spraoi. Údar 'Gaeilge Abú 1, 2, 3'. Croí na teanga í a labhairt. | 2,707 |
| 2020Exposure | 20 20 Exposure 🙏🇺🇦🙏 | 20 20 Exposure is a #notforprofit #Promotions service promoting #actors #actresses #models #theatres #stageshows #musicals #events #products #brandinfluencer | 1,762 |
| NadiaMezrar | Nadia Mezrar | Engagée #SaintPierrelèsElbeuf #MétropoleRouenNormandie #Département #SeineMaritime dans la vie tout simplement | 1,452 |
| HotSpotQuiz | H🌞t Sp🌞t Quiz 1.3k 🙏🇺🇦🙏 | The @HotSpotQuiz is a @SpeedQuizzing Powered Smartphone Quiz on - M @TheWhiteHart15 T @TheParrsWood W The @JollyHattersPub T @TheUrmston S @TheKingGeorgeWA | 1,342 |
Top 10 accounts with highest friends count
| Username | Name | Bio | Followers count |
| --- | --- | --- | --- |
| Ego9Alter | Marty | Working class. Dislikes racism and rude people. Likes good old fashioned manners and courtesy. And golf. 🏌️‍♂️⛳️ And red wine.🍷 | 5,014 |
| A_NHDogLover | 🕊Sharon 🗽⚖ #DefendDemocracy | #WithLibertyAndJusticeForAll #WomensRightsAreHumanRights 📌Spoutible: @A_NHDogLover 📌Post: @A_NHDogLover 📌@nhdogmom@mastodon.social | 5,001 |
| vinylvanity1 | Vainglorious Vinyl | THIS RECORD SHOULD BE PLAYED LOUD | 3,121 |
| MarketingInCork | Stephen Ryan | Podcast Host @24storiestribe | MD @NarrationIE | Lecturer @MTU_ie | Digital Marketing | Social Media | PR | Speaker | Trainer | Consultant | Cork | Ireland | 3,112 |
| hotpress | Hot Press | Ireland's legendary music, entertainment, politics and pop culture magazine based in Dublin. | 2,857 |
| AspireCharity | Aspire | Aspire is a national charity supporting people with Spinal Cord Injury from injury to independence. | 2,823 |
| HotSpotQuiz | H🌞t Sp🌞t Quiz 1.3k 🙏🇺🇦🙏 | The @HotSpotQuiz is a @SpeedQuizzing Powered Smartphone Quiz on - M @TheWhiteHart15 T @TheParrsWood W The @JollyHattersPub T @TheUrmston S @TheKingGeorgeWA | 2,793 |
| 2020Exposure | 20 20 Exposure 🙏🇺🇦🙏 | 20 20 Exposure is a #notforprofit #Promotions service promoting #actors #actresses #models #theatres #stageshows #musicals #events #products #brandinfluencer | 2,405 |
| pizzaital | marina s. ♏ 🌳 ✨✨✨ | ✨Italian 🇮🇹 born in #Germany #ITALEXIT ✨#Journalist:in~#Radio & #TV ✨#Tweets: #Italian #English #German | 1,883 |
| twospacesecure | Brian O ' Neill 🌏 | I always stay too long... | 1,659 |
Most active users
| Username | Bio | Number of tweets |
| --- | --- | --- |
| 2020Exposure | 20 20 Exposure is a #notforprofit #Promotions service promoting #actors #actresses #models #theatres #stageshows #musicals #events #products #brandinfluencer | 2 |
| HotSpotQuiz | The @HotSpotQuiz is a @SpeedQuizzing Powered Smartphone Quiz on - M @TheWhiteHart15 T @TheParrsWood W The @JollyHattersPub T @TheUrmston S @TheKingGeorgeWA | 2 |
| twospacesecure | I always stay too long... | 2 |
| pizzaital | ✨Italian 🇮🇹 born in #Germany #ITALEXIT ✨#Journalist:in~#Radio & #TV ✨#Tweets: #Italian #English #German | 2 |
| vinylvanity1 | THIS RECORD SHOULD BE PLAYED LOUD | 2 |
| AnnekaRice | - | 2 |
| Babyootang | - | 1 |
| greatscores | 300,000 unique and copyrighted pieces of sheet music, arranged so you can preview, play and print or download | 1 |
| AspireCharity | Aspire is a national charity supporting people with Spinal Cord Injury from injury to independence. | 1 |
| philipjdoyle | Anti-anti-woke; love Europe, also love the EU; pro-PC; big government and most definitely not 'Tommy'. Views My Own #RejoinEU #RefugeesWelcome | 1 |
---
Tweets per day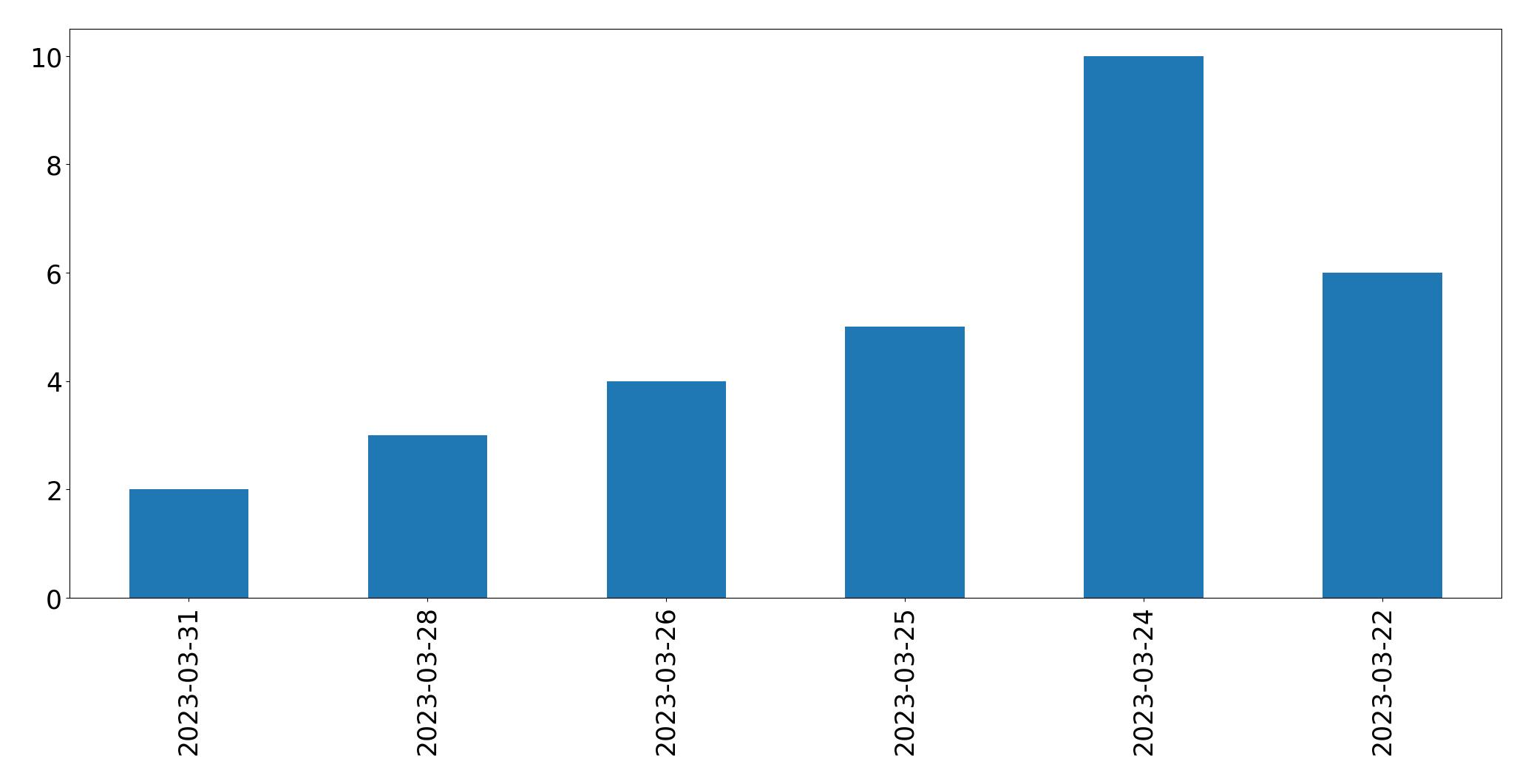 ---
Top 10 tweets with highest Retweet count
| ID | Text | Retweet count |
| --- | --- | --- |
| 1639160255694372864 | Fundraiser for ⁦@AspireCharity⁩. 30 yrs ago on #ChallengeAnneka we built 2 specially adapted houses for wheelchair users. Now the charity have nearly 50 accessible houses round the UK. @ronniewood⁩ was playing with ⁦@ImeldaOfficial⁩ and Chanel Haynes. EPIC evening! https://t.co/1ufAwDZN5l | 6 |
| 1639449693393387521 | If you're looking for a fantastic Feel Good film. Here at @HotSpotQuiz we have just watch the amazing #FishermensFriends2 @AmazonUK If you loved their first film you just have to check-out the sequel. It features @JamesPurefoy @ImeldaOfficial #itsokaytonotbeokay #AndysManClub https://t.co/0DHDTg3d7p | 3 |
| 1639973647484956672 | Wow! Take a listen to the incredible @ImeldaOfficial & let her words & breathless emotive voice & creativity wrap themselves around your hearts & minds. She has captured in vocal form the rhythm & passion of life. The mesmerising lilt in her voice instantly posses your attention. https://t.co/2MLgM2sVtv | 2 |
| 1641755563372494848 | ✨✨✨ 🔸The #IvyClub~#London (23.#March 2023') #LIVE 🔸#RonnieWood #ChanelHaynes, #ImeldaMay #BenWaters.. 🔹(@ronniewood) 🔹(@ImeldaOfficial) 🔹#Song: 'Proud Mary' 🎶 [#Creedence~#Clearwater~ #Revival/#CCR] 🔸#Video via: (#MattLee) ⏬ https://t.co/HNP8TZpcE9 https://t.co/mDxu2kRnGS | 1 |
| 1638485128941826049 | #IrishMusicMonth: Lauded producer Cian Boylan tells us what awaits the A New Local Hero winners in @camdenrecording, which has become a Mecca for both new acts and established superstars like @NiallOfficial @ImeldaOfficial @Hozier and more. @IMROireland https://t.co/znVkG3GYtD | 1 |
| 1639186498603057152 | @AnnekaRice @AspireCharity @ronniewood @ImeldaOfficial I'm sure you look great. I stayed later than you last night and I'm struggling to get going for work this morning. Going to the club next door with the Ben crew was too much for me! | 0 |
| 1638549180485451776 | @ImeldaOfficial Love this! https://t.co/RlgFCCHOq1 | 0 |
| 1638605229372350471 | @ImeldaOfficial Its by, Spike Milligan❤ | 0 |
| 1638691415986438144 | What a great advert for Ireland the "Homecoming" film with @U2 & @Letterman is on @DisneyPlus Great to see @ImeldaOfficial @DermotKennedy @PantiBliss @Glen_Hansard and many more familiar Irish faces feature on it also. Well worth a watch https://t.co/lsqubtCgZJ | 0 |
| 1639183374160986113 | @ImeldaOfficial Not as good as 'Home' , but fun trying to find one ! #WorldPoetryDay https://t.co/4Gnnck2S56 | 0 |
Top 10 tweets with highest Like count
| ID | Text | Like count |
| --- | --- | --- |
| 1639160255694372864 | Fundraiser for ⁦@AspireCharity⁩. 30 yrs ago on #ChallengeAnneka we built 2 specially adapted houses for wheelchair users. Now the charity have nearly 50 accessible houses round the UK. @ronniewood⁩ was playing with ⁦@ImeldaOfficial⁩ and Chanel Haynes. EPIC evening! https://t.co/1ufAwDZN5l | 176 |
| 1638485128941826049 | #IrishMusicMonth: Lauded producer Cian Boylan tells us what awaits the A New Local Hero winners in @camdenrecording, which has become a Mecca for both new acts and established superstars like @NiallOfficial @ImeldaOfficial @Hozier and more. @IMROireland https://t.co/znVkG3GYtD | 6 |
| 1638691415986438144 | What a great advert for Ireland the "Homecoming" film with @U2 & @Letterman is on @DisneyPlus Great to see @ImeldaOfficial @DermotKennedy @PantiBliss @Glen_Hansard and many more familiar Irish faces feature on it also. Well worth a watch https://t.co/lsqubtCgZJ | 6 |
| 1639449693393387521 | If you're looking for a fantastic Feel Good film. Here at @HotSpotQuiz we have just watch the amazing #FishermensFriends2 @AmazonUK If you loved their first film you just have to check-out the sequel. It features @JamesPurefoy @ImeldaOfficial #itsokaytonotbeokay #AndysManClub https://t.co/0DHDTg3d7p | 5 |
| 1639973647484956672 | Wow! Take a listen to the incredible @ImeldaOfficial & let her words & breathless emotive voice & creativity wrap themselves around your hearts & minds. She has captured in vocal form the rhythm & passion of life. The mesmerising lilt in her voice instantly posses your attention. https://t.co/2MLgM2sVtv | 3 |
| 1639298967291805697 | they organised a little gig for Aspire with Ben Waters' band, @ImeldaOfficial, Chanel Haynes & @ronniewood. @AnnekaRice was there to remind everyone of Aspire's work (through #ChallengeAnneka, she was responsible for our first two accessible houses). | 2 |
| 1641755563372494848 | ✨✨✨ 🔸The #IvyClub~#London (23.#March 2023') #LIVE 🔸#RonnieWood #ChanelHaynes, #ImeldaMay #BenWaters.. 🔹(@ronniewood) 🔹(@ImeldaOfficial) 🔹#Song: 'Proud Mary' 🎶 [#Creedence~#Clearwater~ #Revival/#CCR] 🔸#Video via: (#MattLee) ⏬ https://t.co/HNP8TZpcE9 https://t.co/mDxu2kRnGS | 1 |
| 1640674295943688195 | @D0m_Sm1th They done give me how, but I always smile when listening to @BronnieMusic and @ImeldaOfficial. I have them on in the car pretty much everyday!! | 1 |
| 1638549180485451776 | @ImeldaOfficial Love this! https://t.co/RlgFCCHOq1 | 1 |
| 1639289155552256003 | @AnnekaRice @AspireCharity @ronniewood @ImeldaOfficial Pop down and see us soon! #aspire #spinalcordinjury | 1 |
Top 3 Languages Used In Tweets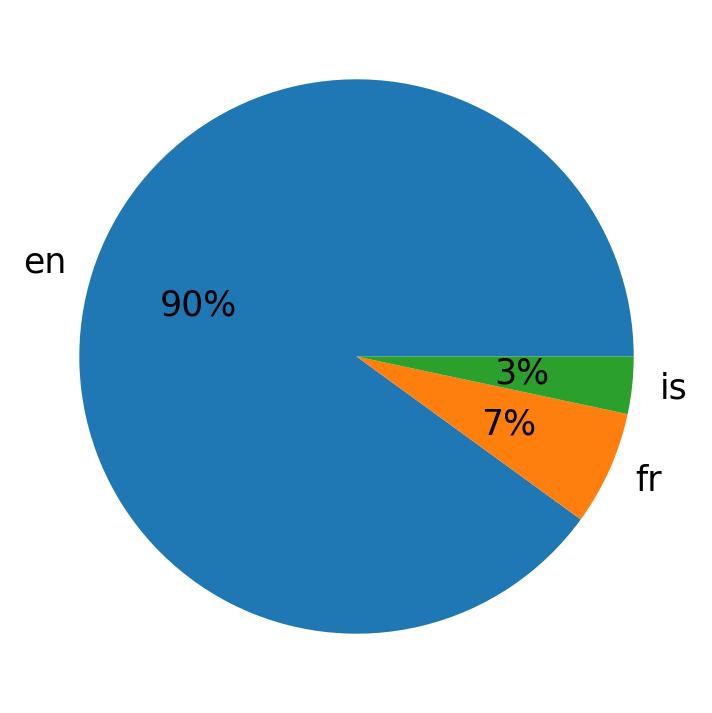 ---
Top 10 Hashtags used
| Hashtag | Count |
| --- | --- |
| #challengeanneka | 3 |
| #ivyclub | 2 |
| #london | 2 |
| #march | 2 |
| #live | 2 |
| #ronniewood | 2 |
| #chanelhaynes | 2 |
| #imeldamay | 2 |
| #benwaters | 2 |
| #song | 2 |
Top 10 Hashtags Used In Tweets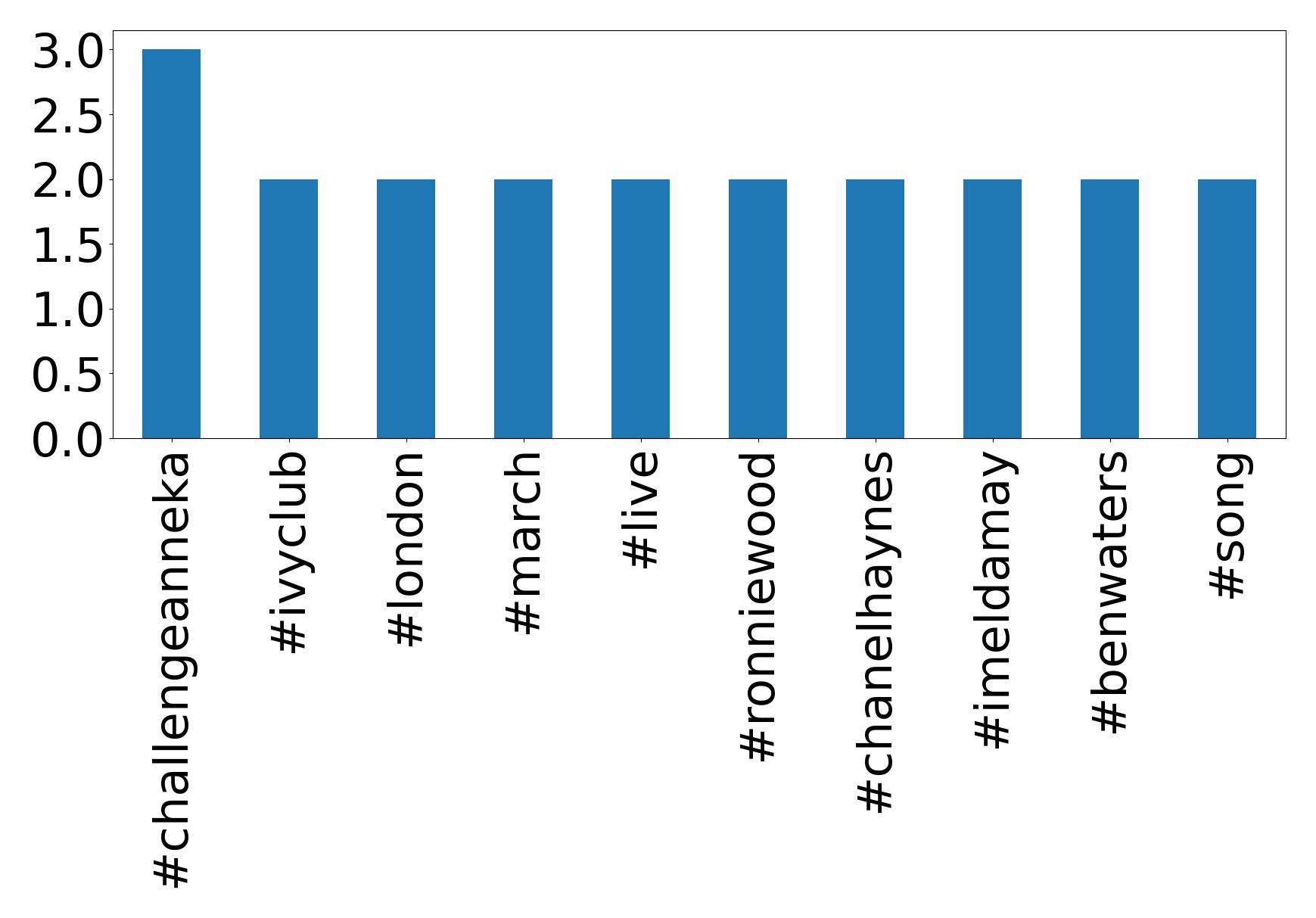 Top 10 mentions
| Mention | Count |
| --- | --- |
| @imeldaofficial | 30 |
| @ronniewood | 11 |
| @aspirecharity | 8 |
| @annekarice | 7 |
| @hotspotquiz | 4 |
| @amazonuk | 2 |
| @jamespurefoy | 2 |
| @pizzaital | 1 |
| @d0m_sm1th | 1 |
| @bronniemusic | 1 |
Top 10 mentions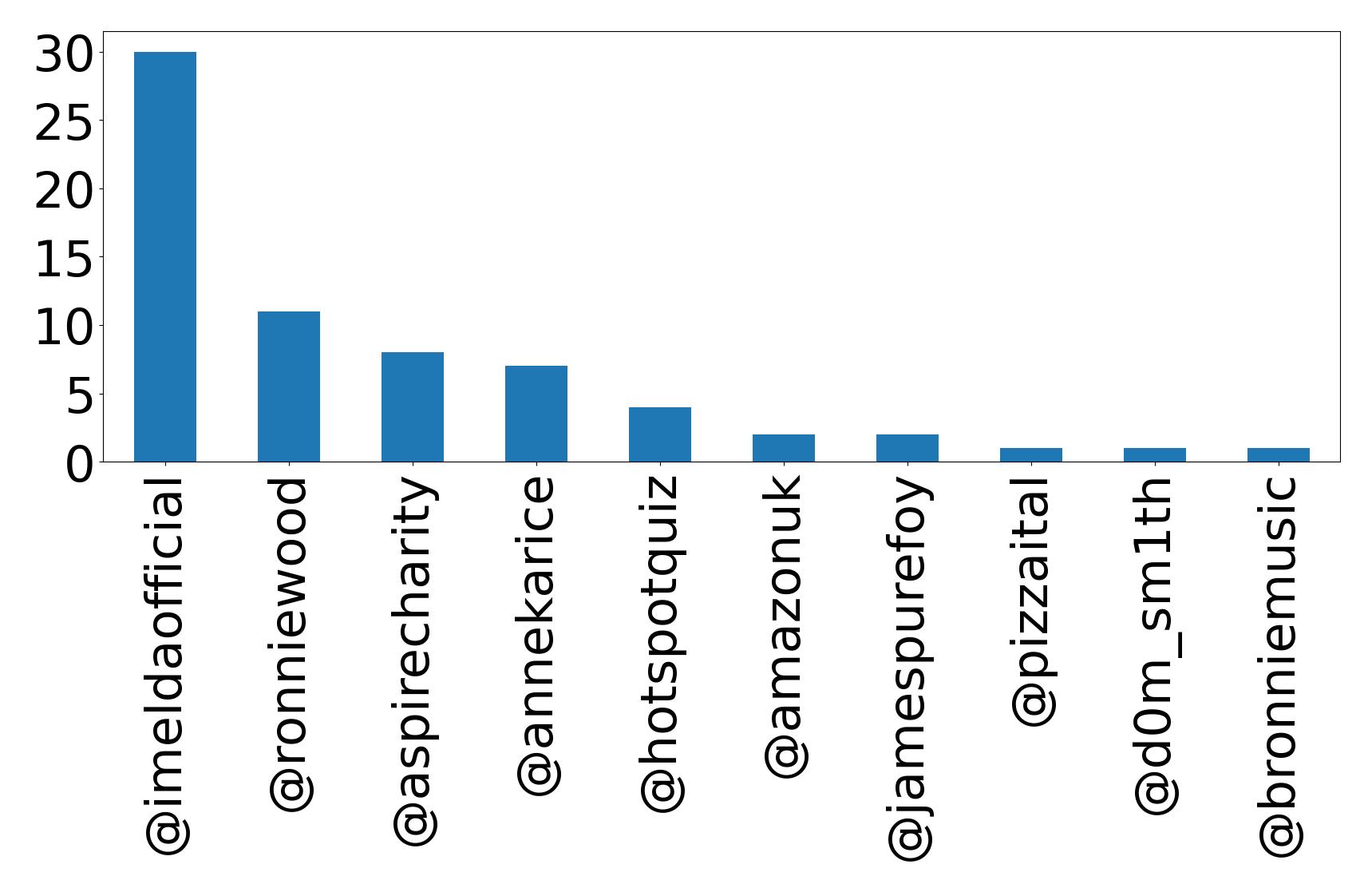 Wordcloud of Tweets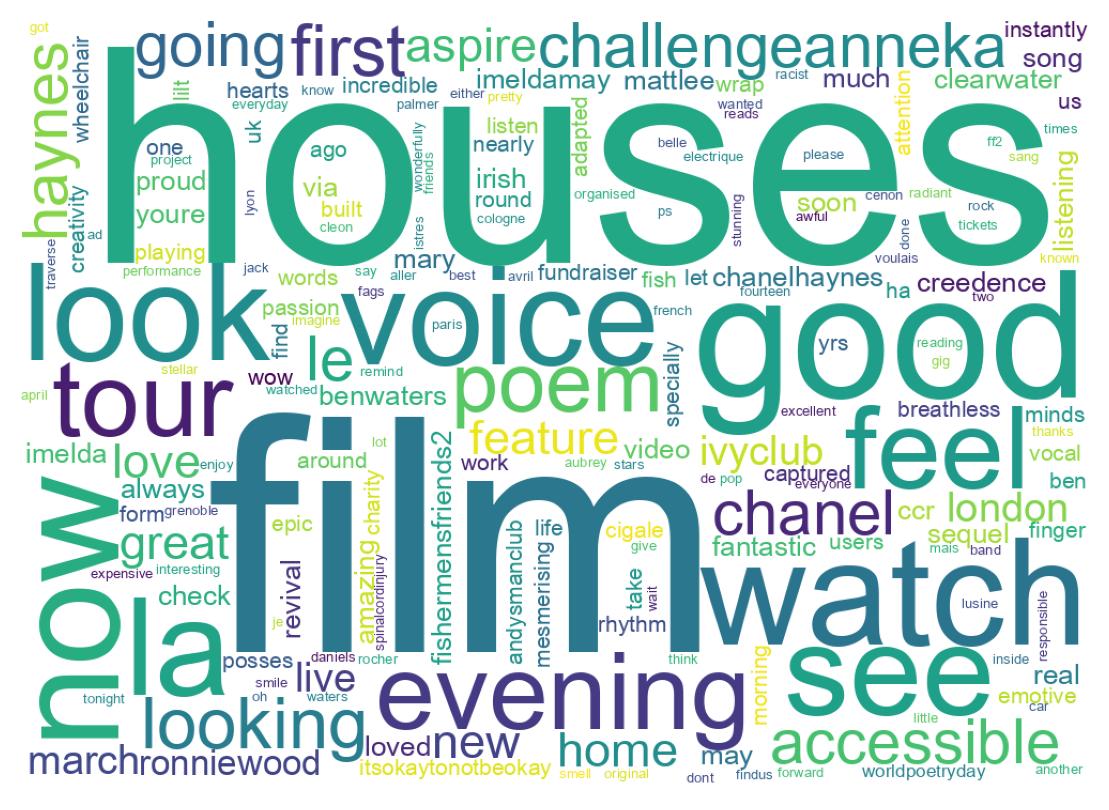 ---
Emojis
Average number of emojis used per tweet
96
Emojis used in tweets
| Emoji | Count | Emoji Text |
| --- | --- | --- |
| ✨ | 6 | sparkles |
| 🔸 | 6 | small_orange_diamond |
| 🔹 | 6 | small_blue_diamond |
| 👏 | 3 | clapping_hands |
| 🎶 | 2 | musical_notes |
| ⏬ | 2 | fast_down_button |
| 🤞 | 1 | crossed_fingers |
| 😳 | 1 | flushed_face |
| 🖼️ | 1 | framed_picture |
| ❤ | 1 | red_heart |
Emojis groups
| Emoji Group | Count |
| --- | --- |
| Symbols | 14 |
| Activities | 7 |
| People & Body | 4 |
| Objects | 2 |
| Smileys & Emotion | 2 |