Tweets Analysis - Keyword: @honeymahogany
Total number of tweets analysed
20
Earliest tweet was on
2023-03-16
Latest tweet was on
2023-03-25
Average age of authors' accounts
11 years
---
Summarization
The tweets promote various events and appearances featuring the personalities of @SisterRoma and @honeymahogany, such as a costume contest for the movie "Vertigo," an award dinner for @CFTunion, a drag rally at City Hall, and a mention about political endorsements. They also thank @honeymahogany for her advocacy work and feature pictures of her at events with other people.
Topic Modeling
"Vertigo" screening event at Vogue Theatre
Appreciation for Honeymahogany's involvement and advocacy
Participation in LGBTQ+ events and drag culture
Political endorsements and opinions
Request for action and advocacy from Honeymahogany
Emotional Analysis
The emotion expressed in these tweets range from excitement, gratitude, admiration, and support for the people mentioned. There is excitement and anticipation for the upcoming event, "Vertigo," and the costume contest that will be judged by @SisterRoma and @honeymahogany. There is also gratitude for @honeymahogany's advocacy and presence at events such as @CFTunion's Award Dinner, and admiration for her as a hero. Additionally, there is support for @honeymahogany's activism, as seen in the hashtag #dragisnotacrime, and a call for her to raise her voice on a certain issue.
Trend Analysis
Celebrity appearances: @SisterRoma and @honeymahogany are mentioned multiple times as judges, hosts, or guests
LGBTQ activism: events and initiatives that support the LGBTQ community, such as DRAG UP! FIGHT BACK!, are promoted
Movies and art: "Vertigo" screening with a costume contest, appreciation for "Hitchcock masterpiece" on the big screen
Gratitude: multiple tweets express thanks to @honeymahogany for her involvement in events or causes
Political commentary: one tweet mentions the rejection of an "extreme brand" with a reference to a DSA group
---
Types of Tweets
Number of Retweets
8
Percentage of total tweets
40%
Number of Original tweets
6
Percentage of total tweets
30%
Number of tweets that contain Mentions
20
Percentage of total tweets
100%
Number of tweets that were Replies
4
Percentage of total tweets
20%
Number of tweets that were Quotes
4
Percentage of total tweets
20%
Number of tweets that contain Hashtags
4
Percentage of total tweets
20%
---
Top 5 devices used to tweet
| Source | Count |
| --- | --- |
| Twitter for iPhone | 11 |
| Twitter Web App | 5 |
| Twitter for iPad | 3 |
| Twitter for Android | 1 |
What devices were used to tweet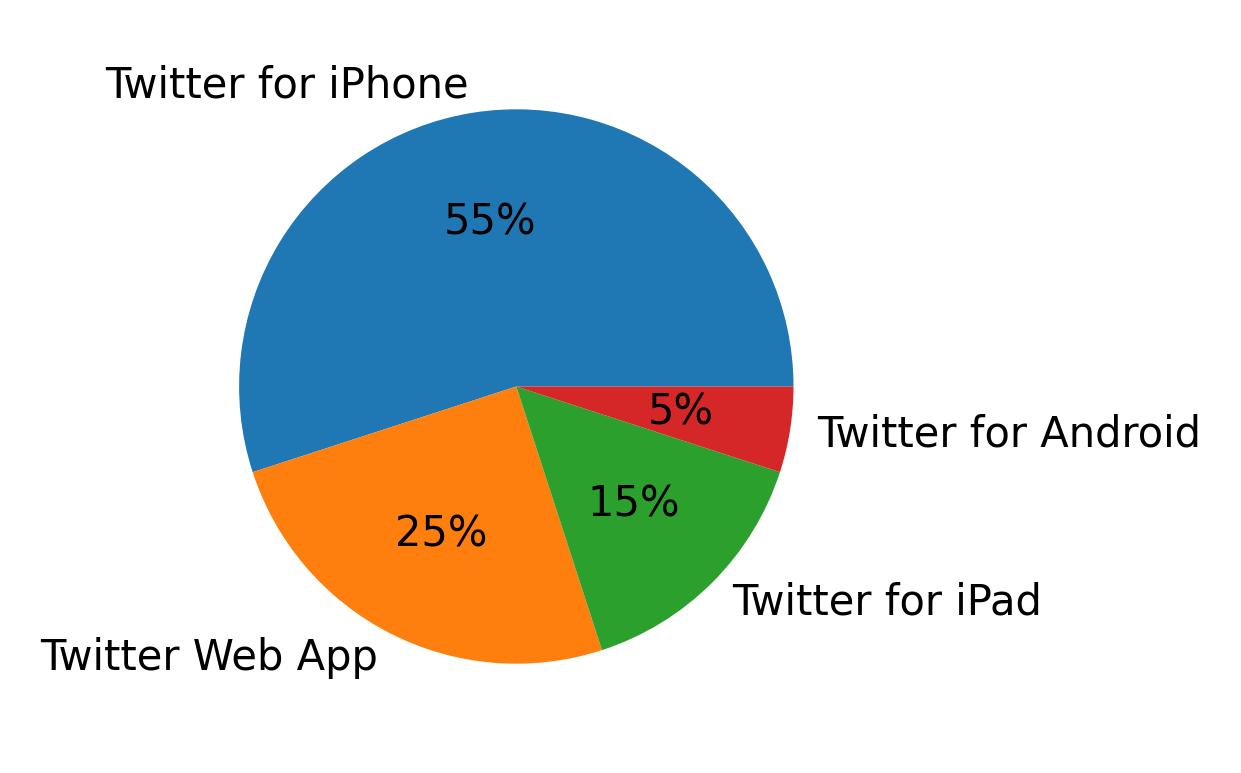 ---
Top 10 accounts with highest followers count
| Username | Name | Bio | Followers count |
| --- | --- | --- | --- |
| hknightsf | Heather Knight | San Francisco Chronicle columnist; co-host of #TotalSF podcast; co-founder of #TotalMuni2018, #49MileMakeover, #TotalTransit2022; public transit fan | 45,738 |
| SisterRoma | Sister Roma | Activist/Fundraiser. Emcee/Host. Queer Icon. The Most Photographed Nun In The World™ Creative Director at Falcon | NakedSword | 27,397 |
| mmrohrer | Megan Rohrer | (he/him) trans, crip (disabled) activist, author & theologian. Former Bishop. Seen on Queer Eye. | 4,897 |
| TonyBravoSF | Tony Bravo | San Francisco Chronicle Arts and Culture columnist. He/Him. | 4,056 |
| KarinaVlaw | Karina Velásquez 🇻🇪🇺🇸 proud Latina! | Your typical Latina firecracker~Almae Matres: @CDH_UCAB & @SantaClaraUniv~Immigration Attorney~Doggie mammy~Moderate Democrat~People over Political Party | 2,442 |
| jjinsf | jjinsf | Documentary filmmaker in San Francisco. Urban explorer. Big fan of democracy, pie, opera, and SF Giants baseball. find me on Mastodon @jjinsf@sfba.social | 1,676 |
| dpworks | Bob | A volunteer community service organization engaged with Dolores Park, San Francisco's favorite park. | 1,657 |
| Meaghan_M | Meaghan M. Mitchell | SF Native 📍Partnerships @sfstandard | Old Flex: Jump Bikes by @uber - Neighborhood Editor @hoodline I ✊🏾Opinions r my own | 1,636 |
| jeff_freitas | (((Jeff Freitas))) | Fighter for a Quality Public Education, Pre-K through University. President of CFT. #OrganizeResist (Views are my own) 🌈✊🏼👨🏼‍🏫 he/him/his | 1,563 |
| LaraLucha | Frank Lara (雷凤) | Spanglish educator in SF, labor leader of UESF, ANSWER organizer, PSL member, and all-around luchador. ¡El pueblo unido, jamas sera vencido! | 832 |
Top 10 accounts with highest friends count
| Username | Name | Bio | Followers count |
| --- | --- | --- | --- |
| SisterRoma | Sister Roma | Activist/Fundraiser. Emcee/Host. Queer Icon. The Most Photographed Nun In The World™ Creative Director at Falcon | NakedSword | 3,238 |
| jjinsf | jjinsf | Documentary filmmaker in San Francisco. Urban explorer. Big fan of democracy, pie, opera, and SF Giants baseball. find me on Mastodon @jjinsf@sfba.social | 3,190 |
| dpworks | Bob | A volunteer community service organization engaged with Dolores Park, San Francisco's favorite park. | 3,031 |
| TonyBravoSF | Tony Bravo | San Francisco Chronicle Arts and Culture columnist. He/Him. | 2,008 |
| jeff_freitas | (((Jeff Freitas))) | Fighter for a Quality Public Education, Pre-K through University. President of CFT. #OrganizeResist (Views are my own) 🌈✊🏼👨🏼‍🏫 he/him/his | 1,904 |
| hknightsf | Heather Knight | San Francisco Chronicle columnist; co-host of #TotalSF podcast; co-founder of #TotalMuni2018, #49MileMakeover, #TotalTransit2022; public transit fan | 1,825 |
| Meaghan_M | Meaghan M. Mitchell | SF Native 📍Partnerships @sfstandard | Old Flex: Jump Bikes by @uber - Neighborhood Editor @hoodline I ✊🏾Opinions r my own | 1,821 |
| CitizenJeeves | Citizen Jeeves 🌻 | Baseball Fan ⚾️, Organ Donation Advocate ♻️, Proud American 🦅, Punjabi Girl 🎉 | 1,386 |
| IngridGunnell | Ingrid Gunnell | - | 1,009 |
| botoxedbuddhist | Botoxed Buddhist | engaged buddhism. socialist. queer. | 1,007 |
Most active users
| Username | Bio | Number of tweets |
| --- | --- | --- |
| LaraLucha | Spanglish educator in SF, labor leader of UESF, ANSWER organizer, PSL member, and all-around luchador. ¡El pueblo unido, jamas sera vencido! | 2 |
| jjinsf | Documentary filmmaker in San Francisco. Urban explorer. Big fan of democracy, pie, opera, and SF Giants baseball. find me on Mastodon @jjinsf@sfba.social | 2 |
| hknightsf | San Francisco Chronicle columnist; co-host of #TotalSF podcast; co-founder of #TotalMuni2018, #49MileMakeover, #TotalTransit2022; public transit fan | 2 |
| CitizenJeeves | Baseball Fan ⚾️, Organ Donation Advocate ♻️, Proud American 🦅, Punjabi Girl 🎉 | 1 |
| bclum1974 | Professor, activist, photographer, unionist. Tweets from this account are my own. They do not represent any of the organizations I am part of. | 1 |
| mmrohrer | (he/him) trans, crip (disabled) activist, author & theologian. Former Bishop. Seen on Queer Eye. | 1 |
| jeff_freitas | Fighter for a Quality Public Education, Pre-K through University. President of CFT. #OrganizeResist (Views are my own) 🌈✊🏼👨🏼‍🏫 he/him/his | 1 |
| dpworks | A volunteer community service organization engaged with Dolores Park, San Francisco's favorite park. | 1 |
| botoxedbuddhist | engaged buddhism. socialist. queer. | 1 |
| TonyBravoSF | San Francisco Chronicle Arts and Culture columnist. He/Him. | 1 |
---
Tweets per day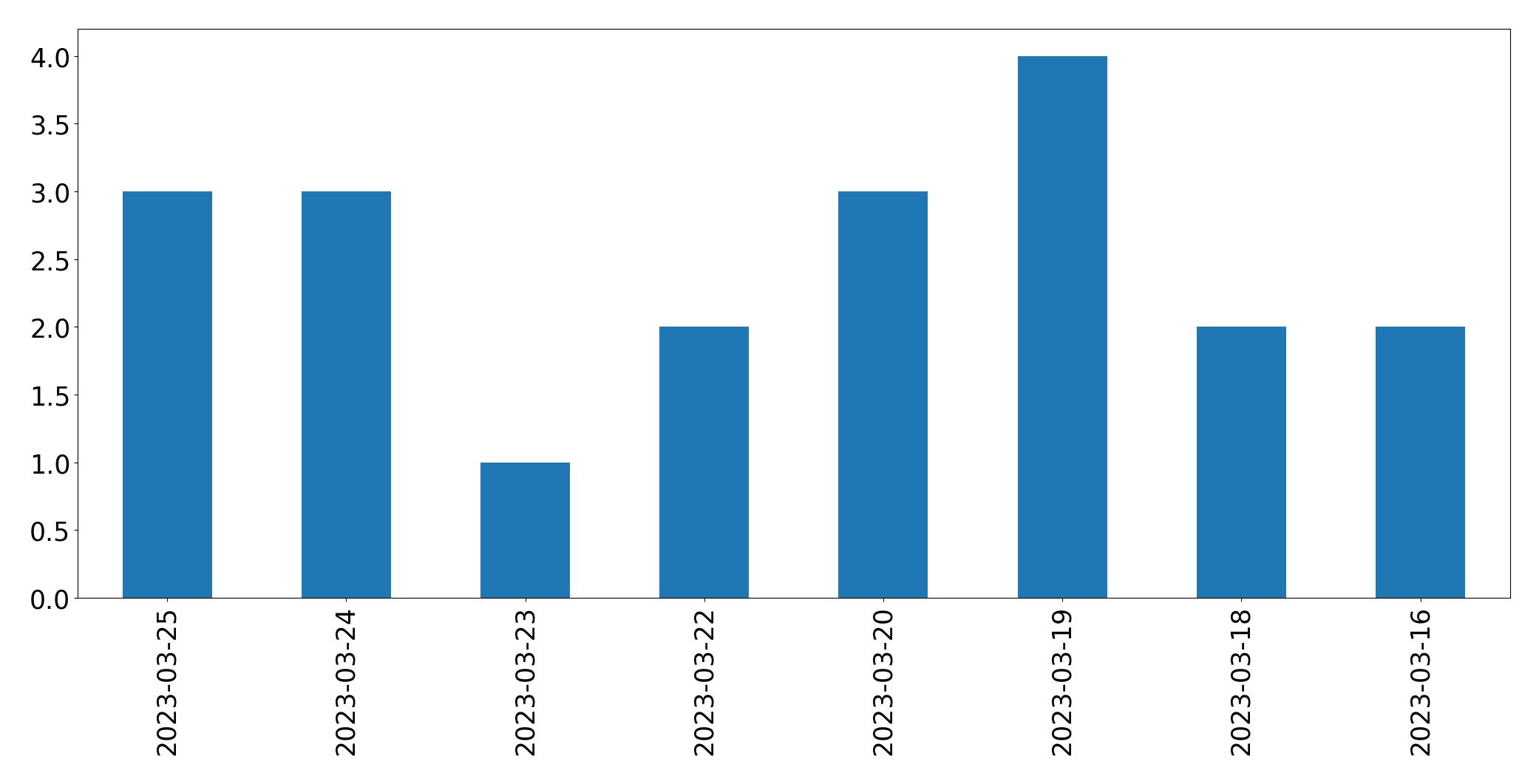 ---
Top 10 tweets with highest Retweet count
| ID | Text | Retweet count |
| --- | --- | --- |
| 1638546345391968257 | First up: "Vertigo" at the @VogueTheatre! 7 pm April 6. Wear your finest 1950s, noir-style attire for a pre-movie costume contest judged by the fabulous @SisterRoma and @honeymahogany. There will be prizes! Tix: https://t.co/VVG4yxyprG | 5 |
| 1639471544668925952 | With @SisterRoma, @honeymahogany, Snaxx and *two* bagpipers. #TotalSF https://t.co/WQe0K75ZLl | 4 |
| 1639384782873432064 | Join us for DRAG UP! FIGHT BACK! on April 8; meet at City Hall at 11 AM @SisterRoma @honeymahogany @DarcyDrollinger @KochinaRude @Persia415 #LGBTQ #dragisnotacrime https://t.co/2dOYzou008 | 1 |
| 1639367844600365065 | Up first on April 6- "Vertigo" at @VogueTheatre with a special '50s chic costume contest judged by @SisterRoma and @honeymahogany The Hitchcock masterpiece always looks incredible on the big screen, and so does S.F.! https://t.co/r9dWP3YdTB | 1 |
| 1637858245489610753 | Thank you, ⁦@honeymahogany⁩ for being the MC for ⁦@CFTunion⁩'s Award Dinner. We are awed by your advocacy and you were able and willing to honor our awardees. Thank you! https://t.co/9HuNlN0j7I | 1 |
| 1637490310992527361 | That you to a hero of mine @honeymahogany for spending your Saturday night with us @UESF @CFTunion @Ms_Curiel https://t.co/vbHirYS8JH | 1 |
| 1638631857062555650 | @hknightsf @VogueTheatre @SisterRoma @honeymahogany Done!! Got our tix. | 0 |
| 1637836698301386755 | Pic with @honeymahogany @kelseyiino and @jeff_freitas after the @CFTunion awards dinner https://t.co/Tkx6vASgEg | 0 |
| 1637523886068891649 | @Daniel___Owens Ask @honeymahogany why she ordered to SF Dems to endorse this troll? But the beauty of elections is that her extreme brand dsa lunatics has been rejected over and over again even she lost. | 0 |
| 1637319304340439040 | Thank you @honeymahogany for spending your evening with @CFTunion . https://t.co/VycnJYpqu7 | 0 |
Top 10 tweets with highest Like count
| ID | Text | Like count |
| --- | --- | --- |
| 1638546345391968257 | First up: "Vertigo" at the @VogueTheatre! 7 pm April 6. Wear your finest 1950s, noir-style attire for a pre-movie costume contest judged by the fabulous @SisterRoma and @honeymahogany. There will be prizes! Tix: https://t.co/VVG4yxyprG | 29 |
| 1637858245489610753 | Thank you, ⁦@honeymahogany⁩ for being the MC for ⁦@CFTunion⁩'s Award Dinner. We are awed by your advocacy and you were able and willing to honor our awardees. Thank you! https://t.co/9HuNlN0j7I | 21 |
| 1639471544668925952 | With @SisterRoma, @honeymahogany, Snaxx and *two* bagpipers. #TotalSF https://t.co/WQe0K75ZLl | 17 |
| 1637319304340439040 | Thank you @honeymahogany for spending your evening with @CFTunion . https://t.co/VycnJYpqu7 | 16 |
| 1637836698301386755 | Pic with @honeymahogany @kelseyiino and @jeff_freitas after the @CFTunion awards dinner https://t.co/Tkx6vASgEg | 8 |
| 1637490310992527361 | That you to a hero of mine @honeymahogany for spending your Saturday night with us @UESF @CFTunion @Ms_Curiel https://t.co/vbHirYS8JH | 6 |
| 1639367844600365065 | Up first on April 6- "Vertigo" at @VogueTheatre with a special '50s chic costume contest judged by @SisterRoma and @honeymahogany The Hitchcock masterpiece always looks incredible on the big screen, and so does S.F.! https://t.co/r9dWP3YdTB | 5 |
| 1639384782873432064 | Join us for DRAG UP! FIGHT BACK! on April 8; meet at City Hall at 11 AM @SisterRoma @honeymahogany @DarcyDrollinger @KochinaRude @Persia415 #LGBTQ #dragisnotacrime https://t.co/2dOYzou008 | 4 |
| 1638631857062555650 | @hknightsf @VogueTheatre @SisterRoma @honeymahogany Done!! Got our tix. | 2 |
| 1637523886068891649 | @Daniel___Owens Ask @honeymahogany why she ordered to SF Dems to endorse this troll? But the beauty of elections is that her extreme brand dsa lunatics has been rejected over and over again even she lost. | 1 |
Top 3 Languages Used In Tweets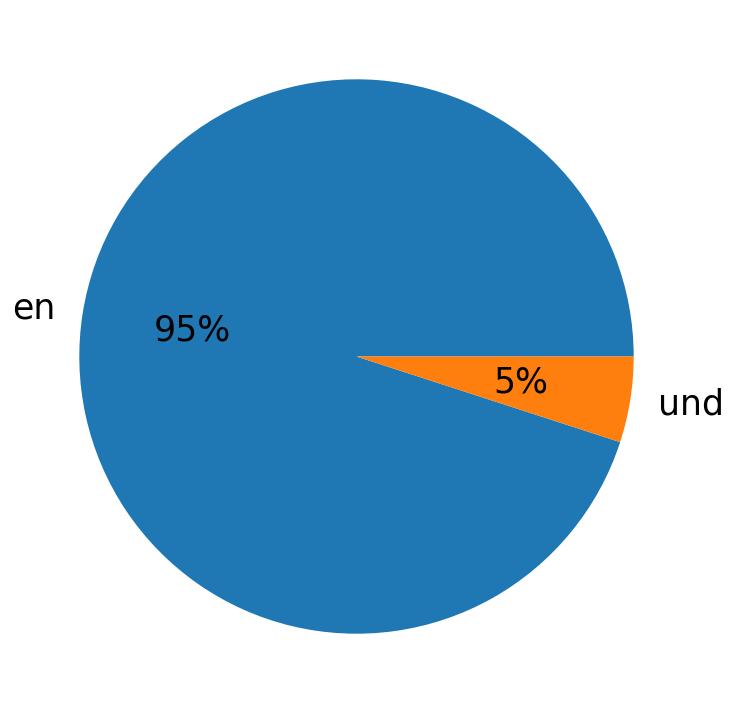 ---
Top 10 Hashtags used
| Hashtag | Count |
| --- | --- |
| #totalsf | 2 |
| #lgbtq | 2 |
| #dragisnotacrime | 2 |
Top 10 Hashtags Used In Tweets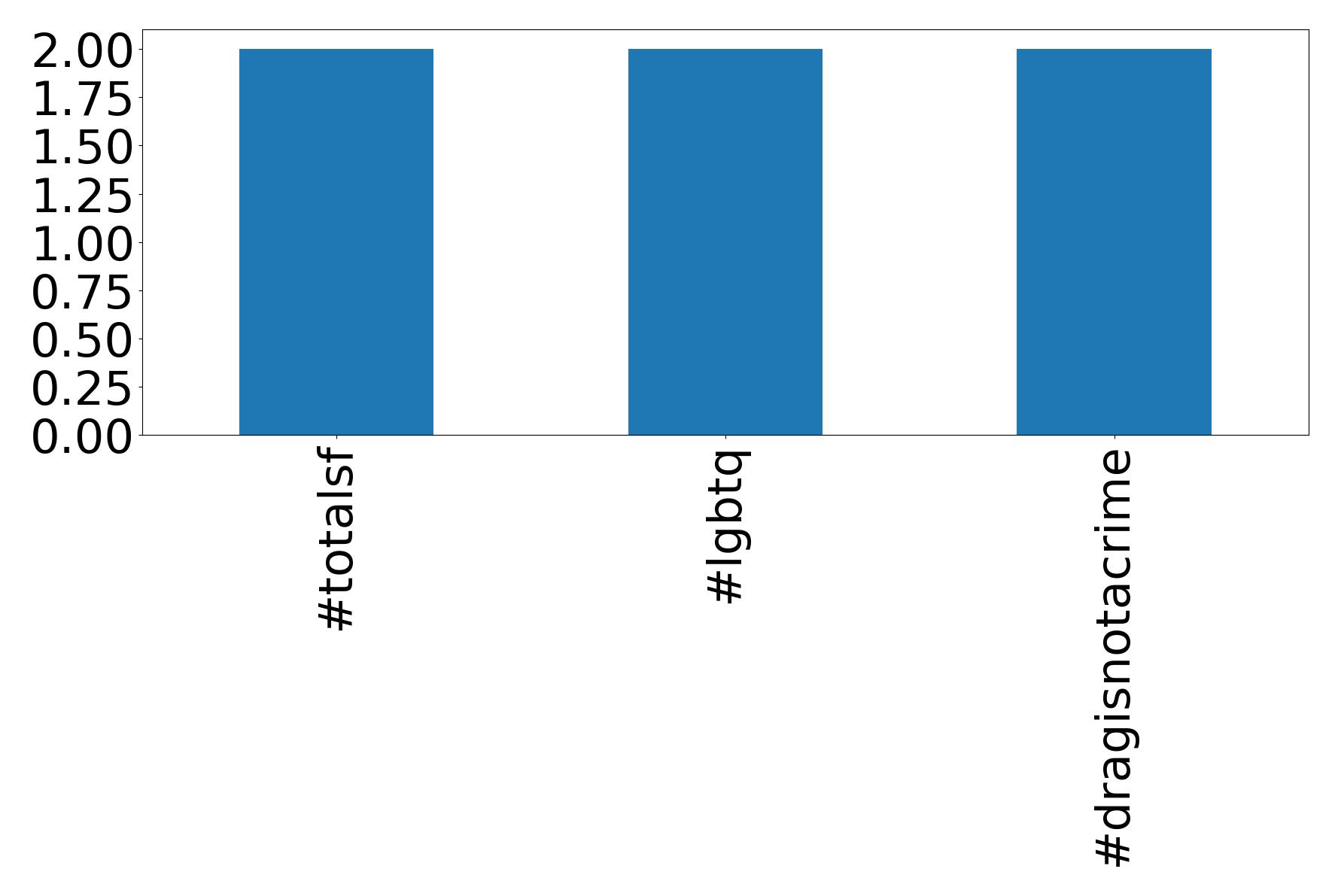 Top 10 mentions
| Mention | Count |
| --- | --- |
| @honeymahogany | 20 |
| @sisterroma | 9 |
| @cftunion | 6 |
| @voguetheatre | 5 |
| @hknightsf | 3 |
| @darcydrollinger | 2 |
| @kochinarude | 2 |
| @persia415 | 2 |
| @jeff_freitas | 2 |
| @uesf | 2 |
Top 10 mentions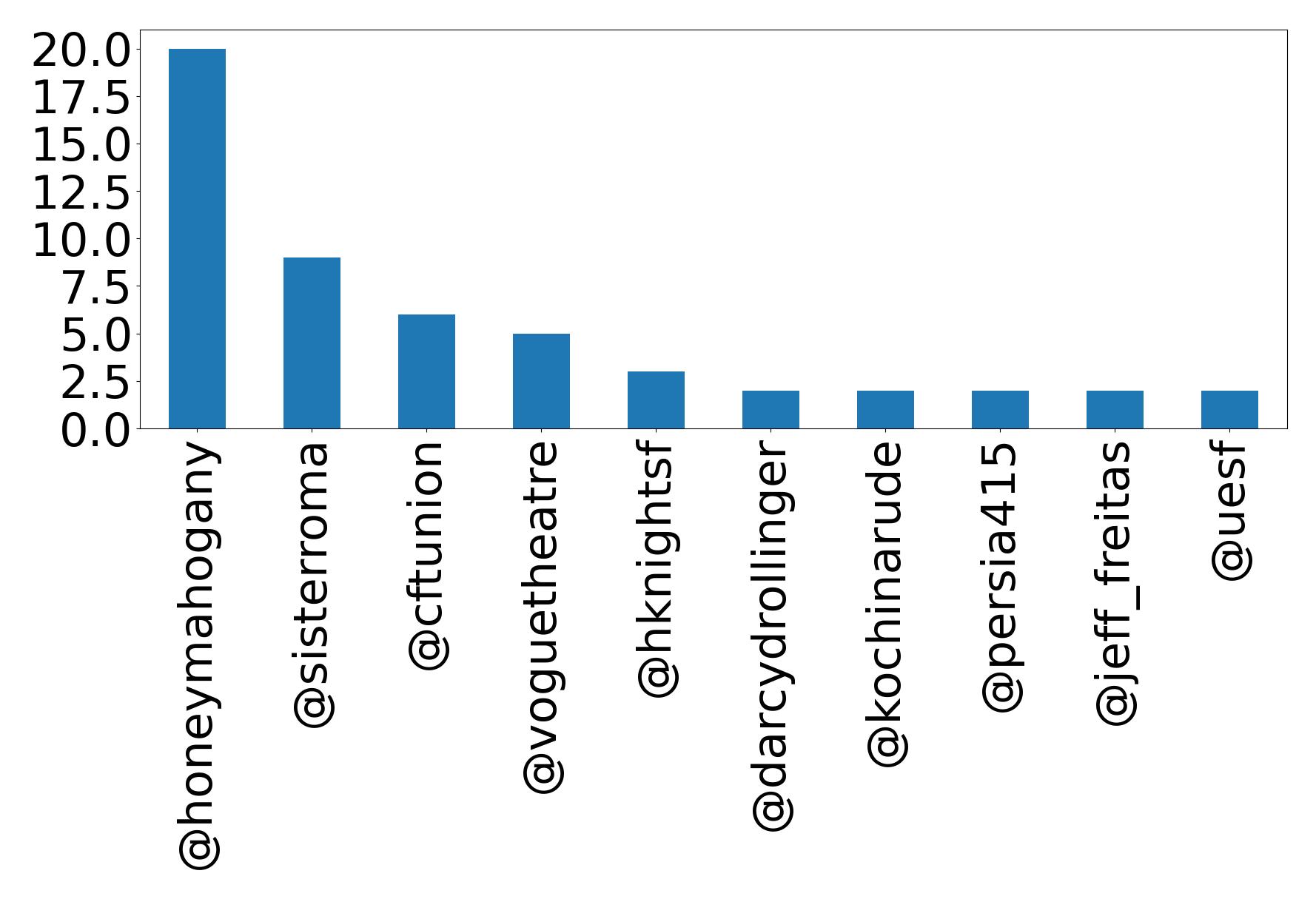 Wordcloud of Tweets