Tweets Analysis - Keyword: @GMPRochdale
Total number of tweets analysed
51
Earliest tweet was on
2023-03-22
Latest tweet was on
2023-03-31
Average age of authors' accounts
4 years
---
Summarization
The tweets cover a range of topics related to the activities of the Greater Manchester Police in Rochdale. These include efforts to address persistent anti-social behavior and potential closure of problematic addresses, well wishes for Ramadan, praise for police successes, criticism of police leadership, calls for action on criminal activity, reports of vandalism and drug-related crime, and prayers for emergency services workers. Overall, the tweets highlight both the successes and challenges faced by the police force in Rochdale.
Topic Modeling
Police efforts to address anti-social behavior and close problematic addresses
Celebration of Ramadan and well wishes
Positive remarks and gratitude towards the police force
Concerns and requests for action regarding criminal activities in Rochdale
Mentions of prayer and support for emergency services
Emotional Analysis
The emotions expressed in these tweets are varied. Some express appreciation and well wishes, while others are frustrated with police and government officials for their perceived lack of action. Some express sadness or disappointment about vandalism or crime in their area. There is also a sense of urgency and concern about ongoing incidents of crime and antisocial behavior in the community.
Trend Analysis
Closure orders for persistent anti-social behavior in Rochdale North
Wishing a blessed Ramadan to various organizations and individuals
Positive feedback for GMP Rochdale and their efforts
Concerns regarding suspicious individuals and criminal activity
Requests for action regarding vandalism, drug dealing, and other issues in the community
---
Types of Tweets
Number of Retweets
33
Percentage of total tweets
64%
Number of Original tweets
4
Percentage of total tweets
7%
Number of tweets that contain Mentions
51
Percentage of total tweets
100%
Number of tweets that were Replies
12
Percentage of total tweets
23%
Number of tweets that were Quotes
3
Percentage of total tweets
5%
Number of tweets that contain Hashtags
35
Percentage of total tweets
68%
---
Top 5 devices used to tweet
| Source | Count |
| --- | --- |
| Twitter for Android | 34 |
| Twitter for iPhone | 9 |
| Twitter Web App | 3 |
| Twitter for iPad | 2 |
| Hootsuite Inc. | 1 |
What devices were used to tweet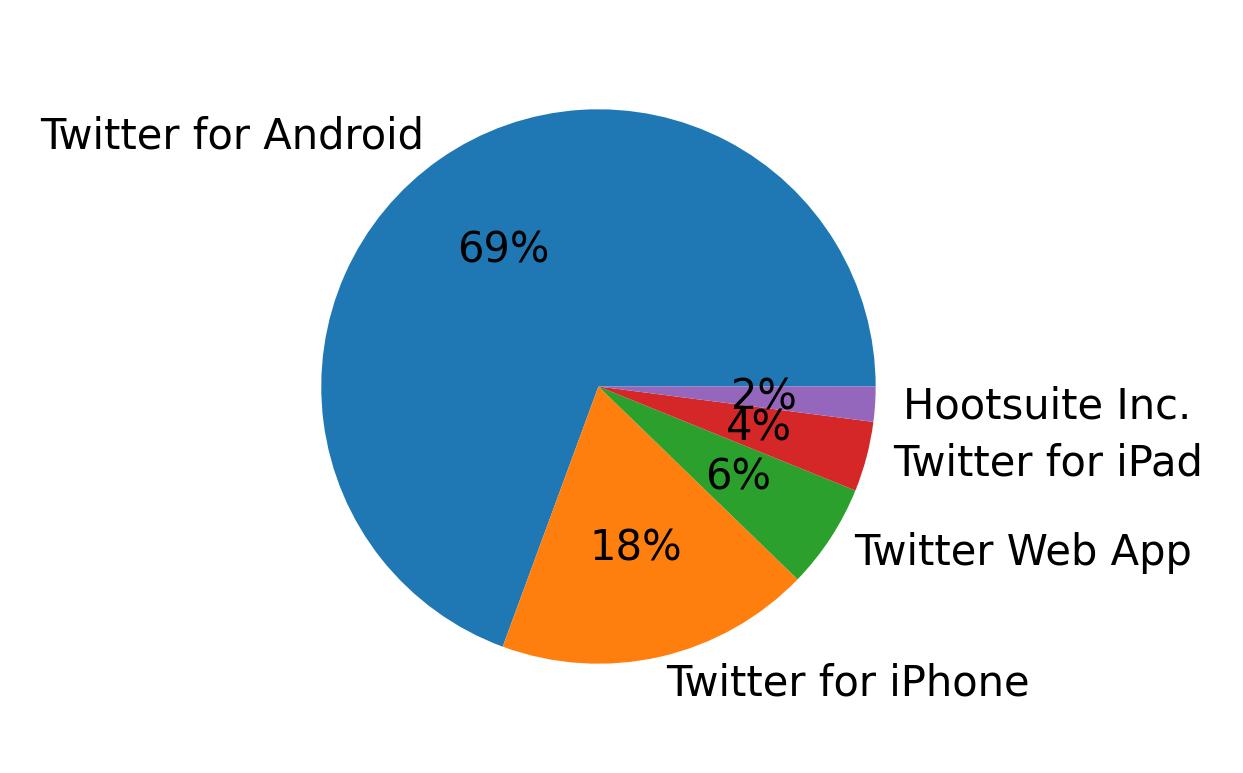 ---
Top 10 accounts with highest followers count
| Username | Name | Bio | Followers count |
| --- | --- | --- | --- |
| andrewmorrisuk | Andrew Morris | Passionate about how IT solutions can bring positive value to our business and personal lives. Proud #autisticparent. Son of a parent with #dementia | 16,350 |
| GMPRochdale | Rochdale Police (GMP) | Updates from Balderstone, Kirkholt, Kingsway, Bamford, Healey, Norden, Rochdale Central. Emergency: Call 999. Non-Emergency: Call 101 or report online. | 11,799 |
| JEMsoc | 🖤💙💛Cllr Janet Emsley🌹🌈 | Labour Cllr Littleborough Lakeside, Mum, Grandma, ex-teacher, Sociologist. Love: family, life, reading, music, wine, theatre, films, chocolate, art -views own | 2,847 |
| RochdaleCoM | Rochdale Council of Mosques | Rochdale Council of Mosques (#RCM) is an umbrella organisation est in 2003 representing 17 Mosques in the Borough of Rochdale, Gtr Manchester RT not Endorsement | 1,774 |
| KYPRochdale | KYP | Supporting childcare, education, skills, employment, entrepreneurship, business growth, cohesion, community development & social enterprise | 1,303 |
| jordanzakoo | ZAKO | italian manc | 906 |
| oldham_ukeff | Ukeff Oldham | Charity Begins At Home We support the local needy and homeless with our weekly food hub, food parcels and support services to get them back on their feet. | 848 |
| MeenaRochdale | Meena@Rochdale | Inspector. P1: Rochdale NORTH | 611 |
| permarlings7 | Anfield B C Peter | Member of Anfield Bicycle club. Cycling and triathlons. Ride bike, a choice of 5 at the moment, as often as possible. | 381 |
| JollyRedRum | Jolly red rum | Survivor | 324 |
Top 10 accounts with highest friends count
| Username | Name | Bio | Followers count |
| --- | --- | --- | --- |
| JEMsoc | 🖤💙💛Cllr Janet Emsley🌹🌈 | Labour Cllr Littleborough Lakeside, Mum, Grandma, ex-teacher, Sociologist. Love: family, life, reading, music, wine, theatre, films, chocolate, art -views own | 2,603 |
| andrewmorrisuk | Andrew Morris | Passionate about how IT solutions can bring positive value to our business and personal lives. Proud #autisticparent. Son of a parent with #dementia | 2,000 |
| sophia298736 | Samantha Brack | Community #Social #Prescriber who is passionate about truly #holistic, #person #centered #care. | 1,444 |
| KYPRochdale | KYP | Supporting childcare, education, skills, employment, entrepreneurship, business growth, cohesion, community development & social enterprise | 1,101 |
| jordanzakoo | ZAKO | italian manc | 947 |
| hank2500 | hank2500 | im tony | 888 |
| AmitJha4915117 | Amit Jha | - | 791 |
| RochdaleCoM | Rochdale Council of Mosques | Rochdale Council of Mosques (#RCM) is an umbrella organisation est in 2003 representing 17 Mosques in the Borough of Rochdale, Gtr Manchester RT not Endorsement | 785 |
| permarlings7 | Anfield B C Peter | Member of Anfield Bicycle club. Cycling and triathlons. Ride bike, a choice of 5 at the moment, as often as possible. | 751 |
| oldham_ukeff | Ukeff Oldham | Charity Begins At Home We support the local needy and homeless with our weekly food hub, food parcels and support services to get them back on their feet. | 735 |
Most active users
| Username | Bio | Number of tweets |
| --- | --- | --- |
| AmitJha4915117 | - | 28 |
| permarlings7 | Member of Anfield Bicycle club. Cycling and triathlons. Ride bike, a choice of 5 at the moment, as often as possible. | 2 |
| andrewmorrisuk | Passionate about how IT solutions can bring positive value to our business and personal lives. Proud #autisticparent. Son of a parent with #dementia | 1 |
| sweetrighttay | - | 1 |
| staffilad | Here to call out hypocrisy and unfairness... Not here to make friends | 1 |
| sophia298736 | Community #Social #Prescriber who is passionate about truly #holistic, #person #centered #care. | 1 |
| oldham_ukeff | Charity Begins At Home We support the local needy and homeless with our weekly food hub, food parcels and support services to get them back on their feet. | 1 |
| jordanzakoo | italian manc | 1 |
| jeannieslivecou | make the most of every opportunity ..have no regrets | 1 |
| hank2500 | im tony | 1 |
---
Tweets per day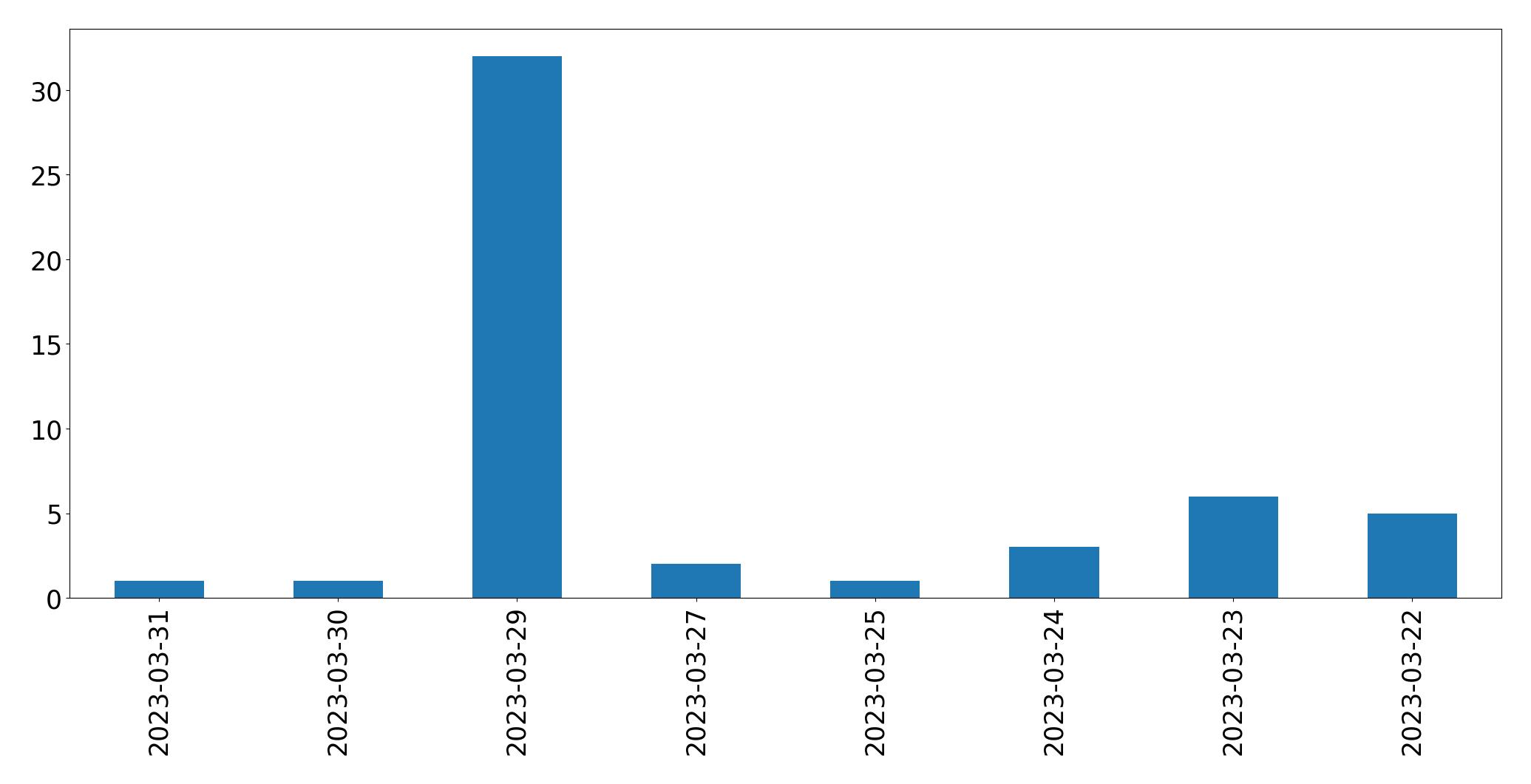 ---
Top 10 tweets with highest Retweet count
| ID | Text | Retweet count |
| --- | --- | --- |
| 1640451797981462531 | **Closure Notice** issued this evening on an address causing persistent ASB on #Rochdale North @GMPRochdale. Our NBO team are at magistrates court tomorrow to see if we can get it approved into a Closure Order. https://t.co/UEazpTumhx | 4 |
| 1641195867590868993 | @GMPRochdale "The New GMP"??? Terry Woods is a bent corrupt vile scumbag who can't get his own officers to apologise properly in writing and allowed his own officers to send lies to my GP and ignores emails. He's a bent bastard that shows disrespect for the public & the GMCA. Don't be fooled | 0 |
| 1638882915843989506 | @ColinKi54036475 @SkyNews @GMPRochdale This requires you to take this man lock him up and vigorously deconstruct the data on his pc / laptop / tablet or any device, this 'IT' has some serious concerns | 0 |
| 1638480162349105154 | @Tackling_Minds @NASPTweets @GetIntoFishing @MWGoneFishing @gmpolice @GMPRochdale @RochdaleCouncil @RochdaleYouthie @tony4rochdale @RochdaleHerald @RochdaleMayor my💓 | 0 |
| 1638571944709705729 | @MeenaRochdale @MENnewsdesk @GMPRochdale @gmpolice Not enough publicity of police successes, well done 👍👍🏴󠁧󠁢󠁷󠁬󠁳󠁿 | 0 |
| 1638601051828789249 | @GMPRochdale Excellent stuff gmp & Rocky Polis in particular…take it to these wankers…dozens more to found in Shittown | 0 |
| 1638762577923538944 | @RochdaleWomen @samzahee @CllrIramfaisal @WeActTogether @MuslimWomenUK @Imkaan @RochdaleCouncil @RochdaleMind @RochdaleYouthie @GMPRochdale @RochdaleOnline Very best wishes for #Ramadan to you all #RamadanMubarak https://t.co/bIKi3xA02O | 0 |
| 1638764349056753665 | @ColinKi54036475 @SkyNews @GMPRochdale please check this persons hard drive!!! Very strange person!! | 0 |
| 1638833604313710597 | @RochdaleWomen @samzahee @CllrIramfaisal @WeActTogether @MuslimWomenUK @Imkaan @RochdaleCouncil @RochdaleMind @RochdaleYouthie @GMPRochdale @RochdaleOnline Ameen and Mubarak to you all too x | 0 |
| 1638951353190850577 | @GMPRochdale What happens to the doggos after they are "seized"? | 0 |
Top 10 tweets with highest Like count
| ID | Text | Like count |
| --- | --- | --- |
| 1640451797981462531 | **Closure Notice** issued this evening on an address causing persistent ASB on #Rochdale North @GMPRochdale. Our NBO team are at magistrates court tomorrow to see if we can get it approved into a Closure Order. https://t.co/UEazpTumhx | 13 |
| 1638762577923538944 | @RochdaleWomen @samzahee @CllrIramfaisal @WeActTogether @MuslimWomenUK @Imkaan @RochdaleCouncil @RochdaleMind @RochdaleYouthie @GMPRochdale @RochdaleOnline Very best wishes for #Ramadan to you all #RamadanMubarak https://t.co/bIKi3xA02O | 3 |
| 1640456824225771526 | @MeenaRochdale @GMPRochdale 👍👍🏴󠁧󠁢󠁷󠁬󠁳󠁿 | 1 |
| 1638571944709705729 | @MeenaRochdale @MENnewsdesk @GMPRochdale @gmpolice Not enough publicity of police successes, well done 👍👍🏴󠁧󠁢󠁷󠁬󠁳󠁿 | 1 |
| 1638833604313710597 | @RochdaleWomen @samzahee @CllrIramfaisal @WeActTogether @MuslimWomenUK @Imkaan @RochdaleCouncil @RochdaleMind @RochdaleYouthie @GMPRochdale @RochdaleOnline Ameen and Mubarak to you all too x | 1 |
| 1641195867590868993 | @GMPRochdale "The New GMP"??? Terry Woods is a bent corrupt vile scumbag who can't get his own officers to apologise properly in writing and allowed his own officers to send lies to my GP and ignores emails. He's a bent bastard that shows disrespect for the public & the GMCA. Don't be fooled | 0 |
| 1638882915843989506 | @ColinKi54036475 @SkyNews @GMPRochdale This requires you to take this man lock him up and vigorously deconstruct the data on his pc / laptop / tablet or any device, this 'IT' has some serious concerns | 0 |
| 1638480162349105154 | @Tackling_Minds @NASPTweets @GetIntoFishing @MWGoneFishing @gmpolice @GMPRochdale @RochdaleCouncil @RochdaleYouthie @tony4rochdale @RochdaleHerald @RochdaleMayor my💓 | 0 |
| 1638601051828789249 | @GMPRochdale Excellent stuff gmp & Rocky Polis in particular…take it to these wankers…dozens more to found in Shittown | 0 |
| 1638764349056753665 | @ColinKi54036475 @SkyNews @GMPRochdale please check this persons hard drive!!! Very strange person!! | 0 |
Top 3 Languages Used In Tweets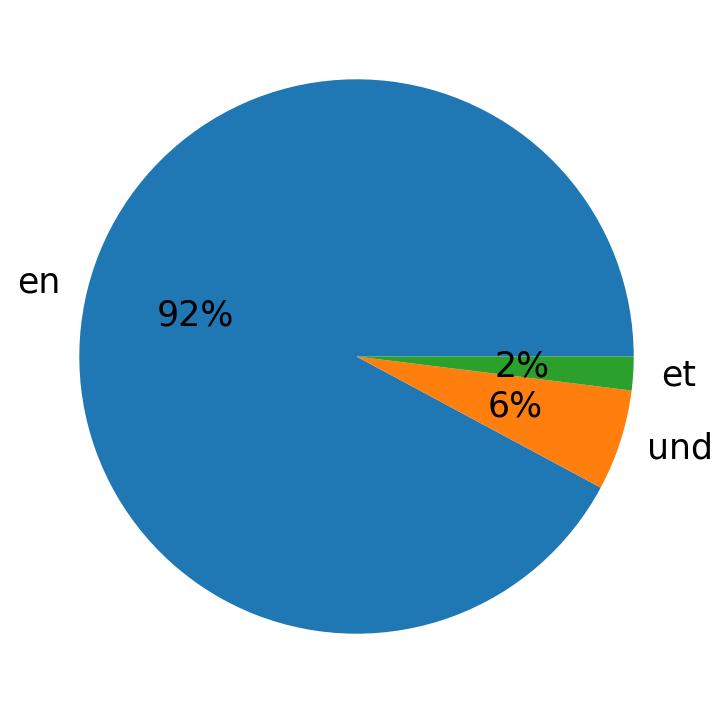 ---
Top 10 Hashtags used
| Hashtag | Count |
| --- | --- |
| #rochdale | 11 |
| #appeal | 6 |
| #opavro | 5 |
| #jailed | 3 |
| #gmptransportunit | 2 |
| #yousaidwedid | 2 |
| #neighbourhood | 2 |
| #jail | 2 |
| #update | 2 |
| #watch | 2 |
Top 10 Hashtags Used In Tweets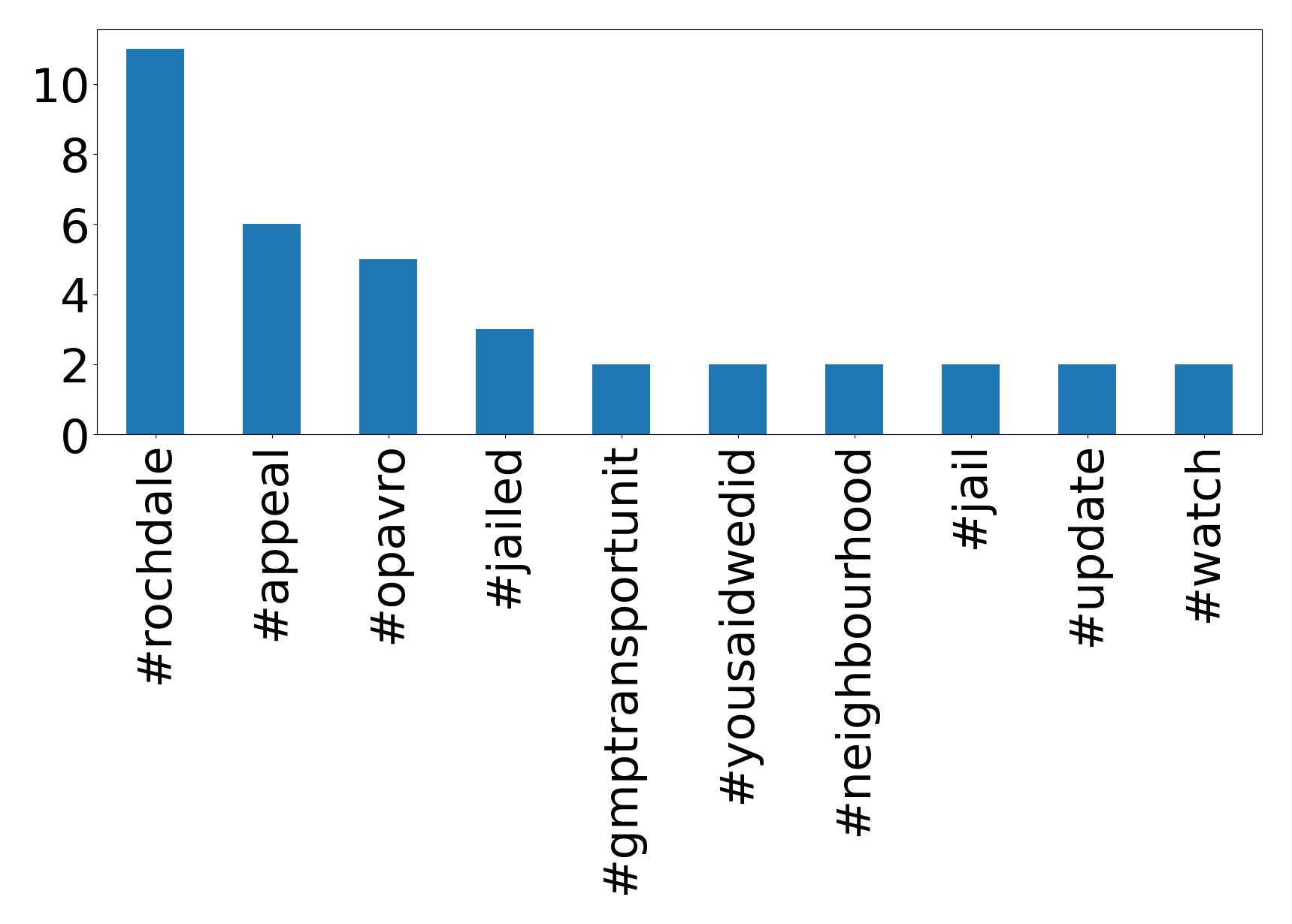 Top 10 mentions
| Mention | Count |
| --- | --- |
| @gmprochdale | 51 |
| @rochdalecouncil | 5 |
| @meenarochdale | 5 |
| @gmpolice | 4 |
| @rochdaleyouthie | 3 |
| @tony4rochdale | 2 |
| @colinki54036475 | 2 |
| @skynews | 2 |
| @rochdalewomen | 2 |
| @samzahee | 2 |
Top 10 mentions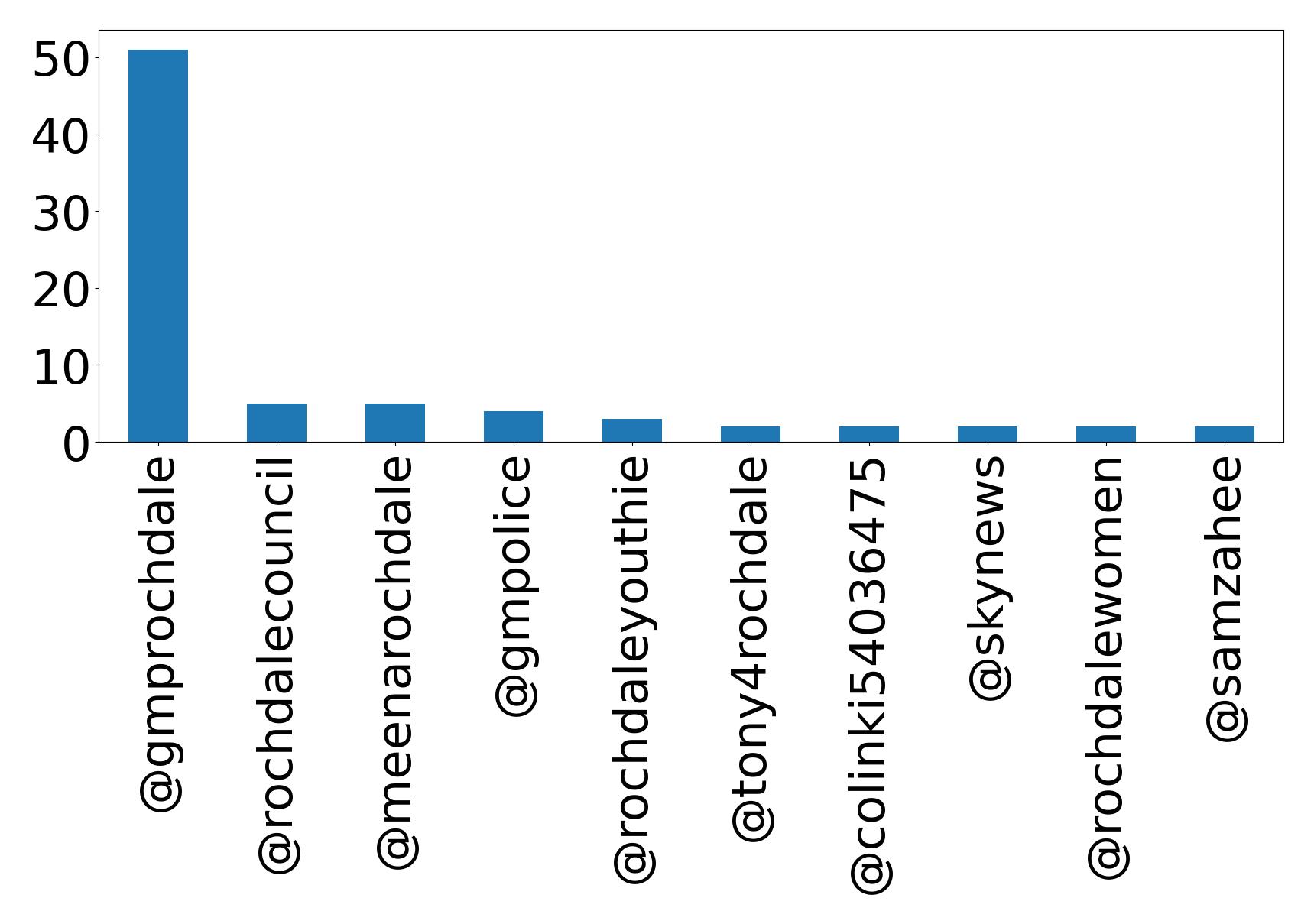 Wordcloud of Tweets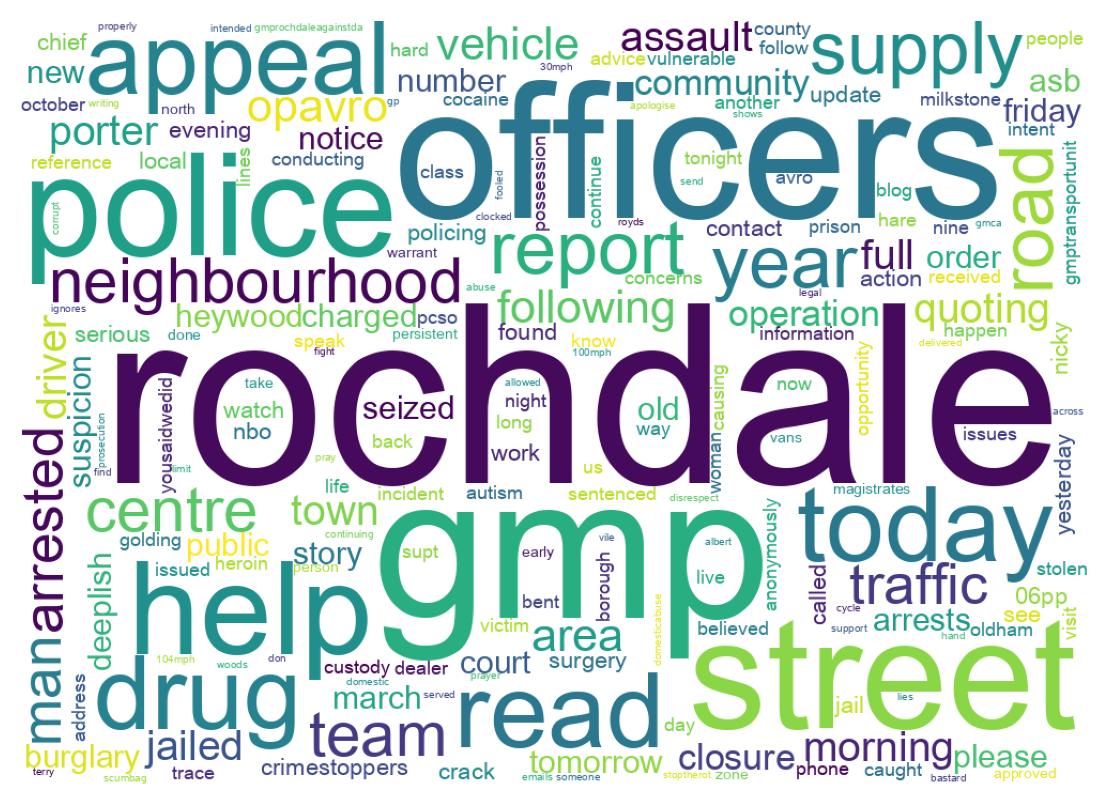 ---
Emojis
Average number of emojis used per tweet
33
Emojis used in tweets
| Emoji | Count | Emoji Text |
| --- | --- | --- |
| ➡️ | 4 | right_arrow |
| 👍 | 4 | thumbs_up |
| 👉 | 2 | backhand_index_pointing_right |
| 📞 | 2 | telephone_receiver |
| 🏴󠁧󠁢󠁷󠁬󠁳󠁿 | 2 | Wales |
| ⬇️ | 1 | down_arrow |
| 🚔 | 1 | oncoming_police_car |
| 💓 | 1 | beating_heart |
Emojis groups
| Emoji Group | Count |
| --- | --- |
| People & Body | 6 |
| Symbols | 5 |
| Objects | 2 |
| Flags | 2 |
| Travel & Places | 1 |
| Smileys & Emotion | 1 |