Tweets Analysis - Keyword: Garnacho
Total number of tweets analysed
44,881
Earliest tweet was on
2023-01-31
Latest tweet was on
2023-02-10
Average age of authors' accounts
6 years
---
Summarization
Alejandro Garnacho is an 18-year-old footballer who has received praise and criticism in his performances for Manchester United. He recently received encouragement from Cristiano Ronaldo and various other figures on Instagram. Other people have backed Garnacho and defended him against the criticism, praising his achievement and the potential he has shown at his age. He has scored two goals and provided five assists in approximately 700 minutes of first team football. People have urged Garnacho to stay away from social media and instead focus his efforts on consistency in his performances.
Topic Modeling
Support for Alejandro Garnacho
Criticism and Defense of Alejandro Garnacho
Comparison of Alejandro Garnacho and another player, Jody Mudryk
Alejandro Garnacho's Social Media Presence
Alejandro Garnacho and Manchester United Development
Emotional Analysis
The emotions expressed in these tweets range from admiration and support for Alejandro Garnacho, to frustration and criticism of his performance. Fans are praising Garnacho for his work ethic, skill, and determination to prove his critics wrong, while others are questioning his consistency and calling for him to be protected. There is also a feeling of excitement and anticipation around the 18-year-old's potential, as well as a sense of awe and admiration for his performance in the match against Manchester United. Overall, the tweets express a strong sense of support and admiration for the young player.
Trend Analysis
Garnacho: his Instagram posts, praise, criticism, experiences, and development
MUFC: Garnacho's involvement with Man Utd and the fan base's responses
Ronaldo: Garnacho's connection and interactions with Ronaldo
Mudryk: comparison with Garnacho
Age: impact of age on criticism of Garnacho and his future development
---
Types of Tweets
Number of Retweets
4,237
Percentage of total tweets
9%
Number of Original tweets
21,719
Percentage of total tweets
48%
Number of tweets that contain Mentions
21,315
Percentage of total tweets
47%
Number of tweets that were Replies
17,129
Percentage of total tweets
38%
Number of tweets that were Quotes
2,128
Percentage of total tweets
4%
Number of tweets that contain Hashtags
5,440
Percentage of total tweets
12%
---
Top 5 devices used to tweet
| Source | Count |
| --- | --- |
| Twitter for iPhone | 20308 |
| Twitter for Android | 19144 |
| Twitter Web App | 4312 |
| TweetDeck | 368 |
| Twitter for iPad | 230 |
What devices were used to tweet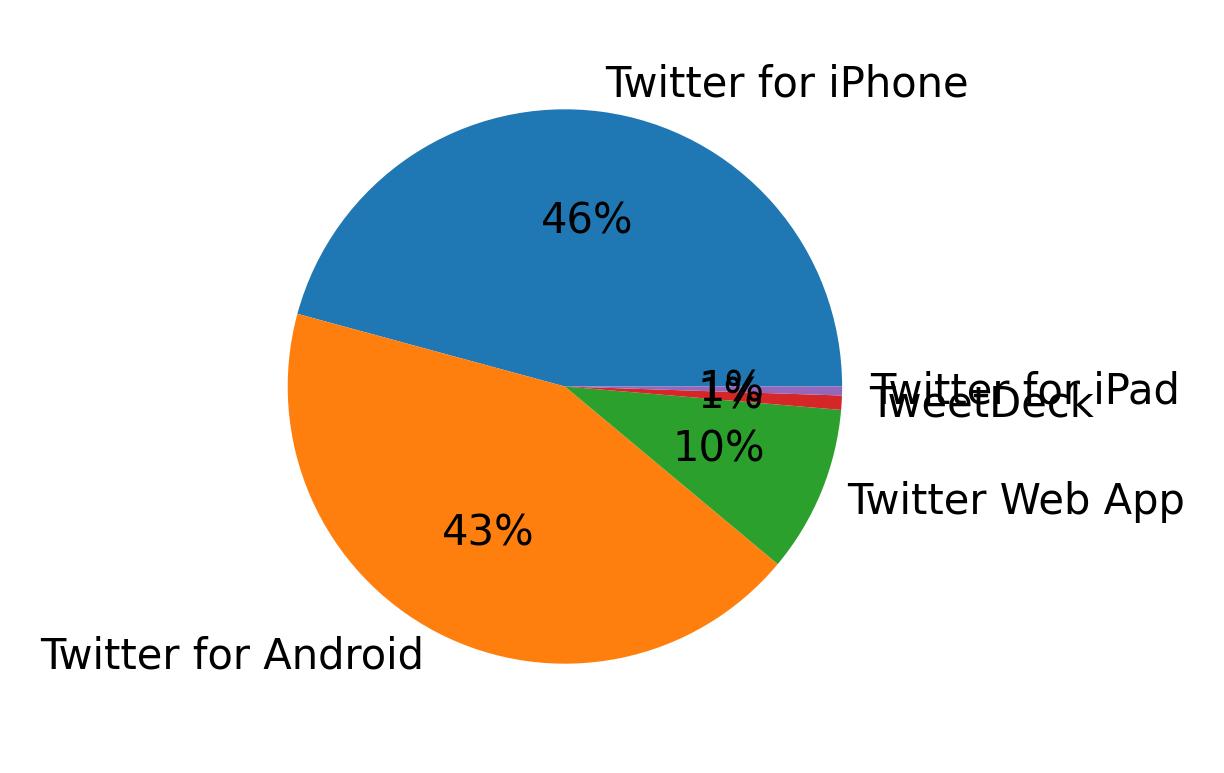 ---
Top 10 accounts with highest followers count
| Username | Name | Bio | Followers count |
| --- | --- | --- | --- |
| detikcom | detikcom | Official Twitter of https://t.co/jtXZ3Wcfhf. redaksi@https://t.co/jtXZ3Wuovn | promosi@https://t.co/jtXZ3Wuovn | Android: https://t.co/l5tQVBgqbD iPhone: https://t.co/NleJXySGkT | 19,910,948 |
| BBCSport | BBC Sport | Official https://t.co/UU1K81meyH account. Also follow @bbcmotd and @bbctms. | 10,732,595 |
| detiksport | detiksport | Akun resmi situs berita olahraga Contact: redaksi@detiksport.com | info@detiksport.com | promosi@detik.com | 3,892,602 |
| SC_ESPN | SportsCenter | Noticiero del deporte mundial. Repaso de toda la actualidad con compactos, entrevistas, destacados. Un estilo de vida, todos los días, en ESPN. | 3,805,754 |
| TyCSports | TyC Sports | Un canal. Todo el deporte. Mirá TyC Sports las 24hs y otros eventos en vivo en https://t.co/uZEWqAPQn6 | 3,778,723 |
| SportsCenterBR | SportsCenter Brasil | SportsCenter, referência em jornalismo esportivo no mundo! Fique ligado! #SCBrasil | 3,664,375 |
| DiarioOle | Diario Olé | Diario deportivo | Desde 1996, el primero y único del país | Compartimos la pasión 📹🖥️ ¡Seguinos en https://t.co/rSXi7H2PmA! | 3,637,131 |
| clarincom | Clarín | Unite a nuestro canal de #Telegram 👉 https://t.co/1dCTTiLkdW | 3,483,340 |
| infobae | infobae | Hacemos periodismo, lo hacemos con pasión. @infobaeamerica 🌎 @infobaedeportes ⚽ @teleshowcom 🎥 @infobaeeconomia 🏦 @infobaetrends 📸 @infobaemexico 🇲🇽 | 3,403,177 |
| ESPNBrasil | ESPN Brasil | #ESPNnoStarPlus: o melhor do esporte você assiste aqui! | 3,248,906 |
Top 10 accounts with highest friends count
| Username | Name | Bio | Followers count |
| --- | --- | --- | --- |
| Nexofin | Nexofin | Nexofin, el canal de noticias que te mantiene actualizado las 24 horas del día. Leénos en: https://t.co/oCjFXluiMg | 240,522 |
| UnitedRedscom | UnitedReds | Independent #MUFC App & Website 📲🔴 | 🔔 Set notifications | Follow for daily #MUFC news, updates, opinions & photos | Enquiries 👉 support@UnitedReds.com | 93,714 |
| UnitedInFocus | United In Focus | Official Twitter account for UnitedInFocus • Manchester United website • Contact mail@UnitedInFocus.com to discuss partnership | 91,606 |
| ribz_rb | 𝖗𝖎𝖇𝖟✮🇬🇦 | Just tweet i will like and retweet for you! Follow back guaranteed! | 80,982 |
| Kevin_teya | Ole Teya | Adventist/Football Journalist/Sports Marketing | 75,617 |
| LFCMAGAZINE | LFCMAGAZINE | Liverpool Football Club [Digital Edition] Mixing LFC news with YOUR information, opinion, tweets and discussion regarding Liverpool Football Club. | 70,598 |
| bigreegs1985 | ʀᴇɢᴏ™ | "ɪ ᴡᴀꜱ ʙᴏʀɴ ᴀɴᴅ ʀᴀɪꜱᴇᴅ ɪɴ ᴛʜᴇ ᴡɪʟᴅ. ɪ ᴡᴀꜱ ɪɴ ᴛʜᴇ ᴄʀᴏᴡᴅ ᴡʜᴇɴ ʀᴀꜰɪᴋɪ ʜᴇʟᴅ ꜱɪᴍʙᴀ ᴏᴠᴇʀ ᴛʜᴇ ᴇᴅɢᴇ ᴏꜰ ᴀ ᴄʟɪꜰꜰ, ʟɪᴋᴇ ᴀɴ ᴀꜰʀɪᴄᴀɴ ᴍɪᴄʜᴀᴇʟ ᴊᴀᴄᴋꜱᴏɴ." 🦁 👑 #ᴜᴛʙ #ʙᴏʀᴏ #ʀᴏᴠᴇʀꜱ | 66,658 |
| bloom200 | Caroline Dovaston | Massive Man United fan who hates them bin dippers with a severe passion 😈 Survivor of CSA Love all animals especially rabbits & dogs #mufc #glazersout | 66,463 |
| thedailymanc | Daily Manc🐝 | Chuky & unapologetically red | My opinions won't impress you 🤳🏽 |✍🏽 https://t.co/96GgSm1MBv | 📺 @allforunited | 53,792 |
| Medz_14 | Liam | 🤡 | 53,100 |
Most active users
| Username | Bio | Number of tweets |
| --- | --- | --- |
| garnacho_ball | man united | 311 |
| Ms_garnacho | Love || Aeroplane || Yanga Sc || DM for promotion @ManUtd | 266 |
| IamVishVicent | Manchester untied, G boy Revinz, B2c Ent, Vipers Fc | 73 |
| EpicoNovaRaps | Irish Artist who makes his own songs. They are deep/emotional songs and they're on every music platform @ManUtd @CelticFC @AFCAjax @Inter @As_Monaco @Bayer04_en | 61 |
| afroklaut | We share your clout 😁 Juicy Celebrity News | Clout posts | Virals & more Instagram @Afroklaut | 41 |
| ManUtdMEN | 🎙𝗣𝗼𝗱𝗰𝗮𝘀𝘁: https://t.co/Wvk7foV9ZN | 41 |
| garnacho_goat | Manchester United and Ousmane Dembele enjoyer | 39 |
| nad_man89 | Houston born , Beirut living Lebanese/American ,proud to be both . Houston Rockets , Manchester United and Dallas Cowboys Forever . Always Sarcastic #NeverTrump | 37 |
| Utd_Bey | Realistic Man Utd fan with standards who has a ZERO tolerance approach for the DROSS💥✊🏿💪🏿✌🏿👌🏿#GlazersOut | 33 |
| Garnacho__ | Garnacho le PETIT Prince de Manchester @staderennais | @agarnacho7 | Desiré Doué sexuel | 33 |
---
Tweets per day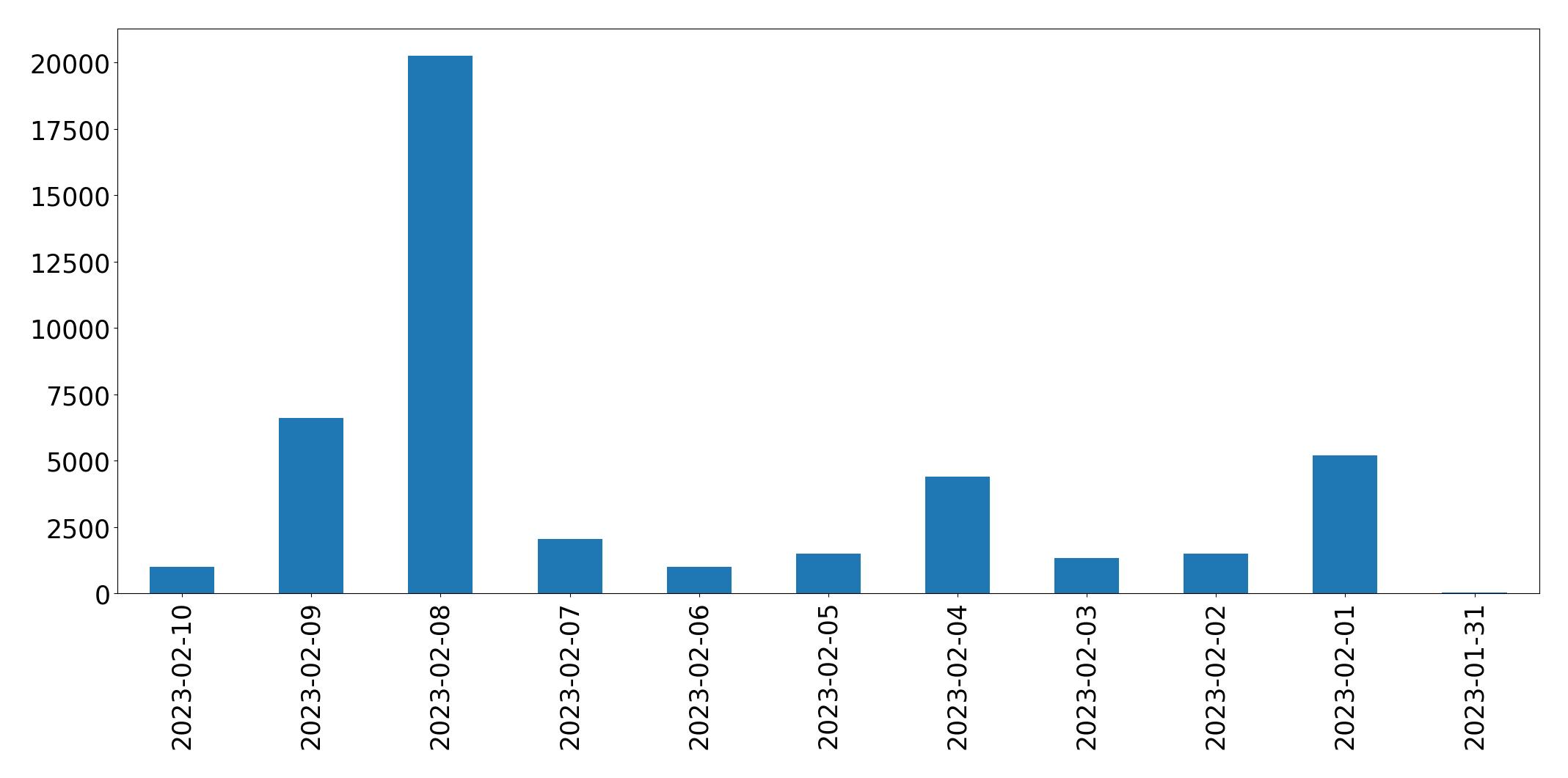 ---
Top 10 tweets with highest Retweet count
| ID | Text | Retweet count |
| --- | --- | --- |
| 1621940276615839744 | Garnacho helped us get the match-winning 2nd goal, but had to be sacrificed for defensive cover despite just coming on due to Casemiro's red card, and I'm sure he understood the decision which ultimately paid off. Well played, starboy ❤️🌟 #mufc. https://t.co/Zcr1JRX6hZ | 2587 |
| 1623462233844899844 | Garnacho has been playing so well and getting praised for being so good at "just 18", but one tough game and the same Man Utd fans have turned on him like he's in his prime, forgetting he's still "just 18". Give the kid a break. He'll learn and improve ❤️ https://t.co/Zg89OFftUM | 2457 |
| 1623457923493158912 | 🚨🇦🇷 Garnacho via IG: "When you don't understand what is happening, remember that God is in control I trust the plan you have for me" #MUFC https://t.co/rpUx31xJ1N | 2375 |
| 1623605788605394944 | He's 18 years old. The criticism is unfair and he's been seeing it. So if you are to see this we are all behind you Garnacho ❤️ https://t.co/oUOKBBBbS2 | 1817 |
| 1622334983401611270 | Garnacho on Instagram. ❤️ https://t.co/BewsAkNddk | 1185 |
| 1622332120059330561 | 🇦🇷 Garnacho to Ronaldo via IG: https://t.co/XzQzOe4hWB | 1114 |
| 1621629335466647553 | Mudryk with 0 shots, 0 chances created, 0 fouls won, 0 take-ons completed, and hooked at half-time at home against a team Garnacho went to their backyard and completely destroyed. RESPECT MY STARBOY 🌟 https://t.co/T70Ge5bYrP | 842 |
| 1623904049706987522 | Garnacho replied to Ronaldo's Instagram post. https://t.co/vlB0SWtSWe | 825 |
| 1621616074406985729 | Mudryk hooked after 45mins against a team Garnacho packed up? Fairs, it happens. | 598 |
| 1621629312834191361 | Garnacho better than Mudryk. | 598 |
Top 10 tweets with highest Like count
| ID | Text | Like count |
| --- | --- | --- |
| 1623457923493158912 | 🚨🇦🇷 Garnacho via IG: "When you don't understand what is happening, remember that God is in control I trust the plan you have for me" #MUFC https://t.co/rpUx31xJ1N | 46129 |
| 1621940276615839744 | Garnacho helped us get the match-winning 2nd goal, but had to be sacrificed for defensive cover despite just coming on due to Casemiro's red card, and I'm sure he understood the decision which ultimately paid off. Well played, starboy ❤️🌟 #mufc. https://t.co/Zcr1JRX6hZ | 45091 |
| 1622332120059330561 | 🇦🇷 Garnacho to Ronaldo via IG: https://t.co/XzQzOe4hWB | 32264 |
| 1623462233844899844 | Garnacho has been playing so well and getting praised for being so good at "just 18", but one tough game and the same Man Utd fans have turned on him like he's in his prime, forgetting he's still "just 18". Give the kid a break. He'll learn and improve ❤️ https://t.co/Zg89OFftUM | 30928 |
| 1622334983401611270 | Garnacho on Instagram. ❤️ https://t.co/BewsAkNddk | 26805 |
| 1623605788605394944 | He's 18 years old. The criticism is unfair and he's been seeing it. So if you are to see this we are all behind you Garnacho ❤️ https://t.co/oUOKBBBbS2 | 26316 |
| 1623418263307792391 | GARNACHO FUCKING HELL | 21669 |
| 1623375033165877259 | Garnacho starting I'm hearing, he deserves this ❤️ https://t.co/5UJ62JYayC | 15833 |
| 1623904049706987522 | Garnacho replied to Ronaldo's Instagram post. https://t.co/vlB0SWtSWe | 13233 |
| 1621629335466647553 | Mudryk with 0 shots, 0 chances created, 0 fouls won, 0 take-ons completed, and hooked at half-time at home against a team Garnacho went to their backyard and completely destroyed. RESPECT MY STARBOY 🌟 https://t.co/T70Ge5bYrP | 11529 |
Top 3 Languages Used In Tweets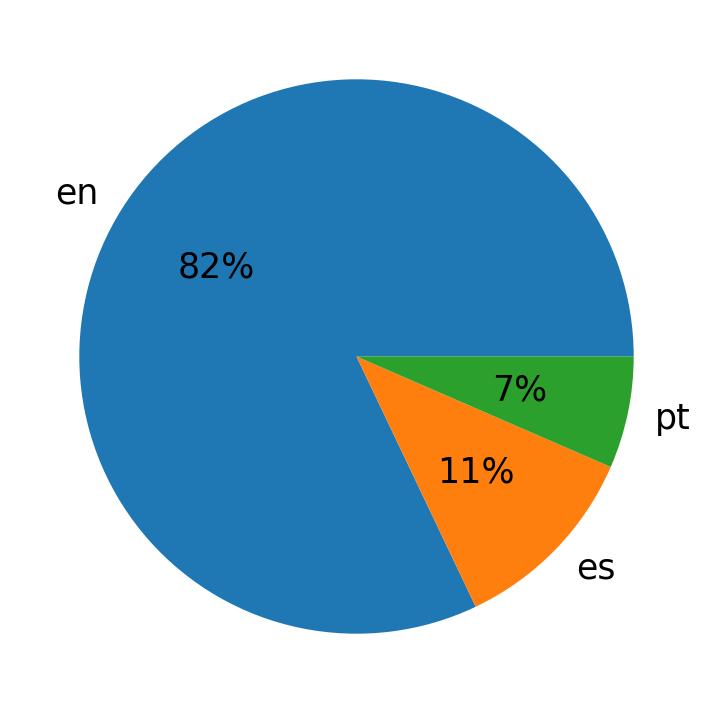 ---
Top 10 Hashtags used
| Hashtag | Count |
| --- | --- |
| #mufc | 2849 |
| #munlee | 1356 |
| #garnacho | 440 |
| #muncry | 242 |
| #manchesterunited | 163 |
| #premierleague | 142 |
| #munnfo | 139 |
| #carabaocup | 137 |
| #lufc | 133 |
| #manutd | 131 |
Top 10 Hashtags Used In Tweets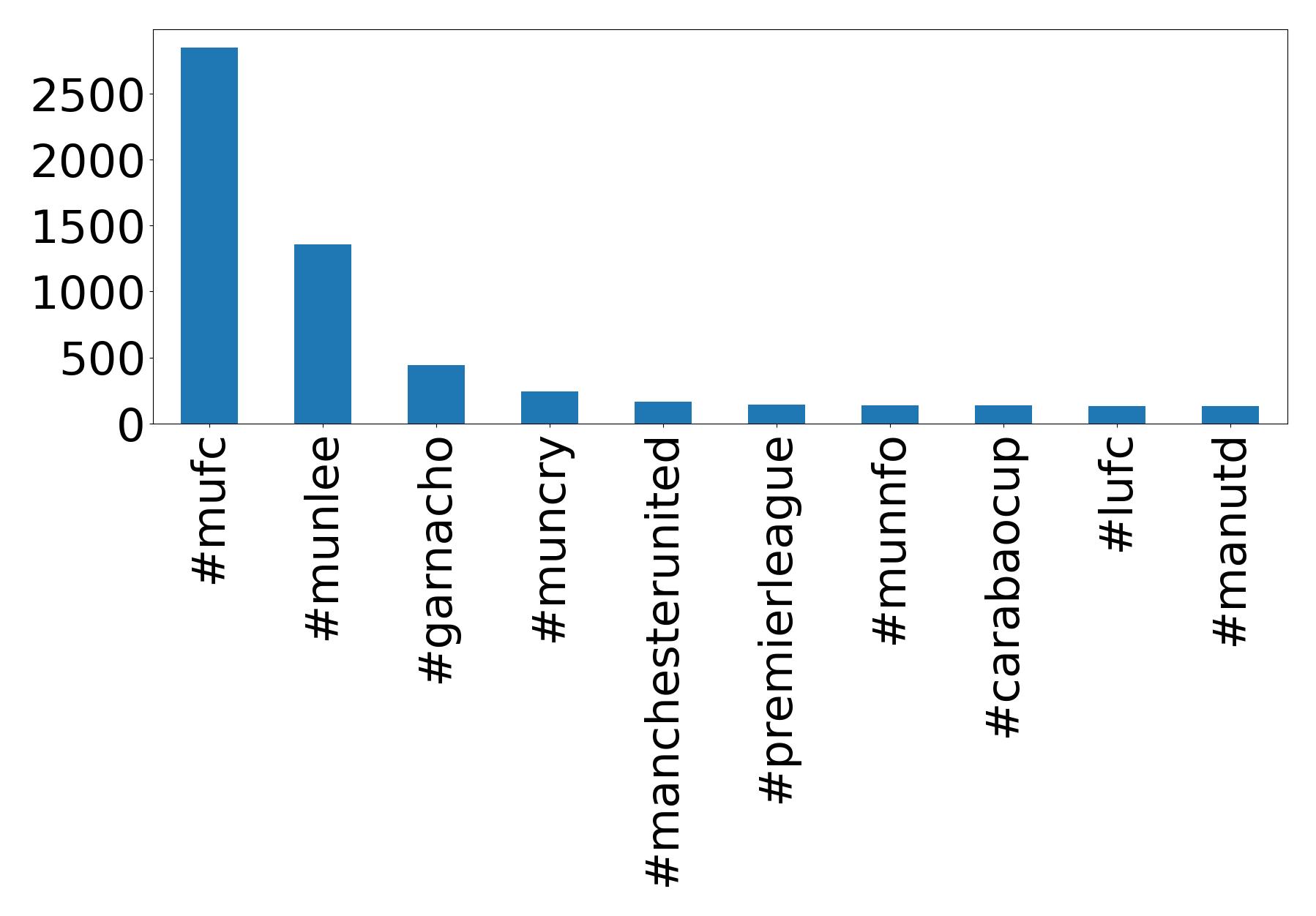 Top 10 mentions
| Mention | Count |
| --- | --- |
| @manutd | 875 |
| @utdplug | 826 |
| @unitedstandmufc | 726 |
| @espnuk | 596 |
| @utdtrey | 518 |
| @ms_garnacho | 506 |
| @agarnacho7 | 401 |
| @utddistrict | 399 |
| @futsheriff | 399 |
| @centredevils | 364 |
Top 10 mentions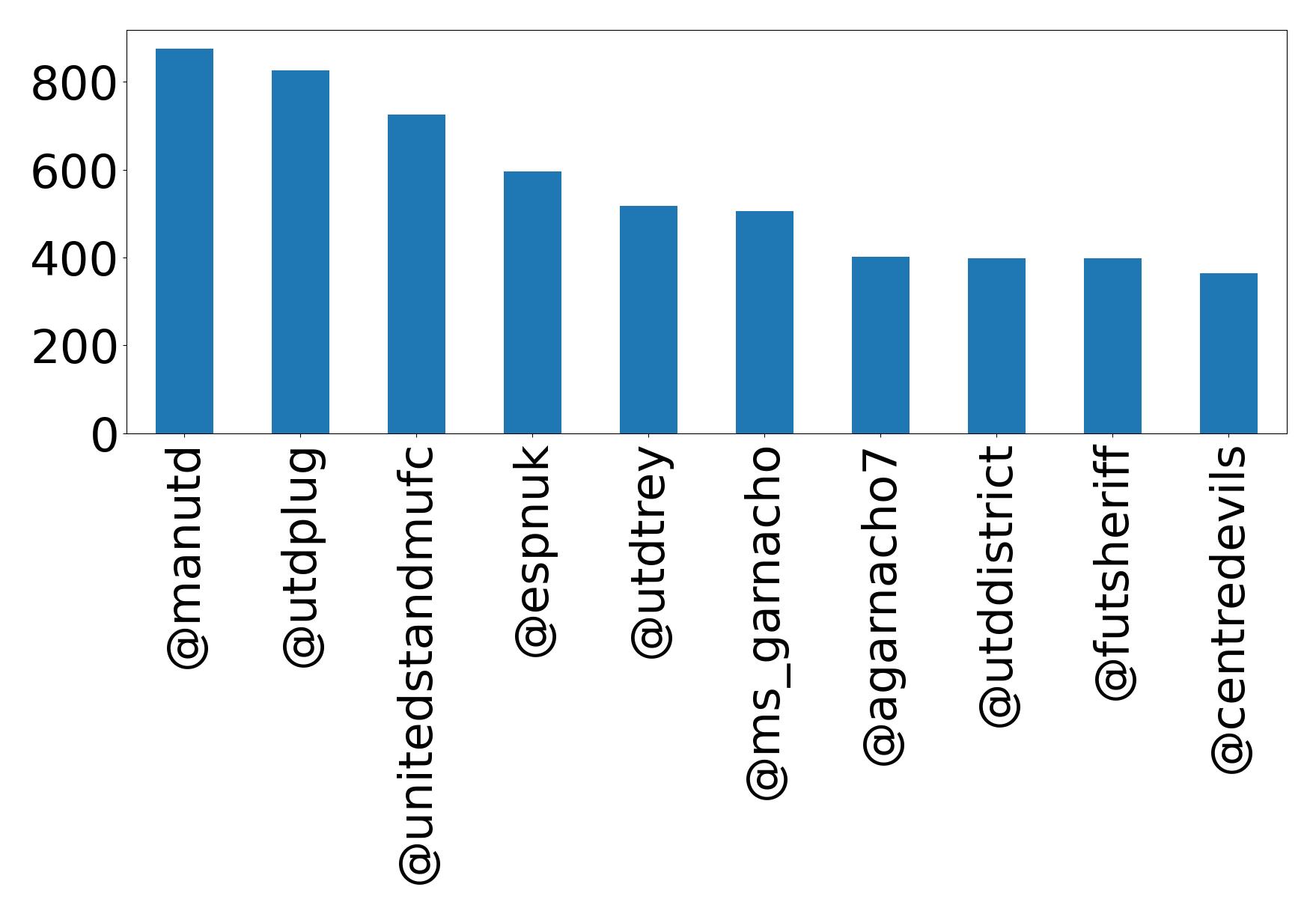 Wordcloud of Tweets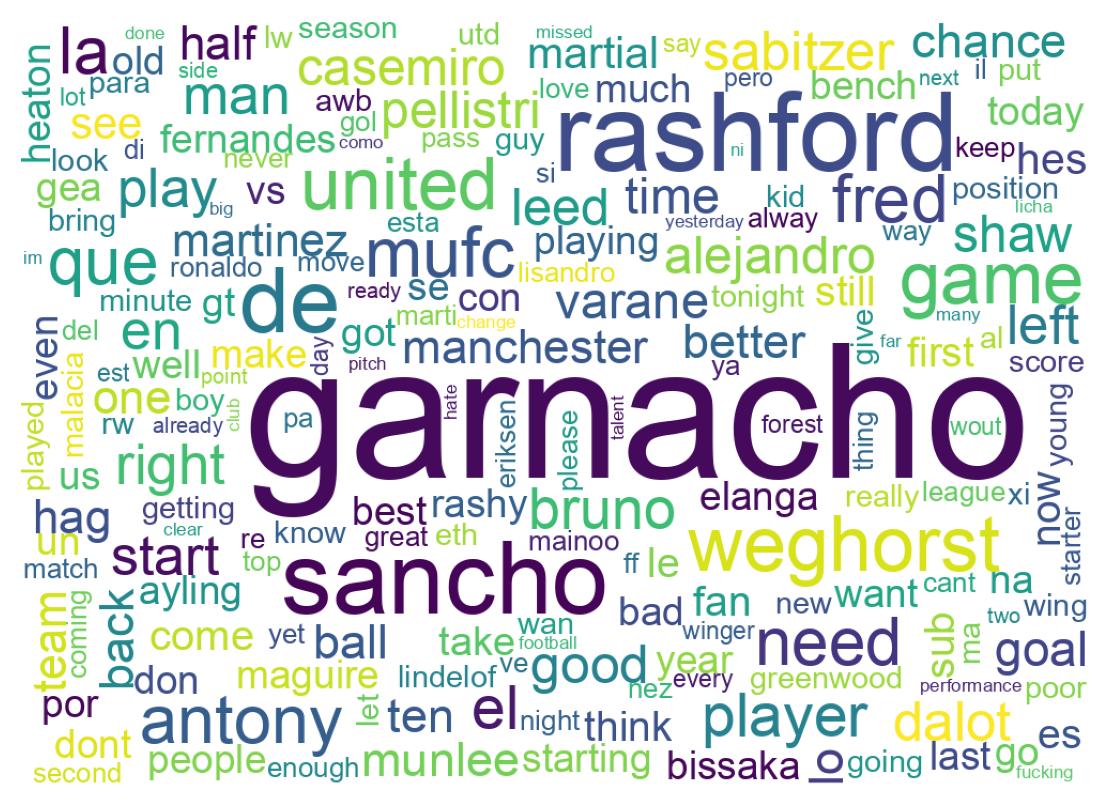 ---
Emojis
Average number of emojis used per tweet
38
Emojis used in tweets
| Emoji | Count | Emoji Text |
| --- | --- | --- |
| 😭 | 1710 | loudly_crying_face |
| 😂 | 1710 | face_with_tears_of_joy |
| 🤣 | 946 | rolling_on_the_floor_laughing |
| 🔥 | 782 | fire |
| 🇦🇷 | 774 | Argentina |
| 🚨 | 575 | police_car_light |
| 🔴 | 552 | red_circle |
| ❤️ | 521 | red_heart |
| ⚽ | 295 | soccer_ball |
| 😍 | 246 | smiling_face_with_heart-eyes |
Emojis groups
| Emoji Group | Count |
| --- | --- |
| Smileys & Emotion | 8531 |
| People & Body | 2299 |
| Symbols | 1882 |
| Travel & Places | 1780 |
| Flags | 1511 |
| Objects | 613 |
| Activities | 597 |
| Animals & Nature | 99 |
| Food & Drink | 53 |