Tweets Analysis - Keyword: @gangbeasts
Total number of tweets analysed
132
Earliest tweet was on
2023-02-12
Latest tweet was on
2023-02-22
Average age of authors' accounts
5 years
---
Summarization
Twitter users are discussing the game Gang Beasts in honor of Friendship Games Week. People are complimenting the game, asking for updates, and discussing their favorite moments. Some users are also sharing other games they enjoy, and a few are expressing frustration with the game's developers for ignoring the community.
Topic Modeling
Multiplayer gaming and game recommendations
Community engagement and updates from game developers
Fan appreciation and artwork related to Gang Beasts
Promotion of livestreams and gaming events featuring Gang Beasts
Requests for updates and communication with game developers
Emotional Analysis
The tweets show excitement, appreciation and anticipation towards the game 'Gang Beasts'. The users express their love for multiplayer games and the fun they have had with their friends. Some users request for an update or hints about a future update while some express frustration regarding the lack of communication from the developers. Overall, the tweets show a positive outlook towards the game and a desire for more engagement from the developers.
Trend Analysis
Multiplayer gaming, particularly with friends, is a popular topic.
Various game development studios, including @FrogsongStudios, are being mentioned.
A specific game, @gangbeasts, is mentioned frequently.
People are asking for updates and information on @gangbeasts.
There are mixed opinions about the responsiveness of @gangbeasts' developers to their community.
---
Types of Tweets
Number of Retweets
16
Percentage of total tweets
12%
Number of Original tweets
23
Percentage of total tweets
17%
Number of tweets that contain Mentions
132
Percentage of total tweets
100%
Number of tweets that were Replies
92
Percentage of total tweets
69%
Number of tweets that were Quotes
3
Percentage of total tweets
2%
Number of tweets that contain Hashtags
7
Percentage of total tweets
5%
---
Top 5 devices used to tweet
| Source | Count |
| --- | --- |
| Twitter for iPhone | 65 |
| Twitter for Android | 36 |
| Twitter Web App | 26 |
| Twitter for iPad | 5 |
What devices were used to tweet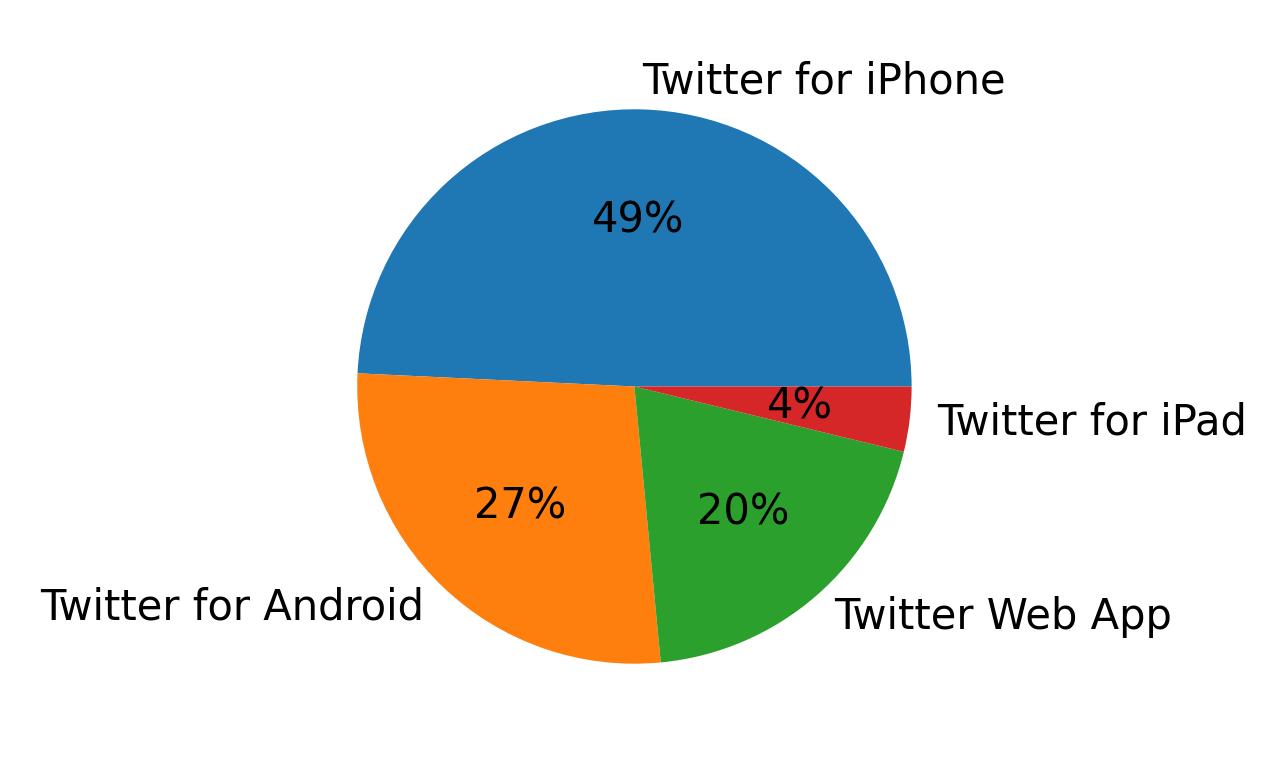 ---
Top 10 accounts with highest followers count
| Username | Name | Bio | Followers count |
| --- | --- | --- | --- |
| RStarUniverse | Rockstar Universe | Your Universe For All Things @RockstarGames • Providing information on Grand Theft Auto, Red Dead & More! • Find us elsewhere at https://t.co/qDKh4ATYmj | 45,706 |
| sBusinessGaming | Strictly Business | Apparel, Gaming & Entertainment | #sBGNation It's Nothing Personal, It's Strictly Business 06.01.2022 🟣Want to join sB? https://t.co/IdWC3nqUud🟣 | 41,173 |
| Msthorton_ | Brown Sugar👸🏾💅🏾 | If you need to vent about anything feel free to message me, please say it's Therapy related🦋Dm For Promo🤞🏾💗IG:Msthorton Twitch:ElephantChatting♋️♐️♋️ | 23,755 |
| ParsecTeam | Parsec | Game, work, and play together from anywhere. Now a part of @Unity. | 13,311 |
| Vinewood_motors | Vinewood Motors #GameBlast23 | Hi, I'm Josh | Streamer | Virtual Photographer | @RockstarGames Fan | It doesn't cost anything to be nice | Raise over £20,000 for @SpecialEffect | RVP & CGH | 11,915 |
| leveluplauren | Lauren Kaye | Program Coordinator @LBMentorship | 🇺🇸 in 🇬🇧 | 🎙 @ShePlaysPodcast | @ffunion Co-Founder | lauren@sheplaysgames.co Mama Mentor @theyplaypodcast 💜 | 3,957 |
| TravRestGame | Travellers Rest | Cozy and relaxing tavern-sim developed by @Isolated_Games, now in Early Access: https://t.co/sGo3iwpWYI | 2,795 |
| DarranGarnham | Darran Garnham | Husband, father of boys; Founder @Toikido1 https://t.co/cdpm82uLWj; Seed @calm 🦄🦄, @GoSuperAwesome, @kidsKnowBest | 2,707 |
| JazeenaPlays | Jazeena. | 29 | London | @BlackTwitchUK Stream Team | jazeenaplays@gmail.com |Previously: Host on @GinxTV | 2,094 |
| OverlordDan | Overlord Dan | 22, trying my best. Moro enthusiast, wrestling "fan". @chubbsnolla is cracked at Fortnite. 999. | 1,980 |
Top 10 accounts with highest friends count
| Username | Name | Bio | Followers count |
| --- | --- | --- | --- |
| Msthorton_ | Brown Sugar👸🏾💅🏾 | If you need to vent about anything feel free to message me, please say it's Therapy related🦋Dm For Promo🤞🏾💗IG:Msthorton Twitch:ElephantChatting♋️♐️♋️ | 20,677 |
| daryiljohnson26 | daryil #freeukraine | sponsored by fade grips https://t.co/bWGsHSl2el my code is daryil games ❤grandad❤ @the_alih @huntingthedead @cjfaison @officialjaskoyt @moesargi @omargoshtv | 5,001 |
| kratoswrath654 | Kratoswrath654🕸 | I'm a young and gullible man that may be existentially weird yet I respect others and have big plans for the future.Prns: He/him/that guy/dude/bro & WE/US (18) | 4,999 |
| OverlordDan | Overlord Dan | 22, trying my best. Moro enthusiast, wrestling "fan". @chubbsnolla is cracked at Fortnite. 999. | 4,987 |
| DarranGarnham | Darran Garnham | Husband, father of boys; Founder @Toikido1 https://t.co/cdpm82uLWj; Seed @calm 🦄🦄, @GoSuperAwesome, @kidsKnowBest | 2,755 |
| XBGamerDad | Matt - Xbox Gamer Dad | Husband to 1, father to some, gamer and all round bullet sponge. So many games to play, not enough time. #XboxAmbassador #VampireSlayer | 2,502 |
| sBusinessGaming | Strictly Business | Apparel, Gaming & Entertainment | #sBGNation It's Nothing Personal, It's Strictly Business 06.01.2022 🟣Want to join sB? https://t.co/IdWC3nqUud🟣 | 1,939 |
| leveluplauren | Lauren Kaye | Program Coordinator @LBMentorship | 🇺🇸 in 🇬🇧 | 🎙 @ShePlaysPodcast | @ffunion Co-Founder | lauren@sheplaysgames.co Mama Mentor @theyplaypodcast 💜 | 1,502 |
| JazeenaPlays | Jazeena. | 29 | London | @BlackTwitchUK Stream Team | jazeenaplays@gmail.com |Previously: Host on @GinxTV | 1,163 |
| Dukeskendrick27 | Dukes_kendrick98 | Dukes ezarik kendrick Gordon/19 years old/🇵🇱🇬🇧/Gamer/rockstar & naughty dog fan/anime/ rock n roll | 1,131 |
Most active users
| Username | Bio | Number of tweets |
| --- | --- | --- |
| DarkMaster115 | - | 6 |
| Vinewood_motors | Hi, I'm Josh | Streamer | Virtual Photographer | @RockstarGames Fan | It doesn't cost anything to be nice | Raise over £20,000 for @SpecialEffect | RVP & CGH | 5 |
| MaxBeucus | Some dude | 4 |
| TyLaw0602 | - | 4 |
| JJVelez4 | - | 3 |
| bellic_cousins | I Suck At Life, But I Bowl Like An Angel!I post my own GTA content! #VirtualPhotography | 3 |
| Missing_Sample | uh, hi. I'm Missing! I make art and love being a cult leader! Mixels are underrated and have a great day! uh… yeh! He/They | 3 |
| chuch44 | XBOX Live @ ShadowOps503 Steam @ Busterhymen503 | 2 |
| calu69420 | - | 2 |
| FrogsongStudios | 🐸 #indiedev frogs making 🎮️ couch co-op games 🇸🇪 in Sweden. 🌵 Get D-Corp on Steam: https://t.co/C8RLnAeSAh… | 2 |
---
Tweets per day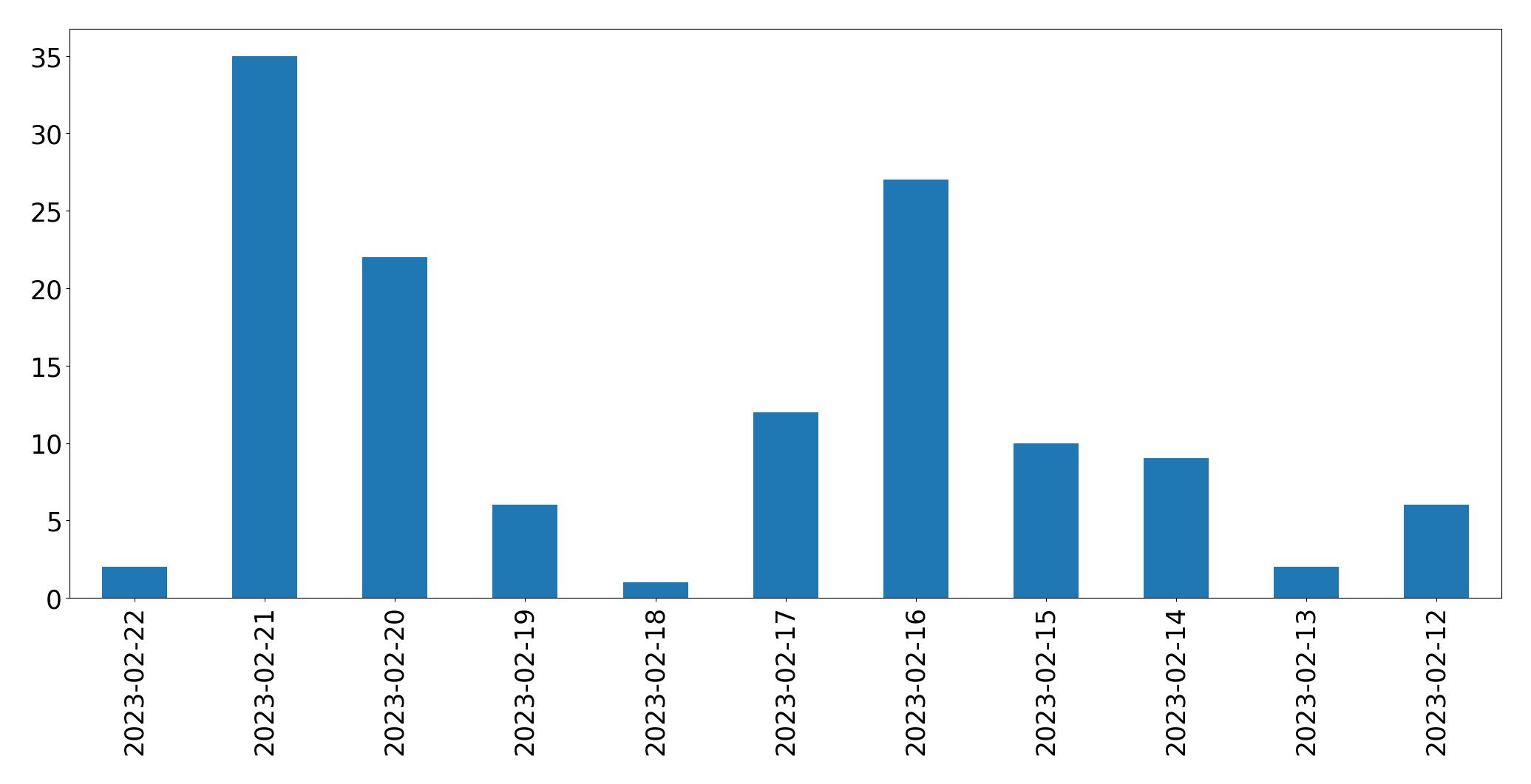 ---
Top 10 tweets with highest Retweet count
| ID | Text | Retweet count |
| --- | --- | --- |
| 1627130220376358913 | in honor of friendship games week presented by @FrogsongStudios, our weekend multiplayer pick goes to @gangbeasts.nothin beats throwing your pals to the shadow realm ragdoll style https://t.co/Bx3Jw2kxOA | 5 |
| 1627897967247085570 | Come'on @MCloven_77 You had that win man@gangbeasts Watch more here https://t.co/CO0AcU4rEo 👀🎥 https://t.co/Kkza9PoteL | 2 |
| 1625438548634570753 | Look at this gorgeous print I was gifted from Phil @RadicalForge ✨ So pretty and the girls definitely LOVED the @gangbeasts rep 😂❤️ https://t.co/Rwoeu5Yvzz | 1 |
| 1626401685240160259 | I'm live! C O M M U N I T Y N I G H TCome cheer us on while we beat each other up on @gangbeasts #twitchstreamer #community #support https://t.co/rGoGYDSJjY https://t.co/PCazKsWRo1 | 1 |
| 1626361018745081857 | My take on the Album Cover inspired by @gangbeasts What do we think @JJVelez4 @GeekyKhaos 🤔 https://t.co/zOE1QH5FM5 | 1 |
| 1627835866377756675 | I'm back with a bang and a bash. I am going live after my 2 week break with @gangbeasts !!!Got Game Pass? Join us.We are hitting the streets right now!Join the brawl at https://t.co/S7kJF7schf#gangbeasts | 1 |
| 1625732096416444416 | I have been compiling some games for those that want to get involved to download from @XboxGamePass to be ready. Here's a list so far: @AmongUsGame @gangbeasts @GolfWYF @Halo Infinite Hot Wheels Unleashed @ThatBanditsGame @SunsetOverdrive Missed anything, then comment below. https://t.co/skaK260NVs | 1 |
| 1627902399380586497 | Streamers de Twitch que tengan el juego @gangbeasts para colaboraciones? (estoy a un click de comprarme lo)#gangbeasts #twitch #streamers #streamerstwitch #streanchile #streamerschilenos #creadoresdecontenido https://t.co/beEew0zORp | 1 |
| 1625294362211909637 | live streaming @gangbeasts right now 🤣🤣🤣 if you want to join, tap into the stream at https://t.co/2n88XYEtEs | 0 |
| 1626363117734174722 | @afiringmeleeza @gangbeasts @JJVelez4 That is great 🤣 do more! Lol | 0 |
Top 10 tweets with highest Like count
| ID | Text | Like count |
| --- | --- | --- |
| 1627130220376358913 | in honor of friendship games week presented by @FrogsongStudios, our weekend multiplayer pick goes to @gangbeasts.nothin beats throwing your pals to the shadow realm ragdoll style https://t.co/Bx3Jw2kxOA | 20 |
| 1627680092875882499 | @studio_goblinz @TavroxGames @ThingOnItsOwn @DrinkBoxStudios @vrgiants @devolverdigital @freelives @LeCartelStudio @daedalic @IndoorAstronaut @YazaGames @ibbandobb @richardboeser @thismeanswarp @OutlierSocial @muddasheep @MythicOwlGames @MangoProtocol @SclashTheGame @RoguesideGames @epopeiagames @FallingOutGame @aftnareld @OrangePixel @CaspianInt @spacewavesoft @rokaplayHQ @SpellsSecrets @flashbulbgames @ThatBanditsGame @TwinSailsInt @Innchanted_Game @thelobstergame 🍖 @gangbeasts @robot_teddy @boneloaf @Coatsink🌍️@mohawkgames @HoodedHorseInc @LeylaCatJ @SorenJohnson 🎱 @megapower_games 🐲 @AwesomeGamesStd 💍 @Nomadgames 💪 @StegerGames 🕊️ @monstercouch 🍺 @Isolated_Games @TravRestGame @IndieArk_Games 🦒 @GValleyGames | 20 |
| 1625438548634570753 | Look at this gorgeous print I was gifted from Phil @RadicalForge ✨ So pretty and the girls definitely LOVED the @gangbeasts rep 😂❤️ https://t.co/Rwoeu5Yvzz | 15 |
| 1627686111131713538 | @gangbeasts hear me out... https://t.co/tQp3tByPJM | 10 |
| 1627659798031351810 | @Vinewood_motors @SeeFusionn @GolfWYF @gangbeasts @AmongUsGame @RockstarGames @garticphone @FallGuysGame https://t.co/gfDroW9kIA | 9 |
| 1625541353563209751 | @gangbeasts Thank you for the wholesome message, enjoy your day 🫡 https://t.co/LFpEX2dLEY | 7 |
| 1625271613162766336 | Fun stream!!! Started playing @DisneyDLV but then ended stream with @gangbeasts with @CozyZozexo and @xx_j0k3r! I got raided by @Whole_someGamer and @socks_corner 💚💚💚 @Whole_someGamer gave some bitties!!! And @KnuckleMoose28 was the latest follower of 225! I love you all! | 6 |
| 1625649419340087296 | @gangbeasts When is the update | 5 |
| 1626204069546102786 | @gangbeasts @EntertainerToys @ToikidoToys Yo gang beasts can u give us a hint for the next update | 5 |
| 1627960613283708930 | @gangbeasts Very respectable of you gang beasts | 5 |
Top 3 Languages Used In Tweets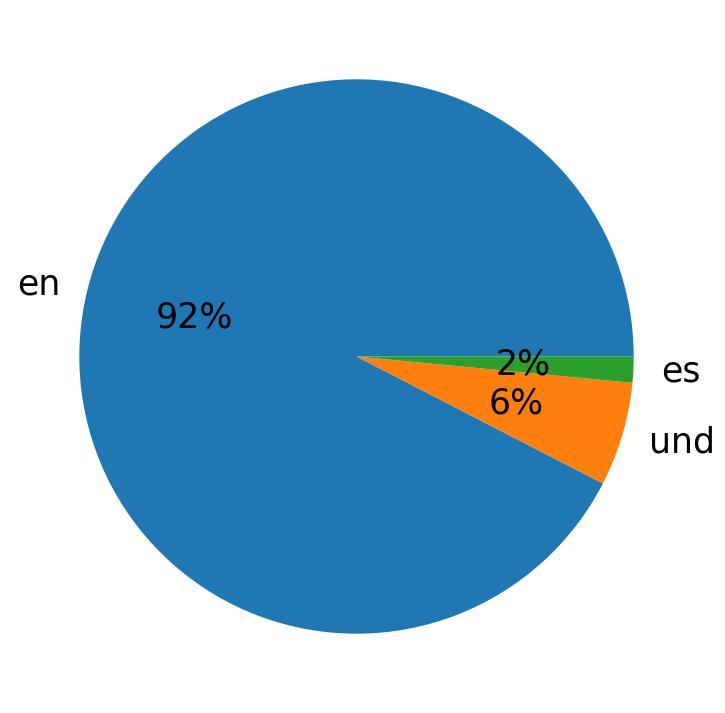 ---
Top 10 Hashtags used
| Hashtag | Count |
| --- | --- |
| #twitchstreamer | 2 |
| #community | 2 |
| #support | 2 |
| #gangbeasts | 1 |
| #twitch | 1 |
| #streamers | 1 |
| #streamerstwitch | 1 |
| #streanchile | 1 |
| #streamerschilenos | 1 |
| #creadoresdecontenido | 1 |
Top 10 Hashtags Used In Tweets
Top 10 mentions
| Mention | Count |
| --- | --- |
| @gangbeasts | 130 |
| @entertainertoys | 28 |
| @toikidotoys | 28 |
| @golfwyf | 21 |
| @amongusgame | 21 |
| @seefusionn | 19 |
| @rockstargames | 19 |
| @garticphone | 19 |
| @fallguysgame | 19 |
| @vinewood_motors | 14 |
Top 10 mentions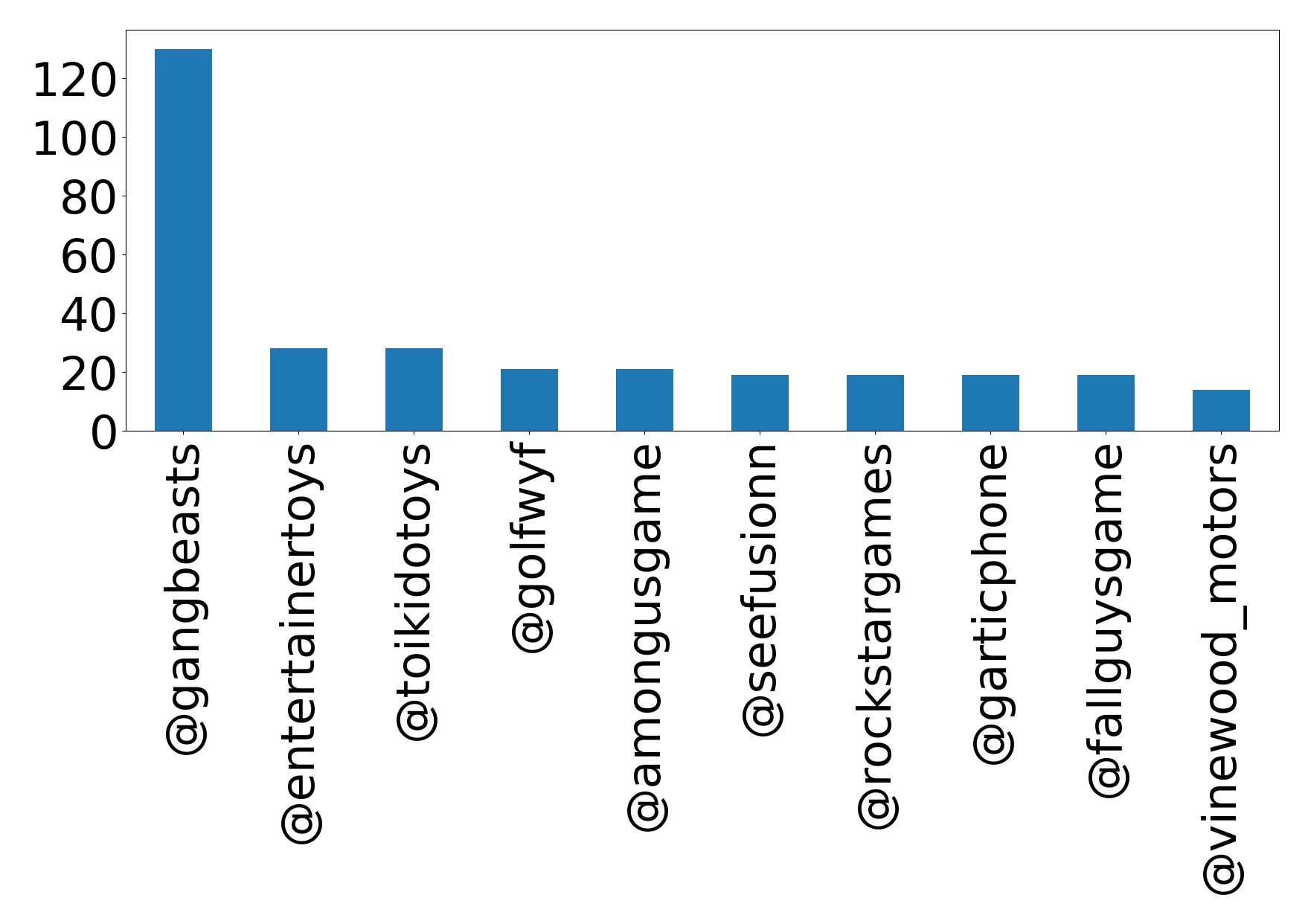 Wordcloud of Tweets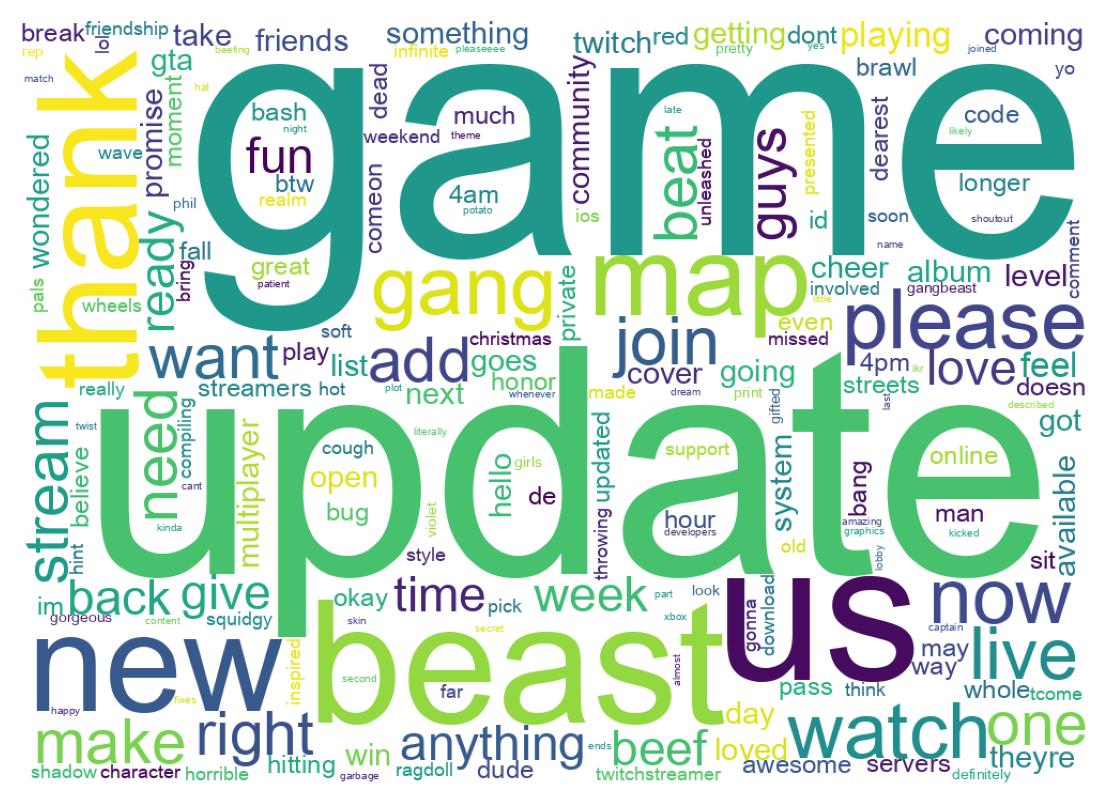 ---
Emojis
Average number of emojis used per tweet
37
Emojis used in tweets
| Emoji | Count | Emoji Text |
| --- | --- | --- |
| 🤣 | 5 | rolling_on_the_floor_laughing |
| 😂 | 3 | face_with_tears_of_joy |
| ❤️ | 3 | red_heart |
| 💚 | 3 | green_heart |
| 👍 | 2 | thumbs_up |
| 👀 | 2 | eyes |
| 🎥 | 2 | movie_camera |
| 🤔 | 2 | thinking_face |
| ✨ | 2 | sparkles |
| 🎶 | 2 | musical_notes |
Emojis groups
| Emoji Group | Count |
| --- | --- |
| Smileys & Emotion | 25 |
| People & Body | 9 |
| Objects | 5 |
| Activities | 4 |
| Animals & Nature | 3 |
| Food & Drink | 2 |
| Travel & Places | 1 |