Tweets Analysis - Keyword: @DonnySchatz
Total number of tweets analysed
273
Earliest tweet was on
2023-03-17
Latest tweet was on
2023-03-27
Average age of authors' accounts
9 years
---
Summarization
There is a giveaway by Gearwrench, with a chance to win an autographed hat. The World of Outlaws Sprint Series returns, with Brad Sweet winning his 80th race, and Donny Schatz consistently finishing in the top 5. There are updates on Schatz's standings and performances in various races. Schatz is looking for his first World of Outlaws win of 2023. There were incidents in Heat 2, and Buddy Kofoid won the most recent race over Sweet, Bayston, Gravel, and Schatz. There is also a poll and updates on upcoming races.
Topic Modeling
Giveaway promotion by gearwrench
Changes and history of World of Outlaws Sprint racing
Racing statistics and achievements
Race events and lineup
Incidents and accidents during races
Emotional Analysis
The tweets primarily express excitement and anticipation around upcoming races and events involving driver Donny Schatz and the World of Outlaws Sprint Car Series, with mentions of achievements and statistics adding to the enthusiasm. There is also a promotion for a giveaway and gratitude toward fans for their involvement. One tweet mentions an incident during a race but no negative emotions are expressed.
Trend Analysis
Giveaway promotion by GearWrench
WoOSprint racing events and updates
Achievements and records of individual drivers, particularly Donny Schatz and Brad Sweet
Racing schedule and location updates
Voting poll by CouchRacerShop
---
Types of Tweets
Number of Retweets
62
Percentage of total tweets
22%
Number of Original tweets
52
Percentage of total tweets
19%
Number of tweets that contain Mentions
273
Percentage of total tweets
100%
Number of tweets that were Replies
151
Percentage of total tweets
55%
Number of tweets that were Quotes
18
Percentage of total tweets
6%
Number of tweets that contain Hashtags
43
Percentage of total tweets
15%
---
Top 5 devices used to tweet
| Source | Count |
| --- | --- |
| Twitter for iPhone | 135 |
| Twitter for Android | 67 |
| Twitter Web App | 64 |
| Twitter for iPad | 3 |
| SCR_Twitter4 | 2 |
What devices were used to tweet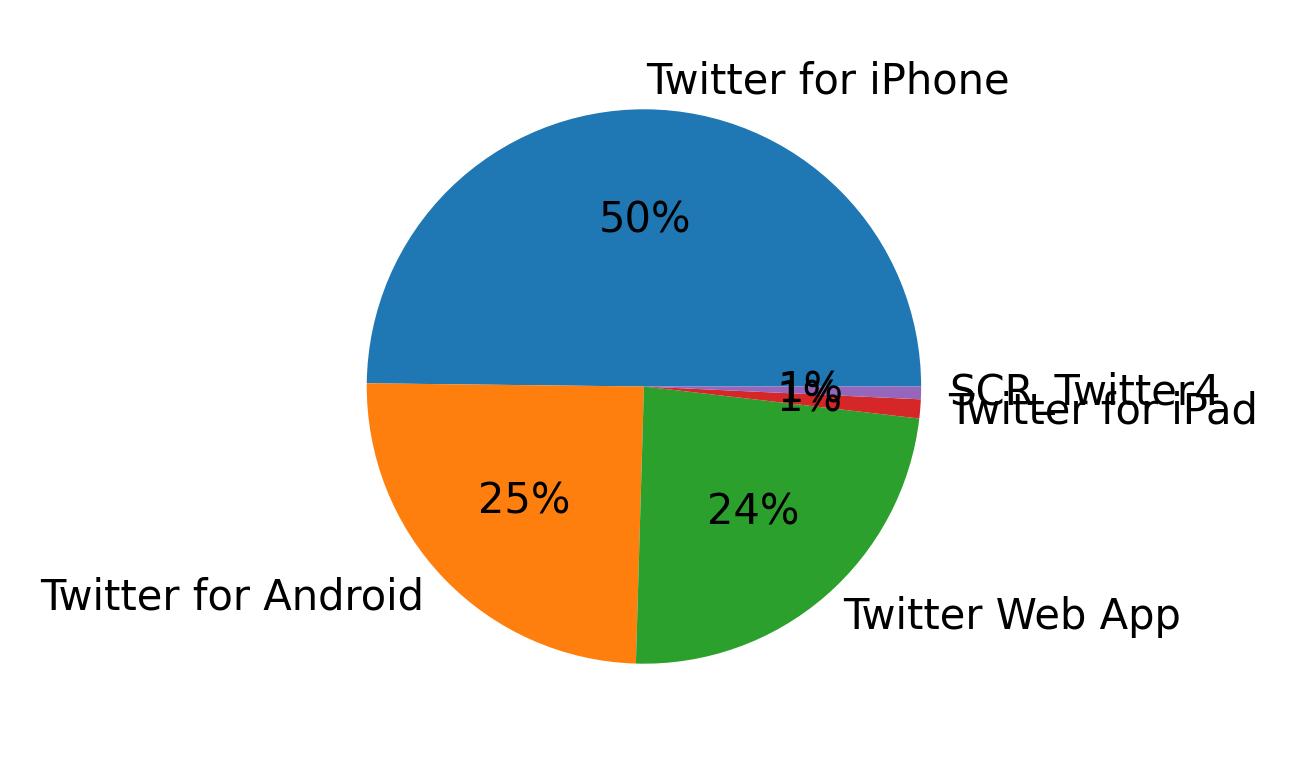 ---
Top 10 accounts with highest followers count
| Username | Name | Bio | Followers count |
| --- | --- | --- | --- |
| WorldofOutlaws | World of Outlaws | 𝗧𝗛𝗘 𝗚𝗥𝗘𝗔𝗧𝗘𝗦𝗧 𝗦𝗛𝗢𝗪 𝗢𝗡 𝗗𝗜𝗥𝗧 | Official #WoOSprint Twitter | 🗓️ 𝐔𝐏 𝐍𝐄𝐗𝐓: @FederatedAP Texas Outlaw Nats Devil's Bowl (March 31-April 1) | 153,509 |
| TonyStewart_Rcg | Tony Stewart Racing | Owner: 3X @NASCAR Champion, @TonyStewart Driver: 10X @WorldofOutlaws Champion, @DonnySchatz. Online Store: https://t.co/omQRhq8tpp Est. 2001 | 101,934 |
| DonnySchatz | Donny Schatz | 10X @WorldofOutlaws Champion 11X @KnoxvilleNats Champion 6X #NationalOpen Champion 5X #KingsRoyal Champion 27th Outlaw Season in 2023 #NorthDakota | 43,265 |
| Walkapedia_ | 𝗪𝗔𝗟𝗞𝗔𝗣𝗘𝗗𝗜𝗔 | 📳 𝑨 𝑺𝒐𝒄𝒊𝒂𝒍 𝑴𝒆𝒅𝒊𝒂 𝑬𝒙𝒑𝒆𝒓𝒊𝒆𝒏𝒄𝒆 dedicated to one-of-a-kind coverage of dirt racing. Presented by https://t.co/gniixPVeow. I'm @Brian_Walker15. | 35,881 |
| SprintCarNews | SprintCarNews.com | Longtime media mogul and Sprint Car photographer Rick Rarer presents your #1 spot for Sprint Car photos on Twitter! Also offering social media management. | 29,206 |
| TheDirtNetwork | The Dirt Network | Dirt Racing News, Opinion, Driver Interviews, Pod casts, Sanction Announcements and Promotion.The complete dirt fan guide. | 18,144 |
| CouchRacerShop | Couch Racer | The brand of the largest community of at-home racing experts. | Merch: http:// https://t.co/QgydtDnxqI | Support: @CouchSupport | The racing brand that gives back | 15,855 |
| Deb55106 | Deb K | I am from the cold state of Minnesota. I have 2 small dogs and 1 big cat! | 14,023 |
| jachaudracing | Jac Haudenschild Racing | Retired after 48 years of racing. Thank you to all the fans for your support throughout my career🏁 | 11,706 |
| mikevleone | Mike Leone | Race chaser since birth | Living life 1 race at time | @ReneeAeriel has my ❤ | @GroveCtyCollege Class of 2000 | Fan of the @nyjets & @YSUMensHoops | 9,220 |
Top 10 accounts with highest friends count
| Username | Name | Bio | Followers count |
| --- | --- | --- | --- |
| Deb55106 | Deb K | I am from the cold state of Minnesota. I have 2 small dogs and 1 big cat! | 15,419 |
| vdstaff58 | Dale Stafford | Southern West Virginian,#AmericaFirst #AlwaysAndForever ,#Outdoors, #FordRacing #Nikon, #ShootSlik, #ReallyRightStuff #Dreg #Deplorable #BackTheBlue #RLC | 5,840 |
| Ashtonlee2333 | Ashton Hensley | HUGE KY WILDCATS FAN!!!,NASCAR,MLB,NBA &NFL..love my sports :) $Astewart0120 | 5,002 |
| Daddyof2kiddos | Shane Kirk | HUGE fan of NASCAR,NBA,MLB..Love my CINCY BENGALS, NFL and lifelong fan of TRUEX JR!! the man!!!!!!!!!! $Daddyof2kiddoz | 5,000 |
| ChristinaC87 | Christina Cordner | 36, college graduate (communications degree), I love NASCAR, Indycar, and NFL Football #NFB | 5,000 |
| LRacing77 | Aaron | I like racing and would like too race some day I own 2 83 Square Body Chevys,NASCAR Fan 4,5,9,24,48🔧🏁🏎️ | 4,999 |
| tattoo49ers | Timothy Keheley Jr. | big sports fan NFL-49ers MLB-Dodgers NBA-Lakers NASCAR-Dale Jr & Sr. and Chase Elliot. Jerry Rice is my pc. | 4,999 |
| Littlejohn189 | Lady D | God First 🙏 Family 👨‍👩‍👧‍👦 Hustle 💯 Education 📚6️⃣5️⃣🎹 #TeamStacks #TeamPulte🌟#SirgeSquad 💜 #Millions $Washington172712 | 4,999 |
| DannyLeBlanc24 | Danny LeBlanc | Happily Married @kimanddannyl 💑💞@ChaseElliott fan #di9 @FL_Corrections Retired Sgt @usmc Veteran #BrooksvilleFL #NativeAmerican @Nascar | 4,997 |
| PrideOfLionsDen | Brian 🏁 | Husband/Father/Detroit Sports/ Jimmie Johnson🏁#MIS #Michigan #Yooper #ProudAmerican🇺🇸 | 4,995 |
Most active users
| Username | Bio | Number of tweets |
| --- | --- | --- |
| TonyStewart_Rcg | Owner: 3X @NASCAR Champion, @TonyStewart Driver: 10X @WorldofOutlaws Champion, @DonnySchatz. Online Store: https://t.co/omQRhq8tpp Est. 2001 | 24 |
| WorldofOutlaws | 𝗧𝗛𝗘 𝗚𝗥𝗘𝗔𝗧𝗘𝗦𝗧 𝗦𝗛𝗢𝗪 𝗢𝗡 𝗗𝗜𝗥𝗧 | Official #WoOSprint Twitter | 🗓️ 𝐔𝐏 𝐍𝐄𝐗𝐓: @FederatedAP Texas Outlaw Nats Devil's Bowl (March 31-April 1) | 21 |
| JJ_Auto_Racing | Building safe, innovative Sprintcar chassis for 50 years. Founded & Owned by Jack & Bonnie Elam. | 11 |
| susan_haga | Momma to my fur babies! #Rescues! 😍Dirt racing - 410 Winged Sprint's. Always #15🐐#WOO. | 7 |
| SprintCarRating | Sprint Car Ratings | 6 |
| Racer15John | Employed at FedEx Ground. BIG fan of Tony Stewart Racing, Clauson-Marshall Racing, Stewart-Haas Racing, J&J Auto Racing. Enjoy Reggae, 80's Punk | 5 |
| MommaBearBrandy | 🔴Live Now: https://t.co/tyfDFxojZ3 | 3 |
| Nonwing_King | - | 3 |
| DonnySchatz | 10X @WorldofOutlaws Champion 11X @KnoxvilleNats Champion 6X #NationalOpen Champion 5X #KingsRoyal Champion 27th Outlaw Season in 2023 #NorthDakota | 3 |
| counselor46 | - | 3 |
---
Tweets per day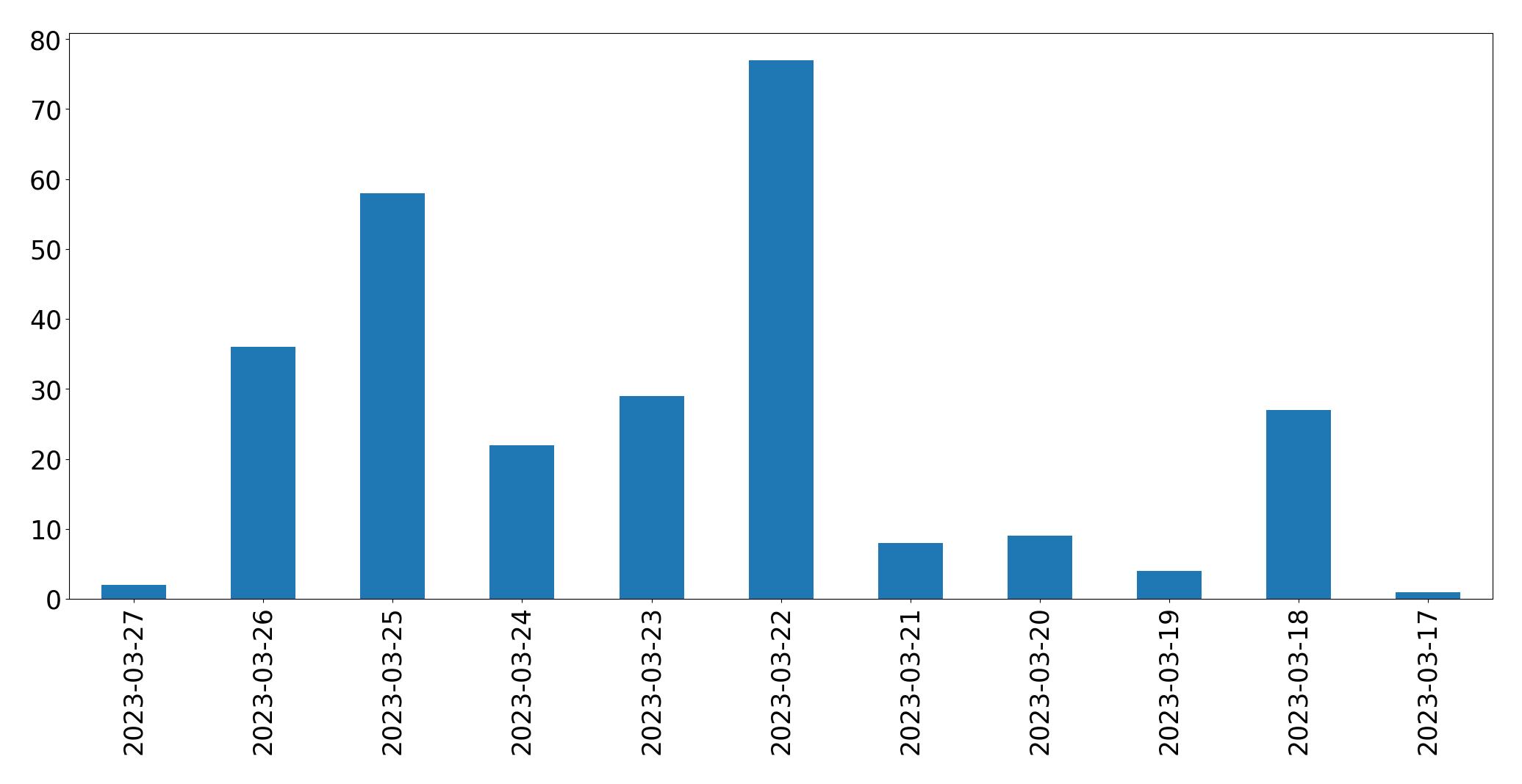 ---
Top 10 tweets with highest Retweet count
| ID | Text | Retweet count |
| --- | --- | --- |
| 1638367258790490112 | ‼️ GIVEAWAY Alert ‼️ #ToolTuesday @gearwrench ⚙️🔧 Enter for a chance to win an autographed 🧢 1) HIT the ❤️ 2) RETWEET this Tweet 3) FOLLOW @gearwrench @DonnySchatz @TonyStewart @TonyStewart_Rcg (Must follow all 4) Winner announced Thursday, March 24 at 12 pm ET! https://t.co/Ty7MPjvqDL | 567 |
| 1637226657411997696 | . @dirtvision REPLAY: in Heat Race #2, @RyanTimms_5T catches the back of @trossracing which sends Timms flipping in front of the rest of the field and collects @DonnySchatz. Timms Would Walk away Unharmed. @dannydietrich and @Rico_Abreu went 1-2 and advanced to the Dash. https://t.co/8eTjHaePyx | 16 |
| 1638586389544460288 | The #WoOSprint landscape was quite different during the last @tsthornetsnest visit (2011). — @JMRacing14 was the defending champ — @DonnySchatz "only" had 123 wins — @DavidGravel earned his 1st win — 2 current full-timers were less than 10 years old The Series returns Friday! https://t.co/RxFvoRhw9J | 15 |
| 1639460351681916928 | Tonight's top-10 1. @MichaelKofoid 2. @BradSweet49 3. @spencerbayston 4. @DavidGravel 5. @DonnySchatz 6. @Haudenschild_17 7. @Rico_Abreu 8. @GioScelzi 9. @carson_macedo 10. @kaseykahne | 13 |
| 1639821752653021186 | Brad Sweet hits 80 wins in 804 starts — the fourth-fastest rate in @WorldofOutlaws history. 𝟐𝟎𝟖 @SteveKinser11 ('81) 𝟐𝟕𝟑 @1Sam91 ('83) 𝟒𝟎𝟑 Doug Wolfgang ('86) 👉🏼 𝟖𝟎𝟒 @BradSweet49 ('23) 𝟖𝟒𝟑 @BuckeyeBullet10 ('96) 𝟖𝟓𝟔 Mark Kinser ('96) 𝟗𝟒𝟑 @DonnySchatz ('07) https://t.co/zVFWmQSLSD | 13 |
| 1639621432484282370 | .@BradSweet49 is now 11th on all-time #WoOSprint podiums! 1. @SteveKinser_Rcg 1,438 2. @1sam91 867 3. @DonnySchatz 740 4. Mark Kinser 526 5. @DannyLasoski 349 Doug Wolfgang 349 7. @BuckeyeBullet10 334 8. @jachaudracing 329 9. @JoeySaldana 323 10. @DarynPittman 264 11. Sweet 260 https://t.co/sOSQacw9ii | 8 |
| 1639433439848935431 | .@spencerbayston wins @NosEnergyDrink Heat Two and goes to the @ToyotaRacing Dash with @Rico_Abreu! 3. @DonnySchatz 4. @AustinMcCarl88 5. Aaron Reutzel 6. @parker_pm9 To LCS: 7. @LSchuchart1s 8. Todd Fayard 9. @billrose6_rose 10. Kevin Newtown https://t.co/xbONoAheTX | 8 |
| 1639626980990541824 | Ten time @WorldofOutlaws champion @DonnySchatz hammer down @lincolnspeedway @AdvanceAuto https://t.co/eoJ5KATRb1 | 8 |
| 1639280975719874567 | After 12 years, it's a @WorldofOutlaws RACEDAY in Alabama! 🏎️ @DonnySchatz 📍 @tsthornetsnest (AL) 🕰️ CT 📲 @MyRacePass 🖥️📺💻 @dirtvision 411: Gates/5 pm, Hotlaps/6:30 pm 🙌 @CurbRecords 🎮 @iRacing #OUTLAWSGAME 🧢 Merch Trailer On-Site 🔗 https://t.co/AIR41sOg11 https://t.co/Uz02AnwPD5 | 7 |
| 1639359409385005083 | The lone driver here who has competed in all 11 #WoOSprint races at @tsthornetsnest is 10-time champ, @DonnySchatz. He's yet to win here but does own 3 podiums including a pair of runner-ups, and tonight he looks for the top spot aboard the @TonyStewart_Rcg #15! https://t.co/YiXAVa5J8V | 7 |
Top 10 tweets with highest Like count
| ID | Text | Like count |
| --- | --- | --- |
| 1638367258790490112 | ‼️ GIVEAWAY Alert ‼️ #ToolTuesday @gearwrench ⚙️🔧 Enter for a chance to win an autographed 🧢 1) HIT the ❤️ 2) RETWEET this Tweet 3) FOLLOW @gearwrench @DonnySchatz @TonyStewart @TonyStewart_Rcg (Must follow all 4) Winner announced Thursday, March 24 at 12 pm ET! https://t.co/Ty7MPjvqDL | 659 |
| 1638586389544460288 | The #WoOSprint landscape was quite different during the last @tsthornetsnest visit (2011). — @JMRacing14 was the defending champ — @DonnySchatz "only" had 123 wins — @DavidGravel earned his 1st win — 2 current full-timers were less than 10 years old The Series returns Friday! https://t.co/RxFvoRhw9J | 187 |
| 1639821752653021186 | Brad Sweet hits 80 wins in 804 starts — the fourth-fastest rate in @WorldofOutlaws history. 𝟐𝟎𝟖 @SteveKinser11 ('81) 𝟐𝟕𝟑 @1Sam91 ('83) 𝟒𝟎𝟑 Doug Wolfgang ('86) 👉🏼 𝟖𝟎𝟒 @BradSweet49 ('23) 𝟖𝟒𝟑 @BuckeyeBullet10 ('96) 𝟖𝟓𝟔 Mark Kinser ('96) 𝟗𝟒𝟑 @DonnySchatz ('07) https://t.co/zVFWmQSLSD | 133 |
| 1639621432484282370 | .@BradSweet49 is now 11th on all-time #WoOSprint podiums! 1. @SteveKinser_Rcg 1,438 2. @1sam91 867 3. @DonnySchatz 740 4. Mark Kinser 526 5. @DannyLasoski 349 Doug Wolfgang 349 7. @BuckeyeBullet10 334 8. @jachaudracing 329 9. @JoeySaldana 323 10. @DarynPittman 264 11. Sweet 260 https://t.co/sOSQacw9ii | 129 |
| 1639359409385005083 | The lone driver here who has competed in all 11 #WoOSprint races at @tsthornetsnest is 10-time champ, @DonnySchatz. He's yet to win here but does own 3 podiums including a pair of runner-ups, and tonight he looks for the top spot aboard the @TonyStewart_Rcg #15! https://t.co/YiXAVa5J8V | 126 |
| 1639626980990541824 | Ten time @WorldofOutlaws champion @DonnySchatz hammer down @lincolnspeedway @AdvanceAuto https://t.co/eoJ5KATRb1 | 110 |
| 1639716052740259840 | With a fifth-place run last night, @DonnySchatz earned his third top-5 in his last four #WoOSprint races. The pilot of the @TonyStewart_Rcg #15 finished 4th here at @TheMagSpeedway during the 2021 Series debut! https://t.co/aIMB9yjFYU | 95 |
| 1639460351681916928 | Tonight's top-10 1. @MichaelKofoid 2. @BradSweet49 3. @spencerbayston 4. @DavidGravel 5. @DonnySchatz 6. @Haudenschild_17 7. @Rico_Abreu 8. @GioScelzi 9. @carson_macedo 10. @kaseykahne | 86 |
| 1637165860396625923 | .@DonnySchatz has been consistent at @lincolnspeedway with a 6.43 average finish in his last 7 races here including a 2016 win. The @TonyStewart_Rcg driver looks to become the ninth driver with multiple #WoOSprint wins at the 3/8ths mile tonight! https://t.co/1dOa8MxvR7 | 75 |
| 1639799415064936449 | .@BradSweet49 wins the @ToyotaRacing Dash and will start on the pole of the @NosEnergyDrink Feature! 2. @Haudenschild_17 3. @DonnySchatz 4. @carson_macedo 5. @GioScelzi 6. @Rico_Abreu https://t.co/6OycqowcSY | 75 |
Top 3 Languages Used In Tweets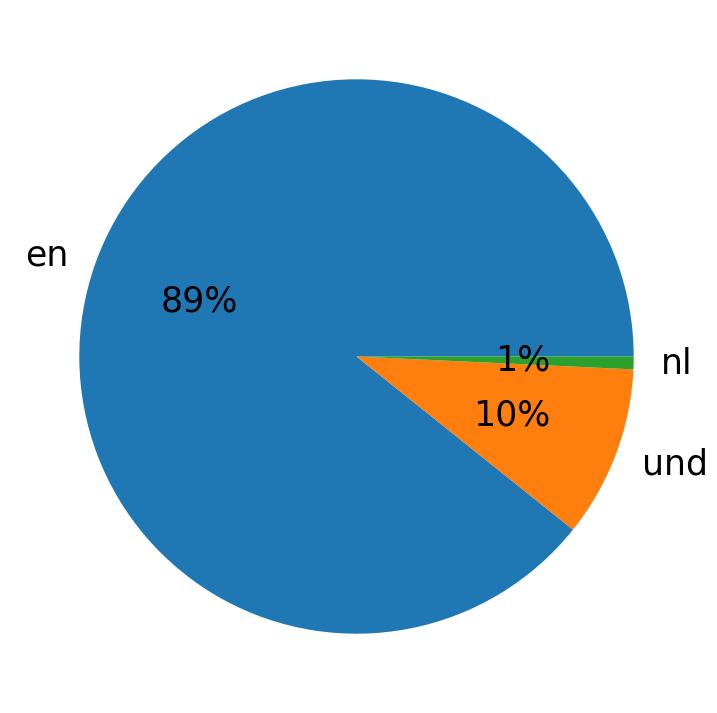 ---
Top 10 Hashtags used
| Hashtag | Count |
| --- | --- |
| #woosprint | 12 |
| #outlawsgame | 12 |
| #tooltuesday | 8 |
| #15 | 7 |
| #schatz | 4 |
| #2 | 4 |
| #nationalpuppyday | 1 |
| #schatzsshots | 1 |
| #teamoutlaws | 1 |
Top 10 Hashtags Used In Tweets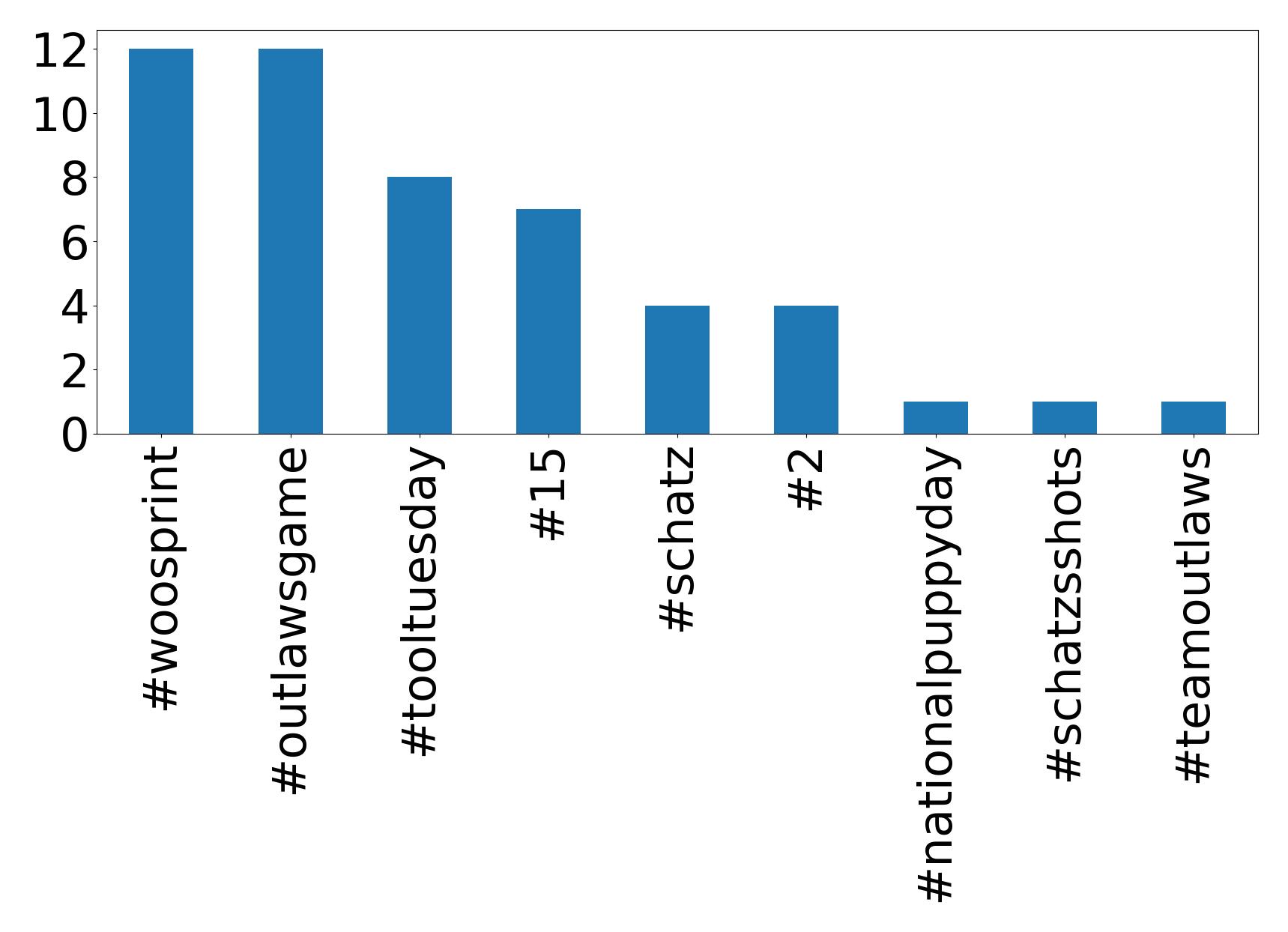 Top 10 mentions
| Mention | Count |
| --- | --- |
| @donnyschatz | 280 |
| @worldofoutlaws | 199 |
| @tonystewart_rcg | 145 |
| @gearwrench | 100 |
| @tonystewart | 94 |
| @14tsf | 81 |
| @ascoc | 81 |
| @tsrstore | 81 |
| @bradsweet49 | 42 |
| @tsthornetsnest | 38 |
Top 10 mentions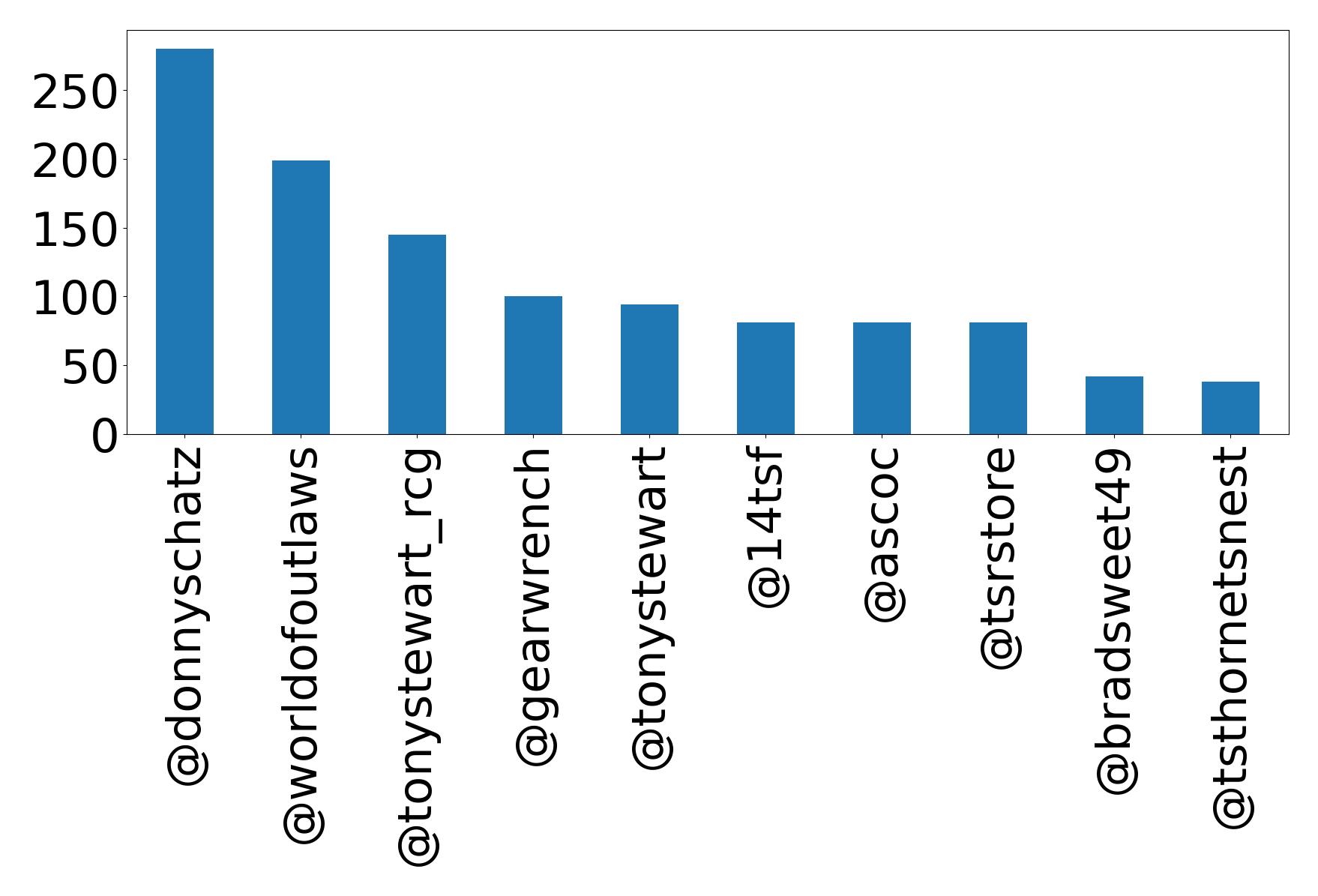 Wordcloud of Tweets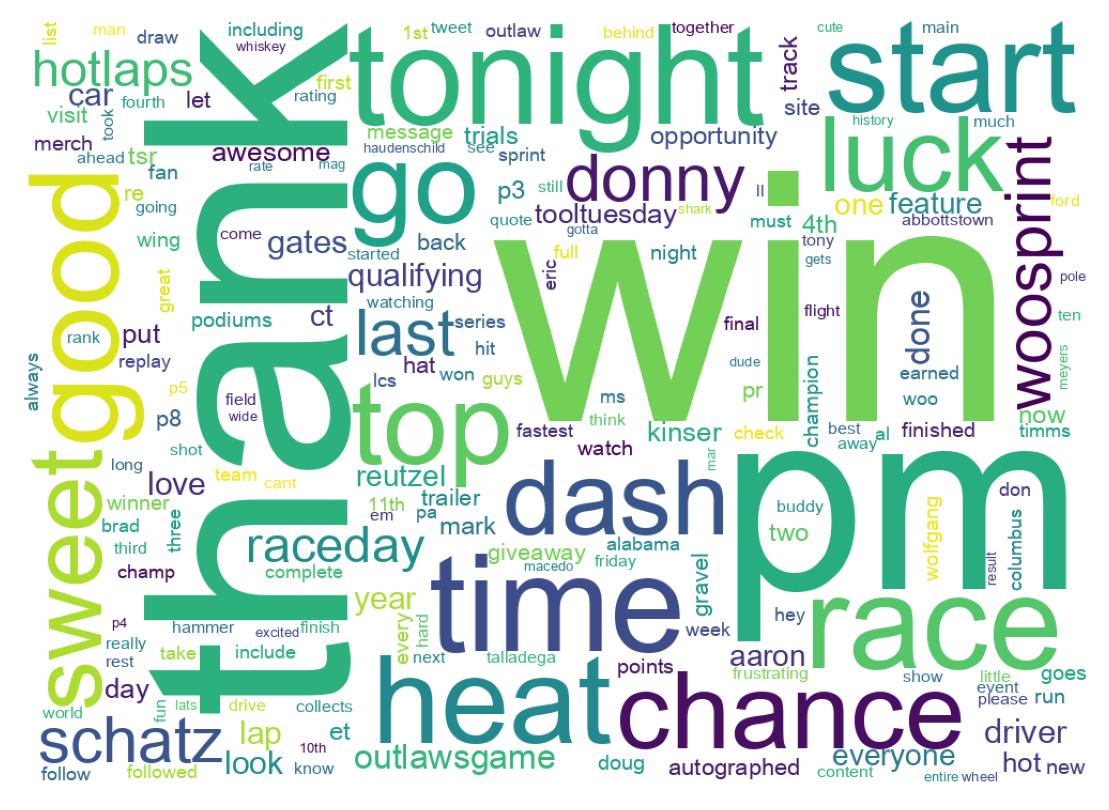 ---
Emojis
Average number of emojis used per tweet
115
Emojis used in tweets
| Emoji | Count | Emoji Text |
| --- | --- | --- |
| 🏁 | 44 | chequered_flag |
| ⬇️ | 18 | down_arrow |
| 🙌 | 14 | raising_hands |
| 🏎️ | 12 | racing_car |
| 📍 | 12 | round_pushpin |
| 🕰️ | 12 | mantelpiece_clock |
| 📲 | 12 | mobile_phone_with_arrow |
| 💻 | 12 | laptop |
| 📺 | 12 | television |
| 🎮 | 12 | video_game |
Emojis groups
| Emoji Group | Count |
| --- | --- |
| Objects | 101 |
| Flags | 45 |
| People & Body | 40 |
| Smileys & Emotion | 40 |
| Symbols | 34 |
| Activities | 25 |
| Travel & Places | 25 |
| Animals & Nature | 3 |
| Food & Drink | 1 |