Tweets Analysis - Keyword: @DBTIndia
Total number of tweets analysed
452
Earliest tweet was on
2023-03-21
Latest tweet was on
2023-03-30
Average age of authors' accounts
7 years
---
Summarization
DBT India has awarded several prestigious fellowships and grants to researchers and scientists for their work in various fields such as plant physiology, HIV research, and development of new inhibitors. There have also been discussions and initiatives towards pandemic preparedness and collaboration with international organizations. The organization has also launched a life scientists' database and conducted a genomics hackathon. Additionally, there have been presentations and discussions on sustainable development goals and combating tuberculosis.
Topic Modeling
Receiving prestigious awards and fellowships in the field of biotechnology
Research publications and scientific breakthroughs with the support of DBTIndia
Collaborative efforts for combating antibiotic resistance and improving public health
Academic and educational opportunities in biotechnology
Discussions on genomics, sustainable development, and pandemic preparedness
Emotional Analysis
Most of the tweets express positive emotions such as pride, delight, pleasure, and gratitude for receiving awards, publishing research articles, delivering lectures, and receiving fellowship grants. Many tweets also express excitement for future events and collaborations. There is also a sense of responsibility towards societal issues such as pandemic preparedness, sustainable development goals, and disease eradication. Overall, the tweets reflect a sense of achievement and purpose in the field of biotechnology and life sciences.
Trend Analysis
Recognition and awards in the field of biotechnology, including prestigious fellowships and publications
Research advancements in areas such as plant physiology, HIV-1 inhibition, and development of inhibitors for antibiotic-resistant bacteria
Collaborations among academic institutions, government organizations, and industry partners to advance biotechnology research
Efforts to promote public health through pandemic preparedness and disease research, including discussions on current public health challenges in India
Innovative approaches to utilizing genomic data and computational tools for biological insights, as well as efforts to promote sustainable agriculture and underutilized crops
---
Types of Tweets
Number of Retweets
152
Percentage of total tweets
33%
Number of Original tweets
105
Percentage of total tweets
23%
Number of tweets that contain Mentions
452
Percentage of total tweets
100%
Number of tweets that were Replies
164
Percentage of total tweets
36%
Number of tweets that were Quotes
56
Percentage of total tweets
12%
Number of tweets that contain Hashtags
155
Percentage of total tweets
34%
---
Top 5 devices used to tweet
| Source | Count |
| --- | --- |
| Twitter for Android | 216 |
| Twitter Web App | 158 |
| Twitter for iPhone | 67 |
| TweetDeck | 6 |
| Twitter for iPad | 1 |
What devices were used to tweet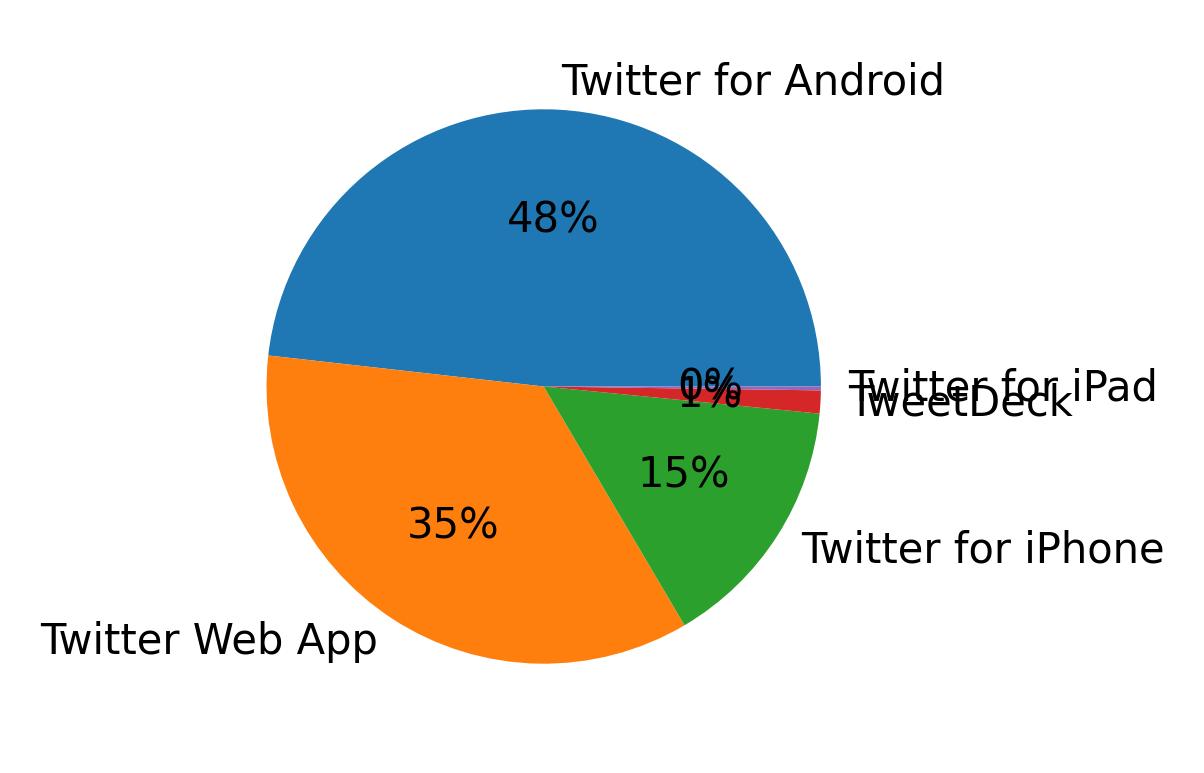 ---
Top 10 accounts with highest followers count
| Username | Name | Bio | Followers count |
| --- | --- | --- | --- |
| DDNewslive | DD News | Official Twitter account of DD News, the Public Broadcaster of India. हिंदी में @DDNewsHindi. Follow us on- https://t.co/Dg1aGX3the | 3,663,965 |
| GoFirstairways | GO FIRST | Welcome to the official account of Go First. Follow us for the latest offers, news, careers and more. Toll Free Number - 1800 2100 999/+91 22 68968300 | 212,269 |
| PBNS_India | Prasar Bharati News Services & Digital Platform | Digital News Service of India's Public Broadcaster - Breaking Alerts, Digests & curated Developing Stories from across the Globe.Also on https://t.co/Mu8lhjhFde | 191,134 |
| IndiaDST | DSTIndia | DST was established with the objective of promoting new areas, policies and programmes related to Science & Technology and Innovation. https://t.co/7gCaHSN211 | 157,468 |
| doctorsoumya | Soumya Swaminathan | Tweeting in personal capacity | 140,790 |
| DBTIndia | BiotechIndia | The Department of Biotechnology, Ministry of Sc & Tech, Govt of India supports research, its applications and education in the Life Sciences and Biotechnology. | 101,027 |
| DDIndialive | DD India | Official account of DD India, the International TV News Channel from India's Public Broadcaster Prasar Bharati Follow us on https://t.co/UJ8FsWScJR | 88,123 |
| IIG_GoI | India Investment Grid | India Investment Grid showcases investment opportunities across India on a single online platform. An initiative of DPIIT, Government of India and Invest India. | 85,280 |
| moesgoi | MoES GoI | Official Account of Ministry of Earth Sciences, Government of India; followings, RTs ≠ endorsement | 75,851 |
| AnantBhan | Anant Bhan | Researcher-Bioethics/Global Health/Policy; Adjunct Prof; Past Prez @IABioethics; Mentor @SangathIndia Bhopal; Dr. https://t.co/zu5UaKHVUY | 62,666 |
Top 10 accounts with highest friends count
| Username | Name | Bio | Followers count |
| --- | --- | --- | --- |
| exosome | Dr. Thomas Ichim | CEO of Immunology Based Suicide Prediction and Prevention Biotech Company Campbell Neurosciences. Working for a world without suicide. | 25,736 |
| AnantBhan | Anant Bhan | Researcher-Bioethics/Global Health/Policy; Adjunct Prof; Past Prez @IABioethics; Mentor @SangathIndia Bhopal; Dr. https://t.co/zu5UaKHVUY | 17,052 |
| lance_fogan | Lance Fogan | I am Professor of Neurology at UCLA School of Medicine. I teach neurology and examine brains. My novel DINGS tells of a family touched by epilepsy. | 8,467 |
| macroliter | Jeremy Kamil, @macroliter : same handle elsewhere | These tweets are 100% my own opinions/not my employer's. Virologist. I study cytomegalovirus. Genomic surveillance evangelist. (he, him). I love the outdoors. | 5,025 |
| ENascy | Even Nascy | - | 5,023 |
| AyaanTej_777 | Krishna Tej | #Resercher #Microbiology at University of Hyderabad 🗜️🎓 | 5,006 |
| In_AnkitSingla | Ankit Singla | BHU, NDRI, RCB - UNESCO, NIPGR. | 5,005 |
| RoyalCollegeof | RoyalCollegeofArt | #BiodesignHereNow at the RCA. | 5,003 |
| SinghDinamani | Sarangthem Dinamani Singh | Multi-omics data analyst D(i)NAomics | 5,001 |
| SANJEEVDESHMUK7 | SANJEEV DESHMUKH | FREE THINKING~NON-CONFORMIST!! | 4,998 |
Most active users
| Username | Bio | Number of tweets |
| --- | --- | --- |
| DrLBoominathan | Director-cum-Chief Scientist, Genome-2-Bio-Medicine discovery center [GBMD] | 15 |
| BIRAC_2012 | BIRAC (Biotechnology Industry Research Assistance Council), a Section 8 Company, was set up by DBT to nurture and promote biotechnology industry in India. | 8 |
| THSTIFaridabad | Translational Health Science & Technology Institute (THSTI) is an Autonomous Institute of @DBTIndia. | 7 |
| Ajit_IISER | Virus Research / CRISPR-Cas @iiserbhopal | DBT/Wellcome-Trust Fellow | Tweets in personal capacity | 7 |
| Amit05476587 | - | 7 |
| Sukant_Khurana | #Brainhealth #AI #Medicine #IOT #Epilepsy | PhD #UTAustin #Neuro #cellbio #Northwestern #math #NYU #AI #CSHL | Ex-Prof. | Now Founder & CEO #Ioncure | Artist | | 6 |
| DBT_inStem | Institute for Stem Cell Science & Regenerative Medicine is an autonomous research body dedicated to collaborative research in stem cell & regenerative biology. | 5 |
| cure_ion | We at Ioncure are committed to finding technological solutions to global problems. | 5 |
| FollowDbtNibmg | NIBMG is engaged in cutting edge genomics research on many health problems which are of public health importance internationally and nationally. | 5 |
| indianscinews | India Science Wire is a news syndicate exclusively devoted to latest R&D in universities and academic institutions in India. Email: indiasciencewire@gmail.com | 5 |
---
Tweets per day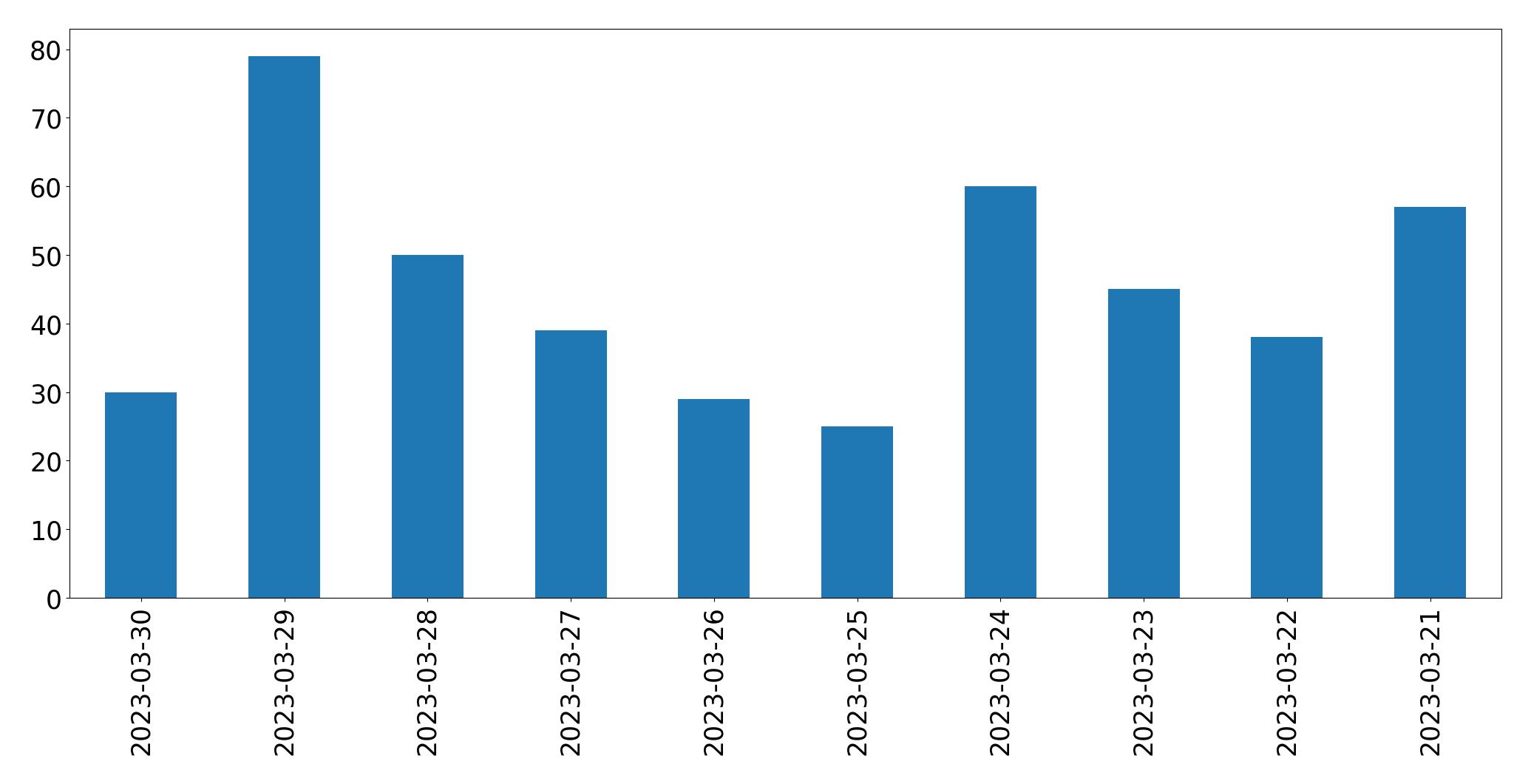 ---
Top 10 tweets with highest Retweet count
| ID | Text | Retweet count |
| --- | --- | --- |
| 1640047229732806657 | Why does IISER-K does not have a webpage for S Pr Pandey, who Bhadra, Bidisha Banerjee, and naxalite PSR had framed in a harassment case? They have (misleadingly) of other ex employees. @OpIndia_com @PMOIndia @IndiaDST @DBTIndia @AmitShah @EduMinOfIndia @MoHFW_INDIA @epanchjanya | 85 |
| 1638116526254440448 | 1/3 Our life scientists' database is growing🎉 We have about 720+ life scientists, thanks to all the contributors who chose to be a part of this national database. Click here for more details - https://t.co/GYIvi5sVF2 @DBTIndia @IndiaDST Engage | Collaborate | Grow https://t.co/ZLugz5LMyV | 17 |
| 1639936853997412352 | 📢#HiringAlert We invite applications from eligible candidates for the position of Professor/Scientist G For more information🔗https://t.co/OOelIUp4SP To apply 🔗https://t.co/9rigNMaiTR #AcademicTwitter #AcademicChatter @DrSagarSengupta @DBTIndia @DrJitendraSingh @rajesh_gokhale https://t.co/FuA2TK7QIv | 14 |
| 1640685940032274433 | Looking forward to discussion with scientists @TIFRScience @TIFRH_buzz on current public health challenges in India and how new technological tools can help answer some questions. Interdisciplinary research is key @iaeaorg @IndiaDST @DBTIndia @ICMRDELHI @NCBS_Bangalore https://t.co/9edCDSbFxX | 11 |
| 1640601268996698113 | India is working on a pandemic preparedness program that will enable it to develop any kind of vaccine within 100 days. Our government is aiming for "One Nation One Health". - Dr @rajesh_gokhale, Secretary @DBTIndia and Chairperson @BIRAC_2012 Read more: https://t.co/cDIaDEiOrx | 10 |
| 1638424882273722369 | #WorldWaterDay is held annually on 22 March to focus on the importance of freshwater and advocating for the sustainable management of freshwater resources. @PMOIndia @DrJitendraSingh @IndiaDST @PrinSciAdvGoI @DBTIndia @CSIR_IND @VigyanPrasar @nakulparashar https://t.co/iM5umT7uO1 | 9 |
| 1640645284945379328 | .@iitmadras के शोधकर्ताओं द्वारा विकसित नई तकनीक से 30 सेकंड में 'दूध का दूध और पानी का पानी' और पढ़े: https://t.co/sb2IQ5Yylu @DrJitendraSingh @PrinSciAdvOff @IndiaDST @srivaric @DBTIndia @CSIR_IND @VigyanPrasar @nakulparashar | 9 |
| 1638782629041299457 | प्रोफेसर गोविंद स्वरूप ने भारत को रेडियो एस्ट्रोनॉमी में नई पहचान दिलाई। प्रो स्‍वरूप को पुणे के पास दुनिया के सबसे बड़े टेलीस्‍कोप में से एक जायंट मीटरवेव रेडियो टेलीस्‍कोप को स्थापित किए जाने के लिए जाना जाता है। @PMOIndia @DrJitendraSingh @IndiaDST @PrinSciAdvGoI @DBTIndia https://t.co/TAWCqLU5dj | 8 |
| 1640743255951413249 | Pleased to share our latest article on the cell-specific function of SERINC5 in inhibiting HIV-1. Great job, @PavitraRamdas. Thank you, @DBTIndia @India_Alliance, for supporting us. @iiserbhopal https://t.co/Vt8Uxqh8Bp | 8 |
| 1639696173932990464 | Check out the DO's & DON'Ts we've set up for tracking cell lineage,targeted laser ablation & real-time imaging in a fragile tissue like callus https://t.co/hZrfzInYGI Tnx @IISERPune @DBTIndia @serbonline @anjushanmukhan @v_vijina @kalikapg Tnx @STARProtocols for the invitation! https://t.co/YuEGpKQPZj | 7 |
Top 10 tweets with highest Like count
| ID | Text | Like count |
| --- | --- | --- |
| 1641140452471472146 | I am humbled to share that I have been awarded a prestigious @Tata Innovation Fellowship of @DBT @ministry S & T @GOI Thanks Prof Tariq Mansoor, VC AMU for approving my nomination and DBT to select me @ProfTariqManso1 @DBTIndia @BIRAC_2012 @EduMinOfIndia @mamidala90 https://t.co/MX0mVelln6 | 194 |
| 1640910965687603207 | Rekha Agrawal: Plant Physiology First Author https://t.co/unKMOL6K7V @NIPGRsocial @ICGEB @ICGEBNewDelhi @RekhaAg96834240 @DBTIndia @serbonline | 87 |
| 1640743255951413249 | Pleased to share our latest article on the cell-specific function of SERINC5 in inhibiting HIV-1. Great job, @PavitraRamdas. Thank you, @DBTIndia @India_Alliance, for supporting us. @iiserbhopal https://t.co/Vt8Uxqh8Bp | 83 |
| 1640757504081625090 | Delighted to share our latest manuscript on a new class of inhibitors of Carbapenem-Resistant Acinetobacter baumannii | https://t.co/RmLFAxFrg5 A nice collaborative effort with @skchopra007 and @KamatLab_IISER #AMR @A_baumannii @CSIR_CDRI @DBTIndia @PraveshPooja | 80 |
| 1640324844083621889 | Today delivered "CSIR-CIMAP Foundation Day-2023" lecture on "Feeding the 10 billion by 2050: A Genomics Perspective". @CSIR_IND @DBTIndia @manoj_lab @NIPGRsocial @IYM2023 @MilletsOfIndia @millets4health @csir_cimap @CSIRCIMAP @DirectorCimap https://t.co/YVeZ0U94oo | 55 |
| 1639123688023891968 | Dr. Sunanda Bhattacharyya, Associate Professor, Department of Biotechnology and Bioinformatics, School of Life Sciences, has been awarded SERB-POWER fellowship for the period of 2023-2026. @HydUniv @IndiaDST @DBTIndia @EduMinOfIndia @PIBHRD @dpradhanbjp @PMOIndia @TOIHyderabad https://t.co/bsj4VjKSw0 | 54 |
| 1638116526254440448 | 1/3 Our life scientists' database is growing🎉 We have about 720+ life scientists, thanks to all the contributors who chose to be a part of this national database. Click here for more details - https://t.co/GYIvi5sVF2 @DBTIndia @IndiaDST Engage | Collaborate | Grow https://t.co/ZLugz5LMyV | 54 |
| 1640685940032274433 | Looking forward to discussion with scientists @TIFRScience @TIFRH_buzz on current public health challenges in India and how new technological tools can help answer some questions. Interdisciplinary research is key @iaeaorg @IndiaDST @DBTIndia @ICMRDELHI @NCBS_Bangalore https://t.co/9edCDSbFxX | 52 |
| 1639287250973327364 | Look forward to speaking @CSIRCIMAP Foundation Day-2023 to be celebrated on Monday, March 27, 2023 @icarindia @CSIR_IND @NBRI @csir_cimap @DBTIndia @NIPGRsocial @IYM2023 @MilletsOfIndia @millets4health @manoj_lab https://t.co/Q9v2MR3LTD | 47 |
| 1639936853997412352 | 📢#HiringAlert We invite applications from eligible candidates for the position of Professor/Scientist G For more information🔗https://t.co/OOelIUp4SP To apply 🔗https://t.co/9rigNMaiTR #AcademicTwitter #AcademicChatter @DrSagarSengupta @DBTIndia @DrJitendraSingh @rajesh_gokhale https://t.co/FuA2TK7QIv | 44 |
Top 3 Languages Used In Tweets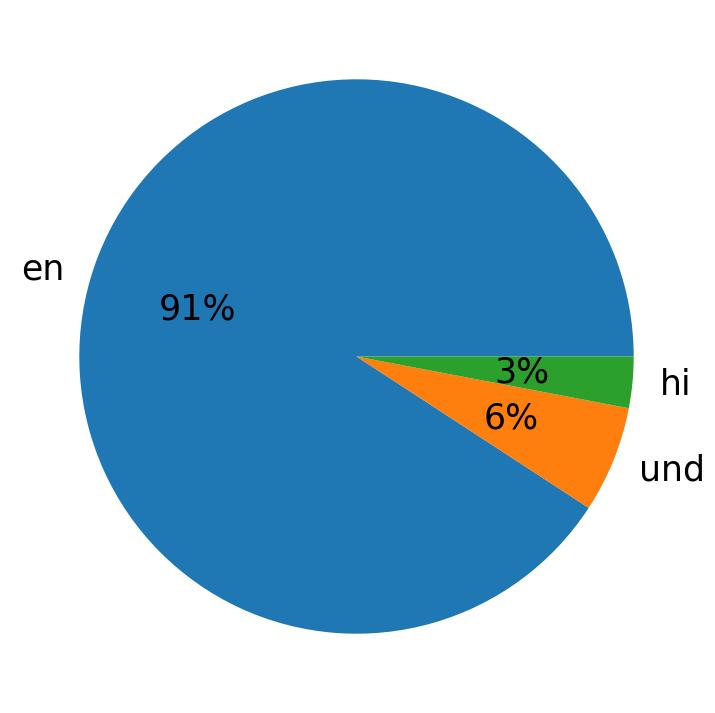 ---
Top 10 Hashtags used
| Hashtag | Count |
| --- | --- |
| #endtb | 11 |
| #academicchatter | 9 |
| #academictwitter | 9 |
| #webinar | 8 |
| #odisha | 8 |
| #g20india | 8 |
| #hiringalert | 7 |
| #hike_in_fellowship_22 | 7 |
| #indiasciwire | 7 |
| #researchers | 6 |
Top 10 Hashtags Used In Tweets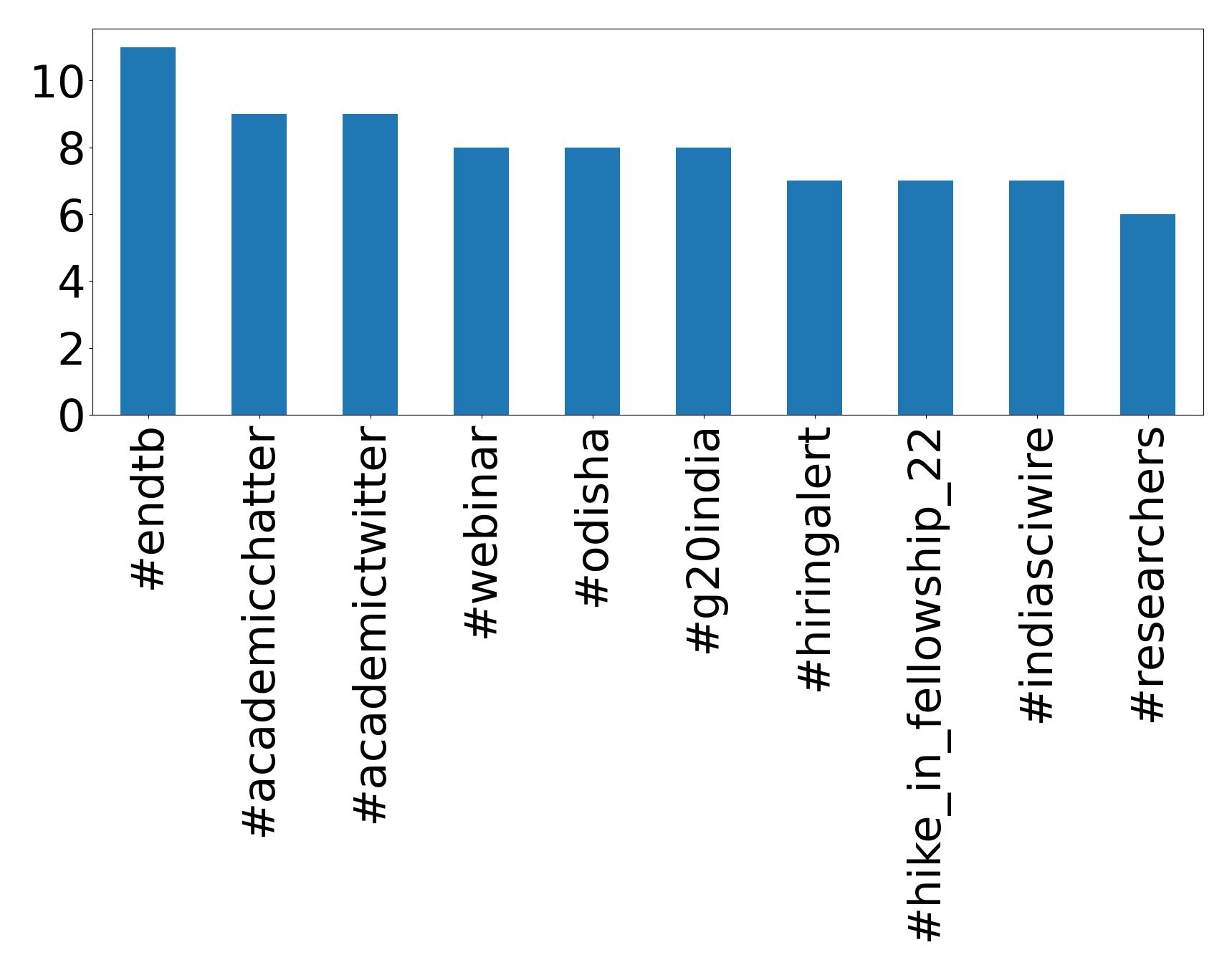 Top 10 mentions
| Mention | Count |
| --- | --- |
| @dbtindia | 458 |
| @indiadst | 156 |
| @pmoindia | 93 |
| @drjitendrasingh | 91 |
| @birac_2012 | 88 |
| @eduminofindia | 61 |
| @icmrdelhi | 61 |
| @rajesh_gokhale | 53 |
| @csir_ind | 45 |
| @srivaric | 41 |
Top 10 mentions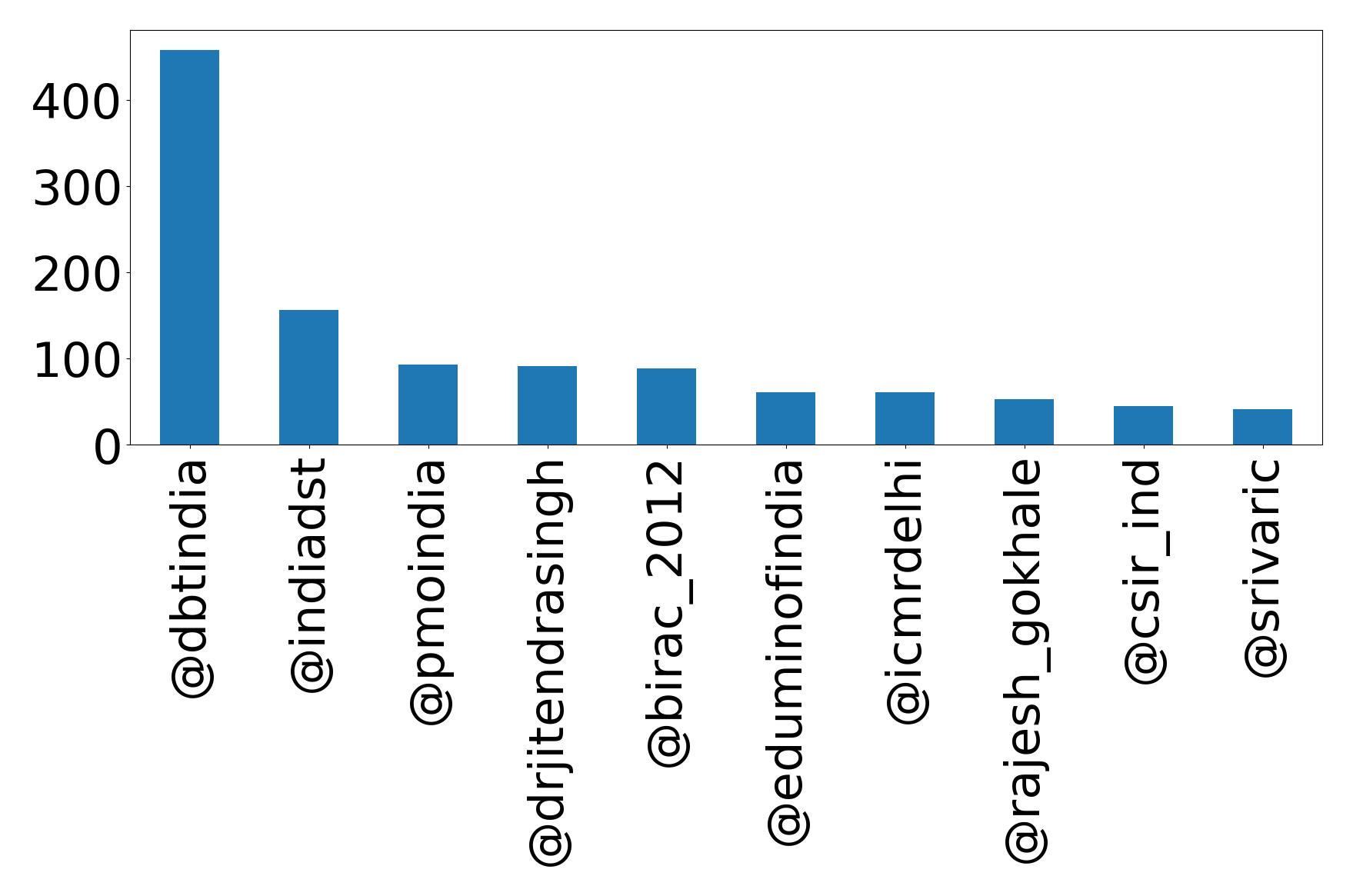 Wordcloud of Tweets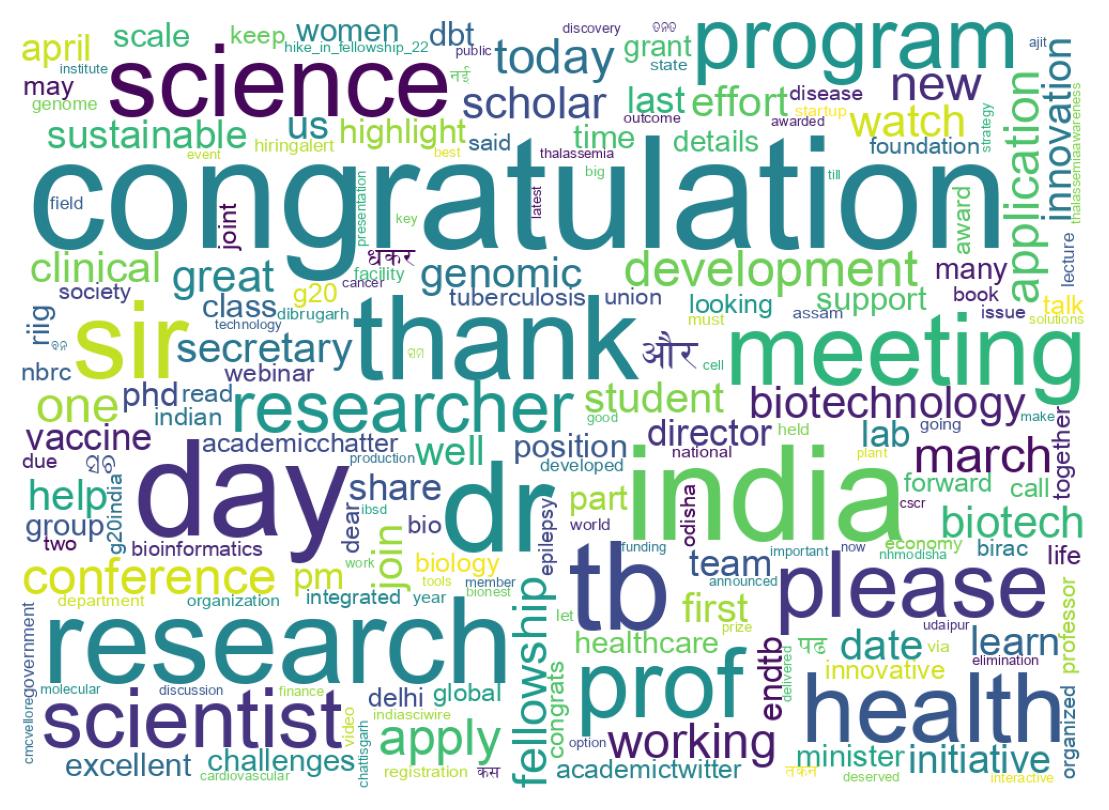 ---
Emojis
Average number of emojis used per tweet
21
Emojis used in tweets
| Emoji | Count | Emoji Text |
| --- | --- | --- |
| 🔗 | 20 | link |
| 💐 | 9 | bouquet |
| 📢 | 7 | loudspeaker |
| 🎉 | 7 | party_popper |
| 🇮🇳 | 6 | India |
| 👏 | 6 | clapping_hands |
| 👏🏻 | 5 | clapping_hands_light_skin_tone |
| ⏳ | 4 | hourglass_not_done |
| 🙏 | 4 | folded_hands |
| 🥳 | 3 | partying_face |
Emojis groups
| Emoji Group | Count |
| --- | --- |
| Objects | 33 |
| People & Body | 20 |
| Smileys & Emotion | 13 |
| Animals & Nature | 11 |
| Activities | 9 |
| Flags | 8 |
| Travel & Places | 4 |