Tweets Analysis - Keyword: @CPBlr
Total number of tweets analysed
1,866
Earliest tweet was on
2023-03-22
Latest tweet was on
2023-03-31
Average age of authors' accounts
6 years
---
Summarization
The tweets cover a range of issues in Bengaluru, including complaints about auto unions seizing bikes and threatening riders, attacks on a Hindu temple by Islamic extremists, demands for action against misbehaving auto drivers, and praise for the efforts of the city police in streamlining their social media lab and cracking down on crime. Other tweets discuss the suspension of a constable who falsely accused an inspector of collecting hafta, the launch of a new police building in Annapoorneshwari Nagar, and calls for action against politicians who openly threaten violence. There are also tweets about elections, lost mobile phones, and footpaths.
Topic Modeling
Police operations and efforts to maintain law and order in Bengaluru
Incidents of attacks and vandalism in Bengaluru, including those targeting religious institutions
Concerns and complaints about auto unions and their behavior in Bengaluru
Requests for action and justice in response to various incidents, including the suspension of a police constable and the behavior of political leaders
Citizen engagement and awareness efforts, including information on lost-and-found services and initiatives aimed at increasing voter awareness and engagement
Emotional Analysis
The tweets express a range of emotions such as appreciation, concern, fear, anger, frustration, disappointment, and support. Some tweets express gratitude for the police force's efforts to maintain law and order, while others demand strict action against those responsible for vandalism and violence. The tweets also express fear and concern over the behavior of auto drivers and their unions, and frustration with the lack of action taken by the authorities. Additionally, there is criticism of some police officers for their alleged corrupt practices, and support for politicians who stand with marginalized communities.
Trend Analysis
Police work and operations in Bengaluru (strengthening social media lab, crime detection, preservation of law and order)
Vandalism and violence against Hindu temples in Bengaluru
Illegal actions by auto unions and drivers in Bengaluru
Calls for peaceful environment and action against violence in Bengaluru
Miscellaneous topics such as police corruption, mobile phone tracking, walking infrastructure, and political campaigning
---
Types of Tweets
Number of Retweets
284
Percentage of total tweets
15%
Number of Original tweets
736
Percentage of total tweets
39%
Number of tweets that contain Mentions
1,866
Percentage of total tweets
100%
Number of tweets that were Replies
807
Percentage of total tweets
43%
Number of tweets that were Quotes
88
Percentage of total tweets
4%
Number of tweets that contain Hashtags
782
Percentage of total tweets
41%
---
Top 5 devices used to tweet
| Source | Count |
| --- | --- |
| Twitter for Android | 1351 |
| Twitter Web App | 268 |
| Twitter for iPhone | 246 |
| Hootsuite Inc. | 1 |
What devices were used to tweet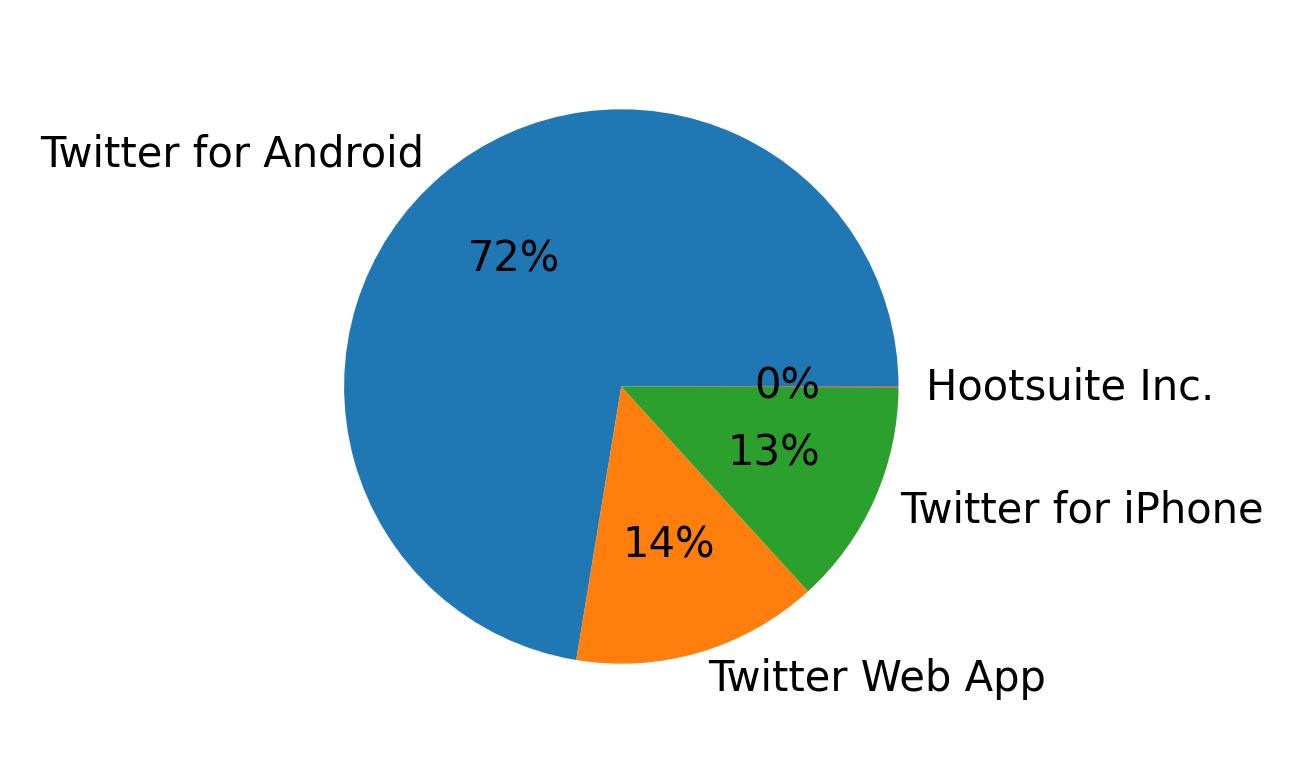 ---
Top 10 accounts with highest followers count
| Username | Name | Bio | Followers count |
| --- | --- | --- | --- |
| BlrCityPolice | ಬೆಂಗಳೂರು ನಗರ ಪೊಲೀಸ್‌ BengaluruCityPolice | Official Twitter account of Bengaluru City Police | Pls do not report crime here | In case of emergency #DialNamma112 | Help us to serve you better | | 1,429,718 |
| blrcitytraffic | ಬೆಂಗಳೂರು ಸಂಚಾರ ಪೊಲೀಸ್ BengaluruTrafficPolice | Bengaluru City Traffic police are on the threshold of a major technological breakthrough to manage the congestion and chaos on the roads in an efficient manner | 668,700 |
| AsianetNewsSN | Asianet Suvarna News | ಕನ್ನಡದ ಜನಪ್ರಿಯ ಚಾನೆಲ್- ಕರ್ನಾಟಕ, ದೇಶ, ವಿದೇಶದ ಲೇಟೆಸ್ಟ್ ಸುದ್ದಿಗಳಿಗೆ ಏಕೈಕ ತಾಣ. ಭಾರತದ ನಂ.1 ಪ್ರಾದೇಶಿಕ ಸುದ್ದಿ ಜಾಲ, ಏಷ್ಯಾನೆಟ್ ನ್ಯೂಸ್‌‌ನ ಅಂಗ. | 336,632 |
| Nimmabhaskar22 | Bhaskar Rao | Former IPS & Commissioner of Police, Bangalore, Improving Namma Karnataka, BJP, Cycling,Mentoring, Leadership, Empowerment CHANGE | 227,502 |
| DgpKarnataka | DGP KARNATAKA | Official handle of DGP Karnataka. Committed to citizen-centric policing by leveraging technology. For cybercrime Dial 1930. For emergency Dial 112. | 162,684 |
| BBMPCOMM | Tushar Giri Nath IAS | ಮುಖ್ಯ ಆಯುಕ್ತರು, ಬೃಹತ್ ಬೆಂಗಳೂರು ಮಹಾನಗರ ಪಾಲಿಕೆ (ಬಿಬಿಎಂಪಿ) Chief Commissioner, Bruhat Bengaluru Mahanagara Palike (BBMP) | 138,849 |
| DCPSEBCP | C K Baba, IPS | Deputy Commissioner of Police South-East division Bengaluru City Police | 82,413 |
| MeghShukla15 | 🅼🅴🅶🅷🅰_🆂🅷🆄🅺🅻🅰_🅾🅵🅵🅸🅲🅸🅰🅻 | Digital_Marketing https://t.co/PCI3pwTIop | 80,714 |
| DCPWestBCP | Laxman B. Nimbargi, IPS | Deputy Commissioner of Police, West Division, Bengaluru City. ಉಪ ಪೊಲೀಸ್ ಆಯುಕ್ತರು, ಪಶ್ಚಿಮ ವಿಭಾಗ, ಬೆಂಗಳೂರು ನಗರ. | 62,454 |
| NammaBESCOM | Namma BESCOM (ನಮ್ಮ ಬೆಸ್ಕಾಂ) | ಬೆಂಗಳೂರು ವಿದ್ಯುತ್ ಸರಬರಾಜು ಕಂಪನಿ ನಿಯಮಿತದ ಅಧಿಕೃತ ಖಾತೆ. Official account of Bangalore Electricity Supply Company Limited. | 48,586 |
Top 10 accounts with highest friends count
| Username | Name | Bio | Followers count |
| --- | --- | --- | --- |
| MunnaSudhir | सुधीर कुमार मुन्ना 🇮🇳🚩🕉️📿#३ह | मैं जिन्हें एक बार फॉलो कर लेता हूँ फिर उन्हें कभी अनफॉलो नहीं करता, कृपया फ़ॉलोबैक लेकर अनफॉलो करने वाले मुझे फॉलो नहीं करें। 🚩||जय श्री राम||🚩 | 18,802 |
| NammaBengaluroo | ನಮ್ಮ ಬೆಂಗಳೂರು Namma Bengaluru | Namma Oooru Benda Kaalooru aka ನಮ್ಮ ಬೆಂಗಳೂರು. Formerly #CityOfLakes , #PensionersParadise + #GardenCity . Now #ITCapital , #SiliconValley , #Startuphub +++ | 16,224 |
| CitizenKamran | Kamran | You don't become a Bengalurean by living in the city. You become one by living for the city. My dream is a #PotholeFreeBengaluru, I paid taxes for it. | 12,715 |
| Pramod_Mehta1 | प्रमोद मेहता | Proud Indian ll Nationalist ll Electrical Engineer ll सनातनी ll Tweet Personal ll Rts Not Indorserment ll 🚩 जय श्री राम🚩 https://t.co/ARcT39c3vv | 10,740 |
| MeghShukla15 | 🅼🅴🅶🅷🅰_🆂🅷🆄🅺🅻🅰_🅾🅵🅵🅸🅲🅸🅰🅻 | Digital_Marketing https://t.co/PCI3pwTIop | 9,582 |
| ramjeetkush | love | Like I am working as electrical engineer | 9,382 |
| premeshwor | India | - | 7,892 |
| sandeepkishore_ | Sandeep kishore 🇮🇳 | Trader || Stock Market | 7,433 |
| shubhisri1 | शुभी | इंसान हूँ इंसानियत ही मेरा धर्म है... I am working as electrical engineer | 7,268 |
| kajalsingh245 | kajal singh | मुझे गर्व है मे हिन्दू हूँ... I am working as electrical engineer | 5,789 |
Most active users
| Username | Bio | Number of tweets |
| --- | --- | --- |
| prameshjain12 | journalist | 79 |
| BlrCityPolice | Official Twitter account of Bengaluru City Police | Pls do not report crime here | In case of emergency #DialNamma112 | Help us to serve you better | | 31 |
| Sahanasatianaat | Just an honest Indian National. RT s or likes do not mean an agreement. My views are personal. Please move on if in disagreement. | 23 |
| Sathish3855 | Spread the Happiness, it's free of cost! | 22 |
| VysakhVino45814 | - | 19 |
| iRakeshDwivedi | I Love my India | Proud to be a Indian | We Indians shine across World because of Our Strong Leadership & Because of Our Beloved & Honorable PM @narendramodi | 15 |
| Desai1Ravikiran | - | 12 |
| BLRrocKS | 🟨🟥 | BENGALURU | ENTJ | 𝗦𝗮𝗿𝗰𝗮𝘀𝘁𝗶𝗰 | Assertive | Forever-Learning Mode| 💊 and 💉 maker for 🍞 | | 12 |
| distrsdaml | alexithymic | 12 |
| NeetuGu98830095 | love with voiceless babies | 11 |
---
Tweets per day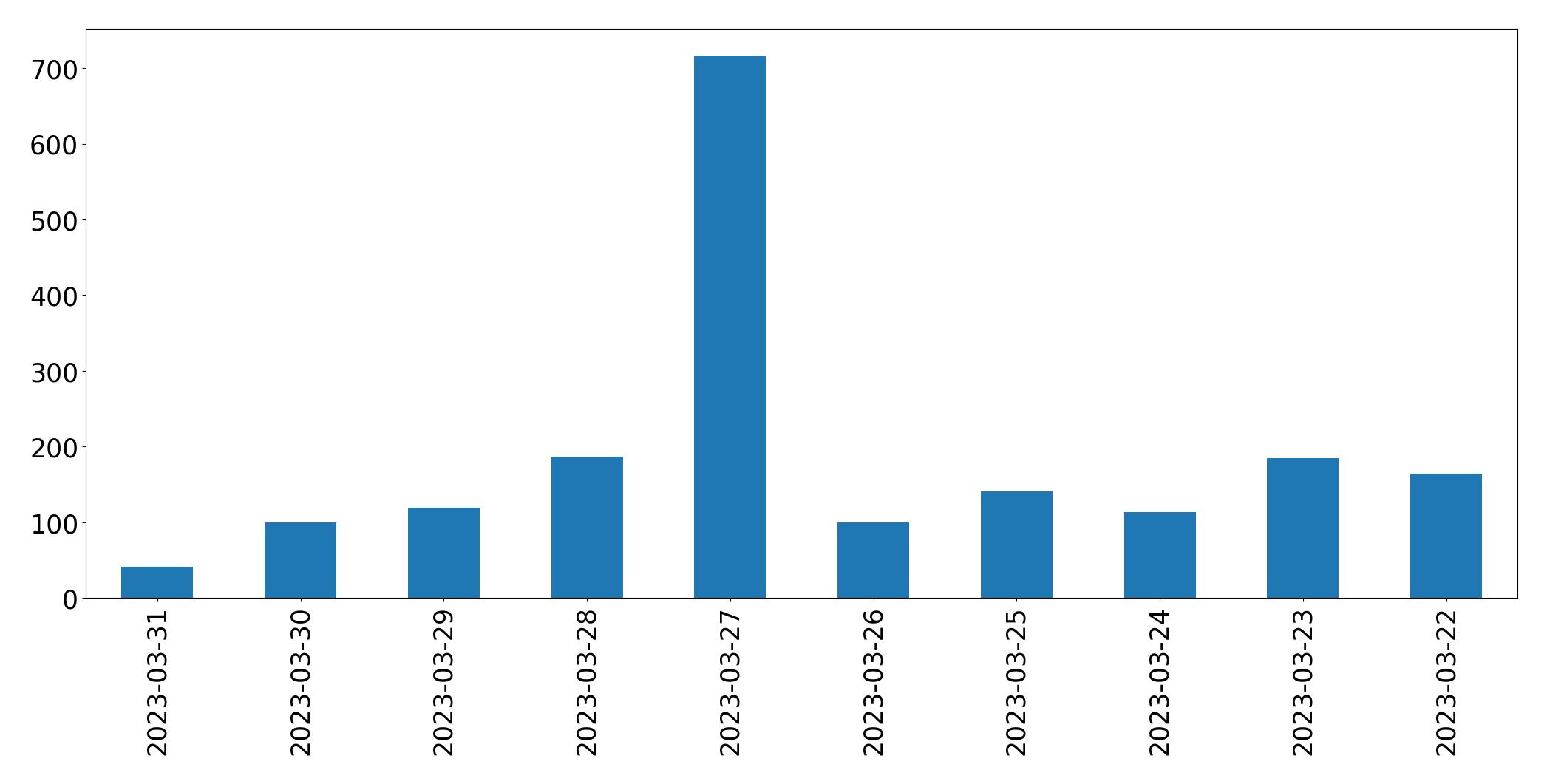 ---
Top 10 tweets with highest Retweet count
| ID | Text | Retweet count |
| --- | --- | --- |
| 1639584504313683968 | Islamic Jihadi redical elements attacked Bapuji nagar, Bengaluru Hindu temple for the 3rd time yesterday, vandalizing the deity's idol, nagarkattes. We Demand strict action against the culprits @CPBlr @BSBommai @Tejasvi_Surya @JnanendraAraga @PTI_News @ANI https://t.co/wmtVNhahEU | 204 |
| 1640254943931281408 | We want a peaceful environment in #Bangalore city therefore requesting @CPBlr and center to take action against the supporters of violence and vandalism #SaveBikeTaxis @AmitShahOffice @CMofKarnataka @PMOIndia @TOIIndiaNews @IndianExpress @DeccanHerald https://t.co/2ZmPtRg6dx | 189 |
| 1638871453281157122 | Who authorized these Auto Unions to seize the bikes and threat the riders? They are behaving like cops and running the city. Its scary. Save Bengaluru from Auto Dadas #SaveBikeTaxis @ShobhaBJP @IndianExpress @CPBlr @DeccanHerald @PMOIndia https://t.co/WJvKCZMNp3 | 58 |
| 1640266684304089088 | We, citizens are fed up with the misbehavior and ruckus created by auto drivers on the roads of Bangalore, it must be stopped @CPBlr @AmitShahOffice @CMofKarnataka please take action #SaveBikeTaxis @PMOIndia @TOIIndiaNews @IndianExpress . https://t.co/uIDPYhV21u | 47 |
| 1638932226179235840 | Lokesh strengthened and streamlined the Social Media Lab of Bengaluru City Police , conducted numerous workshops on busting fake news, gave us timely inputs on Crime detection and preservation of Law and Order & Intelligence.Wishing him to perform in a bigger theatre. @CPBlr… https://t.co/QNtXebVWGv | 43 |
| 1638870749275635713 | Bengaluru is under the attack of Auto Dadas they are openly discussing to burn these bikes because someone is earning money. This needs to stop immediately @CPBlr #SaveBikeTaxis @CMofKarnataka @TV9kannada @PMOIndia @TOIIndiaNews https://t.co/wIkT0qImGn | 42 |
| 1638870445544857600 | This video tells me that I have no choice of my own but to bend knees in front of Auto unions so, either govt should bear the extra travel cost or the High Court must intervene bcz can't any police action @ShobhaBJP #SaveBikeTaxis @Prajavani @sanjevaninews @CPBlr https://t.co/9tZnH1Zccf | 39 |
| 1640652268784726016 | Most of the PS under @dcpwhitefield denies to enforce law. Earlier it was @wfieldps nw @halairportps threatens a lady & denied to take action on her complaint & @dcpwhitefield never bother to answer calls made to him. @DgpKarnataka @CPBlr @BlrCityPolice this zone needs attention. https://t.co/bbBXXrCjS8 | 36 |
| 1639434713596329985 | My dear @CPBlr @blrcitytraffic @SplCPTraffic @DCPSEBCP @Copsview -you guys risk your life to save common men like me when you or your team spot us without helmet in #Bengaluru I'm sure you will do the same to our leaders as well.. You guys know to threaten us if we ask… https://t.co/OyEGsZw1tv | 34 |
| 1640550567364931585 | ಬೆಂಗಳೂರಿನ ಒಬ್ಬ ಭ್ರಷ್ಟ ಪೊಲೀಸ್ ಇನ್ಸ್‌ಪೆಕ್ಟರ್ ಬಗ್ಗೆ ಆತನ ಠಾಣೆಯ ಪೊಲೀಸರೇ ಕೊಟ್ಟಿರುವ ಮಾಹಿತಿಯಂತೆ ಇದು. ಬೆಂಗಳೂರಿನ ಬಹುತೇಕ ಠಾಣೆಗಳ ಕತೆ ಇಷ್ಟೇನೆ. ಅಪರೂಪಕ್ಕೆ ಆದರೂ ಒಳ್ಳೆಯ ಕೆಲಸ ಮಾಡಿದ್ದಾರೆ @CPBlr. ಆದರೆ ಅಮಾನತು ಸಾಕೆ? ತನಿಖೆ? ಮುಂದಿನ ಕ್ರಮ? ಜನ ಎಚ್ಚೆತ್ತಿದ್ದಾರೆ. ಪ್ರಾಮಾಣಿಕರೂ ಧೈರ್ಯ ತೋರಿಸುತ್ತಿದ್ದಾರೆ. 👍👏🙏 https://t.co/LBNlKg6hKE | 30 |
Top 10 tweets with highest Like count
| ID | Text | Like count |
| --- | --- | --- |
| 1638932226179235840 | Lokesh strengthened and streamlined the Social Media Lab of Bengaluru City Police , conducted numerous workshops on busting fake news, gave us timely inputs on Crime detection and preservation of Law and Order & Intelligence.Wishing him to perform in a bigger theatre. @CPBlr… https://t.co/QNtXebVWGv | 633 |
| 1639584504313683968 | Islamic Jihadi redical elements attacked Bapuji nagar, Bengaluru Hindu temple for the 3rd time yesterday, vandalizing the deity's idol, nagarkattes. We Demand strict action against the culprits @CPBlr @BSBommai @Tejasvi_Surya @JnanendraAraga @PTI_News @ANI https://t.co/wmtVNhahEU | 210 |
| 1638871453281157122 | Who authorized these Auto Unions to seize the bikes and threat the riders? They are behaving like cops and running the city. Its scary. Save Bengaluru from Auto Dadas #SaveBikeTaxis @ShobhaBJP @IndianExpress @CPBlr @DeccanHerald @PMOIndia https://t.co/WJvKCZMNp3 | 185 |
| 1641676631503937536 | ಈ ಬಗ್ಗೆ ಪರಿಶೀಲಿಸಿ ಸೂಕ್ತ ಕಾನೂನು ಕ್ರಮಗಳನ್ನು ಕೈಗೊಳ್ಳುವಂತೆ ಈಗಾಗಲೇ @CPBlr ಅವರಿಗೆ ದೂರು ನೀಡಲಾಗಿದ್ದು, ಅವಶ್ಯಕ ಮುಂಜಾಗ್ರತಾ ಕ್ರಮಗಳಿಂದ ಶಾಂತಿಯುತ ಹಾಗೂ ನ್ಯಾಯಯುತ ಚುನಾವಣೆ ನಡೆಸಲು ಕೋರಲಾಗಿದೆ. https://t.co/ipZt1A3ER7 | 142 |
| 1640254943931281408 | We want a peaceful environment in #Bangalore city therefore requesting @CPBlr and center to take action against the supporters of violence and vandalism #SaveBikeTaxis @AmitShahOffice @CMofKarnataka @PMOIndia @TOIIndiaNews @IndianExpress @DeccanHerald https://t.co/2ZmPtRg6dx | 123 |
| 1640550567364931585 | ಬೆಂಗಳೂರಿನ ಒಬ್ಬ ಭ್ರಷ್ಟ ಪೊಲೀಸ್ ಇನ್ಸ್‌ಪೆಕ್ಟರ್ ಬಗ್ಗೆ ಆತನ ಠಾಣೆಯ ಪೊಲೀಸರೇ ಕೊಟ್ಟಿರುವ ಮಾಹಿತಿಯಂತೆ ಇದು. ಬೆಂಗಳೂರಿನ ಬಹುತೇಕ ಠಾಣೆಗಳ ಕತೆ ಇಷ್ಟೇನೆ. ಅಪರೂಪಕ್ಕೆ ಆದರೂ ಒಳ್ಳೆಯ ಕೆಲಸ ಮಾಡಿದ್ದಾರೆ @CPBlr. ಆದರೆ ಅಮಾನತು ಸಾಕೆ? ತನಿಖೆ? ಮುಂದಿನ ಕ್ರಮ? ಜನ ಎಚ್ಚೆತ್ತಿದ್ದಾರೆ. ಪ್ರಾಮಾಣಿಕರೂ ಧೈರ್ಯ ತೋರಿಸುತ್ತಿದ್ದಾರೆ. 👍👏🙏 https://t.co/LBNlKg6hKE | 123 |
| 1638870749275635713 | Bengaluru is under the attack of Auto Dadas they are openly discussing to burn these bikes because someone is earning money. This needs to stop immediately @CPBlr #SaveBikeTaxis @CMofKarnataka @TV9kannada @PMOIndia @TOIIndiaNews https://t.co/wIkT0qImGn | 116 |
| 1639434713596329985 | My dear @CPBlr @blrcitytraffic @SplCPTraffic @DCPSEBCP @Copsview -you guys risk your life to save common men like me when you or your team spot us without helmet in #Bengaluru I'm sure you will do the same to our leaders as well.. You guys know to threaten us if we ask… https://t.co/OyEGsZw1tv | 111 |
| 1640578035542814721 | ಮೊಬೈಲ್ ಪೋನ್ ಕಳೆದುಕೊಂಡು ವಿವರಗಳನ್ನು https://t.co/kfEzOoyDAf ನಲ್ಲಿ ನಮೂದಿಸಿದ್ದ ವಾರಸುದಾರರ ಮೊಬೈಲ್ ಪೋನ್ ಗಳನ್ನು #CEIRPortal ಸಹಾಯದಿಂದ ಟ್ರಾಕ್ ಮಾಡಿ ವಶಕ್ಕೆ ಪಡೆದು ಮೊಬೈಲ್ ಪೋನ್ ಗಳನ್ನು ಹಿಂದಿರುಗಿಸಲಾಗಿದ್ದು, ಪ್ರಕ್ರಿಯೆಯು ನಿರಂತರವಾಗಿ ಮುಂದುವರೆಯುವುದು @BlrCityPolice. @CPBlr @AddlCPWest @DGPKarnataka. https://t.co/ssdUcynDMd | 108 |
| 1638870445544857600 | This video tells me that I have no choice of my own but to bend knees in front of Auto unions so, either govt should bear the extra travel cost or the High Court must intervene bcz can't any police action @ShobhaBJP #SaveBikeTaxis @Prajavani @sanjevaninews @CPBlr https://t.co/9tZnH1Zccf | 99 |
Top 3 Languages Used In Tweets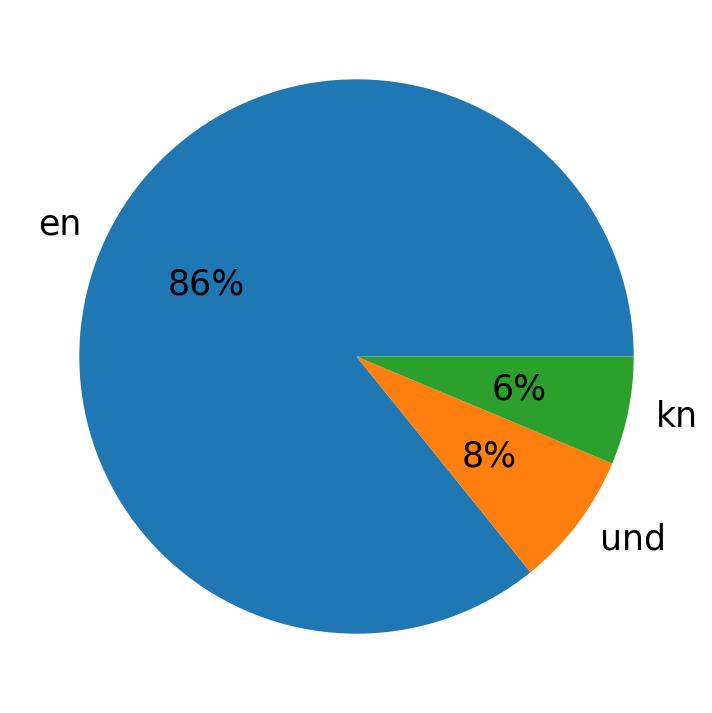 ---
Top 10 Hashtags used
| Hashtag | Count |
| --- | --- |
| #savebiketaxis | 634 |
| #bangalore | 23 |
| #bengaluru | 15 |
| #karnataka | 10 |
| #nomore50 | 6 |
| #karnatakaelection2023 | 6 |
| #godrej | 5 |
| #pmmodi | 5 |
| #bjp | 4 |
| #ksp | 4 |
Top 10 Hashtags Used In Tweets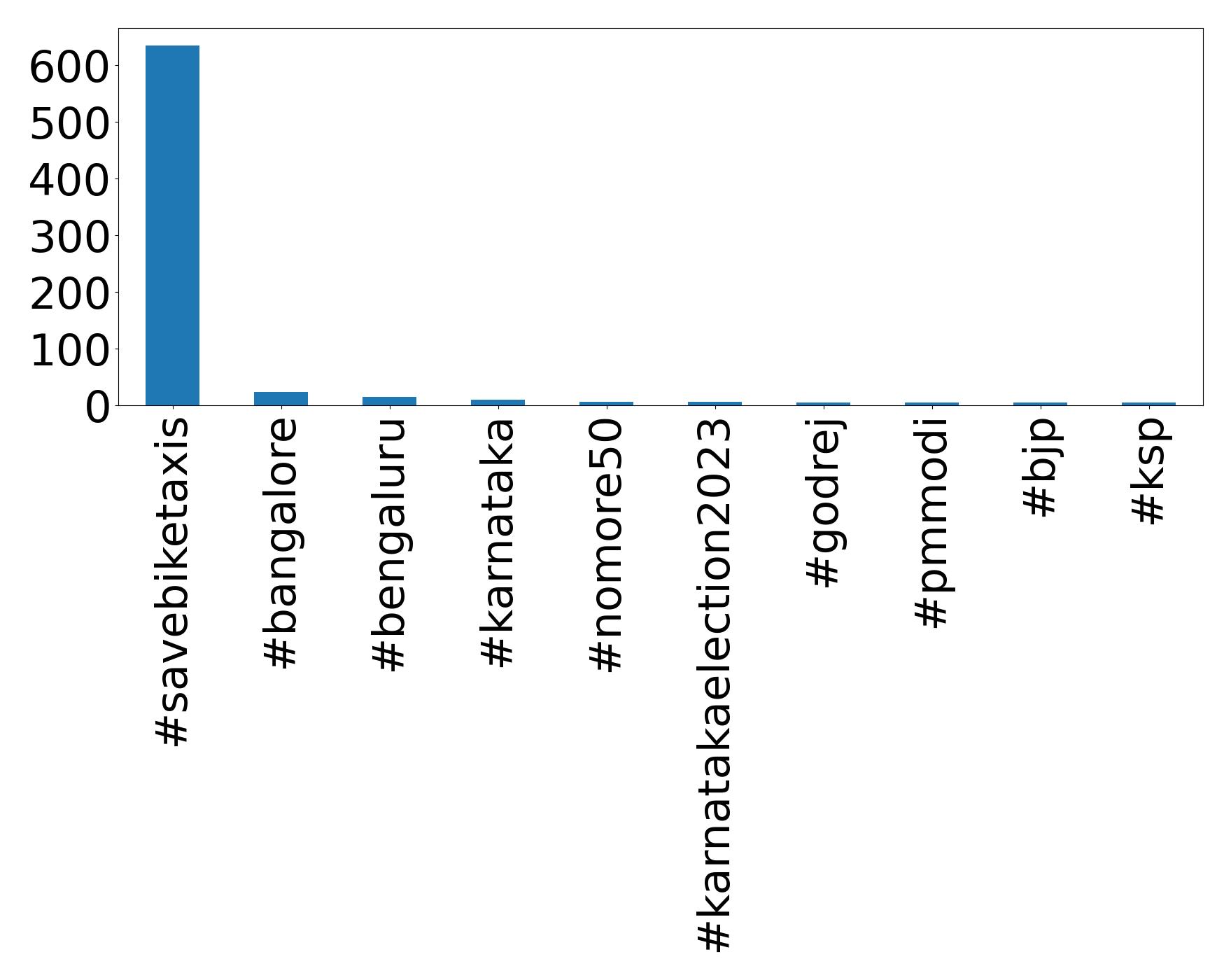 Top 10 mentions
| Mention | Count |
| --- | --- |
| @cpblr | 1902 |
| @pmoindia | 689 |
| @blrcitypolice | 685 |
| @cmofkarnataka | 521 |
| @dgpkarnataka | 446 |
| @toiindianews | 324 |
| @blrcitytraffic | 293 |
| @amitshahoffice | 229 |
| @splcptraffic | 196 |
| @bsbommai | 172 |
Top 10 mentions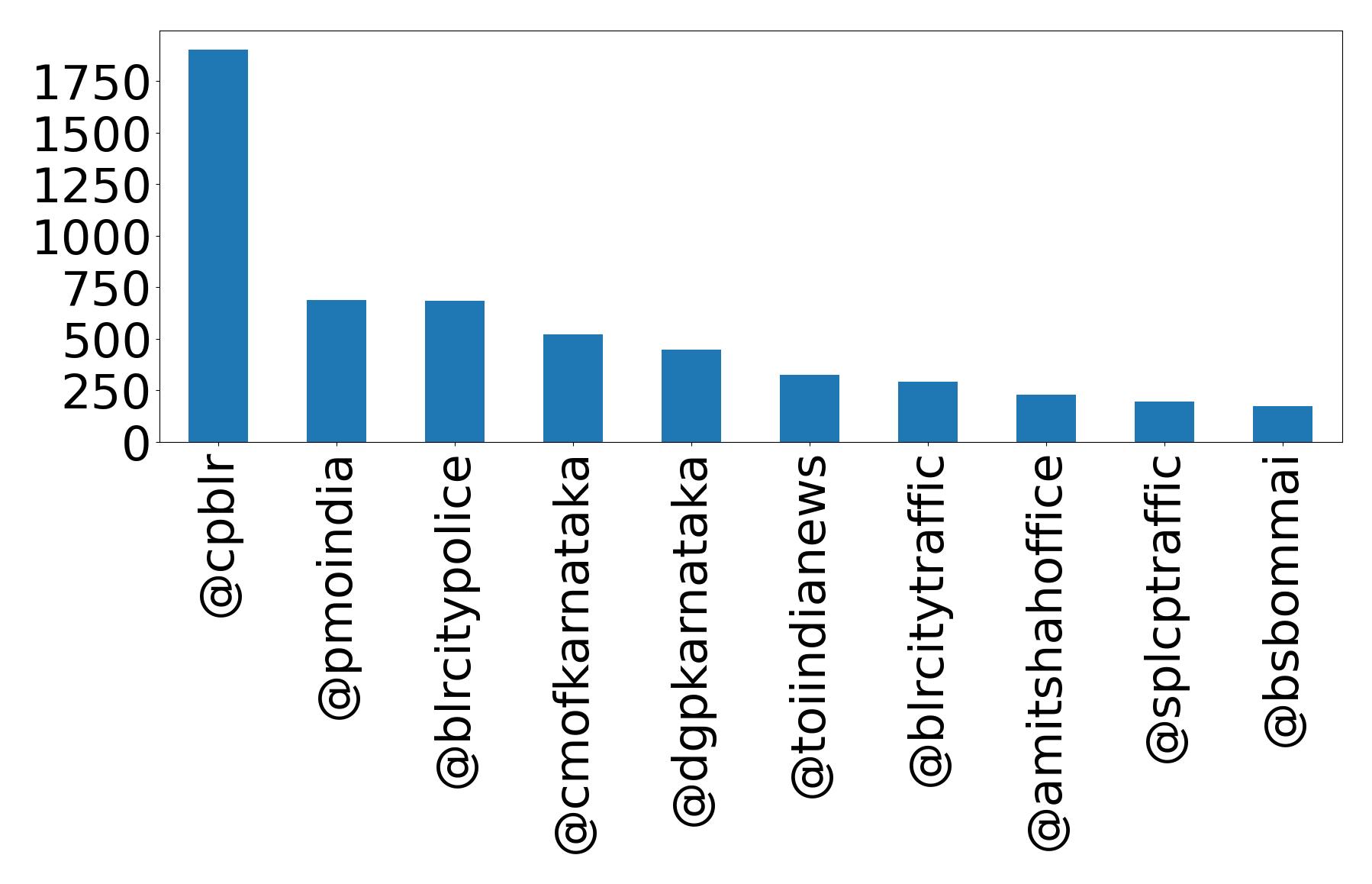 Wordcloud of Tweets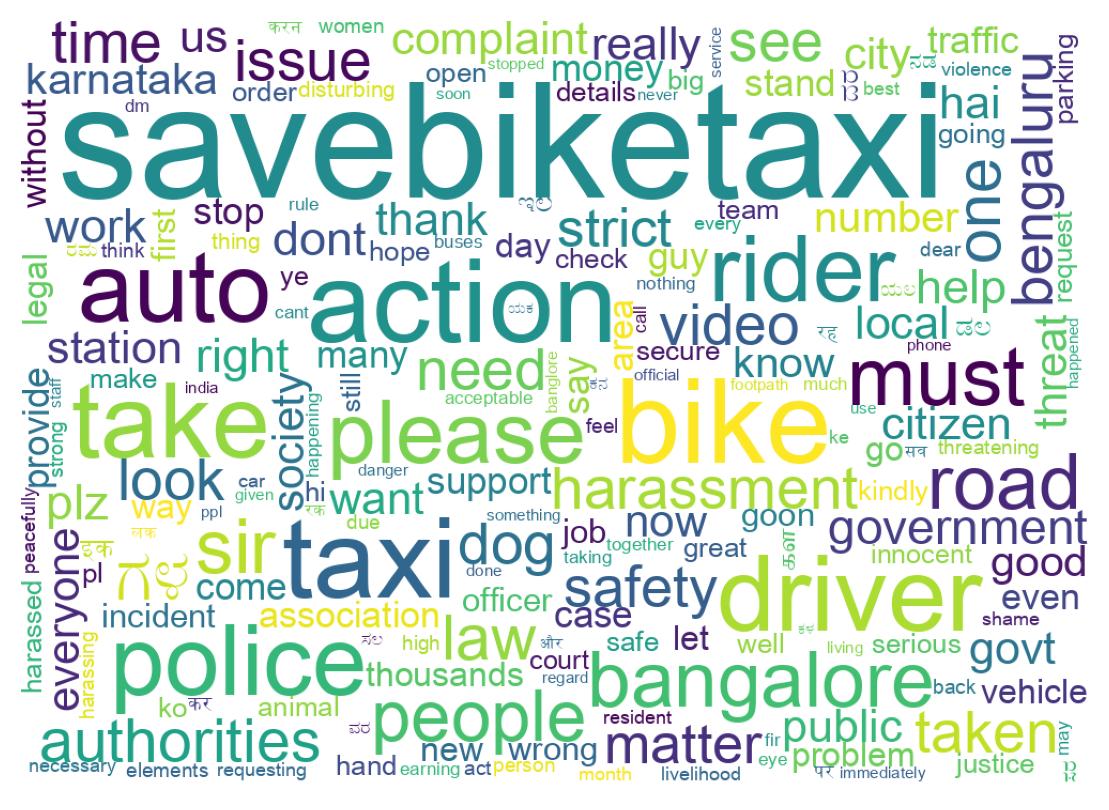 ---
Emojis
Average number of emojis used per tweet
13
Emojis used in tweets
| Emoji | Count | Emoji Text |
| --- | --- | --- |
| 🙏 | 71 | folded_hands |
| 👏 | 37 | clapping_hands |
| 👍 | 22 | thumbs_up |
| 💐 | 14 | bouquet |
| 😂 | 11 | face_with_tears_of_joy |
| 🚨 | 5 | police_car_light |
| 😁 | 5 | beaming_face_with_smiling_eyes |
| 👇 | 4 | backhand_index_pointing_down |
| 🙏🏻 | 4 | folded_hands_light_skin_tone |
| ♥ | 4 | heart_suit |
Emojis groups
| Emoji Group | Count |
| --- | --- |
| People & Body | 160 |
| Smileys & Emotion | 57 |
| Animals & Nature | 14 |
| Travel & Places | 9 |
| Activities | 9 |
| Symbols | 6 |
| Objects | 3 |
| Flags | 2 |