Tweets Analysis - Keyword: @clubpremier_mx
Total number of tweets analysed
145
Earliest tweet was on
2023-03-15
Latest tweet was on
2023-03-24
Average age of authors' accounts
11 years
---
Summarization
Customers are expressing frustration with the Club Premier rewards program and Aeromexico airline, particularly regarding the lack of a rewards store and difficulties accessing their accounts online. Customers also criticize poor customer service and suggest cancelling the co-branded credit cards. Some customers are also skeptical of the program's value and accuse the companies of making it difficult to redeem points. Some customers are also experiencing issues with the rewards store's website.
Topic Modeling
Problems with Club Premier and Aeromexico services
Issues with Club Premier's website and online store
Negative opinions about Club Premier's loyalty program and rewards
Questions and concerns about the future of Club Premier's rewards program and store
Promotion and advertisement of Club Premier's benefits and rewards
Emotional Analysis
The tweets express frustration, anger, and disappointment towards @clubpremier_mx and @Aeromexico for various issues such as the lack of rewards, poor customer service, website errors, and the removal of the online store. Some users threaten to cancel their membership, stop using the airline, or switch to a competitor's loyalty program. However, some tweets also mention the benefits of @clubpremier_mx and encourage others to sign up.
Trend Analysis
Issues with Club Premier's services, including difficulty using points and accessing their website (such as error 504 and page interference)
Complaints about the lack of a store in Club Premier and the program's usefulness
Skepticism about the benefits of Club Premier and Aeromexico's loyalty programs, as well as accusations of fraud
Mentions of specific individuals at Club Premier, including Armando Rivas and CovarrubiasAA
Positive mentions of the benefits of Club Premier's loyalty program and how to sign up
---
Types of Tweets
Number of Retweets
9
Percentage of total tweets
6%
Number of Original tweets
52
Percentage of total tweets
35%
Number of tweets that contain Mentions
145
Percentage of total tweets
100%
Number of tweets that were Replies
79
Percentage of total tweets
54%
Number of tweets that were Quotes
6
Percentage of total tweets
4%
Number of tweets that contain Hashtags
8
Percentage of total tweets
5%
---
Top 5 devices used to tweet
| Source | Count |
| --- | --- |
| Twitter for iPhone | 105 |
| Twitter for Android | 21 |
| Twitter Web App | 14 |
| Salesforce - Social Studio | 3 |
| Twitter for Mac | 2 |
What devices were used to tweet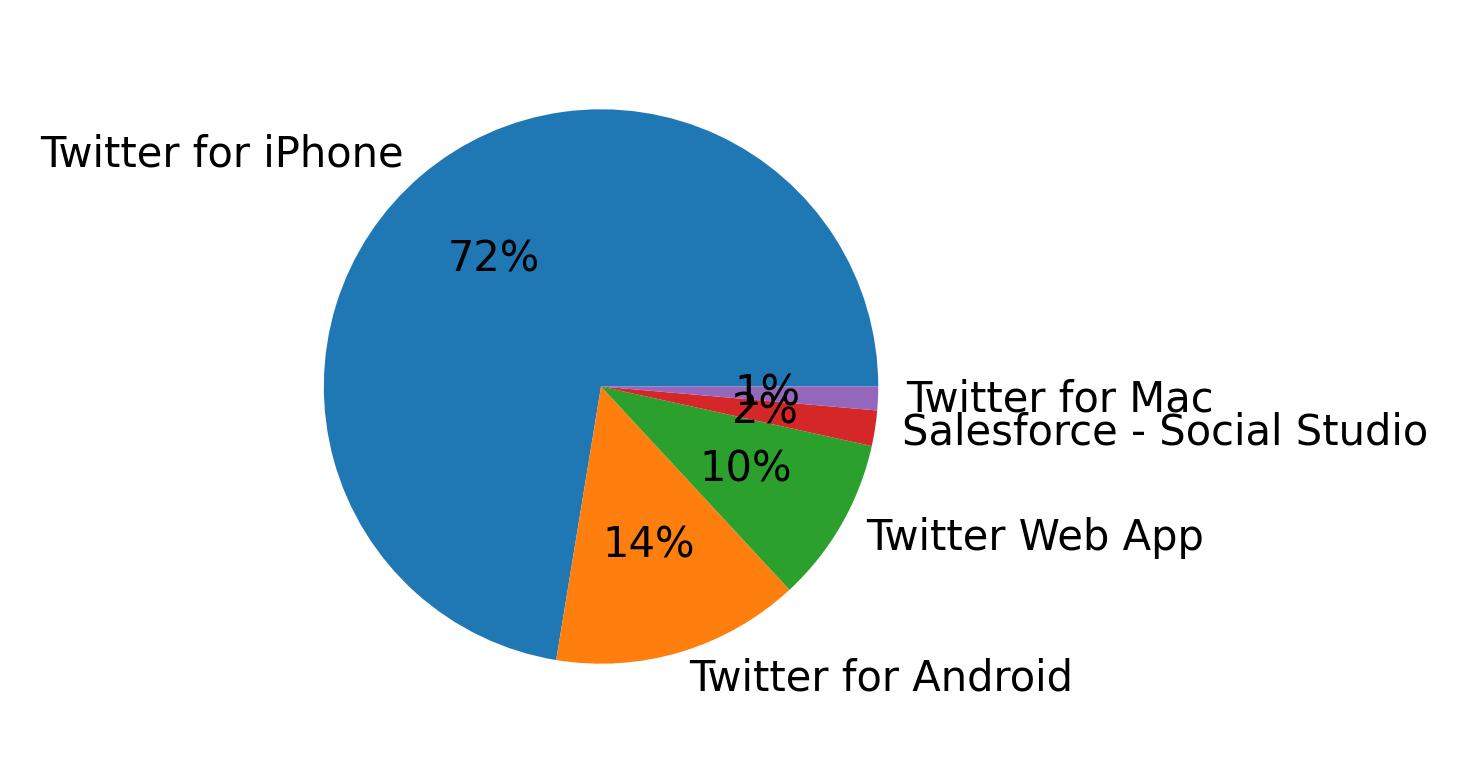 ---
Top 10 accounts with highest followers count
| Username | Name | Bio | Followers count |
| --- | --- | --- | --- |
| MarcoBeteta | Marco Beteta | Las mejores recomendaciones: restaurantes, destinos y estilo de vida. https://t.co/DxLSOrPcVp | 56,067 |
| AM_Escucha | Aeroméxico escucha | En Aeroméxico estamos a tu servicio de 06:00 am a 00:00 am/7 días. Conoce nuestra Política de Privacidad https://t.co/kvhdNHscQn… | 53,880 |
| carolhsolis | Carolina 🐾 | Desmedidamente arrogante. Culishi. Malhablada, pero bien leída. DogLover machin. | 26,092 |
| Hijade__TuM4dre | ___TuMadre 🦅 | Vamos America #EstoEsAmerica Del Tu Madrismo Forever | 10,720 |
| FrauPosadas | Nelly Posadas | Turistologa, amante del vino, sake y el café. Obi Wan y el mar me acompañan siempre. | 6,480 |
| estrellablue | Estrella Araiza | lo más importante, mamá de Emiliano y Lucía. directora general de @FICGoficial y @cinetecaficg I ❤️ @RealGDT @encasamonstruos | 6,020 |
| lolarocker | Lorena Ruiz 💜 | Leading the Ambassador program and Meta Yield Campaigns at @meta_pool Always chasing good experiences. Some things I love👉🚴🏽‍♀️🐱🎶🌮🥐 | 3,685 |
| Carlos_R_S | CRS | LAE97 ITESM MTY amante del café, Q grader, crecí en Xalapa, vivo en Córdoba #followback sígueme y te sigo, chairos serán bloqueados | 2,549 |
| percepciones | VU. | Las percepciones nos constituyen con una identidad. Nos dan conciencia: Hume. 100% 4T. | 1,270 |
| Martinez1Rob | Roberto Martinez Y | Ex director del Centro OCDE en México para América Latina enfocado en políticas, competitividad y el interés público -comentarios son solo míos. | 1,165 |
Top 10 accounts with highest friends count
| Username | Name | Bio | Followers count |
| --- | --- | --- | --- |
| AM_Escucha | Aeroméxico escucha | En Aeroméxico estamos a tu servicio de 06:00 am a 00:00 am/7 días. Conoce nuestra Política de Privacidad https://t.co/kvhdNHscQn… | 5,148 |
| ferjaenofficial | ferJaēn ® 🕉 🏎🏀 | Project & Marketing Director. Fanático de los deportes y amante de la comida y el tequila y el gin... creativo de nacimiento. | 5,002 |
| Carlos_R_S | CRS | LAE97 ITESM MTY amante del café, Q grader, crecí en Xalapa, vivo en Córdoba #followback sígueme y te sigo, chairos serán bloqueados | 4,968 |
| wantedeadoraliv | WereWolf-Paris | me encanta visitar lugares nuevos y conocer personas y cosas nuevas | 3,452 |
| percepciones | VU. | Las percepciones nos constituyen con una identidad. Nos dan conciencia: Hume. 100% 4T. | 3,429 |
| estrellablue | Estrella Araiza | lo más importante, mamá de Emiliano y Lucía. directora general de @FICGoficial y @cinetecaficg I ❤️ @RealGDT @encasamonstruos | 2,647 |
| atristain_aaron | Aarón Atristáin | Me gusta jugar fut bol y videojuegos | 2,224 |
| themigueang | Miguel De La Torre | LET ME IN | 2,154 |
| lolarocker | Lorena Ruiz 💜 | Leading the Ambassador program and Meta Yield Campaigns at @meta_pool Always chasing good experiences. Some things I love👉🚴🏽‍♀️🐱🎶🌮🥐 | 2,102 |
| FrauPosadas | Nelly Posadas | Turistologa, amante del vino, sake y el café. Obi Wan y el mar me acompañan siempre. | 2,067 |
Most active users
| Username | Bio | Number of tweets |
| --- | --- | --- |
| karlaesquerdo | la verdad no peca pero incómoda, criticamos el servicio y difundimos los que se debe saber. | 24 |
| Malakaaai | fino alla fine. #amándolossiempre | 10 |
| sergioru | arquitecto constructor, ecologista | 6 |
| alancho | Le toco lo que viene siendo la batería, le hago locuciones y producciones. Le escribo de tecnología y música. Director de @AudioExpertos y @VideoPerfecto | 6 |
| Carlos_R_S | LAE97 ITESM MTY amante del café, Q grader, crecí en Xalapa, vivo en Córdoba #followback sígueme y te sigo, chairos serán bloqueados | 4 |
| ayherran | insta @aherran | 4 |
| ofthescissor | Tengo una rata en la cabeza y se llama Berta. | 4 |
| KikinML | Generador de empleos, constructor de ideas. Yo actúo y genero, ¿ tu que haces? | 3 |
| AM_Escucha | En Aeroméxico estamos a tu servicio de 06:00 am a 00:00 am/7 días. Conoce nuestra Política de Privacidad https://t.co/kvhdNHscQn… | 3 |
| ariirt | - | 3 |
---
Tweets per day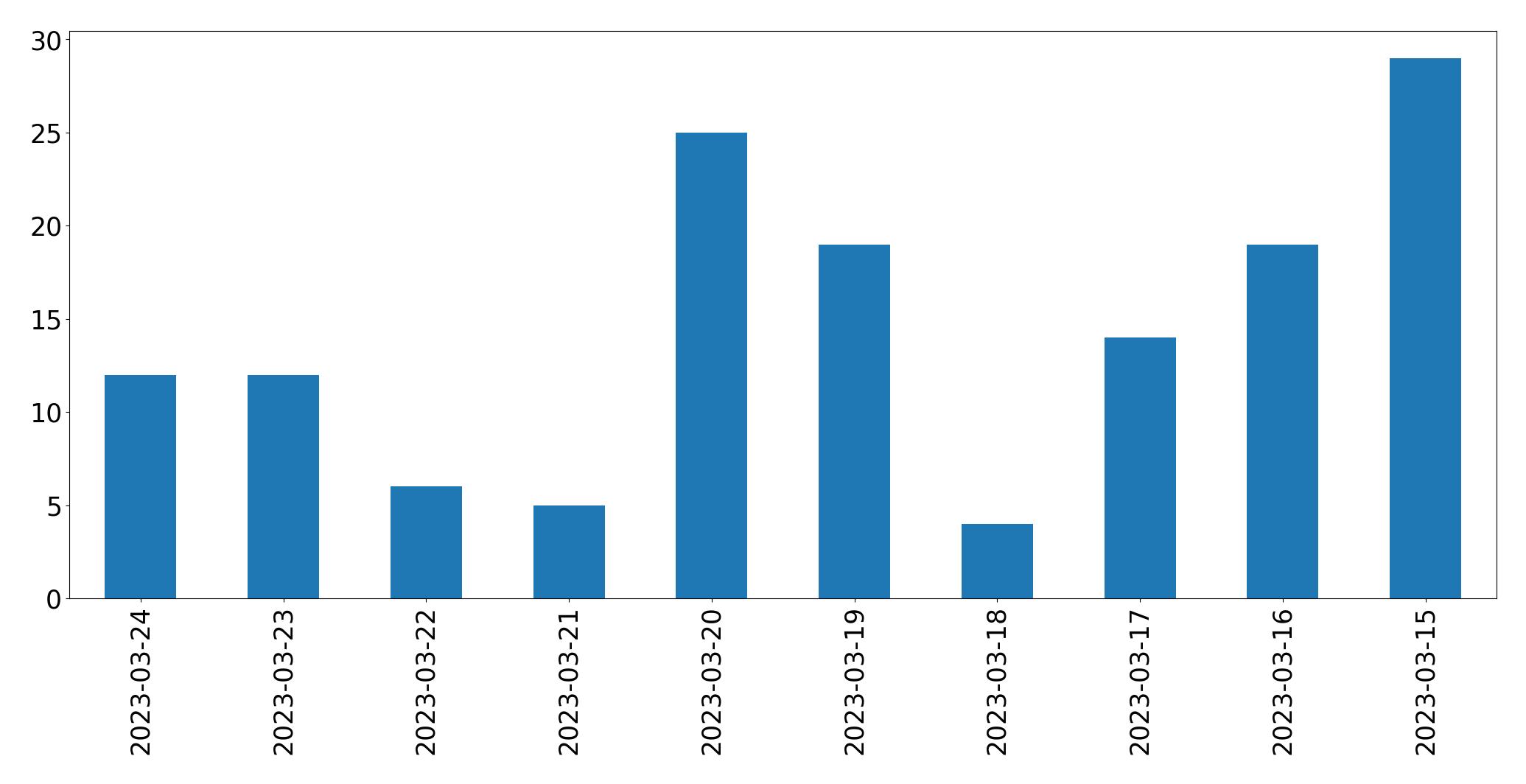 ---
Top 10 tweets with highest Retweet count
| ID | Text | Retweet count |
| --- | --- | --- |
| 1636015614773821440 | @clubpremier_mx @ArmandoRivasC4 ¿Va a haber alguna opción de tienda en línea en el futuro o ya solo se podrán usar los puntos premier en viajes? | 1 |
| 1636057047190892546 | @clubpremier_mx No les creo nada. ayer 2 horas perdi el tiempo con ustedes | 1 |
| 1636054609679507460 | @clubpremier_mx Quiero decirles que ustedes son un FRAUDE junto con #Aeromexico y su #VentaAzul ayer fue imposible ponerme en contacto con #clubpremier para comprar boletos y mucho menos hacer validas promosiones. Son un engaño total, IN #FelizMiercoles | 1 |
| 1637643166643032064 | ¿Conoces los beneficios de @clubpremier_mx? 🛫Acumula puntos en tus compras y conviértelos en experiencias, viajes y más. ¡Inscribirte es fácil y gratis! Hazlo aquí: 👉🏼 https://t.co/yD3i9uyXnO #MarcoBeteta #ComunidadMB #ClubPremier https://t.co/r7GkYLYLEL | 1 |
| 1636056124192350210 | Quien le cree hoy en dia a #clubpremier y a #aeromexico @clubpremier_mx solo te hacen gastar con sus tarjetas y no te regalan nada cuando juntes puntos para un vuelo te ponen piedras en el camino https://t.co/VRksxaD4fx | 1 |
| 1637853446031155200 | Oye @clubpremier_mx, tu sitio lleva horas dándome error 504 (Gateway time out) cuando intento hacer login... ¿Tienes algún tiempo estimado para solucionar eso? | 1 |
| 1636793611898744832 | @soycharlierr @karlaesquerdo @clubpremier_mx Confirmo. | 0 |
| 1636789508602462220 | @clubpremier_mx Requiero apoyo de parte de ustedes. No puedo redimir mis puntos para reservación de hotel. Su Fortino me manda error al reservar. Acudí a su calle center y oficinas de Perisur y no dan solución. | 0 |
| 1636779567984656389 | @clubpremier_mx No tienen activado el botón de mensajes, a donde les envío el mensaje? | 0 |
| 1636774871714918400 | @clubpremier_mx Gracias! En breve lo envío. ☺️ | 0 |
Top 10 tweets with highest Like count
| ID | Text | Like count |
| --- | --- | --- |
| 1636406104468103168 | @clubpremier_mx @Aeromexico Sin tienda en club premier ya no tiene caso volar por Aeroméxico, ya no hay recompensa en ello | 3 |
| 1638721426688704513 | En @Aeromexico no todo lo que brilla es #titanio @clubpremier_mx | 3 |
| 1636054609679507460 | @clubpremier_mx Quiero decirles que ustedes son un FRAUDE junto con #Aeromexico y su #VentaAzul ayer fue imposible ponerme en contacto con #clubpremier para comprar boletos y mucho menos hacer validas promosiones. Son un engaño total, IN #FelizMiercoles | 3 |
| 1636055744679215105 | @clubpremier_mx @CovarrubiasAA en concreto y para acabar más pronto, debemos hacer cancelación masiva de sus tarjetas de marca compartida ( santander y amex) y eso sería el entierro del programa. osea te dan mil formas para acumular puntos pero 3 opciones para usarlos? no conviene club premier. | 3 |
| 1637853446031155200 | Oye @clubpremier_mx, tu sitio lleva horas dándome error 504 (Gateway time out) cuando intento hacer login... ¿Tienes algún tiempo estimado para solucionar eso? | 2 |
| 1637859744550379554 | Terrible la interferencia en la página de @clubpremier_mx por culpa de su ineptitud y falta de atención, no se puede hacer compra de vuelos y perdí la posibilidad de usar mis puntos por esto. Es la peor plataforma y herramienta que existe. | 2 |
| 1636448951707598853 | @clubpremier_mx No satisfacen sus servicios afiliados. | 2 |
| 1636239055963684864 | @karlaesquerdo @clubpremier_mx @CovarrubiasAA No tiene caso el programa de puntos sin una tienda... La verdad no peca pero incómoda 👀 | 2 |
| 1638568370059575299 | @tucanglez @Sarili75 @ManuelBartlett Yo le pago el ascenso a @clubpremier_mx | 2 |
| 1636015614773821440 | @clubpremier_mx @ArmandoRivasC4 ¿Va a haber alguna opción de tienda en línea en el futuro o ya solo se podrán usar los puntos premier en viajes? | 2 |
Top 3 Languages Used In Tweets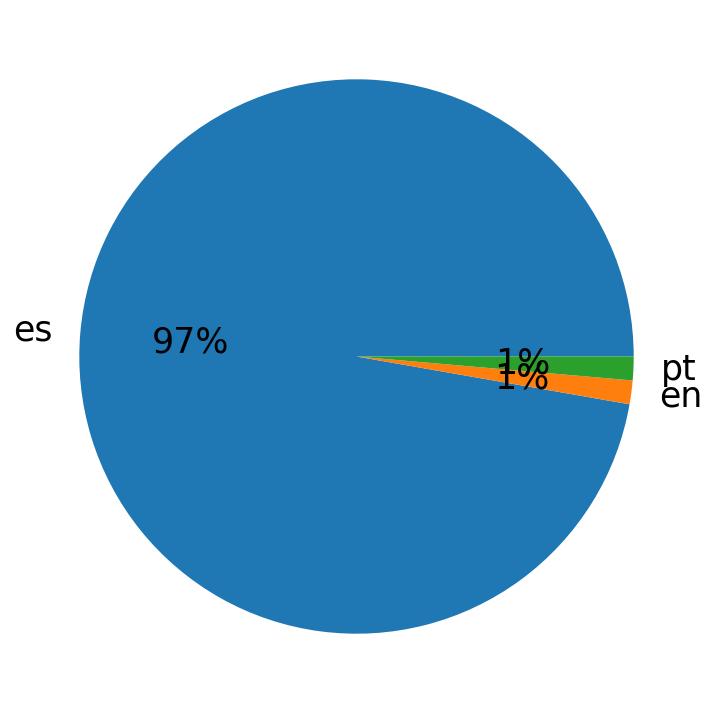 ---
Top 10 Hashtags used
| Hashtag | Count |
| --- | --- |
| #clubpremier | 6 |
| #aeromexico | 4 |
| #marcobeteta | 2 |
| #comunidadmb | 2 |
| #ventaazul | 2 |
| #felizmiercoles | 2 |
| #titanio | 1 |
| #viplounge | 1 |
| #quenosetepase | 1 |
| #shameaeromexico | 1 |
Top 10 Hashtags Used In Tweets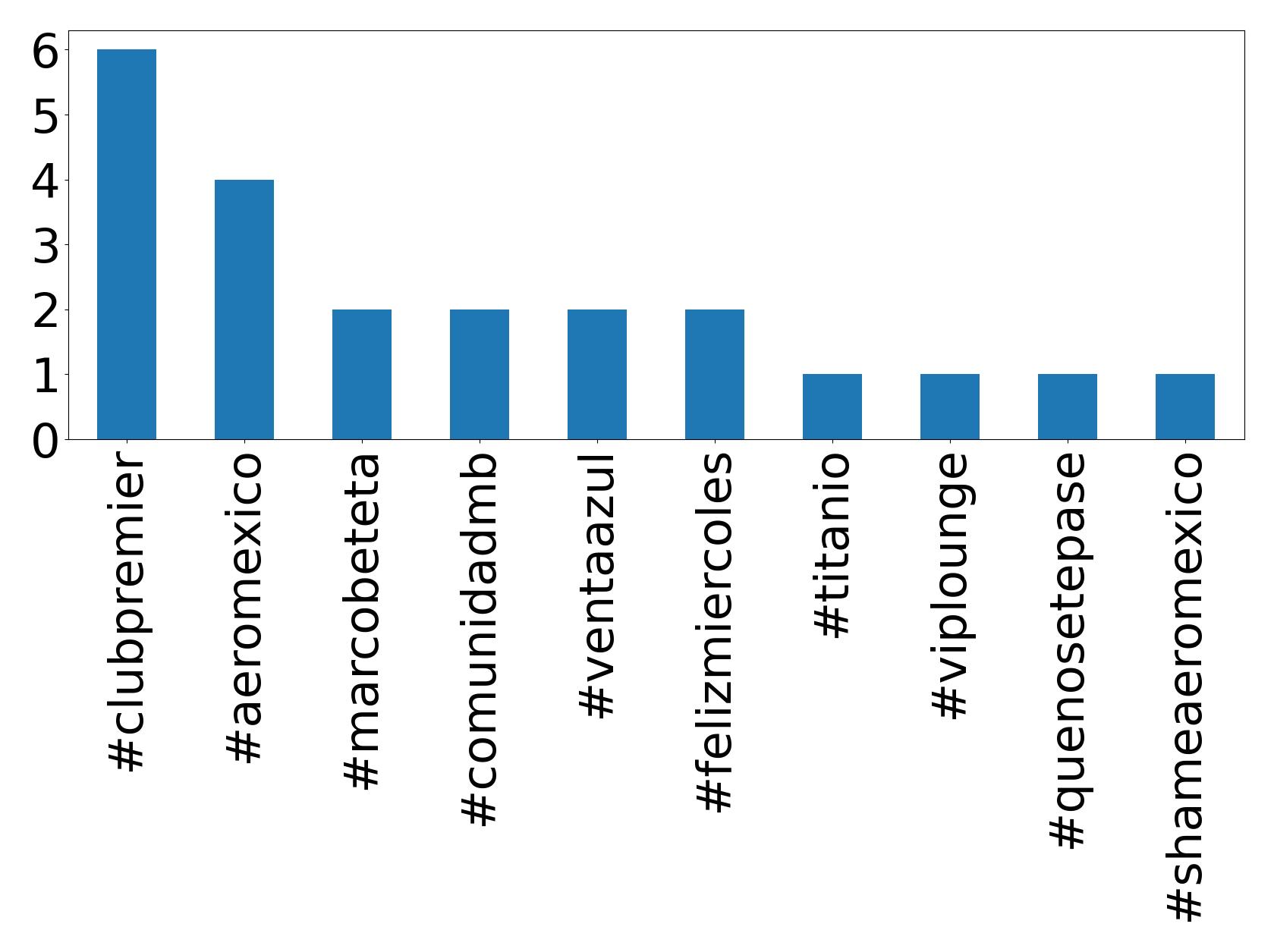 Top 10 mentions
| Mention | Count |
| --- | --- |
| @clubpremier_mx | 145 |
| @aeromexico | 16 |
| @am_escucha | 14 |
| @amexexpressmx | 9 |
| @karlaesquerdo | 9 |
| @profeco | 8 |
| @nachomesa | 5 |
| @kikinml | 5 |
| @condusefmx | 4 |
| @covarrubiasaa | 4 |
Top 10 mentions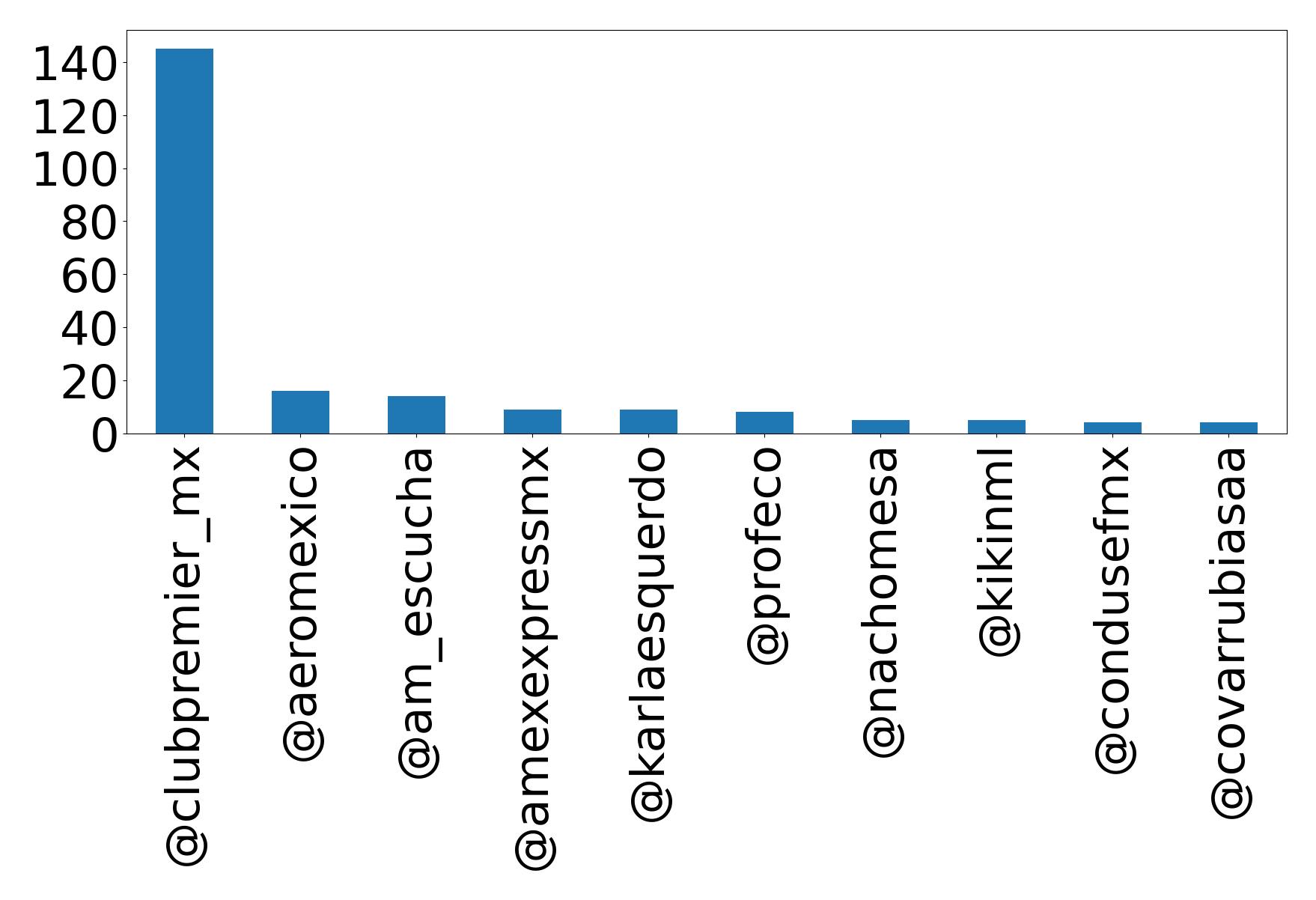 Wordcloud of Tweets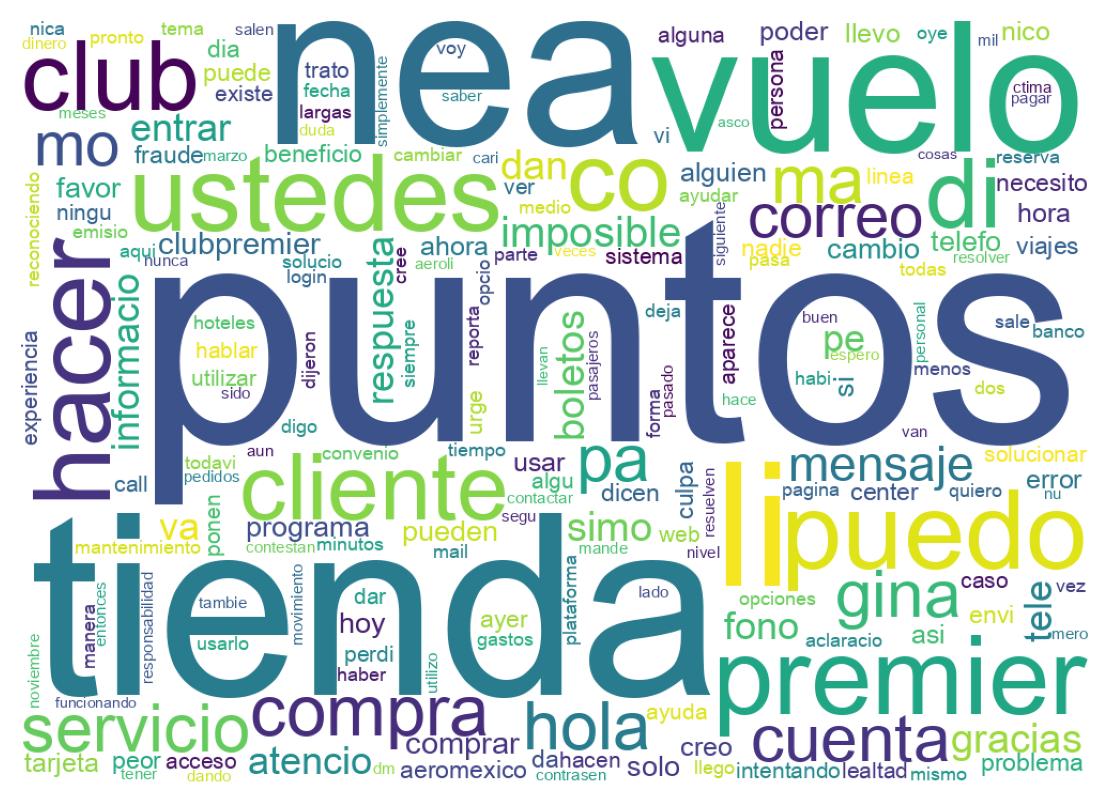 ---
Emojis
Average number of emojis used per tweet
15
Emojis used in tweets
| Emoji | Count | Emoji Text |
| --- | --- | --- |
| 😂 | 9 | face_with_tears_of_joy |
| 😡 | 2 | enraged_face |
| 🛫 | 2 | airplane_departure |
| 👉🏼 | 2 | backhand_index_pointing_right_medium-light_skin_tone |
| 😳 | 1 | flushed_face |
| 🙏🏻 | 1 | folded_hands_light_skin_tone |
| 👎 | 1 | thumbs_down |
| ☺️ | 1 | smiling_face |
| 🙈 | 1 | see-no-evil_monkey |
| 😊 | 1 | smiling_face_with_smiling_eyes |
Emojis groups
| Emoji Group | Count |
| --- | --- |
| Smileys & Emotion | 16 |
| People & Body | 5 |
| Travel & Places | 2 |