Tweets Analysis - Keyword: Chelsea
Total number of tweets analysed
7,107
Earliest tweet was on
2023-04-05
Latest tweet was on
2023-04-05
Average age of authors' accounts
6 years
---
Summarization
There are several tweets discussing potential candidates for the Chelsea manager job, including Luis Enrique and Julian Nagelsmann. It is mentioned that Luis Enrique prepared a detailed PowerPoint presentation for Chelsea outlining his vision and plans for the team and each player. Tite has also expressed interest in the position. Frank Lampard is open to becoming manager again on a short-term basis, and some fans suggest he would be a good caretaker choice. Other tweets focus on player performances and the differences in philosophy between Arsenal and Chelsea.
Topic Modeling
Luis Enrique as a potential Chelsea manager
Potential candidates for Chelsea manager including Frank Lampard and Julian Nagelsmann
Tactics and strategy in relation to Chelsea's players
Comparisons and opinions on potential Chelsea managers
Transfer activity and academy structure at Chelsea compared to other clubs
Emotional Analysis
The tweets express a range of emotions surrounding potential managerial changes at Chelsea Football Club. Some individuals express excitement and support for the prospect of Luis Enrique or Tite becoming the new manager, while others discuss the pros and cons of bringing back the previous manager, Frank Lampard. There is also speculation about the possible tactics and plans that Enrique or Nagelsmann would bring to the team, with some praising the detailed PowerPoint presentation sent by Enrique's representatives. Overall, the tweets convey a mix of anticipation, curiosity, and enthusiasm regarding the future of Chelsea FC.
Trend Analysis
Luis Enrique's potential hiring as Chelsea's next manager
Tite expressing interest in becoming Chelsea's new manager
Potential rehiring of Frank Lampard as Chelsea's short-term manager
Judian Nagelsmann's availability and contact with Chelsea
Chelsea's performance in recent matches and upcoming games (draw against Liverpool, UCL tie versus Real Madrid)
---
Types of Tweets
Number of Retweets
1,949
Percentage of total tweets
27%
Number of Original tweets
1,736
Percentage of total tweets
24%
Number of tweets that contain Mentions
4,977
Percentage of total tweets
70%
Number of tweets that were Replies
2,911
Percentage of total tweets
40%
Number of tweets that were Quotes
711
Percentage of total tweets
10%
Number of tweets that contain Hashtags
1,126
Percentage of total tweets
15%
---
Top 5 devices used to tweet
| Source | Count |
| --- | --- |
| Twitter for Android | 3051 |
| Twitter for iPhone | 2647 |
| Twitter Web App | 969 |
| TweetDeck | 69 |
| IFTTT | 58 |
What devices were used to tweet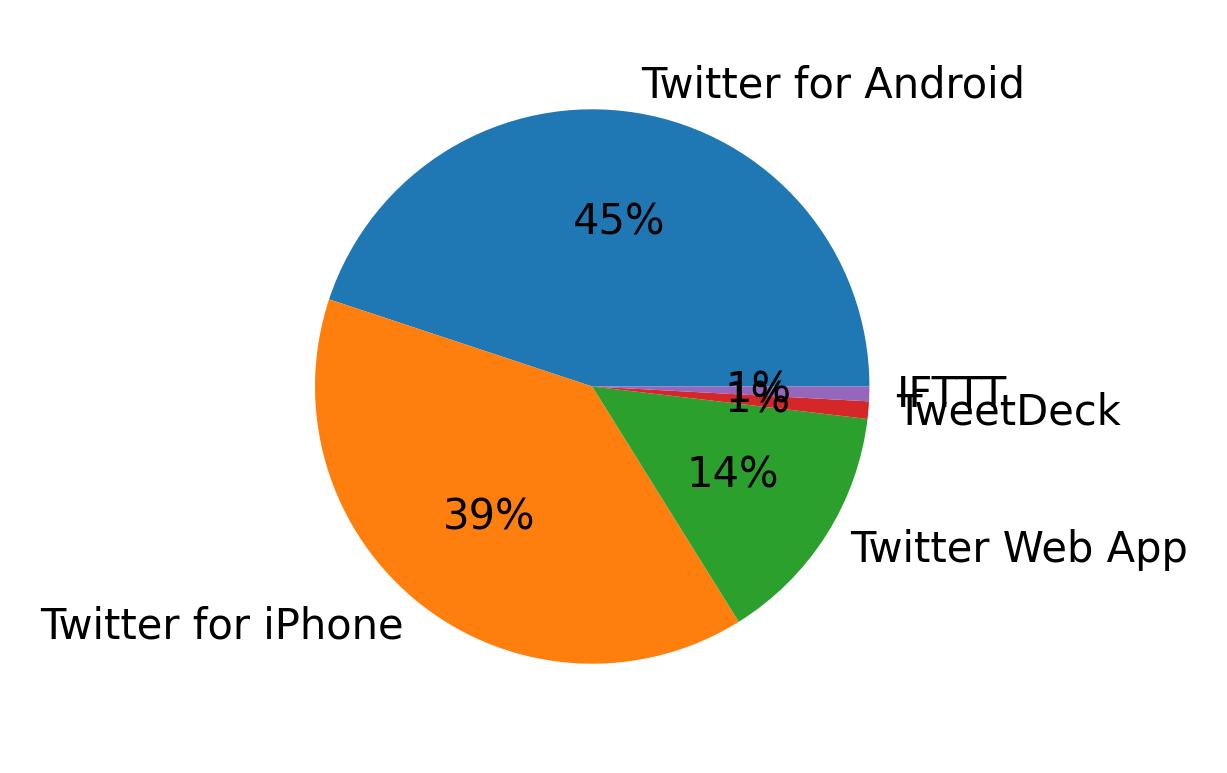 ---
Top 10 accounts with highest followers count
| Username | Name | Bio | Followers count |
| --- | --- | --- | --- |
| SkySportsPL | Sky Sports Premier League | The official account for the Sky Sports Premier League channel | 10,930,113 |
| Estadao | Estadão 🗞️ | A versão online do jornal O Estado de S. Paulo. Acompanhe também as atualizações pelo Instagram: https://t.co/hGsLKgFw9w | 7,573,036 |
| ntvspor | NTV Spor | 📲 Sporun Adresi - https://t.co/5bRX8RDOyC | 👍🏻 Facebook - https://t.co/004bp6c1No | 📹 YouTube - https://t.co/5SuqunYF0m | 📸 Instagram - https://t.co/zoypUVN1oo | 6,323,859 |
| ElNacionalWeb | El Nacional | Te informamos sobre las noticias más recientes de Venezuela y el mundo. Evita la censura y descarga el VPN 📲https://t.co/l9iUmozIqw | 5,735,553 |
| TUDNMEX | TUDN MEX | Las mejores historias se viven en el deporte y lo mejor del deporte se vive por TUDN. Vivimos TU Pasión. | 4,814,549 |
| vanguardngrnews | Vanguard Newspapers | Latest news from Nigeria. Politics, business, technology, style, entertainment. | 4,300,718 |
| SC_ESPN | SportsCenter | Noticiero del deporte mundial. Repaso de toda la actualidad con compactos, entrevistas, destacados. Un estilo de vida, todos los días, en ESPN. | 3,945,324 |
| detiksport | detiksport | Akun resmi situs berita olahraga Contact: redaksi@detiksport.com | info@detiksport.com | promosi@detik.com | 3,891,905 |
| TyCSports | TyC Sports | Un canal. Todo el deporte. Mirá TyC Sports las 24hs y otros eventos en vivo en https://t.co/uZEWqAPQn6 | 3,875,826 |
| infobae | infobae | Hacemos periodismo, lo hacemos con pasión. @infobaeamerica 🌎 @infobaedeportes ⚽ @teleshowcom 🎥 @infobaeeconomia 🏦 @infobaetrends 📸 @infobaemexico 🇲🇽 | 3,421,824 |
Top 10 accounts with highest friends count
| Username | Name | Bio | Followers count |
| --- | --- | --- | --- |
| empireofthekop | Empire of the Kop | Official Twitter account of E.O.T.K. For Liverpool fans, by Liverpool fans. Former Winner of Best Social Account @ #TheFBAs 🌟 | 907,332 |
| ElNacionalWeb | El Nacional | Te informamos sobre las noticias más recientes de Venezuela y el mundo. Evita la censura y descarga el VPN 📲https://t.co/l9iUmozIqw | 337,935 |
| TerribleDeShoro | Terrible de Shoro | Made in #Chile [+21] [#ShoroLovers] contacto terribledeshoro@gmail.com | 112,957 |
| OK_Magazine | OK! Magazine | First for celebrity news. 'Like' our Facebook page at https://t.co/jv9EwWSuKl, follow us on Instagram at ok_mag and on Snapchat at okmaguk. | 61,757 |
| Yucee_ | Buj's very own 👽 | Physicist||Lover of God||Online PR Team Management & Digital Marketer|| Hiker & founder @thaoutsiders_ #CFC account! @darkoo Stan account | 45,759 |
| Koecheruiyot | Chemengeweet | | | Communications Partizan | Storyteller | Digital Marketer | #GodWillProvide | | | 39,198 |
| _mokeng96 | M o k e n g 🍂 | - | 38,711 |
| BelieveInKlopp | I'm._A._Believer | #LFC, Soccer, Sport in General. Look at the Link for all the Latest News, views and stories about LFC | 32,923 |
| oierfano | Oier Fano Dadebat | Echo de menos los lugares en los que he vivido: Oslo, Londres, o Zielona Gora. Es buena señal. Escribo sobre hoteles y me escuchas en @dcgipuzkoa FPL: OR 2.683 | 30,337 |
| GhostOfEcstasy | ♠️ | Ghost | Ads, Digital Media & Blockchain | Occasionally posts funny shit | tweets are signed | 29,597 |
Most active users
| Username | Bio | Number of tweets |
| --- | --- | --- |
| 9210_chelsea | チェルサポと言うよりチェルオタ | 42 |
| ayomide_chelsea | Calm Energy💚 | 24 |
| AngieChels69 | I'm Angela, huge Chelsea fan, keen to meet more Chelsea fans - let's connect! 💙💙 | 22 |
| rakesur_r | 💙 Chelsea Football Club 💙 @ChelseaFC 💙 𝔾𝕂𝕊 𝕊ℂℍ𝕆𝕃𝔸ℝ 👨‍🎓 🇧🇩 Bangladeshi ♻️ Environmentalist 🇰🇷 Korea University 📝 | 19 |
| Runninngg_ | #idol | 18 |
| MHAQ_CHELSEA | ᴛᴡᴇᴇᴛ ᴡʜᴀᴛ ɪ sᴇᴇ|| ᴘʀ ||ᴊᴜʟʏ7|| shameless and Angry 😠😡😠😡 @Chelseafc ɴᴜᴍʙᴇʀ ᴏɴᴇ Fᴀɴ|| #CFC || #MadeInBariga || #GainWithMhaq mustaphaolamilekan2@Gmail.com | 18 |
| __haleem | Unity school trained ¶ BUK alumnus ¶ Jewel in the Savanna ¶ #ProudlyFulani ¶ Entrepreneur ¶ My tweets my opinion! ¶ | 16 |
| _priiest | if you don't follow back, i unfollow you !!! | 15 |
| WebAppDevelopa | A child of God | Full-stack developer (Laravel, ReactJs) Creator @rechargeboss Email : iheanyi.uko@rechargeboss.com.ng WhatsApp : 07013483389 | 15 |
| _Chelsea_eth | positive vibes only || Nfts || Moderator | 14 |
---
Tweets per day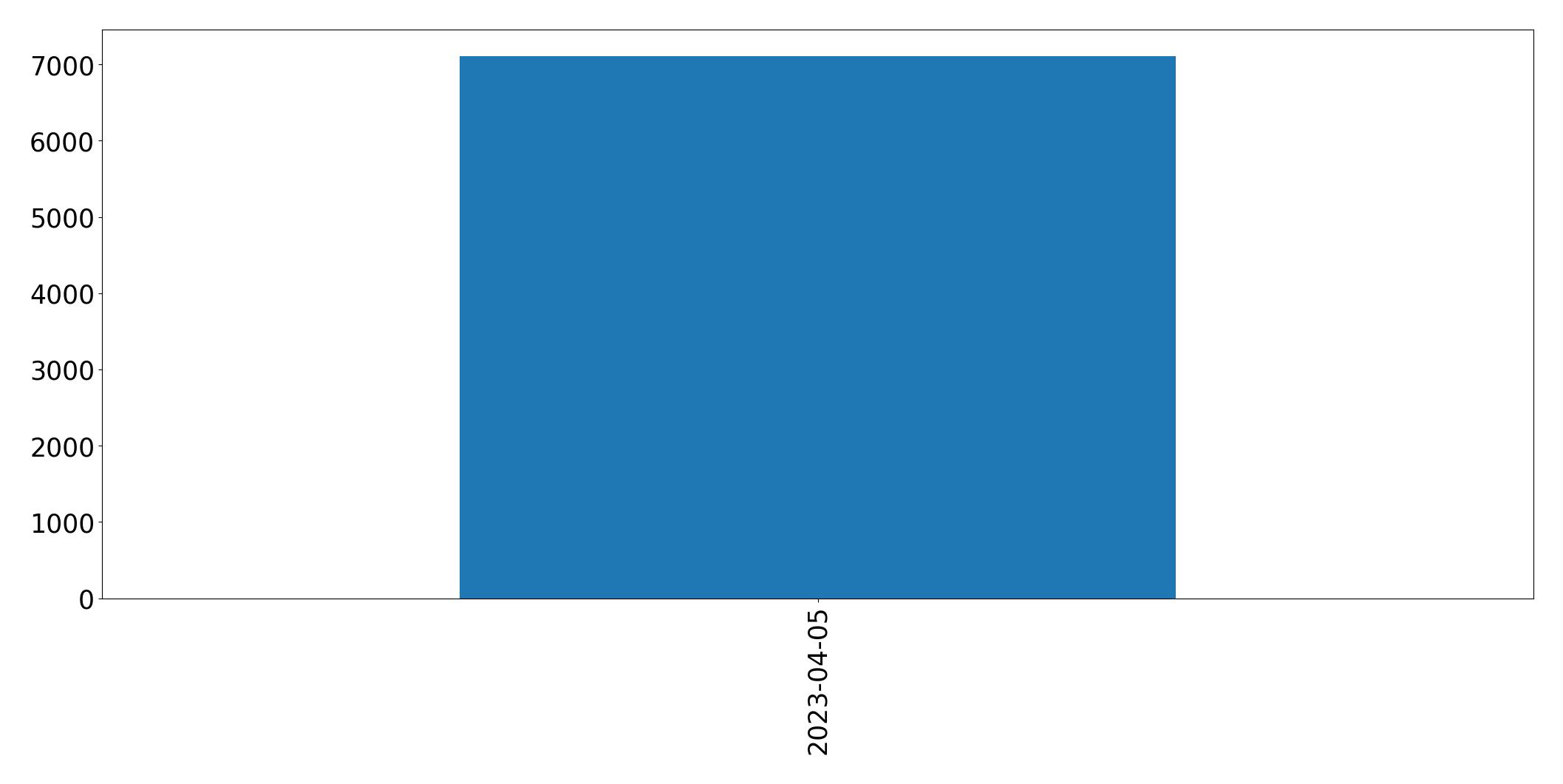 ---
Top 10 tweets with highest Retweet count
| ID | Text | Retweet count |
| --- | --- | --- |
| 1643599499317719047 | Luis Enrique prepared a presentation for Chelsea outlining every detail about his vision for the club and his plans for each player in the squad… ✅ https://t.co/3ClpQJAhn3 | 623 |
| 1643609549490868229 | @@envynoman96's account is temporarily unavailable because it violates the Twitter Media Policy. Learn more. | 276 |
| 1643615060747534337 | Love the fact Luis Enrique has sent a power point presentation to Chelsea. Edit:-@ExtraTimeChels https://t.co/pyVp4gJvee | 120 |
| 1643619223770480640 | Frank Lampard is open to becoming Chelsea manager again on a short term basis. (@TomRoddy_) #CFC https://t.co/iQootGRLdi | 116 |
| 1643611720575864833 | 🚨 Julian Nagelsmann availability is complicated by the severance package agreed with Bayern after departing last month. Chelsea have made contact with Nagelsmann whose agency Sports360 want to learn more about Chelsea's long-term plans and how much authority he would have at… https://t.co/RlKo6lF9FS https://t.co/xGxcEEiLtk | 95 |
| 1643622267639693315 | Luis Enrique as the next Chelsea manager - yes or no? 🤔 https://t.co/BqHKBQ6ctJ | 85 |
| 1643606067182534658 | 🚨 Wesley Fofana: 'The message [from Bruno] was to play for the club, play for Chelsea. He said play together and play with your heart. I think this is a good message, all the players gave everything on the pitch but no victory.' 'It's complicated and has been difficult for… https://t.co/D8Bn3dly1b https://t.co/PGrjSeJFIO | 84 |
| 1643600773182357505 | As pessoas não estão prontas pra essa conversa mas Tite com esse Chelsea DOUTRINARIA a Premier League. Seria eliminado da Champions pelo Sheriff sim mas na Premier league era papo de 90 pontos e 3x0 no City na penúltima rodada https://t.co/fRBII87lmf | 75 |
| 1643597374600740864 | 🚨 Luis Enrique's representatives sent Chelsea a full PowerPoint presentation from him outlining every detail about his vision and his plans for each individual player. [@siphillipssport] https://t.co/MSc8t0k8z1 | 66 |
| 1643598689632501760 | Afin de convaincre Chelsea, les représentants de Luis Enrique ont envoyé un PowerPoint reprenant toutes les idées de Luis Enrique pour l'équipe ainsi que pour chaque joueur individuellement. [@siphillipssport] https://t.co/17zmTPdKGM | 39 |
Top 10 tweets with highest Like count
| ID | Text | Like count |
| --- | --- | --- |
| 1643599499317719047 | Luis Enrique prepared a presentation for Chelsea outlining every detail about his vision for the club and his plans for each player in the squad… ✅ https://t.co/3ClpQJAhn3 | 8779 |
| 1643600773182357505 | As pessoas não estão prontas pra essa conversa mas Tite com esse Chelsea DOUTRINARIA a Premier League. Seria eliminado da Champions pelo Sheriff sim mas na Premier league era papo de 90 pontos e 3x0 no City na penúltima rodada https://t.co/fRBII87lmf | 2596 |
| 1643615060747534337 | Love the fact Luis Enrique has sent a power point presentation to Chelsea. Edit:-@ExtraTimeChels https://t.co/pyVp4gJvee | 1813 |
| 1643611720575864833 | 🚨 Julian Nagelsmann availability is complicated by the severance package agreed with Bayern after departing last month. Chelsea have made contact with Nagelsmann whose agency Sports360 want to learn more about Chelsea's long-term plans and how much authority he would have at… https://t.co/RlKo6lF9FS https://t.co/xGxcEEiLtk | 1572 |
| 1643619223770480640 | Frank Lampard is open to becoming Chelsea manager again on a short term basis. (@TomRoddy_) #CFC https://t.co/iQootGRLdi | 1567 |
| 1643606067182534658 | 🚨 Wesley Fofana: 'The message [from Bruno] was to play for the club, play for Chelsea. He said play together and play with your heart. I think this is a good message, all the players gave everything on the pitch but no victory.' 'It's complicated and has been difficult for… https://t.co/D8Bn3dly1b https://t.co/PGrjSeJFIO | 1513 |
| 1643597374600740864 | 🚨 Luis Enrique's representatives sent Chelsea a full PowerPoint presentation from him outlining every detail about his vision and his plans for each individual player. [@siphillipssport] https://t.co/MSc8t0k8z1 | 1309 |
| 1643622267639693315 | Luis Enrique as the next Chelsea manager - yes or no? 🤔 https://t.co/BqHKBQ6ctJ | 1030 |
| 1643600909753020416 | Tite manifestou interesse em ser o novo técnico do Chelsea e enviou de maneira formal a sua intenção. 🗞️ The Independent 📸 Reuters https://t.co/U38LODX85c | 649 |
| 1643596409575227392 | Chelsea ha incluido a Frank Lampard como candidato para reemplazar a Graham Potter como posible DT del club. [Telegraph] https://t.co/GyAWz6bcv3 | 623 |
Top 3 Languages Used In Tweets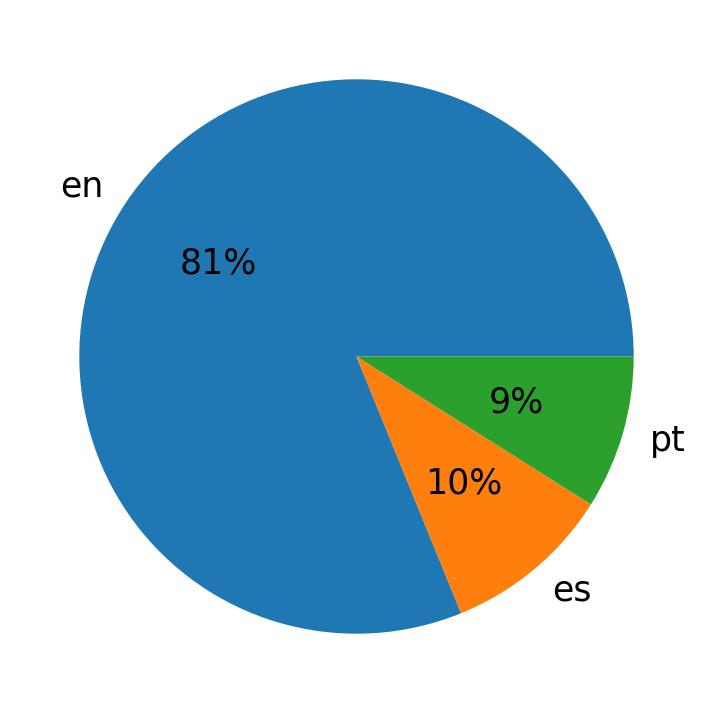 ---
Top 10 Hashtags used
| Hashtag | Count |
| --- | --- |
| #cfc | 318 |
| #chelsea | 314 |
| #cheliv | 110 |
| #chelseafc | 69 |
| #premierleague | 52 |
| #timeleesalbum | 39 |
| #lfc | 30 |
| #enrique | 30 |
| #luisenrique | 28 |
| #liverpool | 28 |
Top 10 Hashtags Used In Tweets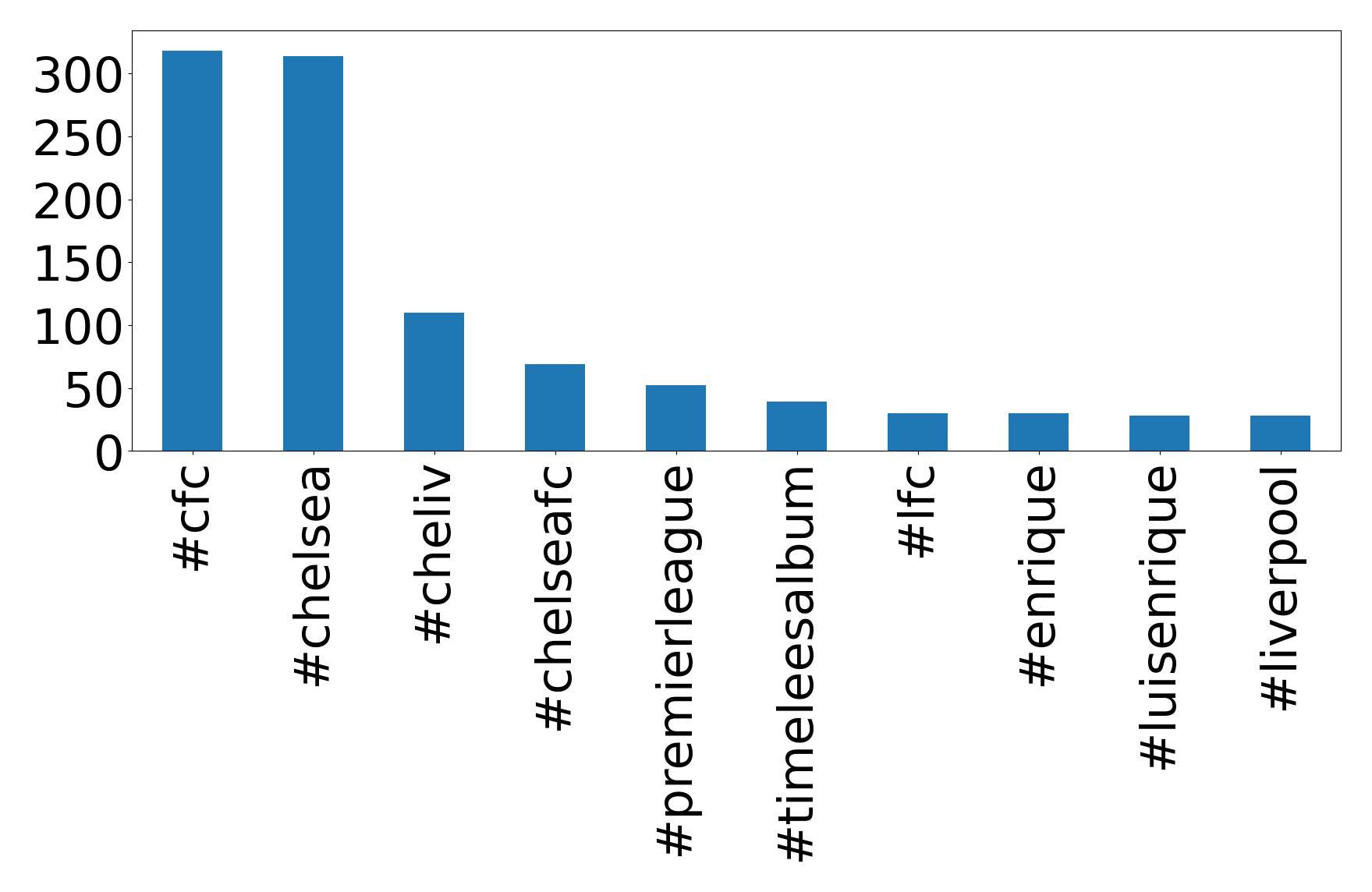 Top 10 mentions
| Mention | Count |
| --- | --- |
| @fabrizioromano | 221 |
| @chelseafc | 135 |
| @siphillipssport | 119 |
| @thebluedodger | 114 |
| @jijantesfc | 92 |
| @futebol_info | 84 |
| @matt_law_dt | 84 |
| @frankkhaliduk | 67 |
| @abdellahboulma | 50 |
| @tomroddy_ | 47 |
Top 10 mentions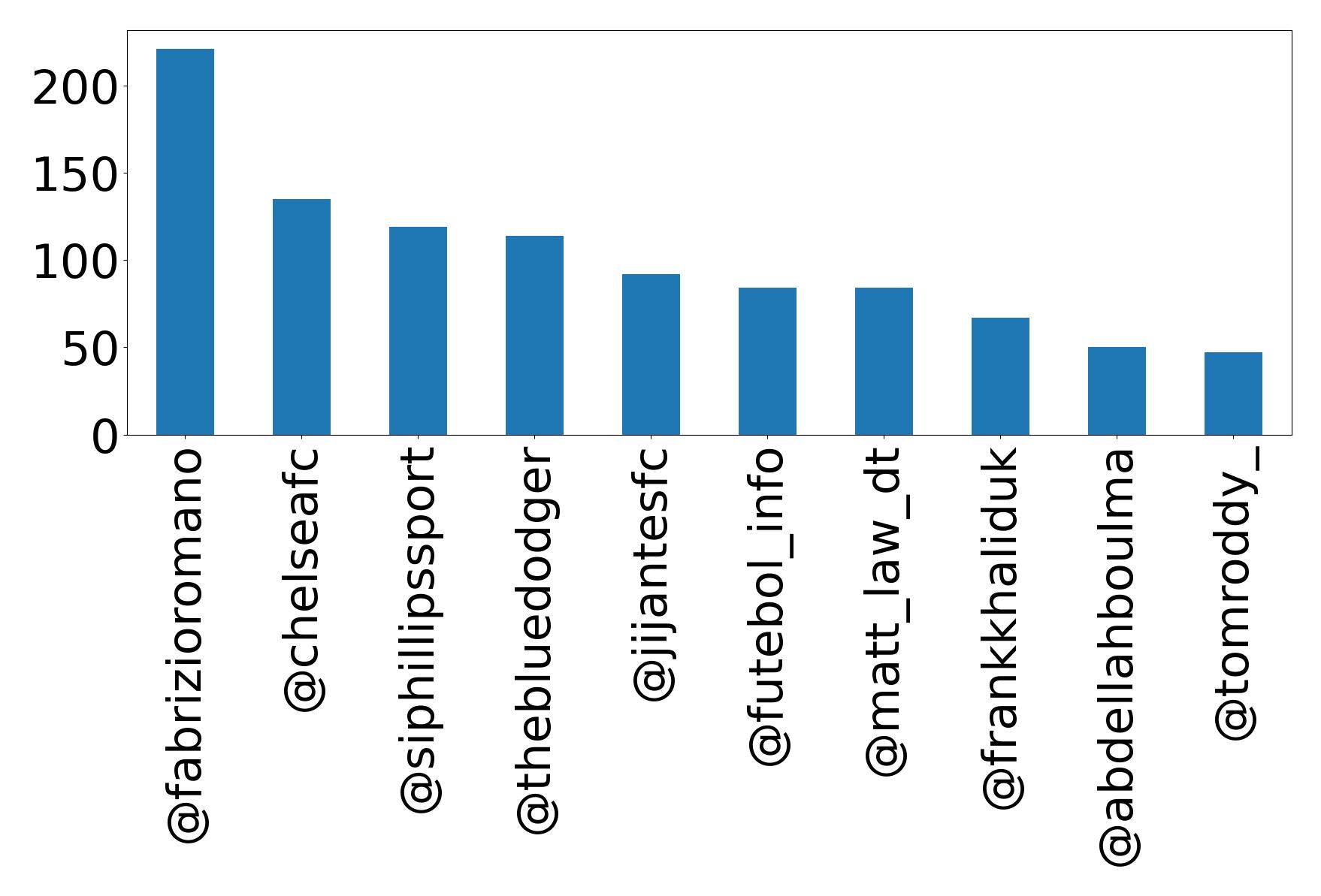 Wordcloud of Tweets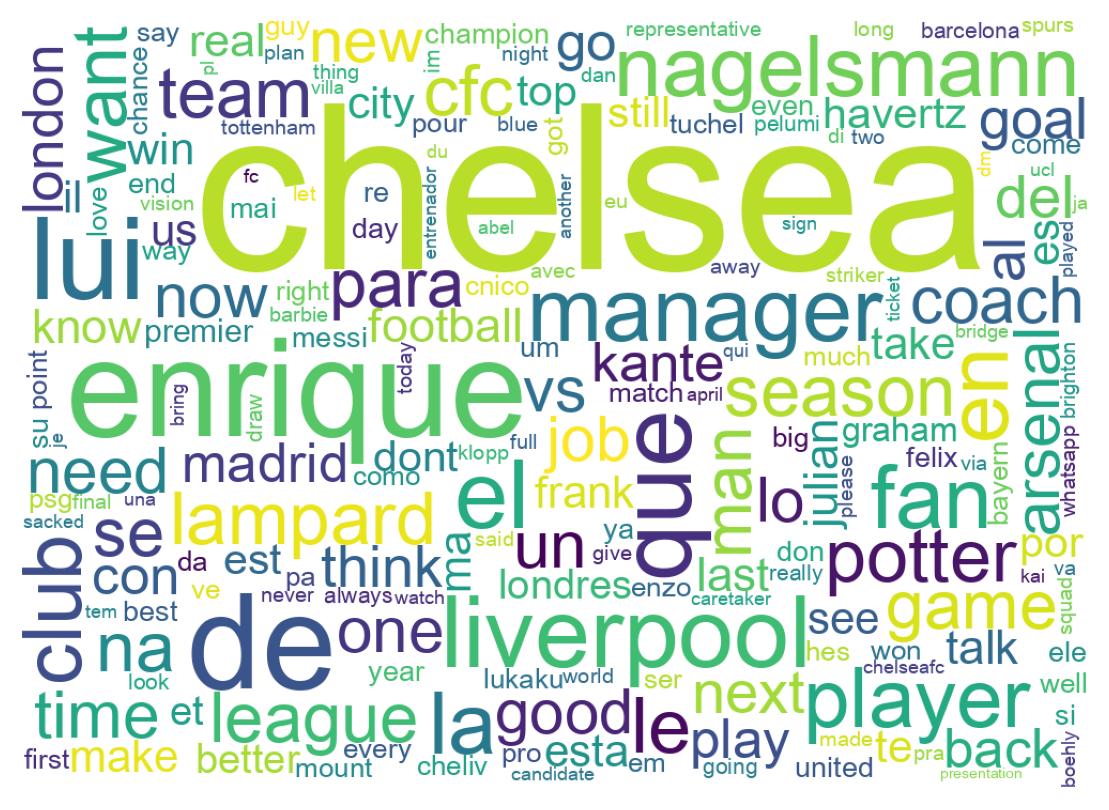 ---
Emojis
Average number of emojis used per tweet
68
Emojis used in tweets
| Emoji | Count | Emoji Text |
| --- | --- | --- |
| 😂 | 663 | face_with_tears_of_joy |
| ♥ | 339 | heart_suit |
| 🚨 | 264 | police_car_light |
| 😭 | 243 | loudly_crying_face |
| 🤣 | 243 | rolling_on_the_floor_laughing |
| 🔵 | 164 | blue_circle |
| 💙 | 100 | blue_heart |
| 🔥 | 85 | fire |
| ✅ | 74 | check_mark_button |
| 👀 | 71 | eyes |
Emojis groups
| Emoji Group | Count |
| --- | --- |
| Smileys & Emotion | 2038 |
| Symbols | 726 |
| People & Body | 573 |
| Activities | 515 |
| Travel & Places | 469 |
| Objects | 291 |
| Flags | 178 |
| Animals & Nature | 62 |
| Food & Drink | 16 |