Tweets Analysis - Keyword: @CEROLZERA
Total number of tweets analysed
304
Earliest tweet was on
2023-02-12
Latest tweet was on
2023-02-22
Average age of authors' accounts
3 years
---
Summarization
The tweets touch on a variety of topics, including a celebration of a loyalty program, speculation about what someone named Cerolzera is up to, comments about a gamer monitor sponsored by LG, discussions with various members of the gaming community, and reactions to YouTube recommendations. There is also some banter and light-hearted teasing between some of the people mentioned in the tweets.
Topic Modeling
Programa de fidelidade da Casas Bahia
Produtos e parcerias com a LG
Fluxo Esports e seus jogadores
Mensagens e comentários direcionados ao Cerol
Pedido por jogos e eventos presenciais do Fluxo Esports
Emotional Analysis
The emotions expressed in these tweets are predominantly positive and enthusiastic towards the individuals and brands mentioned. The use of laughing emojis and lighthearted language suggest a playful and jovial atmosphere. There is also a sense of admiration and loyalty towards certain individuals and a desire for collaboration and competition in the gaming community. The tweets reflect a strong sense of connection and engagement with the gaming and influencer culture.
Trend Analysis
Celebration of 1 year of @casasbahia loyalty program
Gaming and technology discussion featuring @LGdobrasil and @CEROLZERA
Discussion and support of various esports teams and players including @fluxogg, @nobru, and @imperialesports
Social banter and jokes involving @CEROLZERA and other Twitter users
Requests for collaborations and tournaments among Twitter users and esports teams
---
Types of Tweets
Number of Retweets
16
Percentage of total tweets
5%
Number of Original tweets
19
Percentage of total tweets
6%
Number of tweets that contain Mentions
304
Percentage of total tweets
100%
Number of tweets that were Replies
266
Percentage of total tweets
87%
Number of tweets that were Quotes
3
Percentage of total tweets
0%
Number of tweets that contain Hashtags
10
Percentage of total tweets
3%
---
Top 5 devices used to tweet
| Source | Count |
| --- | --- |
| Twitter for Android | 186 |
| Twitter for iPhone | 71 |
| Twitter Web App | 45 |
| Buzzmonitor | 2 |
What devices were used to tweet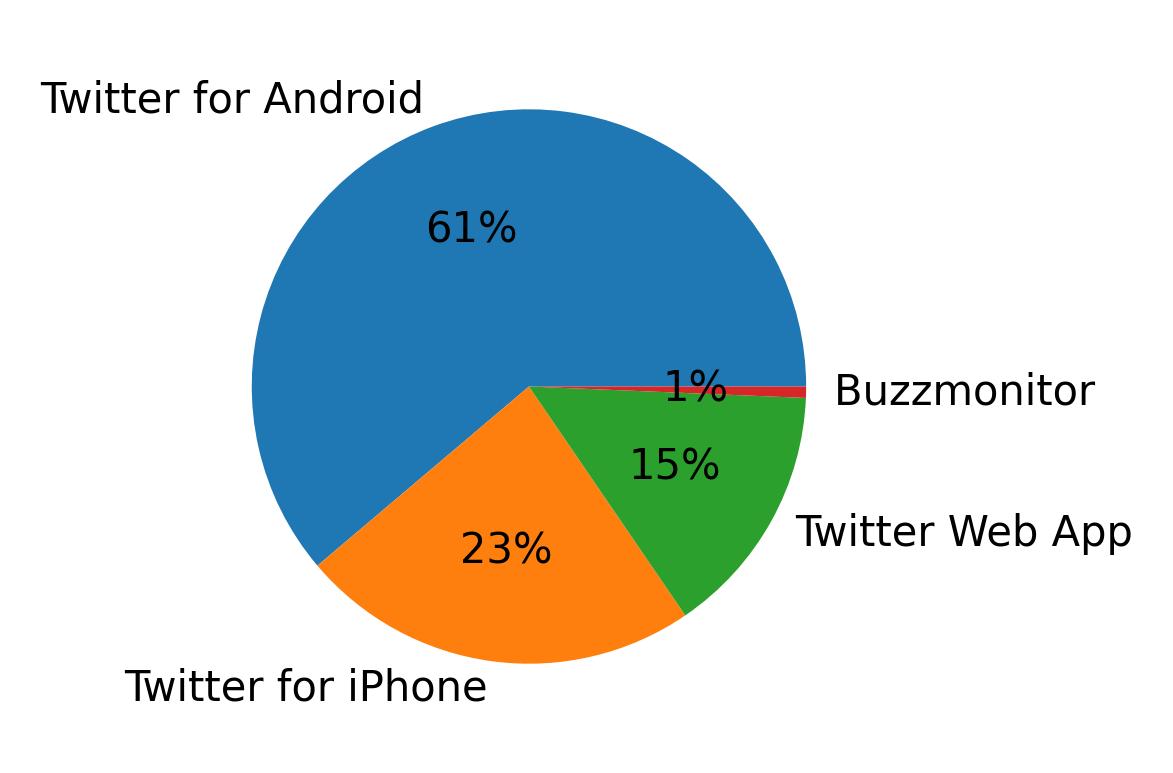 ---
Top 10 accounts with highest followers count
| Username | Name | Bio | Followers count |
| --- | --- | --- | --- |
| nobru | BruNo 🇲🇽 | - | 787,578 |
| fluxogg | Fluxo | ✉️ parcerias@fluxo.gg #SegueOFluxo | 382,996 |
| CasasBahia | CB | Oi, eu sou o CB. Apaixonado por games, diversidade, cultura POP, sustentabilidade e brasilidades. E aí, bora trocar ideia? | 217,295 |
| paulinhooloko_ | Paulinho o LOKO | Aqui é muito tóxico, tô apagando é tudo, uma hora eu volto kkkkkkk | 163,248 |
| LGdobrasil | LG Brasil | Twitter Oficial da LG do Brasil. Acompanhe para ficar por dentro das novidades dos nossos produtos, eventos e para interagir com a gente. #LifeisGood | 128,439 |
| R6BRatualizado | R6BR ATUALIZADO | A maior página do cenário competitivo de Rainbow Six Siege no Brasil. Fique por dentro de tudo. Seja um atualizado. 🔫 | 56,508 |
| sleunch | F8 sleunch | Graphic Designer ➜ Port : https://t.co/Z6Mpe85ir0 • Commissions OPEN • Lead @OurTrueFateGG • work with @flcclan_ • store : https://t.co/uJ7NoO2hq0 | 8,341 |
| centraldofluxo | Central Do Fluxo🇲🇽 | Informações, coberturas e muito mais. Acompanhem aqui! #GoFluxo | 7,761 |
| ToddyloverPapi_ | N3Y 𝖘𝖈𝖈𝖕 | ? | 7,224 |
| fxlucasxp7 | lucas🇲🇽 | apenas seguindo o @fluxogg, @meldomengo | 6,216 |
Top 10 accounts with highest friends count
| Username | Name | Bio | Followers count |
| --- | --- | --- | --- |
| LGdobrasil | LG Brasil | Twitter Oficial da LG do Brasil. Acompanhe para ficar por dentro das novidades dos nossos produtos, eventos e para interagir com a gente. #LifeisGood | 7,333 |
| fxlucasxp7 | lucas🇲🇽 | apenas seguindo o @fluxogg, @meldomengo | 5,715 |
| estthelar | tete | só sei passar mico | 3,613 |
| _SrTerrivel | Italo Silva | Buscando entender se este mundo é real ou se estamos em um episódio de South Park. @Atletico #Galo | 3,017 |
| pedrinslkkkkkk | FX pedrin 🌹🇲🇽 | @fluxogg go with the flow and nothing else. | 2,489 |
| NaelSccpfx | N̶a̶e̶l̶s̶c̶c̶p̶ 🇲🇽👑 | @corinthians | 2,286 |
| CasasBahia | CB | Oi, eu sou o CB. Apaixonado por games, diversidade, cultura POP, sustentabilidade e brasilidades. E aí, bora trocar ideia? | 2,232 |
| Fluxo_Mayara | 𝒎𝒂𝒚 | 29 𝒚 𝒕𝒆 𝒂𝒎𝒂𝒓𝒆𝒊 𝒅𝒆 𝒋𝒂𝒏𝒆𝒊𝒓𝒐 𝒂 𝒋𝒂𝒏𝒆𝒊𝒓𝒐 @nobru @fluxogg @criasgg @bakzera.❤ 𝒂𝒅𝒎 𝒅𝒐 @fluxo_borges 𝒏𝒐 𝒚𝒐𝒖𝒕𝒖𝒃𝒆❤️. | 2,090 |
| ToddyloverPapi_ | N3Y 𝖘𝖈𝖈𝖕 | ? | 1,653 |
| annecag_ | Anne Gonçalves | zero foco. | 1,461 |
Most active users
| Username | Bio | Number of tweets |
| --- | --- | --- |
| Kowdaaa | 22 • Freelance Creative Strategist & Graphic Designer Working with @PlaywellEsport | 19 |
| FXKaiqueRS | FX bak | 6 |
| Douglaasxl | Me chamo Douglas | 5 |
| Sizex77 | @fluxogg || @cristiano | 4 |
| DextterNTJ | Seguindo o @fluxogg @criasgg | 4 |
| belastarry | o que é ? @cerolzera 🫶🏼 @flamengo ❤️ | 4 |
| 021andrey7 | 📍 RJ 021 📍 @Flamengo / @realmadrid / @cristiano / | 3 |
| FX_DRACULA | - | 3 |
| VILAO__ | streaming 🙅🏻‍♂️Instagram: VILÃO🎬FF, RP | 3 |
| emitesi_021 | @flamengo | @fluxogg | @criasgg | 3 |
---
Tweets per day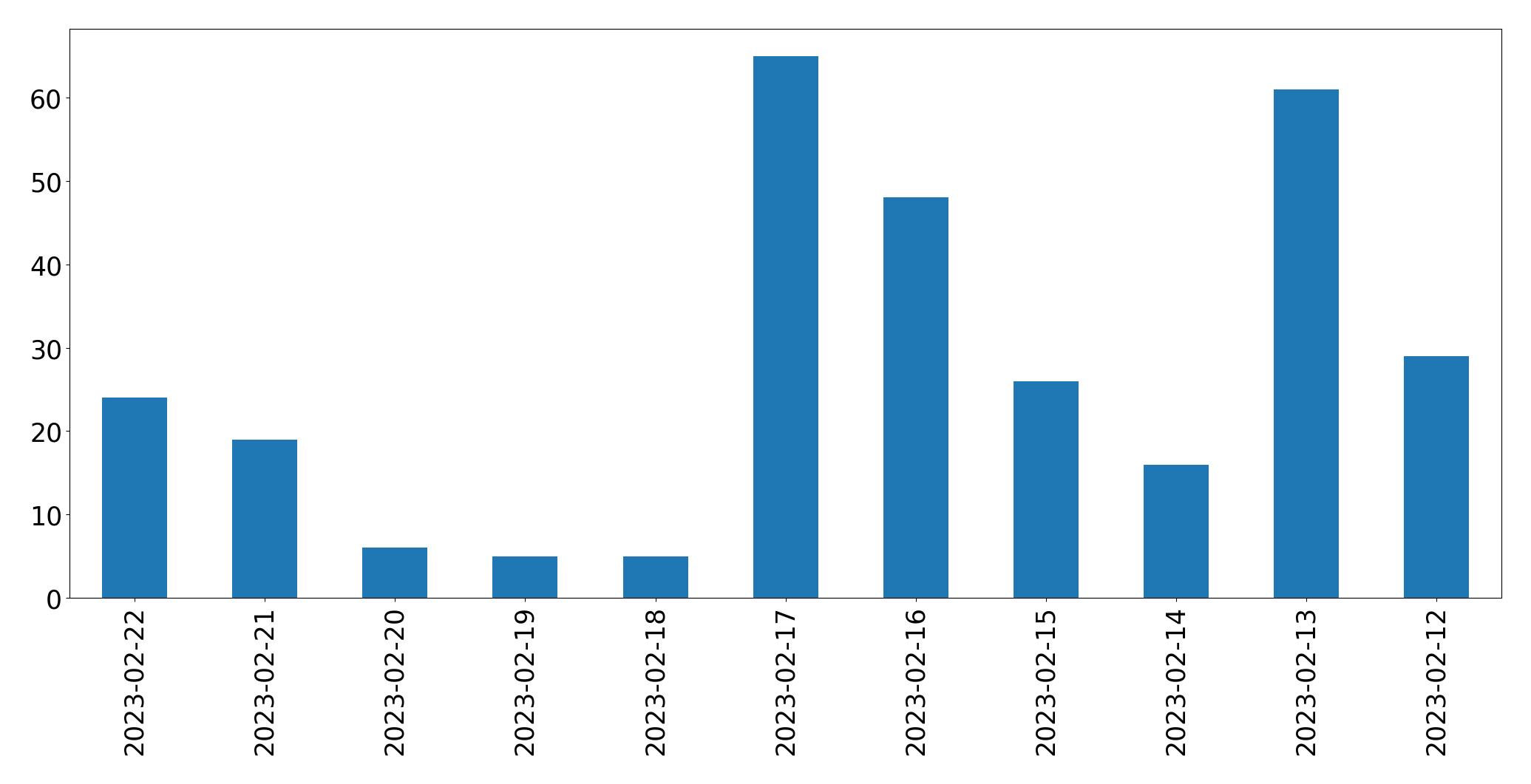 ---
Top 10 tweets with highest Retweet count
| ID | Text | Retweet count |
| --- | --- | --- |
| 1626330442675658756 | O que será que o @CEROLZERA está aprontando com o nosso monitor? Palpites? 👀. #LGUltraGear #LG #monitorGamer https://t.co/oMN2ajp0L5 | 9 |
| 1625259347797241857 | Tá rolando a comemoração de 1 ano do programa de fidelidade da @casasbahia. Você tem muitos benefícios e quem é VIP ainda ganha mimo, essa semana é um ímã com 9 fotos quadradas. Alô, @CEROLZERA, vai mandar de presente pra cá? 😂 🔗: https://t.co/d7SKVyLfTc | 3 |
| 1624813602099154944 | @CEROLZERA KKKKKKKKKKKKKKKKKK | 3 |
| 1626607939766169602 | @bielxcrf_ Responde ai @ge_marangoni @nobru @CEROLZERA é bizarro, os próprios donos parecem tão distante de tudo, @ge_marangoni mesmo, nunca fala nada e esta sempre no TT, por isso a galera vai desanimando, ñ entendem o quanto é difícil reverter isso depois. | 1 |
| 1626679399444631575 | MEU AMIGOOOOOOOOOO @nobru @ge_marangoni @CEROLZERA @renanphilip TRABALHEEEEEM PELO AMOR DE DEUS https://t.co/FrMbGwfllx | 1 |
| 1628214723882676224 | @CEROLZERA Flamengo só no cheirinho SLC 👃👃👃👃👃👃👃👃👃👃👃👃👃 | 1 |
| 1625358957651845121 | @fredwszx @CamilaL30873991 @nobru @CasasBahia @CEROLZERA Foda-sse | 0 |
| 1625326540920586241 | @CEROLZERA Hoje vc quem manda ela arrumar um | 0 |
| 1625326551230185474 | @CEROLZERA @CasasBahia @nobru #foraborges #foraborges #foraborges #foraborges #foraborges #foraborges #foraborges #foraborges #foraborges #foraborges | 0 |
| 1625327585604382722 | @R10DELAX @fluxo_borges @nobru @CEROLZERA #foraborges #foraborges #foraborges #foraborges #foraborges #foraborges #foraborges #foraborges #foraborges #foraborges | 0 |
Top 10 tweets with highest Like count
| ID | Text | Like count |
| --- | --- | --- |
| 1624813602099154944 | @CEROLZERA KKKKKKKKKKKKKKKKKK | 321 |
| 1625259347797241857 | Tá rolando a comemoração de 1 ano do programa de fidelidade da @casasbahia. Você tem muitos benefícios e quem é VIP ainda ganha mimo, essa semana é um ímã com 9 fotos quadradas. Alô, @CEROLZERA, vai mandar de presente pra cá? 😂 🔗: https://t.co/d7SKVyLfTc | 198 |
| 1626330442675658756 | O que será que o @CEROLZERA está aprontando com o nosso monitor? Palpites? 👀. #LGUltraGear #LG #monitorGamer https://t.co/oMN2ajp0L5 | 159 |
| 1626331573099417602 | @LGdobrasil @CEROLZERA o homi é modelo | 21 |
| 1626213131851530240 | @Kowdaaa @fluxogg @CEROLZERA @fluxo_saymon Wonderful | 12 |
| 1624962402381975554 | @Pedro_Castro21 @Heltons1lva @nobru @imperialesports @fluxogg @CEROLZERA mais facil o fluxo pagar 500k pro boltz ficar na imp | 10 |
| 1626679399444631575 | MEU AMIGOOOOOOOOOO @nobru @ge_marangoni @CEROLZERA @renanphilip TRABALHEEEEEM PELO AMOR DE DEUS https://t.co/FrMbGwfllx | 10 |
| 1626349107190067200 | @LGdobrasil @CEROLZERA Cerol tá fortão mané, porra é essa kkkkkk | 9 |
| 1627836849359142912 | @CEROLZERA @fluxogg @fluxo_Japabkr Que historia ? Kkkkkk | 7 |
| 1627712361430646794 | Mds yt, olha oq vc me recomenda 😭 sdd @fluxogg @ge_marangoni @CEROLZERA @nobru https://t.co/plSHQmjRG4 | 5 |
Top 3 Languages Used In Tweets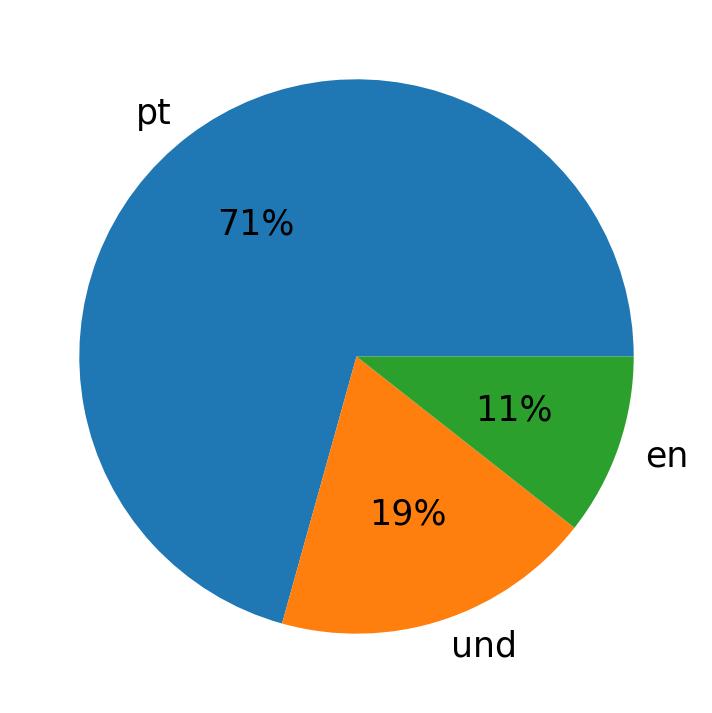 ---
Top 10 Hashtags used
| Hashtag | Count |
| --- | --- |
| #foraborges | 22 |
| #lgultragear | 2 |
| #lg | 2 |
| #monitorgamer | 2 |
| #segueofluxo | 2 |
| #luanefacadanofluxo | 1 |
| #fluxonor6 | 1 |
| #gofluxo | 1 |
Top 10 Hashtags Used In Tweets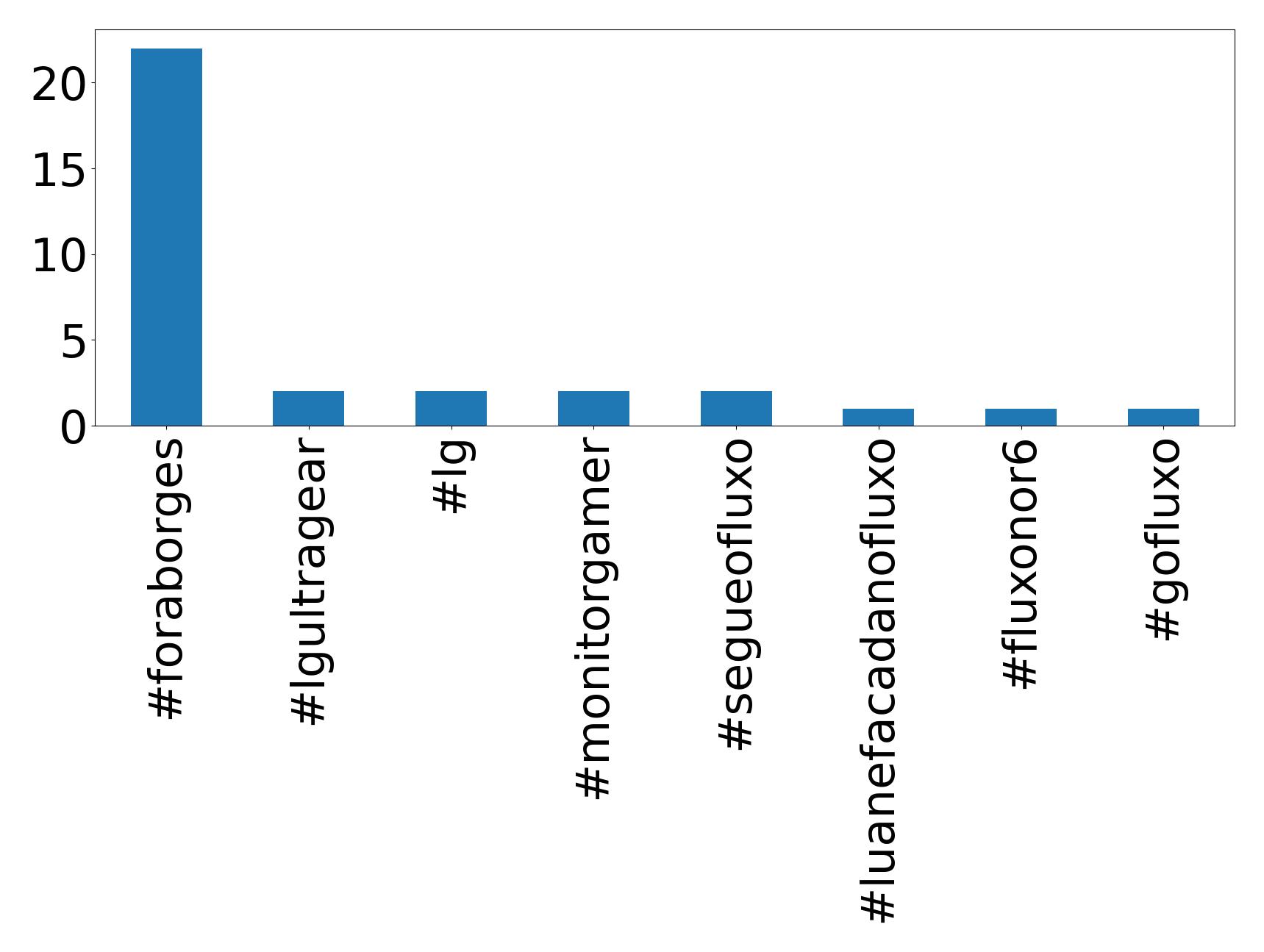 Top 10 mentions
| Mention | Count |
| --- | --- |
| @cerolzera | 309 |
| @fluxogg | 96 |
| @nobru | 87 |
| @fluxo_saymon | 59 |
| @kowdaaa | 40 |
| @ge_marangoni | 29 |
| @paulinhooloko_ | 28 |
| @casasbahia | 22 |
| @fluxo_dark | 13 |
| @lgdobrasil | 13 |
Top 10 mentions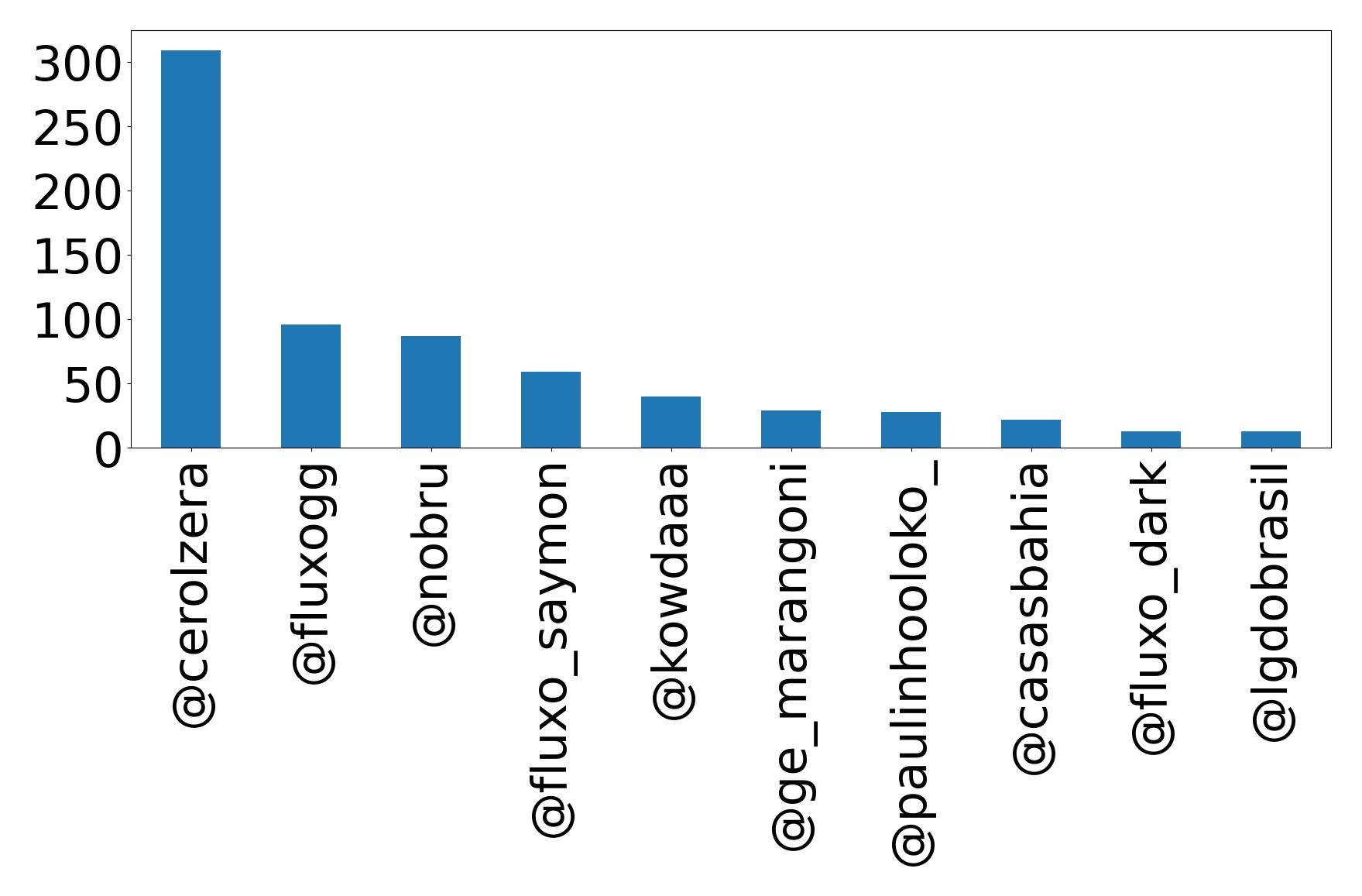 Wordcloud of Tweets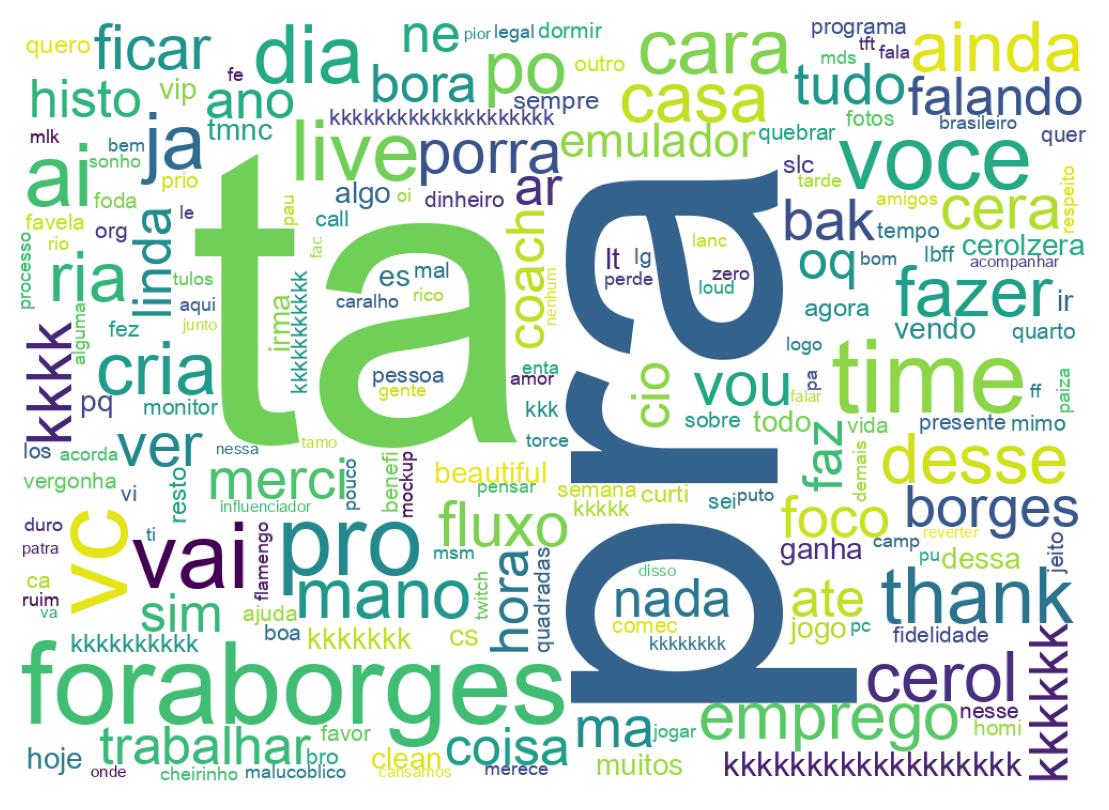 ---
Emojis
Average number of emojis used per tweet
40
Emojis used in tweets
| Emoji | Count | Emoji Text |
| --- | --- | --- |
| 👃 | 26 | nose |
| 💜 | 22 | purple_heart |
| 😂 | 9 | face_with_tears_of_joy |
| ❤️ | 6 | red_heart |
| 🤬 | 5 | face_with_symbols_on_mouth |
| 😡 | 4 | enraged_face |
| 👀 | 3 | eyes |
| 😢 | 3 | crying_face |
| 🔥 | 3 | fire |
| 🔗 | 3 | link |
Emojis groups
| Emoji Group | Count |
| --- | --- |
| Smileys & Emotion | 70 |
| People & Body | 47 |
| Travel & Places | 3 |
| Objects | 3 |