Tweets Analysis - Keyword: @catcora
Total number of tweets analysed
35
Earliest tweet was on
2023-03-24
Latest tweet was on
2023-03-31
Average age of authors' accounts
6 years
---
Summarization
This is a series of tweets that include thanking people for including them in their #FF (Follow Friday) lists, jokes and comments about food, and a mention of Iron Chef Cat Cora. There is also a mention of animal adoption organizations and accounts.
Topic Modeling
Appreciation and gratitude for inclusion and connections
Weekly Friday Follow (FF) tradition on Twitter
Food and dieting
Travel and transportation
Celebrity chefs and their fans
Emotional Analysis
The tweets are a mix of gratitude, appreciation, humor, and excitement. The users express their thanks for being included in someone's tweet, compliment others, show enthusiasm for travel and adventure, and make jokes. There is no significant negativity or strong emotions in these tweets.
Trend Analysis
Twitter mentions of various celebrities and public figures like Kenneth Johnson, Richard Branson, and Cat Cora
Use of the hashtag #FF (Follow Friday) to recommend Twitter accounts to follow
Discussion of automotive topics, including opening trunks and a humorous interpretation of "gun it"
Mentions of frequent flyer miles and travel-related activities
Comments on food, including criticism of its quality and positive mentions of Iron Chef Cat Cora
---
Types of Tweets
Number of Retweets
19
Percentage of total tweets
54%
Number of Original tweets
4
Percentage of total tweets
11%
Number of tweets that contain Mentions
35
Percentage of total tweets
100%
Number of tweets that were Replies
11
Percentage of total tweets
31%
Number of tweets that were Quotes
2
Percentage of total tweets
5%
Number of tweets that contain Hashtags
19
Percentage of total tweets
54%
---
Top 5 devices used to tweet
| Source | Count |
| --- | --- |
| Twitter Web App | 25 |
| Twitter for iPhone | 8 |
| Twitter for Android | 2 |
What devices were used to tweet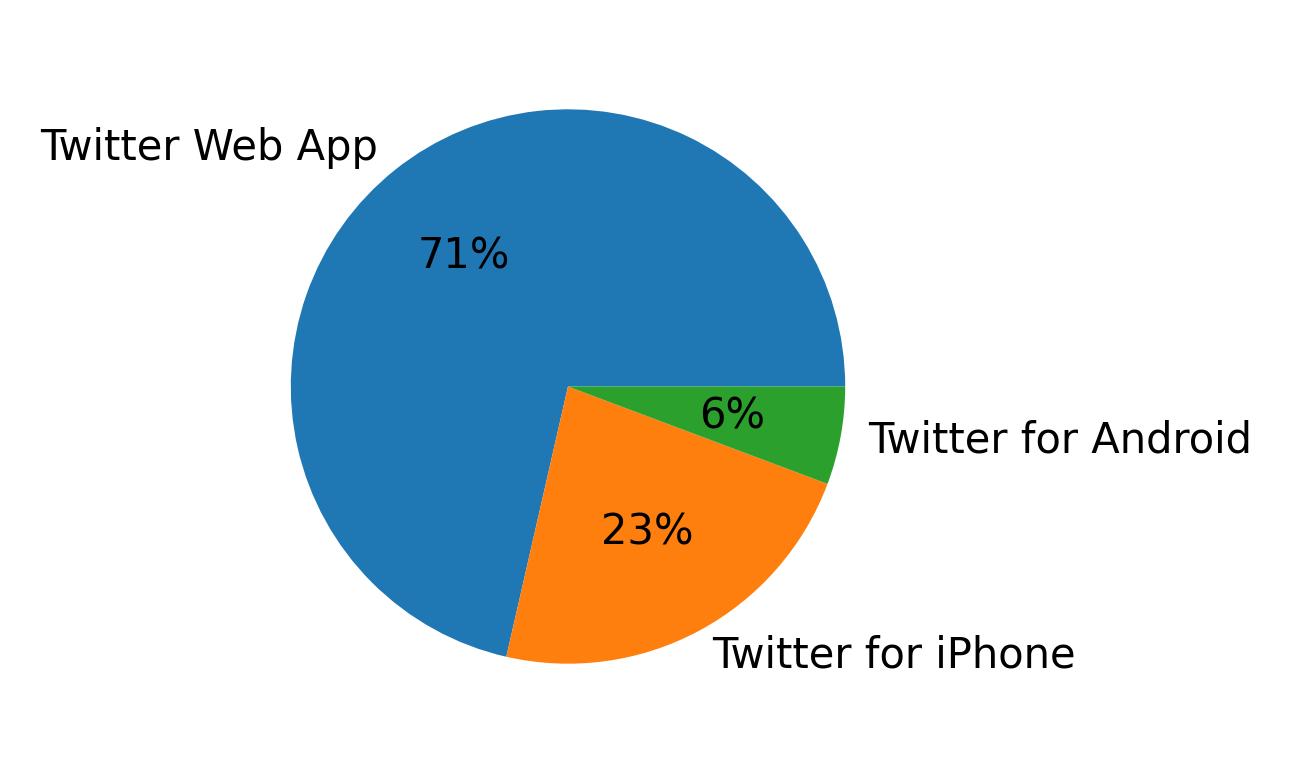 ---
Top 10 accounts with highest followers count
| Username | Name | Bio | Followers count |
| --- | --- | --- | --- |
| Tico_Romao | Tico Romao | Connoisseur of fine action sequences. | 8,955 |
| kennethmjohnson | Kenneth Johnson | SAG-AFTRA performer, motion picture, television and radio Producer & Director, talent and event promoter, Constitutionalist | 2,685 |
| MovingPictures2 | Moving Pictures | For people working in, as well as fans of motion pictures and television. A celebration of pictures that move and the pictures that move us. | 1,696 |
| DucheneFelica | Felica Duchene | Born in 95, I am a 27 year old Multi Talented Artist with an Associates Degree Talents: photography, painting, drawing, blue printing, interior design, etc... | 560 |
| Jerry_at_Rick | sean_amadan | Lover, dreamer, idiot .... | 537 |
| sljks | Say Jay | Wine and whiskey are my thing. Certified sommelier. I have a passion for wine, cute doggies & the outdoors. I am also apparently a redneck. | 196 |
| MasonArely | ArelyMason | - | 42 |
| LpezRony1 | Brooklynn 🌸 | Backup account the link you're looking for is on my main account 🌶️ @bbrooklynnrose | 26 |
| JoshuaH15393273 | JoshuaHarrison | - | 20 |
| RegWatson10 | RegWatson | - | 19 |
Top 10 accounts with highest friends count
| Username | Name | Bio | Followers count |
| --- | --- | --- | --- |
| kennethmjohnson | Kenneth Johnson | SAG-AFTRA performer, motion picture, television and radio Producer & Director, talent and event promoter, Constitutionalist | 4,996 |
| MovingPictures2 | Moving Pictures | For people working in, as well as fans of motion pictures and television. A celebration of pictures that move and the pictures that move us. | 4,222 |
| DucheneFelica | Felica Duchene | Born in 95, I am a 27 year old Multi Talented Artist with an Associates Degree Talents: photography, painting, drawing, blue printing, interior design, etc... | 2,598 |
| Tico_Romao | Tico Romao | Connoisseur of fine action sequences. | 2,251 |
| sljks | Say Jay | Wine and whiskey are my thing. Certified sommelier. I have a passion for wine, cute doggies & the outdoors. I am also apparently a redneck. | 794 |
| LpezRony1 | Brooklynn 🌸 | Backup account the link you're looking for is on my main account 🌶️ @bbrooklynnrose | 699 |
| Jerry_at_Rick | sean_amadan | Lover, dreamer, idiot .... | 544 |
| JoshuaH15393273 | JoshuaHarrison | - | 208 |
| MasonArely | ArelyMason | - | 206 |
| ShaynaM66218426 | ShaynaMorgan | - | 137 |
Most active users
| Username | Bio | Number of tweets |
| --- | --- | --- |
| Tico_Romao | Connoisseur of fine action sequences. | 10 |
| MovingPictures2 | For people working in, as well as fans of motion pictures and television. A celebration of pictures that move and the pictures that move us. | 4 |
| kennethmjohnson | SAG-AFTRA performer, motion picture, television and radio Producer & Director, talent and event promoter, Constitutionalist | 4 |
| HanaBerry8 | - | 1 |
| puiyingchung344 | - | 1 |
| jipun15655 | - | 1 |
| fanhuanpo8971 | - | 1 |
| VicKennedy6 | - | 1 |
| ShaynaM66218426 | - | 1 |
| RegWatson10 | - | 1 |
---
Tweets per day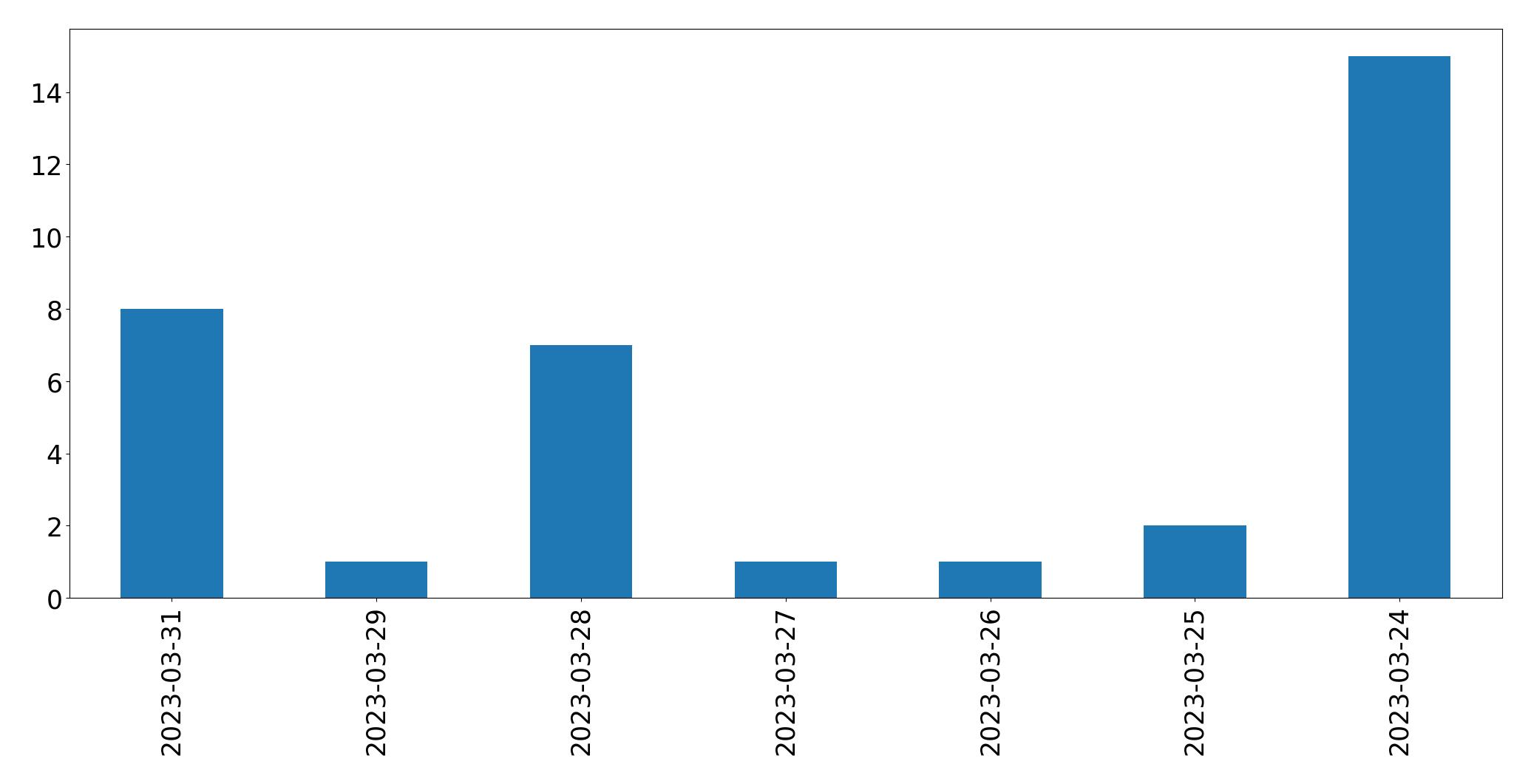 ---
Top 10 tweets with highest Retweet count
| ID | Text | Retweet count |
| --- | --- | --- |
| 1639124850856849408 | #FF @Tico_Romao @mercurie80 @davemalby @DanJKroll @TylerJRoney @actordougjones @totalfilm @mrdanfogler @AnthonyStarke @RichardBranson @BillRatner @catcora @K3chocolate @auctionguydan @nakiaburrise @MsHarrietHarris @LauraPostVoice @TheRealCamilleG @LindaHogan @Margaretcolin6 https://t.co/T7oX2pmlmn | 1 |
| 1639124900542652417 | #FF @Tico_Romao @mercurie80 @davemalby @DanJKroll @TylerJRoney @actordougjones @totalfilm @mrdanfogler @AnthonyStarke @RichardBranson @BillRatner @catcora @K3chocolate @auctionguydan @nakiaburrise @MsHarrietHarris @LauraPostVoice @TheRealCamilleG @LindaHogan @Margaretcolin6 https://t.co/hFeNCQWQdb | 1 |
| 1641664673610096641 | #FF @Tico_Romao @mercurie80 @davemalby @DanJKroll @TylerJRoney @actordougjones @totalfilm @mrdanfogler @AnthonyStarke @RichardBranson @BillRatner @catcora @K3chocolate @auctionguydan @nakiaburrise @MsHarrietHarris @LauraPostVoice @TheRealCamilleG @LindaHogan @Margaretcolin6 https://t.co/yJs65SubbE | 1 |
| 1641664588352483333 | #FF @Tico_Romao @mercurie80 @davemalby @DanJKroll @TylerJRoney @actordougjones @totalfilm @mrdanfogler @AnthonyStarke @RichardBranson @BillRatner @catcora @K3chocolate @auctionguydan @nakiaburrise @MsHarrietHarris @LauraPostVoice @TheRealCamilleG @LindaHogan @Margaretcolin6 https://t.co/iRTvlYe50g | 1 |
| 1639322778674266120 | @adopttodaybtown @PetcoPark @petcolovelost @RCoughlinPetco @AdoptaPetcom @PetConnectRescu @petcortright @AdoptDiscovery @AdoptAPetNY @adoptapetmobile @BerkleyBlackCat @CatCheezeburger @CatConnectionLA @catcora @CatChangelog @HolisticRescue @BlackCatZoey @blackcatrescue @catmom1111 @catmomsam_15 | 0 |
| 1639237477381832712 | @kennethmjohnson @mercurie80 @DaveMalby @DanJKroll @TylerJRoney @actordougjones @totalfilm @mrdanfogler @AnthonyStarke @richardbranson @BillRatner @catcora @K3chocolate @auctionguydan @nakiaburrise @MsHarrietHarris @LauraPostVoice @TheRealCamilleG @LindaHogan @Margaretcolin6 Thanks for the inclusion Kenneth! I'm not going to lie. The food in here isn't very good. https://t.co/gnYdLE5qWy | 0 |
| 1639238225255596032 | @MovingPictures2 @mercurie80 @DaveMalby @DanJKroll @TylerJRoney @actordougjones @totalfilm @mrdanfogler @AnthonyStarke @richardbranson @BillRatner @catcora @K3chocolate @auctionguydan @nakiaburrise @MsHarrietHarris @LauraPostVoice @TheRealCamilleG @LindaHogan @Margaretcolin6 Thanks for the inclusion Moving Pictures! That's one way to open the trunk. https://t.co/so8PwOCMAT | 0 |
| 1639304587801755648 | @Tico_Romao @mercurie80 @DaveMalby @DanJKroll @TylerJRoney @actordougjones @totalfilm @mrdanfogler @AnthonyStarke @richardbranson @BillRatner @catcora @K3chocolate @auctionguydan @nakiaburrise @MsHarrietHarris @LauraPostVoice @TheRealCamilleG @LindaHogan @Margaretcolin6 Even stricter than Jenny Craig….. | 0 |
| 1639305880129749008 | @Tico_Romao @mercurie80 @DaveMalby @DanJKroll @TylerJRoney @actordougjones @totalfilm @mrdanfogler @AnthonyStarke @richardbranson @BillRatner @catcora @K3chocolate @auctionguydan @nakiaburrise @MsHarrietHarris @LauraPostVoice @TheRealCamilleG @LindaHogan @Margaretcolin6 A different automotive interpretation of "gun it"….. | 0 |
| 1641673029183848451 | @Tico_Romao @mercurie80 @DaveMalby @DanJKroll @TylerJRoney @actordougjones @totalfilm @mrdanfogler @AnthonyStarke @richardbranson @BillRatner @catcora @K3chocolate @auctionguydan @nakiaburrise @MsHarrietHarris @LauraPostVoice @TheRealCamilleG @LindaHogan @Margaretcolin6 Adding up some frequent flyer miles! | 0 |
Top 10 tweets with highest Like count
| ID | Text | Like count |
| --- | --- | --- |
| 1639403334506524672 | @kennethmjohnson @mercurie80 @DaveMalby @DanJKroll @TylerJRoney @actordougjones @totalfilm @mrdanfogler @AnthonyStarke @richardbranson @BillRatner @catcora @K3chocolate @auctionguydan @nakiaburrise @MsHarrietHarris @LauraPostVoice @TheRealCamilleG @LindaHogan @Margaretcolin6 Indeed! | 3 |
| 1639403177656352768 | @MovingPictures2 @mercurie80 @DaveMalby @DanJKroll @TylerJRoney @actordougjones @totalfilm @mrdanfogler @AnthonyStarke @richardbranson @BillRatner @catcora @K3chocolate @auctionguydan @nakiaburrise @MsHarrietHarris @LauraPostVoice @TheRealCamilleG @LindaHogan @Margaretcolin6 Indeed! | 3 |
| 1639124900542652417 | #FF @Tico_Romao @mercurie80 @davemalby @DanJKroll @TylerJRoney @actordougjones @totalfilm @mrdanfogler @AnthonyStarke @RichardBranson @BillRatner @catcora @K3chocolate @auctionguydan @nakiaburrise @MsHarrietHarris @LauraPostVoice @TheRealCamilleG @LindaHogan @Margaretcolin6 https://t.co/hFeNCQWQdb | 3 |
| 1639304587801755648 | @Tico_Romao @mercurie80 @DaveMalby @DanJKroll @TylerJRoney @actordougjones @totalfilm @mrdanfogler @AnthonyStarke @richardbranson @BillRatner @catcora @K3chocolate @auctionguydan @nakiaburrise @MsHarrietHarris @LauraPostVoice @TheRealCamilleG @LindaHogan @Margaretcolin6 Even stricter than Jenny Craig….. | 3 |
| 1639305880129749008 | @Tico_Romao @mercurie80 @DaveMalby @DanJKroll @TylerJRoney @actordougjones @totalfilm @mrdanfogler @AnthonyStarke @richardbranson @BillRatner @catcora @K3chocolate @auctionguydan @nakiaburrise @MsHarrietHarris @LauraPostVoice @TheRealCamilleG @LindaHogan @Margaretcolin6 A different automotive interpretation of "gun it"….. | 3 |
| 1639124850856849408 | #FF @Tico_Romao @mercurie80 @davemalby @DanJKroll @TylerJRoney @actordougjones @totalfilm @mrdanfogler @AnthonyStarke @RichardBranson @BillRatner @catcora @K3chocolate @auctionguydan @nakiaburrise @MsHarrietHarris @LauraPostVoice @TheRealCamilleG @LindaHogan @Margaretcolin6 https://t.co/T7oX2pmlmn | 3 |
| 1641664588352483333 | #FF @Tico_Romao @mercurie80 @davemalby @DanJKroll @TylerJRoney @actordougjones @totalfilm @mrdanfogler @AnthonyStarke @RichardBranson @BillRatner @catcora @K3chocolate @auctionguydan @nakiaburrise @MsHarrietHarris @LauraPostVoice @TheRealCamilleG @LindaHogan @Margaretcolin6 https://t.co/iRTvlYe50g | 3 |
| 1641664673610096641 | #FF @Tico_Romao @mercurie80 @davemalby @DanJKroll @TylerJRoney @actordougjones @totalfilm @mrdanfogler @AnthonyStarke @RichardBranson @BillRatner @catcora @K3chocolate @auctionguydan @nakiaburrise @MsHarrietHarris @LauraPostVoice @TheRealCamilleG @LindaHogan @Margaretcolin6 https://t.co/yJs65SubbE | 3 |
| 1639238225255596032 | @MovingPictures2 @mercurie80 @DaveMalby @DanJKroll @TylerJRoney @actordougjones @totalfilm @mrdanfogler @AnthonyStarke @richardbranson @BillRatner @catcora @K3chocolate @auctionguydan @nakiaburrise @MsHarrietHarris @LauraPostVoice @TheRealCamilleG @LindaHogan @Margaretcolin6 Thanks for the inclusion Moving Pictures! That's one way to open the trunk. https://t.co/so8PwOCMAT | 2 |
| 1639237477381832712 | @kennethmjohnson @mercurie80 @DaveMalby @DanJKroll @TylerJRoney @actordougjones @totalfilm @mrdanfogler @AnthonyStarke @richardbranson @BillRatner @catcora @K3chocolate @auctionguydan @nakiaburrise @MsHarrietHarris @LauraPostVoice @TheRealCamilleG @LindaHogan @Margaretcolin6 Thanks for the inclusion Kenneth! I'm not going to lie. The food in here isn't very good. https://t.co/gnYdLE5qWy | 2 |
Top 3 Languages Used In Tweets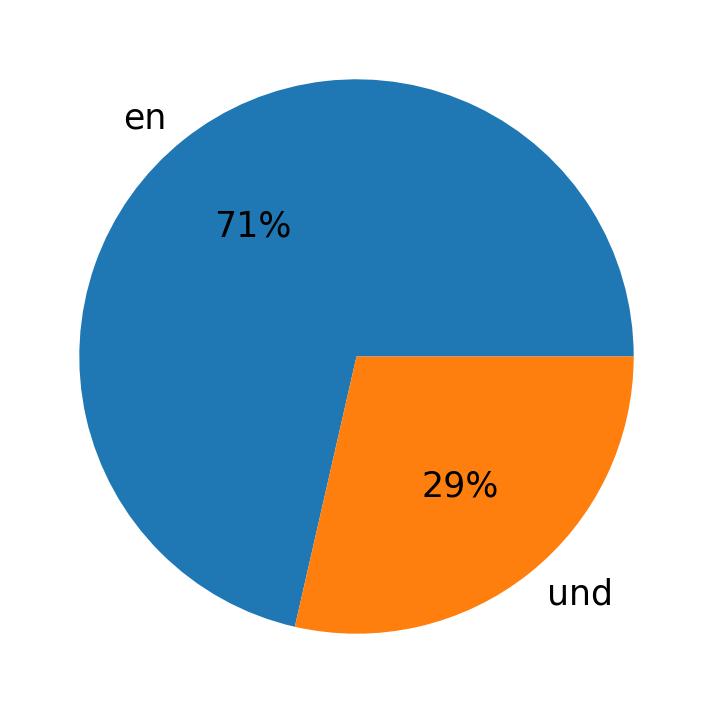 ---
Top 10 Hashtags used
| Hashtag | Count |
| --- | --- |
| #ff | 8 |
| #chef | 3 |
| #cheflife | 2 |
| #iccc | 2 |
| #internationalcatday | 1 |
| #meow | 1 |
| #protip | 1 |
| #cheftip | 1 |
| #chocolate | 1 |
| #meltingchocolate | 1 |
Top 10 Hashtags Used In Tweets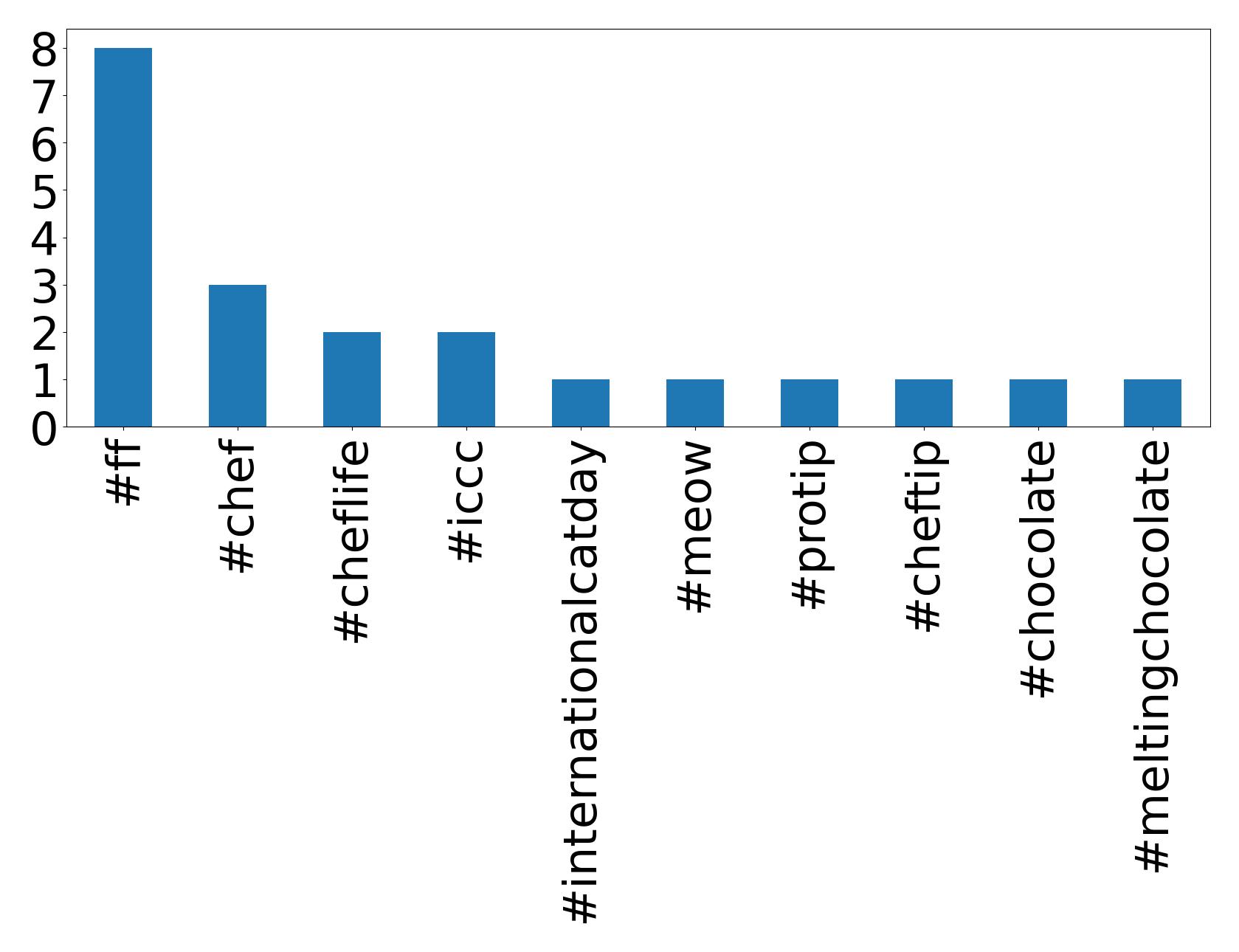 Top 10 mentions
| Mention | Count |
| --- | --- |
| @catcora | 35 |
| @mercurie80 | 18 |
| @davemalby | 18 |
| @danjkroll | 18 |
| @tylerjroney | 18 |
| @actordougjones | 18 |
| @totalfilm | 18 |
| @mrdanfogler | 18 |
| @anthonystarke | 18 |
| @richardbranson | 18 |
Top 10 mentions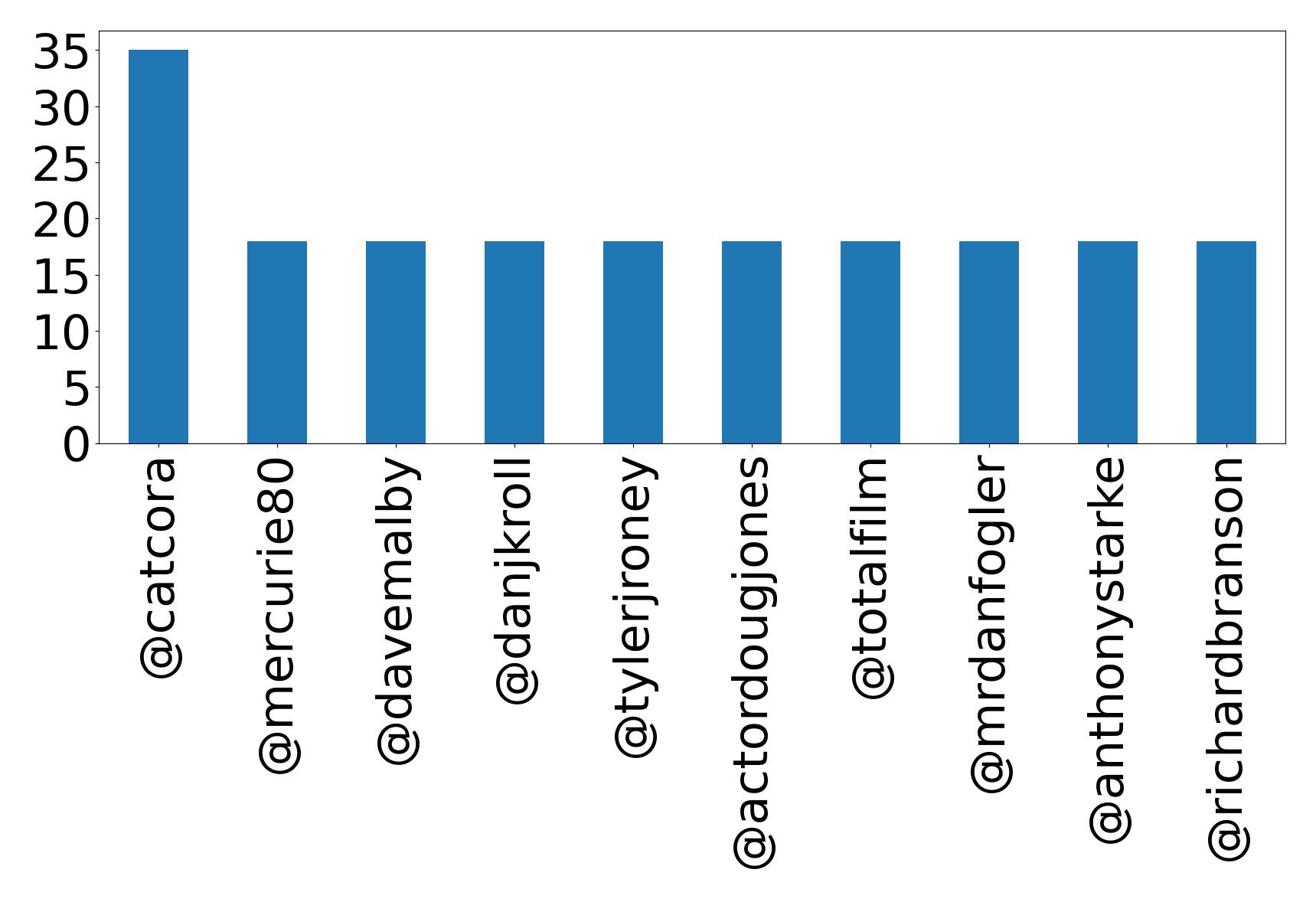 Wordcloud of Tweets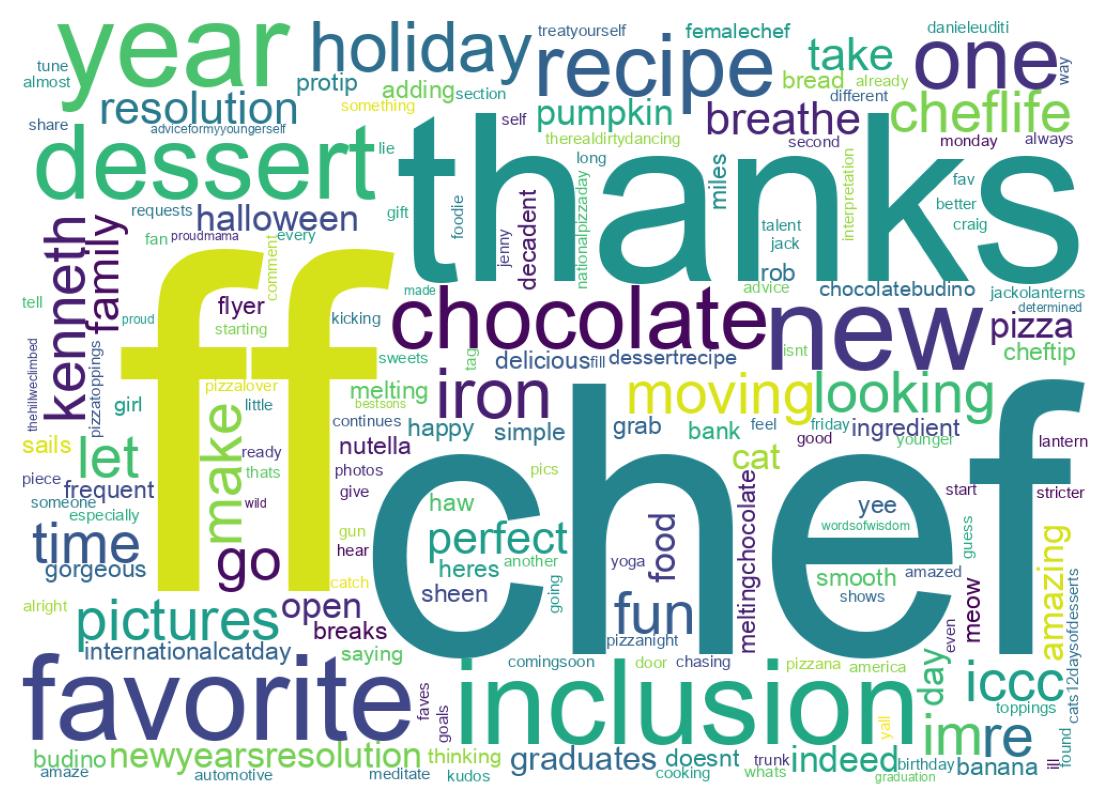 ---
Emojis
Average number of emojis used per tweet
34
Emojis used in tweets
| Emoji | Count | Emoji Text |
| --- | --- | --- |
| 🎓 | 4 | graduation_cap |
| 😻 | 2 | smiling_cat_with_heart-eyes |
| ❤️ | 2 | red_heart |
| 🍕 | 2 | pizza |
| 🙌 | 1 | raising_hands |
| 🧁 | 1 | cupcake |
Emojis groups
| Emoji Group | Count |
| --- | --- |
| Smileys & Emotion | 4 |
| Objects | 4 |
| Food & Drink | 3 |
| People & Body | 1 |