Tweets Analysis - Keyword: @BuzzFeedOz
Total number of tweets analysed
21
Earliest tweet was on
2023-03-22
Latest tweet was on
2023-03-30
Average age of authors' accounts
11 years
---
Summarization
The tweets cover various topics, including upcoming Graph Meetups in Sydney and Melbourne, a job opportunity at BuzzFeed Oz for a freelance content + social producer, positive feedback on a food segment by BuzzFeed Oz, and corrections to some of their answers. They also feature a quiz with the cast of Dungeons and Dragons Movie, recommendations for food and products, and promotions for JO1's Tiger video and a special Easter video by BuzzFeed Oz.
Topic Modeling
Event promotion (e.g. #GraphMeetUp and #GraphSummit2023)
Job opening (e.g. freelance content + social producer at @buzzfeedoz)
Food (e.g. Buzzfeed food segments and segments showcasing good food)
Trivia game (e.g. #DungeonsAndDragonsMovie quiz)
General comments and questions (e.g. @BuzzFeedOz answering questions and sharing videos)
Emotional Analysis
The emotions expressed in these tweets are mostly positive and enthusiastic, with mentions of excitement for upcoming events and appreciation for good food. There are also job opportunities being advertised and some playful banter regarding incorrect information. Additionally, there is a mix of casual conversation and promotional content for various topics, including movies, music, and Easter.
Trend Analysis
Event promotion (#GraphSummit2023)
Job opportunity (@buzzfeedoz)
Positive feedback on BuzzFeed content (@buzzfeedoz)
Discussion and correction of BuzzFeed content (@buzzfeedoz)
General BuzzFeed content (@buzzfeedoz)
---
Types of Tweets
Number of Retweets
5
Percentage of total tweets
23%
Number of Original tweets
8
Percentage of total tweets
38%
Number of tweets that contain Mentions
21
Percentage of total tweets
100%
Number of tweets that were Replies
8
Percentage of total tweets
38%
Number of tweets that were Quotes
0
Percentage of total tweets
0%
Number of tweets that contain Hashtags
4
Percentage of total tweets
19%
---
Top 5 devices used to tweet
| Source | Count |
| --- | --- |
| Twitter for iPhone | 11 |
| Twitter Web App | 6 |
| Twitter for Android | 4 |
What devices were used to tweet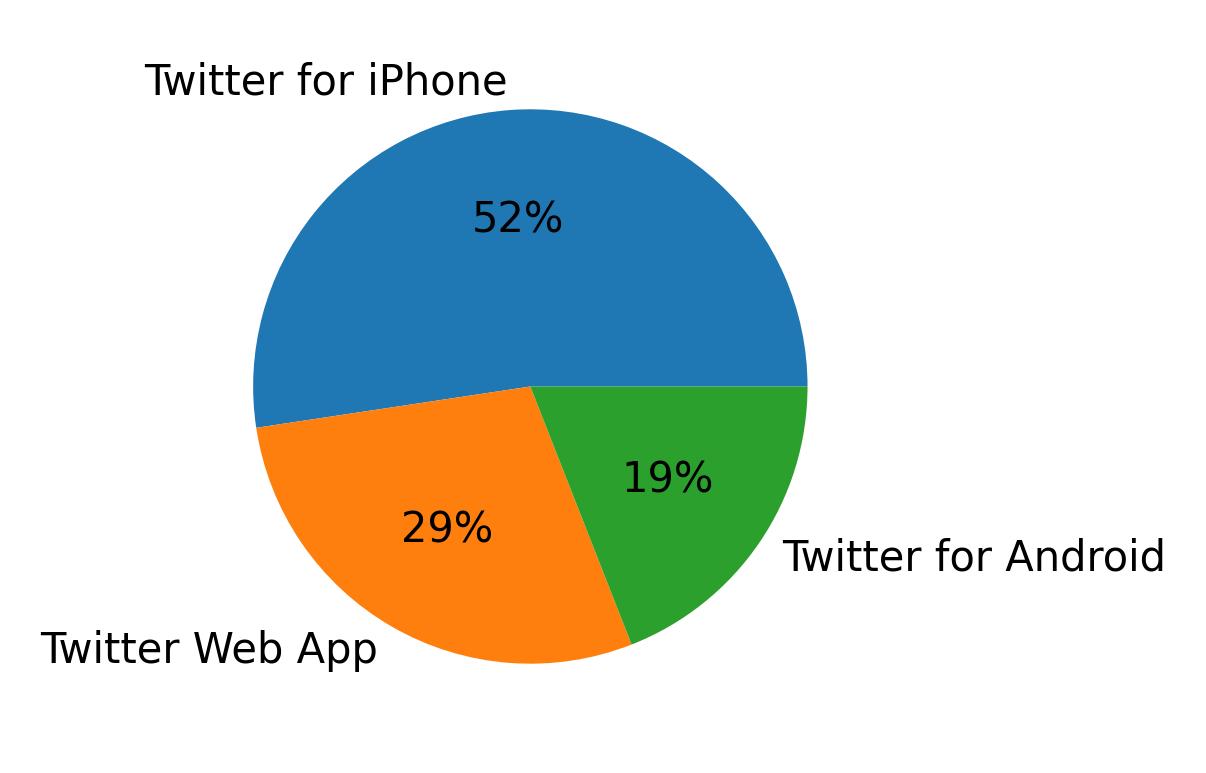 ---
Top 10 accounts with highest followers count
| Username | Name | Bio | Followers count |
| --- | --- | --- | --- |
| neo4j | Neo4j | The #1 platform for connected data. Developers start here: https://t.co/XrnpLCVglr. Our community: https://t.co/mWzXAcVzve Same handle on all other platforms. | 44,347 |
| JoshFergeus | Dr Josh Fergeus | Councillor, City of Monash. CEO, Kevin Heinze Grow. Board Director, Victorian Local Governance Association. Green. Views mine. | 2,507 |
| SohanJudge | sohan | senior publishing strategist @buzzfeedoz • she/her | 2,392 |
| TrubbellAtMill | Magma Taishi💧😷🇺🇳⚖🍍🍕🇦🇺🇨🇳🇹🇭🇯🇵🦐🦞🦀🦮 | Nat History, Human History, Naval History, #startups, finance, governance, energy storage, politics. Polymath. People=Fish+Time. Gratefully on Turrbal Country | 2,304 |
| XploreMediaUK | Xplore Media UK | Sport | TV | Streaming | Entertainment | News | https://t.co/XaLwsUWKLZ | https://t.co/qbP6QYOsGH | https://t.co/7kWi2g6s46 | https://t.co/aW1M8Jdcq4 | https://t.co/zoFRYgIdOH | 1,340 |
| danielcfng | Daniel CF Ng | @neo4j Passionate #DigitalEconomy Leader supporting #DigitalTransformation, #ConnectedData and the Business of #Marketing to 'Humanize #Technology' | 1,228 |
| yms_ym1 | Bearded Bushy (Dr. Bushy to you) | Father, son, motorsport and car nut, ute and BBW/SSBBW lover! @elonmusk employee (parody). Most likely earn less than you. #BackyardBudgetBuilds coming soon! | 903 |
| o_rexxellent | O.Rexx | Ex Journalist & radio producer. @Orexellent@aus.social On Mastodon orexellent@mastodon.sdf.org | 566 |
| NolesBelson | Belson Noles | #FROM (@FROMonMGM) returns April 23 on @MGMPlus | #FarmerWantsAWife US Weds 9p on @FOXTV | #AccusedonFOX Tues 9p on @FOXTV | 414 |
| ConnieLingus2 | Connie Lingus | Retired Rubenesque Drag showgirl from the Land of Oz loves to entertain the masses, loves old movies, - no but really loves too many things to put in here | 397 |
Top 10 accounts with highest friends count
| Username | Name | Bio | Followers count |
| --- | --- | --- | --- |
| TrubbellAtMill | Magma Taishi💧😷🇺🇳⚖🍍🍕🇦🇺🇨🇳🇹🇭🇯🇵🦐🦞🦀🦮 | Nat History, Human History, Naval History, #startups, finance, governance, energy storage, politics. Polymath. People=Fish+Time. Gratefully on Turrbal Country | 4,994 |
| XploreMediaUK | Xplore Media UK | Sport | TV | Streaming | Entertainment | News | https://t.co/XaLwsUWKLZ | https://t.co/qbP6QYOsGH | https://t.co/7kWi2g6s46 | https://t.co/aW1M8Jdcq4 | https://t.co/zoFRYgIdOH | 4,837 |
| neo4j | Neo4j | The #1 platform for connected data. Developers start here: https://t.co/XrnpLCVglr. Our community: https://t.co/mWzXAcVzve Same handle on all other platforms. | 4,154 |
| yms_ym1 | Bearded Bushy (Dr. Bushy to you) | Father, son, motorsport and car nut, ute and BBW/SSBBW lover! @elonmusk employee (parody). Most likely earn less than you. #BackyardBudgetBuilds coming soon! | 2,525 |
| JoshFergeus | Dr Josh Fergeus | Councillor, City of Monash. CEO, Kevin Heinze Grow. Board Director, Victorian Local Governance Association. Green. Views mine. | 2,327 |
| ConnieLingus2 | Connie Lingus | Retired Rubenesque Drag showgirl from the Land of Oz loves to entertain the masses, loves old movies, - no but really loves too many things to put in here | 1,764 |
| o_rexxellent | O.Rexx | Ex Journalist & radio producer. @Orexellent@aus.social On Mastodon orexellent@mastodon.sdf.org | 1,371 |
| ilfordpaul | Paul Laver | Old lefty, who truly believes that at the root of all this world's troubles, is any form of religion. | 900 |
| SohanJudge | sohan | senior publishing strategist @buzzfeedoz • she/her | 786 |
| danielcfng | Daniel CF Ng | @neo4j Passionate #DigitalEconomy Leader supporting #DigitalTransformation, #ConnectedData and the Business of #Marketing to 'Humanize #Technology' | 638 |
Most active users
| Username | Bio | Number of tweets |
| --- | --- | --- |
| o_rexxellent | Ex Journalist & radio producer. @Orexellent@aus.social On Mastodon orexellent@mastodon.sdf.org | 3 |
| NolesBelson | #FROM (@FROMonMGM) returns April 23 on @MGMPlus | #FarmerWantsAWife US Weds 9p on @FOXTV | #AccusedonFOX Tues 9p on @FOXTV | 2 |
| SohanJudge | senior publishing strategist @buzzfeedoz • she/her | 2 |
| TrubbellAtMill | Nat History, Human History, Naval History, #startups, finance, governance, energy storage, politics. Polymath. People=Fish+Time. Gratefully on Turrbal Country | 2 |
| yms_ym1 | Father, son, motorsport and car nut, ute and BBW/SSBBW lover! @elonmusk employee (parody). Most likely earn less than you. #BackyardBudgetBuilds coming soon! | 2 |
| ConnieLingus2 | Retired Rubenesque Drag showgirl from the Land of Oz loves to entertain the masses, loves old movies, - no but really loves too many things to put in here | 1 |
| JoshFergeus | Councillor, City of Monash. CEO, Kevin Heinze Grow. Board Director, Victorian Local Governance Association. Green. Views mine. | 1 |
| XploreMediaUK | Sport | TV | Streaming | Entertainment | News | https://t.co/XaLwsUWKLZ | https://t.co/qbP6QYOsGH | https://t.co/7kWi2g6s46 | https://t.co/aW1M8Jdcq4 | https://t.co/zoFRYgIdOH | 1 |
| danielcfng | @neo4j Passionate #DigitalEconomy Leader supporting #DigitalTransformation, #ConnectedData and the Business of #Marketing to 'Humanize #Technology' | 1 |
| death_thinker | Re-Invent | 1 |
---
Tweets per day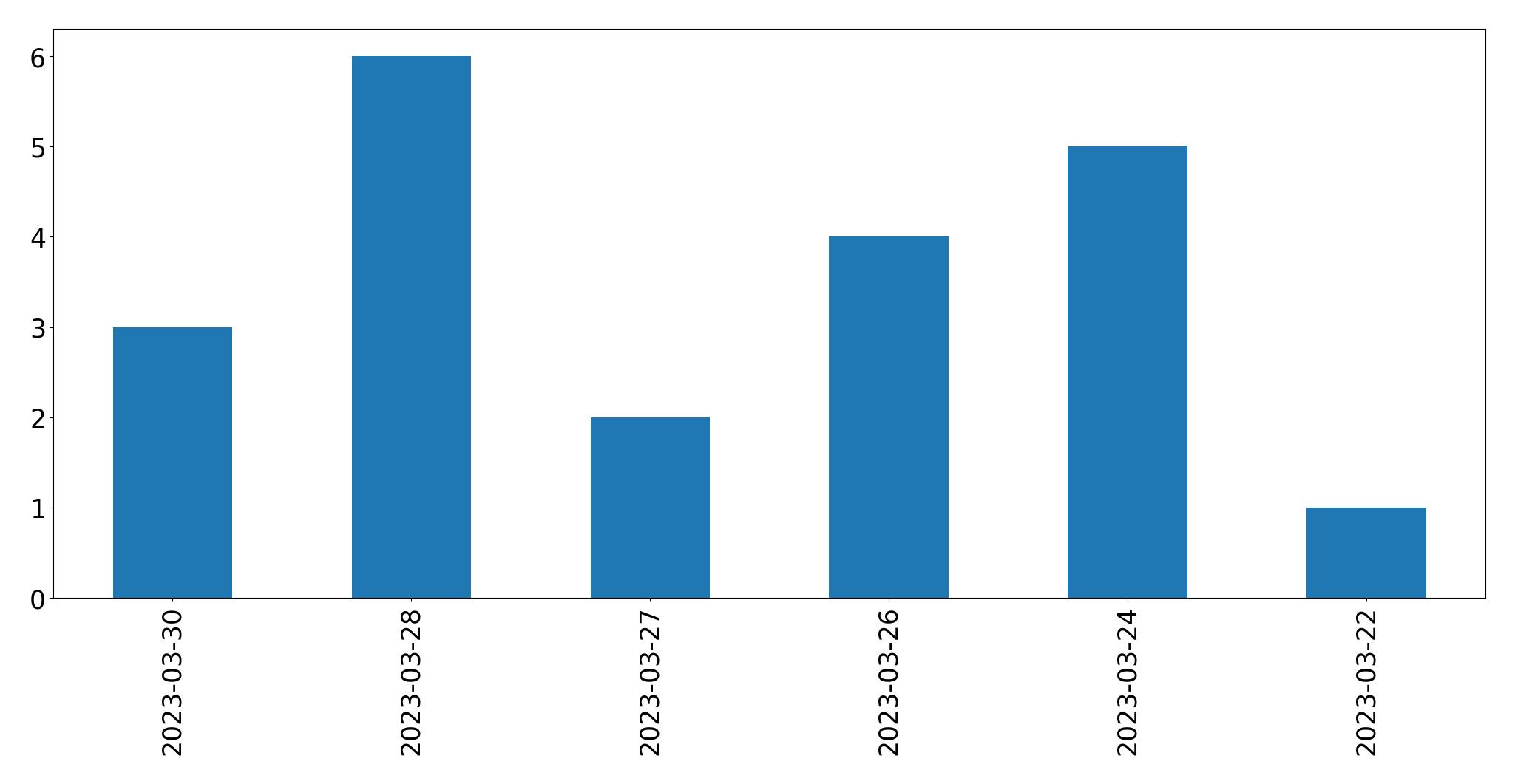 ---
Top 10 tweets with highest Retweet count
| ID | Text | Retweet count |
| --- | --- | --- |
| 1640190481572442112 | we're hiring a freelance content + social producer at @buzzfeedoz! come and work with us to make TikToks, write posts and help curate our social channels. apply here: https://t.co/PGcfU5kuGx | 1 |
| 1639298032385785856 | JOIN US FOR #GraphMeetUp at #GraphSummit2023 at :- - May 3: #Sydney https://t.co/ajXzU7KJD3 - May 9: #Melbourne https://t.co/4T55pJ8tjM @Shelovesdata @smh @ausbiztv @tickerNEWSco @jimwebber @neo4j @auspost @BuzzFeedOz | 1 |
| 1641364859689504768 | You know how some of the Buzzfeed compare the food segments have food which you go "nope this doesn't look/feel good…" not this one. Every item on this segment claps!!! Sooo sooo good. Great work @BuzzFeedOz https://t.co/MOcvVRDgMN | 0 |
| 1641327686856634368 | #DungeonsAndDragonsMovie is in theaters now, and we asked the cast members to play a quiz! Let's go to @BuzzfeedOz: https://t.co/IJyKqgdtB3 | 0 |
| 1640686984082620418 | @BuzzFeedOz - wrong. Western Australia. https://t.co/2PnHU6TO6W | 0 |
| 1640686071762788354 | Hey @BuzzFeedOz - this answer is wrong. Vic has toll roads malakes while WA doesn't. https://t.co/bVcdYN6yvz | 0 |
| 1640570795369058305 | @BuzzFeedOz Peanut paste, pineapple and mud crab. | 0 |
| 1640570575855947777 | @BuzzFeedOz Subway do sandwiches??? I've only had rolls with fillings there. | 0 |
| 1640546117812379651 | @BuzzFeedOz love the Temperature enhanced Intersection symbol fruit and spiced bread products. Apple and Cinnamon is my personal fave. | 0 |
| 1639874989909495808 | @BuzzFeedOz What a time to be alive | 0 |
Top 10 tweets with highest Like count
| ID | Text | Like count |
| --- | --- | --- |
| 1639298032385785856 | JOIN US FOR #GraphMeetUp at #GraphSummit2023 at :- - May 3: #Sydney https://t.co/ajXzU7KJD3 - May 9: #Melbourne https://t.co/4T55pJ8tjM @Shelovesdata @smh @ausbiztv @tickerNEWSco @jimwebber @neo4j @auspost @BuzzFeedOz | 5 |
| 1640190481572442112 | we're hiring a freelance content + social producer at @buzzfeedoz! come and work with us to make TikToks, write posts and help curate our social channels. apply here: https://t.co/PGcfU5kuGx | 2 |
| 1639874989909495808 | @BuzzFeedOz What a time to be alive | 1 |
| 1641364859689504768 | You know how some of the Buzzfeed compare the food segments have food which you go "nope this doesn't look/feel good…" not this one. Every item on this segment claps!!! Sooo sooo good. Great work @BuzzFeedOz https://t.co/MOcvVRDgMN | 0 |
| 1641327686856634368 | #DungeonsAndDragonsMovie is in theaters now, and we asked the cast members to play a quiz! Let's go to @BuzzfeedOz: https://t.co/IJyKqgdtB3 | 0 |
| 1640686984082620418 | @BuzzFeedOz - wrong. Western Australia. https://t.co/2PnHU6TO6W | 0 |
| 1640686071762788354 | Hey @BuzzFeedOz - this answer is wrong. Vic has toll roads malakes while WA doesn't. https://t.co/bVcdYN6yvz | 0 |
| 1640570795369058305 | @BuzzFeedOz Peanut paste, pineapple and mud crab. | 0 |
| 1640570575855947777 | @BuzzFeedOz Subway do sandwiches??? I've only had rolls with fillings there. | 0 |
| 1640546117812379651 | @BuzzFeedOz love the Temperature enhanced Intersection symbol fruit and spiced bread products. Apple and Cinnamon is my personal fave. | 0 |
Top 3 Languages Used In Tweets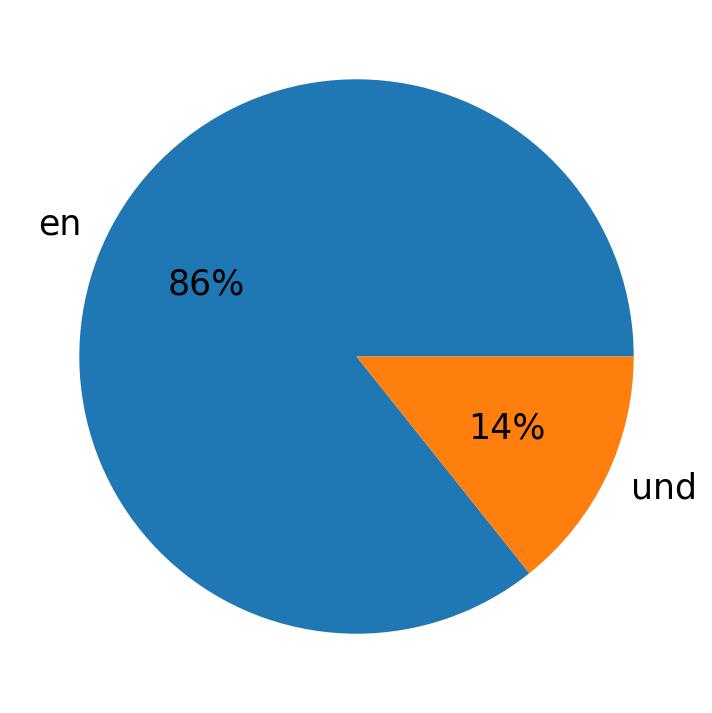 ---
Top 10 Hashtags used
| Hashtag | Count |
| --- | --- |
| #graphmeetup | 2 |
| #graphsummit2023 | 2 |
| #sydney | 2 |
| #melbourne | 2 |
| #dungeonsanddragonsmovie | 1 |
| #jo1 | 1 |
| #tiger | 1 |
Top 10 Hashtags Used In Tweets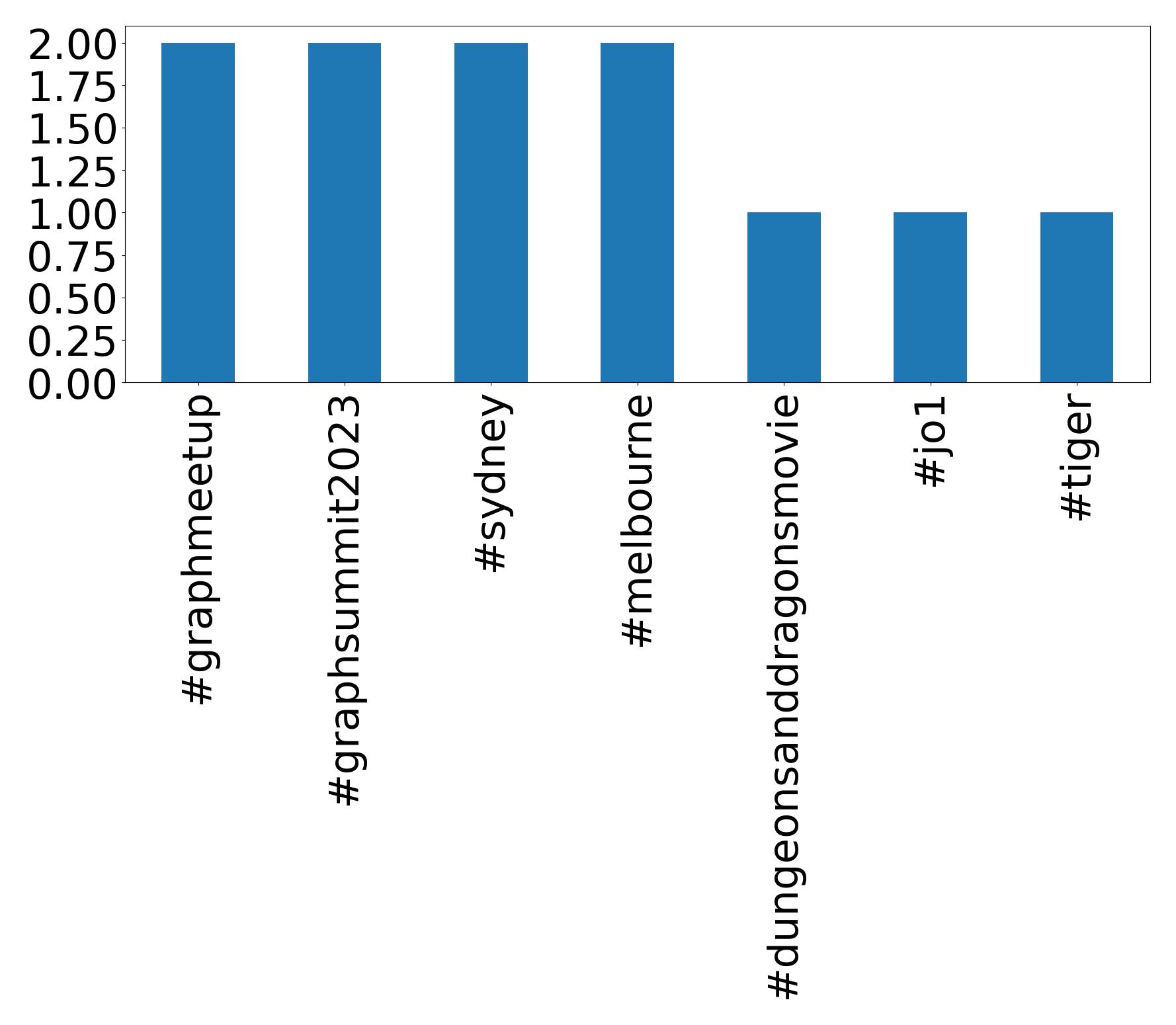 Top 10 mentions
| Mention | Count |
| --- | --- |
| @buzzfeedoz | 21 |
| @shelovesdata | 2 |
| @smh | 2 |
| @ausbiztv | 2 |
| @tickernewsco | 2 |
| @jimwebber | 2 |
| @neo4j | 2 |
| @auspost | 2 |
| @littlelinhuendo | 1 |
| @abcqueer | 1 |
Top 10 mentions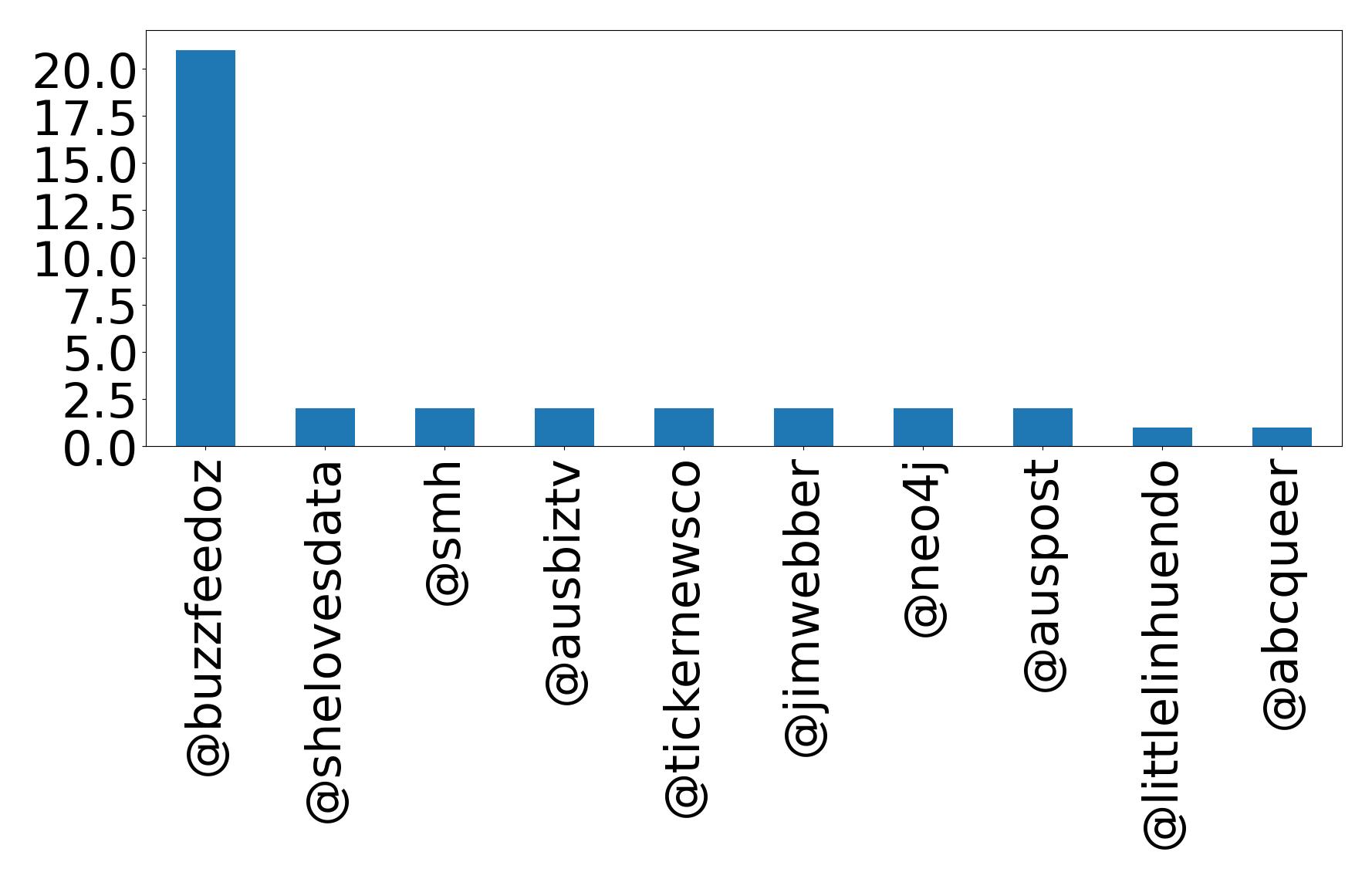 Wordcloud of Tweets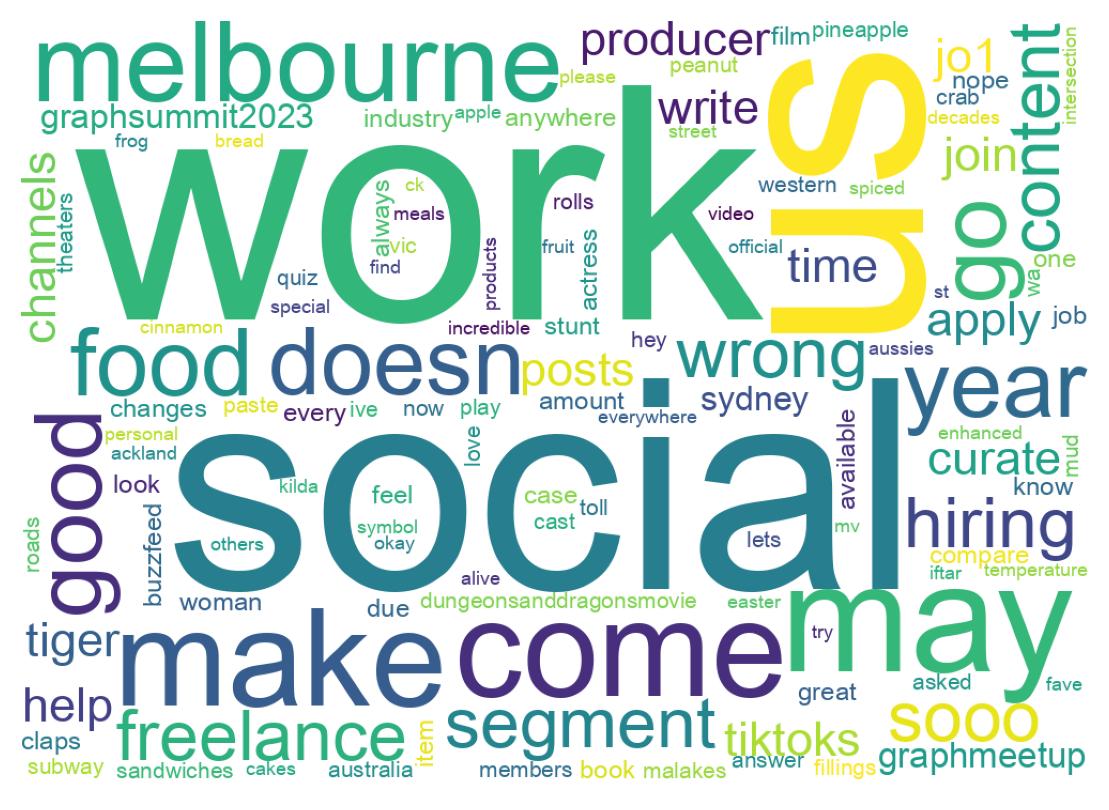 ---
Emojis
Average number of emojis used per tweet
28
Emojis used in tweets
| Emoji | Count | Emoji Text |
| --- | --- | --- |
| 🐯 | 1 | tiger_face |
| 🔥 | 1 | fire |
| ➡️ | 1 | right_arrow |
| 🐰 | 1 | rabbit_face |
| 🥚 | 1 | egg |
| 🧺 | 1 | basket |
Emojis groups
| Emoji Group | Count |
| --- | --- |
| Animals & Nature | 2 |
| Travel & Places | 1 |
| Symbols | 1 |
| Food & Drink | 1 |
| Objects | 1 |