Tweets Analysis - Keyword: Barca
Total number of tweets analysed
46,556
Earliest tweet was on
2023-02-08
Latest tweet was on
2023-02-10
Average age of authors' accounts
6 years
---
Summarization
FC Barcelona mourns the death of former player Marcos Alonso Peña and would like to express its condolences to his family. Laporta further discusses financials and actions taken at Barcelona, including the reduction of the wage bill and signing/selling of players. Messi's brother has apologized and will not affect the club's relationship with Messi, Ansu Fati is loved by the club but his agent has mentioned clubs keen on signing him, Ousmane Dembélé's contract situation is being discussed, Sergi Roberto is close to agreeing a new contract until 2024 and Alejandro Balde is close to signing a new contract. Lastly, there is a new SuperLeague being discussed with Marseille, the current Barça player Marcos Alonso's father has passed away, and Pedrito Rodríguez is being undervalued.
Topic Modeling
The passing of ex-FC Barcelona player Marcos Alonso Peña and sending condolences to his family
Financials of FC Barcelona, such as wage bills and spending
Player contracts for FC Barcelona
Coca Cola between Lionel Messi and Luis Suárez when they were teammates at Barça
Super League involving Real Madrid, FC Barcelona and Juventus
Emotional Analysis
The tweets expressed a range of emotions, from sadness and sympathy for the passing of former Barça player Marcos Alonso Peña and his family, to pride and joy for the accomplishments of current players, such as Lionel Messi and Ousmane Dembélé. There was also a sense of hope for the future of the club, with Laporta discussing the financial situation and potential signings. Finally, there was a sense of respect and admiration for the victims of the earthquake in Turkey and Syria.
Trend Analysis
Expressing Condolences towards the passing of the former Barcelona Player, Marcos Alonso Peña
Financial Well-being of Barcelona FC: wages, investments and Future plans
Status of Barcelona FC's current players: Messi, Lucho Suarez, Ansu Fati, Ousmane Dembélé, and Sergi Roberto
Barcelona FC's plans for transfer and contract extension for Julián Araujo, Alejandro Balde and Pedrito Rodríguez
Recent resurrection of Super League and its potential effects on Barcelona FC
---
Types of Tweets
Number of Retweets
7,835
Percentage of total tweets
16%
Number of Original tweets
8,684
Percentage of total tweets
18%
Number of tweets that contain Mentions
35,532
Percentage of total tweets
76%
Number of tweets that were Replies
27,198
Percentage of total tweets
58%
Number of tweets that were Quotes
3,499
Percentage of total tweets
7%
Number of tweets that contain Hashtags
3,394
Percentage of total tweets
7%
---
Top 5 devices used to tweet
| Source | Count |
| --- | --- |
| Twitter for Android | 22066 |
| Twitter for iPhone | 16298 |
| Twitter Web App | 5890 |
| TweetDeck | 528 |
| Twitter for iPad | 287 |
What devices were used to tweet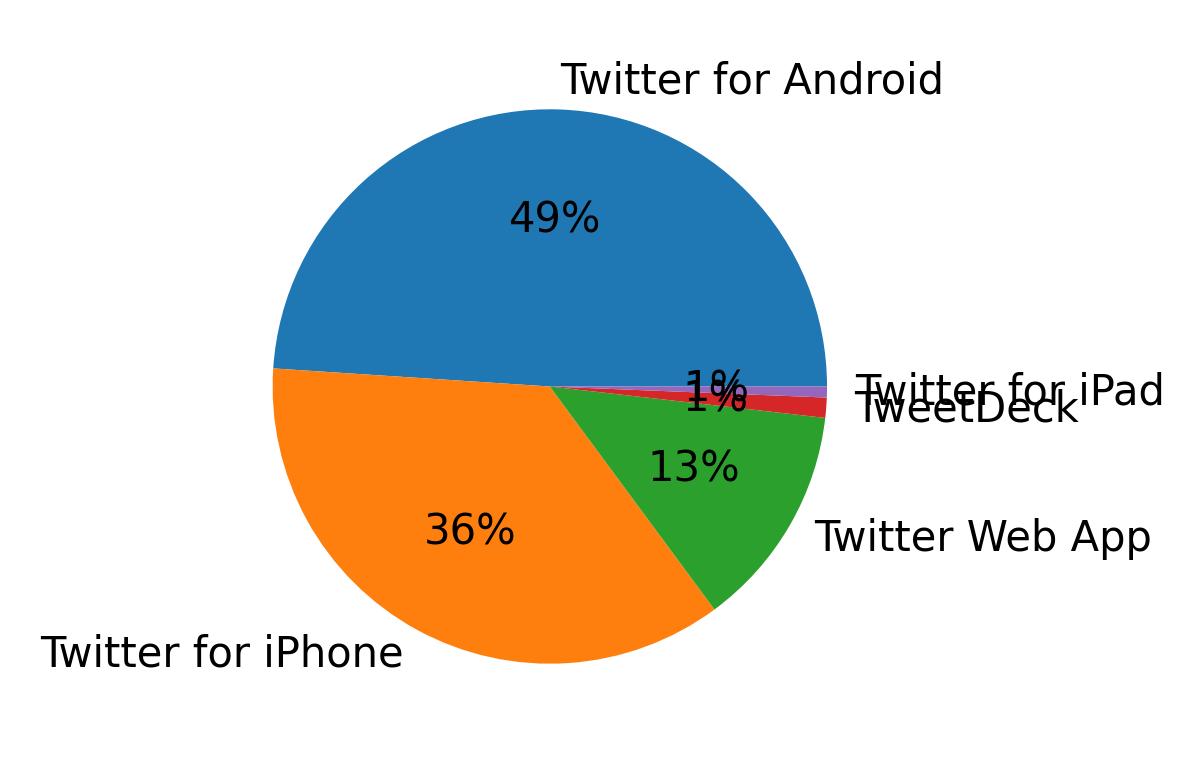 ---
Top 10 accounts with highest followers count
| Username | Name | Bio | Followers count |
| --- | --- | --- | --- |
| FCBarcelona | FC Barcelona | #ForçaBarça! Join us: @fcbarcelona_cat @fcbarcelona_es @fcbarcelona_br @fcbarcelona_jp @fcbarcelona_id @fcbarcelona_ara @fcbarcelona_fra @fcbarcelona_tr | 46,285,833 |
| FCBarcelona_es | FC Barcelona | #ForçaBarça! ¡Síguenos!: @fcbarcelona_cat @fcbarcelona @fcbarcelona_br @fcbarcelona_jp @fcbarcelona_id @fcbarcelona_ara @fcbarcelona_fra @fcbarcelona_tr | 21,069,765 |
| detikcom | detikcom | Official Twitter of https://t.co/jtXZ3Wcfhf. redaksi@https://t.co/jtXZ3Wuovn | promosi@https://t.co/jtXZ3Wuovn | Android: https://t.co/l5tQVBgqbD iPhone: https://t.co/NleJXySGkT | 19,911,979 |
| FabrizioRomano | Fabrizio Romano | Here we go! © | 13,952,237 |
| ELTIEMPO | EL TIEMPO | Principales noticias de Colombia, el mundo, deportes, economía, política, tecnología, cultura, estilo de vida, tendencias y mucho más. El Tiempo Casa Editorial. | 8,466,210 |
| FCBarcelona_cat | FC Barcelona | Més que un club. Twitter oficial del FC Barcelona en català. Força Barça! | 8,014,991 |
| lequipe | L'ÉQUIPE | Toute l'actualité sportive en temps réel // TV : @lachainelequipe // Facebook - Instagram - 👻 Snapchat : lequipe - 🎮 Twitch : lequipefr - Tiktok : @lequipe | 6,491,737 |
| marca | MARCA | 📲 Conecta 𝐌𝐀𝐑𝐂𝐀: https://t.co/QM1TliOtvy, https://t.co/a3Q57ySd3w, https://t.co/sZKx5QUsVz, https://t.co/JTs3PurFq6 | 6,450,309 |
| TNTSportsBR | TNT Sports BR | ⚽️TODOS os jogos da Champions League na @hbomaxbr 🏀 Assista aos jogos da NBA no nosso YouTube e na @tntbr 👇Isso tudo e muito mais clicando aqui👇 | 6,006,783 |
| MobilePunch | Punch Newspapers | This is the official Twitter handle of PUNCH Newspapers, the most widely read newspaper in Nigeria. | 5,995,510 |
Top 10 accounts with highest friends count
| Username | Name | Bio | Followers count |
| --- | --- | --- | --- |
| OMGStacks | stacks.eth ❓ | @DeGodsNFT 👑 @mypethooligan 🐰 #AKCB ⁽(Θ Θ)⁾ @projectQuantum_ #QBit 🤖🔫 @shonenjunkNFT 🥷 #ESPN 🏈 #NFTNews 🖼️ RSS $TSLA 🚗🔋@DailyLoud 😶‍🌫️ #Takes 🗣️ | 85,532 |
| madridblaugrana | madridblaugrana | 18/12/2022 el fútbol fue justo 7 BALONES DE ORO,TU? TE AMO LIONEL MESSI Más Guardiolista que Guardiola Más Laportista que Laporta Más del Barça que Pique | 83,340 |
| LuisArangoQ | Luis | No soy perfecto pero soy madridista que pues es casi lo mismo. | 82,706 |
| Virgili7 | JM Virgili i Ortiga | Catedràtic d'institut de llengua catalana emèrit. Membre de Koiné i del Cercle Vallcorba. Si em seguiu, potser us faré alguna correcció lingüística. Somrieu! | 77,794 |
| MadridCFyB | ¡Hala Madrid! | Padre de 3 maravillosos socios madridistas. Esta cuenta antes molaba. En twitch https://t.co/tJ0Cth9z2x | 56,818 |
| joseluiscarazo | José Luis Carazo | Fundador de SPORT (1979-2011) Colaboré en Don Balón, Tot Barça, Noticiero, Onda Cero, Cope, C. Catalán, A 3tv, Sexta, 8tv, TVE , La 2 e Intereconomia. | 56,371 |
| SempreCRF | Maior Torcida | Está página NÃO tem ligação com a página oficial do Clube de Regatas do Flamengo. Somos torcedores do Flamengo. | 51,992 |
| 20m | 20minutos.es | Cuenta oficial de 20minutos, el medio social y ciudadano. Información, análisis y contacto personal con los lectores las 24 horas https://t.co/HLXkvbo2Y8 | 51,616 |
| elcolombiano | El Colombiano | Medio de comunicación con 111 años de existencia. Información actual, exclusiva y de análisis. Bienvenidos. | 51,540 |
| Diariosdeuncule | Eterno Stoichkov | En 1990,un Búlgaro melenudo ficho por el Barça,y me hizo culé para siempre Aquí leerás mi opinión,no la tuya Stoichkov & FCBarcelona fan account No oficial | 48,720 |
Most active users
| Username | Bio | Number of tweets |
| --- | --- | --- |
| Kobe_barca | Emergency Doctor in life and FC Barcelona Lakers Dodgers LARams fan | 784 |
| planete_barca | Tout sur le FC BARCELONA... (Foot, Basket, Hand, Rink-Hockey, Futsal, Sections Amateurs, Résultats, Infos...) | 485 |
| barcha_barca | Fenerbahçe💙💛 DEÜ | 454 |
| AFD_barca | (كل مايخص برشلونه من أخبار وتصريحات ونقل مباريات تجدونه هنا) ❤️برشلوني 💙 ❤️Visca Barca , Visca Catalonia💙 | 201 |
| Barca_Buzz | 📣 Sharing what's Buzzing with Barça. Hub for all FC Barcelona related Trustworthy News, Transfers, Stats, Quotes, Media, Trivia, La Masia.📩 DMs always open. | 123 |
| Eruma_27 | FCB || SFC || Pedri || Gavi || Honest Penaldo fan || Inactive MKW player || @υε || Japan Friend || 🇯🇵🇪🇸🇸🇪🇨🇴🇦🇷🇺🇾 | 104 |
| Khja_Barca | @FCBarcelona, Messi | 95 |
| AlquilarBarco | https://t.co/fQXPphaiY7 - Italia, https://t.co/eM1MuE8WeO - Accessori Nautici - Ordina online a metà prezzo Accessori per barca e Accessori per barche a vela dal grossista Nova Argona | 85 |
| Tanis_Barca | She/Her. 32. Spain🇪🇦🇬🇧. Writer. Loom knitter 🧶 Feminist. ⚓ one piece brainrot ⚓ MASK MASTER ⎊3000 tons ⏳ Legends of Tomorrow ⌛ 📝Currently writing: — 📝 | 85 |
| sport | 👋 ¡Bienvenidos! 🗞️ Somos el Diario #SPORT 📲 Barça, fútbol y lo mejor del deporte Telegram: https://t.co/2g2NxCNmOP… | 84 |
---
Tweets per day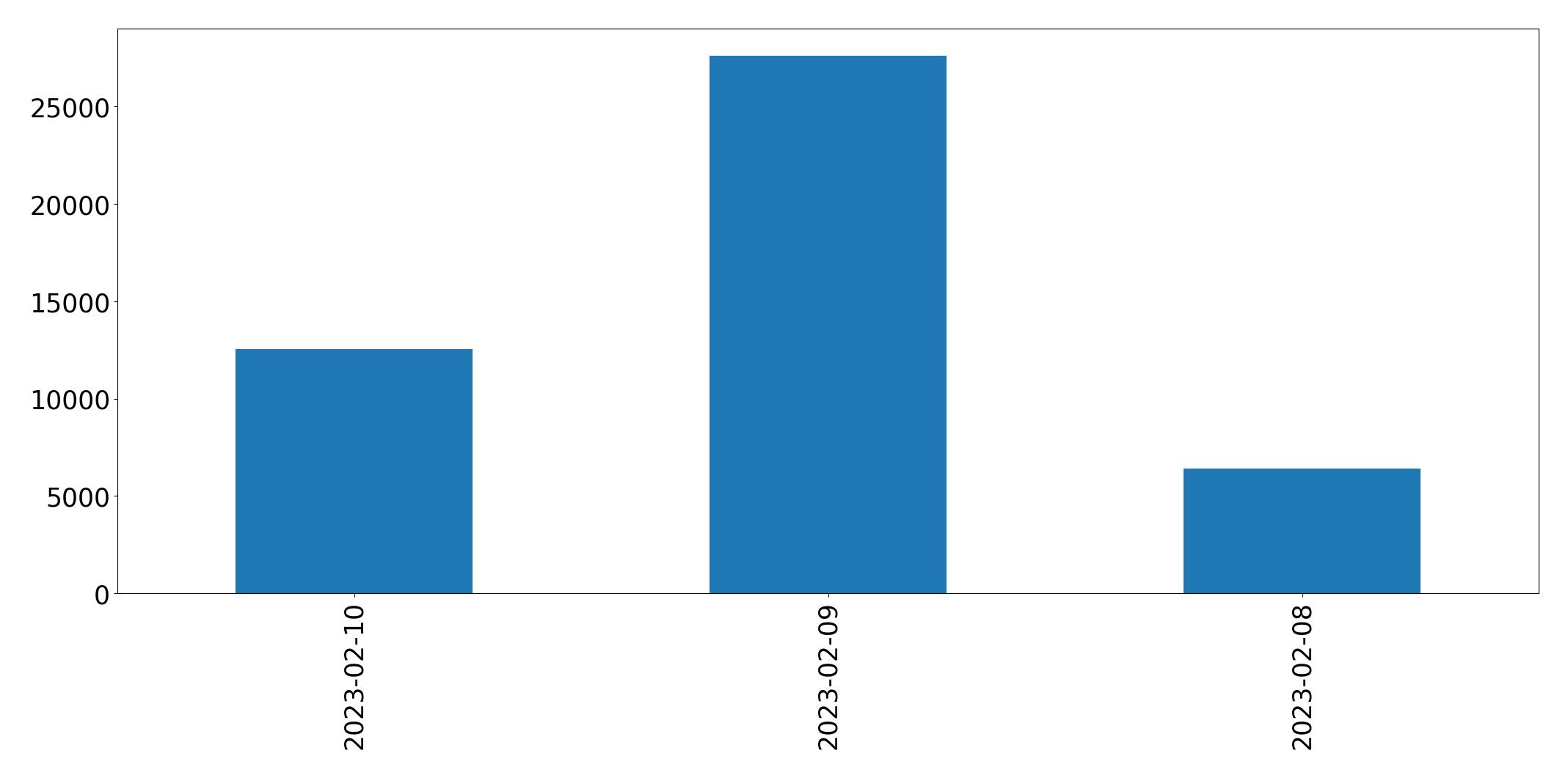 ---
Top 10 tweets with highest Retweet count
| ID | Text | Retweet count |
| --- | --- | --- |
| 1623621973833129985 | FC Barcelona would like to express its deepest condolences for the passing of former Barça player and father of a first-team player Marcos Alonso Peña. All of our strength to Marcos Alonso and his entire family. Rest in peace. https://t.co/4dn1rMvVh7 | 3049 |
| 1623645765330501634 | Barça president Laporta: "We've signed players for €215m and sold for €141m, we made a competitive team for €74m". 🔵🔴 #FCB "We've reduced the wage bill by around €100m, and so we're planning to reduce another €70m. We've saved Barcelona from financial ruin, yes". https://t.co/vB3LYPIeao | 2860 |
| 1623621891666608129 | El FC Barcelona expresa su más sentido pésame por la muerte de Marcos Alonso Peña, exjugador del Barça durante las temporadas 1982-1987 y padre del actual jugador del primer equipo. Toda nuestra fuerza para Marcos Alonso y su familia. Descanse en paz. https://t.co/qQqOeKMcKl | 2774 |
| 1623498469057986561 | Qué hermoso este "Coca-Cola" entre Lionel y Lucho Suárez en la pileta, mientras eran compañeros en el Barça. Y el enojo de Messi cuando se le va larga, JAJA. 🫶🏼 https://t.co/y7qQXyigT0 | 1314 |
| 1623662748314873856 | Barça president Laporta: "Leo Messi is part of Barcelona history. He belongs to PSG so I will not speak, I respect them". 🇦🇷 #FCB "His brother has apologized, this story and his words will have no impact on the club's relationship with Messi". https://t.co/1ofcXgW4lO | 1160 |
| 1623612082062086146 | 🚨 La SuperLeague est DE RETOUR ! 🔙 Le Real, le Barça et la Juve ont contacté plus de 50 clubs pour créer le tournoi. Nouvelle version : ▪️ Plusieurs divisions ▪️ 60 à 80 équipes ▪️Pas de membres permanents ▪️Chaque club jouera au moins 14 matches par saison. (@TeleFootball) | 1097 |
| 1623723941201158146 | 🙏 Before training, there was a minute's silence in memory of the victims of the deadly earthquake in Turkey and Syria as well as for the passing of former Barça player Marcos Alonso Peña. Rest in peace. https://t.co/JFeo5eDlJ5 | 853 |
| 1623599079375933443 | Barcelona are closing in on agreement to extend the contract of Sergi Roberto until June 2024. 🔵🔴⏳ #FCB Salary will include add-ons related to performances, parties discussing final details as @HelenaCondis first reported. Barça, now optimistic. https://t.co/dZI31lS2De | 760 |
| 1623667777390227457 | Barça president Laporta: "We are not thinking of selling Ansu Fati as of now, he's loved here — then I cannot predict the future". 🚨🔵🔴 #FCB "His agent told us there are clubs keen on signing Ansu Fati, yes". "It is clear that he wants to succeed here at Barça". https://t.co/Ii9un5iurh | 745 |
| 1623664229034209280 | Barça president Laporta: "We're happy with Ousmane Dembélé and he's happy here. We want to discuss his contract situation as current deal expires in June 2024". 🚨🔵🔴 #FCB "Dembélé knows we love him and how important he's for the club". https://t.co/OfJYUPRen9 | 712 |
Top 10 tweets with highest Like count
| ID | Text | Like count |
| --- | --- | --- |
| 1623621973833129985 | FC Barcelona would like to express its deepest condolences for the passing of former Barça player and father of a first-team player Marcos Alonso Peña. All of our strength to Marcos Alonso and his entire family. Rest in peace. https://t.co/4dn1rMvVh7 | 54229 |
| 1623645765330501634 | Barça president Laporta: "We've signed players for €215m and sold for €141m, we made a competitive team for €74m". 🔵🔴 #FCB "We've reduced the wage bill by around €100m, and so we're planning to reduce another €70m. We've saved Barcelona from financial ruin, yes". https://t.co/vB3LYPIeao | 51202 |
| 1623621891666608129 | El FC Barcelona expresa su más sentido pésame por la muerte de Marcos Alonso Peña, exjugador del Barça durante las temporadas 1982-1987 y padre del actual jugador del primer equipo. Toda nuestra fuerza para Marcos Alonso y su familia. Descanse en paz. https://t.co/qQqOeKMcKl | 49093 |
| 1623498469057986561 | Qué hermoso este "Coca-Cola" entre Lionel y Lucho Suárez en la pileta, mientras eran compañeros en el Barça. Y el enojo de Messi cuando se le va larga, JAJA. 🫶🏼 https://t.co/y7qQXyigT0 | 31451 |
| 1623662748314873856 | Barça president Laporta: "Leo Messi is part of Barcelona history. He belongs to PSG so I will not speak, I respect them". 🇦🇷 #FCB "His brother has apologized, this story and his words will have no impact on the club's relationship with Messi". https://t.co/1ofcXgW4lO | 25818 |
| 1623667777390227457 | Barça president Laporta: "We are not thinking of selling Ansu Fati as of now, he's loved here — then I cannot predict the future". 🚨🔵🔴 #FCB "His agent told us there are clubs keen on signing Ansu Fati, yes". "It is clear that he wants to succeed here at Barça". https://t.co/Ii9un5iurh | 14765 |
| 1623664229034209280 | Barça president Laporta: "We're happy with Ousmane Dembélé and he's happy here. We want to discuss his contract situation as current deal expires in June 2024". 🚨🔵🔴 #FCB "Dembélé knows we love him and how important he's for the club". https://t.co/OfJYUPRen9 | 14341 |
| 1623599079375933443 | Barcelona are closing in on agreement to extend the contract of Sergi Roberto until June 2024. 🔵🔴⏳ #FCB Salary will include add-ons related to performances, parties discussing final details as @HelenaCondis first reported. Barça, now optimistic. https://t.co/dZI31lS2De | 14201 |
| 1623695661827780609 | Barça director Alemany on Julián Araujo deal: "We have been following Julián Araujo for a long time. We've sent an appeal to CAS regarding his case". 🔵🔴🇲🇽 #FCB "If it's gonna be rejected, Araújo will play 5 months elsewhere and then join Barça Atlétic". https://t.co/UQvX9n9K8F | 12579 |
| 1623661881184460800 | Barça president Laporta confirms: "We have an agreement with Alejandro Balde on new contract, waiting for the final approval for the Financial Fair Play" 🔵🔴🤝🏻 #FCB "Balde, Sergi Roberto, Araujo, also the future of Busquets… we are working on present and future of the club". https://t.co/H8AMTonj56 | 11304 |
Top 3 Languages Used In Tweets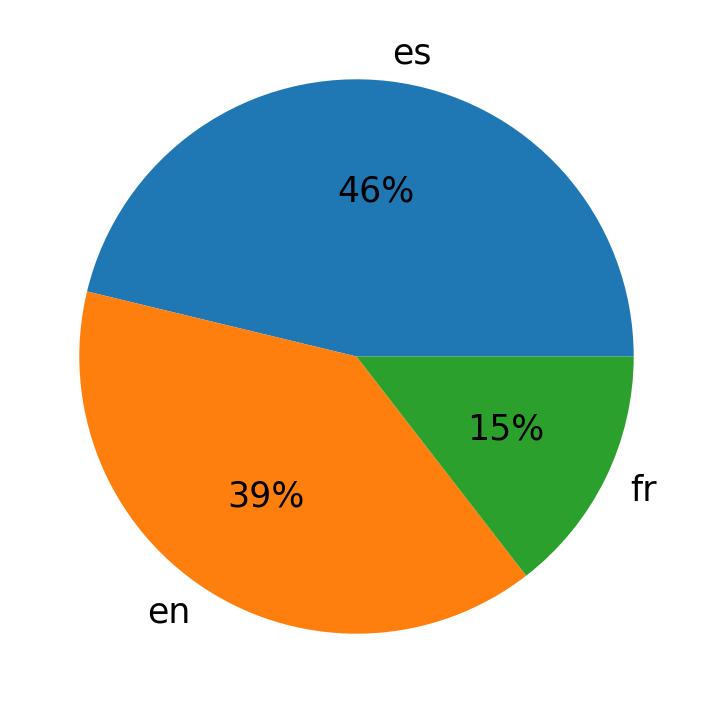 ---
Top 10 Hashtags used
| Hashtag | Count |
| --- | --- |
| #fcb | 403 |
| #barça | 393 |
| #barca | 319 |
| #fcbarcelona | 220 |
| #fcblive | 217 |
| #barcelona | 185 |
| #forçabarça | 119 |
| #messi | 114 |
| #laliga | 85 |
| #copadeespaña | 83 |
Top 10 Hashtags Used In Tweets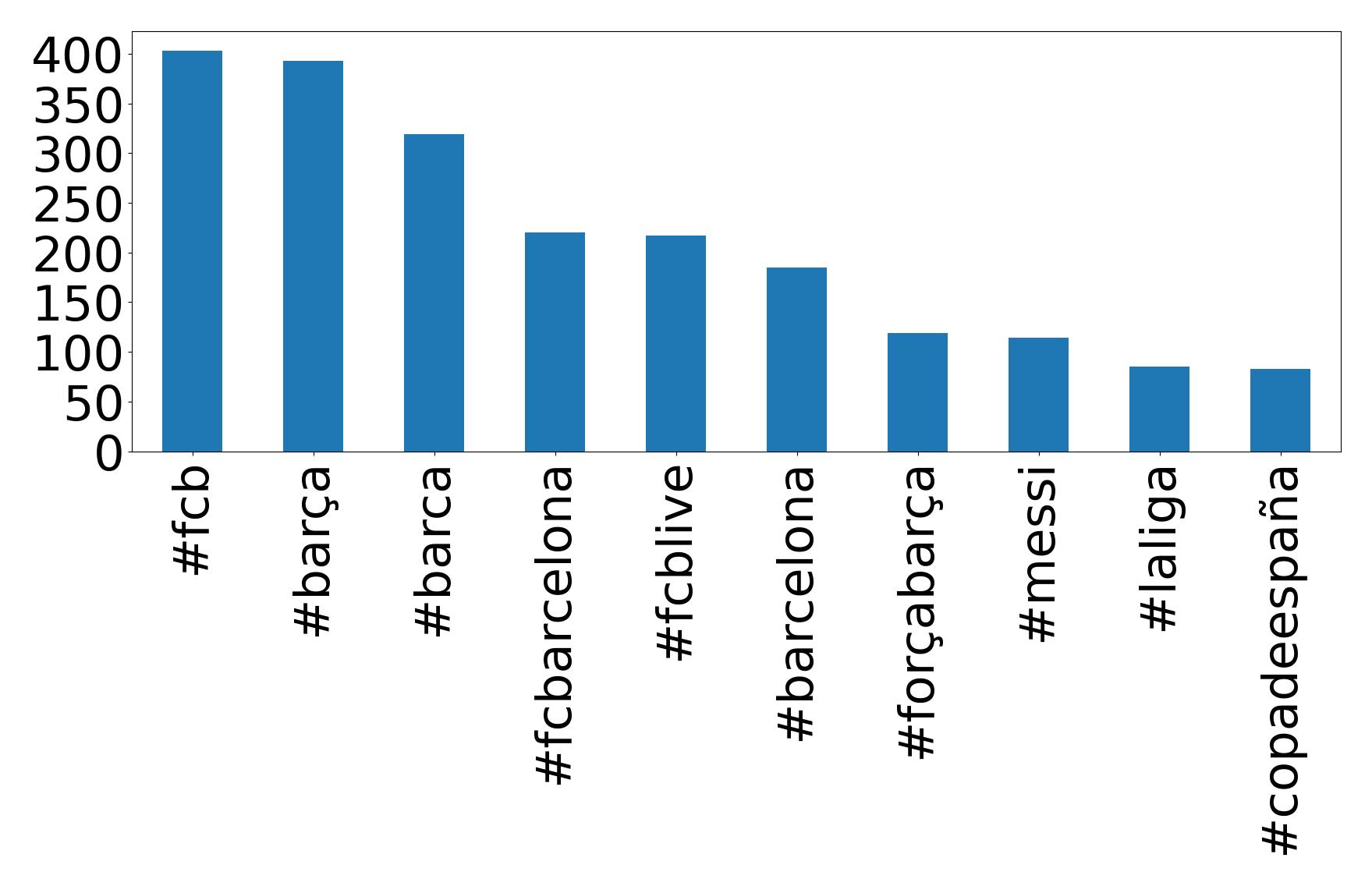 Top 10 mentions
| Mention | Count |
| --- | --- |
| @barca_buzz | 995 |
| @elchiringuitotv | 624 |
| @jotajordi13 | 572 |
| @managingbarca | 547 |
| @fabrizioromano | 506 |
| @barcauniversal | 501 |
| @voz_populi | 387 |
| @actufoot_ | 364 |
| @martinminan_ | 356 |
| @sport | 349 |
Top 10 mentions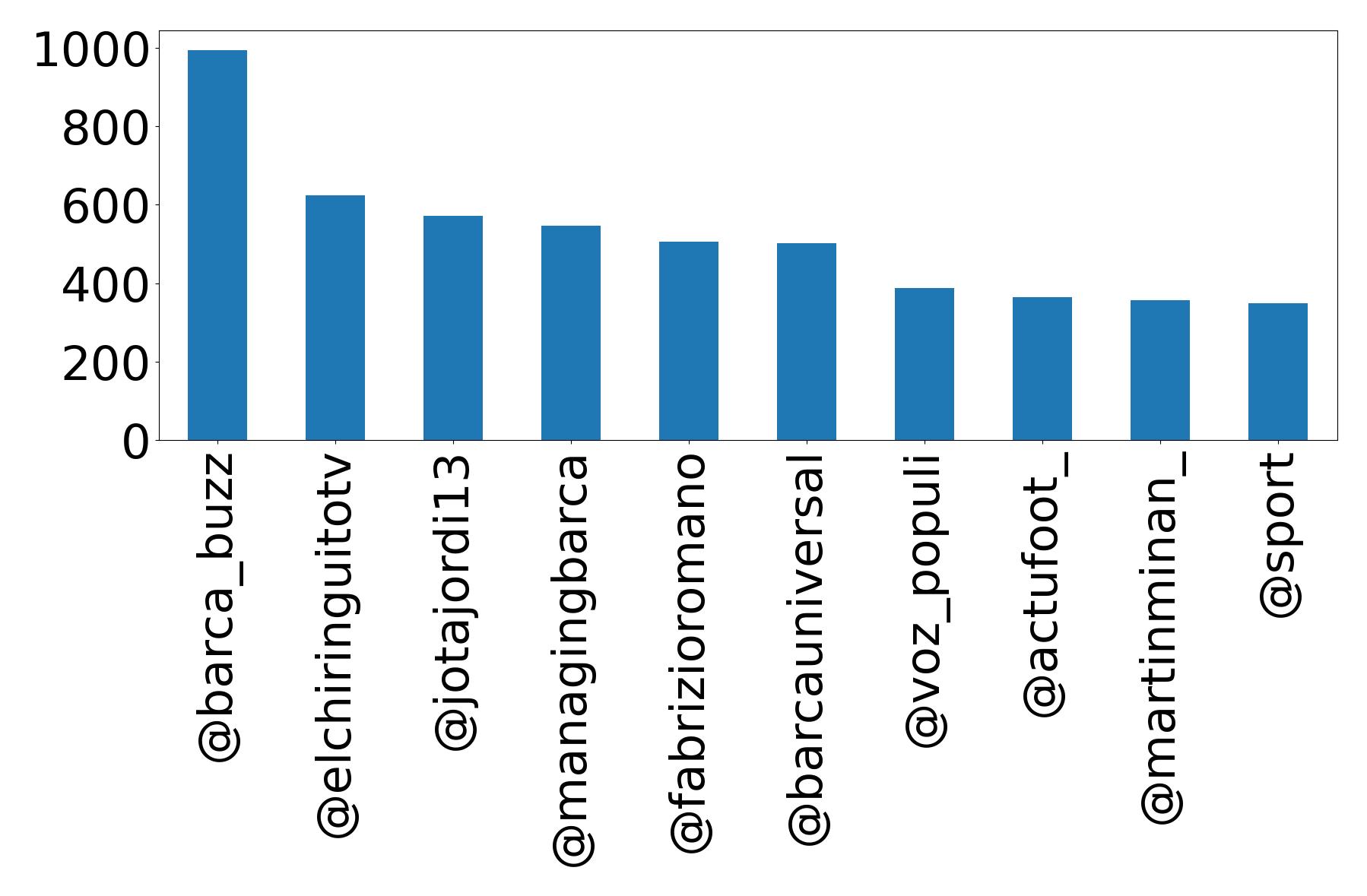 Wordcloud of Tweets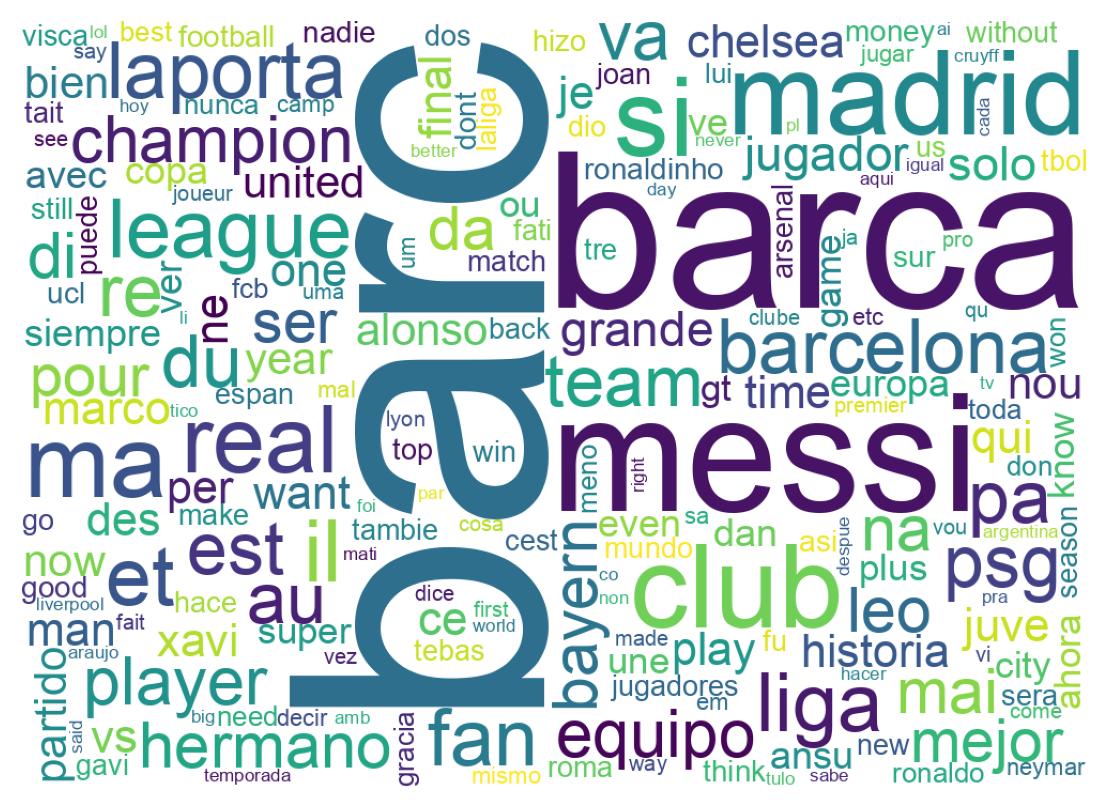 ---
Emojis
Average number of emojis used per tweet
58
Emojis used in tweets
| Emoji | Count | Emoji Text |
| --- | --- | --- |
| 😂 | 2804 | face_with_tears_of_joy |
| 😭 | 2002 | loudly_crying_face |
| 🤣 | 1843 | rolling_on_the_floor_laughing |
| 🚨 | 969 | police_car_light |
| 🔴 | 946 | red_circle |
| 🔵 | 807 | blue_circle |
| ❤️ | 683 | red_heart |
| 💙 | 672 | blue_heart |
| 🔥 | 410 | fire |
| 🗣️ | 407 | speaking_head |
Emojis groups
| Emoji Group | Count |
| --- | --- |
| Smileys & Emotion | 12653 |
| Symbols | 4279 |
| People & Body | 3742 |
| Objects | 2139 |
| Travel & Places | 1932 |
| Activities | 1304 |
| Flags | 953 |
| Animals & Nature | 252 |
| Food & Drink | 128 |