Tweets Analysis - Keyword: @ATM_Mobilis
Total number of tweets analysed
45
Earliest tweet was on
2023-03-21
Latest tweet was on
2023-03-29
Average age of authors' accounts
4 years
---
Summarization
The tweets contain a mix of messages, including well wishes for Ramadan from JSK and support for boxer Imane Khelif. There is also criticism directed at football coach Djamel Belmadi and complaints about internet connectivity issues in Algeria, specifically in the location of Khraissia. There are also comments about a delay in a project in Arzew involving TotalEnergies and Sonatrach. Overall, the tweets reflect a range of opinions and concerns from Algerians.
Topic Modeling
Ramadan wishes and blessings
Sports news/events
Algerian national pride and patriotism
Complaints/Issues with telecommunication (specifically with @ATM_Mobilis)
Criticism/Opinions on Algerian political figures (specifically Belmadi)
Emotional Analysis
The tweets express a range of emotions such as well-wishes for the month of Ramadan, disappointment in false news, excitement for a football team's arrival, frustration with internet connectivity issues, and admiration for national representatives. Some tweets also express criticism toward a public figure's behavior and call for action from a telecommunications company. Overall, the emotions expressed in the tweets are positive and hopeful, mixed with occasional frustration and disappointment.
Trend Analysis
- Ramadan wishes and greetings - Sports news and updates - ITFC (International Islamic Trade Finance Corporation) coverage and controversy - Company updates and customer inquiries - National pride and patriotism
---
Types of Tweets
Number of Retweets
8
Percentage of total tweets
17%
Number of Original tweets
5
Percentage of total tweets
11%
Number of tweets that contain Mentions
45
Percentage of total tweets
100%
Number of tweets that were Replies
30
Percentage of total tweets
66%
Number of tweets that were Quotes
3
Percentage of total tweets
6%
Number of tweets that contain Hashtags
9
Percentage of total tweets
20%
---
Top 5 devices used to tweet
| Source | Count |
| --- | --- |
| Twitter for Android | 32 |
| Twitter Web App | 9 |
| Twitter for iPhone | 4 |
What devices were used to tweet
---
Top 10 accounts with highest followers count
| Username | Name | Bio | Followers count |
| --- | --- | --- | --- |
| jsk_tweet | JS Kabylie | Compte officiel de la Jeunesse Sportive de Kabylie, club le plus titré d' #Algérie. | 12,813 |
| SpecialOneDz | ADiL 🇩🇿 | PhD Computer Science 💻 | Madridista de corazòn | Grateful Husband أنا إنسان بسيط ، المتدينون يعتبرونني ماجناً ،و المعربدون يحسبُونني متديناً. | 9,944 |
| BanqueBDL | BDL Banque | Construisons ensemble un avenir meilleur et durable grâce à nos solutions financières classiques, islamiques et digitales. | 7,372 |
| bn_riyadh | 𝑹𝒊𝒚𝒂𝒅𝒉 𝒃𝒏✰★☠︎︎ | نرى ما لا نريد ونريد ما لا نرى، فنفقد قيمة ما نرى، ونضيع في سراب ما لا نرى، كن حريصاً ألا تفقد قيمة ما ترى. بدلا من أن تحدثني.عن دينك ارني عملك ✋ | 4,134 |
| theoddoneou | Soumia | Ramadan edition | 3,525 |
| rachidsebaa | Rachid SEBAع #freenabilmellah | Maqawedniste | 2,615 |
| DZ54_2021 | ( جريدة إلكترونية إخبارية) DZ54 | ديزاد 54 DZ موقع إخباري جزائري | 1,600 |
| CherifA07946894 | Cherif Ali | Si une carrière peut s'éteindre, une vocation elle, perdure à jamais ! | 1,224 |
| k5emis7seltan | مشرق سلطان الدين | ربآھ : ♥ لآتجَعل أروآحُنا ☺ تُفارق هَذھ الحَيآھ ♥ الآ وهيَ تحمِلُ منْ الحَسنآت ☺ مآ يمنحُنا رِضآگ وجَنتگ.̠..☺ | 1,178 |
| SamAlgerienne1 | SamAlgerienne | - | 664 |
Top 10 accounts with highest friends count
| Username | Name | Bio | Followers count |
| --- | --- | --- | --- |
| k5emis7seltan | مشرق سلطان الدين | ربآھ : ♥ لآتجَعل أروآحُنا ☺ تُفارق هَذھ الحَيآھ ♥ الآ وهيَ تحمِلُ منْ الحَسنآت ☺ مآ يمنحُنا رِضآگ وجَنتگ.̠..☺ | 5,027 |
| CherifA07946894 | Cherif Ali | Si une carrière peut s'éteindre, une vocation elle, perdure à jamais ! | 3,373 |
| theoddoneou | Soumia | Ramadan edition | 1,998 |
| bn_riyadh | 𝑹𝒊𝒚𝒂𝒅𝒉 𝒃𝒏✰★☠︎︎ | نرى ما لا نريد ونريد ما لا نرى، فنفقد قيمة ما نرى، ونضيع في سراب ما لا نرى، كن حريصاً ألا تفقد قيمة ما ترى. بدلا من أن تحدثني.عن دينك ارني عملك ✋ | 1,922 |
| kameljsk95 | Kamel JSK. | ‏‏‏‏ⵊⵙⴽ ⭐N3icho la passion b'giallo hyatna Dowina | 1,557 |
| HalfayaMahfoud | محفوظ أبو أصيل | كيف لا أحفظ و أنا محفوظ محب لبلاد الحرمين الشريفين 🇸🇦🇩🇿 | 1,261 |
| SpecialOneDz | ADiL 🇩🇿 | PhD Computer Science 💻 | Madridista de corazòn | Grateful Husband أنا إنسان بسيط ، المتدينون يعتبرونني ماجناً ،و المعربدون يحسبُونني متديناً. | 1,001 |
| ChiefDaira | Chief Daira 𓂀 | Quand on est assis dans un avion qui s'écrase, on a beau attacher sa ceinture, ça ne sert à rien. | 983 |
| mlkh_msryh | ملكه مصريه | - | 948 |
| rachidsebaa | Rachid SEBAع #freenabilmellah | Maqawedniste | 862 |
Most active users
| Username | Bio | Number of tweets |
| --- | --- | --- |
| SpecialOneDz | PhD Computer Science 💻 | Madridista de corazòn | Grateful Husband أنا إنسان بسيط ، المتدينون يعتبرونني ماجناً ،و المعربدون يحسبُونني متديناً. | 3 |
| HalfayaMahfoud | كيف لا أحفظ و أنا محفوظ محب لبلاد الحرمين الشريفين 🇸🇦🇩🇿 | 2 |
| BanqueBDL | Construisons ensemble un avenir meilleur et durable grâce à nos solutions financières classiques, islamiques et digitales. | 2 |
| ka_kam515631 | - | 2 |
| k5emis7seltan | ربآھ : ♥ لآتجَعل أروآحُنا ☺ تُفارق هَذھ الحَيآھ ♥ الآ وهيَ تحمِلُ منْ الحَسنآت ☺ مآ يمنحُنا رِضآگ وجَنتگ.̠..☺ | 2 |
| jsk_tweet | Compte officiel de la Jeunesse Sportive de Kabylie, club le plus titré d' #Algérie. | 2 |
| hgrizama | Seulement l'élite me follow ⵣ🇩🇿 Seuls les ignorants me critiquent | 1 |
| Yasso02 | forex tradingc more than 8 years of experience | 1 |
| YoubaIlyes92 | - | 1 |
| ali_ouhachi | Compte-mulet de @A_Djenad: j'ai plus de 70 ans, je dis ce que je veux. Insultes, railleries, remarques désobligeantes glissent sur ma personne. | 1 |
---
Tweets per day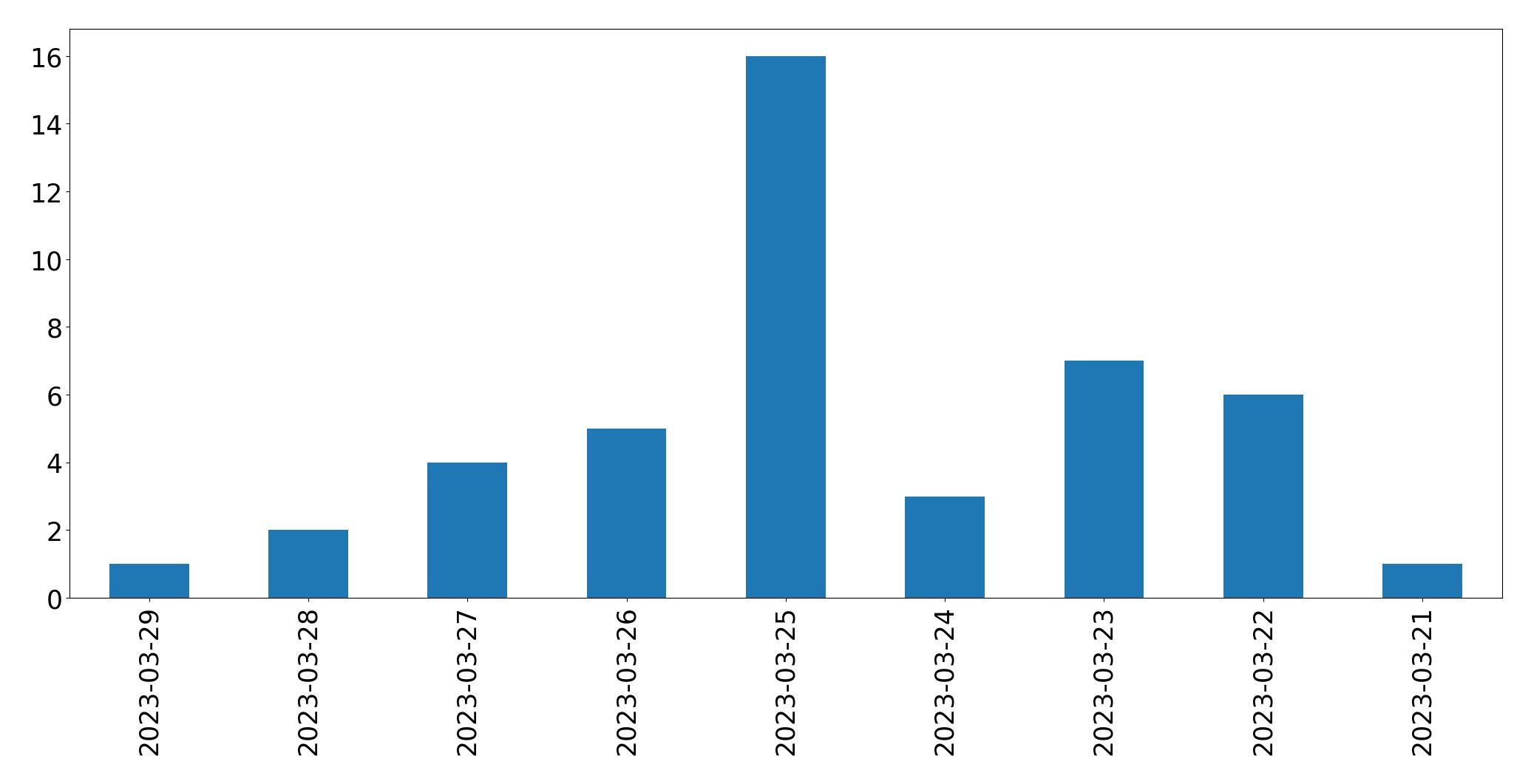 ---
Top 10 tweets with highest Retweet count
| ID | Text | Retweet count |
| --- | --- | --- |
| 1638628896143704066 | 𝗕𝗼𝗻 𝗿𝗮𝗺𝗮𝗱𝗵𝗮𝗻 ! La JSK vous souhaite un excellent mois de ramadhan. Que ce mois sacré apporte, à toutes et à tous, santé, paix, bénédiction et prospérité. @ATM_Mobilis #𝗔𝗹𝗹𝗲𝘇𝗹𝗲𝘀𝗷𝗮𝘂𝗻𝗲𝘀 #𝗩𝗶𝘃𝗲𝗝𝗦𝗞 https://t.co/ryRq9qwlpd | 43 |
| 1639610897126531072 | صحافة ITFC تاع الف فرنك خرجو الصباح إشاعة تتويج الملاكمة إيمان خليف ببطولة العالم ... لتتبعها صفحات الكوبي كولي و للأسف منها حتى صفحة مؤسسة كبرى كـ @ATM_Mobilis لكن في الأخير، يصدر قرار بإقصاء من لعب النهائي الذي كان مبرمجا أصلاً غدا. خسئتم https://t.co/cRsI0lgfeQ | 3 |
| 1640441939978756112 | @TotalEnergies ! j'imagine que là où tu es @ElkadiIhsane on t'a pas parlé du projet d'Arzew - en stnd by - et de @PPouyann malmené par @sonatrach_dz au profit de @eni ☺️ Ah Oui, le PDG de @ATM_Mobilis menottes aux poignets sur le parking de la boîte 🙄 Sa7a Ftourek Ihsane ‼️ https://t.co/2v1LfsHdc6 | 2 |
| 1640793254986936320 | 🄲🄰🄵 | 𝗖𝗵𝗮𝗺𝗽𝗶𝗼𝗻𝘀 𝗹𝗲𝗮𝗴𝘂𝗲 Arrivée de l'équipe en Tunisie 🇹🇳 |🎥 @ATM_Mobilis @CAFCLCC #𝗪𝗔𝗖𝗝𝗦𝗞 #𝗔𝗹𝗹𝗲𝘇𝗹𝗲𝘀𝗷𝗮𝘂𝗻𝗲𝘀 #𝗧𝗼𝘁𝗮𝗹𝗘𝗻𝗲𝗿𝗴𝗶𝗲𝘀𝗖𝗔𝗙𝗖𝗟 🔰✌️ https://t.co/MTeULy8Auz | 1 |
| 1640112642835488768 | Le comportement de #Belmadi donne l'impression qu'il a gagné la dernière Coupe d'Afrique des Nations et qu'il a atteint les demi-finales de la Coupe du Monde, mais qu'il a été traité injustement par les journalistes. @ATM_Mobilis @FAFAlgeria #Algérie https://t.co/11HPx8msbE | 1 |
| 1640934314522148866 | @jsk_tweet @ATM_Mobilis @CAFCLCC الشعب يريد الفوز. 💪🏻 نحن شبيبة القبائل. 🔰👊🏻 | 0 |
| 1638842720071348224 | @jsk_tweet @ATM_Mobilis صح رمضانكم تصوموا وتفطروا بالصحه والهنا ياااااارب وكل عام وانتم بخير | 0 |
| 1639596726129500160 | @discoveralgeri7 @ATM_Mobilis @ImaneKhelif الاحترام و التقدير لكل من يرفع العلم الوطني في المحافل الدولية و يستحقو كل المكافئاة و التكريمات | 0 |
| 1639409708128763905 | @AlgeriaLfp @DZfoot @entv_dz @ATM_Mobilis @fennecdzalgerie @RadioChaineDeux @DGPC_CNI @LesVerts @dzballonlesite @jsk_tweet @USMAofficiel خنشلة قبل مولودية وهران في الترتيب!!!!! | 0 |
| 1639247780568006656 | @postedz ماهو الأشكال مع @ATM_Mobilis Cher client, votre Compte est Débité de -1500.00 DA. Code confirmation du paiement est : 412533 ? من فضلكم ها هو مشكلكم مع ؟؟@ATM_Mobilis ذهبت الي البريد قالو بعد 3 أيام ! من 20 مارس اليوم ؟؟ من فضلكم حلو مشاكلكم بيناتكم و رجعولي دراهمي شكرا FB | 0 |
Top 10 tweets with highest Like count
| ID | Text | Like count |
| --- | --- | --- |
| 1638628896143704066 | 𝗕𝗼𝗻 𝗿𝗮𝗺𝗮𝗱𝗵𝗮𝗻 ! La JSK vous souhaite un excellent mois de ramadhan. Que ce mois sacré apporte, à toutes et à tous, santé, paix, bénédiction et prospérité. @ATM_Mobilis #𝗔𝗹𝗹𝗲𝘇𝗹𝗲𝘀𝗷𝗮𝘂𝗻𝗲𝘀 #𝗩𝗶𝘃𝗲𝗝𝗦𝗞 https://t.co/ryRq9qwlpd | 375 |
| 1639610897126531072 | صحافة ITFC تاع الف فرنك خرجو الصباح إشاعة تتويج الملاكمة إيمان خليف ببطولة العالم ... لتتبعها صفحات الكوبي كولي و للأسف منها حتى صفحة مؤسسة كبرى كـ @ATM_Mobilis لكن في الأخير، يصدر قرار بإقصاء من لعب النهائي الذي كان مبرمجا أصلاً غدا. خسئتم https://t.co/cRsI0lgfeQ | 54 |
| 1640793254986936320 | 🄲🄰🄵 | 𝗖𝗵𝗮𝗺𝗽𝗶𝗼𝗻𝘀 𝗹𝗲𝗮𝗴𝘂𝗲 Arrivée de l'équipe en Tunisie 🇹🇳 |🎥 @ATM_Mobilis @CAFCLCC #𝗪𝗔𝗖𝗝𝗦𝗞 #𝗔𝗹𝗹𝗲𝘇𝗹𝗲𝘀𝗷𝗮𝘂𝗻𝗲𝘀 #𝗧𝗼𝘁𝗮𝗹𝗘𝗻𝗲𝗿𝗴𝗶𝗲𝘀𝗖𝗔𝗙𝗖𝗟 🔰✌️ https://t.co/MTeULy8Auz | 54 |
| 1639678901084405761 | صحافة ITFC تاع الف فرنك خرجو الصباح إشاعة تتويج الملاكمة إيمان خليف ببطولة العالم ... لتتبعها صفحات الكوبي كولي و للأسف منها حتى صفحة مؤسسة كبرى كـ @ATM_Mobilis لكن في الأخير، يصدر قرار بإقصاء من لعب النهائي الذي كان مبرمجا أصلاً غدا. خسئتم منقول https://t.co/Z7NLkjqINT | 5 |
| 1639635783958011905 | @discoveralgeri7 @ATM_Mobilis @ImaneKhelif ياودي راهي مقصية وين جيبو في اخبار كما هادو | 3 |
| 1640441939978756112 | @TotalEnergies ! j'imagine que là où tu es @ElkadiIhsane on t'a pas parlé du projet d'Arzew - en stnd by - et de @PPouyann malmené par @sonatrach_dz au profit de @eni ☺️ Ah Oui, le PDG de @ATM_Mobilis menottes aux poignets sur le parking de la boîte 🙄 Sa7a Ftourek Ihsane ‼️ https://t.co/2v1LfsHdc6 | 3 |
| 1640112642835488768 | Le comportement de #Belmadi donne l'impression qu'il a gagné la dernière Coupe d'Afrique des Nations et qu'il a atteint les demi-finales de la Coupe du Monde, mais qu'il a été traité injustement par les journalistes. @ATM_Mobilis @FAFAlgeria #Algérie https://t.co/11HPx8msbE | 3 |
| 1639663367190110209 | @DZ68463432 @discoveralgeri7 @ATM_Mobilis @ImaneKhelif هذا الخبر كل الناس شافتو في قناة النهار كخبر عاجل بالشريط الاحمر و من بعدها جائتنا الصدمة بخبر الاقصاء | 2 |
| 1638652366995218432 | @jsk_tweet @ATM_Mobilis رمضان مبارك تقبل الله منا ومنكم صالح الأعمال | 2 |
| 1638808451303260161 | @ATM_Mobilis رمضان كريم | 2 |
Top 3 Languages Used In Tweets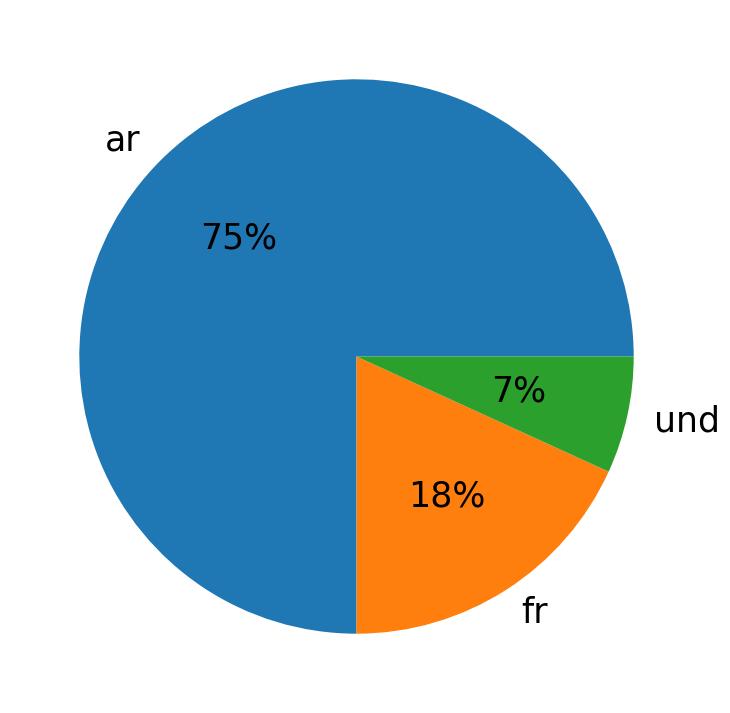 ---
Top 10 Hashtags used
| Hashtag | Count |
| --- | --- |
| #𝗔𝗹𝗹𝗲𝘇𝗹𝗲𝘀𝗷𝗮𝘂𝗻𝗲𝘀 | 3 |
| #belmadi | 2 |
| #algérie | 2 |
| #𝗩𝗶𝘃𝗲𝗝𝗦𝗞 | 2 |
| #𝗪𝗔𝗖𝗝𝗦𝗞 | 1 |
| #𝗧𝗼𝘁𝗮𝗹𝗘𝗻𝗲𝗿𝗴𝗶𝗲𝘀𝗖𝗔𝗙𝗖𝗟 | 1 |
| #كلنا_ايمان_خليف | 1 |
| #matchday | 1 |
| #chan2022 | 1 |
| #algvsnig | 1 |
Top 10 Hashtags Used In Tweets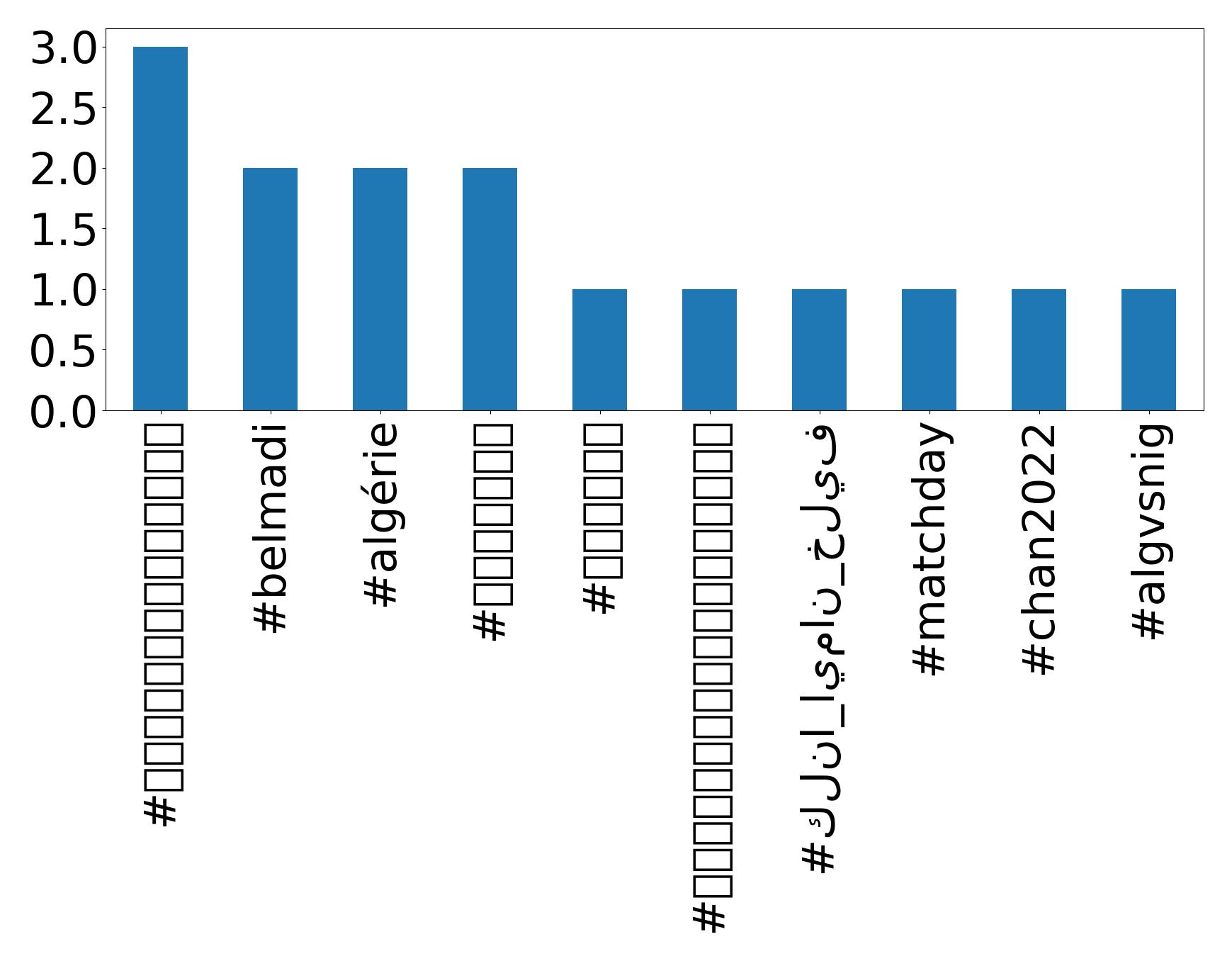 Top 10 mentions
| Mention | Count |
| --- | --- |
| @atm_mobilis | 46 |
| @discoveralgeri7 | 8 |
| @imanekhelif | 8 |
| @jsk_tweet | 6 |
| @fafalgeria | 3 |
| @specialonedz | 3 |
| @cafclcc | 2 |
| @totalenergies | 2 |
| @elkadiihsane | 2 |
| @ppouyann | 2 |
Top 10 mentions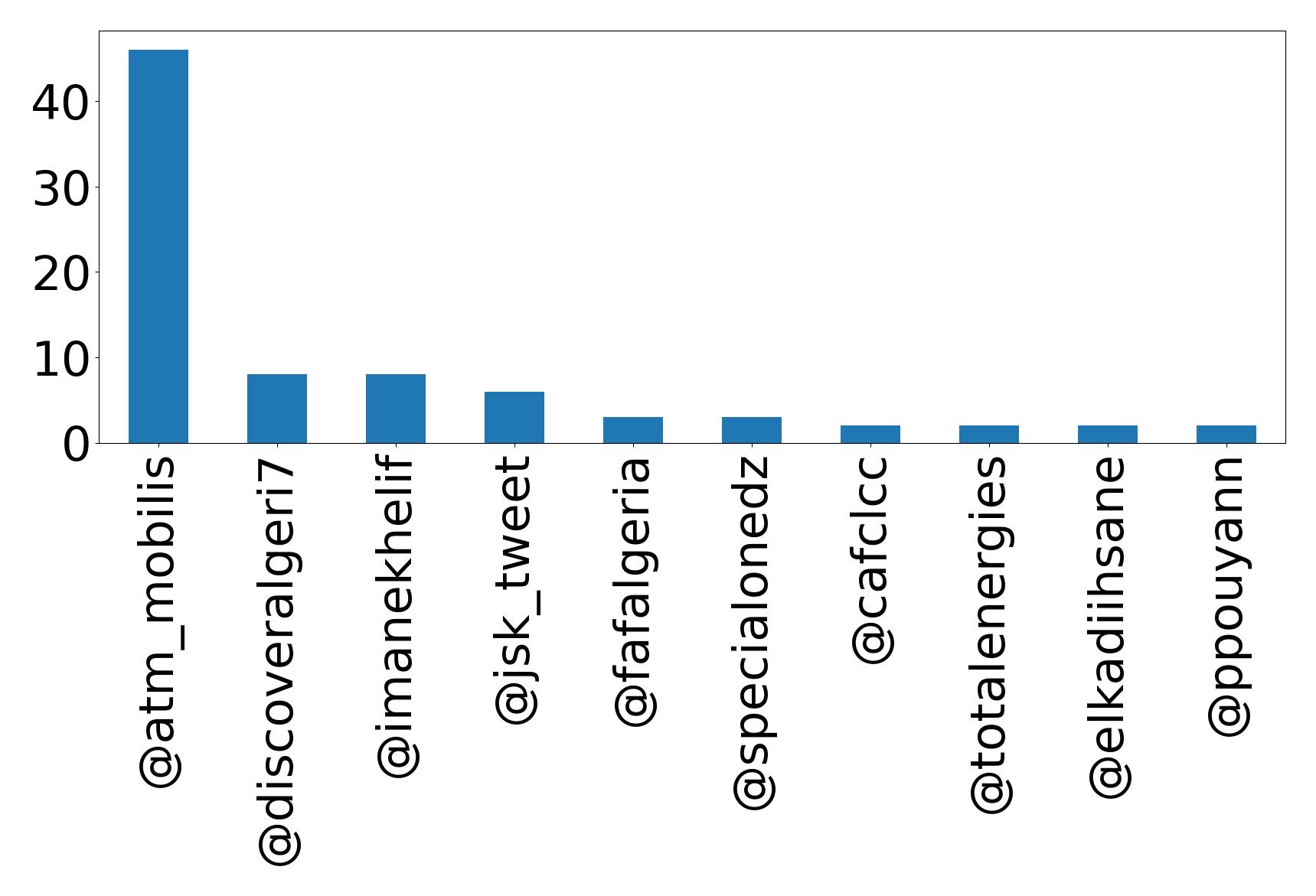 Wordcloud of Tweets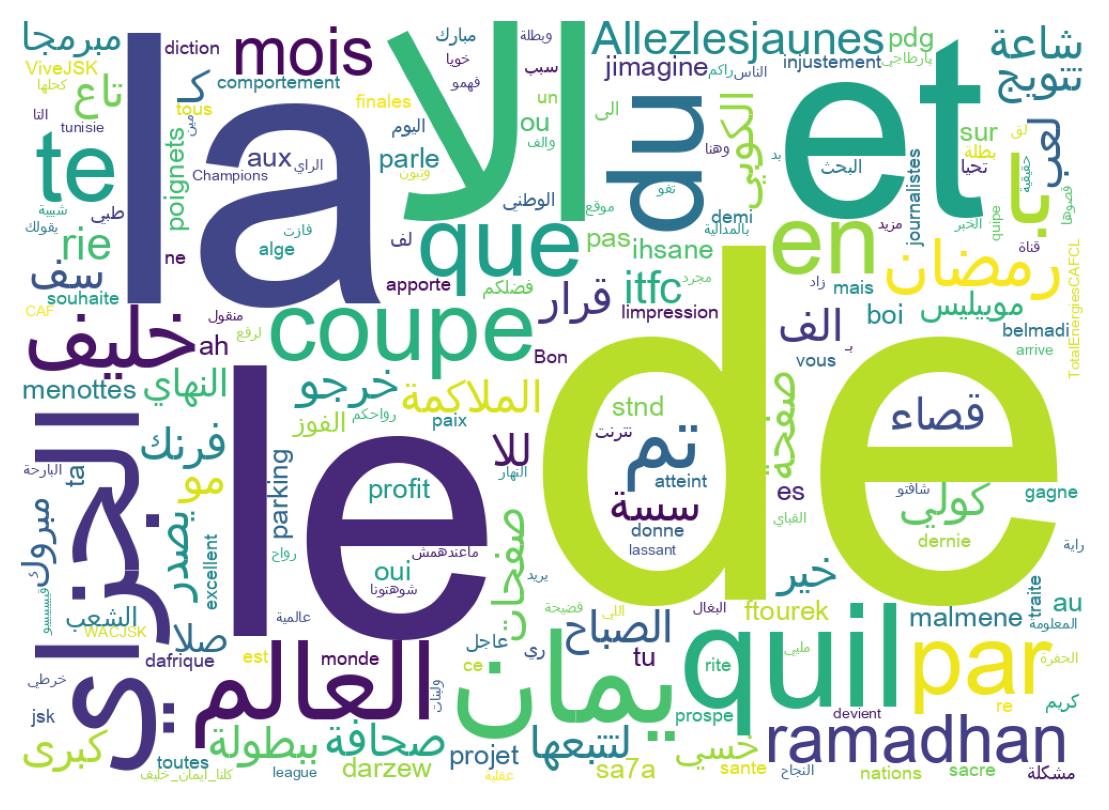 ---
Emojis
Average number of emojis used per tweet
104
Emojis used in tweets
| Emoji | Count | Emoji Text |
| --- | --- | --- |
| 🤣 | 11 | rolling_on_the_floor_laughing |
| 😂 | 7 | face_with_tears_of_joy |
| 🇩🇿 | 4 | Algeria |
| 🔰 | 2 | Japanese_symbol_for_beginner |
| ✌️ | 2 | victory_hand |
| ☺️ | 2 | smiling_face |
| 🙄 | 2 | face_with_rolling_eyes |
| ‼️ | 2 | double_exclamation_mark |
| 💪🏻 | 1 | flexed_biceps_light_skin_tone |
| 👊🏻 | 1 | oncoming_fist_light_skin_tone |
Emojis groups
| Emoji Group | Count |
| --- | --- |
| Smileys & Emotion | 23 |
| Flags | 8 |
| People & Body | 6 |
| Symbols | 5 |
| Objects | 2 |
| Activities | 2 |
| Travel & Places | 1 |