Tweets Analysis - Keyword: Arsenal
Total number of tweets analysed
6,913
Earliest tweet was on
2023-04-05
Latest tweet was on
2023-04-05
Average age of authors' accounts
6 years
---
Summarization
Arsenal's number one goalkeeper, Aaron Ramsdale, discusses the team's targets and aspirations for the future. Legendary Arsenal defender David O'Leary praises Oleksandr Zinchenko and questions Manchester City's decision to sell him. Liverpool are reportedly set to rival Arsenal for the signing of Brighton midfielder Moises Caicedo. Ramsdale expresses his love for playing in big games and the pressure that comes with it. Ian Wright believes Arsenal have the capabilities to cause problems for Liverpool in their upcoming match. Fans are also discussing Arsenal's defensive record and their hopes for improving next season.
Topic Modeling
Goals and ambitions of Arsenal players
Predictions and analysis of Arsenal games
Transfer news and rumors around Arsenal
Arsenal's performance compared to other teams
Personal experiences and opinions of Arsenal fans
Emotional Analysis
The tweets express a range of emotions related to Arsenal football. There is excitement and hope for the future, with many tweets discussing the team's goals and aspirations for the upcoming season, including qualifying for Champions League football. Fans and players express their love for the club and their desire to see it succeed. Some tweets are more pessimistic, acknowledging that the team may face challenges, especially in their upcoming game against Liverpool. Overall, the emotions in the tweets are primarily positive and optimistic, with a strong sense of loyalty and passion for the club.
Trend Analysis
Aaron Ramsdale's ambitions and vision for Arsenal's future
Speculation about Liverpool-Arsenal match and player updates
Praise for individual players like Ramsdale and Zinchenko
Fans' expectations and criticism of Arsenal
Coverage of Arsenal's upcoming matches and competitions
---
Types of Tweets
Number of Retweets
1,625
Percentage of total tweets
23%
Number of Original tweets
1,131
Percentage of total tweets
16%
Number of tweets that contain Mentions
5,296
Percentage of total tweets
76%
Number of tweets that were Replies
3,556
Percentage of total tweets
51%
Number of tweets that were Quotes
816
Percentage of total tweets
11%
Number of tweets that contain Hashtags
962
Percentage of total tweets
13%
---
Top 5 devices used to tweet
| Source | Count |
| --- | --- |
| Twitter for Android | 3014 |
| Twitter for iPhone | 2717 |
| Twitter Web App | 853 |
| Twitter for iPad | 56 |
| TweetDeck | 47 |
What devices were used to tweet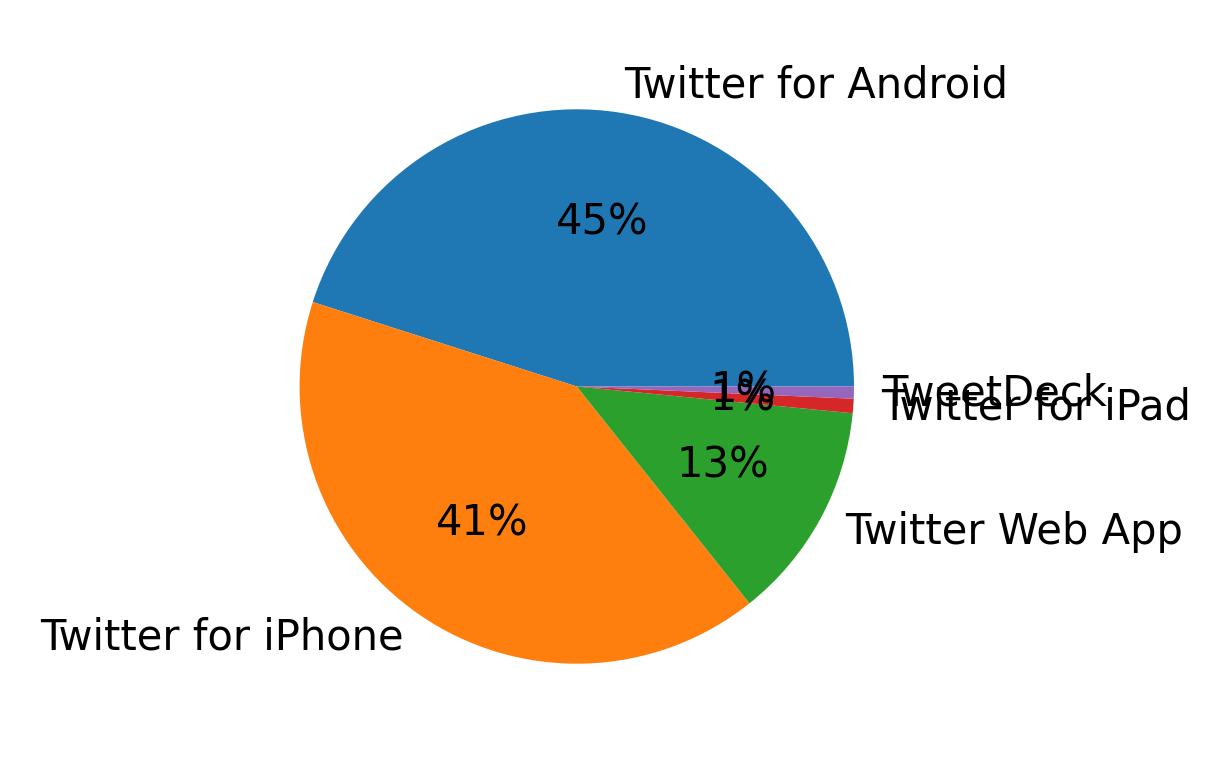 ---
Top 10 accounts with highest followers count
| Username | Name | Bio | Followers count |
| --- | --- | --- | --- |
| nytimes | The New York Times | News tips? Share them here: https://t.co/ghL9OoYKMM | 55,011,453 |
| ChelseaFC | Chelsea FC | - | 24,406,341 |
| CNNEE | CNN en Español | CNN en Español es tu principal fuente de información y breaking news. Cubrimos las noticias de América Latina y el resto del mundo. Vive la noticia. | 22,416,944 |
| Arsenal | Arsenal | The official account of Arsenal Football Club. | 21,483,606 |
| TNTSportsBR | TNT Sports BR | ⚽️TODOS os jogos da Champions League na @hbomaxbr 🏀 Assista aos jogos da NBA no nosso YouTube e na @tntbr 👇Isso tudo e muito mais clicando aqui👇 | 6,227,612 |
| MLS | Major League Soccer | We're BACK 😎 | En español: @MLSes | 3,347,442 |
| lajornadaonline | La Jornada | Cuenta de Twitter oficial. Sigue también a @LaJornada para noticias de la versión impresa. | 2,806,550 |
| beINSPORTS_TR | beIN SPORTS Türkiye | Türkiye'nin en kaliteli ve şifresiz spor kanalı beIN SPORTS HABER, YouTube'da da canlı yayında ➡ https://t.co/12ekMrs8uN ⚽🏀📱 | 2,682,330 |
| talkSPORT | talkSPORT | The world's biggest sports radio station 📻 | 2,188,406 |
| CaraotaDigital | Caraota Digital | Medio de comunicación para la comunidad de habla Hispana, somos #ADNCaraota 🌱 | 2,032,946 |
Top 10 accounts with highest friends count
| Username | Name | Bio | Followers count |
| --- | --- | --- | --- |
| Gunnersc0m | Gunners | Independent Arsenal App & Website 📲🔴 | 🔔 Set notifications | Follow for daily #AFC news, updates, opinions & photos | Enquiries 👉 support@gunners.com | 208,342 |
| InsoliteFoot | Insolite-Foot | Football en mode anti-stress, Insolite, Humour, Parodie ✉️ insolitefootball@gmail.com . | 149,998 |
| Arsenal | Arsenal | The official account of Arsenal Football Club. | 130,235 |
| Arsenalnewschan | Arsenal News Channel | 🛑 I FOLLOW BACK ALL #Gunners #COYG | 🛑 🤝 200k subs on YT ✌️ | 120,526 |
| TobiasWhales | YOUR GUARDIAN ANGEL😊🇺🇬🇸🇩🇷🇼🇹🇿🇳🇬🇰🇪🇿🇦 | Legal Drug Dealer//E.D BONVOLO MEDICINES// | 51,639 |
| kevdavis736 | 🔴⚪️Gooner Kev⚪️🔴 | Positive Gooner followed by @M10 @sanchezwatt @RonnieIrani Digital Art @EditsGk For Digital Art and Promotion enquiries inbox 📥 me | 41,806 |
| starkrob21 | Six Pack™️ | Son of a Vietnam Vet. Husband, father of 3. Proud Lifetime Member of the NRA. Politically incorrect Conservative 2A MAGA | 33,925 |
| MarquinhosAssu2 | Marquinhos Assunçãoᶜʳᶠ 🚩🏴 | Economista, advogado, casado, católico, cristão carismático, mulambo e apaixonado pelo FLAMENGO! | 30,752 |
| RaelleLogan1 | NOVELIST R. LOGAN - PIRATE & HISTORICAL ROMANCE | OFFICIAL ACCOUNT for RAELLE LOGAN, Author of BLACKHEART, ROMANCING A PIRATE, SHATTERED, CAPTURED BY A PIRATE, A PIRATE'S WHISPER IN TIME. ❌NO DMS ❌NO PORN | 27,864 |
| terryflewers | Terry Flewers | Host of @TFTerrace | @GiveMeSport | @snackmedia | The Football Terrace | Enquiries: terry@snack-media.com | 27,715 |
Most active users
| Username | Bio | Number of tweets |
| --- | --- | --- |
| JakeCoare14 | @Arsenal Fan and lover of @F1, I suffer from a emotional unstable personality disorder and depression and was born with Asperger's syndrome a form of autism | 52 |
| arsenal_25 | (insta: unique_cutie_28)be the change you want to see, inspire someone,God is ❤,single,🦁 HOG4LIFE, HANGOVER GANG4LIFE,what is real will prosper LLJ LLX | 51 |
| ArsenalAnnika | Hey, I'm Annika from Sweden. Lifelong #Gunners fan, I miss Highbury! #COYG | 34 |
| ArsenalWoz | The Arsenal / Home and Away 🔴⚪️ | 17 |
| Haamex77 | Leo Messi Fan Account @arsenal #XENEIZE | 16 |
| lydiabukki | - | 16 |
| arsenal_mans | #Arsenal, Books and Filmy tweets/RT | 16 |
| J0E_ARSENAL | ARSENAL,SIMBA &REAL MADRID FAN'S | 15 |
| Lea_Arsenal | mon cœur est pris par Arsenal | Damso | 14 |
| Almere_Arsenal | - | 13 |
---
Tweets per day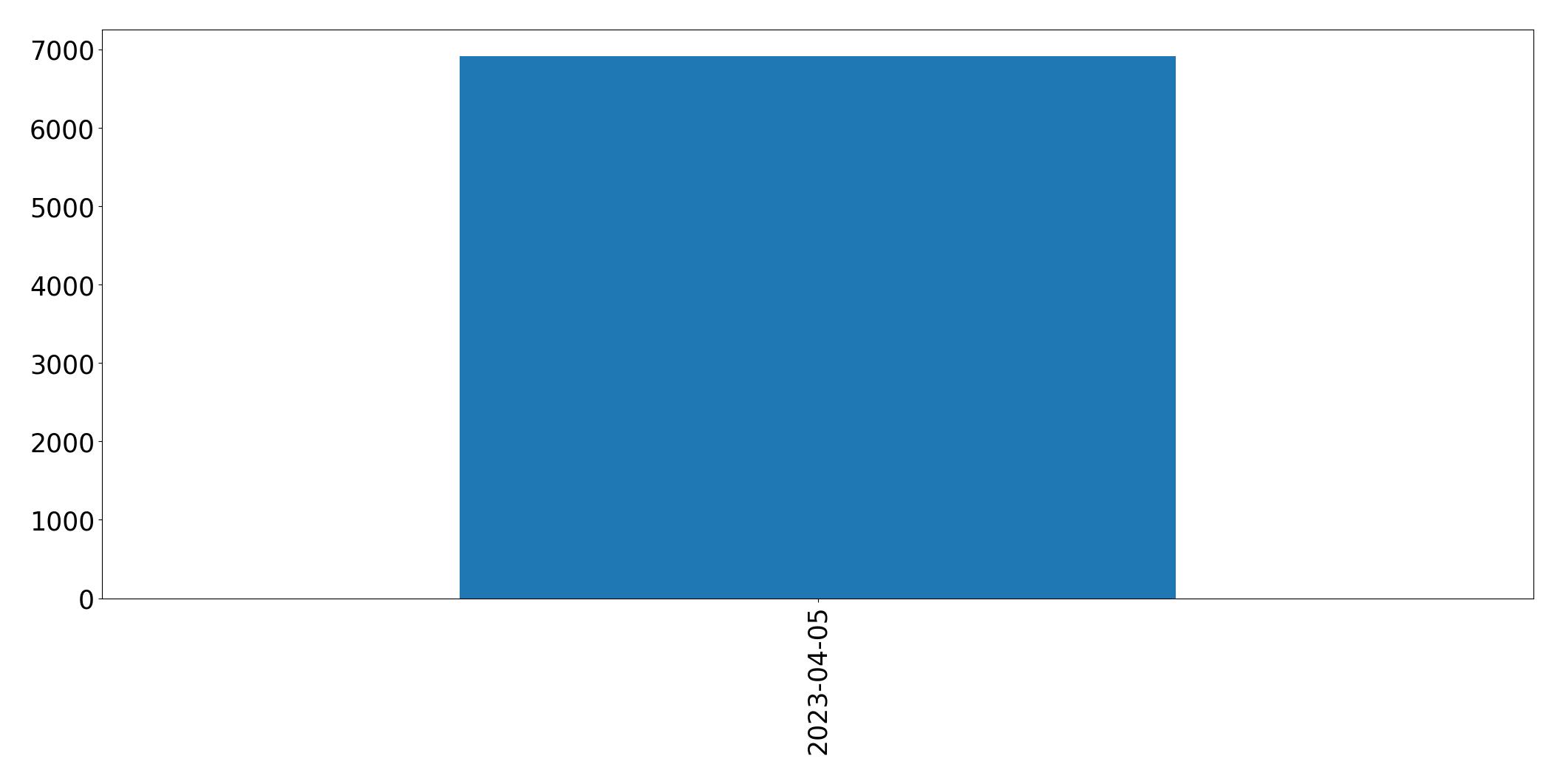 ---
Top 10 tweets with highest Retweet count
| ID | Text | Retweet count |
| --- | --- | --- |
| 1643621650749960200 | Proper Arsenal. https://t.co/xLmGRmHm4C | 430 |
| 1643633742680842242 | 💬 "We want this to be our first stepping stone, next season go again with Champions League football too, and try to balance Premier League and European football." 🎯 Targets 🧤 Goalkeeping idols 🧘‍♂️ Dealing with pressure All this and more from our number one 👇 | 332 |
| 1643619569972441088 | Aaron Ramsdale: "We want this (season) to be our first stepping stone, next season go again with Champions League football too, and try to balance Premier League and European football. Go again and again and keep improving." [Arsenal] | 145 |
| 1643634549715349508 | 🚨 Liverpool are set to rival Arsenal to the signing of Brighton midfielder Moises Caicedo. (Source: @MirrorFootball) https://t.co/YX46e9LN6p | 131 |
| 1643634992042373123 | Aaron Ramsdale: "My fiance's brother is a big Arsenal fan so he reminds me quite often what I still need to achieve! But yeah, I think that motivation comes from within as well. Although I don't necessarily set specific, major goals for myself, I do have the main ambitions of… https://t.co/6AkgAOVjZV https://t.co/qeJa4xNQ0U | 122 |
| 1643615827042660355 | 🗣️Legendary #Arsenal defender David O'Leary on Oleksandr Zinchenko: "Zinchenko has been a revelation. I can't understand why Man City sold him! "Is he a left-back? I mean, he is quite happy to play in midfield. He can handle the ball so well. He is such a good player. What a… https://t.co/W3oWH85yxL https://t.co/AjRy3HFbAO | 121 |
| 1643626886231203840 | Aaron Ramsdale - " We don't want this just to be one season where we're fighting at the top.We want this to be our first stepping stone, next season go again with CL football too, and try to balance PL and European football. Go again and again and keep improving." (@arsenal) https://t.co/zgdT2EvqXW | 95 |
| 1643631135690194947 | @premierleague @Arsenal @PetrCech 👑🧤🔵 | 82 |
| 1643614969664008193 | How good is Leandro Trossard? 🔥 #AFC #Arsenal https://t.co/bt3OeZXu4B | 78 |
| 1643641904540557314 | Ian Wright on Liverpool-Arsenal: "I think Arsenal have the energy and the capabilities to cause Liverpool problems. It's a question of how long we can sustain it at Anfield because that's not something we've done for a while there." [Wrighty's house via metro] | 72 |
Top 10 tweets with highest Like count
| ID | Text | Like count |
| --- | --- | --- |
| 1643621650749960200 | Proper Arsenal. https://t.co/xLmGRmHm4C | 6454 |
| 1643633742680842242 | 💬 "We want this to be our first stepping stone, next season go again with Champions League football too, and try to balance Premier League and European football." 🎯 Targets 🧤 Goalkeeping idols 🧘‍♂️ Dealing with pressure All this and more from our number one 👇 | 2988 |
| 1643634992042373123 | Aaron Ramsdale: "My fiance's brother is a big Arsenal fan so he reminds me quite often what I still need to achieve! But yeah, I think that motivation comes from within as well. Although I don't necessarily set specific, major goals for myself, I do have the main ambitions of… https://t.co/6AkgAOVjZV https://t.co/qeJa4xNQ0U | 2956 |
| 1643615827042660355 | 🗣️Legendary #Arsenal defender David O'Leary on Oleksandr Zinchenko: "Zinchenko has been a revelation. I can't understand why Man City sold him! "Is he a left-back? I mean, he is quite happy to play in midfield. He can handle the ball so well. He is such a good player. What a… https://t.co/W3oWH85yxL https://t.co/AjRy3HFbAO | 2351 |
| 1643619569972441088 | Aaron Ramsdale: "We want this (season) to be our first stepping stone, next season go again with Champions League football too, and try to balance Premier League and European football. Go again and again and keep improving." [Arsenal] | 1932 |
| 1643634549715349508 | 🚨 Liverpool are set to rival Arsenal to the signing of Brighton midfielder Moises Caicedo. (Source: @MirrorFootball) https://t.co/YX46e9LN6p | 1876 |
| 1643623610039296008 | 🚨 NEW: There may be a possibility that Thiago could make his return against Arsenal on Sunday. #lfc [liverpool echo] https://t.co/DtzwrveOq4 | 1801 |
| 1643626886231203840 | Aaron Ramsdale - " We don't want this just to be one season where we're fighting at the top.We want this to be our first stepping stone, next season go again with CL football too, and try to balance PL and European football. Go again and again and keep improving." (@arsenal) https://t.co/zgdT2EvqXW | 1618 |
| 1643631135690194947 | @premierleague @Arsenal @PetrCech 👑🧤🔵 | 1391 |
| 1643614969664008193 | How good is Leandro Trossard? 🔥 #AFC #Arsenal https://t.co/bt3OeZXu4B | 1375 |
Top 3 Languages Used In Tweets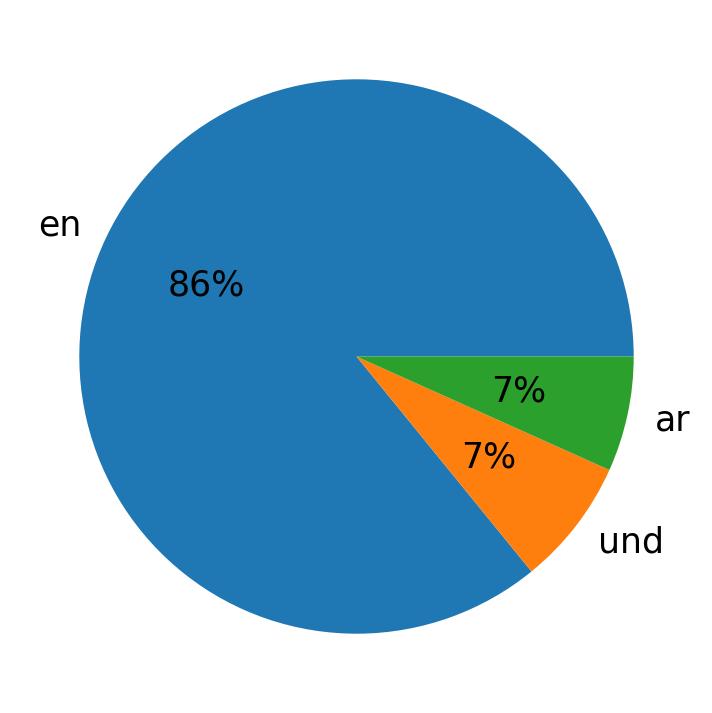 ---
Top 10 Hashtags used
| Hashtag | Count |
| --- | --- |
| #arsenal | 254 |
| #afc | 235 |
| #coyg | 109 |
| #lfc | 57 |
| #premierleague | 45 |
| #liverpool | 36 |
| #livars | 30 |
| #arsenalfc | 30 |
| #freepalestine | 29 |
| #arsenaltickets | 27 |
Top 10 Hashtags Used In Tweets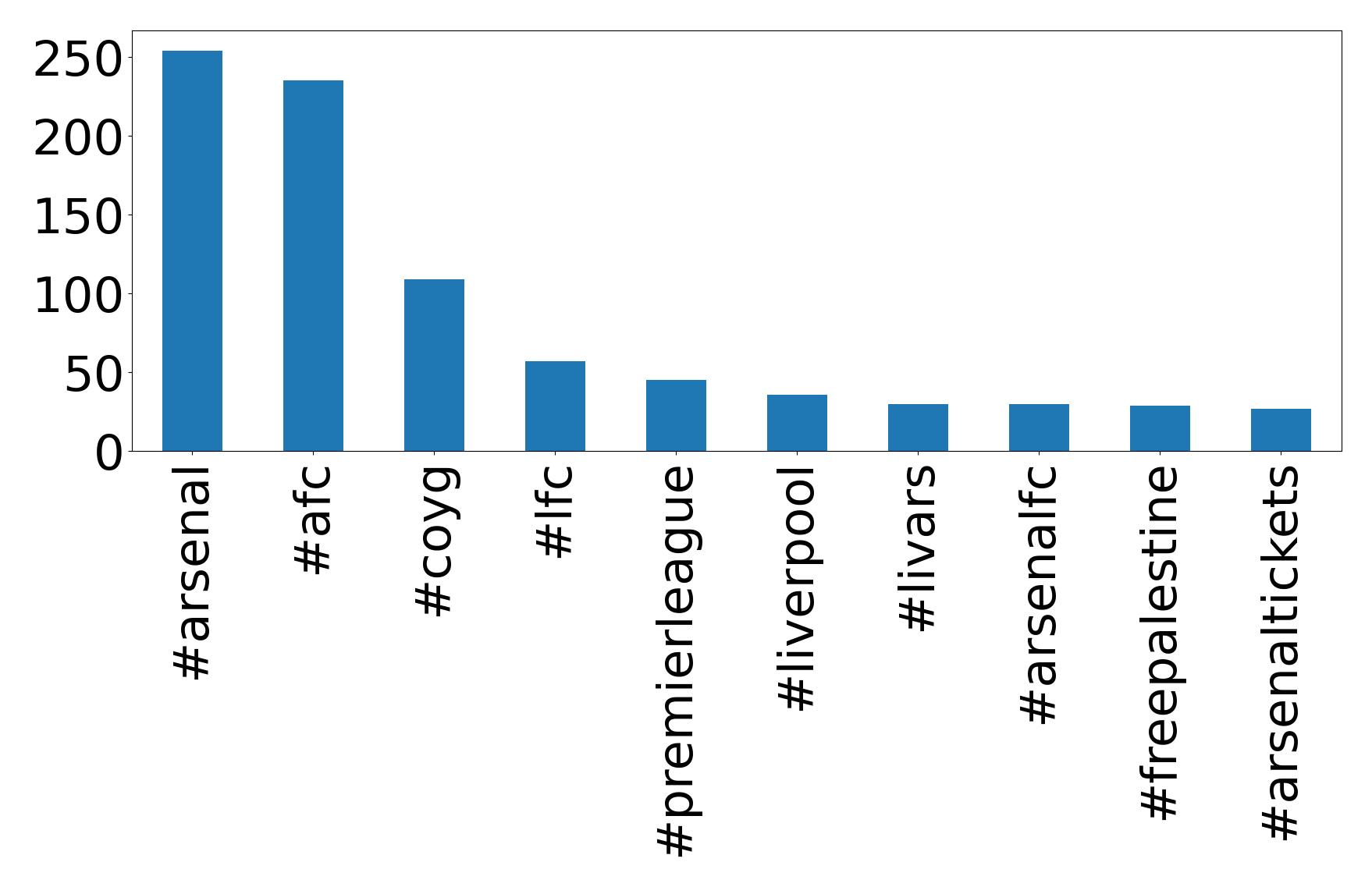 Top 10 mentions
| Mention | Count |
| --- | --- |
| @arsenal | 1421 |
| @jewishgooners | 697 |
| @bjs_alejo2 | 123 |
| @ltrossard | 88 |
| @bukayosaka87 | 87 |
| @simbasctanzania | 81 |
| @morris_monye | 80 |
| @deporfinanzas | 78 |
| @gunnersc0m | 72 |
| @welbeast | 71 |
Top 10 mentions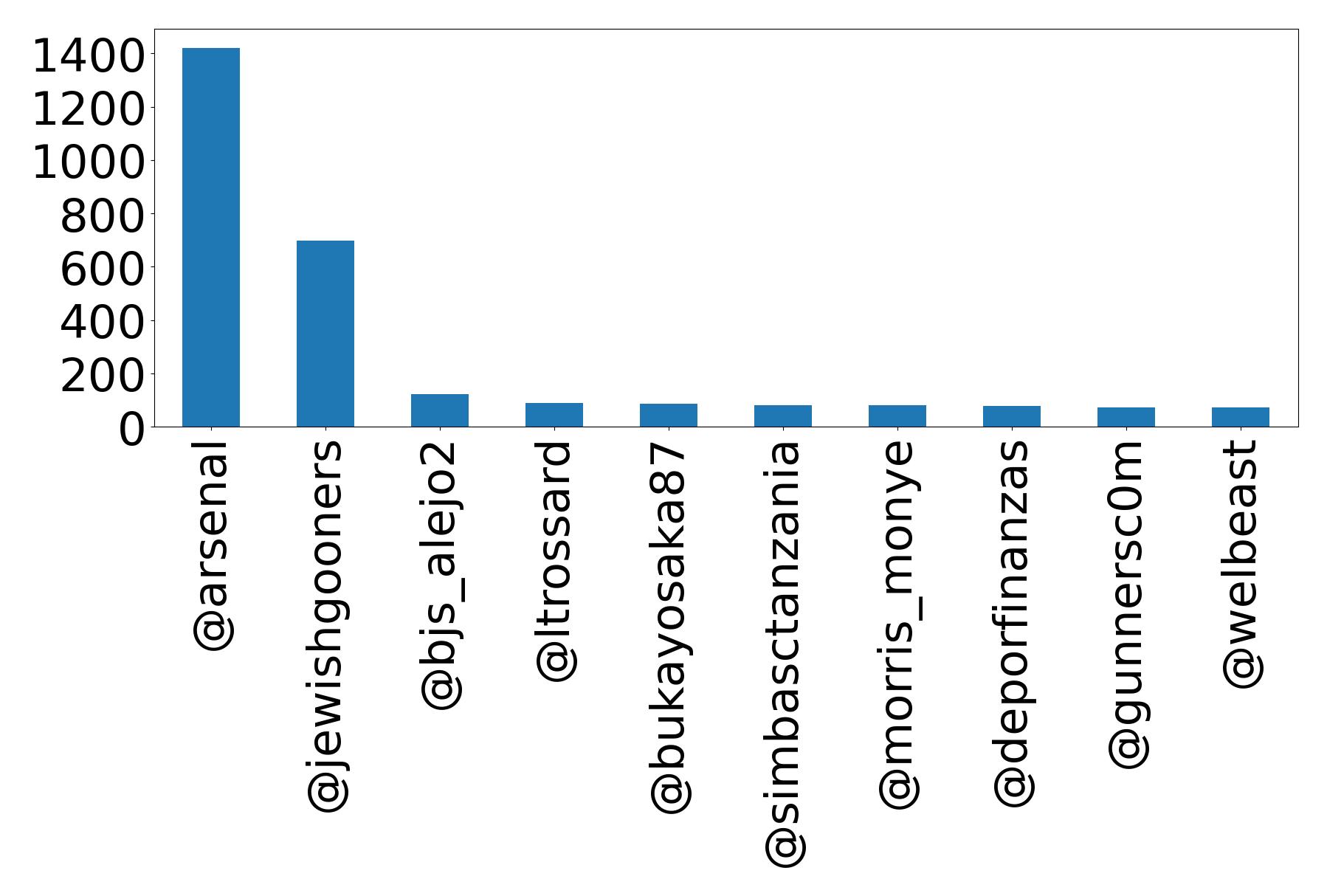 Wordcloud of Tweets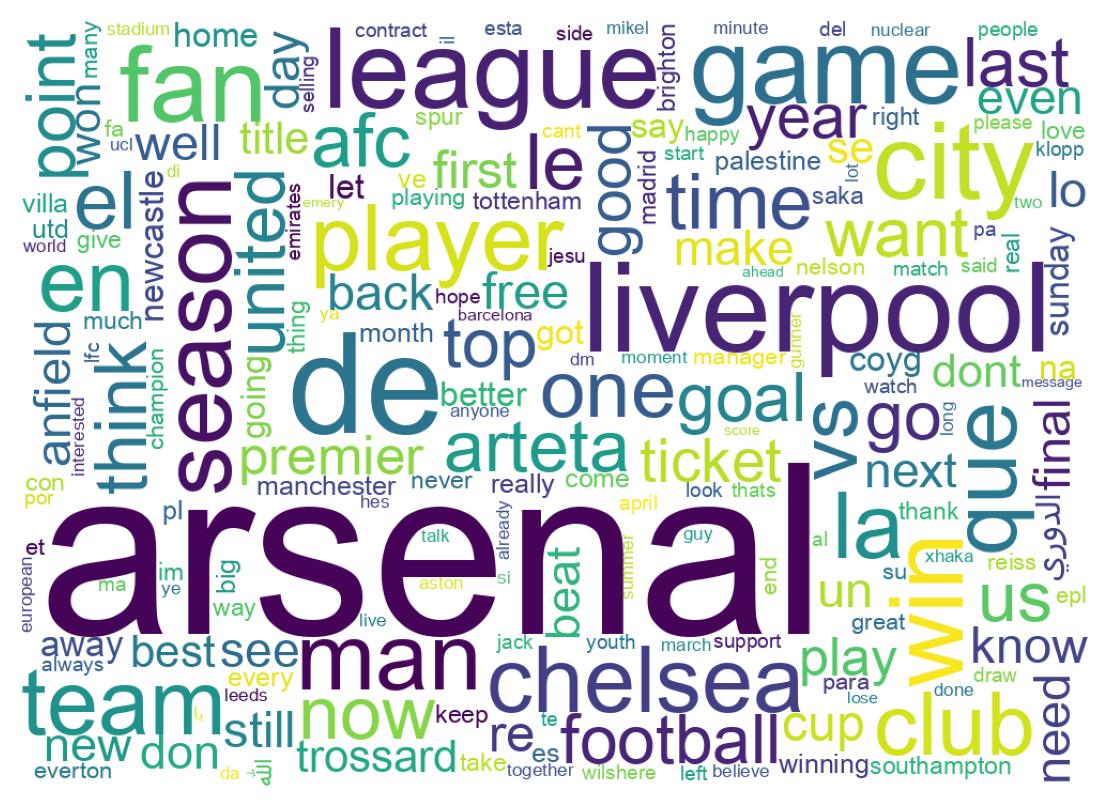 ---
Emojis
Average number of emojis used per tweet
194
Emojis used in tweets
| Emoji | Count | Emoji Text |
| --- | --- | --- |
| 🇵🇸 | 5258 | Palestinian_Territories |
| ❤️ | 852 | red_heart |
| 🖤 | 758 | black_heart |
| 💚 | 757 | green_heart |
| ⚪ | 624 | white_circle |
| 😂 | 477 | face_with_tears_of_joy |
| 🤣 | 235 | rolling_on_the_floor_laughing |
| 😭 | 227 | loudly_crying_face |
| 🔴 | 158 | red_circle |
| 👎 | 147 | thumbs_down |
Emojis groups
| Emoji Group | Count |
| --- | --- |
| Flags | 5776 |
| Smileys & Emotion | 4360 |
| Symbols | 1188 |
| People & Body | 1111 |
| Activities | 342 |
| Travel & Places | 331 |
| Objects | 262 |
| Animals & Nature | 79 |
| Food & Drink | 27 |