Tweets Analysis - Keyword: Arsenal
Total number of tweets analysed
45,881
Earliest tweet was on
2023-02-10
Latest tweet was on
2023-02-11
Average age of authors' accounts
6 years
---
Summarization
Arsenal are preparing to play their next match against Brentford at the Emirates Stadium. Several Arsenal players, including Reiss Nelson, are possibly leaving the club soon. The UEFA Women's Champions League quarterfinals have been set and Arsenal FC celebrated Lucas Torreira's birthday. Additionally, Arsenal have recently made an approach to Athletico Paranaense for Vitor Roque, and Beth Mead has returned from injury. Finally, the team is excited to put in a great performance for their crowd in the upcoming match.
Topic Modeling
Arsenal FC: Emirates Stadium, Players, fans, teams, matches
UEFA Champions League: Bayern, Arsenal, PSG, Wolfsburg, Lyon, Chelsea, Roma, Barcelona
Martin Ødegaard and Bukayo Saka: Greeting players, new signings, their reaction
Vivianne Miedema and Beth Mead: Injuries, training
Pep Guardiola: Burnley, Wolves, Leicester, Newcastle, Spurs, Arsenal, United, Liverpool, Chelsea
Emotional Analysis
The tweets express a range of emotions, from excitement and enthusiasm to solidarity and support. The Gooners are clearly eager to return to the Emirates Stadium and get back to business, and they are filled with anticipation for the upcoming match against Brentford. There is a sense of pride and admiration for the Arsenal legends and players, and a strong sense of unity and camaraderie among the team. The fans also express their love for the team, their loyalty and admiration for the players, and their faith in the team's success. Finally, there is a sense of optimism and hope for the future, as well as a determination to put in a great performance and win the game.
Trend Analysis
Arsenal Football Club
UEFA Women's Champions League
Martin Odegaard and Bukayo Saka
Player transfers
Team morale and performance
---
Types of Tweets
Number of Retweets
7,125
Percentage of total tweets
15%
Number of Original tweets
13,125
Percentage of total tweets
28%
Number of tweets that contain Mentions
29,955
Percentage of total tweets
65%
Number of tweets that were Replies
21,833
Percentage of total tweets
47%
Number of tweets that were Quotes
4,510
Percentage of total tweets
9%
Number of tweets that contain Hashtags
7,674
Percentage of total tweets
16%
---
Top 5 devices used to tweet
| Source | Count |
| --- | --- |
| Twitter for Android | 18971 |
| Twitter for iPhone | 17510 |
| Twitter Web App | 5873 |
| TweetDeck | 525 |
| dlvr.it | 393 |
What devices were used to tweet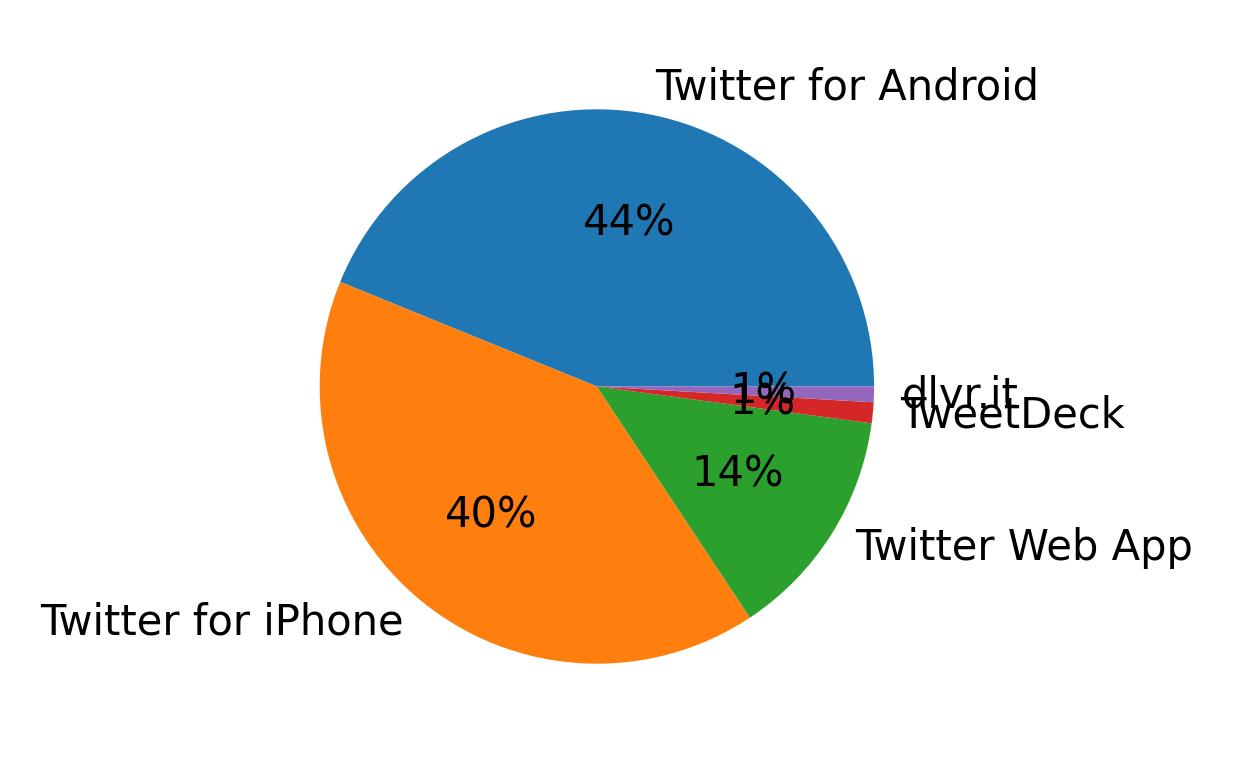 ---
Top 10 accounts with highest followers count
| Username | Name | Bio | Followers count |
| --- | --- | --- | --- |
| nytimes | The New York Times | News tips? Share them here: https://t.co/ghL9OoYKMM | 54,937,254 |
| NBA | NBA | LeBron James, the #ScoringKing | 42,200,597 |
| Arsenal | Arsenal | The official account of Arsenal Football Club. | 21,232,677 |
| detikcom | detikcom | Official Twitter of https://t.co/jtXZ3Wcfhf. redaksi@https://t.co/jtXZ3Wuovn | promosi@https://t.co/jtXZ3Wuovn | Android: https://t.co/l5tQVBgqbD iPhone: https://t.co/NleJXySGkT | 19,916,316 |
| ManCity | Manchester City | 𝐸𝓈𝓉. 1894 💙 This Is Our City 🏆 8 x Men's League Champions 🏆 1 x Women's League Champions 🙌 #ManCity ℹ️ @ManCityHelp | 15,182,991 |
| FabrizioRomano | Fabrizio Romano | Here we go! © | 13,960,229 |
| SkySportsNews | Sky Sports News | The official Twitter account for Sky Sports News. Your home of sports news on channel 409. | 12,105,919 |
| EuropaLeague | UEFA Europa League | The official home of the #UEL on Twitter. | 11,452,956 |
| guardian | The Guardian | The need for independent journalism has never been greater. Become a Guardian supporter: https://t.co/gWyuUVlObq | 10,878,962 |
| BBCSport | BBC Sport | Official https://t.co/UU1K81meyH account. Also follow @bbcmotd and @bbctms. | 10,733,894 |
Top 10 accounts with highest friends count
| Username | Name | Bio | Followers count |
| --- | --- | --- | --- |
| CubaSinFrontera | Cuba Sin Fronteras | Movimiento Democratico Latinoamericano- AntiCastrista-Prolibertad. | 235,346 |
| Gunnersc0m | Gunners | Independent Arsenal App & Website 📲🔴 | 🔔 Set notifications | Follow for daily #AFC news, updates, opinions & photos | Enquiries 👉 support@gunners.com | 192,664 |
| InsoliteFoot | Insolite-Foot | Football en mode anti-stress, Insolite, Humour, Parodie ✉️ insolitefootball@gmail.com . | 150,187 |
| absoluteradio | Absolute Radio | Real music matters. Home of Dave Berry, Frank Skinner, Jason Manford and the No Repeat Guarantee. https://t.co/6jXHM7IRCx https://t.co/6WMjWxDsYY | 148,972 |
| Arsenal | Arsenal | The official account of Arsenal Football Club. | 144,908 |
| tzDiscovery | TzConnect | Get live Tweets of current issues and share with friends | 134,506 |
| BillMoore20 | Bill M Moore | Social media knowledge trainer | techfluencer | infographic influencer | movitational quotes | information=knowledge | learn daily | 123,118 |
| Arsenalnewschan | Arsenal News Channel | 🛑 I FOLLOW BACK ALL #Gunners #COYG | 🛑 🤝 200k subs on YT ✌️ | 110,923 |
| ManCityzenscom | ManCityzens | Independent Man City App & Website | 🔔 Set notifications | Follow for daily #MCFC news, updates, opinions & photos | Enquiries 👉support@mancityzens.com | 105,470 |
| witchhusband | Julian Haynes | Bristol City SC holder, darts lover, Bristol Flyers & Glos. cricket fan & avid reader & Audible listener. Beer, sport, music, art, photography | 105,421 |
Most active users
| Username | Bio | Number of tweets |
| --- | --- | --- |
| arsenal_brasuca | Torcedor Fanático do @Arsenal 🇧🇷 🇵🇹 🏴󠁧󠁢󠁥󠁮󠁧󠁿 Página independente cobrindo o #Arsenal notícias, rumores, transferências, e muito mais. | 188 |
| arsenal_25 | (insta: unique_cutie_28)be the change you want to see, inspire someone,God is ❤,single,🦁 HOG4LIFE, HANGOVER GANG4LIFE,what is real will prosper LLJ LLX | 162 |
| Taraq_Rey | Focus | 151 |
| arsenal_mans | #Arsenal, Books and Filmy tweets/RT | 113 |
| ArsenalNewsApp | Arsenal News App for IPhone and IPad (https://t.co/KAk6MGJztx) | 102 |
| DavidMenardi12 | Hi my favorite team is: @Arsenal🔴. 🔴👱‍♂️I am Gooner David 👱‍♂️🔴Mis juegos Favoritos son: @Roblox @ClickerSim1 | 98 |
| arsenalnewsonly | Latest Arsenal FC News & Blogs! This is a Fan Page & NOT linked to Official Club. #OneArsenal #GoonerFamily #ArsenalFC #Arsenal #Gooners #Gunners #AFC #COYG | 86 |
| ArsenalFC_fl | All the latest Arsenal news, analysis and opinion from @Football_LDN | 86 |
| RooterArsenal | All About Arsenal Football Club #AFC #COYG Bringing you the Latest Arsenal FC News, Transfer News, Fixtures, Results, Match Reports, Photos, Stats, etc. | 85 |
| Rosicky_Indo | Unofficial Rosicky fanbase from Indonesia! We love you ARSENAL, We do! Enjoy with us #VCC | 66 |
---
Tweets per day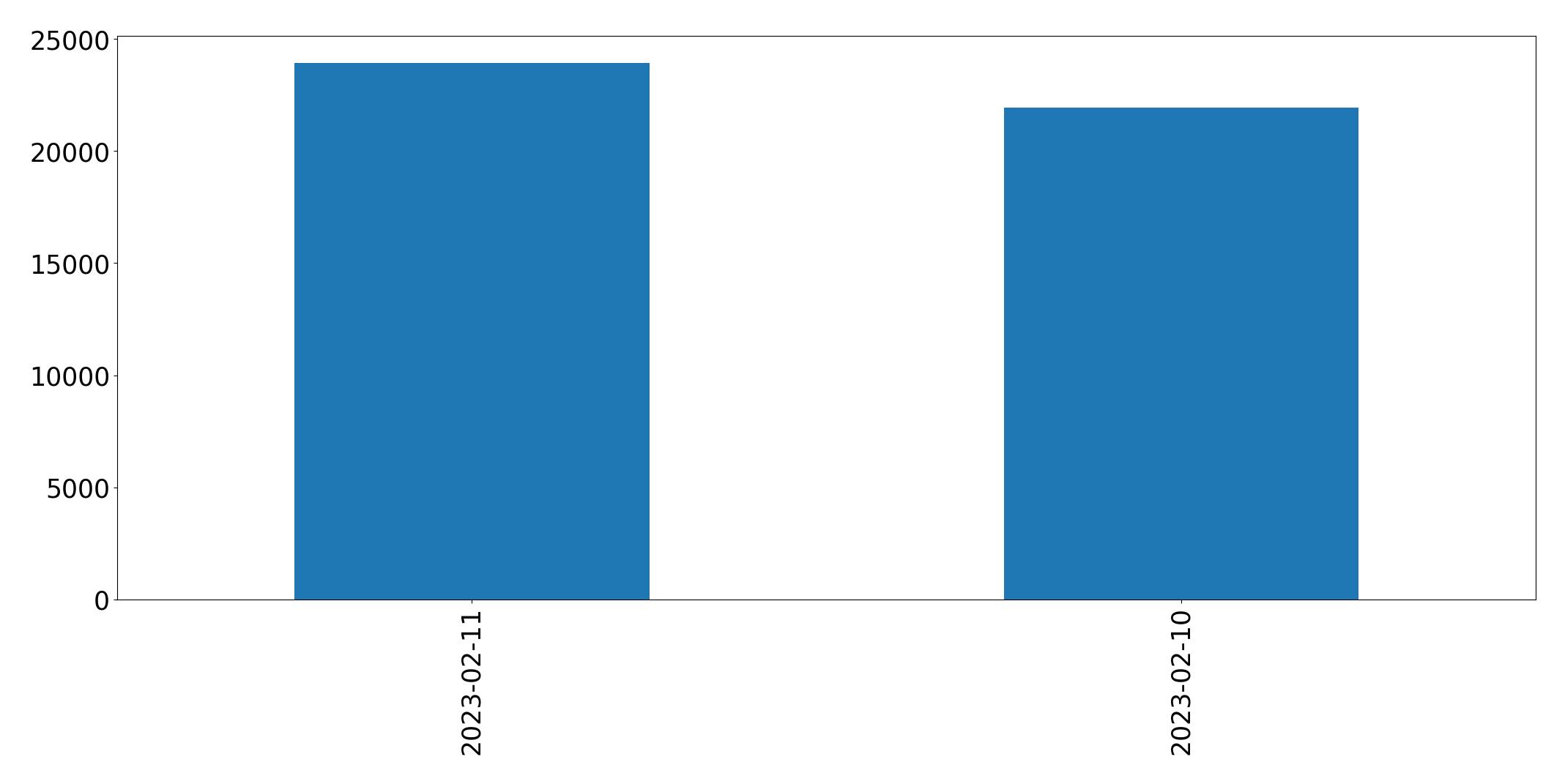 ---
Top 10 tweets with highest Retweet count
| ID | Text | Retweet count |
| --- | --- | --- |
| 1624105930991235073 | See you tomorrow, Gooners ❤️ https://t.co/4F447UYfQd | 2268 |
| 1624408012382212096 | 🔴 𝗧𝗘𝗔𝗠𝙉𝙀𝙒𝙎 ⚪️ 🧱 White at the back 🪄 Odegaard in midfield 📞 Eddie leading the line Let's get back to winning ways - together! https://t.co/k4Vzje7BcX | 2123 |
| 1624151224416362496 | Back at Emirates Stadium. Back to business 👊 https://t.co/uM7gbheO0B | 1669 |
| 1624332411495493636 | 👊 𝗠𝗔𝗧𝗖𝗛𝘿𝘼𝙔 🆚 Brentford 🕒 3pm (UK) 🏟️ Emirates Stadium 🏆 Premier League https://t.co/1u6jsBEzVG | 1369 |
| 1624026330974113792 | @@envynoman96's account is temporarily unavailable because it violates the Twitter Media Policy. Learn more. | 1128 |
| 1624049611538063361 | One Arsenal 🤝 https://t.co/pL5wCoJfW1 | 1090 |
| 1624285181187350528 | "Dimenit berapa pergantian pemain terakhir Arsenal (vs Brentford)". Total hadiah 1,5jt (250k utk 6 orang). 1. WAJIB follow twitter GRI & @prastow 2. Retweet & Like postingan ini. 3. 1 AKUN hanya boleh MENJAWAB 1x saja. 4. Kuis ditutup saat kick-off. 5. Jawab di REPLAY tweet ini. | 978 |
| 1624050137138925571 | Pep Guardiola: "Nine teams: Burnley, Wolves, Leicester, Newcastle, Spurs, Arsenal, United, Liverpool, Chelsea [wanted] us out of the Champions League, because they want that position. To take that position that we won on the pitch." https://t.co/dafmsYx7c4 | 914 |
| 1624079495710838788 | How many days until 𝗠𝗔𝗧𝗖𝗛𝘿𝘼𝙔, Martin?☝️ https://t.co/SG4Ne9orM8 | 750 |
| 1624404662181920768 | We've arrived 👊 📍 Emirates Stadium https://t.co/m5VbCgXORg | 724 |
Top 10 tweets with highest Like count
| ID | Text | Like count |
| --- | --- | --- |
| 1624151224416362496 | Back at Emirates Stadium. Back to business 👊 https://t.co/uM7gbheO0B | 21401 |
| 1624105930991235073 | See you tomorrow, Gooners ❤️ https://t.co/4F447UYfQd | 19295 |
| 1624049611538063361 | One Arsenal 🤝 https://t.co/pL5wCoJfW1 | 15378 |
| 1623985765431627776 | He's ending his career as an Arsenal legend. Mark my words. https://t.co/C6k0Uqi4HP | 14938 |
| 1624079495710838788 | How many days until 𝗠𝗔𝗧𝗖𝗛𝘿𝘼𝙔, Martin?☝️ https://t.co/SG4Ne9orM8 | 13872 |
| 1624332411495493636 | 👊 𝗠𝗔𝗧𝗖𝗛𝘿𝘼𝙔 🆚 Brentford 🕒 3pm (UK) 🏟️ Emirates Stadium 🏆 Premier League https://t.co/1u6jsBEzVG | 11178 |
| 1624072096337866754 | Picture perfect 📸 📍London Colney https://t.co/JcP9Wf0uUi | 10828 |
| 1624011101460389888 | No true #Arsenal fan can scroll past this photo without liking it 👍 📸❤️ https://t.co/h2Sc2HLEUQ | 10075 |
| 1624348014696341507 | Reiss Nelson future, still not decided as talks over new deal with Arsenal are not advanced at this stage - his contract expires in June with many clubs interested. ⚪️🔴 #AFC Understand Nelson would be happy to stay but there are no concrete negotiations yet - up to Arsenal. https://t.co/89b8s2DZW0 | 9591 |
| 1624026218604421120 | The UEFA Women's Champions League quarterfinals are set: ▪️ Bayern vs. Arsenal ▪️ PSG vs. Wolfsburg ▪️ Lyon vs. Chelsea ▪️ Roma vs. Barcelona 🏆💥 https://t.co/60EhrdkTRu | 8822 |
Top 3 Languages Used In Tweets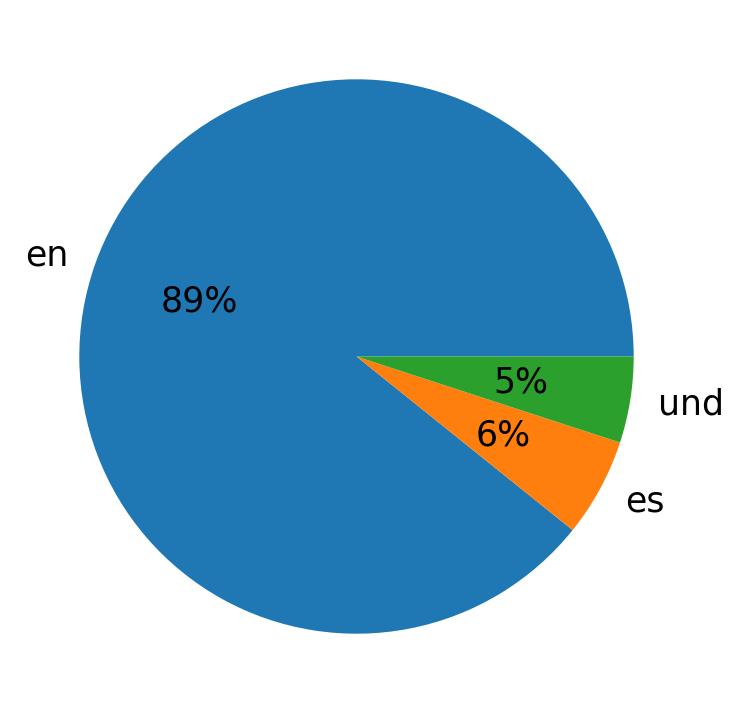 ---
Top 10 Hashtags used
| Hashtag | Count |
| --- | --- |
| #arsenal | 2224 |
| #afc | 1467 |
| #coyg | 1412 |
| #arsbre | 977 |
| #premierleague | 550 |
| #fpl | 301 |
| #brentford | 296 |
| #epl | 225 |
| #uwcl | 225 |
| #gunners | 198 |
Top 10 Hashtags Used In Tweets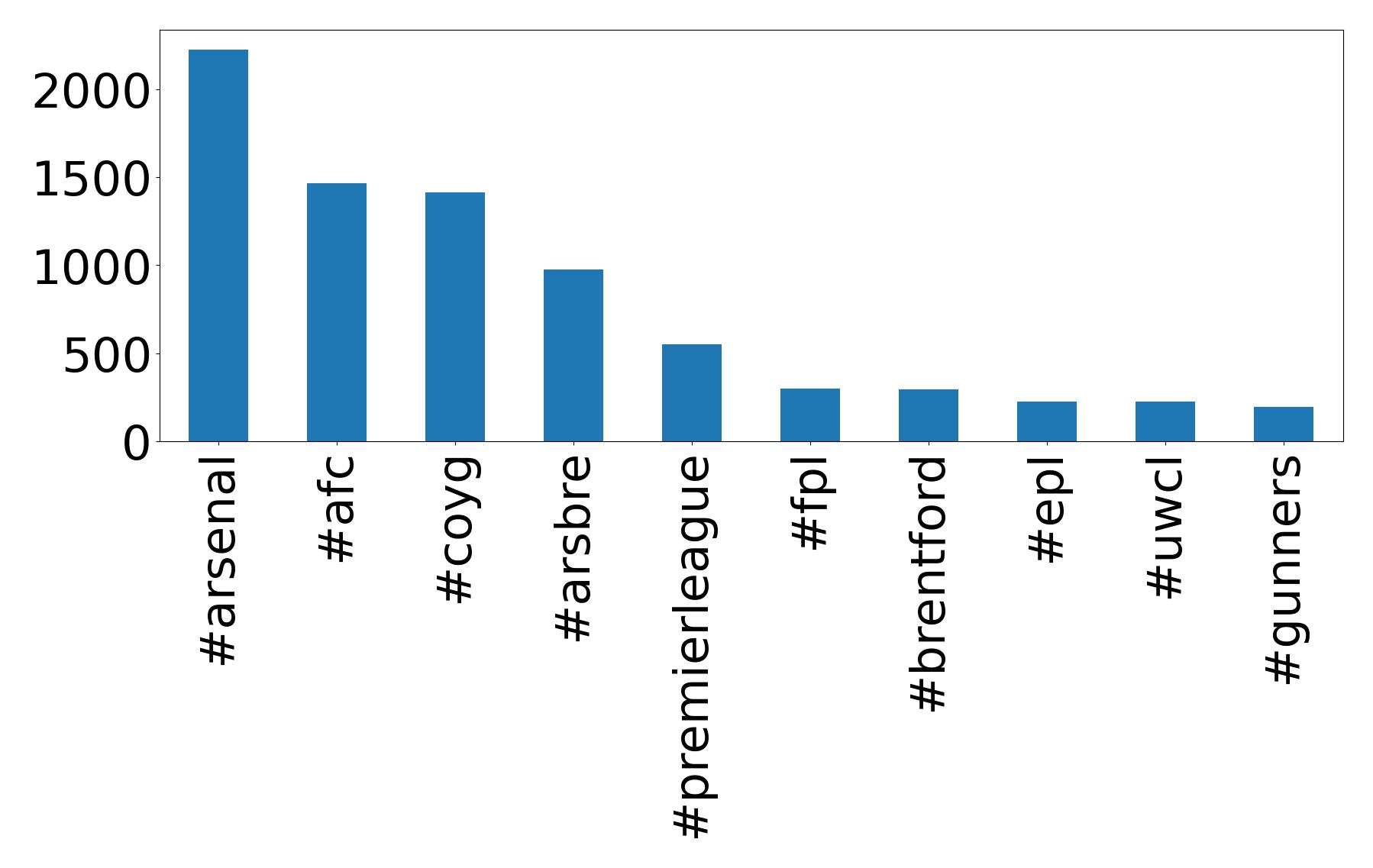 Top 10 mentions
| Mention | Count |
| --- | --- |
| @arsenal | 8694 |
| @gaygooners | 1246 |
| @mancity | 676 |
| @ben6white | 636 |
| @premierleague | 512 |
| @officialfpl | 409 |
| @manutd | 320 |
| @m8arteta | 316 |
| @fabrizioromano | 276 |
| @arsenalwfc | 261 |
Top 10 mentions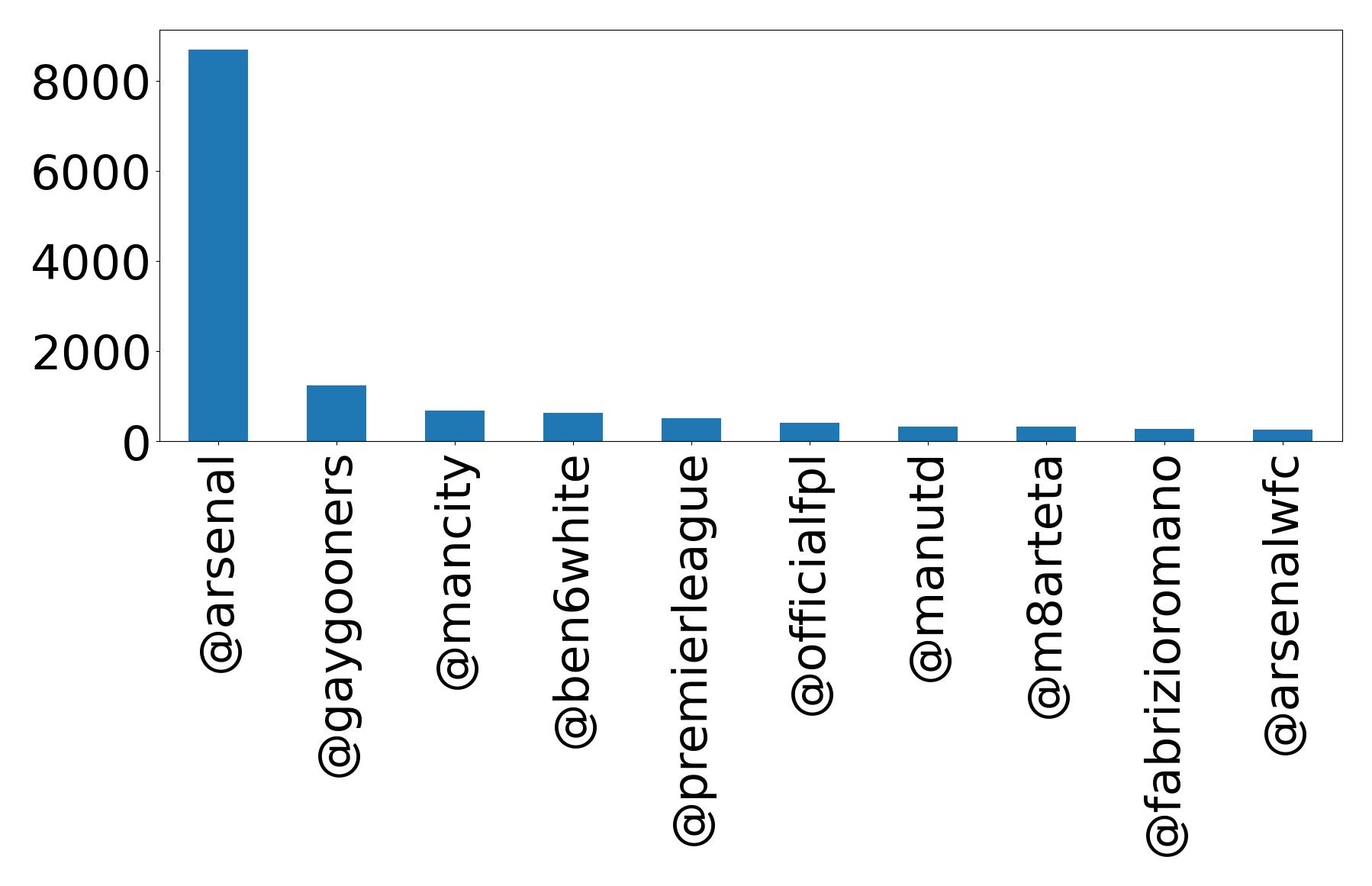 Wordcloud of Tweets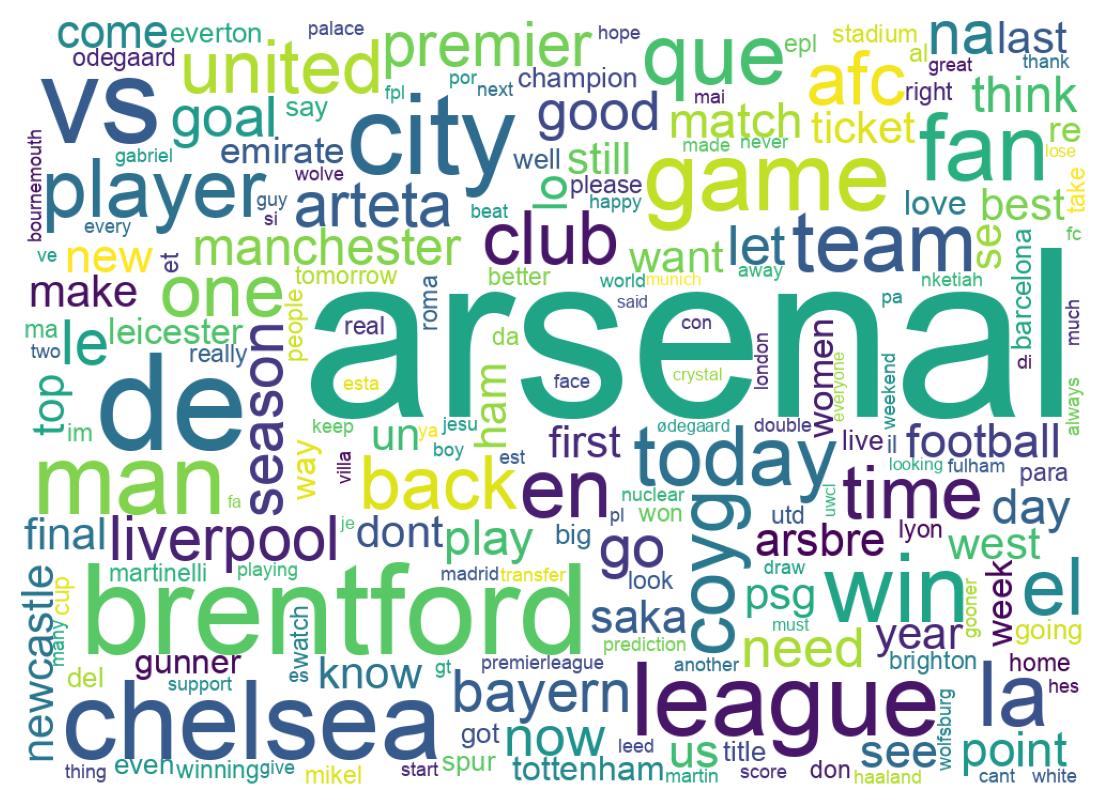 ---
Emojis
Average number of emojis used per tweet
78
Emojis used in tweets
| Emoji | Count | Emoji Text |
| --- | --- | --- |
| 😂 | 2586 | face_with_tears_of_joy |
| 🔴 | 1630 | red_circle |
| ❤️ | 1537 | red_heart |
| 😭 | 1326 | loudly_crying_face |
| 🤣 | 1197 | rolling_on_the_floor_laughing |
| ⚪ | 1035 | white_circle |
| ⚽ | 1033 | soccer_ball |
| 🤢 | 932 | nauseated_face |
| 🔥 | 879 | fire |
| 🏴󠁧󠁢󠁥󠁮󠁧󠁿 | 629 | England |
Emojis groups
| Emoji Group | Count |
| --- | --- |
| Smileys & Emotion | 13785 |
| Symbols | 6449 |
| People & Body | 5242 |
| Travel & Places | 2707 |
| Flags | 2496 |
| Objects | 2392 |
| Activities | 2164 |
| Animals & Nature | 379 |
| Food & Drink | 249 |