Tweets Analysis - Keyword: @7homaslin
Total number of tweets analysed
33
Earliest tweet was on
2023-03-21
Latest tweet was on
2023-03-28
Average age of authors' accounts
7 years
---
Summarization
Twitter users discuss a follow-up to a paper on wormholes and the scrutiny it faced, with some calling for more rigorous scientific standards. They also share a new interactive math game, Hyperjumps, and discuss the value of outreach platforms. Quanta Magazine is praised as an excellent scientific publication, though some express concerns about sensationalized content.
Topic Modeling
Discussion of academic papers and follow-ups
Critique of scientific publications and scrutiny of claims
Engagement with and appreciation of scientific content and publications
Criticism of sensationalization and over-emphasis on perfection in science
Debate on the value and reliability of scientific outreach platforms
Emotional Analysis
The tweets express a range of emotions, including curiosity, amusement, surprise, appreciation, frustration, and skepticism. Some tweets express interest in scientific discoveries, while others express criticism towards self-defense mechanisms or the way certain publications present scientific information. Some tweets question the reliability of scientific research and suggest the importance of professionals sorting out claims. Overall, the emotions expressed in the tweets are mixed and reflect different perspectives on scientific research and publication.
Trend Analysis
Discussions around a scientific paper related to wormholes and academic scrutiny
Opinions on the value of outreach platforms in science communication
Interest in mathematics and interactive math games
Comments on the credibility of scientific publications
Questions and debates surrounding scientific claims and theories
---
Types of Tweets
Number of Retweets
6
Percentage of total tweets
18%
Number of Original tweets
2
Percentage of total tweets
6%
Number of tweets that contain Mentions
33
Percentage of total tweets
100%
Number of tweets that were Replies
24
Percentage of total tweets
72%
Number of tweets that were Quotes
2
Percentage of total tweets
6%
Number of tweets that contain Hashtags
1
Percentage of total tweets
3%
---
Top 5 devices used to tweet
| Source | Count |
| --- | --- |
| Twitter Web App | 15 |
| Twitter for iPhone | 10 |
| Twitter for Android | 7 |
| Twitter for iPad | 1 |
What devices were used to tweet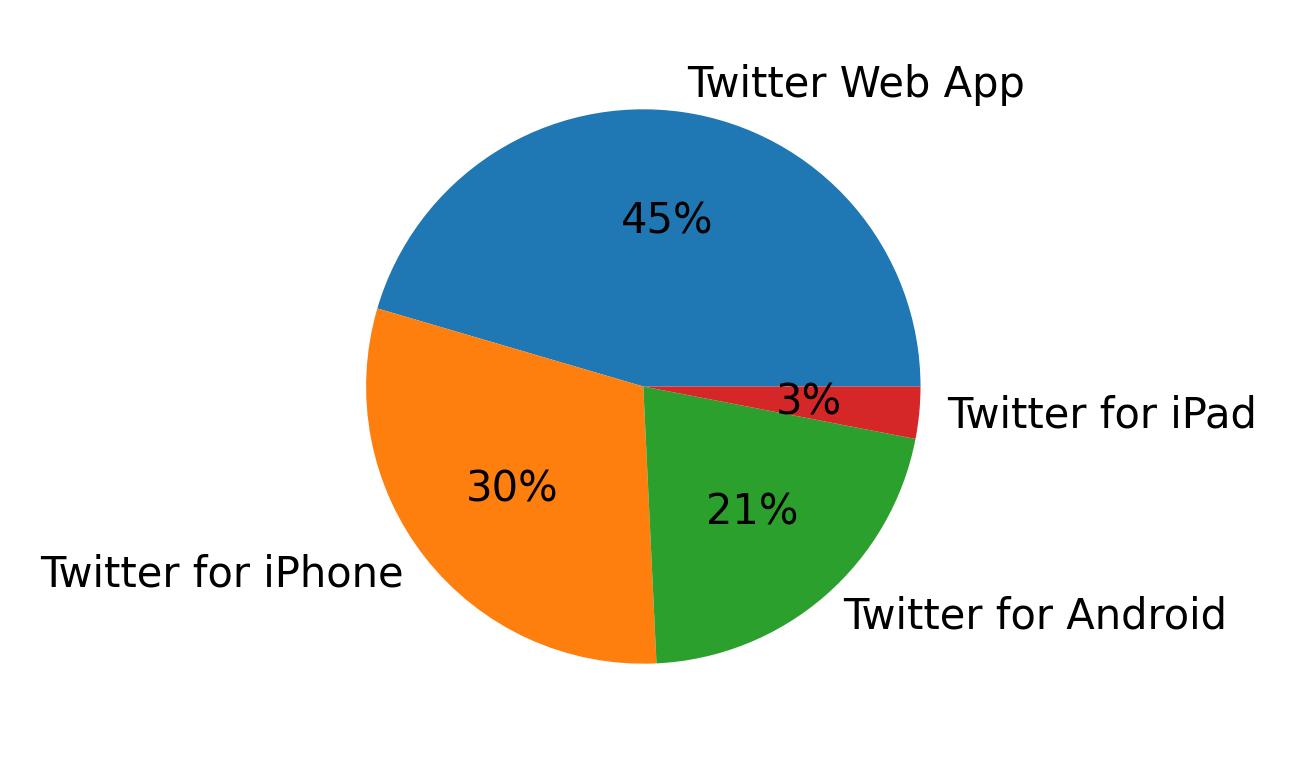 ---
Top 10 accounts with highest followers count
| Username | Name | Bio | Followers count |
| --- | --- | --- | --- |
| skdh | Sabine Hossenfelder | German Physicist. Author of "Lost in Math" & "Existential Physics". Creator of "Science Without the Gobbledygook". rt's/shares/likes are not endorsements | 110,190 |
| WKCosmo | Will Kinney | Cosmologist, physicist, dirtbag mountain biker, expat Montanan, Copernican extremist. Part of the problem. | 19,625 |
| REasther | Richard Easther | Father, husband, scientist, prof @AucklandUni - opinions mine; Kiwi diaspora returnee. "Astrophysics - it's like a barfight with God" rjme@mastodon.nz He/him. | 5,706 |
| JonathanLWai | Jonathan Wai | Associate Professor of Education Policy and Psychology and 21st Century Chair @UArkansas. https://t.co/gAb9517Fum | 3,790 |
| AnnFinkbeiner | Ann Finkbeiner | Freelance science writer: astronomy, science/natsec, grief, women in science. Mastodon: @AnnFinkbeiner@sciencemastodon.com | 3,581 |
| PavlosMsaouel | Pavlos Msaouel | Physician-Scientist, Oncologist, PI #MsaouelLab @MDAndersonNews | Tweets=my views | #kidneycancer #RenalMedullaryCarcinoma #endRMC #rarecancers | 2,598 |
| trengarajan | T. K. Rengarajan 🇺🇸 | Optimist | Afroptimist | Learner | Cloud | #BigData | RDBMS | Scalable Systems | DEI | தமிழ் | RT ≠ E | Views=mine | 2,206 |
| sindyabhanoo | Sindya Bhanoo | Writer & Journalist. Author of Seeking Fortune Elsewhere (2022, Catapult), @oregonstate Asst. Prof. / Former: @UMWallaceHouse, @michenercenter | 1,715 |
| IdeasRoadshow | Ideas Roadshow | Serious About Curiosity – Ideas That Travel Well · Now available: THROUGH THE MIRROR OF CHESS: A CULTURAL EXPLORATION | 1,608 |
| EricAspling | Eric Aspling | PhD. Student @binghamtonu, Relativistic Quantum Information + Quantum Computing. | 765 |
Top 10 accounts with highest friends count
| Username | Name | Bio | Followers count |
| --- | --- | --- | --- |
| IdeasRoadshow | Ideas Roadshow | Serious About Curiosity – Ideas That Travel Well · Now available: THROUGH THE MIRROR OF CHESS: A CULTURAL EXPLORATION | 3,958 |
| WKCosmo | Will Kinney | Cosmologist, physicist, dirtbag mountain biker, expat Montanan, Copernican extremist. Part of the problem. | 1,496 |
| sindyabhanoo | Sindya Bhanoo | Writer & Journalist. Author of Seeking Fortune Elsewhere (2022, Catapult), @oregonstate Asst. Prof. / Former: @UMWallaceHouse, @michenercenter | 1,259 |
| AnnFinkbeiner | Ann Finkbeiner | Freelance science writer: astronomy, science/natsec, grief, women in science. Mastodon: @AnnFinkbeiner@sciencemastodon.com | 1,148 |
| PavlosMsaouel | Pavlos Msaouel | Physician-Scientist, Oncologist, PI #MsaouelLab @MDAndersonNews | Tweets=my views | #kidneycancer #RenalMedullaryCarcinoma #endRMC #rarecancers | 878 |
| JonathanLWai | Jonathan Wai | Associate Professor of Education Policy and Psychology and 21st Century Chair @UArkansas. https://t.co/gAb9517Fum | 817 |
| skdh | Sabine Hossenfelder | German Physicist. Author of "Lost in Math" & "Existential Physics". Creator of "Science Without the Gobbledygook". rt's/shares/likes are not endorsements | 815 |
| NancyPDoyle | Nancy | Science, math, programming, tabletop games, @wsl. Following me is a privilege, not a right. Almost always block followers. Opinions are correct | 780 |
| REasther | Richard Easther | Father, husband, scientist, prof @AucklandUni - opinions mine; Kiwi diaspora returnee. "Astrophysics - it's like a barfight with God" rjme@mastodon.nz He/him. | 637 |
| MarcusErve | Marcus van der Erve✨ | Societal Impact Of AI, Organizational Sociology (PhD), Applied Physics (B.Eng), ex-Club Of Rome - EU Chapter, Grandpa | 551 |
Most active users
| Username | Bio | Number of tweets |
| --- | --- | --- |
| REasther | Father, husband, scientist, prof @AucklandUni - opinions mine; Kiwi diaspora returnee. "Astrophysics - it's like a barfight with God" rjme@mastodon.nz He/him. | 4 |
| raul_jimenez67 | (El Madrileño) Cosmologist; interested in (Bayesian) Statistics; Physics; Astronomy; Philosophy; AI and the Social Sciences | 3 |
| MesonMatt | Laser focused on solving the theory of everything. Main interests into this matter are on Higgs field/boson, superfluids, Majorana. The Higgs field solves TOE. | 3 |
| EricAspling | PhD. Student @binghamtonu, Relativistic Quantum Information + Quantum Computing. | 2 |
| IdeasRoadshow | Serious About Curiosity – Ideas That Travel Well · Now available: THROUGH THE MIRROR OF CHESS: A CULTURAL EXPLORATION | 2 |
| JonathanLWai | Associate Professor of Education Policy and Psychology and 21st Century Chair @UArkansas. https://t.co/gAb9517Fum | 2 |
| naasking | - | 2 |
| AnnFinkbeiner | Freelance science writer: astronomy, science/natsec, grief, women in science. Mastodon: @AnnFinkbeiner@sciencemastodon.com | 1 |
| WKCosmo | Cosmologist, physicist, dirtbag mountain biker, expat Montanan, Copernican extremist. Part of the problem. | 1 |
| skdh | German Physicist. Author of "Lost in Math" & "Existential Physics". Creator of "Science Without the Gobbledygook". rt's/shares/likes are not endorsements | 1 |
---
Tweets per day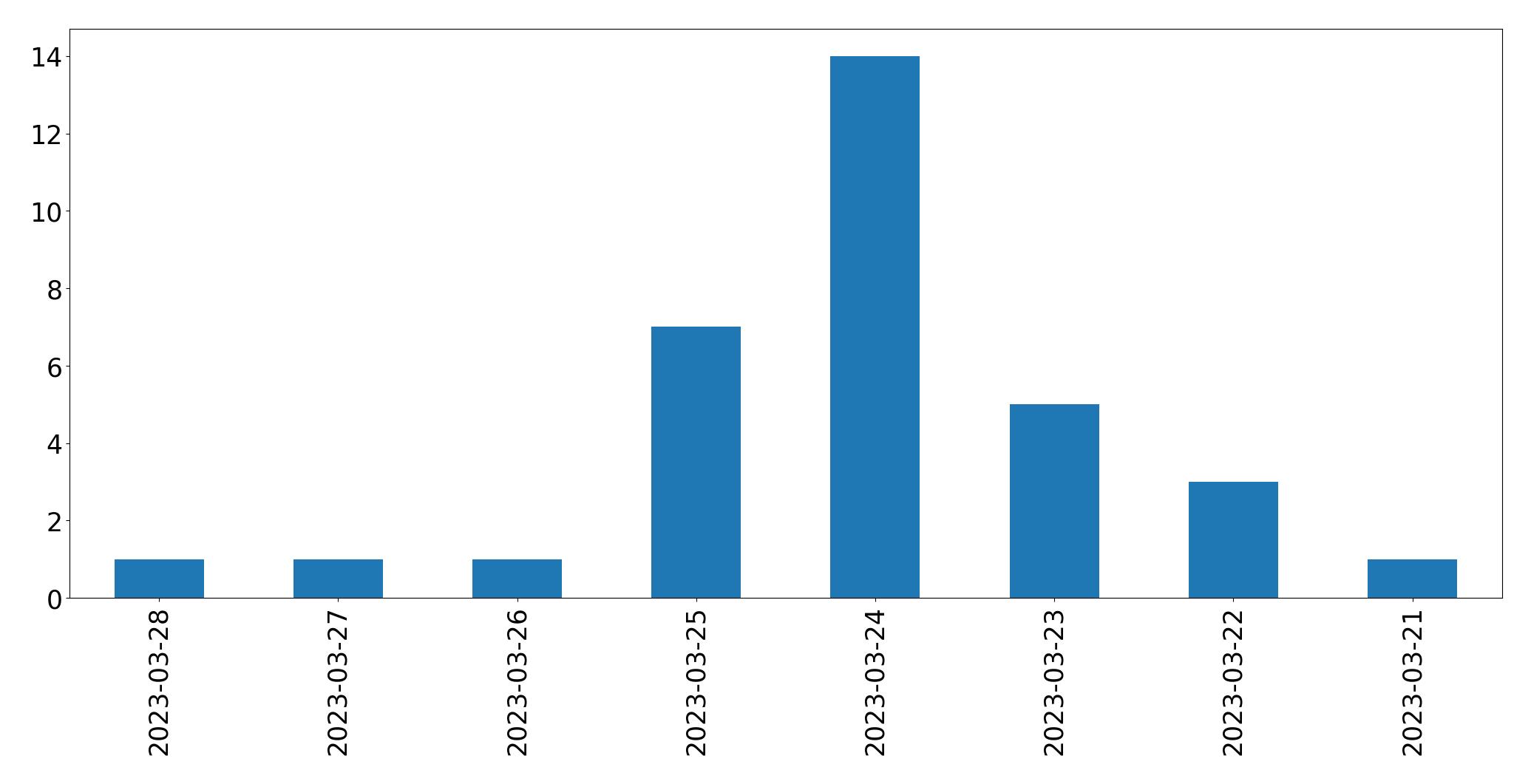 ---
Top 10 tweets with highest Retweet count
| ID | Text | Retweet count |
| --- | --- | --- |
| 1639204323463929858 | Heh. Just rediscovered this thread. As the original "wormhole" paper may have evaporated under the harsh light of academic scrutiny wonder if @7homaslin plans a follow-up :-) https://t.co/tYPjkjmHYH | 1 |
| 1640620279612178432 | Need a break from #chess today? Explore a universe of numbers and arithmetic in a new interactive math game, Hyperjumps @QuantaMagazine @PradeepMutalik @paulchaikin @7homaslin @SamuelV62027892 #Mathematics https://t.co/WLd3hdE9yr | 0 |
| 1639230856668790786 | @REasther @7homaslin Here is the follow-up! https://t.co/m34551CgYG | 0 |
| 1638603832610398220 | @7homaslin But is this picture of jalapeno? | 0 |
| 1638605791992201219 | @7homaslin I had to look up gherkin: the small green fruit of a plant related to the cucumber, used for pickling | 0 |
| 1638773749766914048 | @7homaslin @stevenstrogatz @DrEugeniaCheng Absolutely amazing, really enjoyed it thank you very much | 0 |
| 1638914263854223363 | @7homaslin Very interesting 😳 have to read this! | 0 |
| 1638923753022279683 | @7homaslin @stevenstrogatz @DrEugeniaCheng Interesting | 0 |
| 1638925457340121088 | @7homaslin @walkingthedot great job Charlie 🙌 | 0 |
| 1639215931141369856 | @REasther @7homaslin I'm not sure it has evaporated yet, or people just went about thier business. One of the authors is giving a talk at Harvard about it today. I won't make it but it should be interesting. | 0 |
Top 10 tweets with highest Like count
| ID | Text | Like count |
| --- | --- | --- |
| 1639204323463929858 | Heh. Just rediscovered this thread. As the original "wormhole" paper may have evaporated under the harsh light of academic scrutiny wonder if @7homaslin plans a follow-up :-) https://t.co/tYPjkjmHYH | 18 |
| 1639230526140694528 | @REasther @7homaslin That's one of the most passive-aggressive self-defenses I have read in a while. | 14 |
| 1639583788232503298 | @REasther @7homaslin Hah, I had actually not seen this. | 4 |
| 1638773749766914048 | @7homaslin @stevenstrogatz @DrEugeniaCheng Absolutely amazing, really enjoyed it thank you very much | 3 |
| 1640620279612178432 | Need a break from #chess today? Explore a universe of numbers and arithmetic in a new interactive math game, Hyperjumps @QuantaMagazine @PradeepMutalik @paulchaikin @7homaslin @SamuelV62027892 #Mathematics https://t.co/WLd3hdE9yr | 1 |
| 1639300230012125185 | @WKCosmo @REasther @7homaslin They obviously rely on "trusting" a group of pundits that they believe are infalible, but is anybody infalible, specially when doing super hard and difficult science? How about waiting until things are 100-folds checked and then doing some outreach about then? 2/n | 1 |
| 1639215931141369856 | @REasther @7homaslin I'm not sure it has evaporated yet, or people just went about thier business. One of the authors is giving a talk at Harvard about it today. I won't make it but it should be interesting. | 1 |
| 1639218700904710144 | @REasther @7homaslin The paper with Norm Yao? That paper was very interesting and raised some important points. It would be nice to hear a response to that. Beyond just "we over embellished". I would be surprised if Norm doesnt show up today, since he is also at Harvard. | 1 |
| 1639230856668790786 | @REasther @7homaslin Here is the follow-up! https://t.co/m34551CgYG | 1 |
| 1639299815187120128 | @WKCosmo @REasther @7homaslin So at the end down to the professional physicists to sort this out. Subject and claim is in flux and being defeated by the professionals, as it should. What is the value of this "outreach" platforms that just churn out flashy things every week 1/n | 1 |
Top 3 Languages Used In Tweets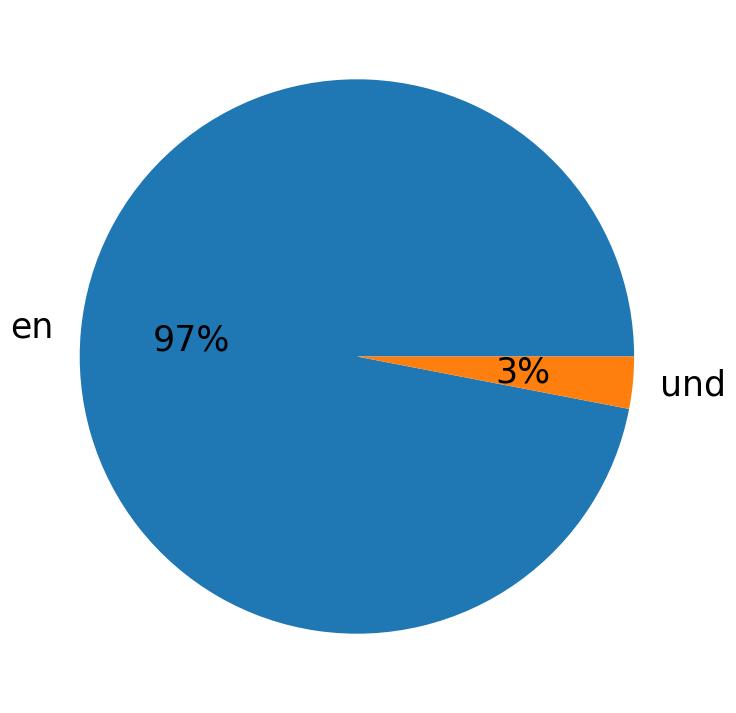 ---
Top 10 Hashtags used
| Hashtag | Count |
| --- | --- |
| #chess | 1 |
| #mathematics | 1 |
Top 10 Hashtags Used In Tweets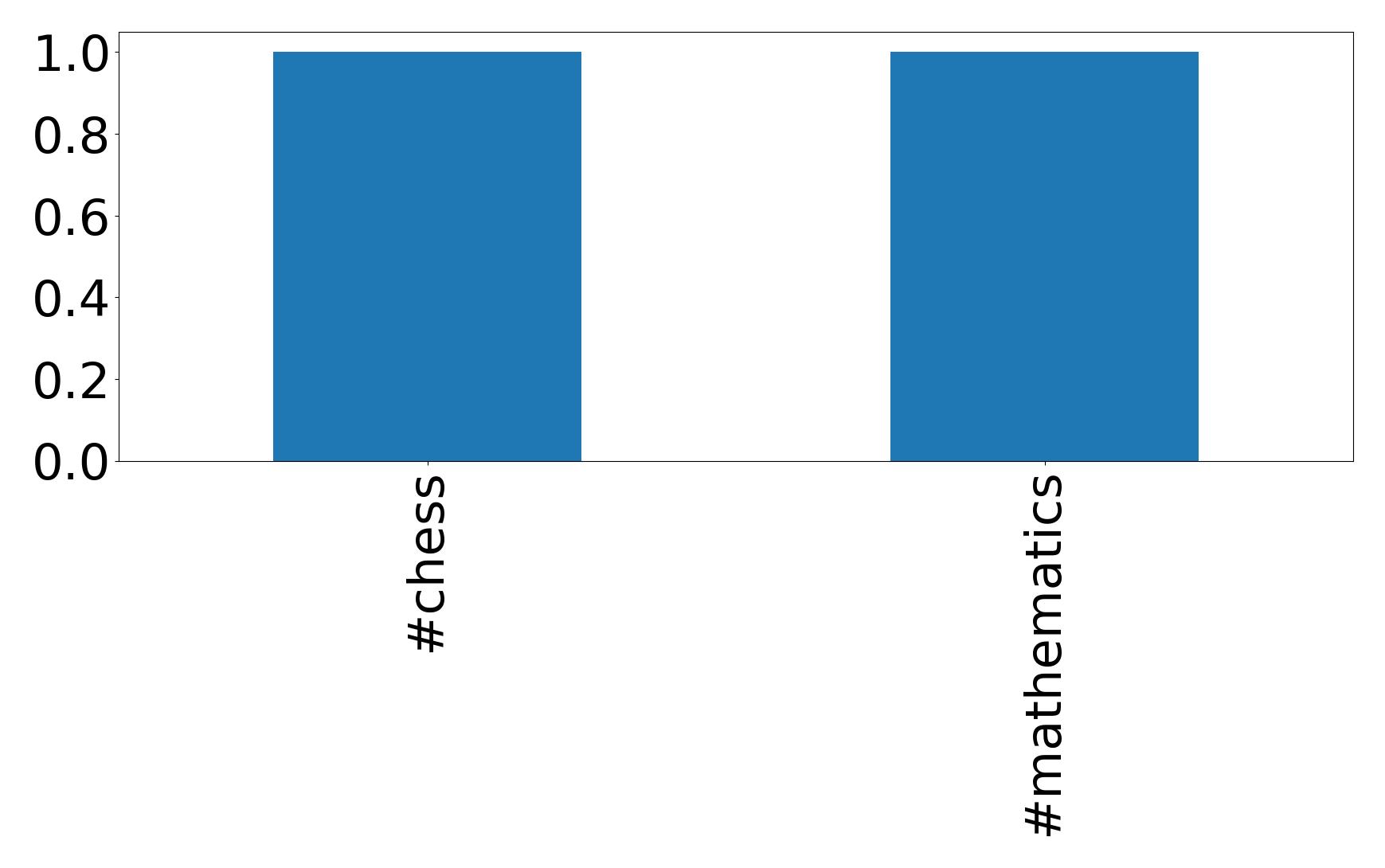 Top 10 mentions
| Mention | Count |
| --- | --- |
| @7homaslin | 33 |
| @reasther | 11 |
| @wkcosmo | 5 |
| @stevenstrogatz | 4 |
| @dreugeniacheng | 4 |
| @quantamagazine | 2 |
| @pradeepmutalik | 1 |
| @paulchaikin | 1 |
| @samuelv62027892 | 1 |
| @mrhonner | 1 |
Top 10 mentions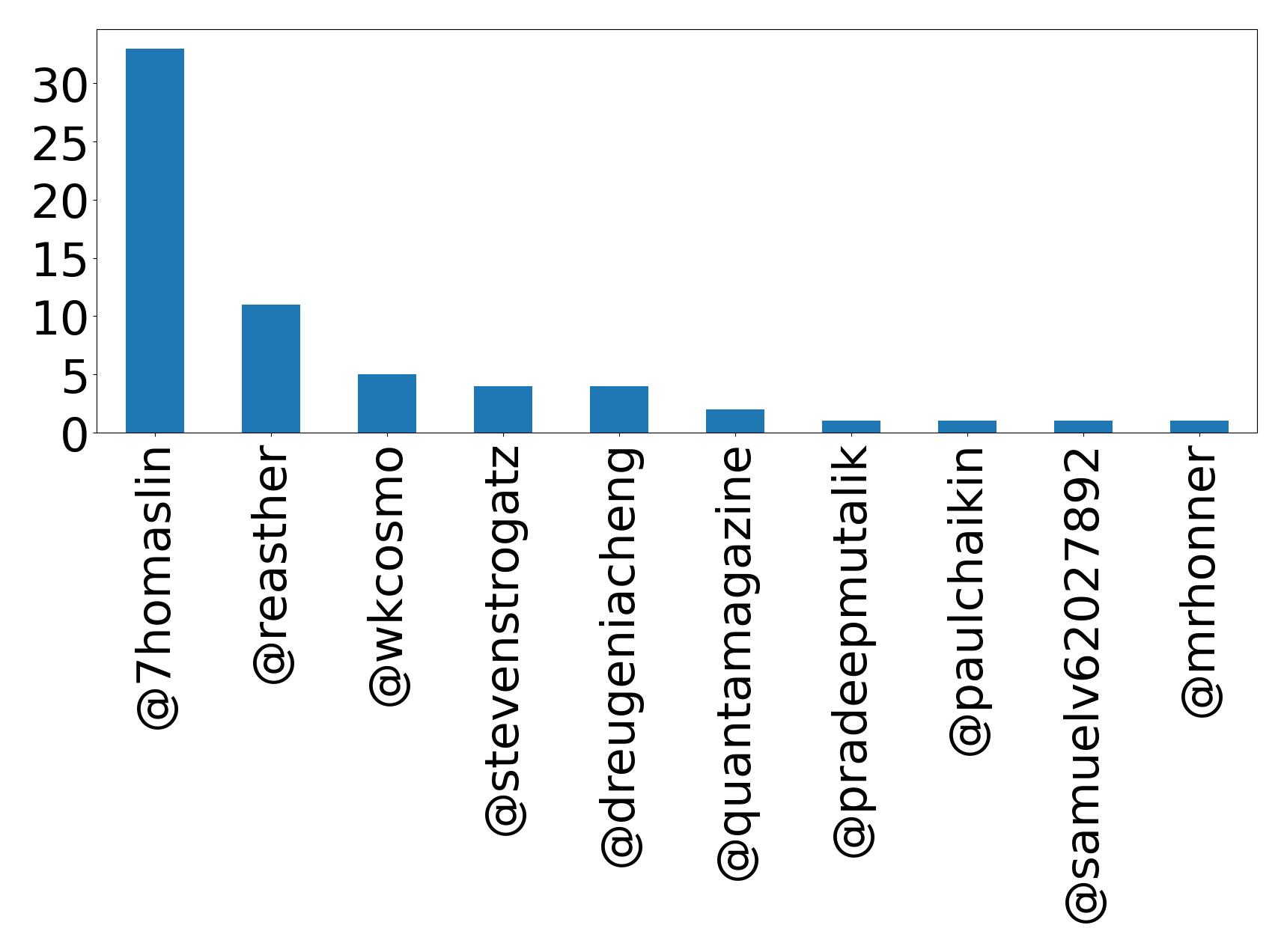 Wordcloud of Tweets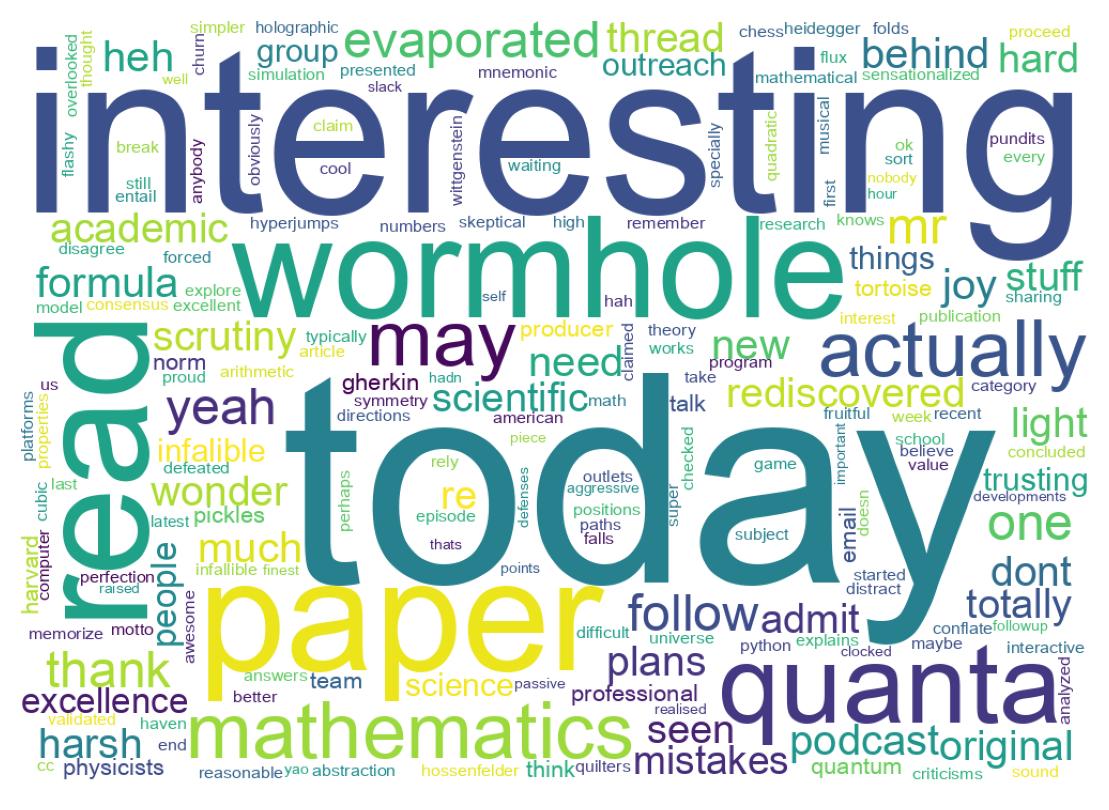 ---
Emojis
Average number of emojis used per tweet
6
Emojis used in tweets
| Emoji | Count | Emoji Text |
| --- | --- | --- |
| 🙌 | 1 | raising_hands |
| 😳 | 1 | flushed_face |
Emojis groups
| Emoji Group | Count |
| --- | --- |
| People & Body | 1 |
| Smileys & Emotion | 1 |