Tweets Analysis - Keyword: @tvsorrisi
Total number of tweets analysed
24
Earliest tweet was on
2023-03-21
Latest tweet was on
2023-03-30
Average age of authors' accounts
9 years
---
Summarization
TV Sorrisi e Canzoni, an Italian entertainment magazine, features articles, interviews, and announcements related to music, TV shows, and movies. Its latest issue includes news on the location of the next season's filming of Blanca, featuring Michelle Hunziker and Gerry Scotti, and Marco Mengoni's announcement of his European tour. TV Sorrisi e Canzoni also includes the DVD of One Piece Red and a feature on jazz music concerts. Some readers express their desire for more content on Cristina D'Avena and Disney classics. Additionally, the magazine features interviews with famous personalities, such as Luca Argentero and Ignazio La Russa.
Topic Modeling
TV Shows and Series
Celebrities and Personalities
Music and Concerts
Anime and Manga
Media and Journalism
Emotional Analysis
The tweets express mainly positive emotions, such as excitement, anticipation, and admiration towards celebrities and entertainment content. The tweeters express curiosity about the filming locations for a TV series and excitement for receiving a DVD with a bonus item. They also share positive news about concerts and music events, express appreciation towards actors and TV presenters, and request more content from specific artists. Only a few tweets contain negative emotions, such as disappointment for not finding a product in the shops or frustration towards a politician mentioned in a magazine article.
Trend Analysis
Television shows and personalities featured in TV Sorrisi's content, including Blanca, Gerry Scotti, and Michelle Hunziker.
Music-related themes, such as live concerts, jazz festivals, and Italian musicians like Marco Mengoni and Cristina D'Avena.
Anime and manga fandom, specifically the release of the One Piece Red movie on DVD.
Requests and feedback from readers, including missing Disney classics in edicole and potential features on TV Sorrisi for various artists.
Political content, including interviews with Ignazio La Russa and coverage of Alberto Bomba's uphill victory in a film.
---
Types of Tweets
Number of Retweets
9
Percentage of total tweets
37%
Number of Original tweets
10
Percentage of total tweets
41%
Number of tweets that contain Mentions
24
Percentage of total tweets
100%
Number of tweets that were Replies
4
Percentage of total tweets
16%
Number of tweets that were Quotes
1
Percentage of total tweets
4%
Number of tweets that contain Hashtags
16
Percentage of total tweets
66%
---
Top 5 devices used to tweet
| Source | Count |
| --- | --- |
| Twitter for Android | 12 |
| Twitter for iPhone | 7 |
| Twitter Web App | 5 |
What devices were used to tweet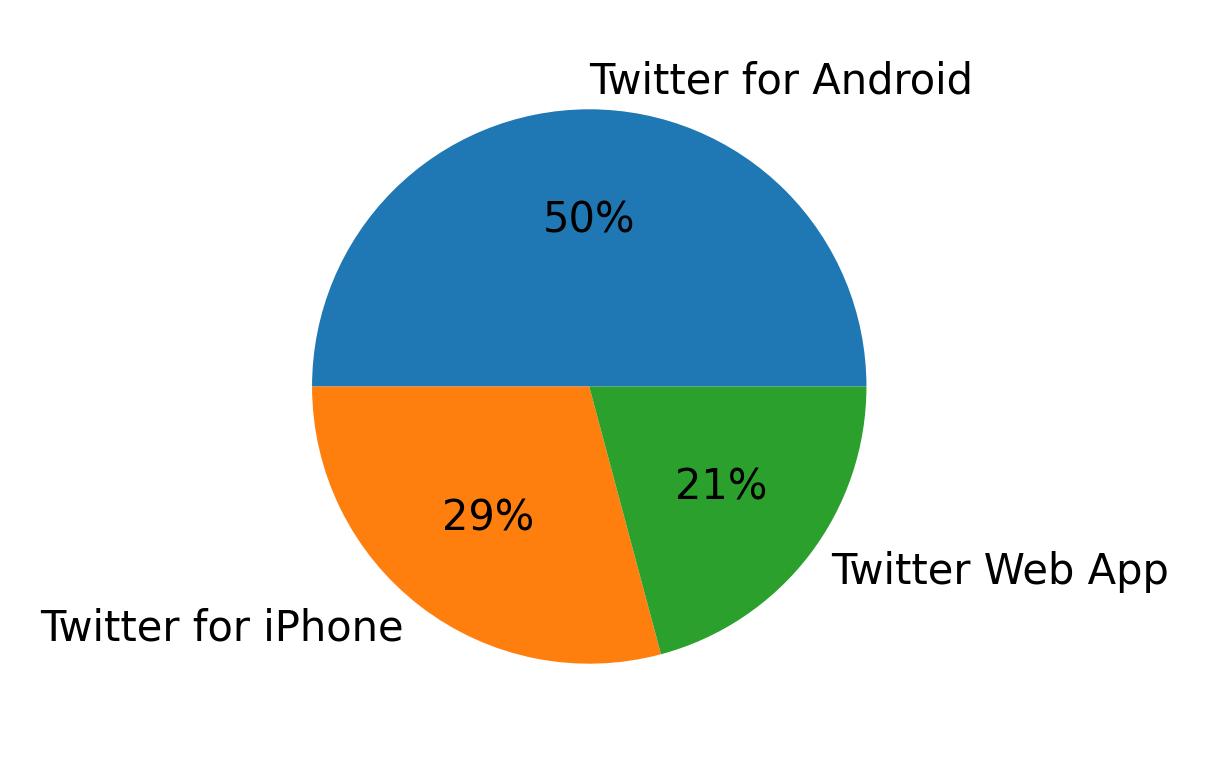 ---
Top 10 accounts with highest followers count
| Username | Name | Bio | Followers count |
| --- | --- | --- | --- |
| Striscia | Striscia la notizia | LA VOCE DELL'INTRANSIGENZA in onda da lunedì a sabato alle ore 20.35 su Canale 5, disponibile anche sul canale 105 di Sky. Per segnalazioni: gabibbo@mediaset.it | 154,711 |
| CeciliaSeppia | Cecilia | Scrivo. Radio e video. Odio i broccoli e gli ignavi, amo i jeans e le assi del palcoscenico. | 26,995 |
| GenovaEventi | genovamorethanthis | Eventi, cultura e tempo libero a Genova | 12,328 |
| CaraccioloDaila | Caracciolo Daila | più solare del sole piu lunatica della luna🌜🌞❤🙋‍♀️❤🎶 | 8,336 |
| Rossaliena | rossanaarena | Musica e' Vita Amore Colori! 🖼The great gig in the sky! 🏳️‍🌈 @mengonimarco #DueVite #MengoniLiveInEurope #Eurovision #MarcoNegliStadi2023 | 2,314 |
| Luca_zone | . | Nella vita precedente ero una showgirl fallita ma di talento, oggi un laureato in Comunicazione nella provincia marchigiana 📌 DISCLAIMER: dico cose scomode | 1,895 |
| vittoriolussana | Vittorio Lussana | - | 930 |
| BorsariLorena | Lorena Borsari | La mia vita è sempre uguale, sembra calma come me, ma appena sotto la superficie c'è tutto quello che non sai di me !! | 744 |
| MattiaMorbidoni | Mattia Morbidoni | Coordinatore regionale +Europa Marche | 474 |
| tvfangirl12 | Kiara ❄ 💙 | Tv addict #Supergirl #ThisIsUs #OTH #Manifest OTPs #Karamel #Zekaela #CaptainSwan #Jaspenor #Japril #Kophie & more. Vidding is my passion!USA in my♥ | 449 |
Top 10 accounts with highest friends count
| Username | Name | Bio | Followers count |
| --- | --- | --- | --- |
| CaraccioloDaila | Caracciolo Daila | più solare del sole piu lunatica della luna🌜🌞❤🙋‍♀️❤🎶 | 7,439 |
| fanpagebarbarad | Fanpage di Brbara d'Urso | - | 5,012 |
| Luca_zone | . | Nella vita precedente ero una showgirl fallita ma di talento, oggi un laureato in Comunicazione nella provincia marchigiana 📌 DISCLAIMER: dico cose scomode | 2,801 |
| vittoriolussana | Vittorio Lussana | - | 2,287 |
| Rossaliena | rossanaarena | Musica e' Vita Amore Colori! 🖼The great gig in the sky! 🏳️‍🌈 @mengonimarco #DueVite #MengoniLiveInEurope #Eurovision #MarcoNegliStadi2023 | 2,266 |
| GenovaEventi | genovamorethanthis | Eventi, cultura e tempo libero a Genova | 937 |
| volkl53 | Lorenzo Benevisi | nessuna | 761 |
| AlamariMusicali | Alamari Musicali | Bande e Fanfare di Forze Armate, Corpi di Polizia e Associazioni d'Arma di Repubblica Italiana, Repubblica di San Marino e Città del Vaticano. Musica. | 629 |
| tvfangirl12 | Kiara ❄ 💙 | Tv addict #Supergirl #ThisIsUs #OTH #Manifest OTPs #Karamel #Zekaela #CaptainSwan #Jaspenor #Japril #Kophie & more. Vidding is my passion!USA in my♥ | 622 |
| CeciliaSeppia | Cecilia | Scrivo. Radio e video. Odio i broccoli e gli ignavi, amo i jeans e le assi del palcoscenico. | 448 |
Most active users
| Username | Bio | Number of tweets |
| --- | --- | --- |
| volkl53 | nessuna | 4 |
| vittoriolussana | - | 2 |
| testabassa | - | 2 |
| alauda20 | penso con la mia testa | 1 |
| tvfangirl12 | Tv addict #Supergirl #ThisIsUs #OTH #Manifest OTPs #Karamel #Zekaela #CaptainSwan #Jaspenor #Japril #Kophie & more. Vidding is my passion!USA in my♥ | 1 |
| ilbazardimari | Sito amatoriale dedicato ai manga e agli anime (fumetti e cartoni animati giapponesi), ma con anche spazi dedicati a videogiochi, Giappone e molte sorprese! | 1 |
| fanpagebarbarad | - | 1 |
| elenavoloshkova | Endless love . | 1 |
| chicca2679 | un cuore coraggioso e una lingua cortese ti porteranno lontano nella giungla 🐍 | 1 |
| AlamariMusicali | Bande e Fanfare di Forze Armate, Corpi di Polizia e Associazioni d'Arma di Repubblica Italiana, Repubblica di San Marino e Città del Vaticano. Musica. | 1 |
---
Tweets per day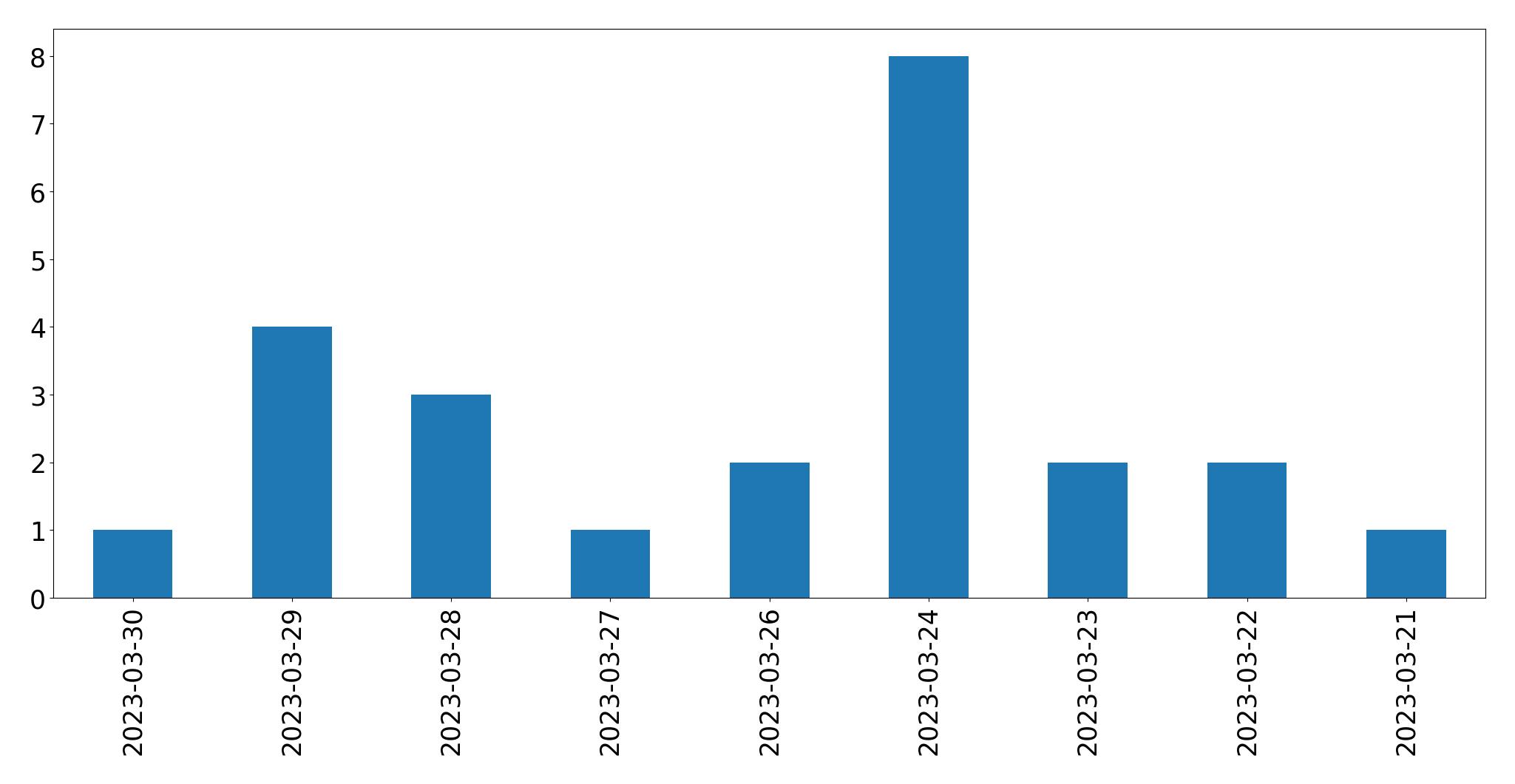 ---
Top 10 tweets with highest Retweet count
| ID | Text | Retweet count |
| --- | --- | --- |
| 1638545493943779329 | «Ad aprile il vincitore di Sanremo si esibirà a Parigi, Bruxelles, Francoforte e Zurigo 🎶» Leggi questo articolo: Marco Mengoni annuncia quattro concerti in Europa #MengoniLiveInEurope #Eurovision2023 ⁦@tvsorrisi⁩ ⁦@mengonimarco⁩ ✨ https://t.co/laXlhGIJk9 | 5 |
| 1640616141902041088 | I super nonni @Gerry_Scotti e @m_hunziker sono carichissimi e da oggi li trovate in edicola con @tvsorrisi 🥳🎉 #striscialanotizia #GerryScotti #MichelleHunziker https://t.co/32YyF5wZo2 | 3 |
| 1641103355039580163 | 😍 Indovinate dove sono stati #Blanca e Linneo a girare le riprese della prossima stagione? 👉 La soluzione nei commenti? 📸 @tvsorrisi https://t.co/AJqFJXzn3H | 2 |
| 1639934032740745220 | RISVEGLI IN JAZZ https://t.co/3nQALMcqHb #Musica @MusicTvOfficial @RecensiamoMusic @Corriere_Musica @musicaXrep @MTV @LelaScorpion92 @mescalofficial @AP @jazzfm @jazzyb @tvsorrisi @musicalfreedom @askanews_ita @MTVMusicUK @jazzpk @Jazzfeezy @musicalmente @rockolpoprock https://t.co/4PU0D92kTl | 2 |
| 1639315167879258113 | @aldovitali @tvsorrisi Sarebbe bello che faceste uscire per i 40 anni di carriera di Cristina D'Avena tutti i cd e dvd della sua discografia e un'altra intervista su Tv Sorrisi E Canzoni con la foto di copertina sarebbe top magari grazie mille!😍😍😍😍😍❤️❤️❤️❤️❤️🤩🤩🤩🤩🤩 | 1 |
| 1639314276853891074 | @aldovitali @tvsorrisi Da me a Gradisca D'Isonzo Gorizia non è arrivato nessun classico Disney nelle nostre edicole!😍😍😍😍😍❤️❤️❤️❤️❤️🤩🤩🤩🤩🤩🥰🥰🥰🥰🥰😘😘😘😘😘💙💙💙💙💙🖤🖤🖤🖤🖤🧡🧡🧡🧡🧡💜💜💜💜💜💛💛💛💛💛💚💚💚💚💚🤎🤎🤎🤎🤎🤍🤍🤍🤍🤍 | 1 |
| 1639051246601400321 | Sulle pagine del nuovo @tvsorrisi troviamo bellissime foto e didascalie della nuova stagione di #Blanca2..la nostra mitica @ChiaraGiannetta sempre insieme alla sua inseparabile cucciola Fiona..dove nn può mancare @giuseppezeno_fp #Blancalaserie #donmatteo13 #donmatteo14 @LuxVide https://t.co/ahIwdJOvby | 1 |
| 1641202235081195520 | Quella volta in cui parlai al telefono con @Lucaargentero 🤤 Lui nella redazione di @tvsorrisi e i miei colleghi di Milano immortalarono l'evento. "Ma Seppia è un soprannome bellissimo!" "Veramente è il mio cognome, ma tu se vuoi chiamami Seppia". | 0 |
| 1640695963831418884 | Oggi in allegato con @tvsorrisi c'è il dvd di One Piece Red, 15° film tratto dall'anime di Eichiro Oda con anche in omaggio una cartolina di Luffy. Scheda sul sito https://t.co/RC1d9hYzU2 #OnePiece #OnePieceRed #Anime #NewsAnime #TvSorrisiECanzoni #OnePieceMovie #Shanks #Uta https://t.co/QlkDQocW7G | 0 |
| 1640142942760206336 | @suiswap_app @OfficialEl92 @tvsorrisi @CryptoBatzNFT | 0 |
Top 10 tweets with highest Like count
| ID | Text | Like count |
| --- | --- | --- |
| 1641103355039580163 | 😍 Indovinate dove sono stati #Blanca e Linneo a girare le riprese della prossima stagione? 👉 La soluzione nei commenti? 📸 @tvsorrisi https://t.co/AJqFJXzn3H | 24 |
| 1640616141902041088 | I super nonni @Gerry_Scotti e @m_hunziker sono carichissimi e da oggi li trovate in edicola con @tvsorrisi 🥳🎉 #striscialanotizia #GerryScotti #MichelleHunziker https://t.co/32YyF5wZo2 | 21 |
| 1638545493943779329 | «Ad aprile il vincitore di Sanremo si esibirà a Parigi, Bruxelles, Francoforte e Zurigo 🎶» Leggi questo articolo: Marco Mengoni annuncia quattro concerti in Europa #MengoniLiveInEurope #Eurovision2023 ⁦@tvsorrisi⁩ ⁦@mengonimarco⁩ ✨ https://t.co/laXlhGIJk9 | 15 |
| 1640695963831418884 | Oggi in allegato con @tvsorrisi c'è il dvd di One Piece Red, 15° film tratto dall'anime di Eichiro Oda con anche in omaggio una cartolina di Luffy. Scheda sul sito https://t.co/RC1d9hYzU2 #OnePiece #OnePieceRed #Anime #NewsAnime #TvSorrisiECanzoni #OnePieceMovie #Shanks #Uta https://t.co/QlkDQocW7G | 5 |
| 1639934032740745220 | RISVEGLI IN JAZZ https://t.co/3nQALMcqHb #Musica @MusicTvOfficial @RecensiamoMusic @Corriere_Musica @musicaXrep @MTV @LelaScorpion92 @mescalofficial @AP @jazzfm @jazzyb @tvsorrisi @musicalfreedom @askanews_ita @MTVMusicUK @jazzpk @Jazzfeezy @musicalmente @rockolpoprock https://t.co/4PU0D92kTl | 2 |
| 1639315167879258113 | @aldovitali @tvsorrisi Sarebbe bello che faceste uscire per i 40 anni di carriera di Cristina D'Avena tutti i cd e dvd della sua discografia e un'altra intervista su Tv Sorrisi E Canzoni con la foto di copertina sarebbe top magari grazie mille!😍😍😍😍😍❤️❤️❤️❤️❤️🤩🤩🤩🤩🤩 | 1 |
| 1639314276853891074 | @aldovitali @tvsorrisi Da me a Gradisca D'Isonzo Gorizia non è arrivato nessun classico Disney nelle nostre edicole!😍😍😍😍😍❤️❤️❤️❤️❤️🤩🤩🤩🤩🤩🥰🥰🥰🥰🥰😘😘😘😘😘💙💙💙💙💙🖤🖤🖤🖤🖤🧡🧡🧡🧡🧡💜💜💜💜💜💛💛💛💛💛💚💚💚💚💚🤎🤎🤎🤎🤎🤍🤍🤍🤍🤍 | 1 |
| 1639245583130009600 | @chicca2679 @tvsorrisi @ChiaraGiannetta @giuseppezeno_fp @LuxVide Già preso e letto.😘 | 1 |
| 1639051246601400321 | Sulle pagine del nuovo @tvsorrisi troviamo bellissime foto e didascalie della nuova stagione di #Blanca2..la nostra mitica @ChiaraGiannetta sempre insieme alla sua inseparabile cucciola Fiona..dove nn può mancare @giuseppezeno_fp #Blancalaserie #donmatteo13 #donmatteo14 @LuxVide https://t.co/ahIwdJOvby | 1 |
| 1641202235081195520 | Quella volta in cui parlai al telefono con @Lucaargentero 🤤 Lui nella redazione di @tvsorrisi e i miei colleghi di Milano immortalarono l'evento. "Ma Seppia è un soprannome bellissimo!" "Veramente è il mio cognome, ma tu se vuoi chiamami Seppia". | 0 |
Top 3 Languages Used In Tweets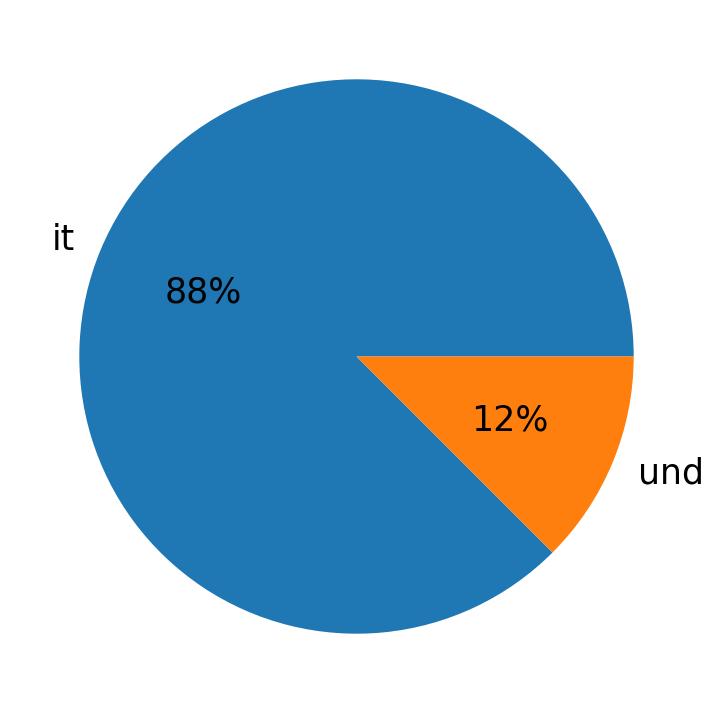 ---
Top 10 Hashtags used
| Hashtag | Count |
| --- | --- |
| #musica | 3 |
| #blanca2 | 2 |
| #blancalaserie | 2 |
| #donmatteo13 | 2 |
| #donmatteo14 | 2 |
| #blanca | 2 |
| #striscialanotizia | 2 |
| #gerryscotti | 2 |
| #michellehunziker | 2 |
| #mengoniliveineurope | 2 |
Top 10 Hashtags Used In Tweets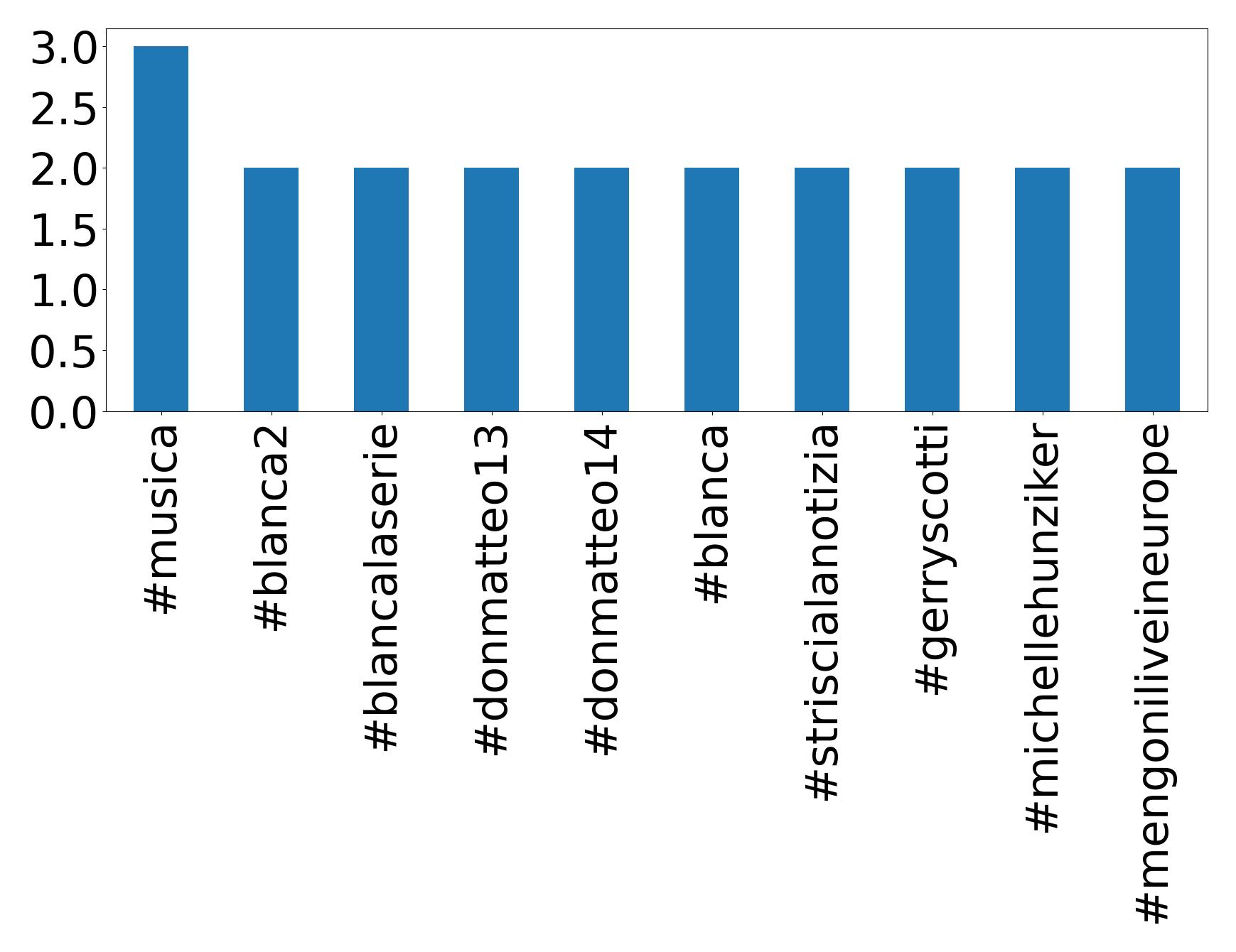 Top 10 mentions
| Mention | Count |
| --- | --- |
| @tvsorrisi | 24 |
| @aldovitali | 6 |
| @chiaragiannetta | 3 |
| @giuseppezeno_fp | 3 |
| @luxvide | 3 |
| @rockolpoprock | 3 |
| @chicca2679 | 2 |
| @gerry_scotti | 2 |
| @m_hunziker | 2 |
| @musictvofficial | 2 |
Top 10 mentions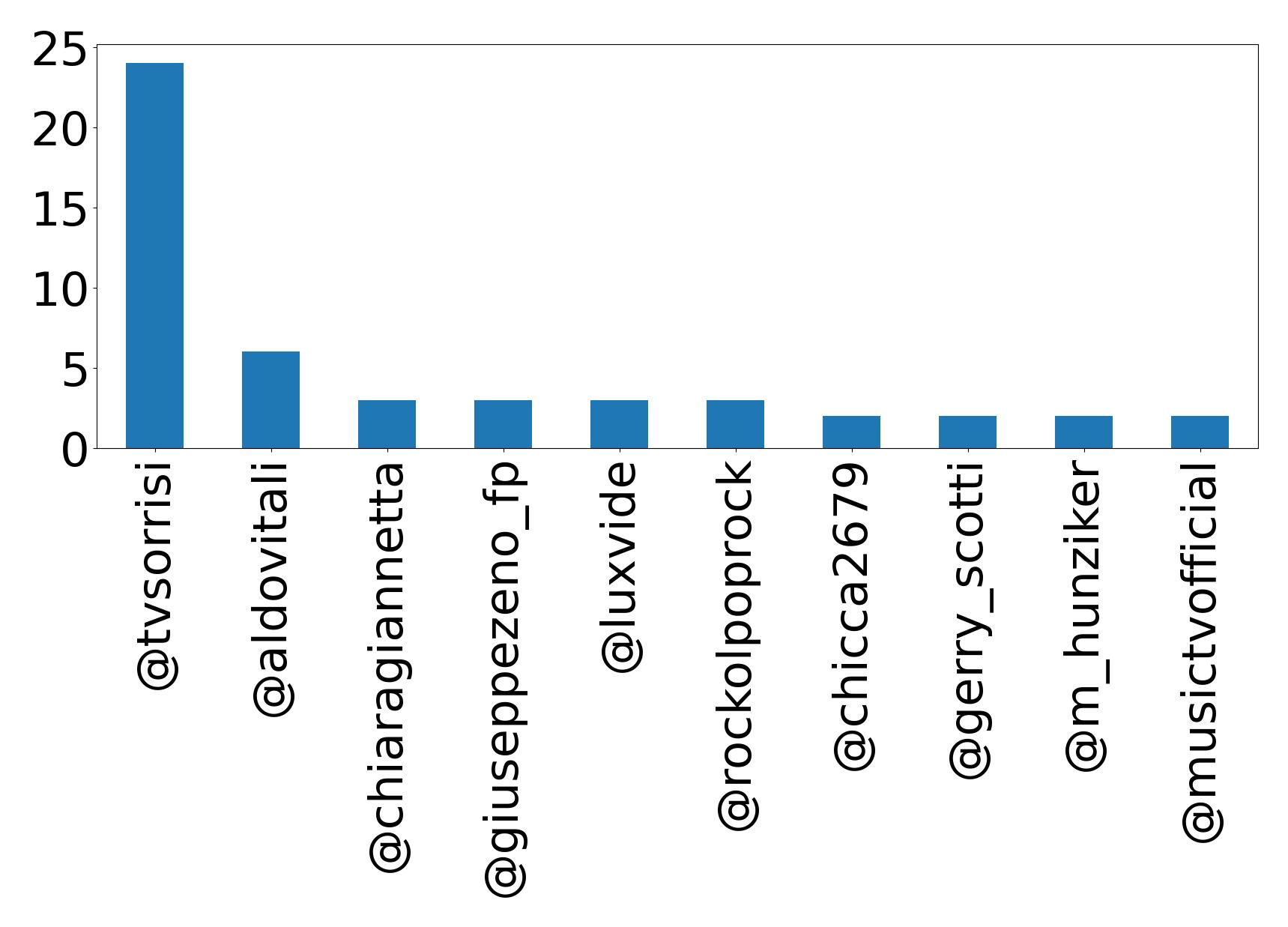 Wordcloud of Tweets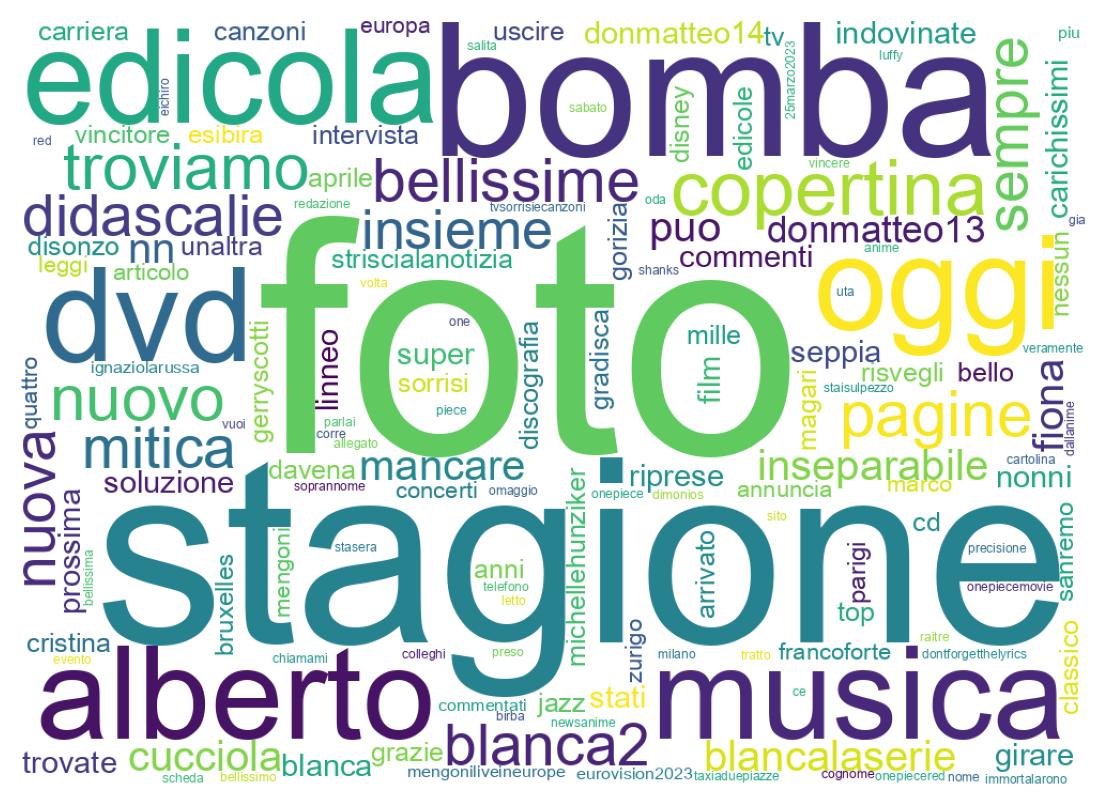 ---
Emojis
Average number of emojis used per tweet
745
Emojis used in tweets
| Emoji | Count | Emoji Text |
| --- | --- | --- |
| 😍 | 22 | smiling_face_with_heart-eyes |
| ❤️ | 20 | red_heart |
| 🤩 | 20 | star-struck |
| 💙 | 13 | blue_heart |
| 😘 | 11 | face_blowing_a_kiss |
| 🥰 | 10 | smiling_face_with_hearts |
| 🖤 | 10 | black_heart |
| 🧡 | 10 | orange_heart |
| 💜 | 10 | purple_heart |
| 💛 | 10 | yellow_heart |
Emojis groups
| Emoji Group | Count |
| --- | --- |
| Smileys & Emotion | 169 |
| Objects | 4 |
| Activities | 4 |
| People & Body | 2 |