Tweets Analysis - Keyword: @NIEHS
Total number of tweets analysed
55
Earliest tweet was on
2023-03-22
Latest tweet was on
2023-03-31
Average age of authors' accounts
7 years
---
Summarization
Various tweets discuss the work and initiatives of the National Institute of Environmental Health Sciences (NIEHS), including partnerships for hazardous materials training, research on childhood stunting, and publishing studies with financial support from organizations like NIOSH and EPA. The NIEHS is also involved in conferences and events related to women's health and climate change. There is a focus on engaging with the public and receiving feedback for the strategic vision of the organization.
Topic Modeling
Environmental health research and funding (mentions of EPA, PHMSA_DOT, ENERGY, NIOSH, NSF, etc. funding and partnerships)
Global health and epidemiology research (mentions of APTI Fellowship, birth cohort study, childhood stunting prevention, GatesAfrica)
Toxicology, chemistry, and hazardous materials training (mentions of Empress Williams, SOToxicology, firefighters, IAFFofficial)
Women's health awareness and wellness conference (mentions of Dr. Robert D. Bullard speaking, NCCU, mammograms, DukeHospital)
PFAS and foreverchemicals (mentions of River Billot, bone density, Superfund sites, drinking water, UKWater, UK_SRC, and UKCARES1)
Emotional Analysis
The tweets express a range of emotions, including gratitude and appreciation for partnerships and opportunities provided by organizations like @EPA, @NIEHS, and @PHMSA_DOT. There is excitement and enthusiasm for upcoming events and projects related to women's health and global health research. The tweets also showcase pride in accomplishments, such as published research, and a willingness to share knowledge and insights with others. Overall, the tone is positive and collaborative, with an emphasis on working together to make progress in environmental health and related fields.
Trend Analysis
Toxicology and chemistry panel events
Hazardous materials training for firefighters
Global health research
Environmental health job opportunities
Women's health awareness conferences and talks
PFAS exposure research
Climate change and health impacts discussions
NIEHS as a source of financial support for studies
Input and contributions to NIEHS's strategic vision
---
Types of Tweets
Number of Retweets
25
Percentage of total tweets
45%
Number of Original tweets
17
Percentage of total tweets
30%
Number of tweets that contain Mentions
55
Percentage of total tweets
100%
Number of tweets that were Replies
9
Percentage of total tweets
16%
Number of tweets that were Quotes
5
Percentage of total tweets
9%
Number of tweets that contain Hashtags
30
Percentage of total tweets
54%
---
Top 5 devices used to tweet
| Source | Count |
| --- | --- |
| Twitter Web App | 18 |
| Twitter for iPhone | 15 |
| Twitter for Android | 12 |
| Hootsuite Inc. | 8 |
| Oktopost | 1 |
What devices were used to tweet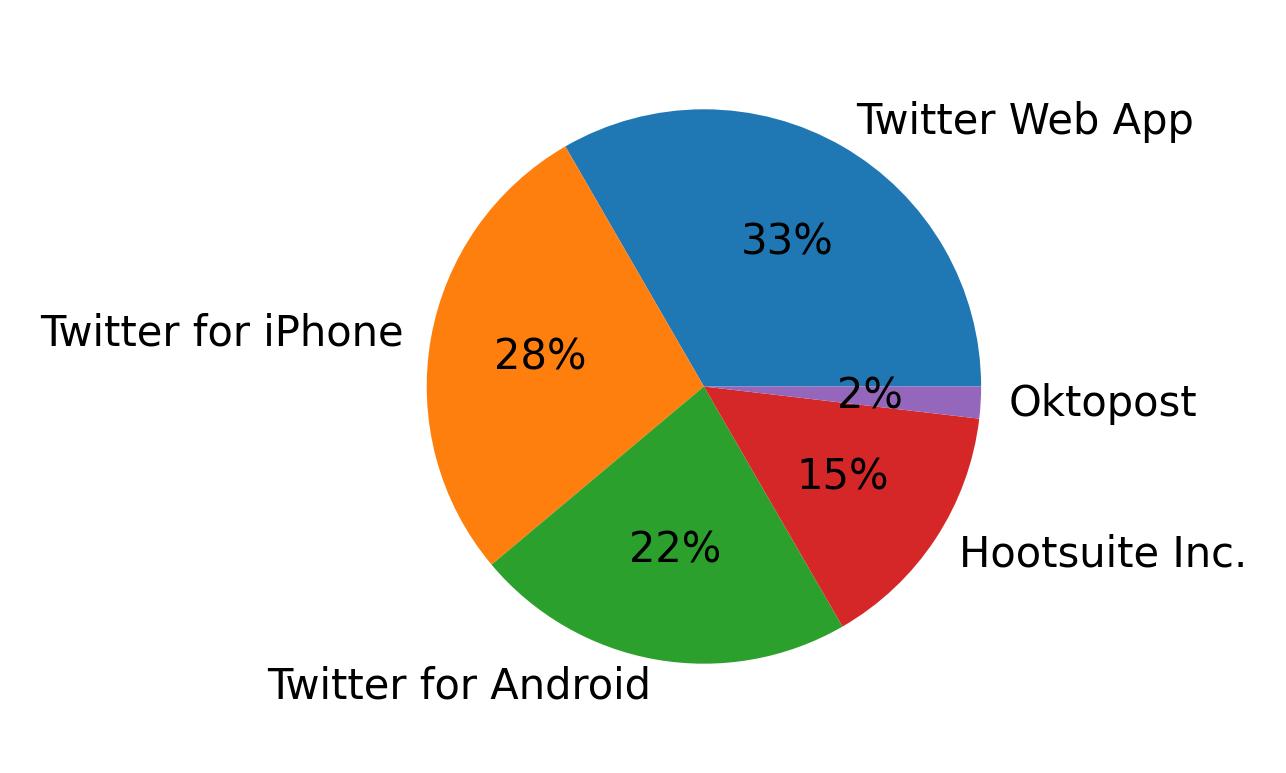 ---
Top 10 accounts with highest followers count
| Username | Name | Bio | Followers count |
| --- | --- | --- | --- |
| UNCG | UNCG | The official account for UNC Greensboro. A @UNC_System school. We create remarkable real-world impact, every day. Find your way here. #UNCGWay | https://t.co/NzYF4prEIi | 34,862 |
| DrBobBullard | Robert D. Bullard | Scholar, author of 18 books, co-chair of @NBEJN1, #HBCU Climate Change Consortium, director of @BullardCenter and father of environmental justice. #Actonclimate | 32,160 |
| NIEHS | NIEHS | Official Twitter account of the National Institute of Environmental Health Sciences. RT/likes do not = endorsements. Privacy Policy at https://t.co/KeuNUpuJ4D | 23,225 |
| AASciences | African Academy of Sciences | The AAS is a pan African organisation transforming lives in Africa through science. | 16,954 |
| EHPonline | Environmental Health Perspectives | EHP is an Open Access journal publishing peer-reviewed research and news with support from the NIEHS/NIH/DHHS. Follow/RT≠endorsement. | 10,047 |
| APSPublications | APS Publications | Official Twitter handle for American Physiological Society Publications. For more APS, follow @APSPhysiology and @SciPolAPS. | 6,012 |
| NIHRecord | NIH Record | Official Twitter account of the NIH Record | Since 1949, the newsletter of the National Institutes of Health | Privacy Policy: https://t.co/QTI46zY00q | 4,120 |
| TheWheltonGroup | Andrew Whelton 🔥💧❄️🌪 | @LifeatPurdue @PurdueCE @PurdueEEE Visit: https://t.co/C7u0m6j09O & https://t.co/XhVUNisuUd. (Following, RTs & links ≠ endorsement) #PublicHealth #Engineering #EMGTwitter | 3,875 |
| anavasac | Ana Navas Acien | Environmental Epi | Metals | TobaccoProducts | #StrongHeartStudy | EJ | Legumes ❤︎ | forever student | EHS Professor @ColumbiaMSPH @Columbia_SRP | 2,992 |
| tamraraven | Tamra E. Raven | Plant ecologist: 10km3x2 ECOPLAY=unique:recognizable: complex:predictable:patterning ECOTONE ECOLOGICALRESTORATION endemic plant species:VEGETATION CONNECTIVITY | 2,854 |
Top 10 accounts with highest friends count
| Username | Name | Bio | Followers count |
| --- | --- | --- | --- |
| DrBobBullard | Robert D. Bullard | Scholar, author of 18 books, co-chair of @NBEJN1, #HBCU Climate Change Consortium, director of @BullardCenter and father of environmental justice. #Actonclimate | 10,804 |
| tamraraven | Tamra E. Raven | Plant ecologist: 10km3x2 ECOPLAY=unique:recognizable: complex:predictable:patterning ECOTONE ECOLOGICALRESTORATION endemic plant species:VEGETATION CONNECTIVITY | 4,999 |
| TheWheltonGroup | Andrew Whelton 🔥💧❄️🌪 | @LifeatPurdue @PurdueCE @PurdueEEE Visit: https://t.co/C7u0m6j09O & https://t.co/XhVUNisuUd. (Following, RTs & links ≠ endorsement) #PublicHealth #Engineering #EMGTwitter | 3,553 |
| FedUpWithBadAir | Dave Peterson (He/Him) Ⓥ 🇨🇦 | Fed up with bad air. Tired of science deniers. #ClimateChange is real, #VaccinesWork, and there's #nosafelevel of #airpollution. He/him. #STOPBURNINGSTUFF! 🧡 | 3,014 |
| CHKEBlessingway | Cherokeeblessingway | Laura Baker - Gaining Support for my family mbrs & Thousands Dying in Libby, Montana, USA of Asbestos of WR Grace Asbestos Mine in Libby, Montana USA | 2,912 |
| kyle_iridian | Kyle Iridian 🇺🇦 🌻 | 🇺🇸 #VaccinePlus because common sense is becoming uncommon | 2,746 |
| AASciences | African Academy of Sciences | The AAS is a pan African organisation transforming lives in Africa through science. | 2,463 |
| Derick_Devon | Derick D. Jones Jr., PhD 🌈 (They|Them) | Tenure Track Assistant Prof. of Chemistry | PhD Medicinal Biochem. | Non-Binary | CEO and Founder of The Black S.T.E.M Advocate | Tweets are my own #newPI | 2,158 |
| HaneenKhreis | Haneen Khreis حنين خريس | Scientist studying urban/transport planning air pollution & health @MRC_Epid Fascinated by {cities, data & urbanization}. Live car-free in London/New Orleans. | 1,787 |
| anavasac | Ana Navas Acien | Environmental Epi | Metals | TobaccoProducts | #StrongHeartStudy | EJ | Legumes ❤︎ | forever student | EHS Professor @ColumbiaMSPH @Columbia_SRP | 1,598 |
Most active users
| Username | Bio | Number of tweets |
| --- | --- | --- |
| DukeCOEE | Delivering on the promise of transformative cancer care in our community through outreach, engagement and equity. | 4 |
| CLEARWSU | The @SRP_NIEHS funded CLEAR at @waynestate mitigates adverse birth outcomes caused by volatile organic chemicals or VOCs. | 3 |
| DrBobBullard | Scholar, author of 18 books, co-chair of @NBEJN1, #HBCU Climate Change Consortium, director of @BullardCenter and father of environmental justice. #Actonclimate | 2 |
| Benjamin_McM | PhD Student @UNC in @materalab | Founder @pipettejobs | Bioinformatician and Data Scientist | Prev. @floridastate @ClemsonUniv ORISE Fellow @EPA | 2 |
| EHPonline | EHP is an Open Access journal publishing peer-reviewed research and news with support from the NIEHS/NIH/DHHS. Follow/RT≠endorsement. | 2 |
| SPFFA3137 | Statesville Professional Firefighters Association. Not an official account for SFD. Tweets are unofficial but accurate. | 1 |
| SRP_NIEHS | The official feed of the National Institute of Environmental Health Sciences, Superfund Research Program, part of NIH. Privacy Policy at https://t.co/uaOStawn2w | 1 |
| SahathullahA | BET Honors (Sustainable Technology) | InshaaAllah I want to make the world better place before I die.. | 1 |
| SamaritanHealth | Free and charitable primary care clinic in Durham, North Carolina. | 1 |
| TheWheltonGroup | @LifeatPurdue @PurdueCE @PurdueEEE Visit: https://t.co/C7u0m6j09O & https://t.co/XhVUNisuUd. (Following, RTs & links ≠ endorsement) #PublicHealth #Engineering #EMGTwitter | 1 |
---
Tweets per day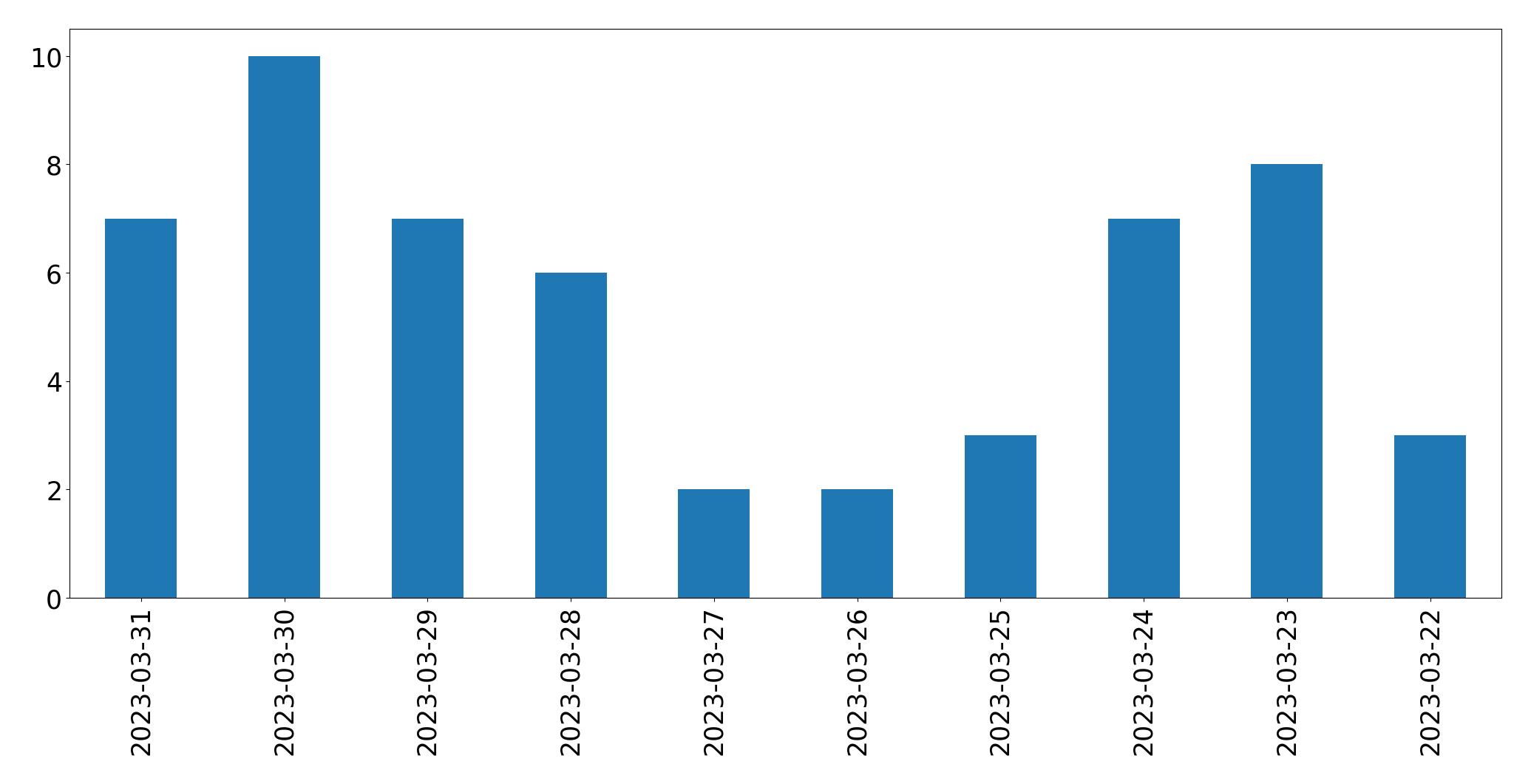 ---
Top 10 tweets with highest Retweet count
| ID | Text | Retweet count |
| --- | --- | --- |
| 1639251228998901762 | APPLY NOW: Today is the last day to apply for the EHP #ScienceEditor position. Be among the first to review the latest #environmentalhealth research ➡️ https://t.co/bZ8abTJ3ii #Hiring #Epidemiology @NIEHS @NIEHS_PEPH @USAJOBS https://t.co/tD415NDHpu | 9 |
| 1639537728319787011 | Research Spotlight💡 Musa Kana, an #APTI Fellow and #epidemiologist from #Nigeria is working on a birth cohort study to inform preventive strategies for childhood stunting in #Africa. Learn more 👉https://t.co/Mjs4Az3hqZ #AASciences #GlobalHealth @Fogarty_NIH @NIEHS @GatesAfrica https://t.co/ekrBJ4LCHp | 8 |
| 1640733968935911425 | Through partnerships with @PHMSA_DOT, @NIEHS, @ENERGY, and @NIOSH - The @IAFFofficial trains thousands of firefighters every year in hazardous materials response and this training prepares them to better serve their communities when the alarm goes off. https://t.co/KCC4J07YX3 | 5 |
| 1641420477167030273 | We make studies freely available here: https://t.co/BG7YCEzKAV. Thank you for the financial support that made this possible: @NIOSH @NIEHS @EPAGreatLakes @NSF @USDOT @VaDOT and crowdfunding donors. | 4 |
| 1641261798480396293 | Empress Williams @EmpressVW organized a wonderful #toxicology and #chemistry panel @uncg_chem. Best part of my job @uncg? Students like Empress! Thank you @EPA, @NIEHS, @ncatsuaggies and @SOToxicology https://t.co/UhL3bVkLsX | 4 |
| 1639269005390147589 | DCI COEE is happy to share the 9th Women's Health Awareness Conference on April 15th at NCCU from 8AM-5PM @NIEHS. The free event to bring awareness to Women's Health will offer free lunch by @DukeHospital & mammograms for those that registered in advance #womenshealthawarenessday https://t.co/w4NPBKeoxg | 1 |
| 1640836404031660032 | #ICYMI...NEW RESEARCH LETTER: Residential Proximity to Metal-Containing Superfund Sites and their Potential as a Source of Disparities in Metal Exposure among US Women ➡️ https://t.co/OogD4r4bkR @NIEHS @UNCSPHResearch @NCIEpiTraining @alexandrajwhite @PronouncedKeil @epi_rena | 1 |
| 1641825728185397248 | The 9th Women's Health Awareness Conference on April 15th at NCCU from 8AM-5PM @NIEHS.The free event to bring awareness to Women's Health will offer free lunch by @DukeHospital & mammograms for those that registered #womenshealthawarenessday @DukeHealth @DukeRegional @DukeCancer https://t.co/qPmYOwpS7u | 1 |
| 1638962064189448192 | .@steepsuperfund researchers and collaborators revealed a link between developmental #PFAS exposure and reduced bone density in childhood and adolescence. Check out the latest @NIEHS Global Environmental Health newsletter to learn more https://t.co/gVl0kqU6lQ | 1 |
| 1639363457081389056 | @Benjamin_McM @EPA @NIEHS @KatieDevNeuro @KierstenSBell Congratulations! Great work exploring the intricate role of thyroid hormone in regulating cell junctions at the ventricular zone in the developing rat brain. Exciting implications for understanding brain development and potential targets for thyroid-related neurological disorders | 0 |
Top 10 tweets with highest Like count
| ID | Text | Like count |
| --- | --- | --- |
| 1641261798480396293 | Empress Williams @EmpressVW organized a wonderful #toxicology and #chemistry panel @uncg_chem. Best part of my job @uncg? Students like Empress! Thank you @EPA, @NIEHS, @ncatsuaggies and @SOToxicology https://t.co/UhL3bVkLsX | 34 |
| 1640733968935911425 | Through partnerships with @PHMSA_DOT, @NIEHS, @ENERGY, and @NIOSH - The @IAFFofficial trains thousands of firefighters every year in hazardous materials response and this training prepares them to better serve their communities when the alarm goes off. https://t.co/KCC4J07YX3 | 13 |
| 1639537728319787011 | Research Spotlight💡 Musa Kana, an #APTI Fellow and #epidemiologist from #Nigeria is working on a birth cohort study to inform preventive strategies for childhood stunting in #Africa. Learn more 👉https://t.co/Mjs4Az3hqZ #AASciences #GlobalHealth @Fogarty_NIH @NIEHS @GatesAfrica https://t.co/ekrBJ4LCHp | 13 |
| 1639251228998901762 | APPLY NOW: Today is the last day to apply for the EHP #ScienceEditor position. Be among the first to review the latest #environmentalhealth research ➡️ https://t.co/bZ8abTJ3ii #Hiring #Epidemiology @NIEHS @NIEHS_PEPH @USAJOBS https://t.co/tD415NDHpu | 7 |
| 1641420477167030273 | We make studies freely available here: https://t.co/BG7YCEzKAV. Thank you for the financial support that made this possible: @NIOSH @NIEHS @EPAGreatLakes @NSF @USDOT @VaDOT and crowdfunding donors. | 7 |
| 1639362098651095053 | A little late, but thrilled to share that this project from my time @EPA (in collaboration with @NIEHS ) has been published! Congrats to @KatieDevNeuro, @KierstenSBell, and all the Twitter-less co-authors! https://t.co/Np5EjD5fDk | 6 |
| 1638663974462840832 | @NIEHS Amazing to see and interact with so many people! But the final day is tomorrow😉‼️ | 5 |
| 1638962064189448192 | .@steepsuperfund researchers and collaborators revealed a link between developmental #PFAS exposure and reduced bone density in childhood and adolescence. Check out the latest @NIEHS Global Environmental Health newsletter to learn more https://t.co/gVl0kqU6lQ | 3 |
| 1639269005390147589 | DCI COEE is happy to share the 9th Women's Health Awareness Conference on April 15th at NCCU from 8AM-5PM @NIEHS. The free event to bring awareness to Women's Health will offer free lunch by @DukeHospital & mammograms for those that registered in advance #womenshealthawarenessday https://t.co/w4NPBKeoxg | 3 |
| 1639286245279842306 | An incredibly insightful talk by River Billot on PFAS and the fire of water and public health today during #WaterWeekLex @NIEHS @SRP_NIEHS @UKWater @UK_CCTS https://t.co/dKhS65HlFg | 3 |
Top 3 Languages Used In Tweets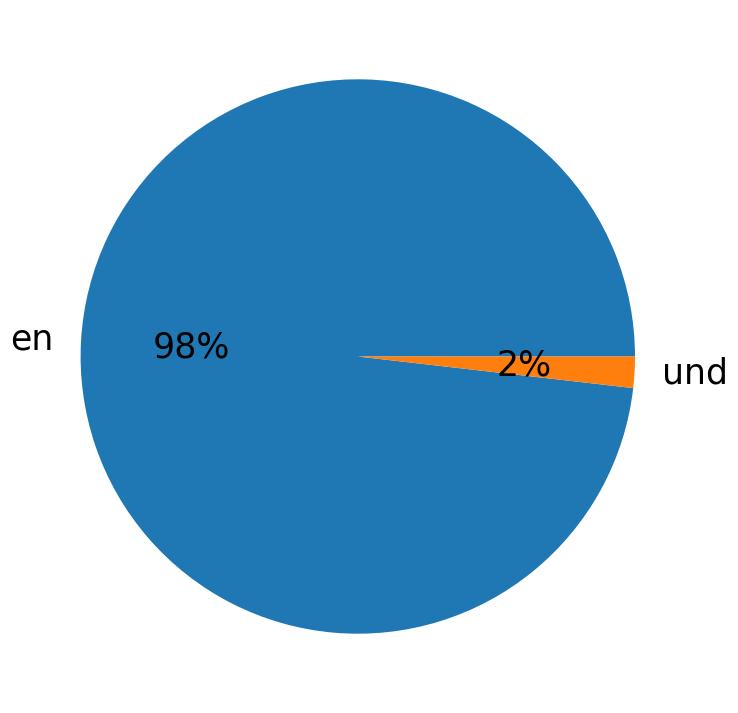 ---
Top 10 Hashtags used
| Hashtag | Count |
| --- | --- |
| #womenshealthawarenessday | 4 |
| #environmentalhealth | 4 |
| #scienceeditor | 3 |
| #icymi | 3 |
| #hiring | 3 |
| #pfas | 3 |
| #niehsdirectorscorner | 2 |
| #toxicology | 2 |
| #chemistry | 2 |
| #apti | 2 |
Top 10 Hashtags Used In Tweets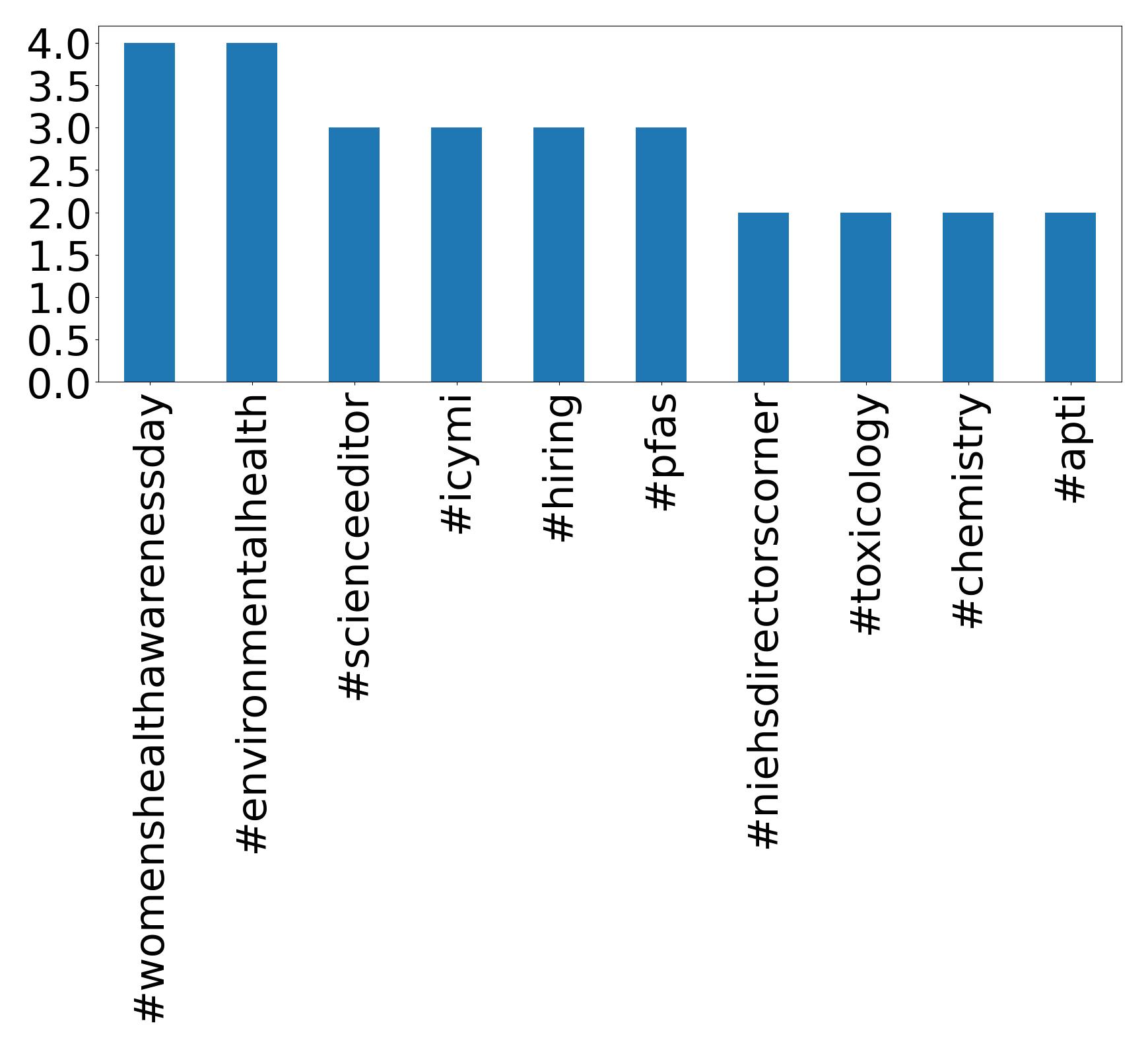 Top 10 mentions
| Mention | Count |
| --- | --- |
| @niehs | 55 |
| @epa | 8 |
| @dukehospital | 4 |
| @niosh | 4 |
| @empressvw | 4 |
| @uncg_chem | 4 |
| @uncg | 4 |
| @ncatsuaggies | 4 |
| @sotoxicology | 4 |
| @ehponline | 4 |
Top 10 mentions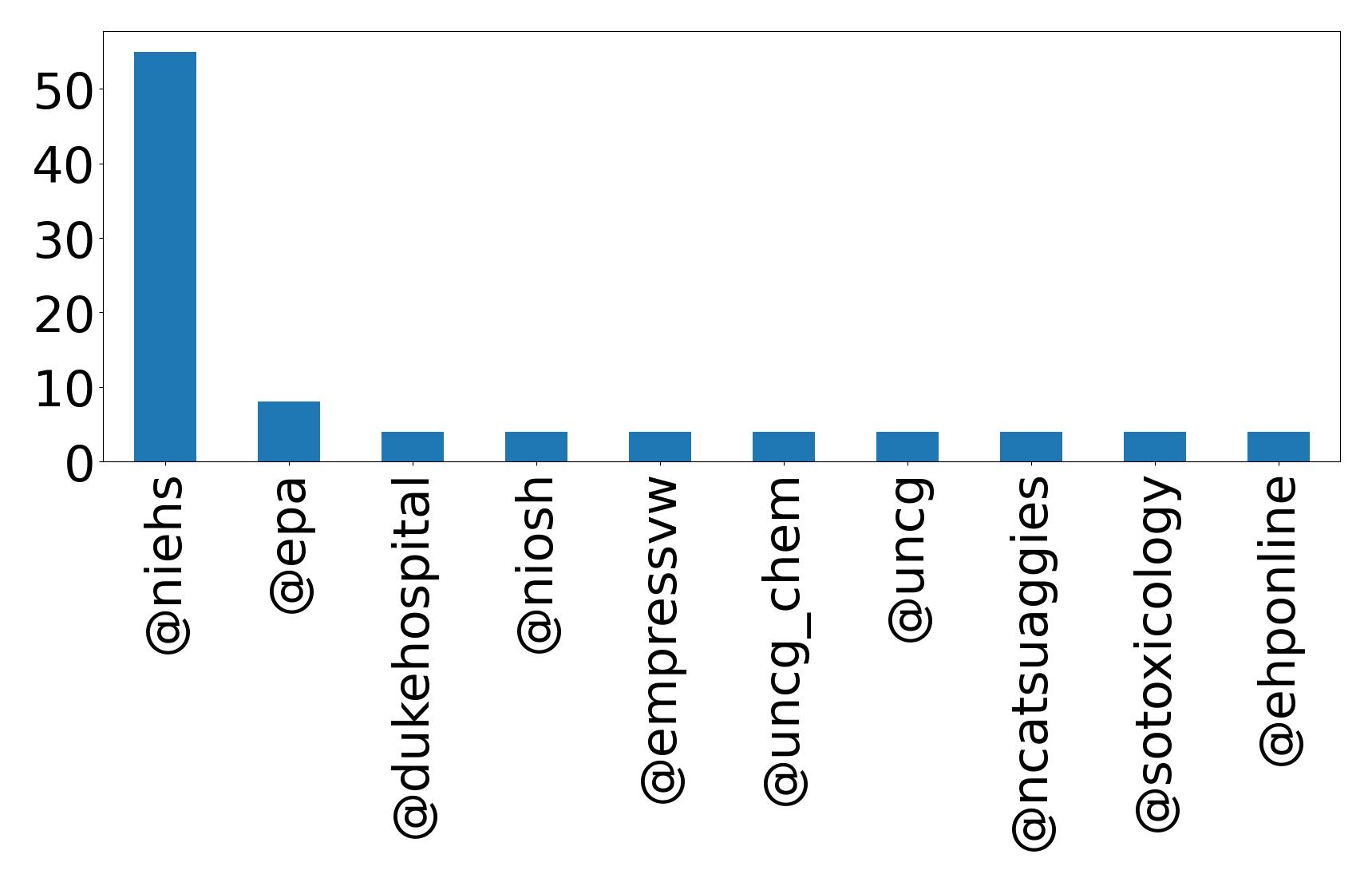 Wordcloud of Tweets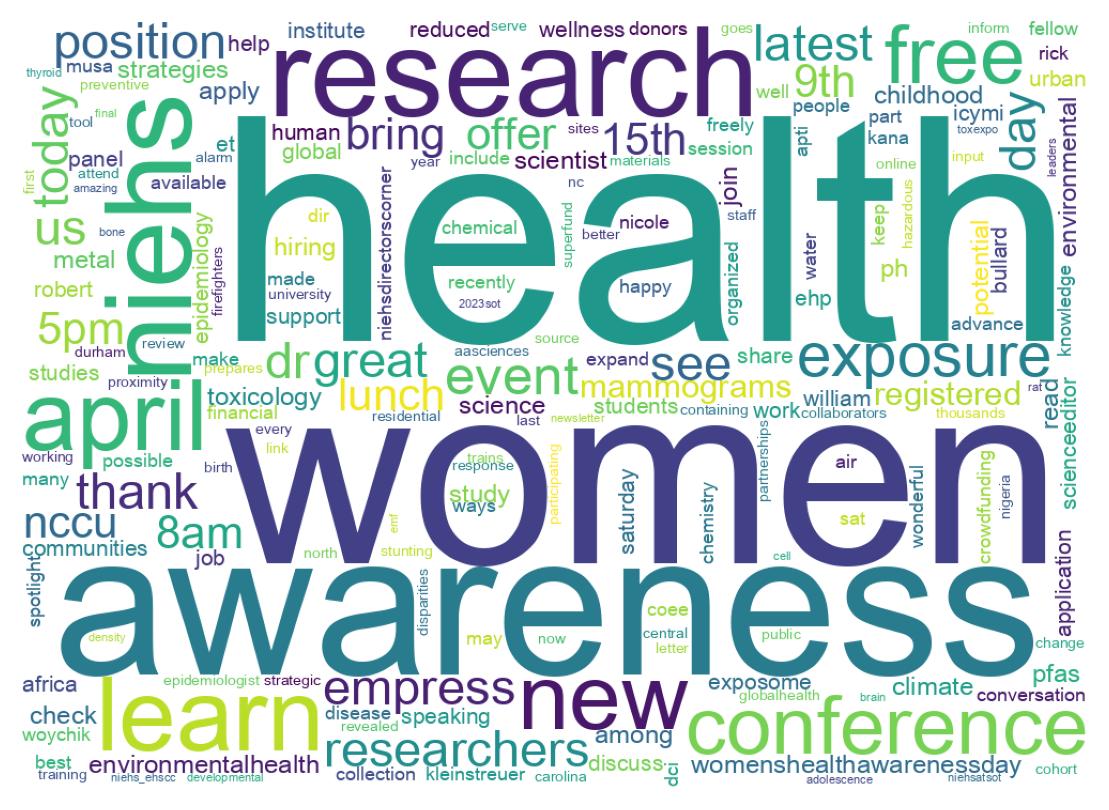 ---
Emojis
Average number of emojis used per tweet
34
Emojis used in tweets
| Emoji | Count | Emoji Text |
| --- | --- | --- |
| ➡️ | 5 | right_arrow |
| 👉 | 3 | backhand_index_pointing_right |
| 💡 | 2 | light_bulb |
| 📢 | 1 | loudspeaker |
| 👩🏽‍🔬 | 1 | woman_scientist_medium_skin_tone |
| 🧑🏽‍🔬 | 1 | scientist_medium_skin_tone |
| 🏳️‍🌈 | 1 | rainbow_flag |
| ⚕️ | 1 | medical_symbol |
| 🔬 | 1 | microscope |
| 📰 | 1 | newspaper |
Emojis groups
| Emoji Group | Count |
| --- | --- |
| Symbols | 7 |
| Objects | 5 |
| People & Body | 5 |
| Flags | 1 |
| Smileys & Emotion | 1 |