Tweets Analysis - Keyword: @Kj_hamler
Total number of tweets analysed
10
Earliest tweet was on
2023-02-14
Latest tweet was on
2023-02-23
Average age of authors' accounts
5 years
---
Summarization
The tweets discuss a range of topics, including a fan asking to interview KJ Hamler for their sports broadcasting career, someone trying to get Broncos players to follow them on Twitter, a request to have players sign trading cards for payment, and various comments about weed and speculation about the gender of someone mentioned in a previous tweet.
Topic Modeling
Sports broadcasting and interviews with athletes
Fan engagement and interaction with NFL players
Requesting autographs and memorabilia from players
Legalization of marijuana
Social media campaigns to gain attention from the Broncos
Emotional Analysis
The emotions in these tweets are a mix of humor, admiration, indifference, hope, excitement, and frustration. Some tweets express amusement and laughter towards a post while others show admiration towards sports personalities and seek their attention for an interview or signature. Some tweets express frustration and hopefulness to gain a follow or attention from their favorite sports team or players. There are also negative comments towards people and some expressing indifference towards a post.
Trend Analysis
Interview Request: Fans asking Kj Hamler for interviews for their personal or professional benefit
Social Media Engagement: Fans asking Broncos players to follow them or retweet their posts
Sports Broadcasting: One fan expresses interest in pursuing sports broadcasting as their career
Trading Cards: Fans asking Broncos players for autographs on their trading cards
Casual Conversation: Fans making random comments and jokes about sports and other topics
---
Types of Tweets
Number of Retweets
2
Percentage of total tweets
20%
Number of Original tweets
4
Percentage of total tweets
40%
Number of tweets that contain Mentions
10
Percentage of total tweets
100%
Number of tweets that were Replies
4
Percentage of total tweets
40%
Number of tweets that were Quotes
0
Percentage of total tweets
0%
Number of tweets that contain Hashtags
0
Percentage of total tweets
0%
---
Top 5 devices used to tweet
| Source | Count |
| --- | --- |
| Twitter for iPhone | 7 |
| Twitter for Android | 2 |
| Twitter Web App | 1 |
What devices were used to tweet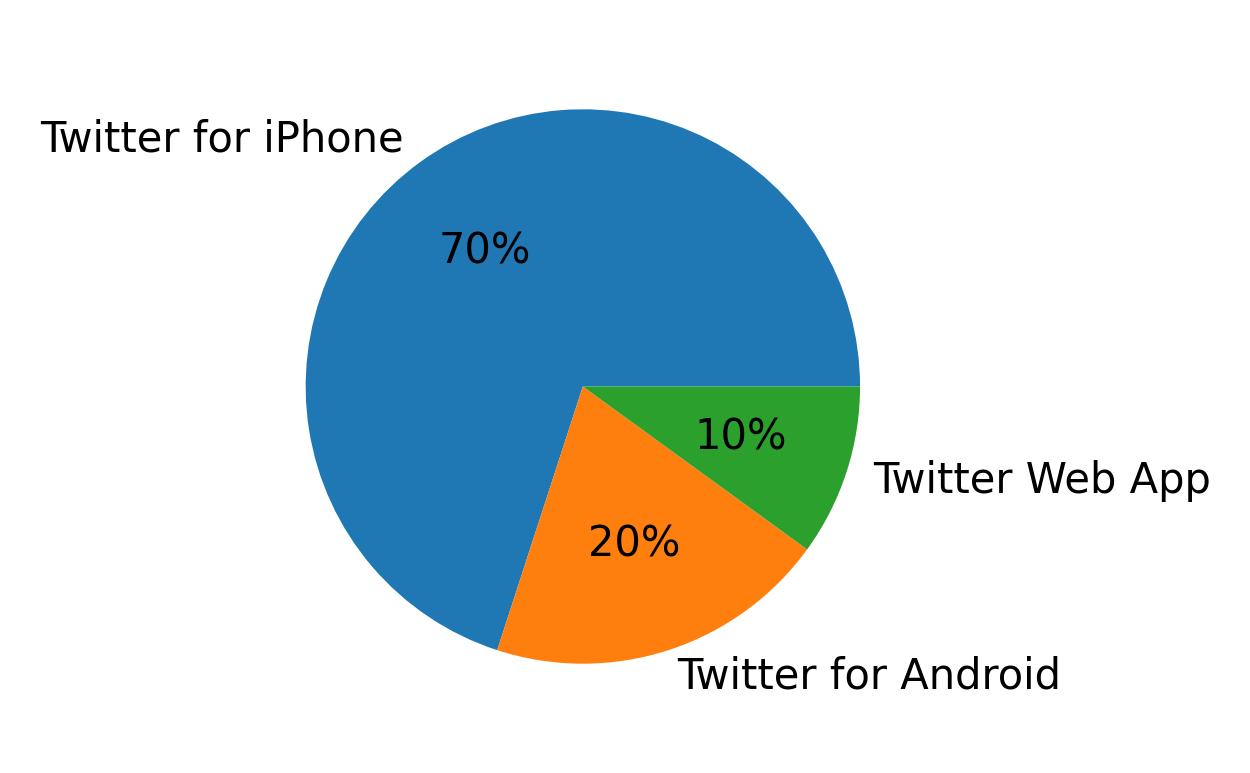 ---
Top 10 accounts with highest followers count
| Username | Name | Bio | Followers count |
| --- | --- | --- | --- |
| Pikaa_Pikachu_ | Pikachu | Pika Pii | 261 |
| BiggaXRP68 | BiggaXRP | #XRP 🚀 PALEGI ❤️ | 244 |
| realssw2000 | Chicago's Best | - | 163 |
| Harmz2k | Harmz | Broncos Country, We tried 😃 $simmonssolos | 145 |
| brandon_bullard | Brandon Bullard | - | 86 |
| AND1_Hyped | Jack Glennon | TTP, Hopeful future sports broadcaster! high school! | 23 |
| squishysquid131 | LUKY | - | 12 |
| Kristin70362676 | KristinaCrawford | - | 7 |
| Venomwon84 | VenomWon Productions | - | 2 |
Top 10 accounts with highest friends count
| Username | Name | Bio | Followers count |
| --- | --- | --- | --- |
| Pikaa_Pikachu_ | Pikachu | Pika Pii | 1,689 |
| Harmz2k | Harmz | Broncos Country, We tried 😃 $simmonssolos | 504 |
| brandon_bullard | Brandon Bullard | - | 399 |
| BiggaXRP68 | BiggaXRP | #XRP 🚀 PALEGI ❤️ | 108 |
| squishysquid131 | LUKY | - | 107 |
| Kristin70362676 | KristinaCrawford | - | 102 |
| Venomwon84 | VenomWon Productions | - | 81 |
| realssw2000 | Chicago's Best | - | 68 |
| AND1_Hyped | Jack Glennon | TTP, Hopeful future sports broadcaster! high school! | 26 |
Most active users
| Username | Bio | Number of tweets |
| --- | --- | --- |
| Harmz2k | Broncos Country, We tried 😃 $simmonssolos | 2 |
| AND1_Hyped | TTP, Hopeful future sports broadcaster! high school! | 1 |
| BiggaXRP68 | #XRP 🚀 PALEGI ❤️ | 1 |
| Kristin70362676 | - | 1 |
| Pikaa_Pikachu_ | Pika Pii | 1 |
| Venomwon84 | - | 1 |
| brandon_bullard | - | 1 |
| realssw2000 | - | 1 |
| squishysquid131 | - | 1 |
---
Tweets per day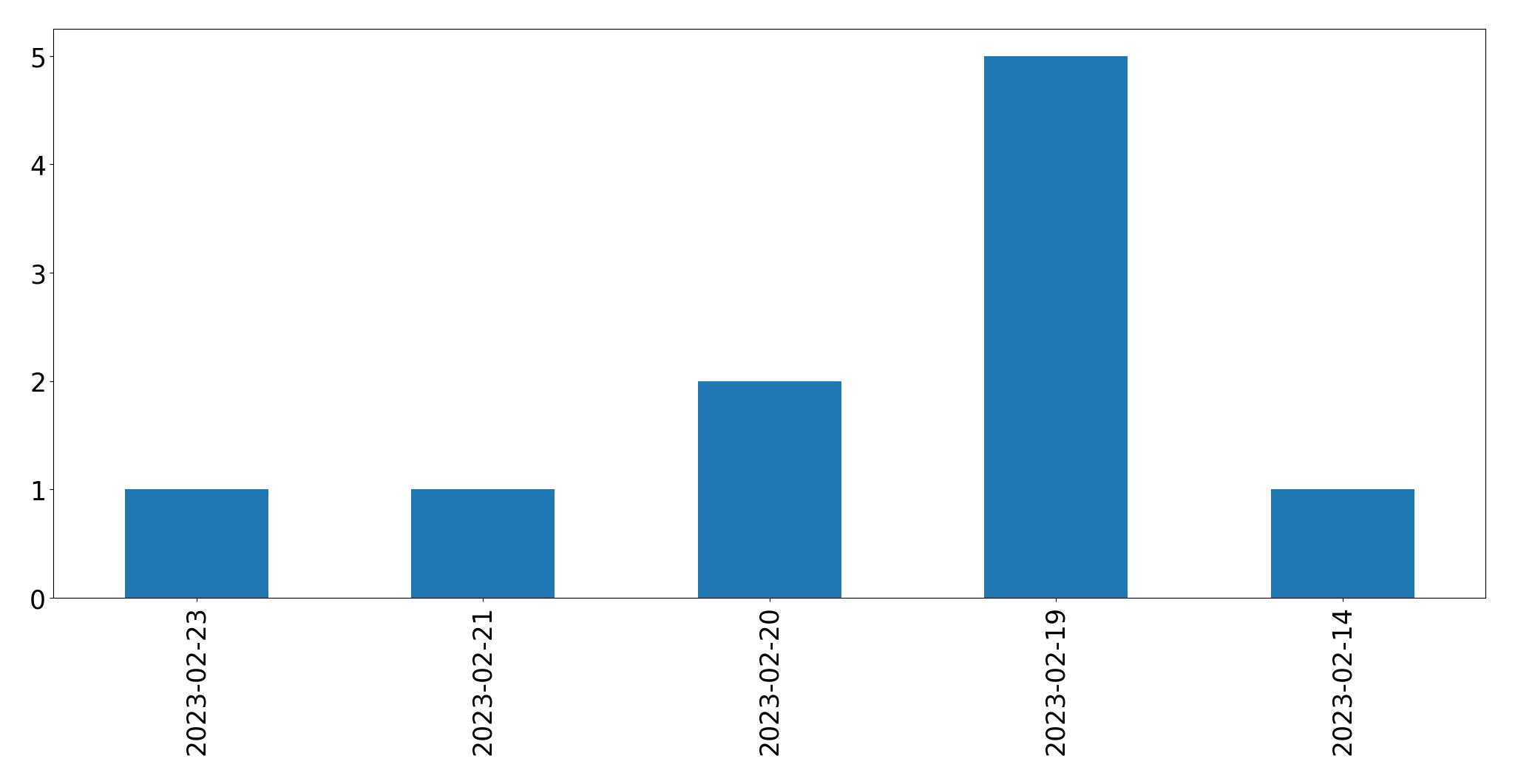 ---
Top 10 tweets with highest Retweet count
| ID | Text | Retweet count |
| --- | --- | --- |
| 1628559513493327872 | @Kj_hamler I'm a huge fan in high school and I'm trying to get into college for sports broadcasting. Can I interview you for 5-10 minutes over zoom? It would be huge for my resume! If you're interested, my email is jack.glennon@warriorlife.net thank you so much and god bless you! | 0 |
| 1627917175087329282 | @espn @Kj_hamler Ehh so what | 0 |
| 1627750482688241664 | Day 1 of @Broncos players until one follows me @PatSurtainll @jsimms1119 @javontewill33 @Kj_hamler @jerryjeudy | 0 |
| 1627719215615442964 | @Kj_hamler @SuttonCourtland @jerryjeudy you guys won't see this but if you happen to what could I pay to have you guys sign these cards? https://t.co/KB6I0E93cr | 0 |
| 1627433237164474368 | @espn @Kj_hamler Atleast weed is legal in Phoenix.. | 0 |
| 1627411204304998402 | @espn @Kj_hamler LOL | 0 |
| 1627410788851023872 | @espn @Kj_hamler She's a man tho | 0 |
| 1627165105745170440 | Retweet this until the broncos see it. But W edit? @Broncos @Zirksee @itsdomyoutube @DaTruthYaDig @jerryjeudy @Kj_hamler https://t.co/8UoNRZOoh9 | 0 |
Top 10 tweets with highest Like count
| ID | Text | Like count |
| --- | --- | --- |
| 1627411204304998402 | @espn @Kj_hamler LOL | 3 |
| 1628559513493327872 | @Kj_hamler I'm a huge fan in high school and I'm trying to get into college for sports broadcasting. Can I interview you for 5-10 minutes over zoom? It would be huge for my resume! If you're interested, my email is jack.glennon@warriorlife.net thank you so much and god bless you! | 0 |
| 1627917175087329282 | @espn @Kj_hamler Ehh so what | 0 |
| 1627750482688241664 | Day 1 of @Broncos players until one follows me @PatSurtainll @jsimms1119 @javontewill33 @Kj_hamler @jerryjeudy | 0 |
| 1627719215615442964 | @Kj_hamler @SuttonCourtland @jerryjeudy you guys won't see this but if you happen to what could I pay to have you guys sign these cards? https://t.co/KB6I0E93cr | 0 |
| 1627433237164474368 | @espn @Kj_hamler Atleast weed is legal in Phoenix.. | 0 |
| 1627410788851023872 | @espn @Kj_hamler She's a man tho | 0 |
| 1627165105745170440 | Retweet this until the broncos see it. But W edit? @Broncos @Zirksee @itsdomyoutube @DaTruthYaDig @jerryjeudy @Kj_hamler https://t.co/8UoNRZOoh9 | 0 |
Top 3 Languages Used In Tweets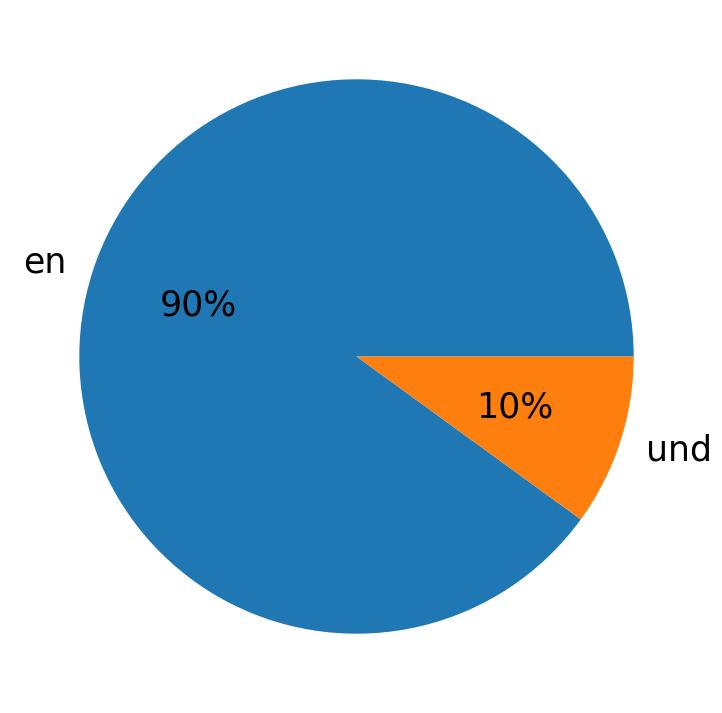 ---
Top 10 mentions
| Mention | Count |
| --- | --- |
| @kj_hamler | 10 |
| @espn | 4 |
| @broncos | 4 |
| @jerryjeudy | 3 |
| @patsurtainll | 1 |
| @jsimms1119 | 1 |
| @javontewill33 | 1 |
| @suttoncourtland | 1 |
| @dangerusswilson | 1 |
| @zirksee | 1 |
Top 10 mentions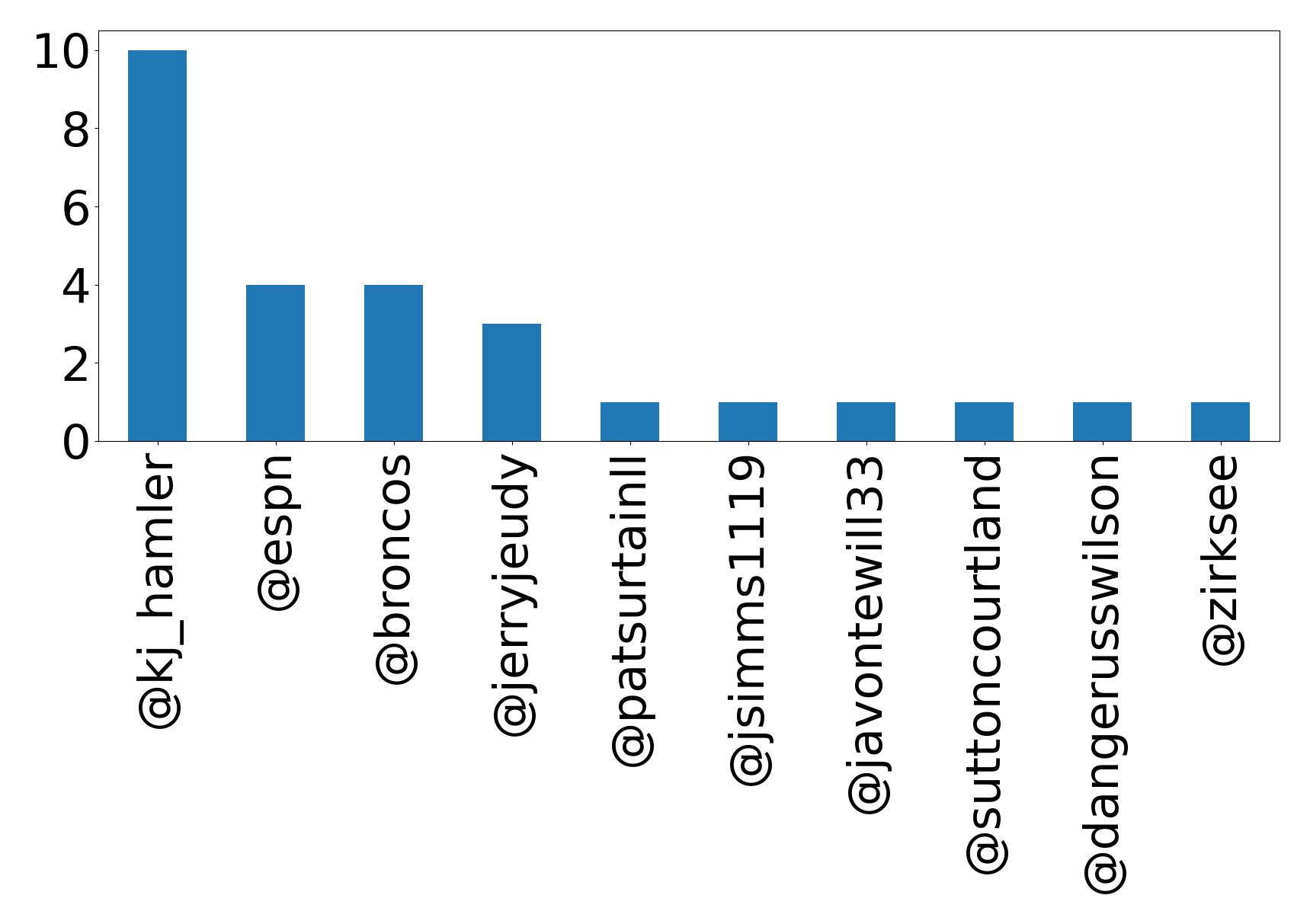 Wordcloud of Tweets